Support TFG by using the links in our articles to shop. We receive a small commission (at no extra cost to you) so we can continue to create helpful free content. We earn from qualifying purchases made to the featured retailers. Thank you, we appreciate your support!
Every woman loves a circle scarf for travel. They're convenient and versatile. Plus, they add a little flavor to a basic outfit and can also provide warmth from the cold or protection from the sun if needed.
Now, imagine a circle scarf that also transforms into a dress with the push of a button? Well, in the case of Encircled's Chrysalis Cardi, it transforms by the snap of a button!
Keep reading to learn more about the convertible wrap dress you can actually wear everywhere!
---
Encircled Convertible Wrap Dress
---
This isn't the first time you hear about Encircled on TFG. They're a well-known convertible travel clothing brand from Canada, and I also reviewed their Chameleon Maxi Skirt a couple of years ago.
Now, I'm testing out their Chrysalis Cardi, which has the benefits of a circle scarf taken to a whole other level. Need an LBD? Look no further. They've got it. Choose black, grey, green, purple, or a lovely variety of blue hues.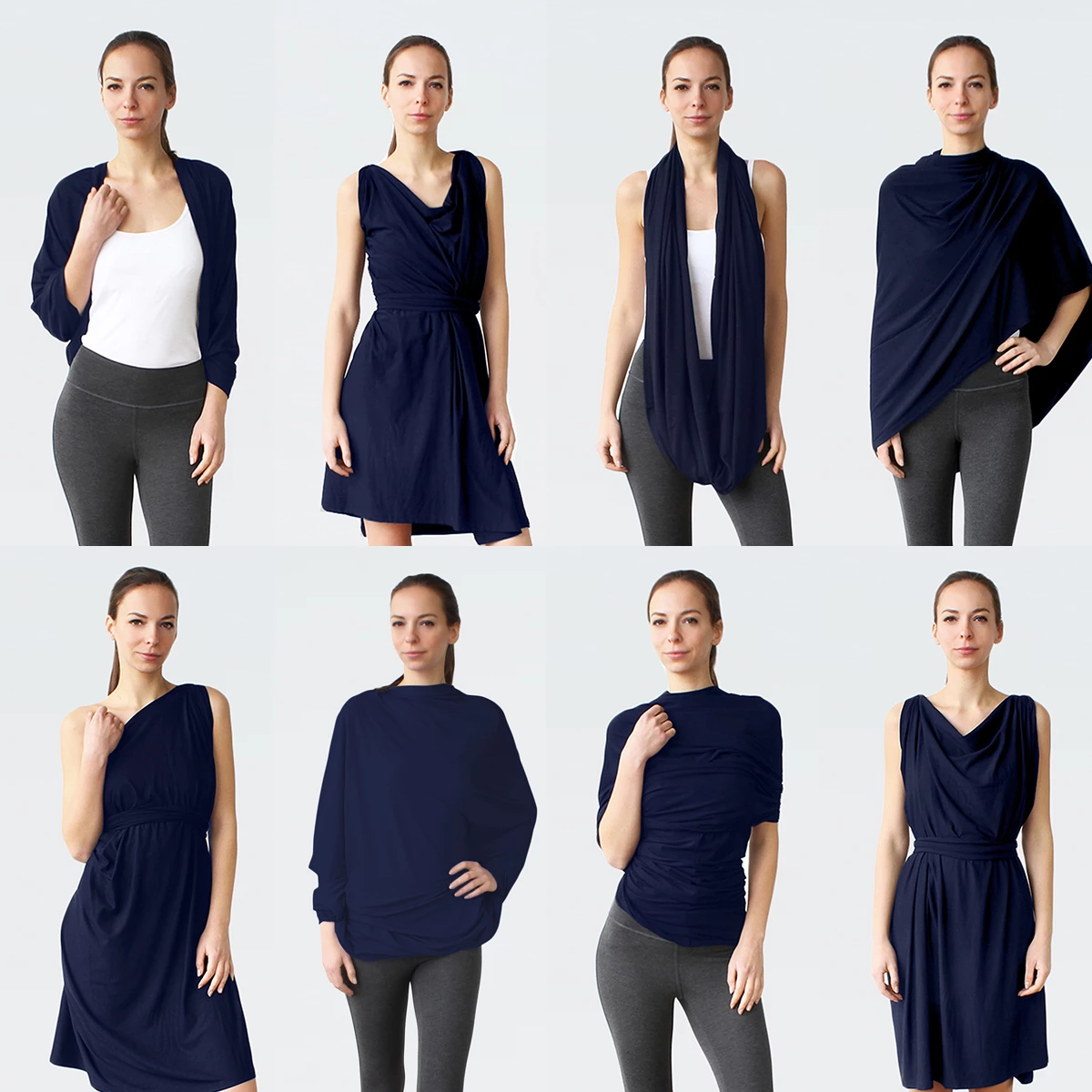 How does it work? The Cardi is a tube-like fabric that conceals clever buttons around the rim that allows you to use it as a scarf, a convertible wrap dress, and a cardigan, too.
In their description, they claim it can transform into eight unique items. But guess what? I found even MORE ways to wear the Chrysalis Cardi! Keep reading to uncover the bonus looks I discovered!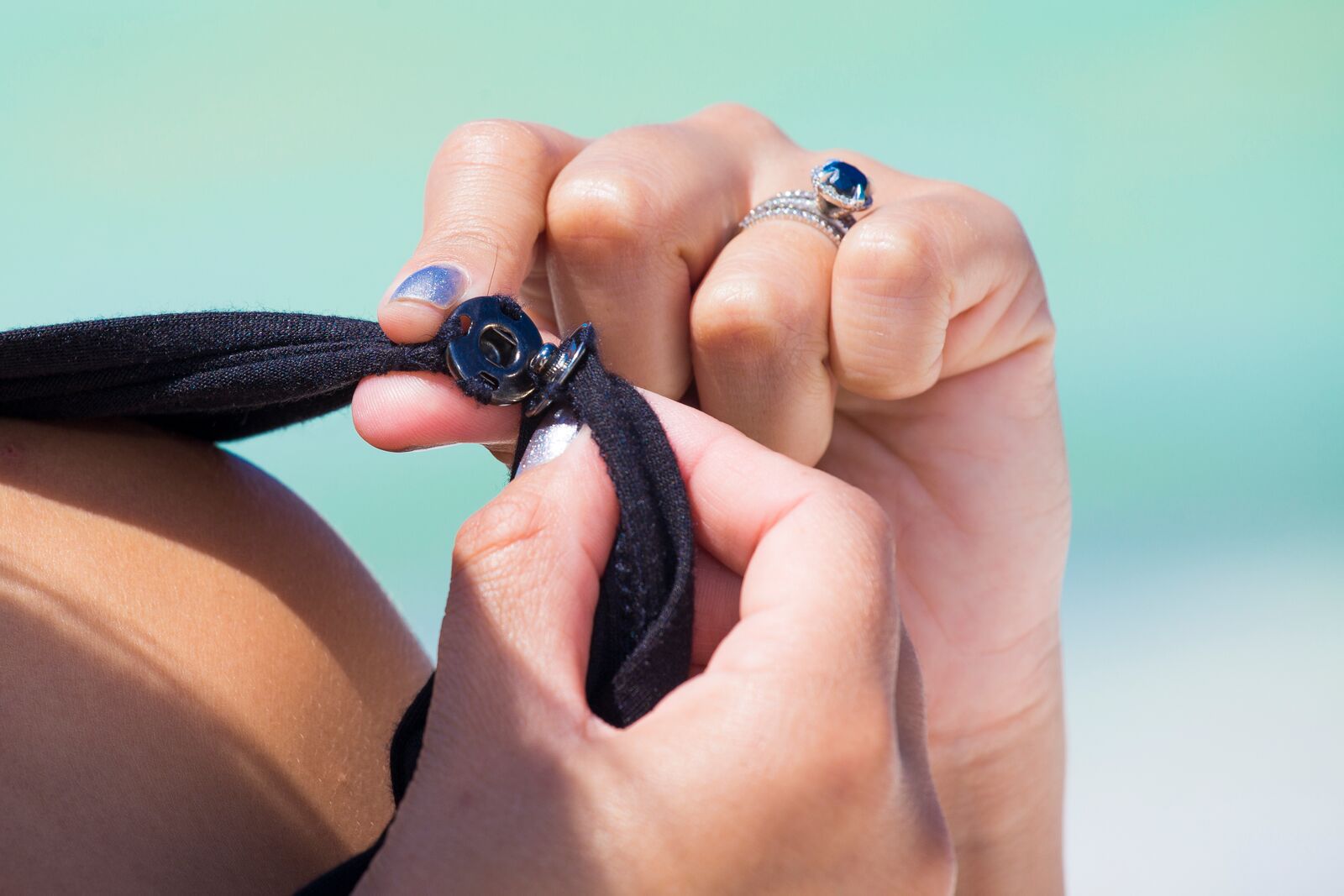 The fabric is super-soft and comfortable made from a blend of Bamboo/Spandex, which is eco-conscious, too. It's available in a variety of colors but they're constantly selling out so when you see a color you like – don't wait.
They also offer petite sizing, which is a bonus for shorties like me. At 5'2" I was a bit discouraged with the fabric length of the regular size (shown in Stone Grey below) but the petite (shown in Black) was perfect. The versatile construction allows you to play with the various styles until you uncover one that's right for you.
Here are 11+ Ways to Wear the Chrysalis Cardi: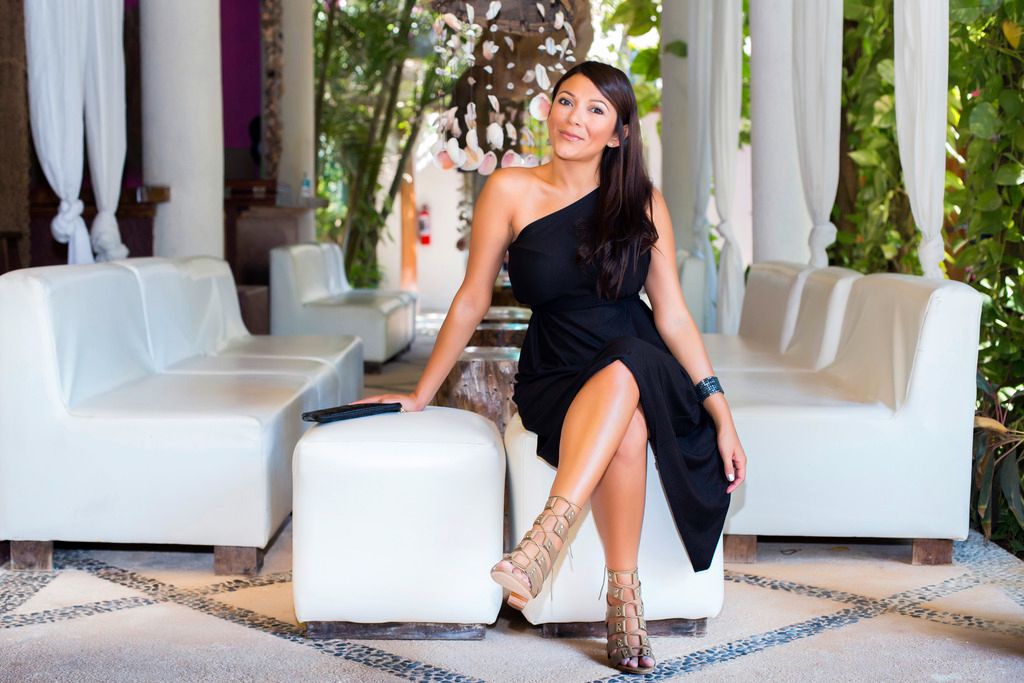 DRESSES
I have to admit, this dress took me by surprise. I wasn't expecting to like it as much as I did. It was so flattering yet comfortable, which made me feel effortlessly confident. Didn't expect to feel so fem in convertible travel clothing!
Dresses can help you minimize your travel wardrobe. Read more tips about how to create a functional but minimalist capsule wardrobe with Pack Light Stylishly!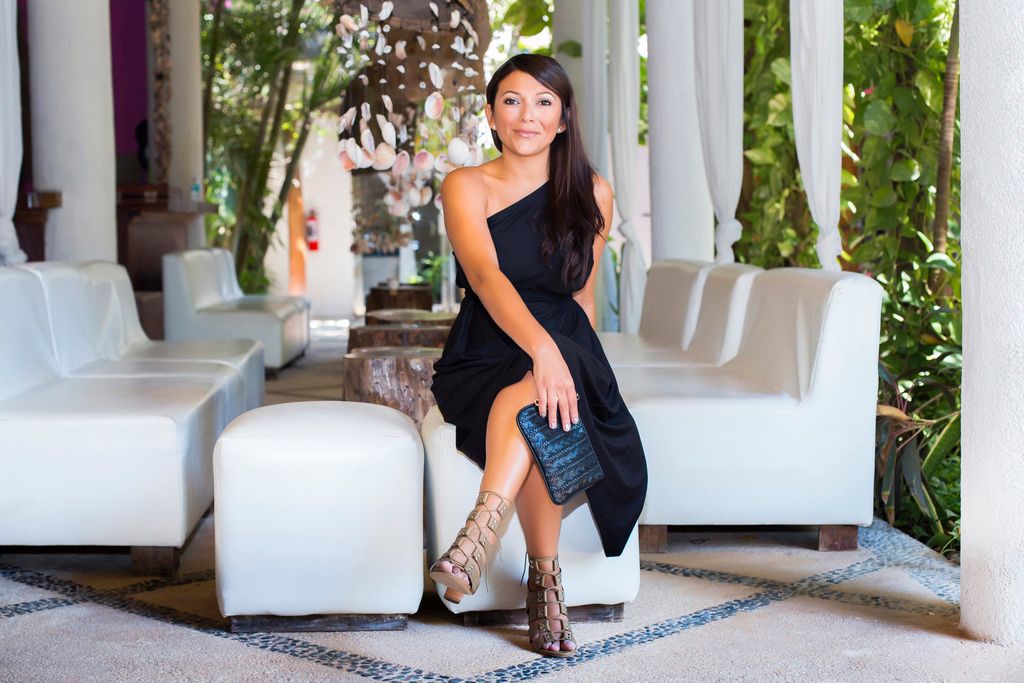 Even my partner at the time gave me top marks for this look – the "one shoulder gown" – appropriate for any dressy occasion!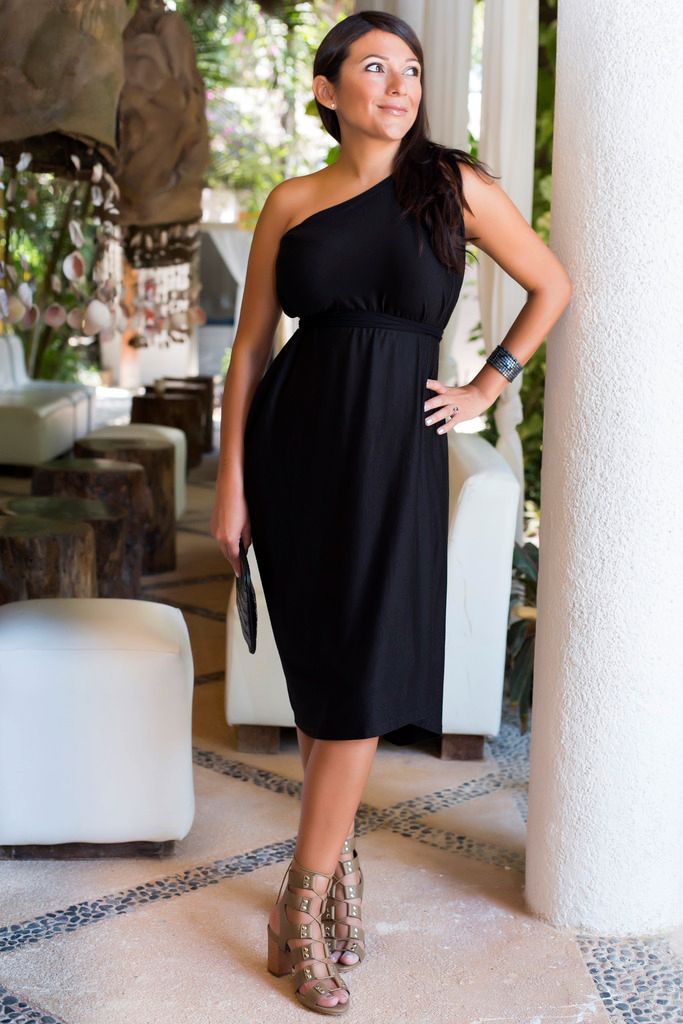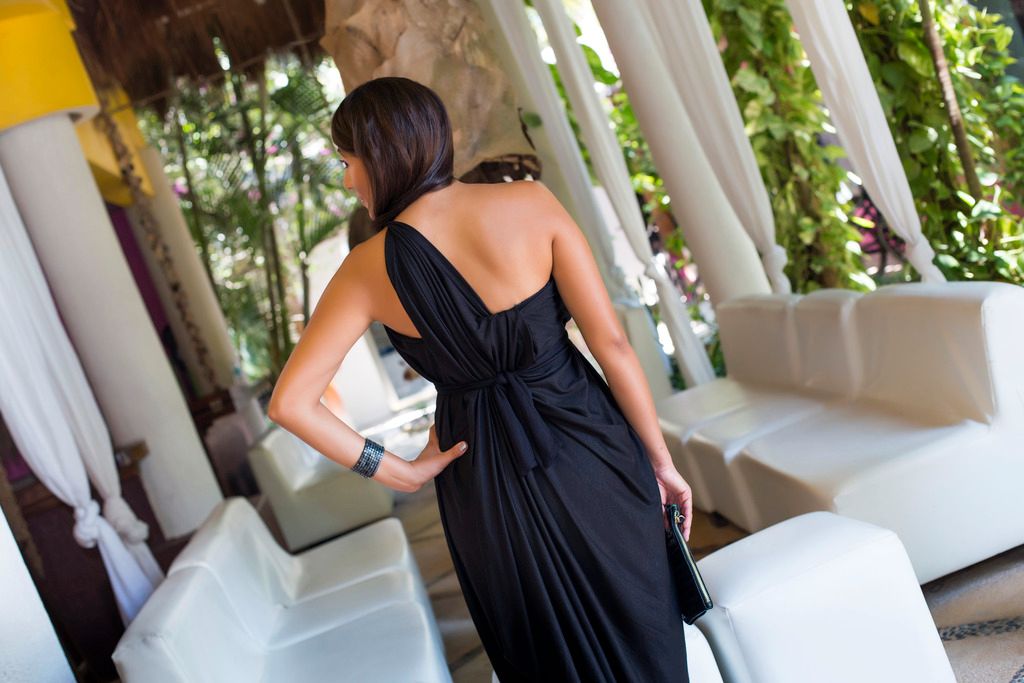 A common issue for travelers attending special occasions abroad is that they struggle with the idea of packing a dress that they'll only be able to wear once on their entire trip. This convertible wrap dress solves that problem!
You'll be able to wear it on New Years, for a destination wedding, for upscale dining, or other events. On the plus side, you can also wear it casually, too. Functional fashion!
The key to packing light is to use packing cubes to compress your clothing shown in this video!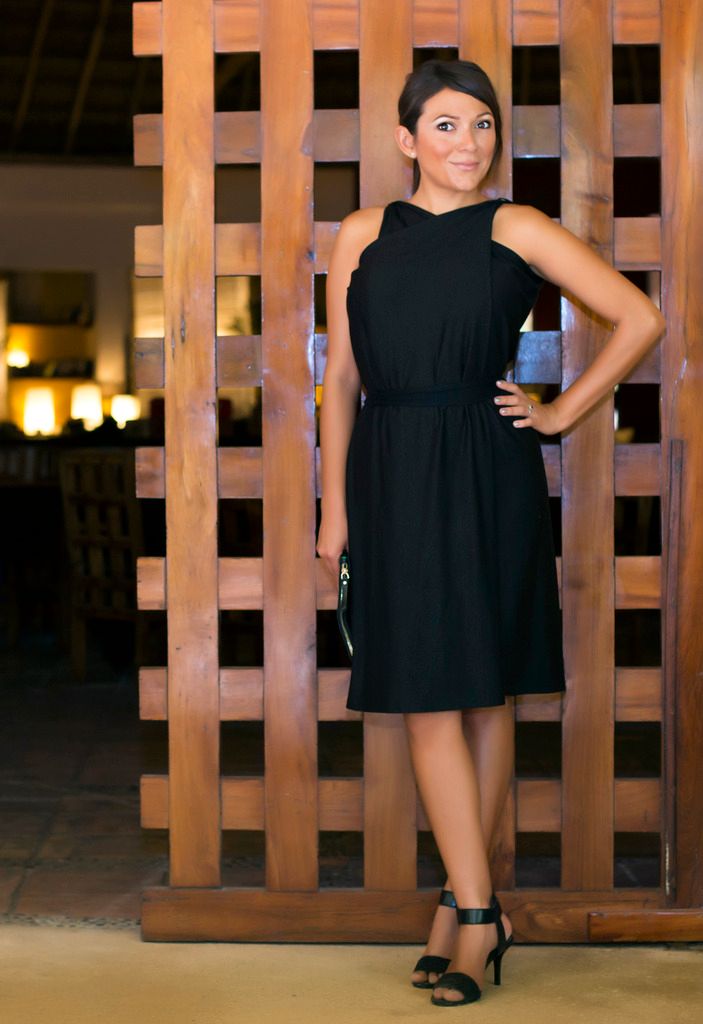 This is a bonus style I made just wearing the "Grecian Tunic" style backwards!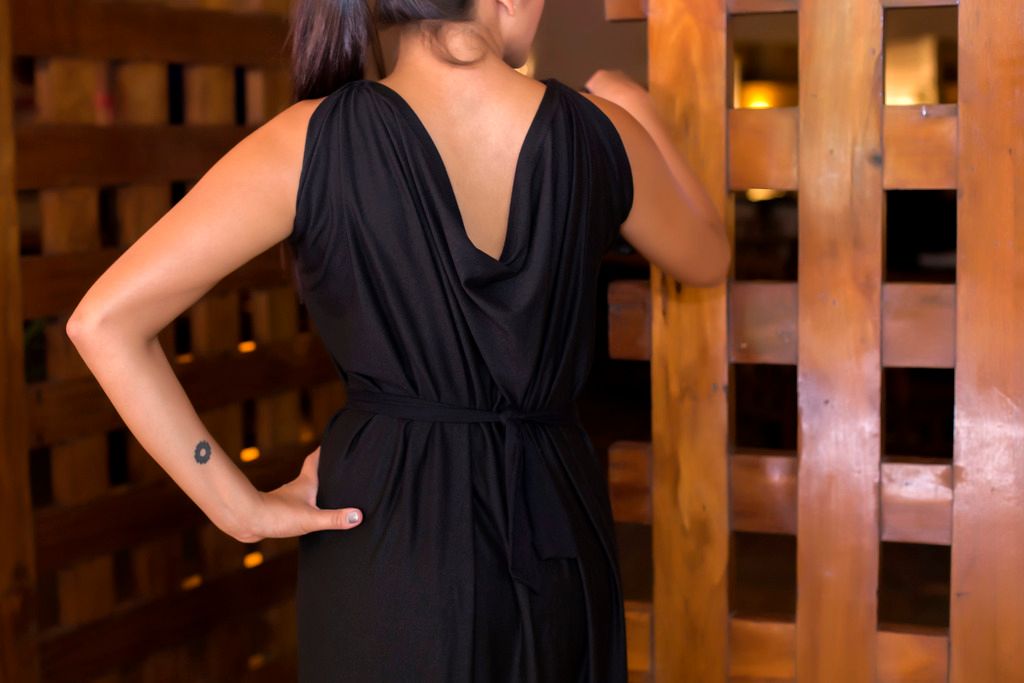 The Cardi includes a belt of the same fabric so you can adjust the waist to a location that feels most comfortable on your body. I also used my own belts to change the look or even wore it draped and loose as shown below.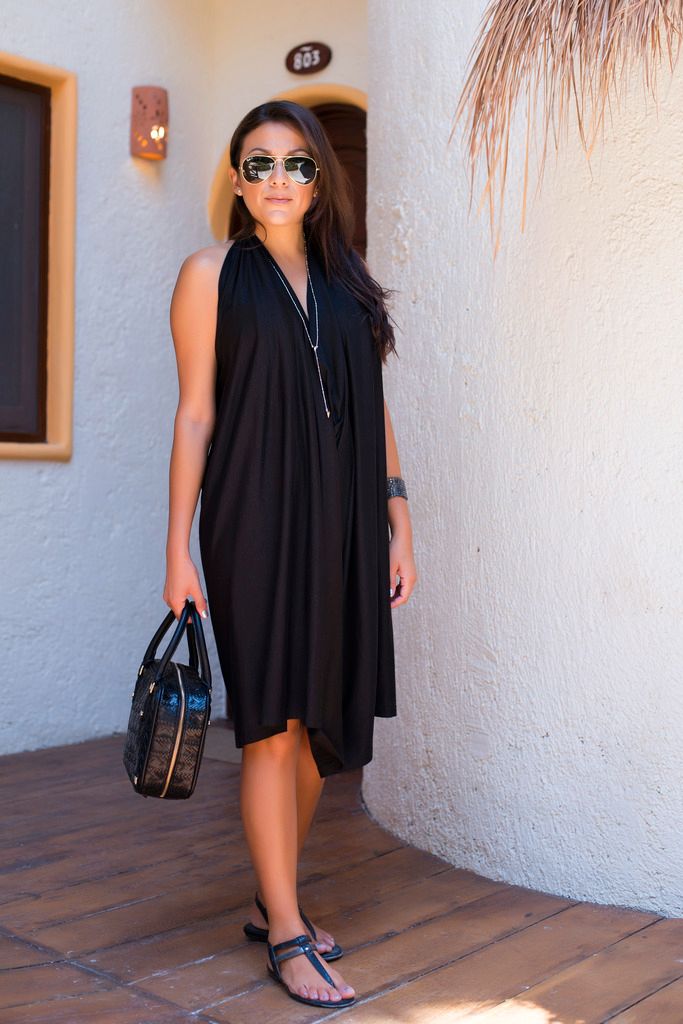 worn with Comfort Sandals (similar) and Silver Necklace (similar)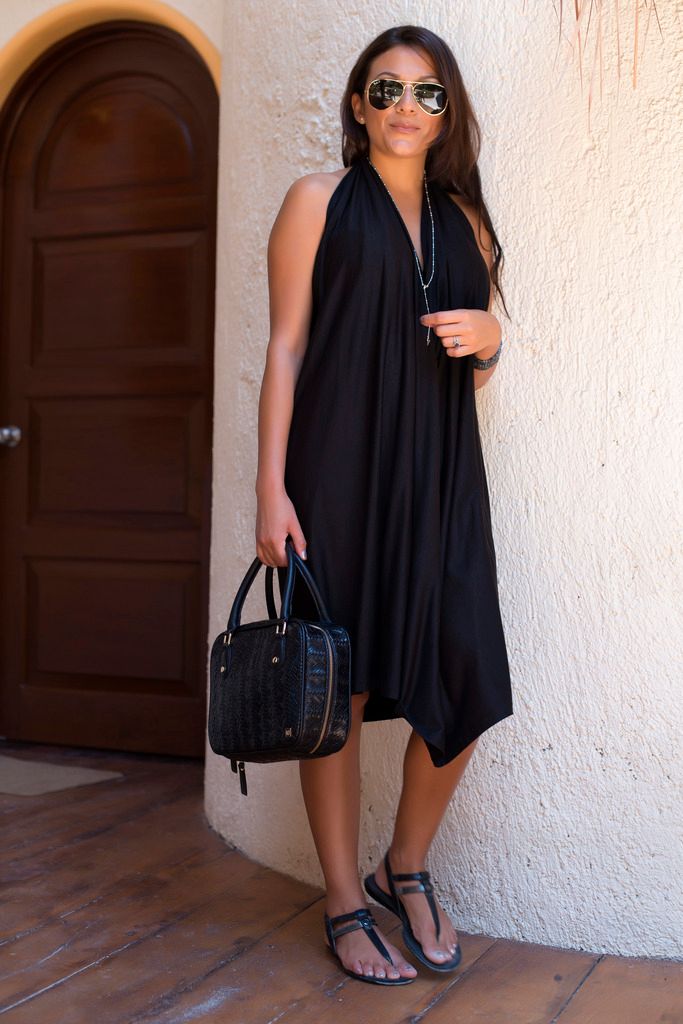 Where to wear it: Everywhere!
Getting married? These are the perfect bridesmaid dresses that can actually be re-worn after the wedding. The various dresses can be worn with both straps and strapless bras – a relief for busty ladies that fear a strapless bra for a wedding party.
Expecting? This seems like an awesome piece if you're a nomadic mom-to-be. It's the perfect investment piece to wear comfortably as your body changes. Just ditch the belt as your tummy grows and let loose.
I also totally love this for cruises! Great for casual to semi-formal nights alike.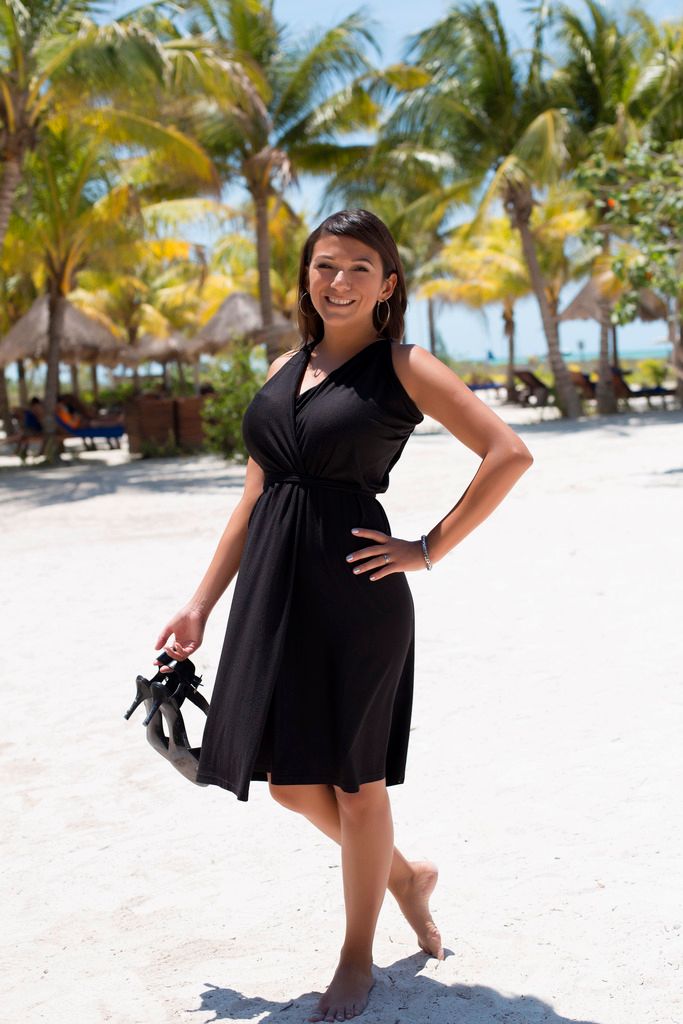 Wear it as a "Wrap Dress" as shown above and dress it up…or dress it down.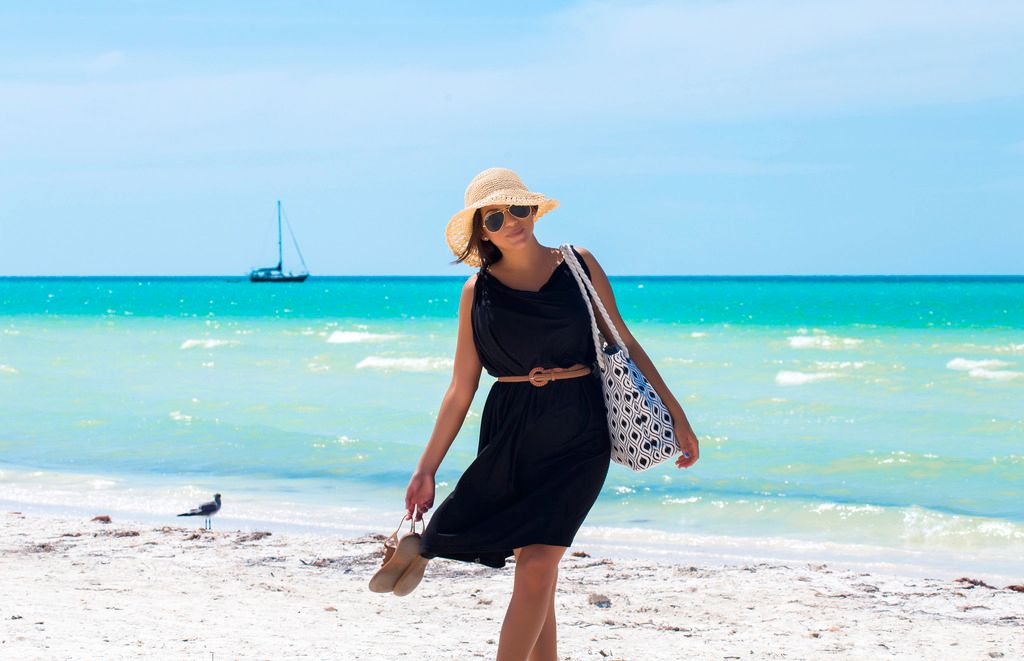 worn with this brand's beach bag and my favorite flip-flop sandals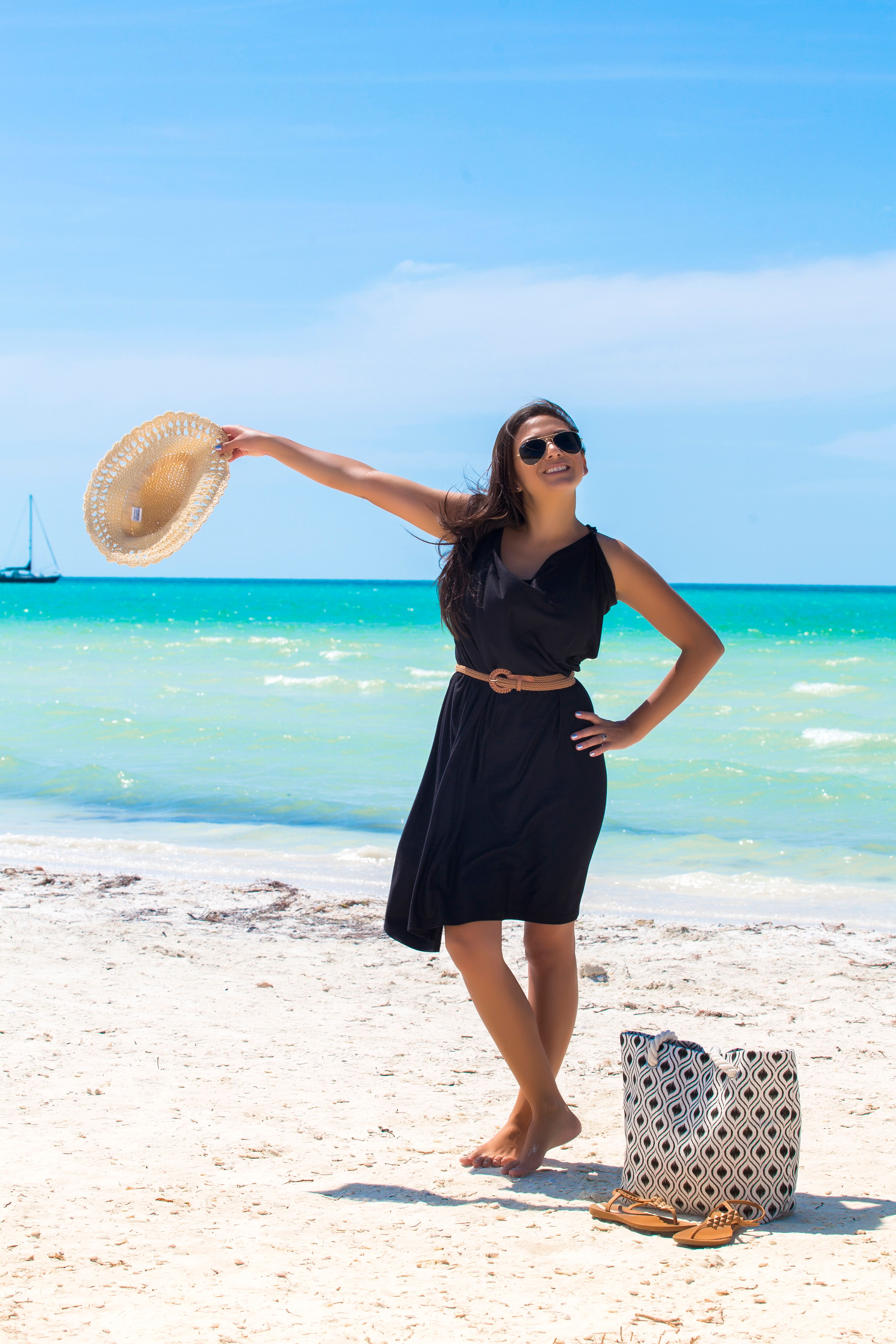 Above I'm wear this convertible wrap dress in their "Grecian Tunic" style. For an updated bonus look, I just lowered the sleeves for an on-trend off the shoulder variation shown below.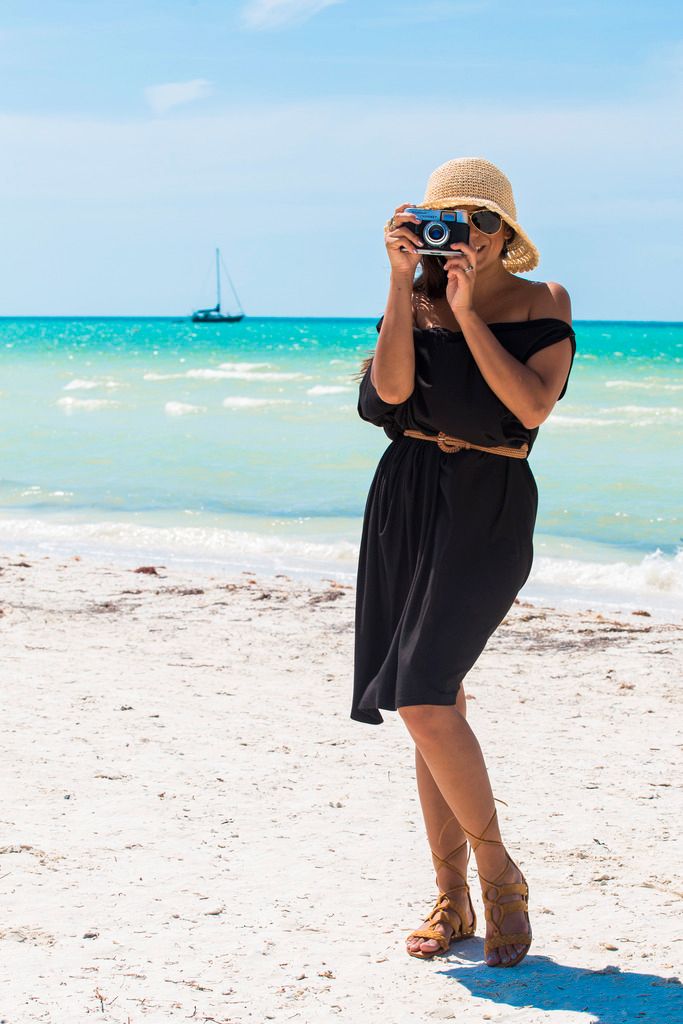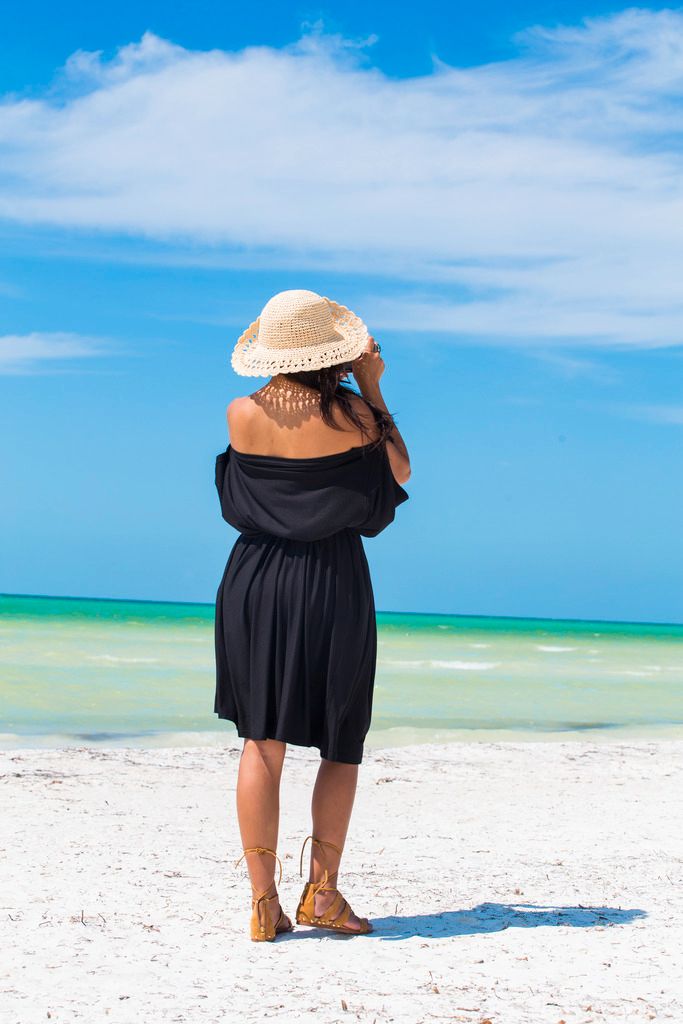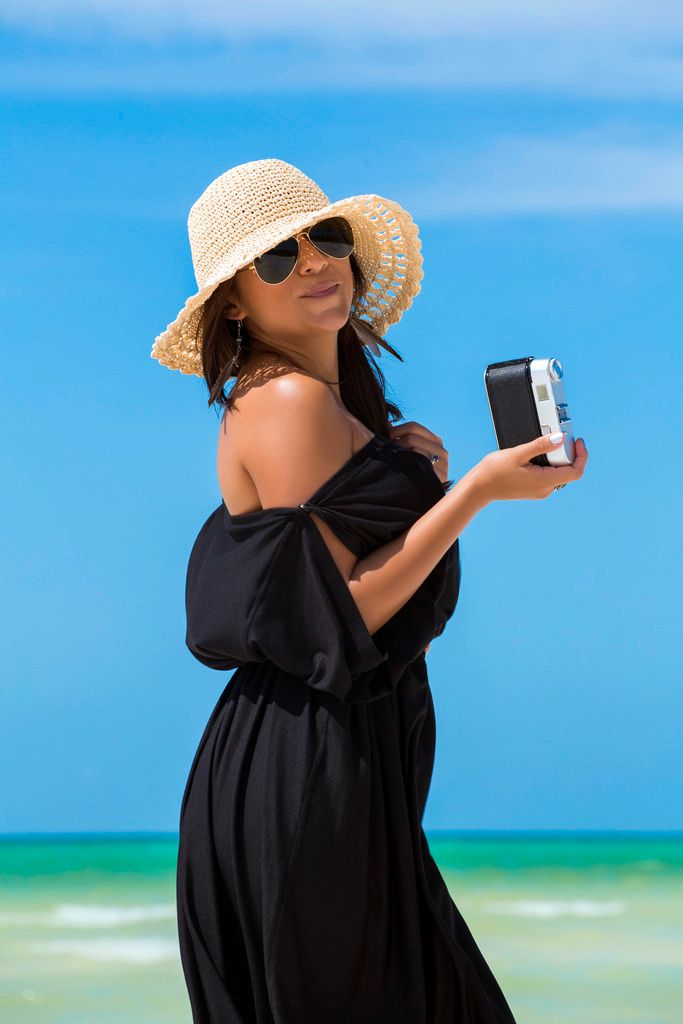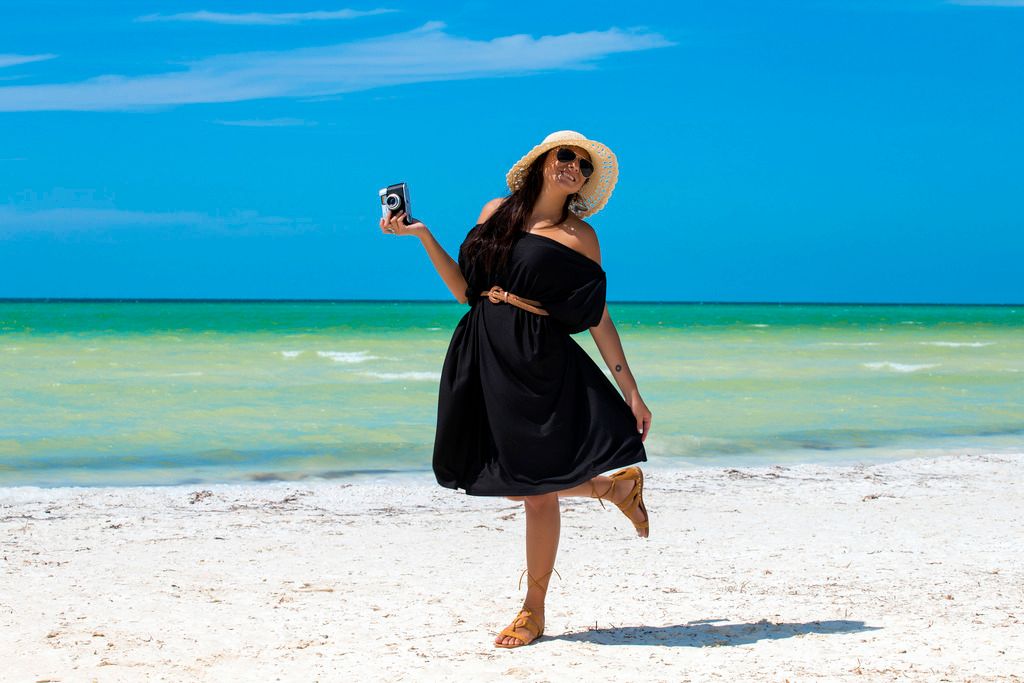 worn with a Packable Sunhat and Lace-up Sandals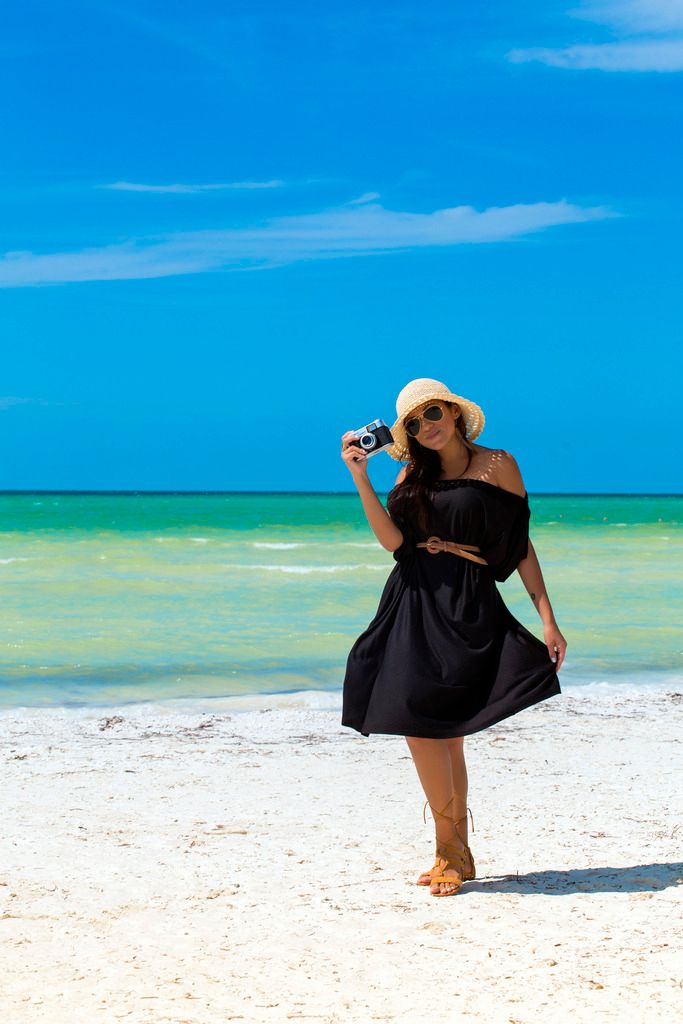 By changing the way I snapped the buttons, I was able to make a more fitted off the shoulder style, which I paired with a military inspired vest. I liked the idea of wearing this as a dressy look with my Lace-up Gladiator Heels as shown below but I could've just as easily worn it with flat sandals like shown above.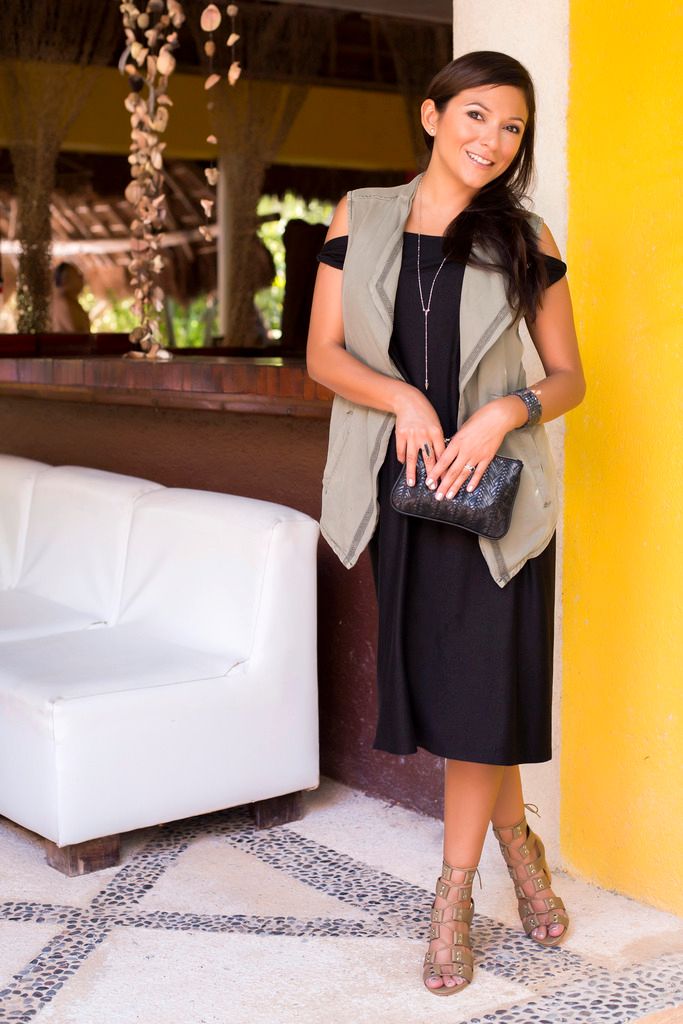 worn with  Lace-up Gladiator Heels and Military-inspired Vest (similar)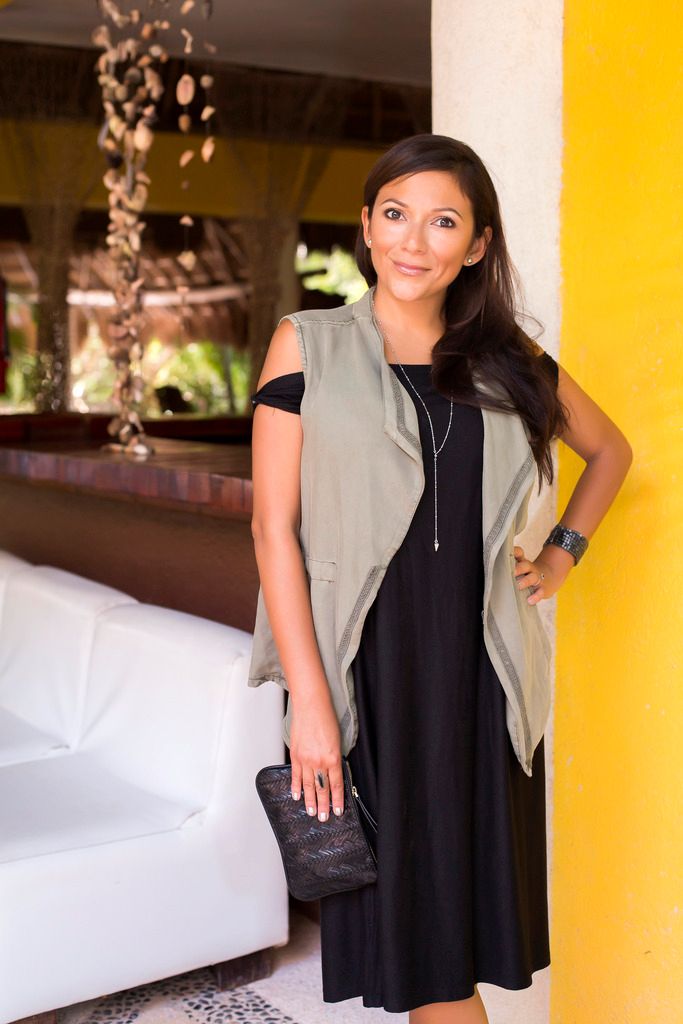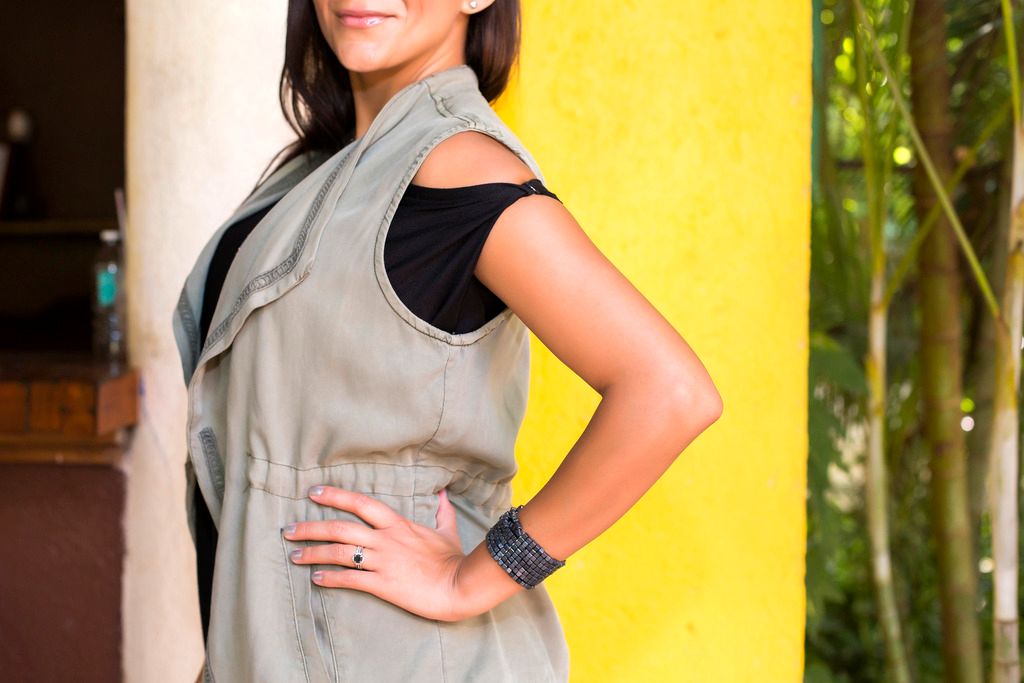 SCARVES
In addition to a dress, the Chrysalis Cardi can also be worn as a traditional scarf. And, because of its width it can be worn in various lengths and adjusted by looping once, twice or three times.
Alternatively, get creative with your scarf styles or wear it loosely as a draped one layer scarf when your outfit needs a little something extra.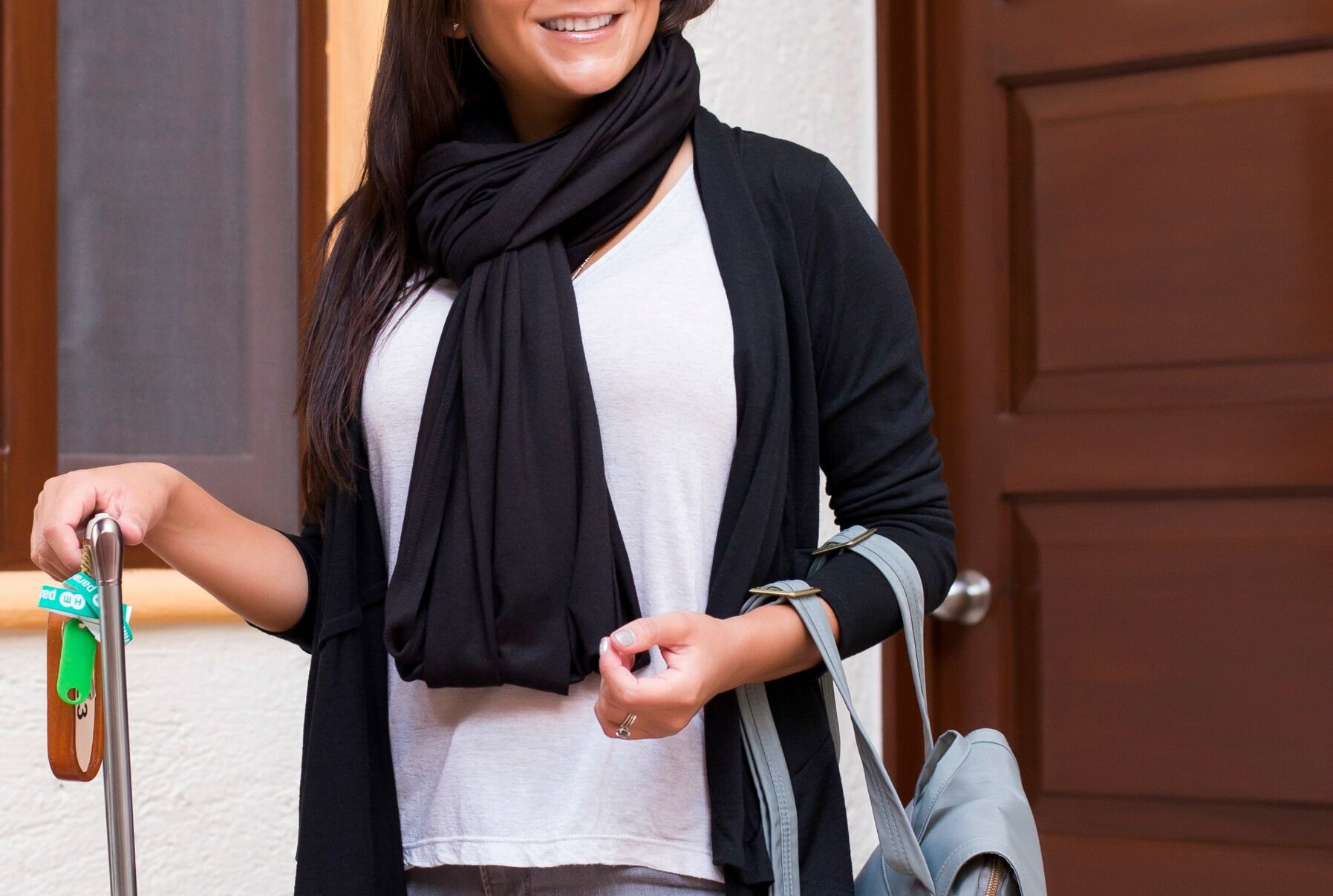 worn with Top Shop Tank and Merino Wool Cardigan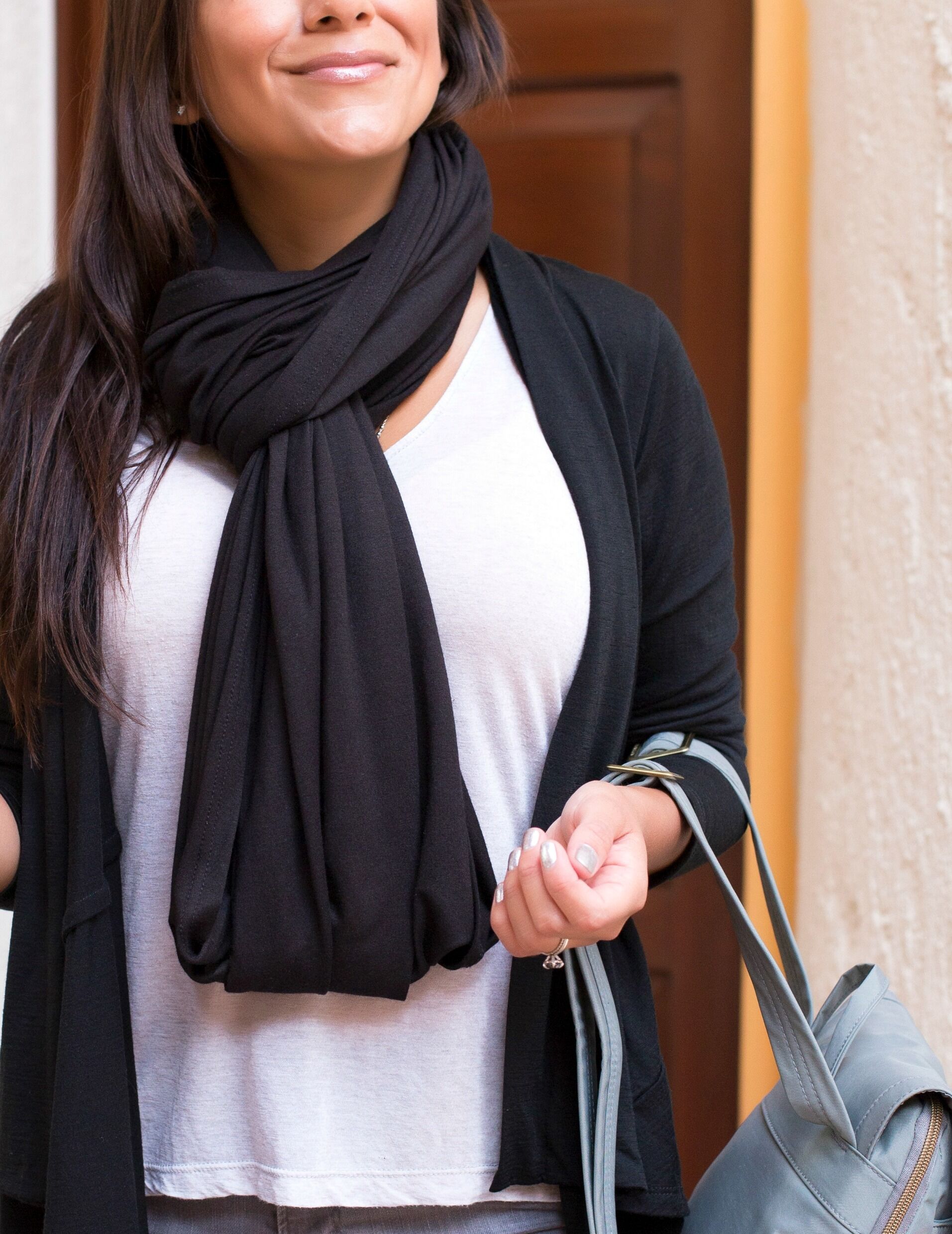 Where to wear it: Pack this item for a cold weather trip and have the functionality of a scarf plus the versatility of a dress for a night out. Pair it with a merino wool cardigan like the one above for maximum warmth!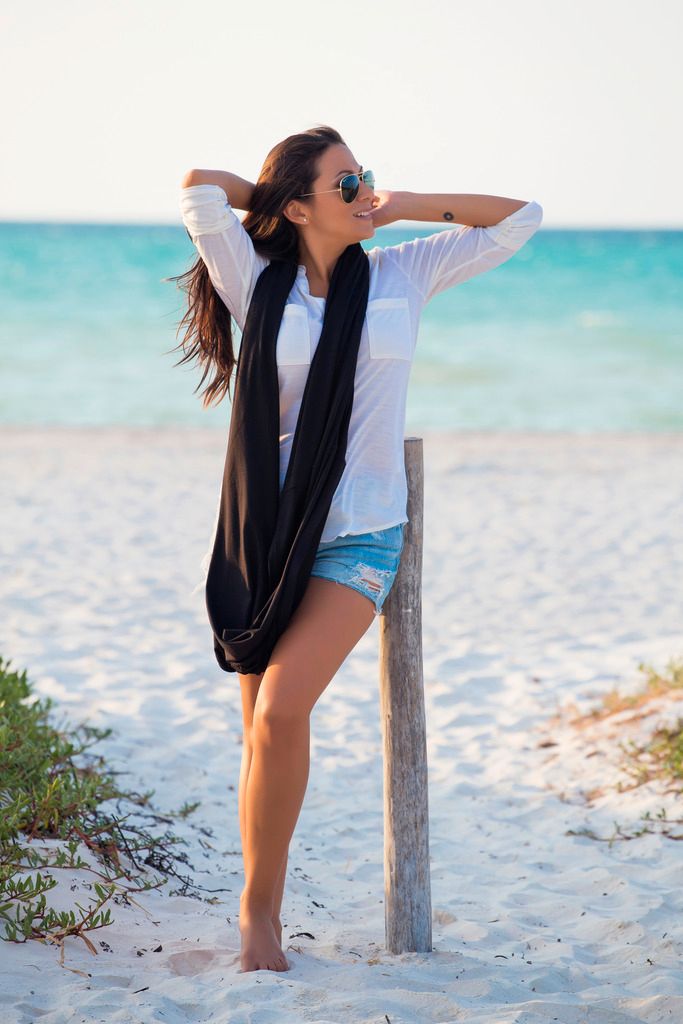 Merino wool is one of the best fabrics for travel. This 3/4 – full sleeve merino wool top is a great option when traveling to diverse climates as it can be worn in both warm and cooler weather. Add the Cardi as a scarf and you've got perfectly versatile layering pieces.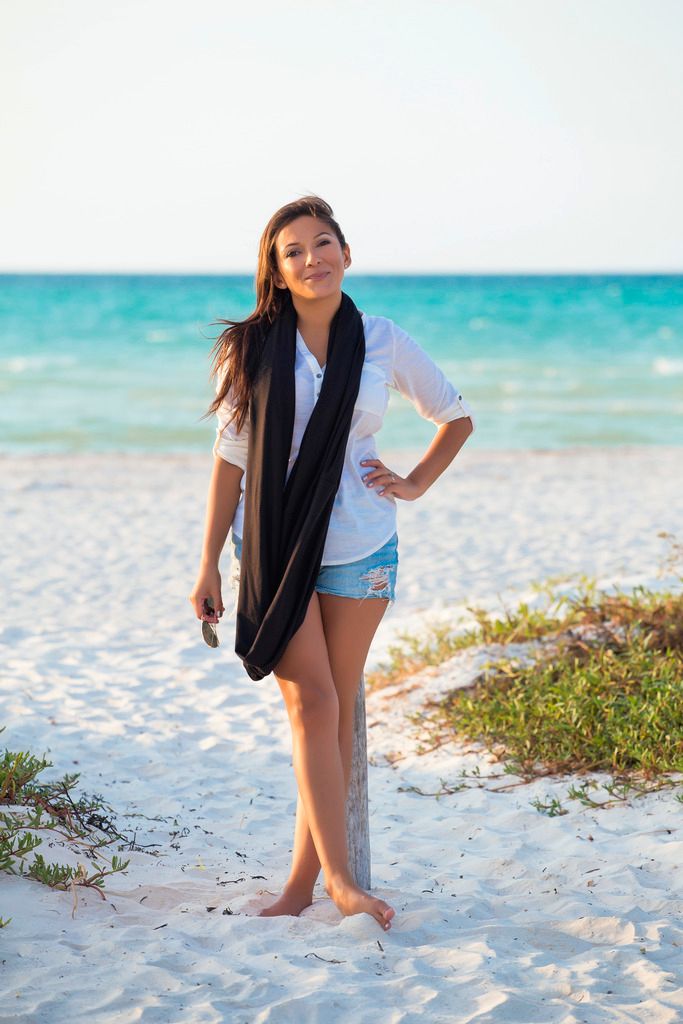 worn with Merino Wool top and All Saints denim shorts
THE COCOON CARDI
As any circle scarf, the Chrysalis Cardi has the ability to wrap around your shoulders to act as an open-front cardigan. However, Encircled gives it a pretty twist. Literally.
Using their unique button design you can clip the fabric together to cover your back and also create a lovely drape. As a bonus, you can also snap the front buttons together and close the cardi for another look.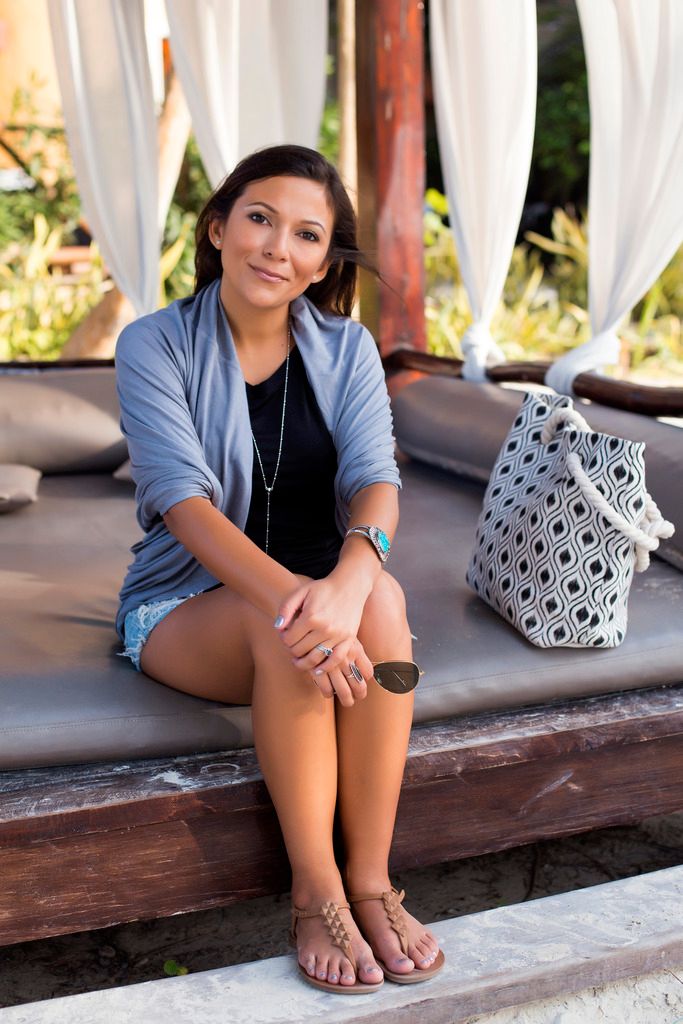 Where to wear it: Where this style anywhere! Use it as a light cover up on a flight as part of your travel outfit then wrap yourself around it on the plane in place of a travel blanket.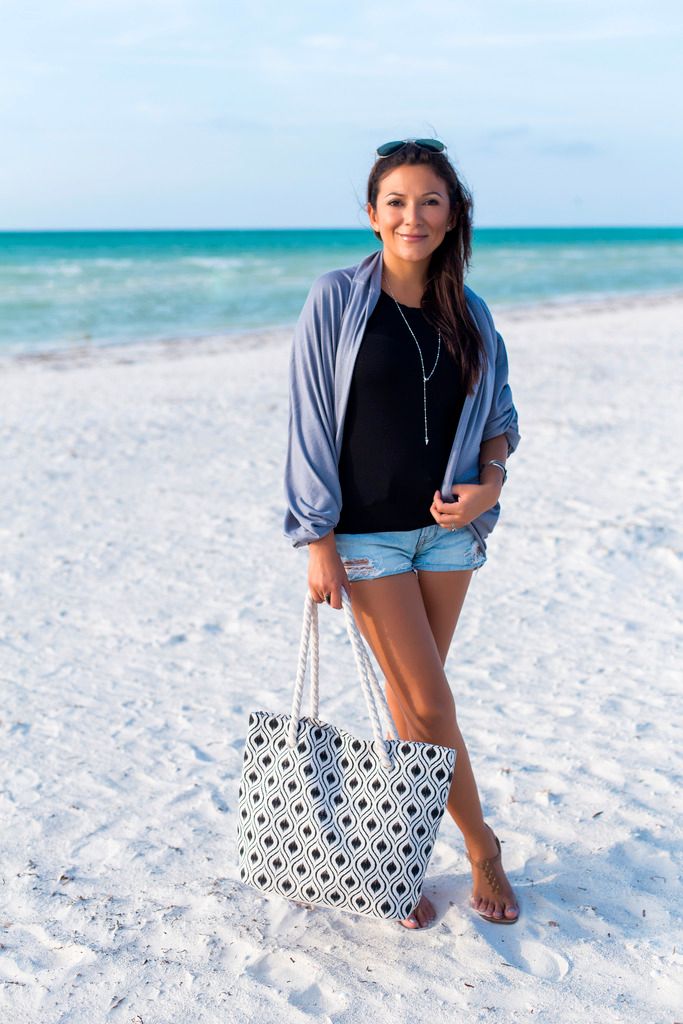 This brand's beach bag and my all-time favorite flip-flop style sandals are the perfect accessories to finish the look!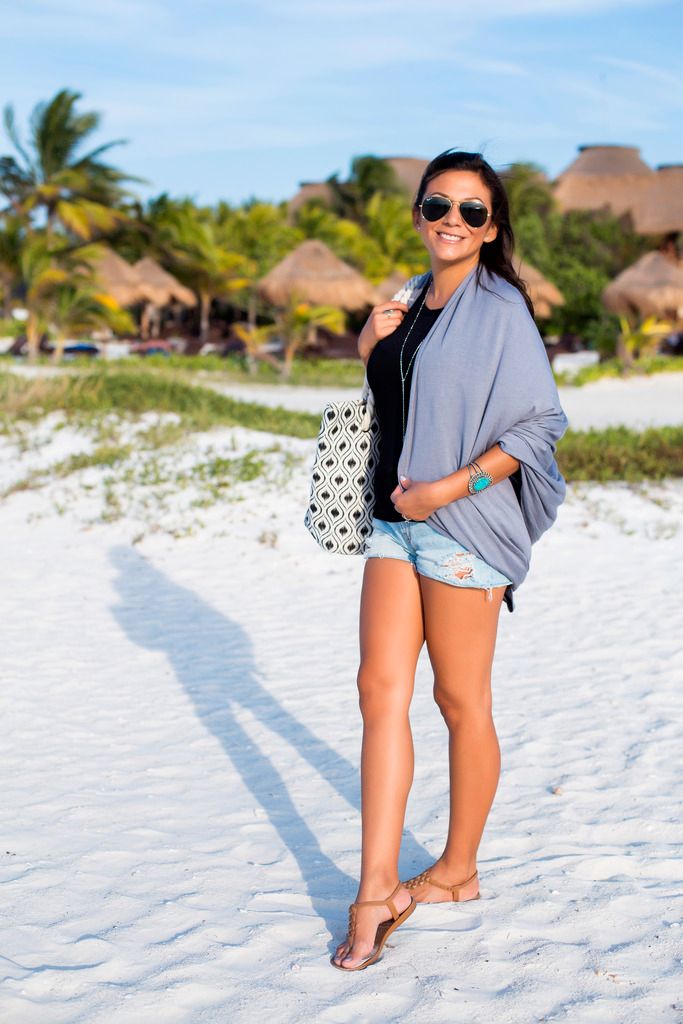 Is it TFG Approved? YES!
Tempted to pack a "just in case" dress? Don't. Pack the Chrysalis Cardi instead. You're probably already planning to take a scarf anyway. You might as well make it work extra hard for you.
While the scarf styles are classic and the poncho/cardi looks are great for changes in weather, what really sold me on this garment was the dress styles. So flattering and incredibly versatile!
I recommend the Encircled Chrysalis Cardi for cold to moderate weather trips. It's particularly ideal for multi-weather trips.
Read our ten step packing guide for dual-climate trips. This is definitely a great piece for complex itineraries.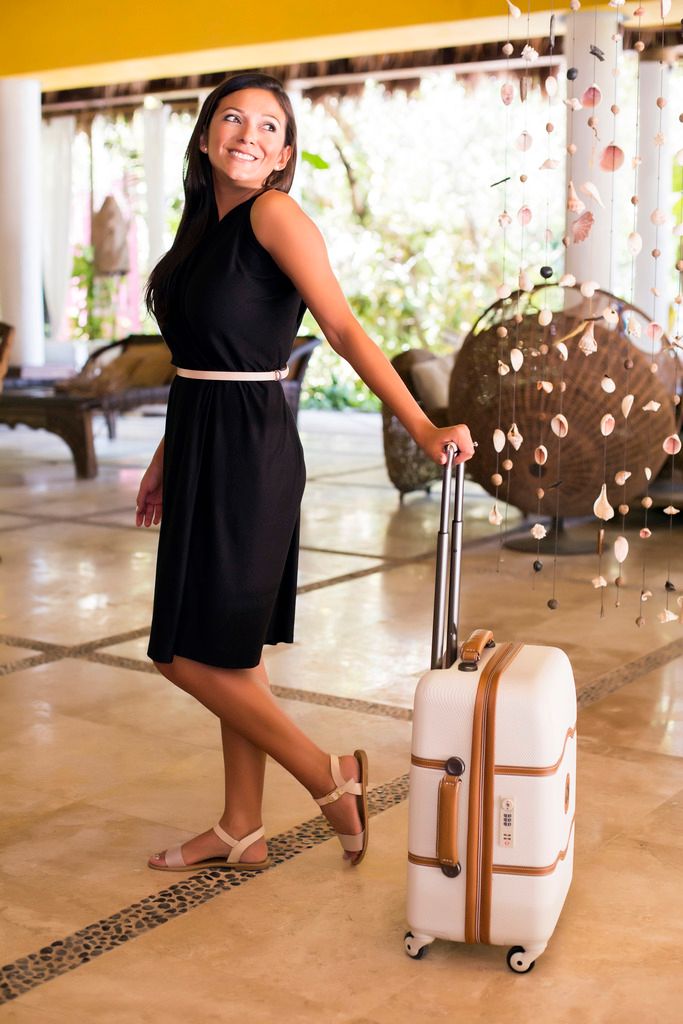 worn with Steve Madden Flats (similar) and Delsey Suitcase
IN HOT WEATHER
I'd wear it on a beach trip but I'd avoid it in extremely hot destinations where you don't have easy access to a washing machine as you'd need to wash it often due to humidity and body moisture.
You can wear it on the plane as a scarf, during the day as a dress, and as a cardigan if it cools down at night.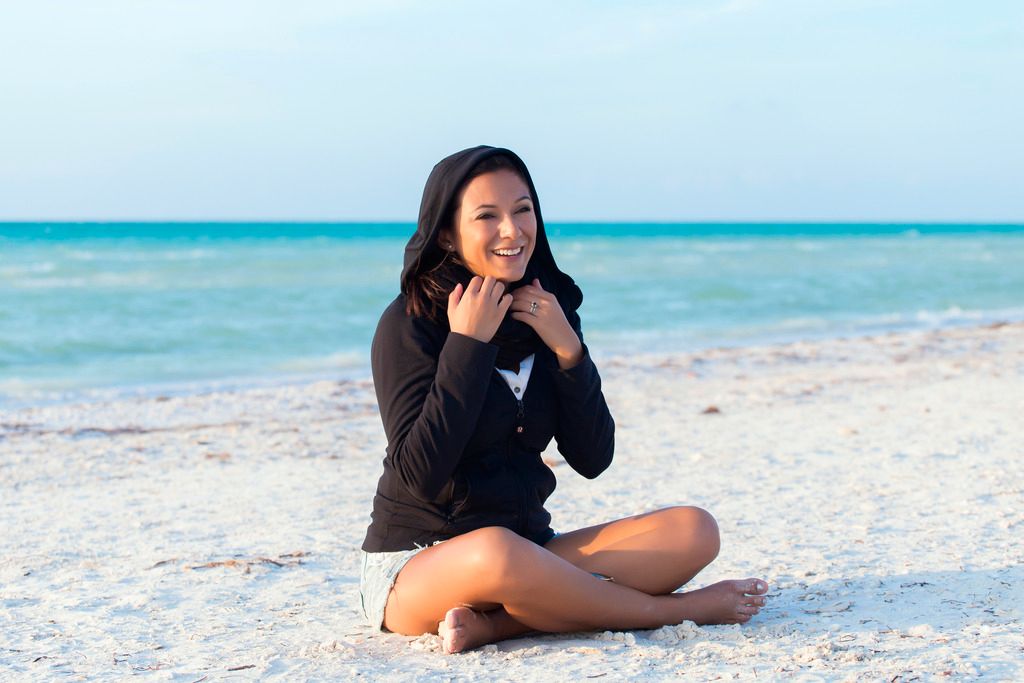 IN COLD WEATHER
I love this piece for cold weather trips. There are many times when female travelers toy with the idea of taking a dress just in case they need one to dress up at night. This is ideal because you can definitely wear it as a scarf for warmth then use it as a dress if needed.
Some women also swear by wearing dresses with layers like tights or leggings in cold temperatures, too. So you might get more use of it than you expect. And remember, you can always add a long sleeve top under the "Wrap Dress" style.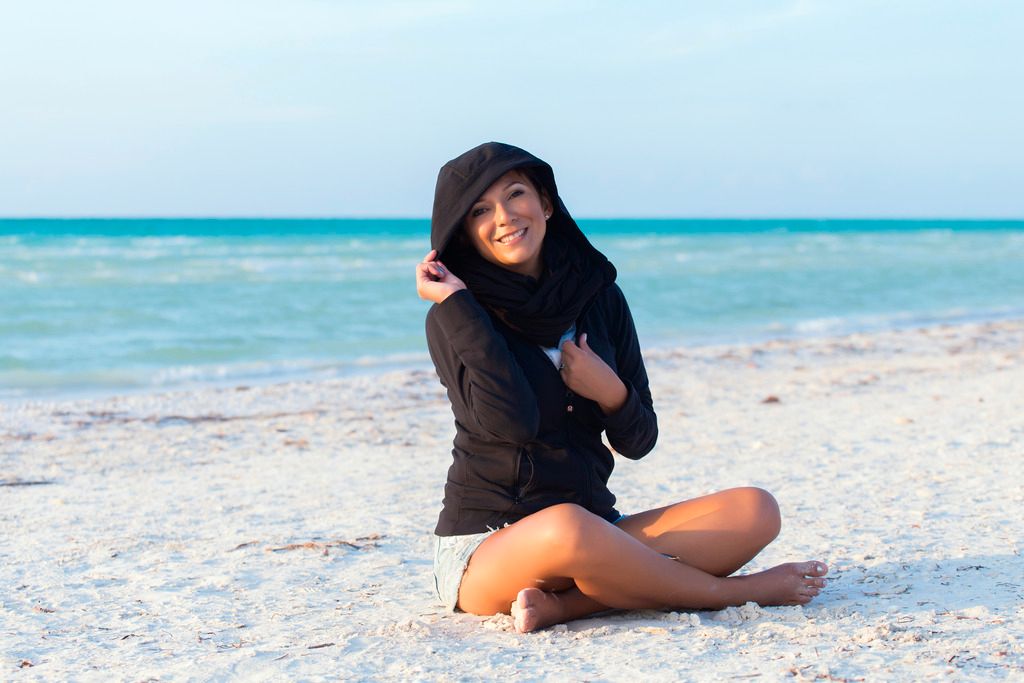 MY FINAL THOUGHTS!
The Chrysalis Cardi is one of many beautiful multi-way dresses available on the market. The tricky thing is that many of these styles require a strapless bra. While I now have an awesome strapless bra thanks to a good bra fitting, I prefer to avoid them when I can.
I definitely wouldn't classify the dress as cheap because the Encircled fabric is nicer than most jersey fabrics available in fast fashion. The dress is a similar jersey fabric to the Michael Stars tops that I always wear and softer than that of the Leith dress (another fave).
Ironically, I thought the dress was more dressy than my normal casual style. Ultimately, it's the perfect option to bring on a trip when you want to pack mostly casually and want that one special item to dress up, in case you need to but be able to use it in other ways, so it doesn't take up unnecessary space. 
On the opposite scale, it's also ideal for a trip where you'll need several dress options such as a cruise. I really regretted not bringing this dress on my 13-day transatlantic cruise opting instead for a cheap basic black dress instead. I should've brought this one!
Ultimately, one of the best things about this convertible wrap dress is that you can truly make it your own. The more I played with this item and found new ways to wear it, I grew more astounded at how clever a "circle scarf" could really get.
Share how you wear Encircled's Chrysalis Cardi on Instagram with the hashtag #TFGencircled!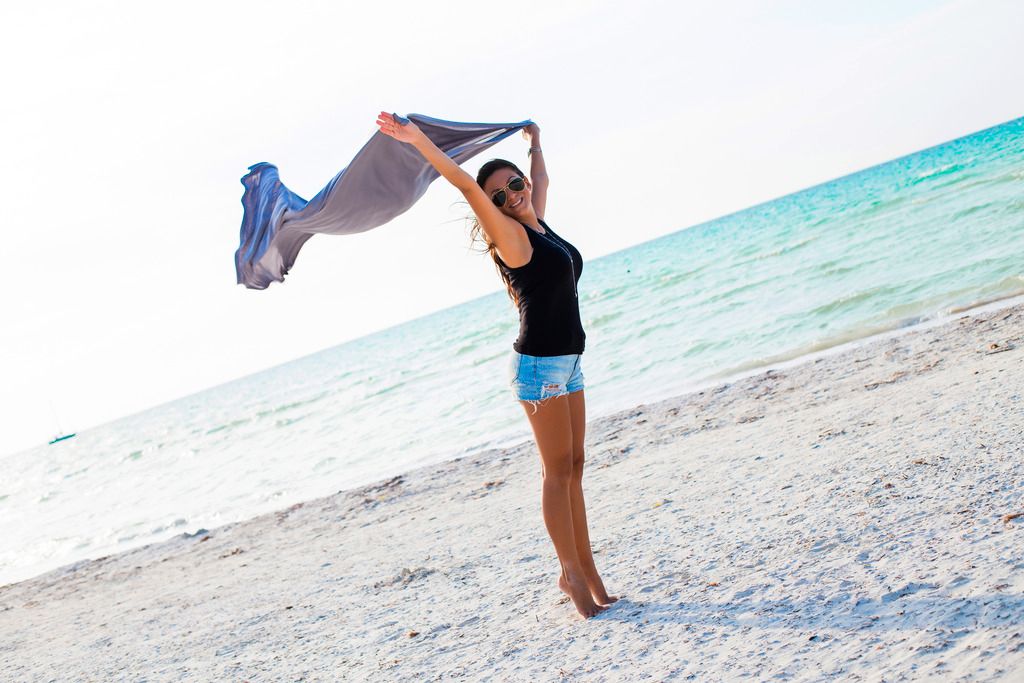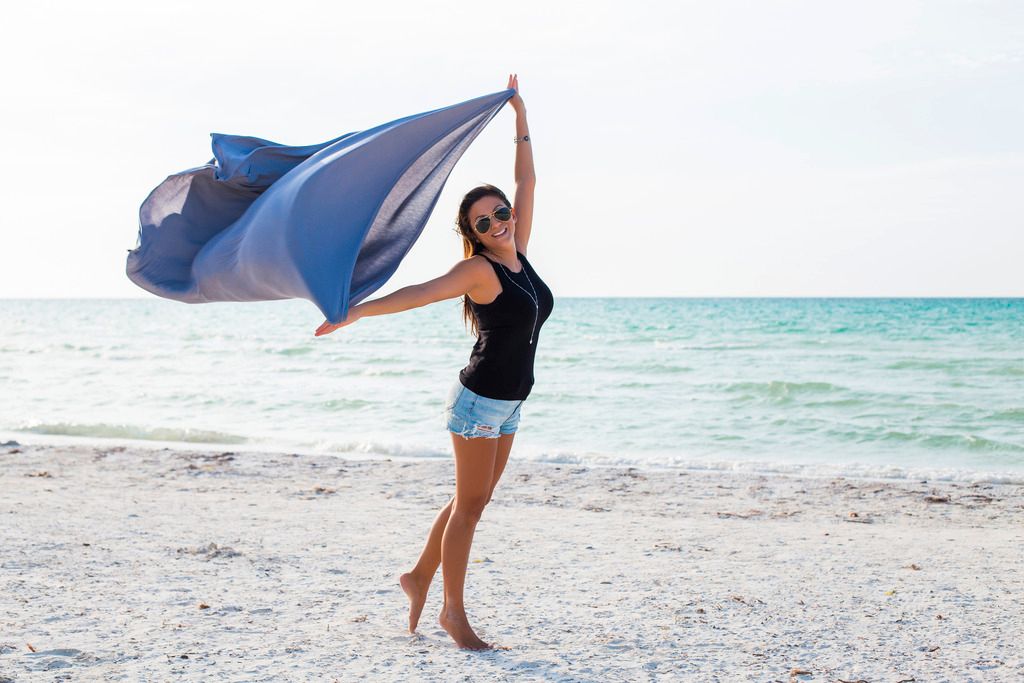 ---
For more details, please visit Encircled!
Where would you wear this convertible wrap dress?
---
LIKE THIS POST? PIN THIS PIC TO SAVE IT!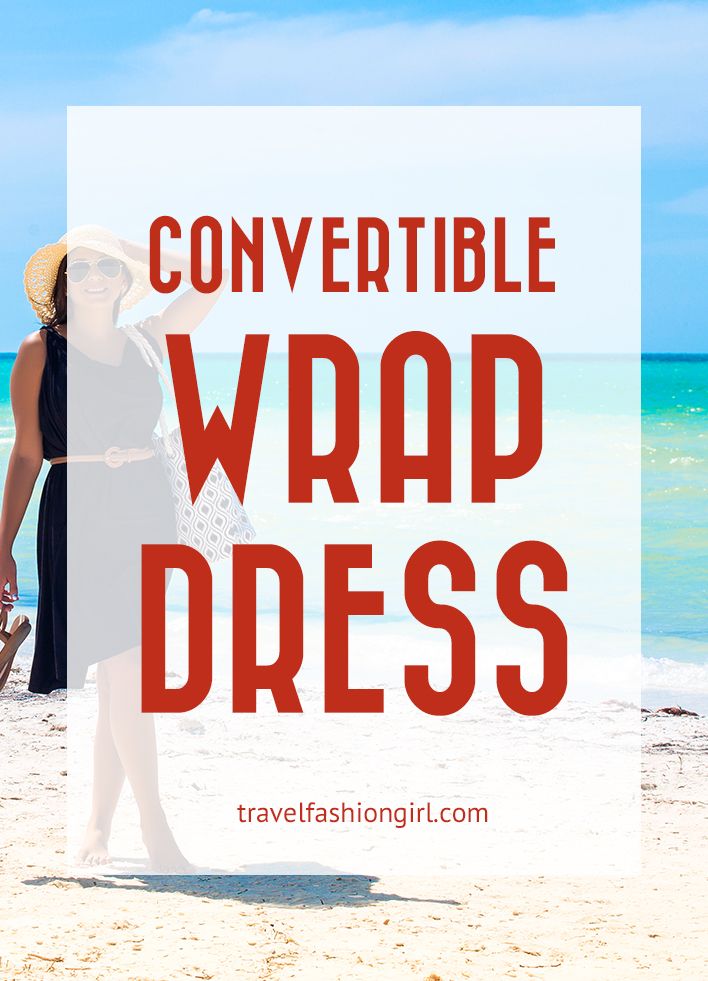 ---
Hope you liked this post on this convertible wrap dress. Please share it with your friends on Facebook, Twitter, and Pinterest. Thanks for reading!
---
Please note: This has been a product review on behalf of Encircled. However, all opinions are my own.