Support TFG by using the links in our articles to shop. We receive a small commission (at no extra cost to you) so we can continue to create helpful free content. As an Amazon Associate, we earn from qualifying purchases made on Amazon in addition to other retailers featured on the blog. Thank you, we appreciate your support!
If you're wondering what to wear in Marrakech, follow these 7 do's and don'ts to learn how you can be fashionable, comfortable and respectable too!
---
Marrakech Packing Tips
Written by: Kelly Ella Maz
---
Marrakech has become one of the most popular tourist destinations for 2014. It's exotic, it's easy to get to from Europe and it's affordable! Although many of the locals in this city are now used to North American tourists, some are less friendly to our "Western" clothing.
Factor in the incredible heat and you've got quite the packing dilemma! I promise you can be fashionable, comfortable AND respectable by following these easy packing tips when planning what to wear in Marrakech!
Tip: Want to pack light, create a capsule travel wardrobe which can easily fit into a carryon suitcase with the help of packing cubes to compress your clothing!  
Don't leave home without a few scarves.
You'll find so many uses for them that I'd recommend bringing more than one. Keep one in your purse at all times! If you're walking through a residential area, or feel as if you aren't covered enough, you can easily drape one over your shoulders and chest.
Consider packing these stylish travel accessories.
Minna Ballet Flat | Classics Flat
Closed-toe shoes are a must in the Old Medina.
Shopping in the Souk is the highlight of the city for many tourists, but unfortunately that area is also popular with a lot of animals too! Between the donkeys, chickens and dogs there can be a lot of "messes" on the ground you don't want to step on in flip flops….
Likewise, skip long pants in the Old Medina.
Choose capris or cropped pants to avoid long pants dragging in the (often wet) messy streets. Beautiful linen pants are better left for days when you're sightseeing in other areas of Marrakech!
Please read this post on how to choose the best fabrics for travel.
Lightweight fabrics will save you from the heat.
Pack pieces made from cotton or linen to keep your body temperature down. A knee-length cotton skirt will keep you cool and covered while you're out shopping, and it's also versatile enough to take you from day to night. Lightweight fabrics aren't only cool on hot days, but they also dry faster if you're doing laundry mid-trip!
V-Neck Pocket Tee | One Pocket Tee
T-shirts (rather than tank tops) are your safest choice.
Some tourists consider tank tops appropriate in Marrakech, and others don't. Save yourself the trouble of guessing and pack a few lightweight t-shirts! Again, lightweight fabrics like cotton will keep you comfortable and let you breathe in the desert heat.
Take a look at these stunning summer dresses!
Lace Swim Kaftan Plus | Tunic Dress
Beautiful dresses and kaftans are perfect for wearing at your hotel.
There are some stunning hotels here, most with elaborate courtyards with pools. Embellished, silk dresses are the perfect compliment to these beautiful settings. An exotic kaftan is not only ideal for covering up by the pool, but it's also a great souvenir! Buy one in the local Souk instead of bringing one from home.
Note: There can be quite the argument on what's considered "appropriate" clothing in Marrakech. Many women insist they were fine wearing tiny shorts and tank tops, while others say they were harassed for wearing mid-thigh shorts. I've personally experienced pushy men in Marrakech while dressed conservatively, and I've also witnessed a woman be spit on by a local because her shirt was too low cut.
Wear all the bikinis and short dresses you want at your hotel or nightclubs, but when you leave to enter the Old Medina I strongly suggest dressing more conservatively – especially if you are traveling solo or as a group of women. Nothing will ruin your vacation more than unwanted attention.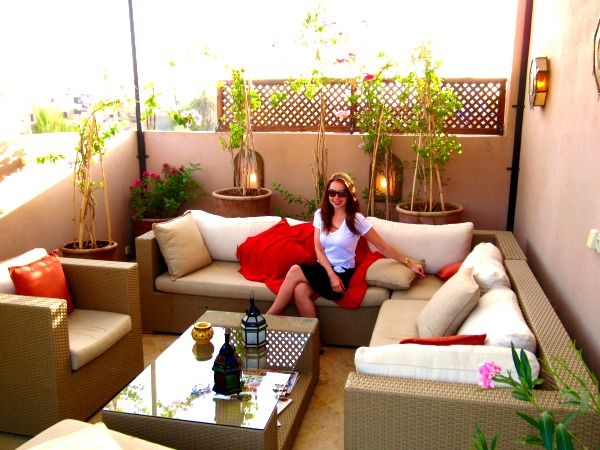 ---
Are there any tips you want to add on what to wear in Marrakech?
---
For more Africa packing list ideas, please read:
Suggested Travel Resources:
---
Hope you enjoyed this post on what to wear in Marrakech. Please share it with your friends on Facebook, Twitter, or Pinterest. Thanks for reading!
---
Bio: Kelly Ella Maz is a travel writer from Canada. Her passion for travel and worldwide experience led her to starting her own travel planning business and blog. She's currently living in Barcelona where she spends her days on the beach and her nights at local tapas bars. You can follow her travels at KellyEllaMaz.com.
---