Support TFG by using the links in our articles to shop. We receive a small commission (at no extra cost to you) so we can continue to create helpful free content. As an Amazon Associate, we earn from qualifying purchases made on Amazon in addition to other retailers featured on the blog. Thank you, we appreciate your support!
Black Friday is now sadly over, but be sure to bookmark this post for next year's sale. Meanwhile, review the biggest sellers and reader must haves from 2022!
Bookmark this page to ensure you don't miss the sale next year!
---
Black Friday Deals
---
Black Friday is officially over, but remember to bookmark this post, so you don't miss out on any travel deals in 2023. To build excitement for next year, see the most popular reader must haves and best sellers from 2022!
If you're interested in more ideas and want to support TFG at no extra cost to you, feel free to use the links from the Shop Our Favorites Page! Happy shopping!
Our Favorite Black Friday Sales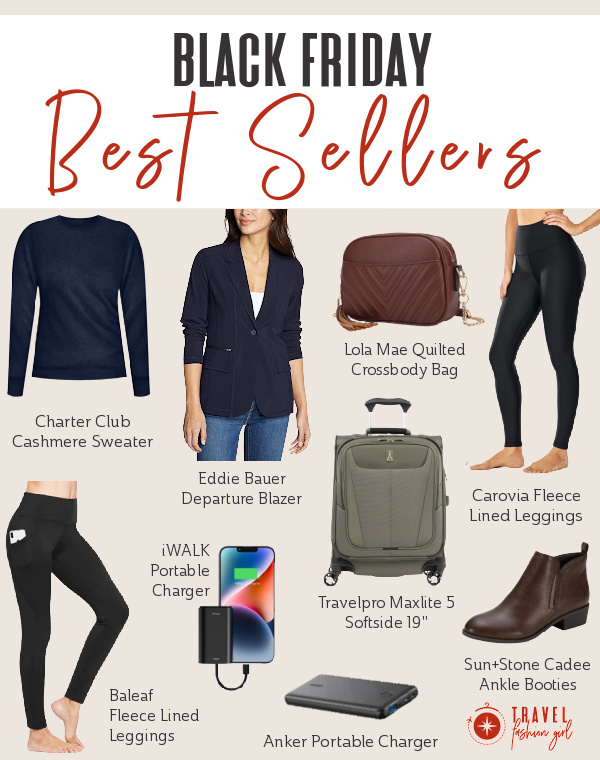 Charter Club Sweater | Eddie Bauer Blazer | Lola Mae Crossbody | Carovia Leggings | Baleaf Leggings | iWalk Mini Charger | Travelpro Suitcase | Anker Portable Charger | Sun & Stone Ankle Boots
Top Reader Favorites for Black Friday
Selected products discounted across various retailers
Readers have keeping warm and gift-giving in mind for the upcoming Black Friday weekend! And if you're looking for some cute stocking stuffers, the most popular electronic items are the Anker Portable Charger (click the 15% coupon) and the iWalk Mini Charger for iPhones (48% off and the size of a credit card). Both are perfect to charge devices while on the go! 
If you're on the hunt for luggage or handbags, TFGs still adore the Travelpro Maxlite 5 19" Suitcase for international carryon travel (40% off), and the cute Lola Mae Crossbody Purse is already low at regular price, but at up to 45% off, that's a steal!
The Apple AirTags, 14% off the one pack and 19% off for the pack of 4 (Limited time only), are an amazing way to keep track of or locate lost luggage in an airport according to TFG readers! And for non-iPhone users, readers recommend using the TilePro trackers which are compatible with Android devices and IOS devices. 
And if you're looking for some new clothes, readers have been buying up warm clothing. The Eddie Bauer Blazer (down to just $64!) is a huge hit for travel, being so soft and comfy, while the Charter Club 100% Cashmere Sweater is ideal for layering under a blazer, perhaps. And the sweater is now under $50! You can top that pretty outfit off with the super popular Baleaf Fleece Lined Leggings (23% off plus 15% coupon – select colors & sizes), plus the new reader fave, the Sun & Stone Kadee Ankle Boots, which are only $19.99, from $49.99!
A popular runner-up to Fleece Lined Leggings is the Carovia Fleece Leggings. I own them myself, and they're warm, never pill, and are super cozy!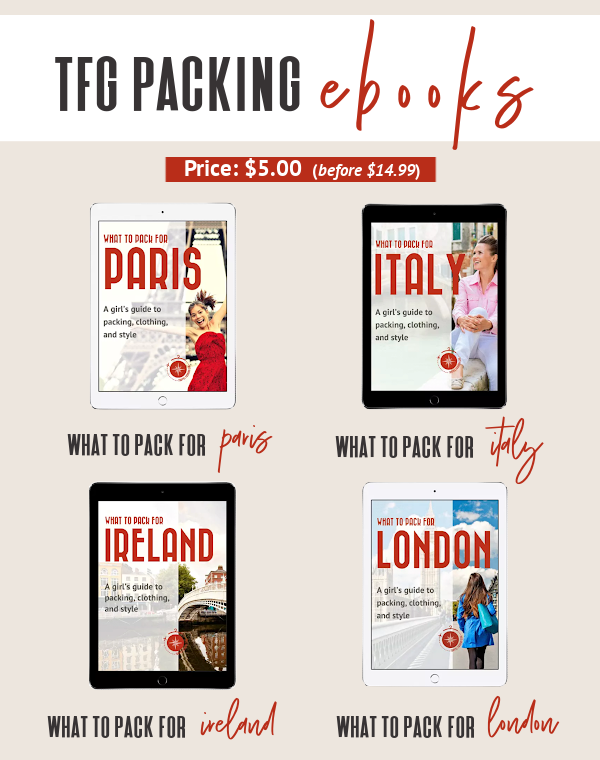 Stop Overpacking | Destination Ebooks | Pack Light Stylishly
Travel Fashion Girl 
Ebooks at $5.00 each!
Pack Light Stylishly at $5.00
Stop Overpacking at $10.00
There are so many wonderful Travel Fashion Girl products on sale that we're excited to share, and the prices on these books and the ecourse will increase soon, so it's recommended you get any now while you can!
If you struggle with how to pack efficiently, our Pack Light Stylishly ebook can. help! For only $5.00, you'll learn how to pack exactly what you need for a trip without sacrificing style. Download it directly from the website!
And if you're an overpacker (guilty of this myself), find out the secrets to downsizing your belongings like a pro in our Stop Overpacking ecbook, for only $10.00! 
Sometimes it can be a struggle to know what items to bring for a certain place, especially what to wear seasonally. Our destination ebooks have become a popular source to create the right packing list for a specific location, including Paris,  London, Italy, and Ireland. Each book is only $5.00!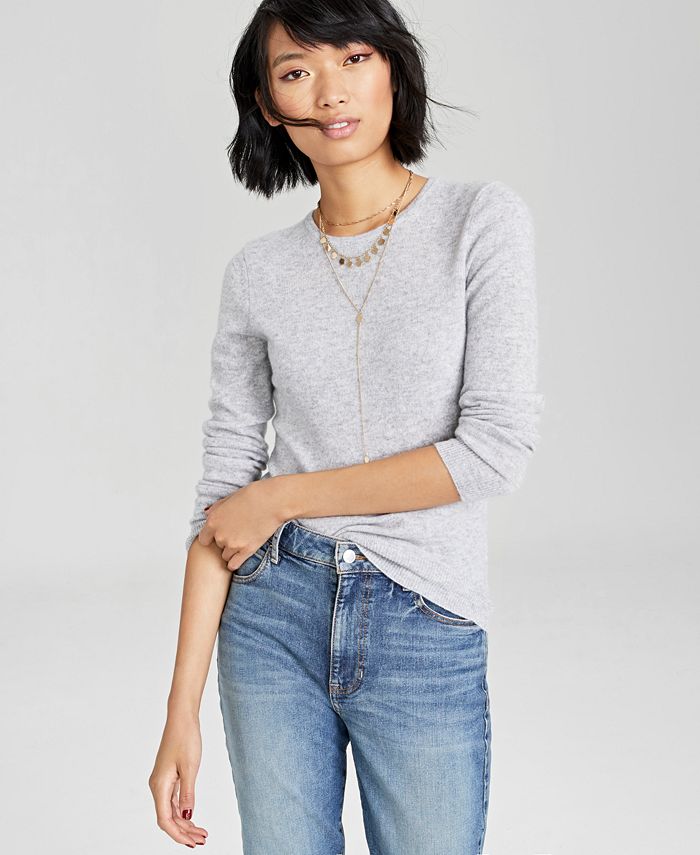 Charter Club 100% Cashmere Crewneck Sweater in Sizes XS-L
Macy's
Friends and Family an extra 30% off
Macy's has emerged as a major reader favorite during Black Friday weekend! They're a wonderful mix of quality and reasonable price points.
Discounts include popular clothing items recommended by TFG readers like the Charter Club 100% Cashmere Crewneck Sweater, 32 Degrees Womens Long Sleeve Crewneck, and Cuddl Duds Softwear Leggings, Sun + Stone Cadee Ankle Boots. All are perfect for staying warm and snuggly this winter!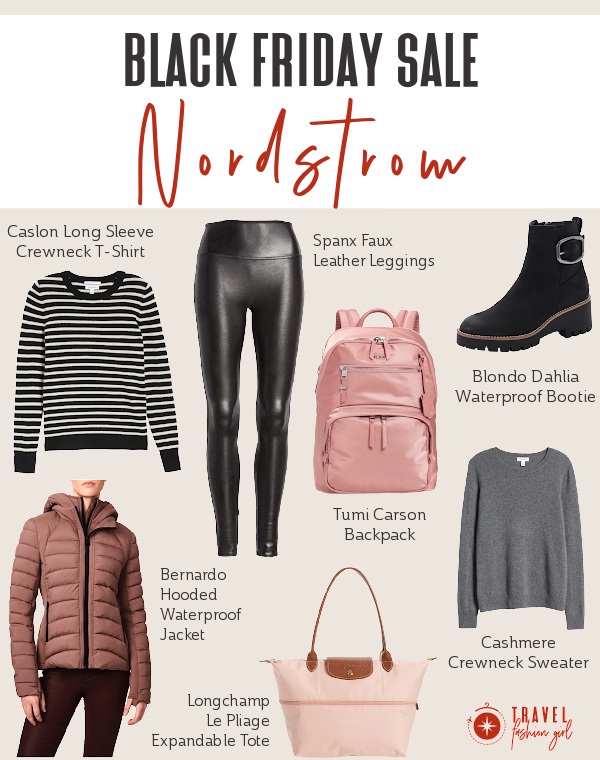 Caslon Long Sleeve | Spanx Leggings | Blondo Dahlia | Tumi Carson | Bernardo Jacket | Longchamp Tote | Cashmere Sweater
(Select Colors & Sizes)
Nordstrom
Selected products up to 60% OFF across various retailers
Nordstrom has a number of reader favorites and top sellers that are worth grabbing right now!
Tumi bags are NOW on sale! You can grab the super popular Ruma Nylon Crossbody, the reader favorites Just in Case Tote and Everyday Nylon Tote, as well as the Carson Travel Backpack. All of these are built with durable materials, and have a trolley sleeve. 
And guess what? All Blondo Boots are on sale (wow!!), including the hit from last year's Nordstrom Sale, the Blondo Dahlia Waterproof Ankle Booties. Another major reader favorite is the Spanx Faux Leather Leggings. Not only are they chic, but they're not restricting and make great flight or sightseeing pants! Grab them in regular, petite, tall and plus sizes!! And we advise getting them when on sale since they rarely discounted.
Also, Zella has blown up with readers as a huge travel fave, even though they're branded as leisurewear. The cute Gateway Paperbag Waist Wide Leg Ankle Pants are soft but look perfect to dress up or down. And to top off your flight outfit, the Carey Jacquard Knit Funnel Neck Pullover, and also the insanely popular Restore Soft Pocket Joggers have 40% off in black/gray!! 
If you want cozy items, the Crewneck Nordstrom Cashmere Sweater is discounted right now at up to 38% off. The Bernardo Hooded Water Repellent Jacket has launched more colors and is on sale (select colors and sizes); this jacket is a reader and editor's fave for staying warm and dry. If you've been with TFG for a while, you'll know I LOVE leather jackets, so am happy to see the Blanknyc Faux Leather is a whopping 60% off (there's also a cute Levi one discounted too, and it comes in a ton of colors).
And because TFG readers love Nordstrom so much, these other top picks are discounted NOW: 
Winter getaway tip: If you're heading to a sunny destination to escape the cold, the  Loveappella Maxi Dress, which is a huge reader favorite, is also currently on sale! Unlike many jersey fabrics, this one is very lightweight, which is a major plus for travel, especially for a maxi dress that has a lot of fabric. Plus, the range of lovely colors to choose from is a feast for the eyes!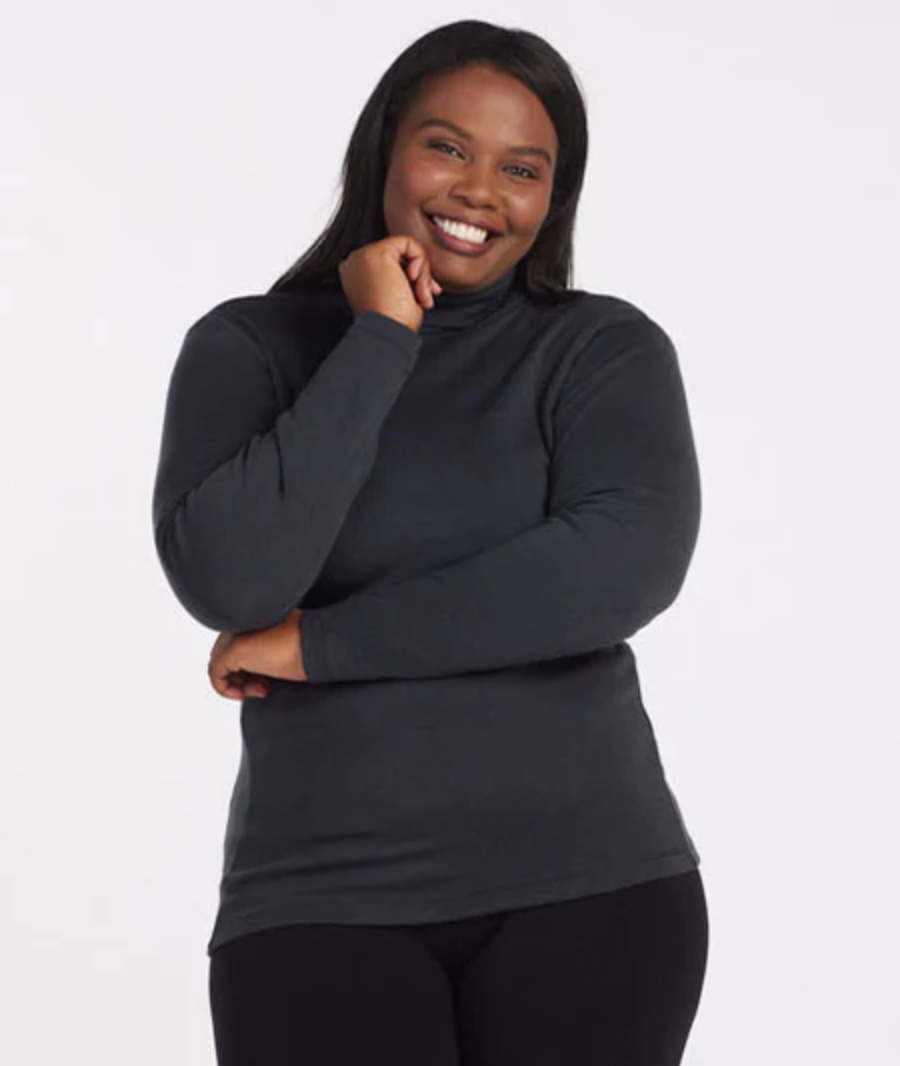 Woolx
Buy More, Save More in their Cyber Weekend Sale! 
The merino wool brand Woolx is becoming a fast reader favorite this season due to their breathable, comfy merino clothing that spans everything from women's pajamas to dresses and jackets! 
The Peyton Turtleneck is prime to snuggle up in as winter looms, and you can even layer with the popular Mia V-Neck Tee. A big hit is also the Piper Pocket Leggings. They're stretchy, cozy, and have pockets to store items like a room key or phone.
And if you want even more cold-oriented clothing, the Callie Hoodie and Woolx bestseller, the Eva Tunic, look absolutely inviting to wear by a roaring fire.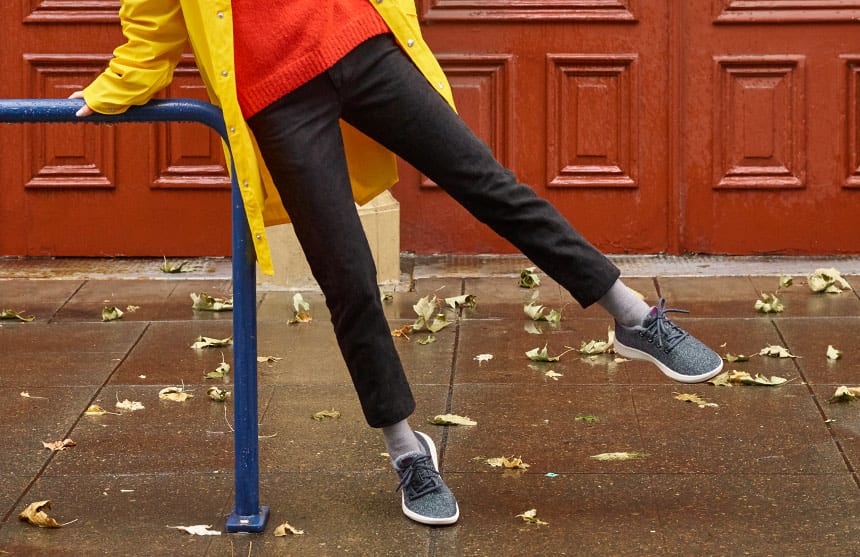 Allbirds Wool Runner Mizzles (Water-Repellent)
Allbirds Shoes
Buy One, Get One 20% Off. Full-priced footwear only. Use code: BIRD20
Allbirds is SOO popular, and the devotees of their shoes are unwavering in that love. The biggest reader favorite is the Wool Runner Mizzles, which are made of breathable merino wool, water-repellent, cozy to wear, and cushy for long bouts of walking and wearing. 
They also have cute flats that are on sale and on trend at the moment, the Tree Breezers, which are made from flexible eucalyptus tree fiber, have a simple, chic look. (Just remember, flats aren't recommended for long periods of walking, but for a short jaunt on your trip–they're a winner!)
For easy slip-ons, we're lovin' the Wool Loungers! They're made of superfine merino wool and excellent for travel or everyday wear, especially in cooler climes. We encourage you to review ALL their shoes, as they have tons of styles, from sporty to hikers, and they also sell clothing now!!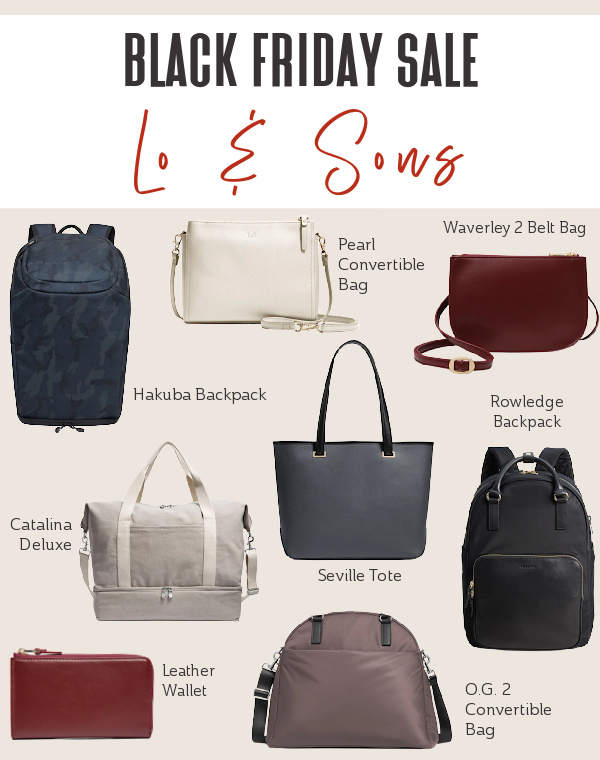 Hakuba Backpack | Leather Wallet | Pearl Convertible Bag | Catalina Deluxe | Seville Tote | Waverley 2 Belt Bag | O.G. Bags |  Rowledge Backpack
(Select Colors)
Lo & Sons
Up to 70% off – Cyber Week Sale
Lo & Sons has emerged this year as a massive reader favorite for personal items or handbags!! And, yes, they are pricier, which is why getting what's on your wishlist is best during a sale! It's wise to pick up the lauded O.G. 2 tote bag, which can be anything from a weekender bag to a great accessory for business travel. It has a trolley sleeve, tons of compartments, and comes in medium and large sizes (with the large being half an inch taller, 0.4 lbs heavier, and offering 1 extra liter of space).
The hugely popular Rowledge Backpack is included in the sale (50% off!!), and readers say it's an organizational dream, has a handy trolley sleeve, and comes in small or large to accommodate anyone's needs! 
If you aren't aware, this brand has such a diverse range of bags that can aid in any phase of travel, so we're excited to see The Pearl Convertible Bag, and the Waverly 2 Belt Bag all discounted! These are excellent for sightseeing or even using at home. 
And if you're looking for a quality gift idea, their Leather Wallet comes in so many gorgeous colors and will last a person years! Check out the full range of items on sale on this page!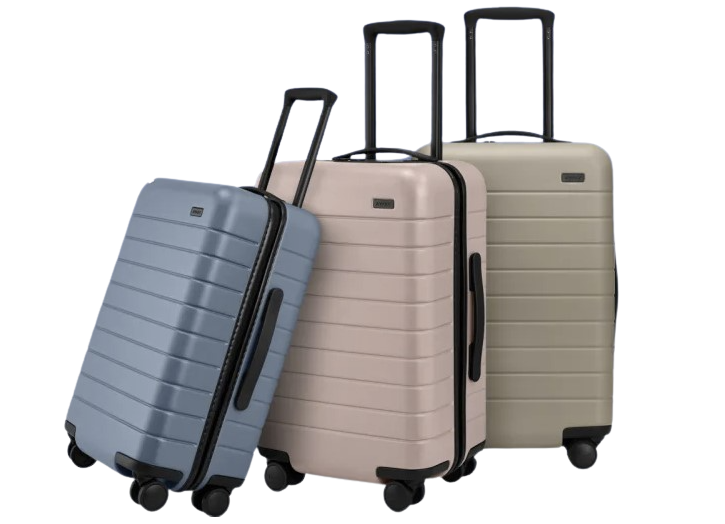 Shop: Away
Away
Select styles also have 40% off
The luggage brand Away has become a major reader favorite this past year! It's a company that prides itself on making high-quality suitcases and bags for all kinds of travelers. And since they rarely have sales, take advantage of now!
The biggest winner that readers rave about is the Away Carryon. It's durable, has great organization pockets, and fits most overhead compartments of airlines. Right now, you can get $50 off when you buy any two suitcases or $100 off any three (all colors, sizes, and styles included). See the offer here! Sales on luggage sets are an ideal way to save on different-sized suitcases, so you can pick and choose what to use per trip!
Readers really love the Everywhere Backpack for an onboard personal item, and if you're in need of a weekender bag, the Everywhere Bag would be perfect! 
Purses are another popular item during Black Friday Sales, and the F.A.R duffle 55L is part of the sale, as well as the classy-looking Lattitude Tote. 
Take a look at Away's sale page for even more details!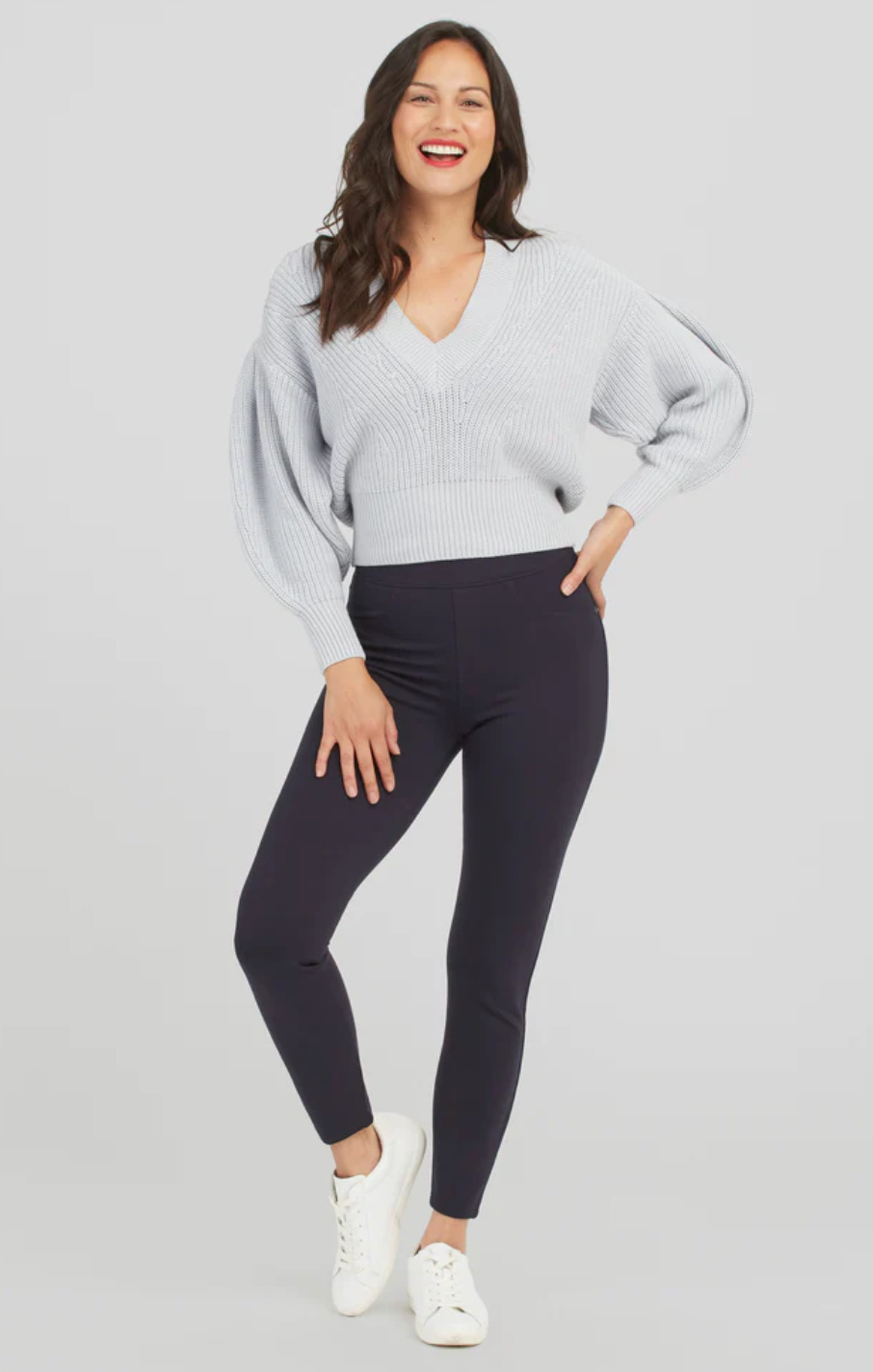 The Perfect Pants in Sizes XS-3X
Spanx
Sale has Ended
A popular reader favorite for travel, Spanx always has a variety of clothing that travelers adore. Spanx clothes don't go on sale often, so it's a good idea to take advantage while you can. If you're unsure where to start, bottoms are hugely popular. The latest reader must have is the Perfect Pants—they're stretchy, comfy, and flattering! 
Another editor and reader fave is the Faux Leather Leggings (Nordstrom). These leggings have been a game changer for me – with the comfort of a legging mixed with a dressy faux leather sheen, these have become one of my favorite bottoms for travel. I also own the Faux Leather Moto Leggings too, and these have become a more recent addition to my rotation of fight outfits!
And if you want bottoms that are light as air, look no further than the Air Essentials line (which is Oprah-approved, by the way!). You can enjoy Black Friday savings on the Air Essential Tapered Pants and the Air Essential Wide Leg Pants. Both have four-way stretch, are made of a soft knit, and feel ridiculously light to wear!  
Their Spanx Look at Me Now Seamless Leggings are also popular during this year's Nordstrom Anniversary sale!
Check out more Spanx best sellers which are discounted currently: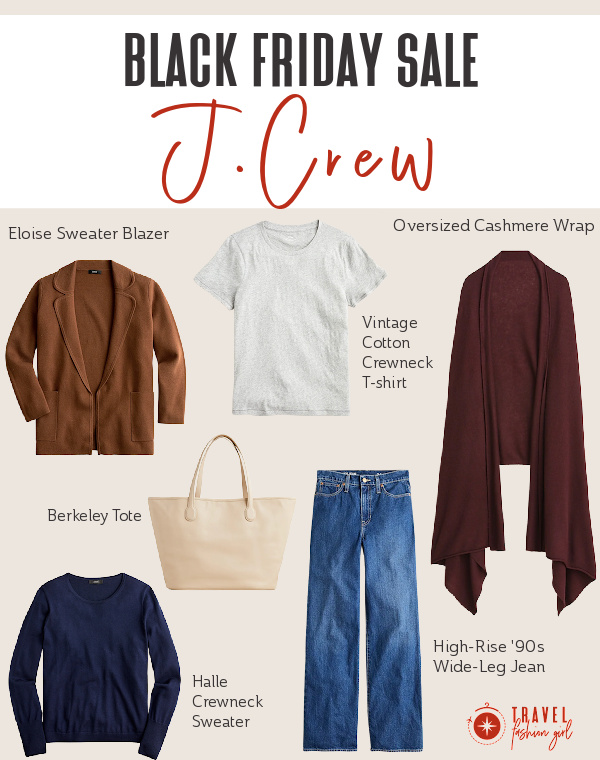 Eloise Blazer | Vintage Short Sleeve | Oversized Cashmere | Berkeley Tote | Halle Sweater | High Rise Wide-Leg Jeans
(Select Colors & Sizes)
J.Crew
Extra 60% off sale & 30% off almost everything else! Use code SHOPNOW.
While J. Crew isn't a traditional travel brand, they always end up on top lists with TFG readers because they make comfortable, versatile, quality clothes and accessories, so take advantage of their sales when they come around! One item that's made the 5 Reader-Must Haves list is the bestselling Halle Merino Wool Sweater, which is super cozy for the winter and THE perfect thing to replace bulky sweaters. it's available in sizes XXS-3X.
If you wanted to layer, even more, the Oversized Cashmere Wrap is worth grabbing, as its combo of acrylic and nylon fabric will keep you warm and fresh-looking all the way through your trip. And if you want something versatile, the Eloise Blazer is a huge seller and a casual-chic style that can be layered or worn with a cute tee, like the Vintage Short Sleeve T-Shirt. 
Also, wide leg jeans are on trend, so it's awesome to see these adorable 90s High Waist Wide Leg Jeans marked down (in sizes 23-32–including petite and long), and you can pair a whole outfit with the chic, classic Berkeley Tote.
Here are more amazing deals to be had at J.Crew at the moment:
Lightweight Down Puffer Jacket in Sizes XS-XL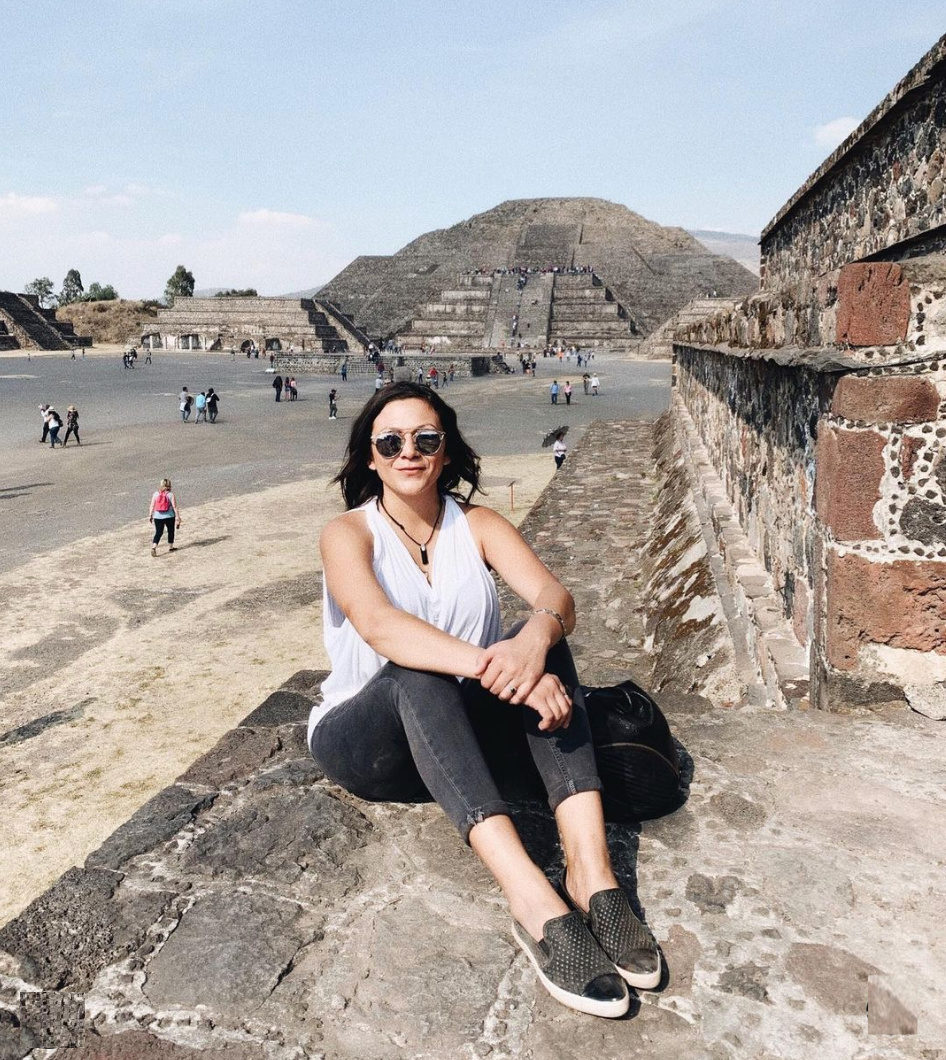 Jibs
25% off sitewide with code GIFTY25. Plus a Bonus Bundle: Buy 2 pairs of Jibs and get an extra 10% off with code BUNDLE35
Jibs Slip-On Sneakers are the right combination of quality construction and design! Not only are they comfortable, but stylish for destinations like Europe. 
The Therma rubber sole is solid and flexible, the natural cork insole wicks away moisture and doesn't retain odors, and the perforated upper is airy and made of 100% real biodegradable leather; so they're environmentally friendly as well!
They've not only become my favorite flying shoes, but I also wear them all the time!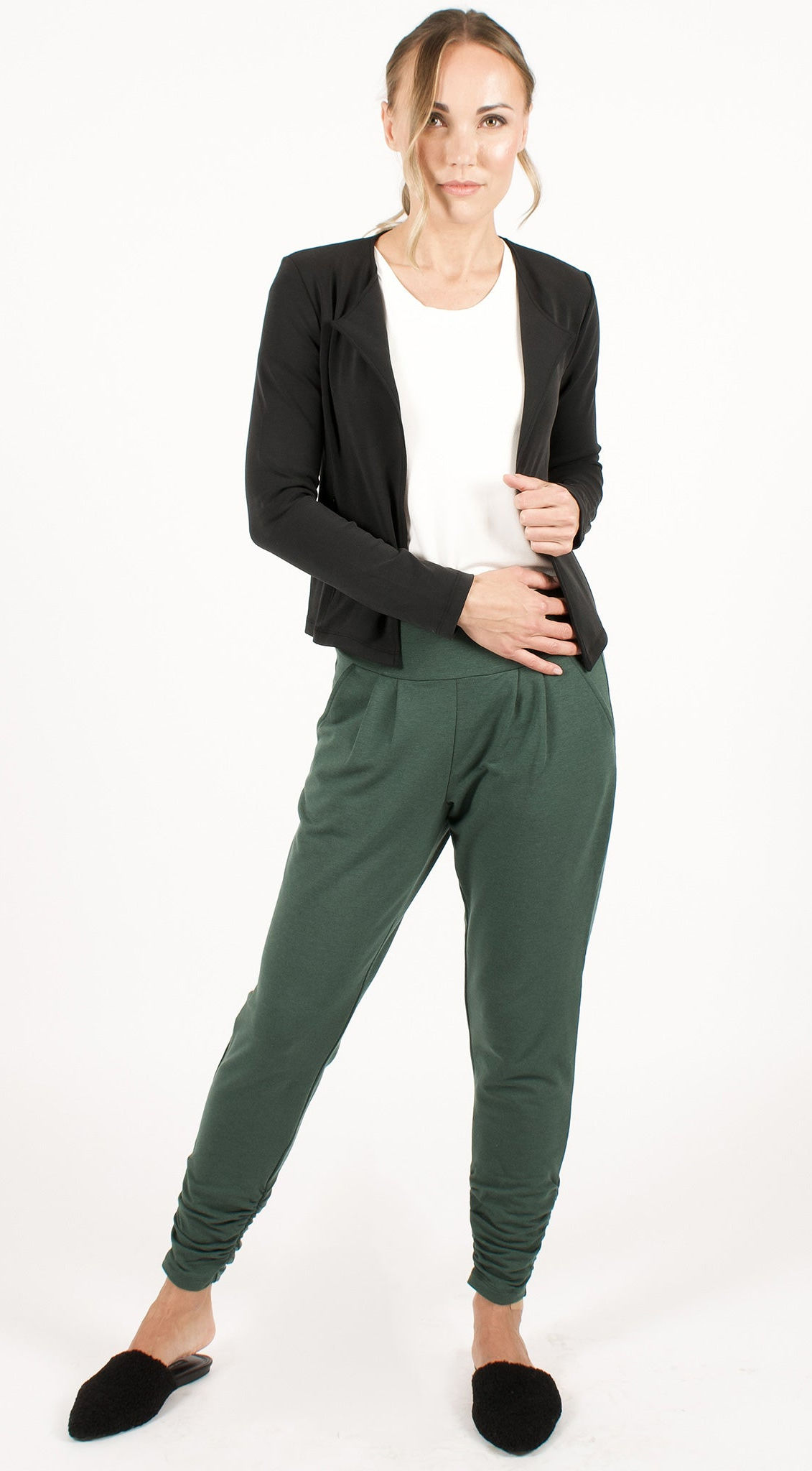 The Cozy Dressy Sweatpant in Sizes XS-3X
Encircled
Buy 1 Wrap Up Scarf and get the 2nd 50% off 
Encircled is a long-running reader pick for its comfy clothes that pack and travel well! TFGs especially love the Effortless T-Shirts (save 30% off any two). Versatile, stylish and can be worn forwards with a flattering V-neck or reverse it for an elegant boat neck.
Readers also love the Unblazer, which is polished-looking but has a soft, relaxed fit. And the Revolve Dress is the ultimate travel item because it easily transforms into a top, tunic, and dress! 
They are a pricier brand but worth the investment, so a sale could be the right time to try them out or stock up. Check out their Black Friday Page for even more deals.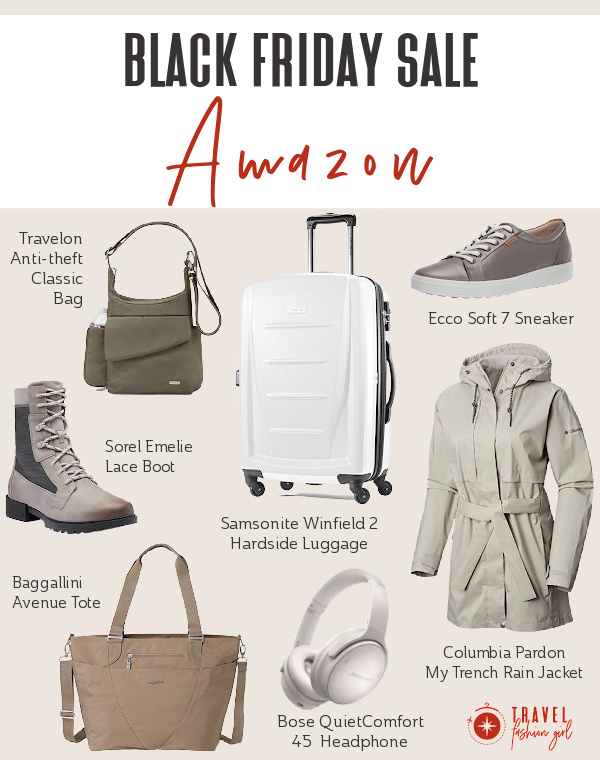 Travelon Messenger Bag | Samsonite 28″ | Ecco Soft 7 | Sorel Emelie | ​​Baggallini Tote | Bose Headphones | Columbia Rain Jacket
(Select Colors & Sizes)
Amazon
Selected products discounted across various retailers
Definitely, some of the best deals can be found on Amazon, and the pre-Black Friday sales are full of TFG reader must-haves! Take the Columbia Pardon My Trench Jacket, which keeps you dry while looking stylish, and it never hurts to stock up on some shoes, especially the top-selling Soft 7 Sneakers and the trendy but comfy Sorel Emelie Combat Boots. All of them are reader favorites and have ample cushioning and support for walking. Some products like the Thermasilk Pointelle Scoop Top and matching bottoms are having an Exclusive Prime price for Black Friday too!
Sales are also the prime time to grab bigger ticket items like luggage, and Amazon already has deals on top TFG picks like the Travelon Anti-Theft Bag; it has RFID protection, tons of compartments, and is a cute accessory – ideal to take to Europe! Samsonite is now a bonafide reader fave, and the Samsonite Winfield 28" Suitcase is at an astounding 40% off (from $300 to $185!), in case you're looking for a checked bag.  
And last year, I had the Baggallini Avenue Tote on my Holiday Editor's Wishlist because readers have raved about this bag, singling out the organizational pockets, laptop compartment, and trolley sleeve that fits over a suitcase handle easily.
If you're in the market for headphones, the popular Bose 45 QuietComfort Wireless Headphones are on sale at a 30% discount, as are the Apple AirPods Pro, Beats Earbuds,  Anker Earbuds, and the NEW Bose QuietComfort Earbuds II. Speaking of electronics, the Anker Portable Charger sold like crazy during Prime Day, and it's STILL discounted!
Check out more best sellers that were popular on Amazon Prime Day and are discounted currently (some of these make awesome gifts too):
Hot find: A whole selection of Vera Bradley bags are on sale right now, ranging from crossbody style, to duffles, totes, and backpacks!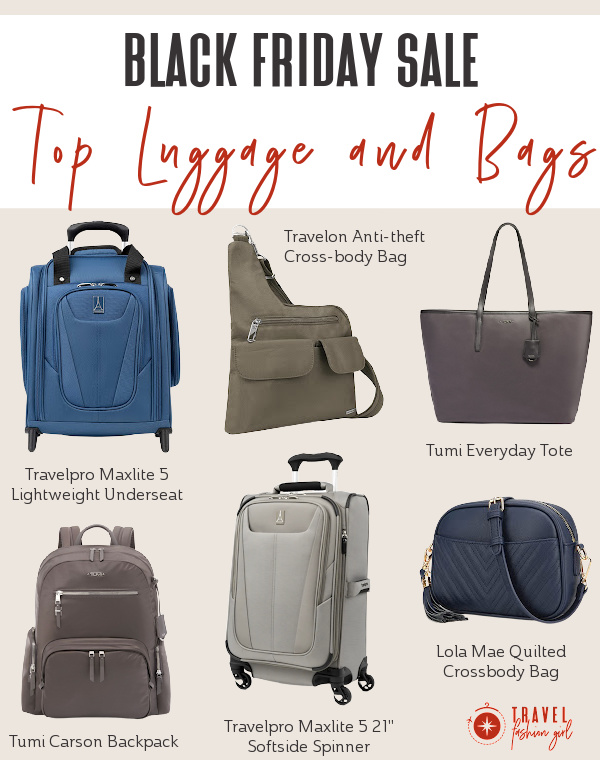 Maxlite Lightweight Underseater | Tumi Carson | Travelon Anti Theft Crossbody | Maxlite 5 Softside 21" Suitcase | Tumi Everyday Tote | Lola Mae Crossbody
(Select Colors)
Must-Have Luggage and Bags
Selected products discounted across various retailers
TFG readers say time and again that the best time to stock up on luggage or bags during sales, and we couldn't agree more! We're excited to see some favorites that are currently on sale, and it's wise to get them before the discounts end. Travelpro's current sale is up to 90% off, and this brand shows up on our top blog roundups consistently, and the Maxlite 5 Softside 21" Suitcase and Maxlite Expandable Hardside Spinner are discounted! 
A tried and true reader pick is Tumi, and besides discounts on Nordstrom, the Tumi site itself has deals happening right now! The popular Tula Crossbody and Everyday Tote are chic, have excellent organization, laptop compartments, and TFGs love them for travel! And my personal favorite is the Carson Backpack! 
If you're on the hunt for more luggage deals, be it suitcases or a personal carryon item, these current sales might catch your eye: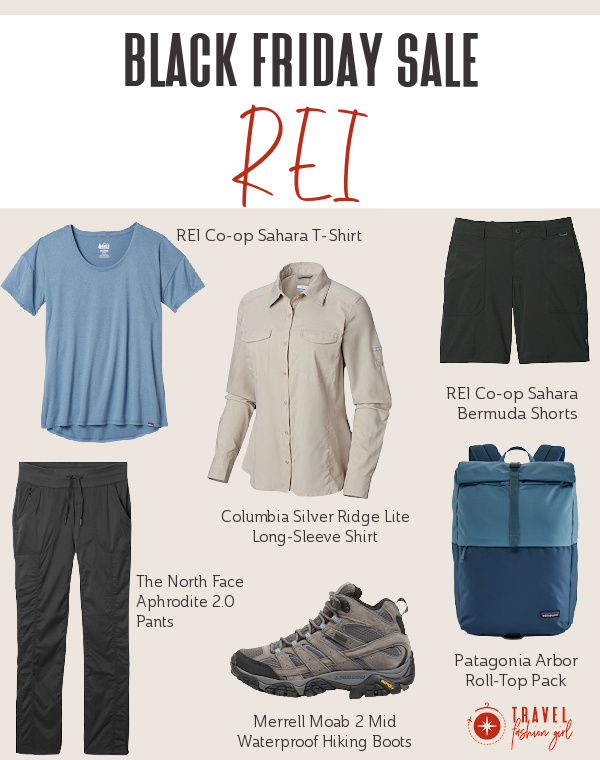 Sahara T-Shirt | TNF Aphrodite 2.0 Pants  | Columbia Silver Ridge Shirt | Merrell Moab 2 Hiking Boots | REI Co-op Sahara Bermuda Shorts | Patagonia Arbor Roll-Top Pack
(Select Colors & Sizes)
REI – Top Travel Gear 
Up to 40% off Cyber Week Deal – clothing, gear, footwear, and more
REI is a wonderful source for adventure travelers to stock up on comfortable clothing that moves as you do, but overall, it's just a fantastic option to grab general gear for travel, be it clothes, shoes, or backpacks. 
Right now, there are some awesome deals happening, including the popular Sahara T-Shirt and Columbia Silver Ridge Shirt, which is stretchy and comfy, the popular The North Face Aphrodite 2.0 Pants, with a flexible waistband and flattering silhouette that's durable for hiking or zipping around town, and the Merrell Women's Moab 2 Hiking Boots. I'd been longing for a pair of summer hiking shoes and was torn between the Merrell Moab and the Merrell Flight Solution. In the end, I went with Flight Solution because I wanted a shoe that was more sneaker than a hiking shoe!
Take a look at REI's deals page to see what else you could save on!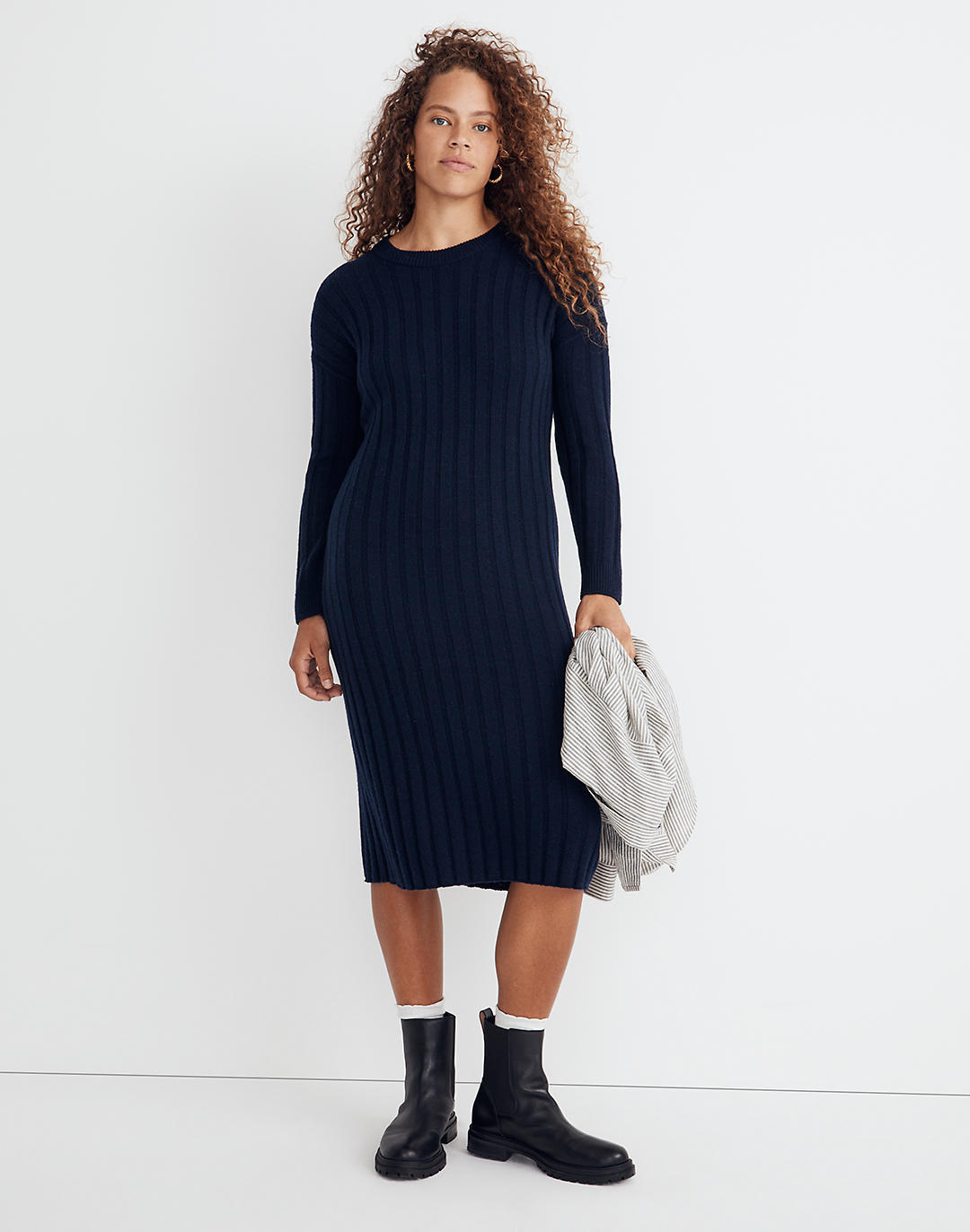 (Re)sourced Ribbed Midi Sweater Dress
Madewell
60% off special Cyber Monday Deal; everything else is 50%. Use code CLICK
Madewell is such a popular brand with readers for their dresses, jeans, tops, and accessories. Though they aren't a traditional travel brand, what they offer is quality clothing made of soft, comfortable, and lightweight fabrics. So easy to pack and wear! 
Take the Ribbed Midi Sweater Dress, for example. Even though it's a sweater dress, it's made from a lighter viscose and flexible nylon. If you're looking for a tee, the Whisper Long-Sleeve Crewneck T-shirt is a bonafide reader fave. 
As for jeans, these Perfect Wide-Leg Vintage Jeans have a darker wash and unrestricting fit. For accessories, this Medium Transport Tote comes in tons of colors and is a polished bag that fits a lot and is vegan leather!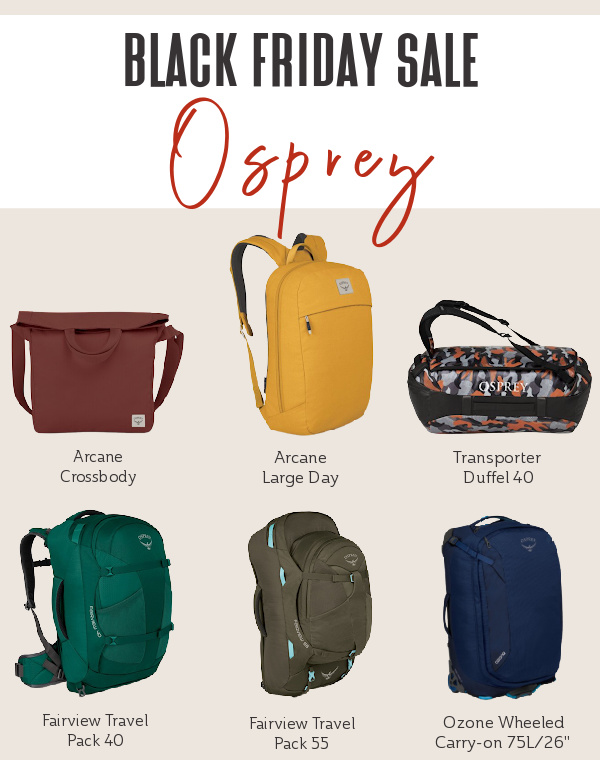 Arcane Crossbody | Arcane Large | Transporter Duffel 40 | Fairview 40L | Fairview 55L | Ozone Wheeled 75L/26″
(Select Colors)
Osprey 
Up to 50% off select styles on their website
Selected products discounted across various retailers
I'm very brand loyal and adore Osprey's high-quality options for luggage. If you want something with wheels, the Ozone Wheeled Global Carry-on 75L/26″ has a large panel opening, comfortable straps, and sturdy wheels to tackle uneven terrain, working with most U.S. domestic airlines. And if day bags are on your wishlist, the Arcane Backpack is wonderful for remote workers or business travelers, while the Arcane Crossbody makes a smart personal item that can be worn as a sling too!
For more Osprey top sellers worth stocking up on, these deals are at Amazon currently:
Learn why we and our readers love Osprey backpacks here!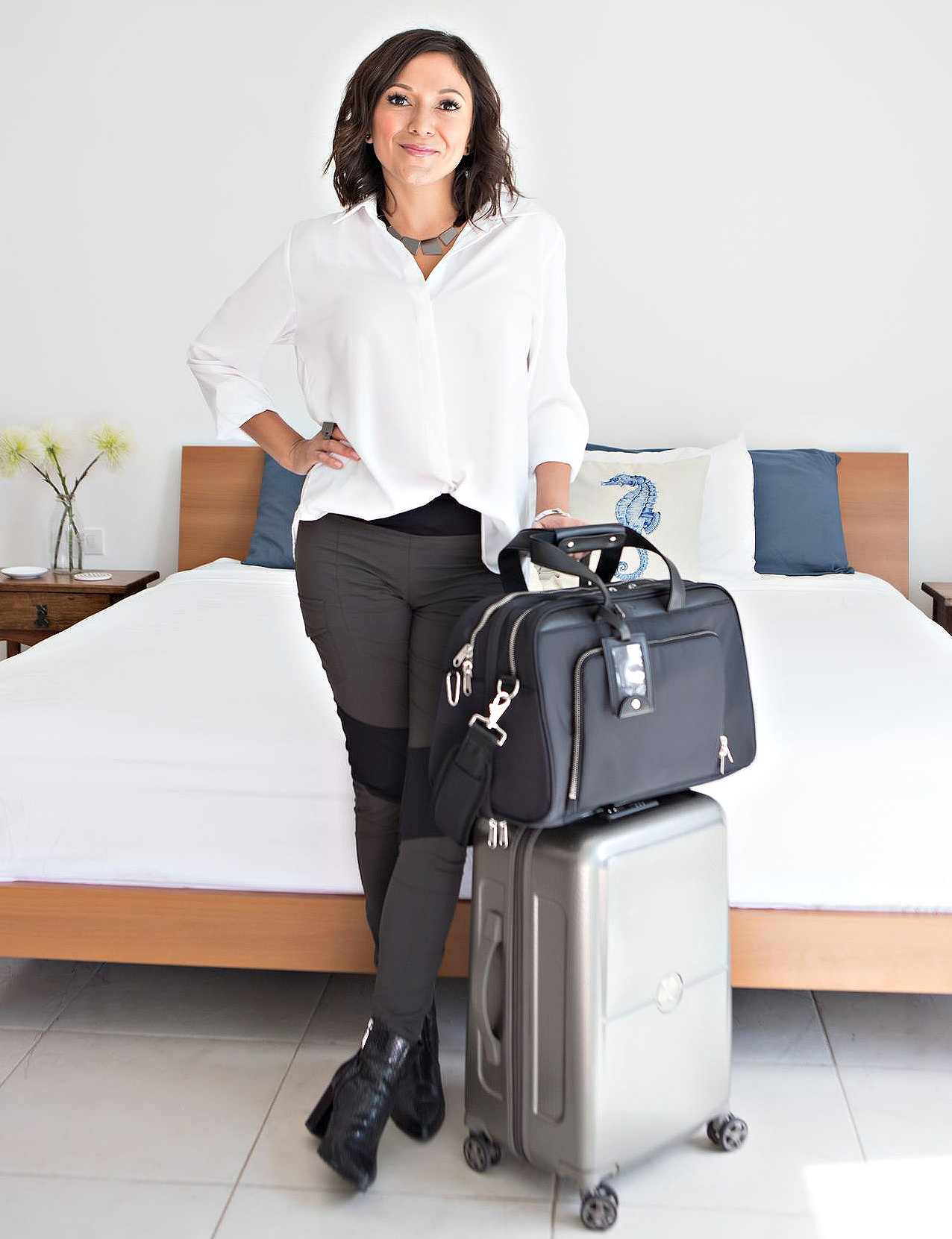 Shop: Nomad Lane
Nomad Lane
20% off on Bento Bags. Discount applied at checkout
This amazing travel bag rarely goes on sale, so we advise taking advantage during Black Friday deals! Once I discovered the Nomad Lane Bento Bag which is 20% off now, I've use​​d it over other onboard personal items for a few reasons. I feel it's very structured, has adequate compartments for me to fit my packing cubes and the majority of things I need, and two of my favorite features of the Bento Bag are the practical trolley sleeve, which sits perfectly on my suitcase, and in my experience, it has fit under the seat on all the planes I've flown, even on small domestic planes! 
Feel free to check out our review on this popular traveler's bag!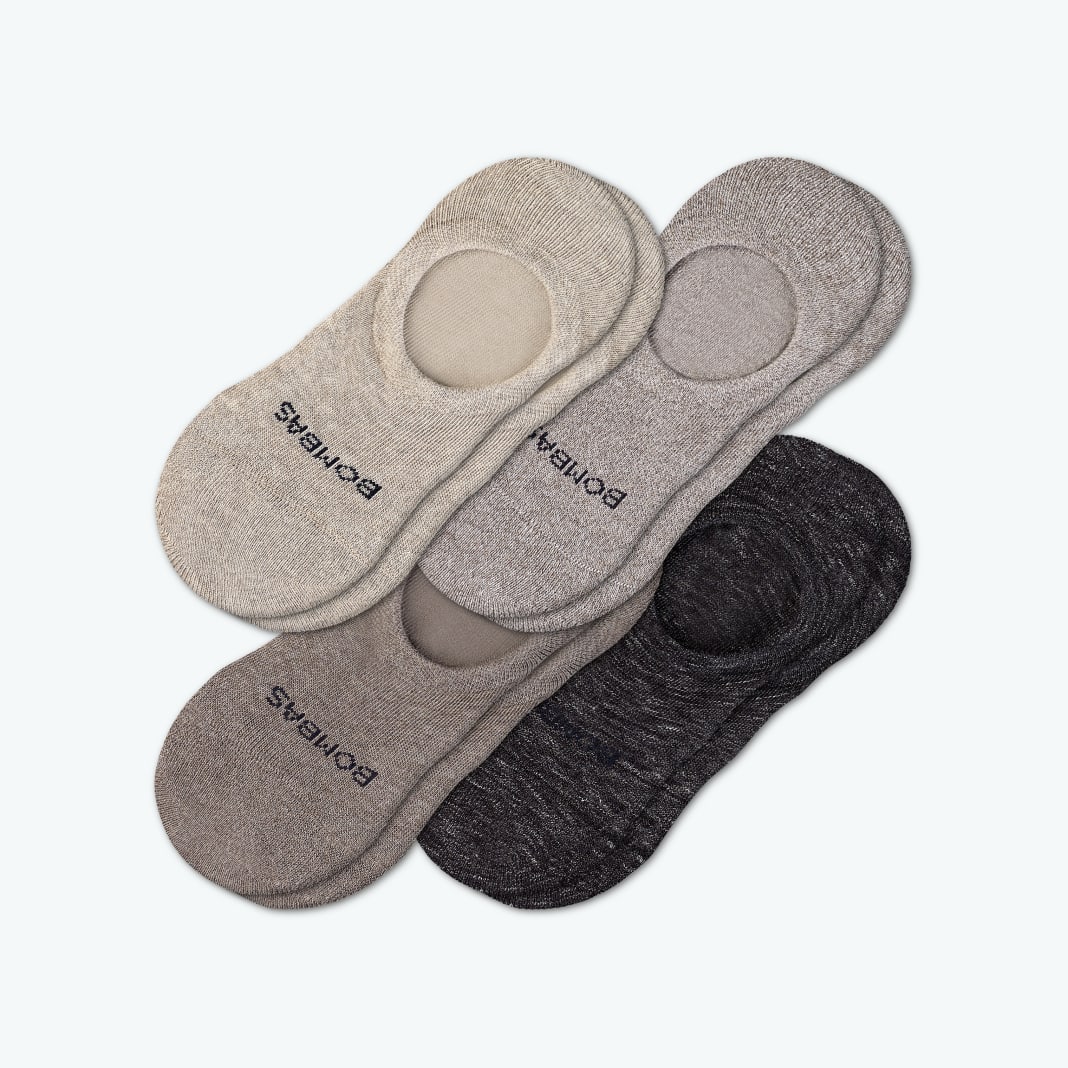 Bombas Cushioned No Show Sock 4-Pack
Bombas 
The Big Holiday Sale: 20% Off Sitewide. BIGSALE20 Auto Applied in Bag
Bombas may not be the sexiest item to feature (haha), but they've truly become a runaway hit with travelers! In fact, a bunch of their packs have additional savings starting from 15% and up, so take a look! 
Their individual no-show socks are a big favorite with our readers, as are their women's sports socks and the cozy gripper slippers that are packable! They make high-quality socks that last and feel soft and comfortable on the feet. Readers adore them! Also discounted on Nordstrom too!
Read our full review on Bombas socks and learn why travelers adore them!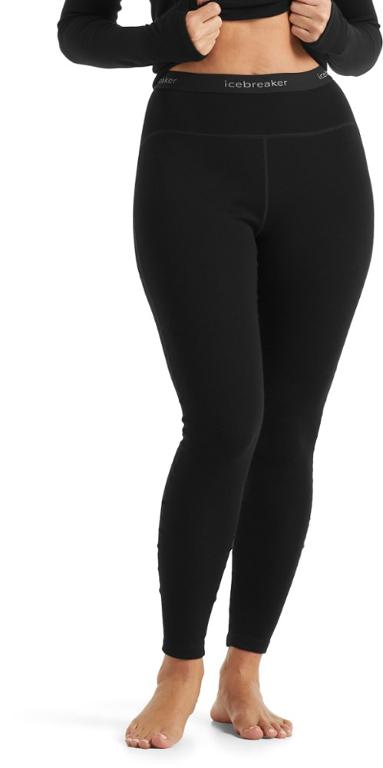 Icebreaker Merino Base Layer Leggings
Thermals for Winter Travel
Selected products discounted across various retailers
The weather is getting chilly, and it's wise to buy thermal underwear, especially when they're on sale. Given it's a specialty item, it's not often they are discounted! Remember, when dressing for cold weather travel, it's best to layer your clothing and avoid bulky fabrics by utilizing thermals beneath lighter items such as merino wool sweaters.
Readers absolutely adore the Icebreaker 200 Oasis Leggings, which are discounted at the moment and these were highly popular during the Prime Day sales. If you're in need of a thermal top, the Icebreaker 200 Oasis Crew Top is also on sale.
 Another popular thermal pick is the Terramar Thermasilk Pointelle Pant and the Thermasilk Pointelle Scoop Top, both on sale!! Silk, not just merino wool, can also keep your core warm, and silk is naturally breathable.
Smartwool is another brand highly rated by TFG readers, and the Classic Thermal Merino Pattern 1/4-Zip Top is 40% off right now, as are the matching Smartwool Thermal Bottoms! If you're looking for the long sleeve base layer top, this is on sale too! These popular Smart wool socks are also discounted at 25% off.
Other thermals on sale right now:
REI is actually having an incredible sale on base layers, with big brand names like Smartwool, Icebreaker, and REI Co-op all at amazing discounts, check it out here!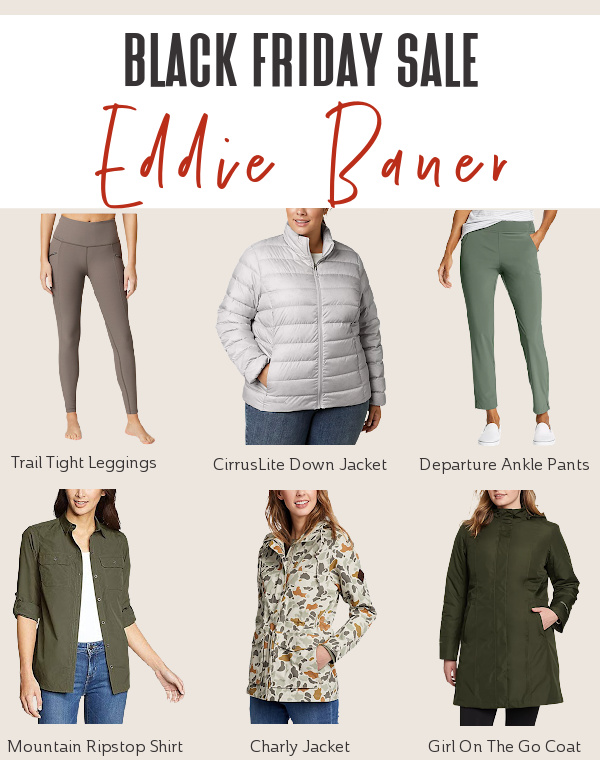 Trail Tight Leggings | CirrusLite Down Jacket | Departure Ankle Pants | Ripstop UPF 50 Shirt | Charly Jacket | Girl On The Go Insulated Trench Coat
(Select Colors & Sizes)
Eddie Bauer
Limited Time! CIRRUSLITE DOWN COLLECTION from $44.99!
50% off select styles on their website, an extra 50% off clearance items with the code: THANKFUL50, and daily deals too!

Selected products discounted across various retailers
Tis' 'the season to stock up on items on your list—hopefully, Eddie Bauer is one of them! Take for example, the TFG editor-approved Eddie Bauer Charly Jacket, which I discovered a while back it's become my jacket for rain and chilly weather. If you want a full-coverage winter jacket, the CirrusLite Down Jacket is discounted right now, with 650 fill power, and it's very lightweight! You can also get the CirrusLite on Amazon here!
A surprising choice that I discovered is the Ripstop UPF 50 Shirt. Besides having UPF sun protection, it's moisture-wicking, so I don't overheat, and the cut isn't overly fitted or saggy. Another discovery for me was the Trail Tight Leggings. Since I don't really wear leggings, I specifically bought these for hiking excursions as they are high-performance because they don't retain odors, have UPF 50, and wick away moisture. Grab the Trail Leggings at Amazon as well, right here!
And a continual TFG reader favorite and top seller has been the Girl on the Go Trench Coat. It'll keep you dry (because it's seam-sealed) and is resistant to wind, so ideal to nab while on sale (also discounted at Amazon)! Finally, the biggest reader hit lately is the Departure Ankle Pants. They're stretchy, comfy, and SO versatile for travel! Also, get the Departure Pants on sale on Amazon too! Another reader must-have item from the Departure line is their Blazer. 
Right now, these favorites are on sale and ideal for stocking up for winter or even holiday gift ideas:
---
These sales are awesome and there's still more to come! What's on your shopping list? Comment below!
---
For travel gift ideas, please read:
---
LIKED THIS POST? PIN THIS PIC TO SAVE IT!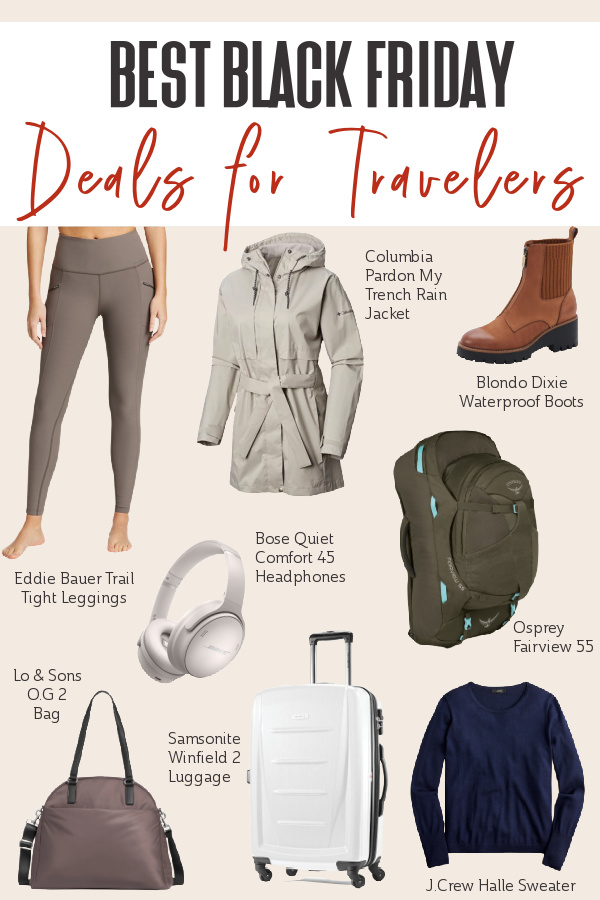 ---
Hope you enjoyed this list of Black Friday deals. Please share with your friends on Facebook, Twitter, or Pinterest. Thanks for reading!
---