Support TFG by using the links in our articles to shop. We receive a small commission (at no extra cost to you) so we can continue to create helpful free content. As an Amazon Associate, we earn from qualifying purchases made on Amazon in addition to other retailers featured on the blog. Thank you, we appreciate your support!
Black Friday has officially ended, but bookmark this post for next year's sale and meanwhile, take a look at the biggest sellers from 2021!
Bookmark this page to ensure you don't miss the sale in 2022.
---
Black Friday Deals
---
Below is your ultimate guide to the best travel buys for Black Friday 2021. And even though the event is officially over, there may be some retailers offering post-Black Friday sales, so check below. 
Otherwise, bookmark this post for next year's sale so you don't miss out on the best travel deals, and we'll see you in 2022!
If you're interested more ideas and want to support TFG at no extra cost to you, feel free to use the links from the Shop Our Favorites Page! Happy shopping!
Our Favorite Black Friday Sales

Stop Overpacking | Destination Ebooks | Pack Light Stylishly
Travel Fashion Girl 
Ebooks at $5.00 each!
Pack Light Stylishly at $5.00
Stop Overpacking at $10.00
There are so many wonderful Travel Fashion Girl products on sale that we're excited to share, and the prices on these books and the ecourse will increase soon, so it's recommended you get any now while you can!
If you struggle with how to pack efficiently, our Pack Light Stylishly ebook can. help! For only $5.00, you'll learn how to pack exactly what you need for a trip without sacrificing style. Download it directly from the website or on Amazon!
And if you're an overpacker (guilty of this myself), find out the secrets to downsizing your belongings like a pro in our Stop Overpacking ecourse, for only $10.00! 
Sometimes it can be a struggle to know what items to bring for a certain place, especially what to wear seasonally. Our destination ebooks have become a popular source to create the right packing list for a specific location, including Paris,  London, Italy, and Ireland. Each book is only $5.00!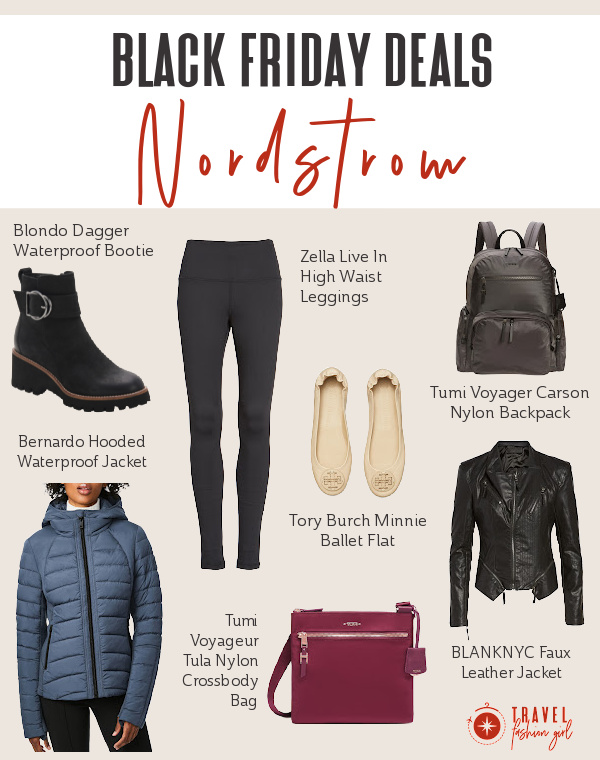 Zella Live in Leggings | Blondo Dagger Bootie | Tumi Voyager Carson Nylon Backpack | Bernardo Hooded Water Repellent Jacket | Tumi Voyageur Tula Nylon Crossbody Bag | Tory Burch Minnie Travel Ballet Flat | Blanknyc Faux Leather Jacket
Nordstrom
Offer: Up to 50% off hundreds of selected items from top brands

Selected products discounted across various retailers
Nordstrom has a number of reader favorites and top sellers that are worth grabbing right now!
If you're looking for the ultimate tote, one of the biggest sellers during Nordstrom's Anniversary Sale was the Tumi Voyageur Everyday Tote, it has a water-resistant lining, lots of pockets to organize your items, not to mention how sturdy it is but also chic-looking! The Tumi Voyageur Tula Nylon Crossbody Bag is another popular purse with our readers. And great news, Longchamp bags are discounted 20-30%, including the Le Pliage Cuir Leather Shoulder Bag, and Le Pliage Small Shoulder Tote– this brand is a huge reader favorite for their chic, yet durable bags that are popular for travel.
For shoes, I tried out the Tory Burch Minnie Flats a while ago since many readers love them. With moderate foot cushioning and a stylish sheen, I found them comfortable to wear during flights and easy to pack – feel free to read our review!
Also, the Zella Live in Leggings are on at a great discount right now and have been voted the #1 leggings for travel because they're so versatile and easy to wear anywhere! The top-selling Spanx Faux-Leather Leggings are on sale as well; they're so stylish and ultra-versatile for travel – easily dress them up or down!
One coat that looks inviting is the Halogen Double Face Wool Coat, reviews say it has a flattering fit and is super warm! If you're searching for sweaters to bundle up in, this V-Neck Nordstrom Cashmere Sweater appears versatile or if a V-neck isn't your thing, the turtleneck looks plush and soft too!
Since readers have been asking, here are my Editor's Picks! I definitely have my eye on these, or already bought a couple that are reduced right now:​
​
Winter getaway tip: If you're heading to a sunny destination to escape the cold, the  Loveappella Maxi Dress, which is a huge reader favorite, is also currently on sale! Unlike many jersey fabrics, this one is very lightweight, which is a major plus for travel, especially for a maxi dress that has a lot of fabric. Plus, the range of lovely colors to choose from is a feast for the eyes!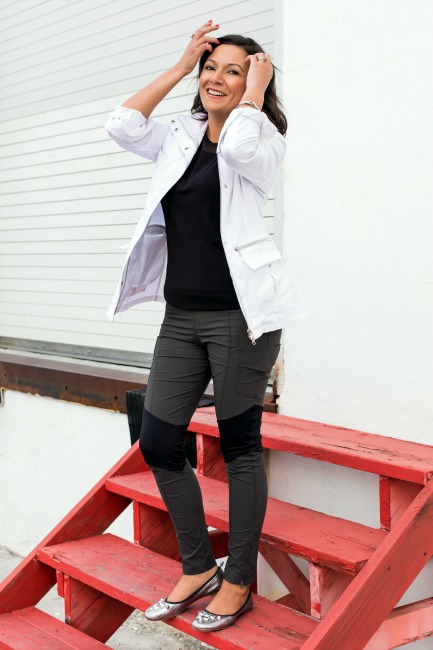 Anatomie

Offer: Get 30% off sitewide (extended)
A staple for travelers since 2006, now's the right moment to get TFG faves at a discount, just because Anatomie can be pricier, but those who are fans, say their products are worth it!  A few of my favorites include the ultra-popular Anatomie Skyler Pants!!! Read our review to learn why these are the best travel pants for women – and they're never priced lower than this!
And I have to admit when I discovered their Andrea Leggings, my love for them kind of eclipsed the Skyler pants. They're the same fabric as the Skyler with stretchy fabric over the knee area AND they're pull-up style, too. So comfortable for a flight! If you want to know more about their miracle leggings, check out our review!
One of my go-to jackets has been the Kenya Safari Jacket (go ahead and read our review of its benefits). I've worn it to Europe, all the way to using it as my trusty jacket for a trip to the Grand Canyon. So lightweight, comfortable, durable, with lots of pockets, and a shape that flatters the body—it's an ideal time to grab it!
I've also been using the Kenya Fleece Jacket non-stop because it's warm and has been very useful when I've been caught off guard with weather that's colder than I expected. It's sleek, looks sophisticated, I love the high collar style, and the four pockets are super convenient! 
Another TFG favorite is the Merika Windbreaker Jacket, it's handy to whip out when drizzle starts and compresses down easily into a packing cube. You can also grab the Merika cheetah print, which is a sleek way to stay dry!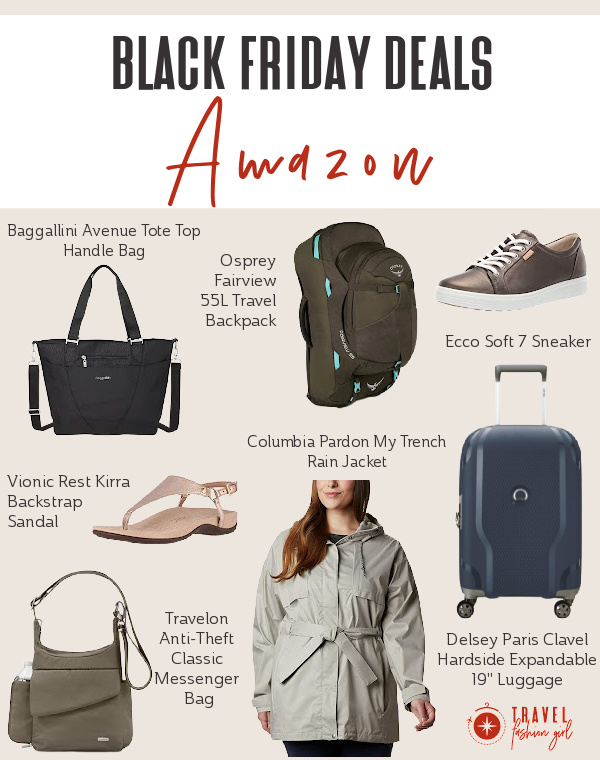 Columbia Pardon My Trench Rain Jacket | Travelon Anti-Theft Classic Messenger Bag | Vionic Rest Kirra Backstrap Sandal | Ecco Soft 7 Sneaker | Delsey Paris Clavel 19″ Hardside Luggage | Osprey Fairview 55L Travel Backpack | Baggallini Avenue Tote
Amazon
Offer: Up to 50% off storewide on select products
Definitely, some of the best deals can be found on Amazon and the Black Friday sales are full of TFG reader must-haves! Take the Columbia Pardon My Trench Jacket, which keeps you dry while looking stylish, and it never hurts to stock up on some shoes, especially the #1 selling sandals on the blog, the Vionic Backstrap Sandal. The adidas Advantage Sneaker and the Ecco Soft 7 Sneakers are also discounted. All of them are reader favorites and have ample cushioning and support for walking. 
Sales are also the prime time to grab bigger ticket items like luggage, and Amazon already has deals on top TFG picks like the Osprey Fairview 55L Backpack and the Delsey Paris Clavel 19″ Hardside Luggage, both well equipped for international travel. In terms of purses, a top choice for readers has been the Travelon Anti-Theft Bag, it has RFID protection, tons of organizational compartments, and is a cute accessory – ideal to take to Europe!
If you're after a full-size luggage set, The Samsonite Omni 3-piece Hardside Suitcases are a top choice to save on for Black Friday Weekend! No matter if it's the 21″ or 28″ suitcase, the Omni collection is a popular option with TFG Readers, especially when it's on sale. Talk about value for money, you can get a set to share with the entire family!
If you're in the market for headphones, the BoseSoundLink Wireless Headphones are on sale at a 22% discount, and so are the Bose QuietComfort Noise Canceling Earbuds, which are at a 29% discount! Overall, Bose is highly popular with readers because their audio products play media crisply or help block excess noise effectively during flights.
And on my Holiday Editor's Wishlist, I have the Baggallini Avenue Tote in my shopping cart because readers have raved about this bag, singling out the organizational pockets, laptop compartment, and trolley sleeve that fits over a suitcase handle easily.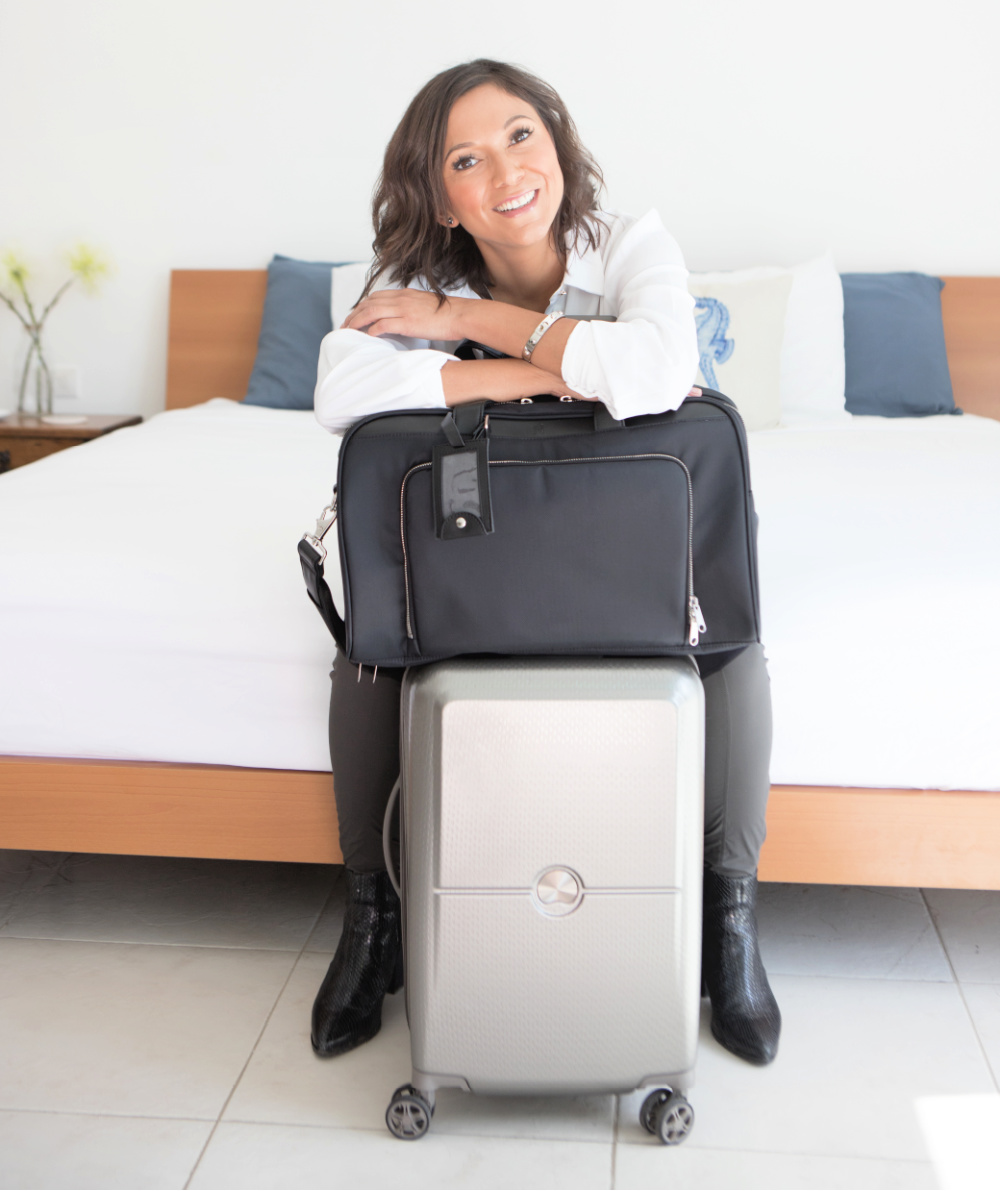 Nomad Lane
Offer: $40 off every single item (discount automatically applied in cart)
Once I discovered the Nomad Lane Bento Bag, I've used it over other onboard personal items for a few reasons. I feel it's very structured, has adequate compartments for me to fit my packing cubes and the majority of things I need, and two of my favorite features of the Bento Bag are the practical trolley sleeve, which sits perfectly on my suitcase, and in my experience, it has fit under the seat on all the planes I've flown, even on small domestic planes! Feel free to check out our review on this popular traveler's bag!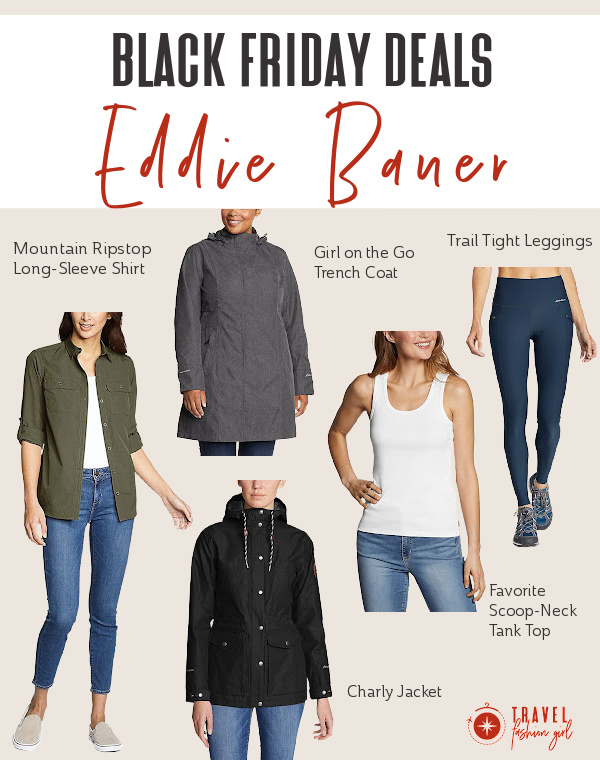 Girl On The Go Insulated Trench Coat | Favorite Scoop-Neck Tank Top | Mountain Ripstop Long-Sleeve Shirt | Charly Jacket | Trail Tight Leggings
Eddie Bauer
Offer: 50% off your Purchase 
Offer: Take an extra 50% off clearance
Code: THANKSGIVING50
Tis' the season to stock up on items on your list—hopefully Eddie Bauer is one of them! They've been a reader favorite for years for producing sturdy and versatile clothing that comes in a variety of sizes. Take for example the TFG editor-approved Eddie Bauer Charly Jacket, which I discovered a while back and it's become my jacket for rain and chilly weather due to its construction, cute style, and rain protective technology; it comes in regular, petite, tall, and plus sizes (1X). 
A surprising choice that I discovered recently is the Ripstop UPF 50 Shirt. Besides having UPF sun protection, it's moisture-wicking so I don't overheat, and the cut isn't overly fitted or saggy. I've worn it everywhere! Another discovery for me was the Trail Tight Leggings. Since I don't really wear leggings, I specifically bought these for hiking excursions as they are high performance because they don't retain odors, have UPF 50, and moisture-wicking capabilities, but they're also very comfortable and flattering!
And a continual TFG reader favorite and top seller has been the Girl on the Go Trench Coat. It'll keep you dry (because it's seam-sealed) and is resistant to wind, so ideal to nab while on sale!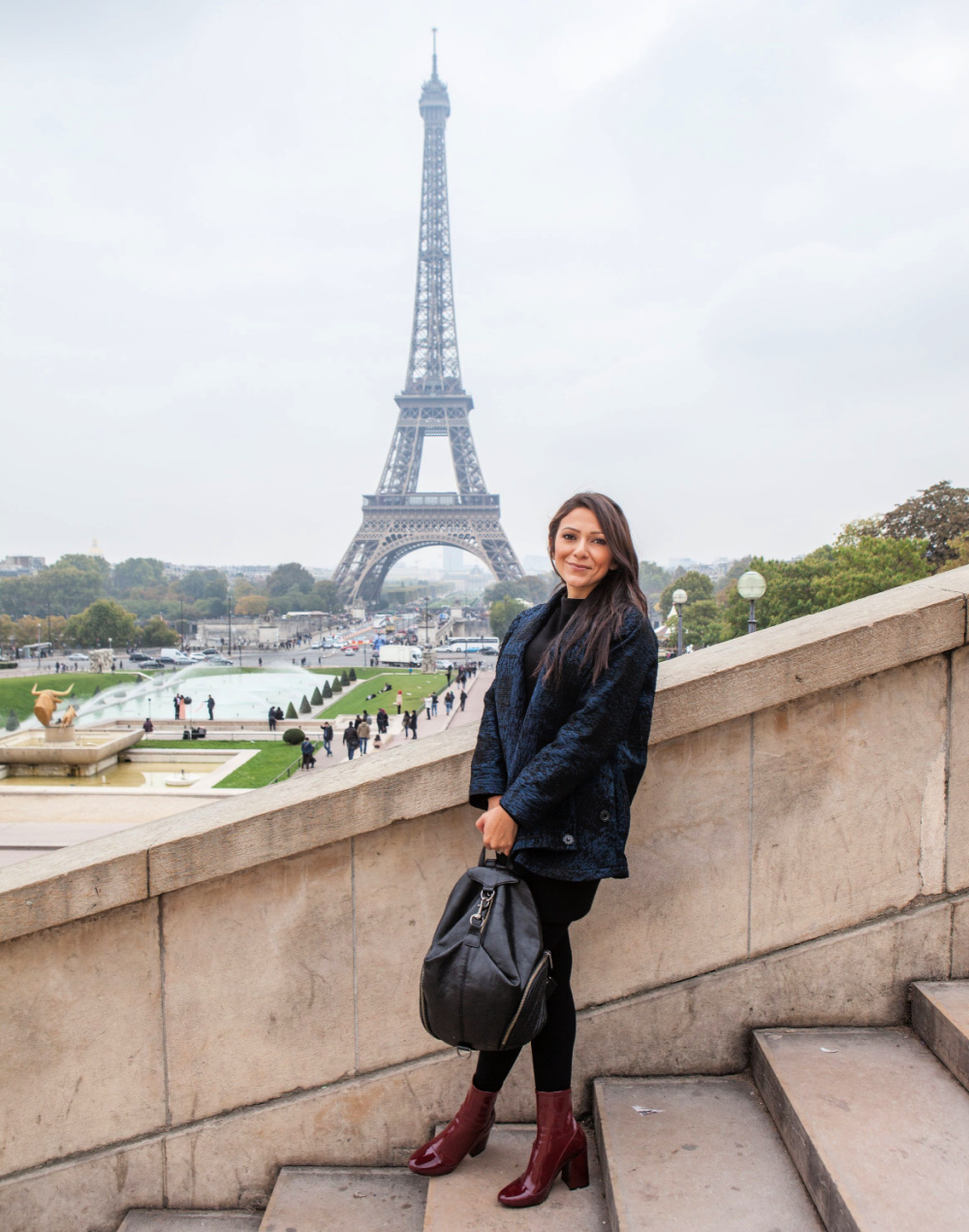 Rebecca Minkoff 
Offer: Get 25% off orders of $150+
Code: GIVE25 
Offer: Get 30% off orders of $250+
Code: GIVE30
Offer: Get 35% off orders of $350+
Code: GIVE35

The Julian backpacks are on sale which means you can save quite a bit with the 25% discount code!!! I first purchased the Rebecca Minkoff Julian Backpack in 2015, and it's still one of the best purchases I've ever made. In fact, it's the ONLY purse I owned for two years aside from one small cross-body bag. It was ideal for my needs, and I used it for everything. I even used it to travel for one-week luggage-free! It's stylish, versatile, and perfect for carrying all my essentials. 
This pretty one has some lovely hardware and sleek pebbled leather and this patent leather style is edgy and fun. Do check out our review to discover why this bag works so well for travel!
In addition, if you're looking for a crossbody, this M.A.B. Crossbody has an edgy stud design, and it could be a purse to use both at home and for travel.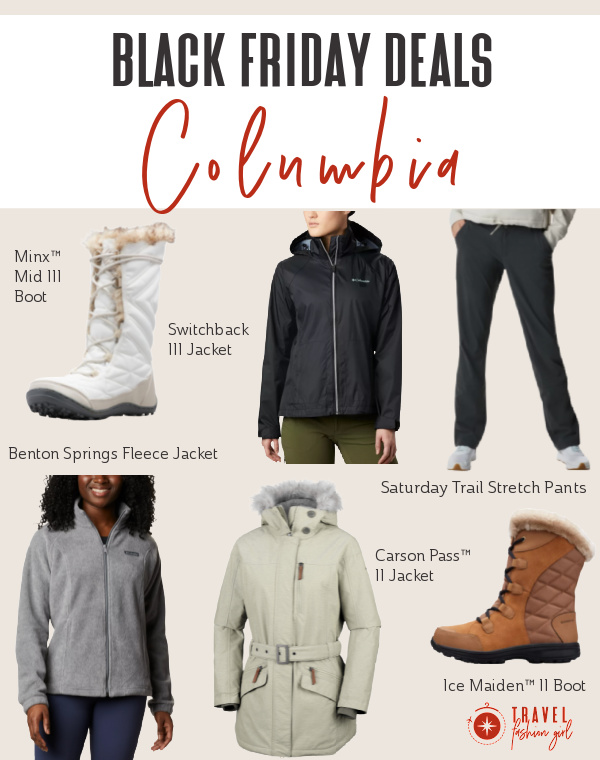 Columbia Carson Pass II | Benton Spring Fleece | Switchback III Rain Jacket | Saturday Trail Pants | Ice Maiden II Boot | Minx Midi II Boot
Columbia
Offer: 25% off Almost Everything
Offer: 50% off Doorbusters
Valid: 11/21-11/30
Selected products discounted across various retailers
Columbia is one of the most popular travel brands with readers and the current Black Friday deal is a signal to take advantage!  
One of their consistently top-selling jackets is the Columbia Carson Pass II. It's reliable and sturdy for winter and for those trips where there's a distinct drop in temperature, no matter the season. If you want to read more about Columbia Carson, see our review!
If you want more jacket options, the Benton Spring Fleece is super cozy and a popular seller, along with the Switchback III and Arcadia Rain Jackets, which are both light, yet reliable options to tackle an unexpected downpour. 
You can top off your jacket finds with the highly-rated Saturday Trail Pants. In winter you could add thermals underneath, but for the summer they're also wearable. Great for travel, as they're water-resistant, stretchy, and have UPF 50, they come in a range of sizes (2-16) too!  
And if you're looking for winter boots on sale, consider the reader's favorite Ice Maiden II which are waterproof, have excellent grip, and cozy insulation. Want something higher? The Minx Midi II Boot has all the same hallmarks of weather protection and warmth. Since things like jackets and boots are pricey, it's the right time to grab them up!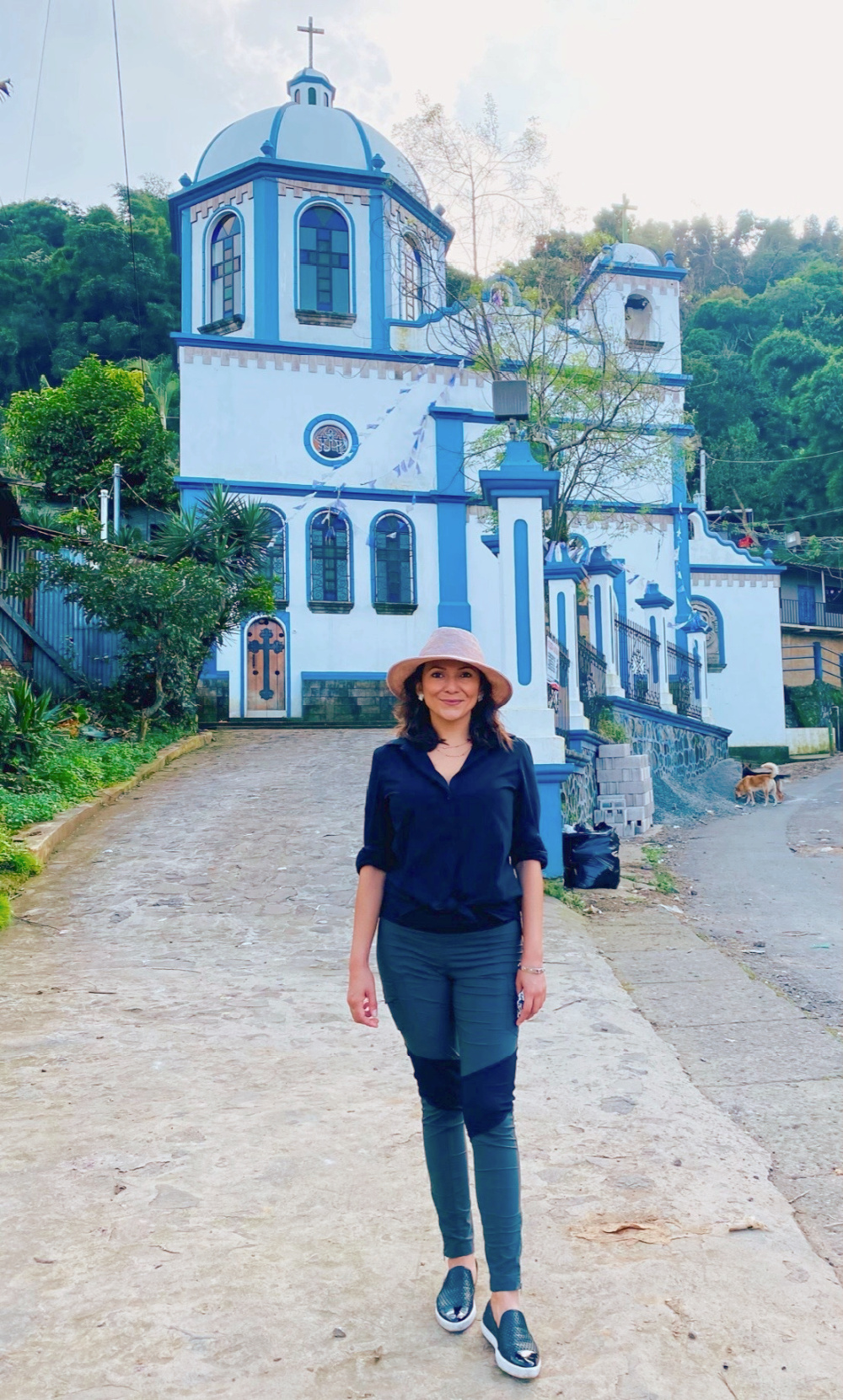 Jibs
Offer: TFG readers can Exclusively Save an Extra 20% off Sale Items
Code: TFGX20
Valid: 11/21-11/29
Jibs Slip-On Sneakers are the right combination of quality construction and design! Not only are they comfortable, but stylish for destinations like Europe. 
The Therma rubber sole is solid and flexible, the natural cork insole wicks away moisture and doesn't retain odors, and the perforated upper is airy and made of 100% real biodegradable leather; so they're environmentally friendly as well!
They've not only become my favorite flying shoes, but I also wear them all the time!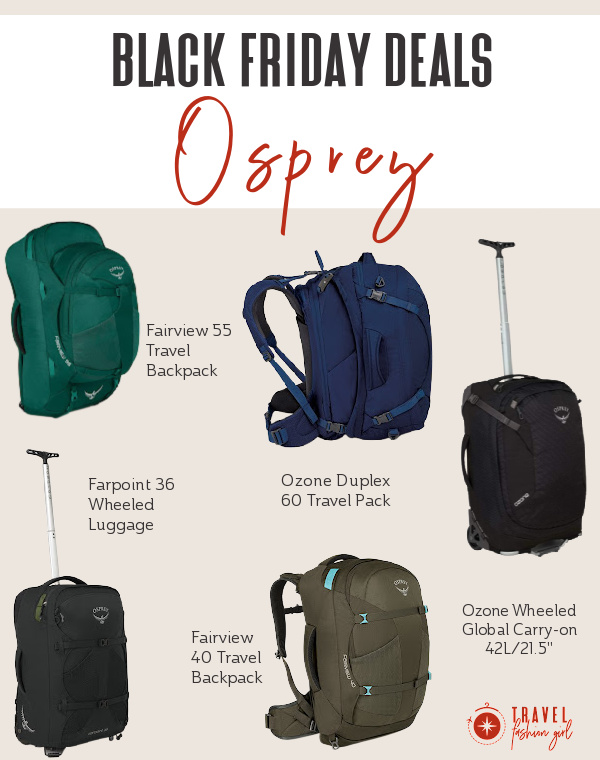 Fairview 55L Travel Backpack | Ozone Wheeled Global Carry-on 42L/21.5″ (no longer on sale) | Osprey Fairview 40L Travel Backpack | Ozone Duplex 60 Travel Pack | Farpoint 36 Wheeled Carry-On
Osprey
Offer: 20% Off over the whole site
Valid: now through Nov 29
Selected products discounted across various retailers
I'm very brand loyal and adore Osprey's high-quality options for luggage. The Fairview 55L Backpack is my all-time favorite backpacker backpack! I used it to travel around the world long-term and it was the first time I downsized from a checked bag to a carryon. However, if you wanted something a little smaller and don't need as much space, the Fairview 40L Backpack is an excellent compact choice, with all the same reliable features and compartments!
If you happen to be buying for the men in your life (it is that time of gift-giving), the Farpoint 36 Wheeled Carryon has a large panel opening, comfortable straps, and sturdy wheels to tackle uneven terrain.
Learn why we and our readers love Osprey backpacks here!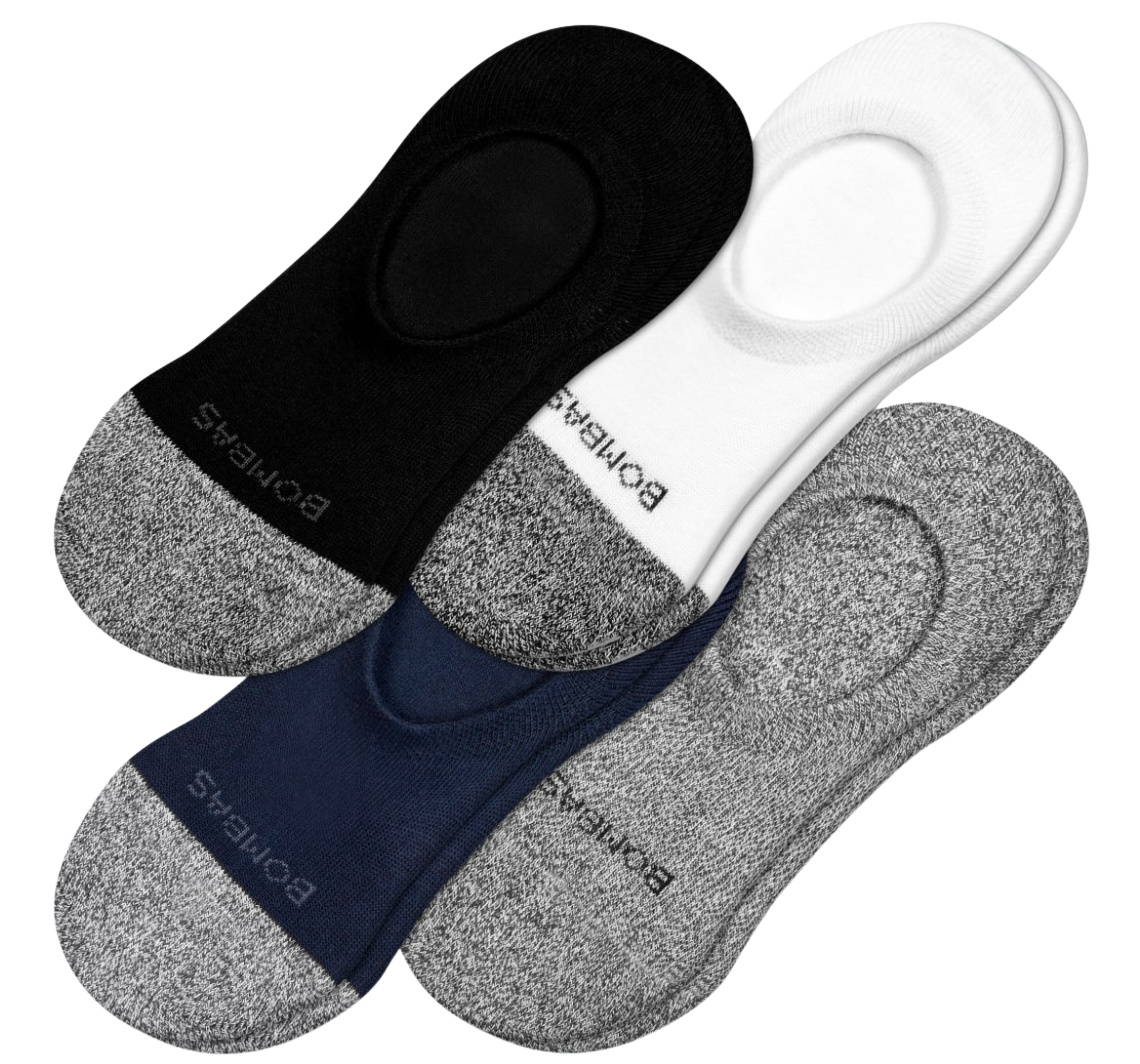 Bombas Cushioned No Show Sock 4-Pack
Bombas
Offer: 20% off everything
Code: MERRY2
Valid: 11/24-12/3
Bombas may not be the sexiest item to feature (haha), but they've truly become a runaway hit with travelers! Their no-show socks are a big favorite with our readers, as are their women's sports socks, and the cozy gripper slippers that are packable! They make high-quality socks that last and feel soft and comfortable on the feet. In fact, a bunch of their packs has additional savings at up to 15% as well, so take a look!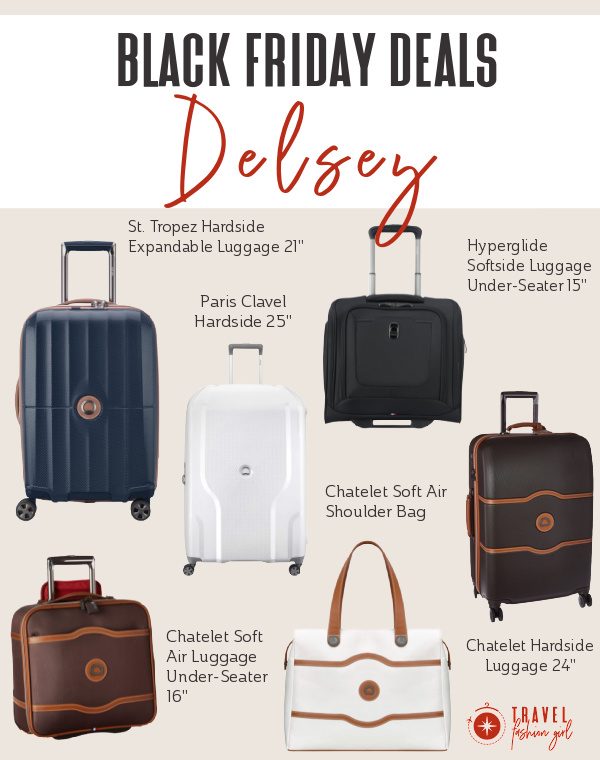 Paris Clavel Hardside 25″ | Chatelet Soft Air Luggage Under-Seater 16″ | Chatelet Hardside Luggage 24″ | Chatelet Soft Air Shoulder Bag | St. Tropez Hardside Expandable Luggage 21″ | Hyperglide Softside Luggage Under-Seater 15″
Delsey
Offer: Up to 40% off
Valid: till November 29th
Selected products discounted across various retailers
It's no secret that Delsey is one of my favorite brands and this Black Friday is a perfect time to grab these while on sale! The Delsey Paris Clavel 19" Hardside Suitcase is considered to be one of their lightest, weighing 5.3 lbs and has room for additional packing space, expanding up to two more inches.
The Delsey Paris Chatelet Soft Air Shoulder Bag is a personal item that exudes platinum airline status! It boasts an over the handle trolley sleeve and has plenty of room and organizational pockets to store all your in-flight essentials. And we can't talk about the Chatelet Shoulder Bag without mentioning the Chatelet Hardside 24″ Suitcase. The Chatelet line is so well-built, durable, and chic-looking, that if you had to check luggage, the 24″ is a great overall choice!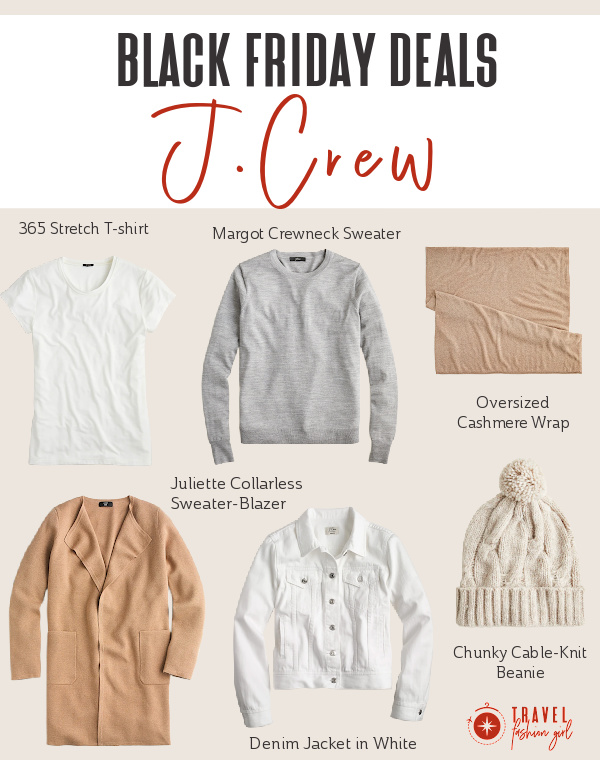 365 Stretch T-Shirt | Margot Crewneck Sweater | Denim Jacket in White | Chunky Cable-Knit Beanie | Juliette Collarless Sweater-Blazer | Oversized Cashmere Wrap
J.Crew
Offer: Up to 40% off Full Price
Code: FESTIVE
Valid: November 30, 2021, 12:01am ET through December 6, 2021, 11:59pm ET
While J. Crew isn't a traditional travel brand, they always end up on top lists with TFG'ers because they make comfortable, versatile, quality clothes, so when a sale happens, it's smart to take advantage now!
One that's made the 5 Reader-Must Haves list more than once is the bestselling Margot Merino Wool Sweater, which is super cozy for the winter and THE perfect thing to replace bulky sweaters. it's available in sizes XXXS-3X. Another travel wardrobe essential for readers is the J Crew 365 Stretch Tee. It's so versatile to wear solo or layer, and it's a must-have! It's offered in sizes XXXS-XXL. 
If you wanted to layer even more on top of a sweater and a tee, the Oversized Cashmere Wrap is worth grabbing, as Its combo of acrylic and nylon fabric will keep you warm and fresh-looking all the way through your trip. And you could add the cozy Chunky Cable-Knit Beanie when outside to stay extra toasty!
And if you want something versatile, their Classic Denim Jacket is a huge seller and a wear-with-everything style that can be layered or worn with a cute tee. Or if you're on the lookout for a relaxed, long blazer that could double as a light coat, check out the Juliette Collarless Sweater-Blazer. Both these items are available in sizes XXXS-3X.
More Popular Black Friday Sales
ibex
Offer: 15% OFF Everything
Code: GIFTADVENTURE
Shop ibex
ICEBREAKER
Offer: Shop 15% off Everything
Code: GIFTADVENTURE
Shop Icebreaker
THE NORTH FACE
Offer: Up to 40% OFF select sale styles
Shop The North Face
REI
Offer: Save up to 40%
Valid: December 6
Shop REI
MOOSEJAW
Offer: Up to 30% off most current season items
Shop Moosejaw
EXPRESS
Offer: 50% off Entire Site plus Free Shipping
Shop Express
LULULEMON
Offer: Up to 50% select styles
Shop Lululemon
---
These sales are awesome and there's still more to come! What's on your shopping list? Comment below!
---
For travel gift ideas, please read:
---
LIKED THIS POST? PIN THIS PIC TO SAVE IT!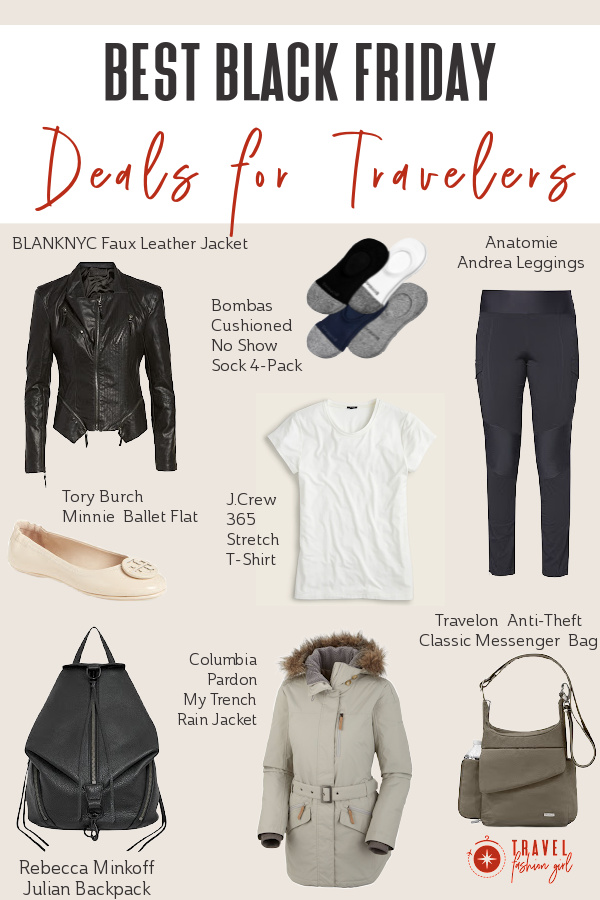 ---
Hope you enjoyed this list of Black Friday deals. Please share with your friends on Facebook, Twitter, or Pinterest. Thanks for reading!
---