Support TFG by using the links in our articles to shop. We receive a small commission (at no extra cost to you) so we can continue to create helpful free content. Thank you, we appreciate it!
Need a gift for a traveler that seems to have everything? Here's what I'm absolutely lusting for this season! (Hint: I've probably bought most things for myself by now.)
---
Gift Guide: Editor's Wishlist
---
PIN THIS GIFT GUIDE TO SAVE IT!
Links to items below
Every year, the Travel Fashion Husband asks me what I'd like for Christmas and every year I tell him the same thing: "Whatever you'd like to give me. I love surprises!" And then I proceed to tell him that I've just published my Editor's Wishlist on the blog.
Hmmm…somehow he doesn't take the hint. Too subtle?
The truth is, I'm difficult to shop for since I have the habit of self-gifting before it's even time to unwrap the presents – my husband doesn't really stand a chance against my impulsiveness. In case you want to know what I'm lusting for this season, here it is…my annual Editor's Wishlist!
Rebecca Minkoff Medium Julian Croc Embossed Backpack, $275.00, Nordstrom
This is the number one item on my wishlist! You know I love the Rebecca Minkoff Julian and this one has just taken my favorite bag to the next level. This design is the perfect way to spruce up my neutral wardrobe choices for both home and travel, too.
While I prefer the regular (large) size, for this design, I'm willing to make an exception!
A close second on my list? The Rebecca Minkoff Julian backpack in Nylon. Plus it's currently on sale at Nordstrom!
Selfie Stick Case, $31.99, Amazon
Phone case and discreet selfie stick in one? This is an easy one to add to my wishlist. Gotta have it!
Jetsetter Convertible Backpack, $228.00, Henri Bendel
The readers have been raving about this backpack in the TFG Facebook Group recently so I'm all on board to try one out for myself. Some even like it better than the popular Rebecca Minkoff Julian backpack since it can also be worn as a traditional purse. I need this!
As a minimalist long-term traveler, I feel like I spent so many years without looking into a mirror that this seems like it would be perfect for those long periods on the road, especially when I'm going somewhere for business. Plus, it's a pretty color, too!
Ruched Body-Con Tank Dress, $56.00, Nordstrom
This is one of the most popular dresses and our readers rave about them! I bought one based on their recommendation and now own them in various colors. The India Ink color shown above is one of the new colors I want the most. They're easy to wear on warm weather travels and have a flattering fit. Size up for a more comfortable look!
Velvet Matte Lip Pencil Duo, $20.00, Sephora
Another item I already purchased, I love these lip pencils because they take up less space than a lipstick, their solids not liquids, and they're a great way to add a pop up of color for an understated makeup look.
As a bonus, I can smudge them with my finger to wear them as a tint during the day then add more color for a more dramatic look at night. (I've been obsessed with a tinted lip color ever since my trip to Paris!)
Portable and Personalized Facial Cleansing Brush, $99.00, Amazon
I love a good facial, especially before and after a trip. This little cleansing brush is a good way to keep my skin smooth when I'm on the road for long periods of time.
Swarovski Crystalline Stardust Pen, $35.00, Amazon
Okay, this isn't travel related but it's on my blogger wishlist! Technically, I could use this for my travels since I always take a pen to fill out immigration forms when traveling abroad…
La Chatelaine Shea Butter Hand Cream Tin Gift Box, $24.00, Amazon
One of the must have essentials that I carry with me daily at home and while traveling is an ultra-soothing hand moisturizer. In the winter, the weather zaps all moisture from my hands and the moisturizer makes such a difference that I constantly apply it while sightseeing. Likewise, this also happens on a flight.
I love this cute tin set of La Chatelaine Shea Butter Hand Cream. Not only is it a pretty gift but the mini sizes are great for travel.
Cozy Tight with Fleece-Lined Leg, $14.50, Amazon
Lately, I've been layering tights underneath my merino wool thermals to stay warm in the cold weather as I shared in this winter packing list. This fleece lined tight would be the perfect addition to my collection of warm layers. As a plus, it would be ideal to wear under dresses, too!
Dark Rainbow Compact Mirror, $12.00, Sephora
It may not be ultra-light but I've been wanting a cute travel mirror for ages and I love the look of this! This is a stocking stuffer that's at the top of my list.
Check out more stocking stuffers here – all under $10!
Love Triangle Blush/Lipstick Set, $24.00, Sephora
This was on my wishlist and I already picked it up at Sephora! I love mini makeup sets this time of year especially because it allows me to try out new colors without committing to the full price tag. Plus, I hardly ever use up all the product in regular size containers anyway so this is ideal for home and travel.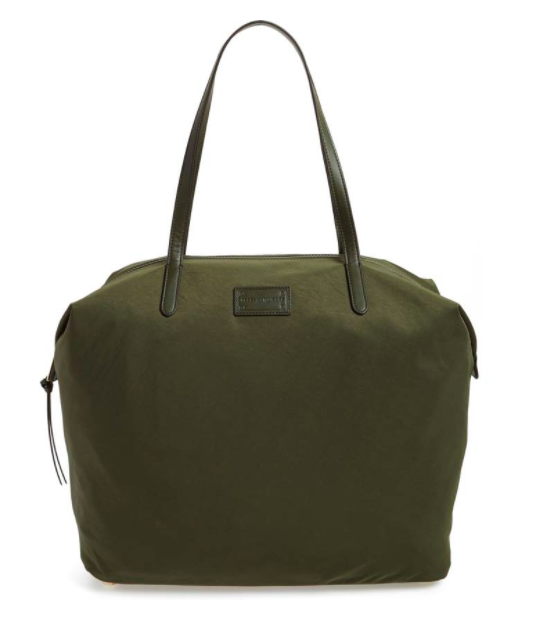 I've been on the hunt for a packable nylon tote and this looks like it just might be the perfect item. Something simple, that can be used in a variety of places, and that is also a non-black neutral color to add some interest to my wardrobe. Would also make a cute packable bag to bring back shopping on my travels!
---
What travel gifts are you lusting do you recommend? Comment below!
---
For more holiday gift guides, please read:
---
I hope you liked this editor's travel gift wishlist. Please share with your friends on Facebook, Twitter, and Pinterest. Thanks for reading!
---