This post contains affiliate links. Visit our Disclosure page for details.
---
Need tips on what to wear somewhere else? For a full listing of all our destinations, please visit our packing list page!
---
Our readers weighed in on whether or not you should wear shorts in Paris. This is what they had to say: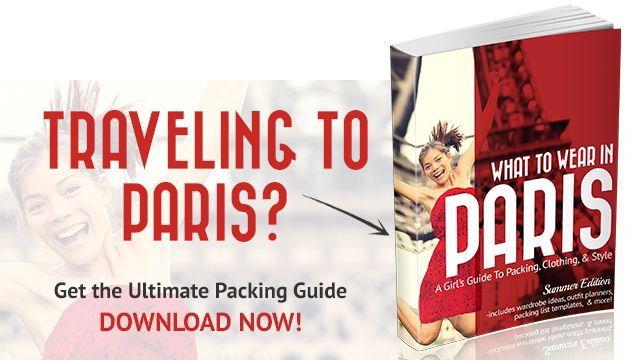 ---
Should You Wear Shorts in Paris…Ever?
---
Travel Fashion help! Reader asks: for Paris in spring/summer…are dressy sandals and dressy shorts really a no-no???

I would never wear shorts in Paris. Sandals are okay, but not too casual.
– Lori Starrett-Price
Capris and skirts are definitely the way to go. Nice sandals are ok, definitely not sport or chunky sandals (Keens, Birks, etc) or plastic flips flops. Also, a good pedicure is mandatory if you are going to do sandals.
– Mimi A 
The only place you should wear shorts in Paris is on the runway during fashion week. Maybe you could get away with a tailored pair of shorts if you wore stockings underneath with a pair of sexy ankle boots and a white button down and blazer. Maybe. But I wouldn't.
– Darcy Vasudev
Depends on how warm it is. French people don't really wear shorts except at the beach but I think nice sandals are ok if its springy warm weather. Capri length pants would be better if long pants are too warm, rather than wearing shorts.
– Kaylin E. Stephens
Exactly. The shorts are the first major giveaway that you're a tourist. We were there last August and September and even with the heat, found it bearable to ditch the shorts.
– Shauntel Bruner
I wear ballet flats about 90% of the time in the summer in Paris. Sandals would be okay with a good pedicure, but never thongs or flip flop styles. I definitely would choose cute skirts or casual dresses more than shorts as well.
– Tessa Norton
No shorts in Paris. Period. What screams tourist most loudly in Paris? Shorts, fanny packs, khakis, running shoes (when you're not actually running), baseball hats.
– Shana McKibbin
TFG VERDICT
When it comes to clothing, it's less about the article of clothing and more about how you wear it. Dressy shorts can look very sophisticated by pairing them with a nice blouse, a blazer and flats while a souvenir tee and baggy khaki shorts with flip flops is too casual for Paris (or most other places). If you love shorts like I do, choose a contemporary pair in a tailored classic style and if you don't like shorts anyway, stick to lovely summer dresses.
Au revoir!

---
Suggested Travel Resource:
---
Do you live in Paris? Do you agree?
---
More Europe Packing Lists
Please read our Ultimate Packing List for Europe featuring stylish outfits and travel tips for 9 countries.
---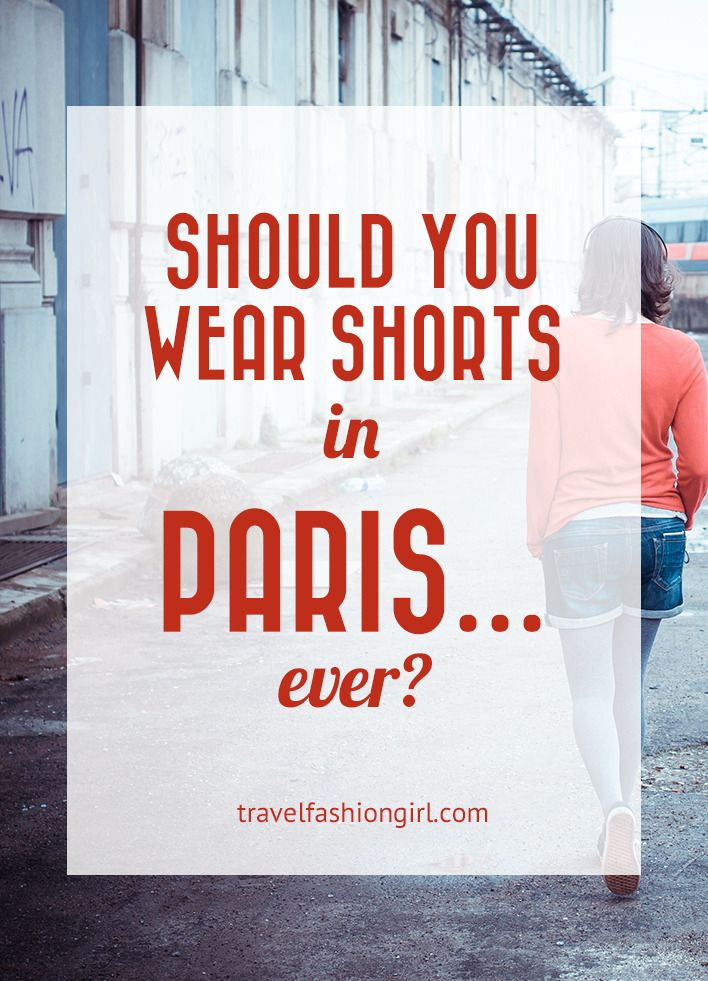 ---
If you found this post on wearing shorts in Paris useful, please share with your friends on Facebook, Twitter and Pinterest. Thanks for reading!
---

---
Liked this article? Check out similar posts: