Support TFG by using the links in our articles to shop. We receive a small commission (at no extra cost to you) so we can continue to create helpful free content. Thank you, we appreciate it!
If you're like me, getting a mani and pedi is a part of your pre-trip beauty routine and gel nails just made on the go touch ups obsolete. Perfect for one-two week trips, your vacation nails will stay intact for up to two weeks; no peeling, chipping, or cracking. Now that's what nail polish should be!
Pack light and forget the need to pack extra nail tools. Find out more about the gel manicure!
Please read entire article to learn about the benefits and potential health hazards, too.
---
Long Lasting Vacation Nails
---
What Are Gel Nails, exactly?
As opposed to the common acrylic lacquers, gel nails are actually extensions reminiscent of real, natural nails. They're made of solid gel products which includes polymer and monomer substances, making the material durable and flexible according to the nail's shape and use.
How Does it Work?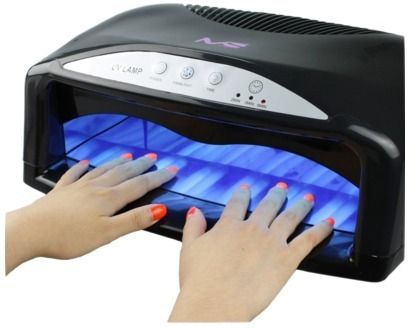 There are different types of artificial gel nails available in the market. One is the gel nail polish. It comes in small bottles like a regular nail lacquer, only it needs to be cured under a UV or LED lamp for it to harden on your bare nails. The other type is the gel overlay, which is of a thicker consistency and provides a tougher alternative than the regular polish.
These overlays come with colors and designs, including crystal embellishment, patterns and shimmers and can be used to lengthen your nails. There are also gel polishes which do not require light-curing; you can just dip your gel nails in the water for the material to harden. This process helps your vacation nails last longer and saves post-manicure drying time.
Why They're Perfect For Travel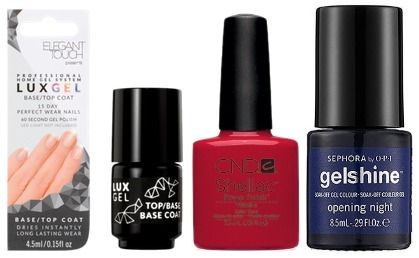 Many travelers are raving over gel nail polishes because of their long-lasting appearance. Who wouldn't want their French tips to look as picture perfect two weeks into their trip? The durability and low-maintenance of gel nails make it a great choice for stylish travelers who are always-on-the-go.
You can enjoy having beautifully prepped vacation nails without the fear of chipping and cracking whether you're strolling around Europe or spending every day swimming in the ocean. Gel nails won't dull. They have a glossy, shiny finish that stays on for weeks!
There are many more advantages in picking gel nails over acrylic polishes. One is that the gel variant does not produce any stinging scent just like the regular nail polish. Application takes two minutes under a UV or LED light, and there's no hassle of smudging your manicure during the waiting time.
Gel Manicure Options
Gel Base Coat and Top Coat / Structure Gel / Gel Nailpolish
The easiest way to get your gel vacation nails is to go to a local salon. Relax while you're sitting on one of those deluxe couches as your gel nails are being placed. A few minutes on the light machine and your nails are good to go!
Of course, you can also get glammed up on your own. This can be a bit tricky and takes time (and patience) but it's a more budget friendly option. Beauty stores like Sephora sell manicure/pedicure kits with gel nail polish that you can use at home. Sally Hansen and Nailuv also have popular kits with everything you need to get started.

DIY Gel Nails
Here's a simple tutorial for DIY vacation nails without the use of a light:
Apply a thin coat of your gel polish and let it dry.
Cover it up with your preferred nail polish and allow it to set for at least 3 minutes.
Do the first two instructions twice.
Finish off with a top coat. Let it dry for a minute.
Important Note: Health Warning
It is still uncertain if there are specific health risks associated with gel nails so please read all warnings before deciding whether or not to use this manicure method. Some women have experienced the weakening of their nails and other damage from frequent use. There are also questions about the exposure to UV light causing cancer. Use gels nails at your own risk.
While a gel manicure can be a convenient beauty solution to create long lasting vacation nails we don't recommend that you use them frequently. If you do decide to use gel nails, save this beauty treatment for the occasional trip.
---
Hope you like these manicure options to stay glam without a chip!
Have you tried gel vacation nails? Tell us about the experience in the comments.
---
For more travel beauty tips, please read:
---
Hope you enjoyed this post on hassle-free vacation nails. Share it with your friends on Facebook, Twitter and Pinterest. Thanks for reading!
---