Support TFG by using the links in our articles to shop. We receive a small commission (at no extra cost to you) so we can continue to create helpful free content. As an Amazon Associate, we earn from qualifying purchases made on Amazon in addition to other retailers featured on the blog. Thank you, we appreciate your support!
Are you an active traveler but don't want to wear traditional womens sport sandals? Here are a few tips on how to choose casual travel shoes that don't scream mountain trails!
But if you are looking for traditional outdoor sandals, read this post!
---
Alternatives to Womens Sport Sandals
Written By: Nina Thomas
---
Sandals can be challenging for me because I am a very active traveler. I also am concerned about not looking like an active traveler when I'm eating at a nice restaurant.
I want womens sport sandals that can be walked all day in, and still look good with a dress in the evening. Sandals can be an issue because a lot of the fashionable ones provide zero support, and the sturdy ones look like I'm ready to go clam digging.
No matter what sandals I'm looking at, they need to have arch support and be made of material that won't deteriorate in bad weather or leave me with a lot of blisters.
The key is to find a pair or two that can be used for different types of activities. Wear one pair to travel in and pack your other sandals in a packing cube. One pair of sandals can be used to hike in, as well as to a restaurant. Versatility, comfort and style can be met in a few pairs of sandals!
You only need three pairs of shoes for any trip. Find out how with Pack Light Stylishly!
These are the most versatile styles that I've found provide some of the benefits of womens sport sandals without looking like they are: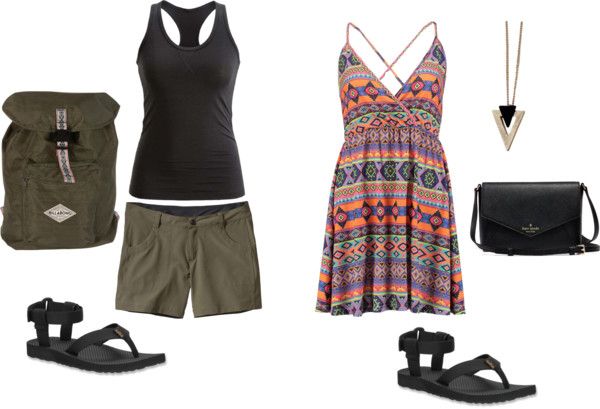 Backpack / Tank Top / Hike Short / Sundress / Necklace / Handbag / Sandals
One thing to consider is the color
Choose a pair that's a neutral color if you're actually purchasing a pair of traditional womens sport sandals. A lot of the outdoors-type sandals have vibrant colors and patterns, which limit how you can wear them.
A black pair could be worn for a hike or with a dress in the evening. Even though they're made of nylon, black goes with everything and appear more elegant than other color choices like green or purple nylon.
They may not be the most stylish, but they're a more subtle option that works on and off the trail. Plus, the fashion industry recently decided that Tevas like the ones shown above, were actually fashionable. Take advantage of this recent trend!
Read this post for tips on how to choose the best hiking shoes for women!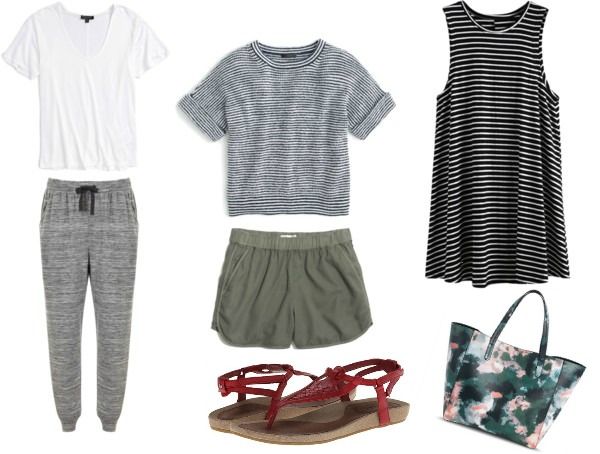 V Neck / Jogger / Sweater / Shorts / Dress / Sandals / Tote
For casual and dressy wear
For casual and dressy wear, a pair of leather sandals is a good option. Leather sandals are reliable and water-proof which make the material a good travel choice. The other thing to consider is a foot bed with good arch support.
Some cheaper made sandals don't come with good support, but paying a little extra money for arch support will ensure comfort for walking in these all day long.
Tan colored leather goes with everything, and matches just about anything from joggers to a sundress. Red can also work well if you have the right color scheme.
Read this review on the cute walking sandals for travel shown in the set!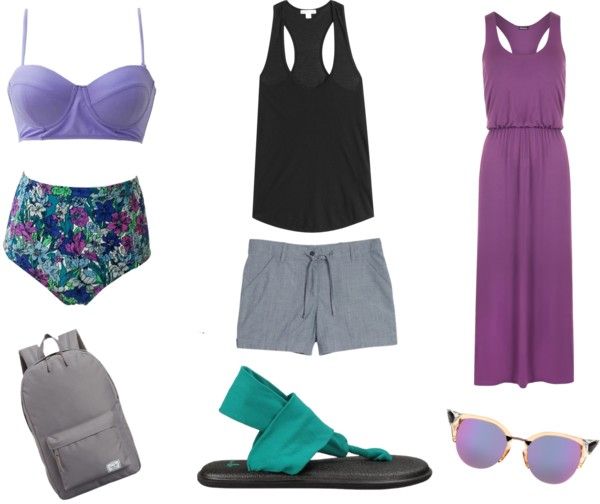 Bikini / Tank Top / Shorts / Dress / Backpack / Sandals / Sunglasses
For sightseeing
I don't recommend bringing flip flops as a main pair of travel shoes. As an alternative to womens flip flops, I would suggest sling back sandals with some support that you can get wet at the beach or pool as well as wear with a dress.
Why? Cheap flip flops are not reliable for an all-day shoe, don't provide enough comfort and aren't dressy enough to wear out to a nice restaurant. A pair of sandals, like the ones shown above, are nice enough for a sightseeing, going to a restaurant or swimming at the beach.
Learn more above these and more cute and comfortable sandals!
Here are a few more alternatives to traditional womens sport sandals:

ECCO Damara / The Flexx Band Together / Ahnu Salena
---
What are your favorite alternatives to traditional womens sports sandals? Comment below!
---
For more ideas on travel shoes, please read:
---
LIKED THIS POST? PIN THIS PIC TO SAVE IT!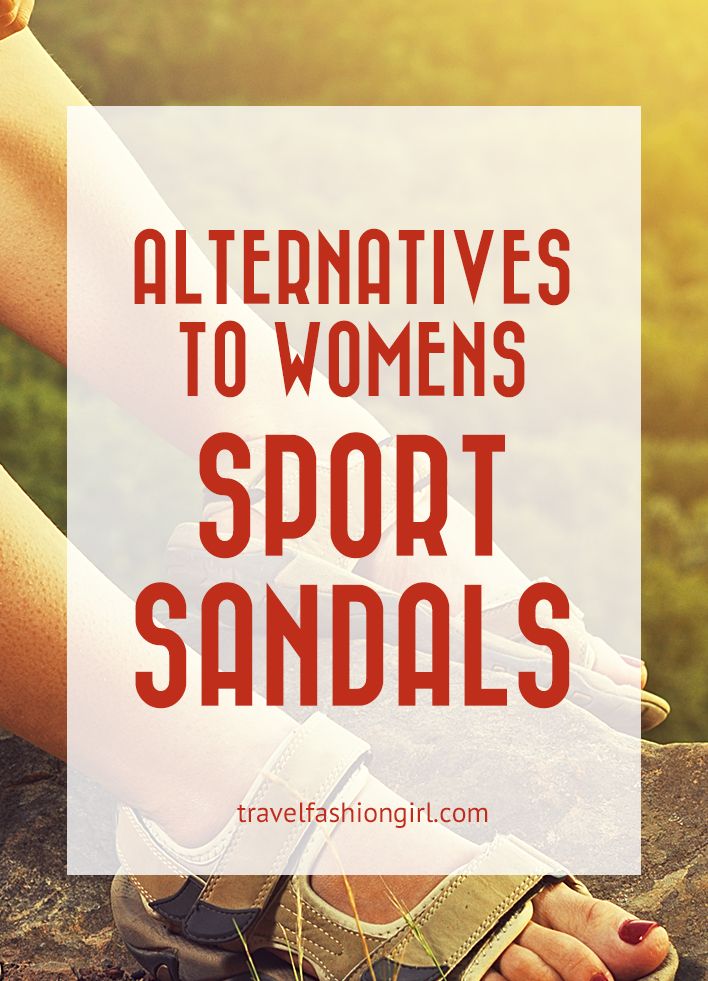 ---
Hope you liked this post on alternatives to traditional womens sports sandals. Please share with your friends on Facebook, Twitter and Pinterest. Thanks for reading!
---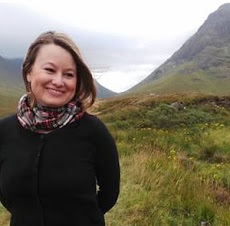 Author Bio: A travel lover and freelance writer from the United States Midwest. Traveling mostly as a couple with her husband, she is constantly looking for a beautiful view and a good adventure. For more practical travel tips and ideas from a Central Ohio Girl, check out her website: travelingwithnina.com or follow her on Twitter.
---