Support TFG by using the links in our articles to shop. We receive a small commission (at no extra cost to you) so we can continue to create helpful free content. Thank you, we appreciate it!
Looking for a Burning Man packing list? We've got tips on clothes, shoes, and all the essentials. Check out this guide on what to bring to Burning Man for one of the biggest festivals in the world!
---
What to Bring to Burning Man
Written By: Casey Carr-Jones
---
Burning Man is a unique annual event that brings together tens of thousands people in the Black Rock Desert in Nevada for a week of music and radical self-expression with a focus on celebration, community, and civic responsibility.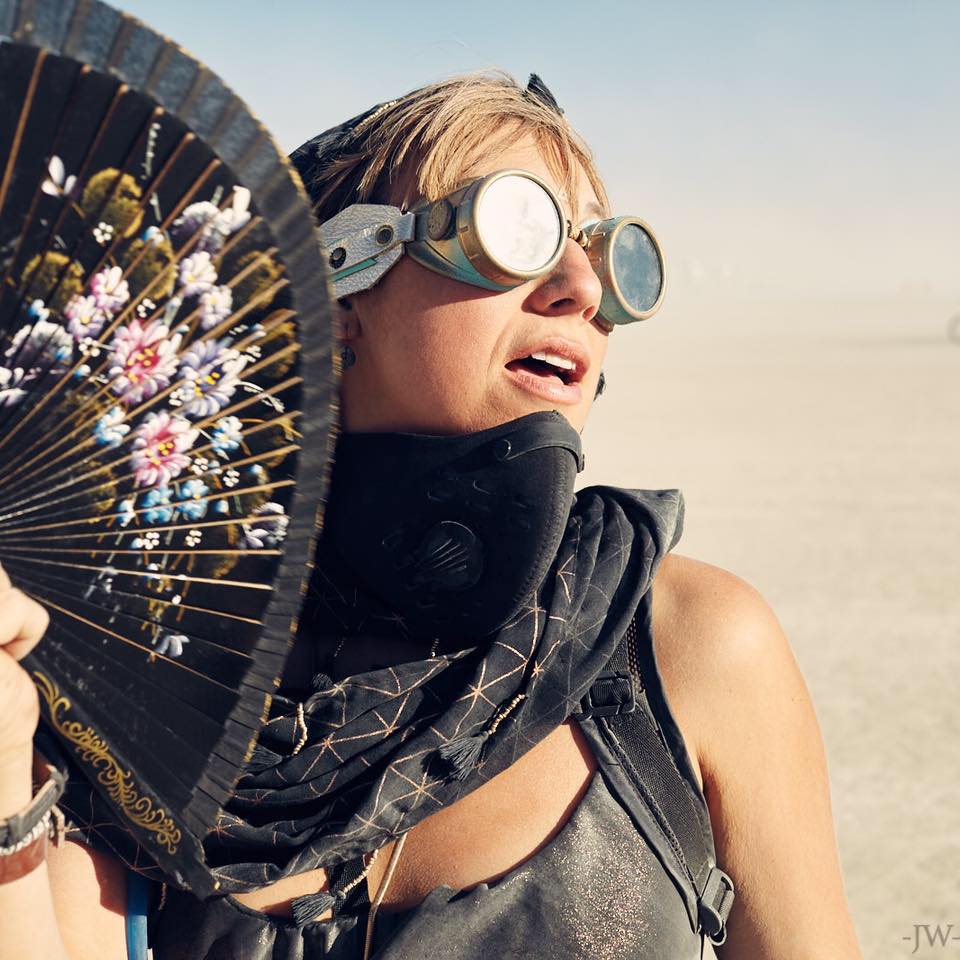 The desert transforms into a temporary community, called Black Rock City, filled with art installations, theme camps, and villages. After the festival, their motto is to "leave no trace" and each festivalgoer is responsible for removing all trash.
This isn't your run-of-the-mill festival, and so your outfit can't be run-of-the-mill either!
If you're traveling the West Coast, check out these tips on what to pack for USA in summer!
What to Bring to Burning Man: Clothing Style
The style at Burning Man is, in a word: RADICAL. This event revolves around radical inclusion, radical self-expression, and radical self-reliance. And the outfits certainly reflect that! The crazier your outfit, the better.
It's been said that Black Rock City turns into an art scene, but the art is in the clothing! Fashion at Burning Man is about creating a new identity or playing out a fantasy. If there's something or someone you always wanted to dress like, the time is now.
Lace, chambray, and fringe: here are the latest trends for festival clothing!
Steampunk Goggles | Coin Chain Necklace
You'll see people dressed in steampunk and burlesque styles or as superheroes or ravers. You'll walk by someone in a space suit, or dressed head to toe in body paint. Glowing costumes are a favorite for nighttime events.  
Even though it may sound a bit like Halloween, you won't see many off-the-shelf costumes. Many Burners (Burning Man attendees) have custom-made costumes specifically for this event.
Read this foolproof guide on long-lasting Festival makeup!
Burning Man Tips
You're in a desert, which means it's incredibly hot during the day, but can be very cold at night. Occasional sandstorms are not unusual. Plan accordingly.

Practice cultural sensitivity and leave the Native American headdresses at home.

Flower crowns may cut it for some festivals, but this is a time to go all-out!

Fur has become a bit of a cliché at Burning Man, but faux fur is still popular and can be practical and cozy at night.

No glitter, sequins, or feathers–wear nothing that will leave trash or remnants behind.
Read these tips on what to pack for desert adventures!
What to Bring to Burning Man: Packing List 
Besides your costumes, here are other packing essentials:
Naturalizer Boot | Aerosoles Loafer
Footwear
Comfortable footwear during Burning Man is key. Flip flops or sandals work for some people, but I recommend walking shoes or a pair of flat boots to protect your feet from the elements and any unmarked tent stakes.
The last thing you want is for your feet to hurt too much to walk or bike, so be sure your shoes are broken in completely in advance. Be sure you can walk, stand, and dance all night in them!
Bring at least 2 pairs of shoes to switch daily (and extra socks), and feel free to decorate them as well.
To give you a few ideas, take a look at our readers' favorite comfortable walking shoes!
Straw Cowboy Hat | Braided Straw Hat
Wide-brimmed hat
This is useful to block sun and prevent sunburn. Consider a hat that has a chin strap so you don't lose it on a windy day!
Here's a list of cute summer hair ideas, accessories, and hats to bring along on your summer trips!
Sunglasses
When planning what to bring to Burning Man, we recommend taking along two pairs of sunglasses in case one gets lost. The last place you want to be without eye protection is in the middle of a desert!
Find out the benefits of polarized sunglasses plus my top picks!
Fleece-Lined Leggings | Flannel
Warm clothing
Pack warm, snuggly clothes for nighttime. Remember, you'll be in a tent with little protection from the cold and wind. Consider fleece-lined leggings or cozy flannels and pack an extra blanket.
Thermals are the key to keeping warm when the temperatures drop at night. Learn more!
Burning Man Essentials
Items to protect against dust
Pack a dust mask and goggles to protect your eyes and nose during a dust storm.
A waterproof bag
Things can get messy. Protect your camera, phone, and other electronics in a durable waterproof bag.
A reusable water bottle
Burning Man suggests bringing 1.5 gallons of water per person per day. You'll leave it at your camp, but be sure to pack a reusable water bottle to fill up as you explore other parts of Black Rock City.
Earplugs
For afternoon naps and midnight rowdiness from the neighboring tents.
Lotion and lip balm
The desert can get super dry, so bring these to protect your skin.
Burning Man also recommends items like duct tape, a first aid kit, and a headlamp.
---
What are your tips on what to bring to Burning Man? Please share in the comments!
---
For more USA packing lists, please read:
Suggested travel resources:
---
LIKED THIS POST? PIN THIS PIC TO SAVE IT!
---
We hope you liked this post on what to bring to Burning Man. Please share with your friends on Facebook, Twitter, and Pinterest. Thanks for reading!
---
Author Bio: Casey Carr-Jones is a part-time writer and full-time #girlboss, traveling the world while writing and managing a resume review business. Learn more about her adventures on A Packed Suitcasey or on Instagram.
---