Support TFG by using the links in our articles to shop. We receive a small commission (at no extra cost to you) so we can continue to create helpful free content. We earn from qualifying purchases made to the featured retailers. Thank you, we appreciate your support!
As festival season comes our way and crochet bags, flower crowns and high waisted shorts fly off local store shelves, it's time to consider a practical guide to a long lasting face that won't let you down. Follow this foolproof guide to easy, durable music festival makeup that also works well for hot, travel days, too!
---
Long Lasting Music Festival Makeup
Written by Kate Langille
---
Table Of Contents
With social media pictures sharing our face at a moments notice, I find myself wanting to look fresh on the festival grounds, especially since the weather can transform from sunny skies to downpour and mud in a matter of minutes.
Low maintenance is the name of the game when it comes to music festival makeup—there are no mirrors in the porta potty for touch-ups.
The major theme to follow is minimalism with thin, built up layers in order to ensure no smearing or transfer in the heat of summer.
Whether you're the girl who waits hours in the crowds for their favorite band in the blazing sun or likes to lay back in the shade on a blanket, these three routines will work for almost anyone regardless of your festival style.
Best Options for Music Festival Makeup
Here's a guide to easy, durable music festival makeup that also works well for hot, travel days, too!
Fresh Sugar Lip | Covergirl Lashblast
Music Festival Makeup Essentials
Apply a face friendly sunscreen in SPF 30, curl your eyelashes, and apply some water-resistant mascara liberally to your lashes for lots of definition with only a little effort. Apply concealer under your eyes for dark circles or on any blemishes and redness, like around the nose and mouth.
I'd finish this music festival makeup look with a clear eyebrow gel to keep the hairs in place all day. Don't forget SPF lip balm, I'd choose something with a little color in it like Fresh Sugar Lip Treatment in Rose, which feels great on the lips while also protecting them from the sun.
Covergirl Lashblast 24 Hour Mascara is one of those products that actually lives up to its name. Warning: this requires waterproof eye makeup remover or else you're going to have a hard time wiping off your mascara.
Take a look at these 5 items to make your makeup last all day!
Barely Branded | Tough as Taupe
More Festival Makeup Looks
The next music festival makeup look builds on the steps from look #1. Add a tinted moisturizer or powder foundation to even out your skin tone—any will do but try for something with SPF to add to your sun protection. Next, grab a long-wearing cream shadow in a pot or shadow stick and use your fingers to blend all over the eyelid.
I love Maybelline's Color Tattoo in Barely Branded, then using a blending brush, I put a bit of Tough as Taupe in the crease for definition. I like to keep things neutral but swapping out with your favorite bright or metallic colors is highly encouraged.
Here are some tips on the best eyebrow makeup for travelers!
Take a waterproof Kajal eyeliner pencil, or double duty your cream shadow as a liner, and rim the lash line then smudge with a small brush, no need to be too precise! Rimmel Scandaleyes are great and inexpensive long-wearing pencils that don't smear, run, and for contact lens wearers does not sting your eyes. Urban Decay's 24/7 Glide on Eye Pencil comes in everyday shades but also has many different finishes.
Eyeliner is a great way to have fun with your music festival makeup without it being cumbersome to apply. Focus here on blending out your eye products well in order to avoid becoming too overdone.
Water doesn't stand a chance against the shadow sticks of today. Too Faced Bulletproof 24 Hour Shadow Liner comes in cool colors and I guarantee stays even after submerged in warm water, which was tried and tested by yours truly. It's simply wonderful festival makeup.
Find out what beauty products to pack — and leave behind!
Festival Makeup Tips for a Polished Look
If you're into a fuller music festival makeup look, you can choose to add a long-wearing blush or cheek stain. I am a massive fan of Benefit tints and love using it to tint my lips as well.
These are the beauty products to buy when traveling to Europe!
To further take your look up a notch and add a luminous summer glow, I'd pat on a cream highlight on the top of the cheekbones like Benefit's Sun Beam or Becca Shimmering Skin Perfector in Opal. I use both highlight and bronzer but many prefer an all over sun-kissed veil instead. I suggest Tarte's Amazonian Clay Matte Waterproof bronzer with a big fluffy brush and focusing the product on the perimeter of the face.
Discover French beauty secrets!
All NIghter | L'oreal Spray | NYX Spray
Be sure to build the intensity of products in light layers instead of putting a ton on all at once. Set your face with powder (if you're oily normally) then finish up with a setting spray like Urban Decay's All NIghter, L'oreal Infallible setting spray, and NYX setting spray. These are more inexpensive drugstore options which work to keep everything in place.
Read more tips about how to create a functional but minimalist capsule wardrobe with Pack Light Stylishly!
Touch-Up Concert Makeup Tips
It might be inevitable that you decide to get all Woodstock 69' and dive face first into a mud slick, or maybe you were front and center of your favorite band and got blasted with water cannons. In that case, I would suggest repeating any of the above steps or enjoy the freedom that comes with having your hair and music festival makeup ruined.
For everyone else, you don't necessarily have to apply any additional products. The beauty of stains and setting sprays is that simply dabbing, not rubbing, a clean kabuki brush over the shiny spots of your face can bring you back to looking like you did earlier in the day. A spritz of setting spray or a refresher like Urban Decay's B6 vitamin infused prep spray, a little touch up of concealer, and you'll look ready to take on the after party.
Finally, when your feet are throbbing and you are ready to crash, be sure to take off waterproof makeup no matter how tired you are. You don't want to cause undue irritation, especially on the eyes. Use an eye makeup remover that is meant for waterproof makeup such as my Holy Grail, Lancome Bi Facial.
In a pinch, you can use petroleum jelly and even baby oil to remove your music festival makeup, particularly stubborn mascara and liner. Use a cotton pad, hold in place for a few seconds, then gently rub in a circular motion. Never scrub or tug at the lashes. You want to keep them intact for future use.
Check out what our post on the best makeup remover!
Music Festival Makeup Comparison Chart
MODEL

BRAND

RATING | PRICE

Music Festival Makeup Essentials
Fresh Sugar Lip Treatment
Check Price
Covergirl Lashblast 24 Hour Mascara
Check Price
More Festival Makeup Looks
Maybelline New York Eyestudio Color Tattoo Metal
Check Price
Maybelline EyeStudio Color Tattoo Tough As Taupe
Check Price
Urban Decay 24/7 Glide-on Eye Pencil
Check Price
Too Faced Eye Shadow Primer
Check Price
Festival Makeup Tips for a Polished Look
Benefit Cha Cha Tint
Check Price
Benefit Sun Beam Golden Bronze Highlighter
Check Price
Becca Shimmering Skin Perfector
Check Price
Tarte Amazonian Clay Matte Bronzer
Check Price
Urban Decay Makeup Setting Spray
Check Price
L'Oreal Paris Makeup Setting Spray
Check Price
Nyx Makeup Setting Spray
Check Price
Touch-Up Concert Makeup Tips
Urban Decay B6 Vitamin-Infused Complexion Prep Spray
Check Price
Lancôme BI-FACIL - Double-Action Eye Makeup Remover
Check Price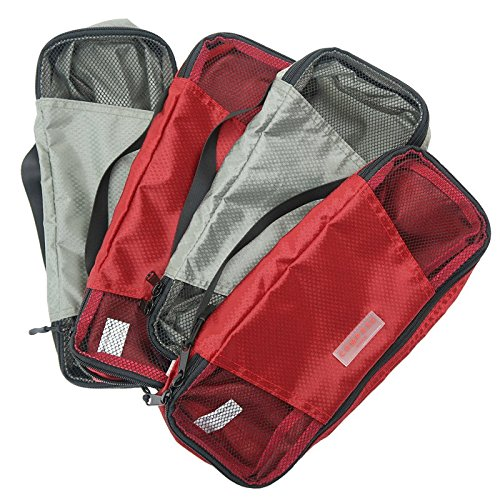 How to Pack a Makeup Travel Kit
When it comes time to pack your makeup, you'll want to consider a makeup bag to keep it separate and neat in your luggage. Consider a small cosmetic bag that can fit easily into your toiletry bag.
You also can wrap your makeup bag in clothing and add to your packing cube in your suitcase to better protect it. Even if you travel carry-on only, your bag may be put into an overhead bin, under a seat, or hauled up flights of stairs. You don't want to break your products.
Watch this video to see how to downsize your makeup for travel!
Only pack what you think you really will need and use. Watch the video above for tips on how to downsize your beauty products.
However, if something does happen to your makeup or beauty supplies, if you forget something, or if you need something, you can buy products at your destination.
Get our free printable makeup checklist here!
---
Even a makeup addict like myself can deal with using only a few music festival makeup products!
What are your favorite tips for long-lasting music festival makeup? Share in the comments!
---
For more travel-beauty suggestions, please read:
---
Hope you enjoyed this post on easy, long lasting music festival makeup. Please share it with your friends on Facebook, Twitter and Pinterest. Thanks for reading!
---

Author Bio: Kate is a small town girl looking to explore the world on a budget with a carry on bag in hand, all while looking smugly proud of her packing skills. Traveling internationally since 2008, Kate has stayed in dive hostels to high end hotels with every mode of travel getting her there. Kate has a passion for makeup, skin care, hair care and is obsessed with finding the best way to take her beauty routine in the road with her.
---