Support TFG by using the links in our articles to shop. We receive a small commission (at no extra cost to you) so we can continue to create helpful free content. As an Amazon Associate, we earn from qualifying purchases made on Amazon in addition to other retailers featured on the blog. Thank you, we appreciate your support!
The AMAZON PRIME DAY SALE is over. Don't forget to bookmark this post to grab the big travel deals on Prime Day 2023! Meanwhile, take a look at the bestsellers and editor's picks from 2022 to help inspire you next year!
---
Amazon Prime Day (Click the pics to shop!)
---
What is Amazon Prime Day?
Amazon Prime Day is a special sales event for Amazon Prime members with savings as good as Black Friday! It's a terrific opportunity to plan ahead for the upcoming holidays and save some time and stress by grabbing those items you've got on your wish list!
Do I need Amazon Prime to Shop on Prime Day?
You do need to have Amazon Prime to take advantage of the specials during this special event. 
I love Prime because it's easy, convenient, and ultra-fast to shop. My favorite part of this membership is free two-day shipping and returns (when available). This means you don't have to wait to get the stuff you want, and you can save money too.
Two-day shipping is extra important for travelers. If you're like me, you're shopping until the last minute and you need to ensure you get everything you need in time for an upcoming trip.
If you don't already have Prime don't worry: sign up for a FREE 30-day Amazon Prime Trial to take advantage of this big sale!
How to Shop Prime Day
Step 1: Sign up for an Amazon prime free trial or log into your account
Step 2: Go to this page to "Watch" items you're interested in buying.
Step 3: Add other items to your wishlist and check throughout the day to see if they go on sale
Step 4: Download the free Amazon App for your phone or tablet and never miss a deal. Go to "Today's Deals," click "Upcoming" to view all deals 24 hours before they are live, and then tap "Watch this deal." The app will alert you when that deal is starting.
Step 5: Download Amazon Assistant for your desktop so you can see all the items you're watching in one convenient location and get notified when your items are on sale! (I LOVE THIS FEATURE.)
Have any questions? Check out Amazon's Prime Day Insider Guide for more helpful tips!
The Amazon Prime Day Sale is now over! However, don't forget to bookmark this page to prepare for 2023. To get ready for next year, look at the top bestsellers and reader favorites from 2022!
Eddie Bauer Trench Coat | ExOfficio Hipster Brief | Eddie Bauer Departure Pants | Skechers Go Walk | Travelpro Maxlite 5 | Face Shadow Pouch | Vionic Kirra Sandal | Anker Portable Charger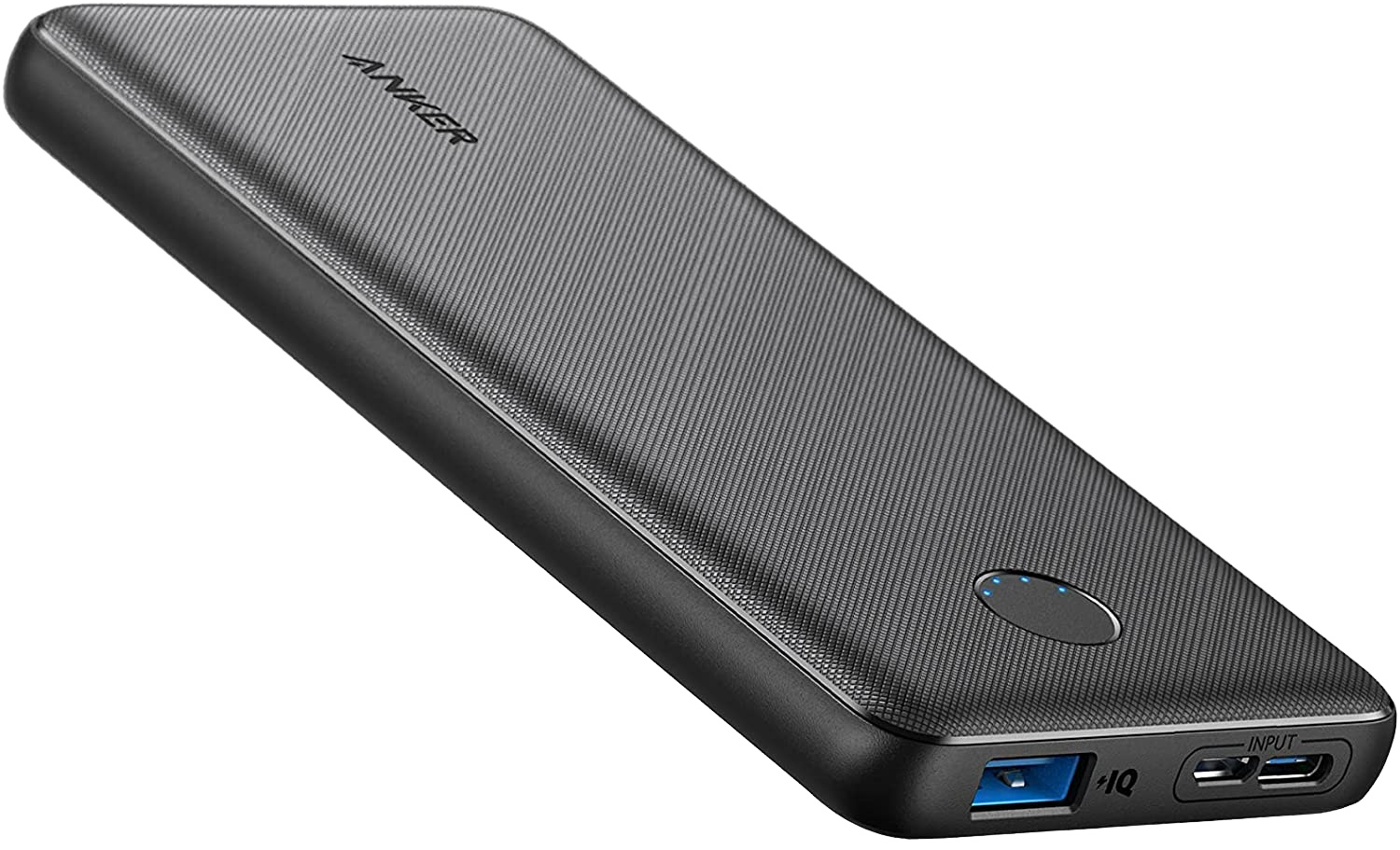 Anker Portable Charger Power Bank
 Anker Portable Charger
This handy Anker Portable Battery Charger is normally around $21.99, but if you apply the 30% off with a coupon (just remember to click it to get the discount), it comes to around $15.00. It's perfect for travel to keep devices charged, especially in situations where a charging station is not readily available. If you'll even be somewhere more remote and need to charge anything, this Solar Charger Power Bank is at 65% off!
The Anker Charger is SO popular, readers have been buying this up in droves! And it charges all kinds of phones. Buy it here!
If you want more options for power bank chargers, take a look at our post!
Apple AirPods (2nd Generation)
Apple Airpods
AirPods are popular but not cheap, so a discount like this is not one to pass up. As a bonus, the carrying case keeps you from losing them and charges them up with a USB cable. The Apple AirPods Pro 2 (on sale), 3rd Gen (not on sale), and the Apple AirPods Max Wireless Over-Ear Headphones (on sale) are also available. Buy it here!
For even more amazing deals, visit the official Apple Store on Amazon.
Travelpro Maxlite 5
Select colors and sizes
Travelpro Maxlite 5 Expandable Luggage
This is a top selling carryon suitcase during past Prime Sales!! The Travelpro Maxlite series is a long-time frequent flyer favorite, and now they've introduced their most lightweight version at just 5.3lb! This 19″ softside suitcase features 4-wheel spinners, stain-resistant and water-repellant duraguard fabricma, and high-tensile-strength lockable zippers–ideal for international travel. Read our review on this amazing brand the 21″ suitcase!
I bought it in the Slate Green color with the matching underseat tote, but it's also available in other colors and on sale too. The underseat rolling tote bag is also popular but not on sale any longer. Buy it here!
Eddie Bauer Girl On The Go Insulated Trench Coat
Select colors and sizes
Eddie Bauer Girl On The Go Insulated Trench
Voted as the best travel raincoat by readers, the Girl On The Go Insulated Trench Coat is a classic style and fit—not too form-fitting and not too loose, with princess seams for a slimming and flattering fit. The bfit also means you can add a few layers for extra warmth. Plus it's packable! You can use it in either warmer or cooler weather. Buy it here! 
It's also available on sale on the Eddie Bauer site.
Departure Ankle Pants
Select colors and sizes
Eddie Bauer Women's Departure Ankle Pants
Described as "the best pants ever" by wearers, the Eddie Bauer Departure Pants are a hit due to having the right amount of stretch and being an amazingly lightweight and travel-friendly option. The fabric is moisture-wicking, offers UPF 50+ sun protection, and the stretch gives you plenty of mobility. The elastic waistband and pockets make them comfy and practical, while the polished, trouser-like look allows you to dress them up, too! Buy it here!
It's also available on sale on the Eddie Bauer site.
Skechers Women's Go Walk Joy Walking Shoe
Select colors and sizes
Skechers Go Walk Joy Walking Shoe (Narrow and Wide Sizes Available)
Skechers is the all-time TFG reader fave for travel! They're cost-effective, comfortable, and available in a range of sizes and widths (regular, narrow, and wide), and the memory foam cushioning tends to be supportive for even the pickiest of feet. I wore a similar pair for my 2-week summer trip to Europe for cooler days, and they were perfect! Buy it here!
Face Shadow Double Eyeglasses Pouch
Select colors
Face Shadow Eyeglasses Pouch
The concise style design makes this pouch small and exquisite looking. The feather pattern just goes with everything and fits for all types of bags making it a "READER MUST HAVE". This Eyeglasses Pouch is made of embroidery pattern microfiber with high-quality sponge padded lining provides effective protection from scratching and crushing. The prices vary, with the cheapest being $5.59 in the solid black color and the regular price being $9.99–regardless of a sale, these are amazing prices! Buy it here!
ExOfficio Give-N-Go Hipster Brief
Select colors and sizes
ExOfficio Underwear
The ExOfficio Give-N-Go Panties are super popular underwear with readers and sold exponentially in July's Prime Day! They're lightweight, moisture-wicking, and durable (see more top underwear at this post). These hipsters are 38% off, but the equally popular Give-N-Go Bikini Briefs are also discounted! Buy it here!
Vionic Women's Rest Kirra Backstrap Sandal
Select color and sizes
Vionic Rest Kirra Backstrap Sandal (Wide Sizes Available)
The Vionic Kirra Backstrap Sandal is one of the best-selling sandals of all time on the blog because SO many readers say they offer solid support for feet. They have a microfiber-wrapped EVA footbed, and the adjustable straps allow you to secure them to your ankle properly, along with a soft leather thong style that doesn't rub between the toes. We love that they come in a ton of colors (and perforated styles, too) and are also available in wide sizes. Buy it here!
Lanzom Wide Brim Straw Panama Hat
Lanzom Women Wide Brim Straw Panama Hat
The Lanzom Straw Panama Hat is perfect if you prefer a wide brim for extra coverage. This adorable sun protection hat has an adjustable band so it can fit a larger head. It's both elegant and practical with lightweight and breathable material. One TFG reader shared, "It's adjustable inside the band and has a UPF 50+. Really looks sharp." Buy it here!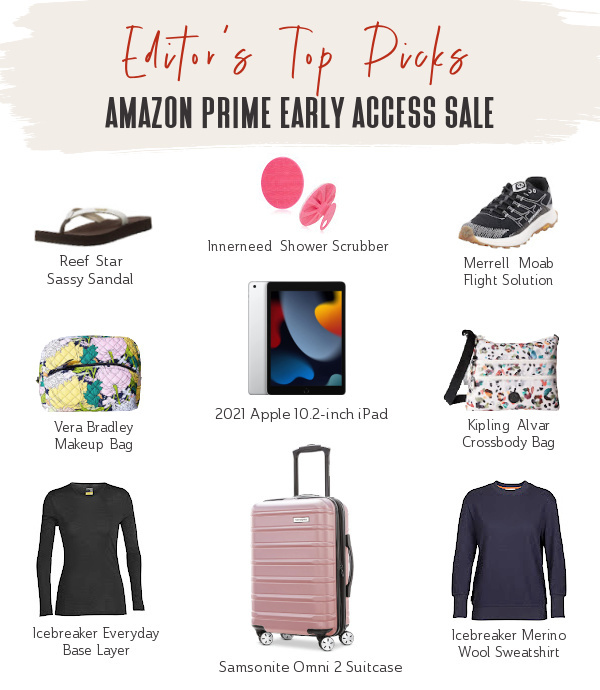 Reef Star Sandal | Innerneed Shower Scrubber | Merell Moab Flight | Vera Bradley Makeup | 2021 Apple 10.2-inch iPad | Kipling Crossbody Bag | Icebreaker Everyday | Samsonite Omni 2 (similar) | Icebreaker Merino Central Sweatshirt
Apple

iPad

10.2-inch (2021)
I love Apple products but I hate the price tags and since they were never on sale, I was astounded by the prices that I just came across right now for Amazon Early Access. I've been wanting a new iPad forever, and I'm definitely adding one to my shopping cart. I'm constantly trying to downsize what I'm carrying, especially now traveling with a baby, and even though I have a Macbook Air, an iPad would be even lighter for me to travel with instead of having my laptop with me on shorter trips. This is a steal for $269. Buy it here!
For even more amazing deals, visit the official Apple Store on Amazon.
Merrell Moab Flight Solution Dye
Select colors and sizes
Merrell Moab Flight Solution Dye Hiking Shoe
I'd been longing for a pair of summer hiking shoes and was torn between the Merrell Moab and the above Flight Solution. I bought both during Prime Day July 2022 and the Nordstrom Anniversary Sale and liked them both.
Ultimately, I ended up keeping the above pair because they looked like regular sneakers and offered more versatility. I could wear them on and off the trail, to workout, and they also looked to be a bit more lightweight and breathable in hot weather. Buy it here!
Kipling Women's Alvar Crossbody Bag
Select Colors
Kipling Alvar Crossbody Messenger Bag
The Kipling Alvar Bag is cute for travel and has a zippered section that hugs the body for discreet valuables. (Note that the bag isn't an official anti-theft bag.) Buy it here!
Vera Bradley Cotton Makeup Bag Organizer
Select Colors
Vera Bradley Makeup Organizer
Vera Bradley's Quilted Cotton Cosmetic Bag is roomy, durable, and beyond adorable! Travelers love that it can hold everything from makeup brushes to full-sized toiletries, plus it's lined, which makes it super easy to keep clean. And right now, it's 35% off! For something a tad smaller that's perfect for a carry on or even a purse, check out the medium-size version. It's on sale, too! Buy it here!
Innerneed Soft Silicone Body Cleansing Brush Shower Scrubber
Innerneed Soft Silicone Body Cleansing Brush
I just bought this Soft Silicone Body Cleansing Brush because I found it for 50% off, and I was so tired of buying loofahs that were not long-lasting or that I couldn't clean properly. So when I found these, I thought they were the perfect solution. I bought two!! One to keep in my shower at all times and one to keep in my toiletry bag for travels. And so far, I am astounded at how amazing my skin feels with this brush.
I bought it for the functionality of having a shower exfoliant that I could clean and for it to have more longevity. But I didn't expect beauty benefits, so I'm so in love with the silicone brush and I can't believe that I didn't buy it sooner. Buy it here!
Reef Star Sassy
Select colors and sizes
Reef Star Sassy Flip Flops
Individuals that suffer from foot and arch issues are always on the hunt for the most comfortable shoes, but it would seem that there is no way flip flops could ever be supportive or comfortable. 
While there is a range of options available you can view in this post, I purchased the Reef Star Sassy while I was pregnant as I would need extra comfy footwear. I was astounded that these cushioned flip flops with moderate arch support could be this comfortable! I've now bought two pairs and gave one to my mom since she also suffers from back issues. 
I can't recommend them enough – they were one of my must haves from last year, and now that they're on sale, I'll definitely be buying one more pair. Buy it here!
Icebreaker Merino Central Sweatshirt
Select colors and sizes
Icebreaker Merino Wool Central Sweatshirt
Icebreaker is popular with readers, yet it's unheard of to see their products SO heavily discounted (up to 50% off, and the one I want is a mind-blowing 80% off, which is $25.00!!), so I'm taking advantage and going to pick up the Central Sweatshirt in black, size small. Sweatshirts are tricky on me; too small and they fit in all the wrong places, but too big and I'm swimming in them. Going to try this out and see; seems like a cozy way to dig into "mom life". Buy it here!
If you love Icebreaker as much as we do, check out their official Amazon Product Page!
Icebreaker Merino 175 Everyday Thermal Long Sleeve
Select colors and sizes

Icebreaker Merino Wool Thermal Shirt
At almost 50% off, this Icebreaker Merino Wool Long Sleeve is a steal!! This material is extremely expensive, so the few times you can get a quality thermal or layer like this one on sale, it's a must! There are countless merino wool and thermal brands, but not all of them offer the same quality as Icebreaker, which is highly recommended in the travel community.
If you're unfamiliar with why merino wool is the best fabric for traveling in cold weather, read this post. Since merino wool is moisture-wicking and scent-repelling, all you need is one of these thermal shirts to wear underneath your other tops on the same trip. This is exactly how I traveled carryon only to London and Paris in winter. Buy it here!

New Balance Slip-on Sneaker
Select colors and sizes
New Balance FuelCore Nergize V1 Sneaker
Slip-on sneakers are handy for everyday life as they are for travel. I love the look of a regular lace up sneaker, but I found these New Balance Sneakers on sale and like to try them! I'm all about slip ons right now if it means I have to get in and out of the house in a breeze or get through the airport with ease! Buy it here!
CAROVIA Fleece Lined Leggings
Select colors and sizes

CAROVIA Fleece Lined Leggings
These are my favorite cozy and long-lasting fleece leggings because the interior fabric is smooth and doesn't pill. I have had these for a couple of years now, and they still look pretty good!
As a bonus, they are now offered in a 25″ length, which is suitable for shorter women like me. So, I'll get a new pair to add to my winter collection. They will be good for a cozy snow cabin experience! Buy it here!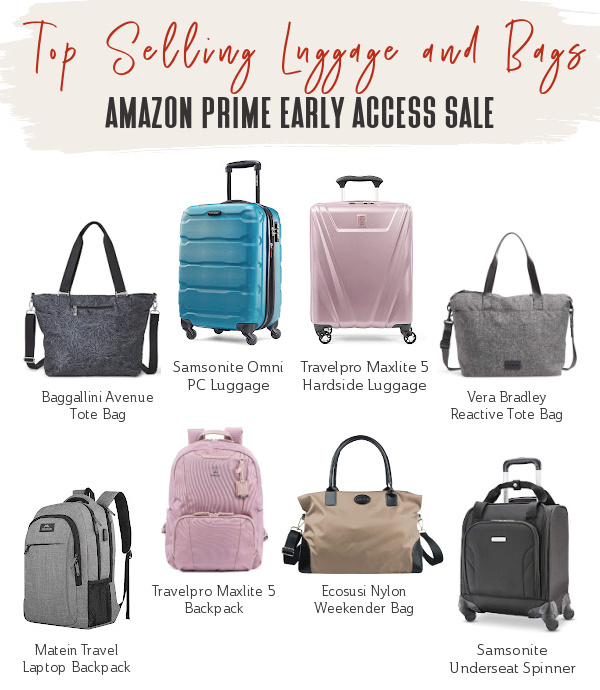 Baggallini Tote | Samsonite Omni | Travelpro Maxlite 5 Hardside (similar) | Vera Bradley Tote | Matein Laptop Backpack | Travelpro Maxlite 5 Backpack | Ecosusi Bag | Samsonite Underseat 
Luggage and Bags
Long-time readers know that an Amazon sale is the perfect opportunity to nab higher-priced items for travel, and luggage is one of those in-demand items! 
Picking the right suitcase depends on the type of trip you're doing and how long you plan to be traveling. Reading our guide on how to choose the best suitcase might be helpful! Remember that organization, durability, security features, and weight of a carryon are all factors to consider. 
Right now, top reader favorites and bestsellers like Samsonite, Travelpro, and Osprey are offering great deals that are wise to take advantage of—especially if you've been wanting to replace luggage for a while!  A BIG find for Travelpro this year is the 21" Maxlite Air Hardside, which weighs only 6.3 lbs. One of the best lightweight suitcases!
Some reader standouts right now are the Matein line of bags, particularly the Matein Weekender Backpack (40L) with a trolley sleeve and the Vancropak Bag With Shoulder Straps (also a 40L), both at great discounts at already affordable prices! 
Besides the luggage pictured above, here are other luggage items that are on sale! (Select colors)
And for travel purses and personal items, besides the ones pictured above, these reader favorites are on sale too! (Select colors)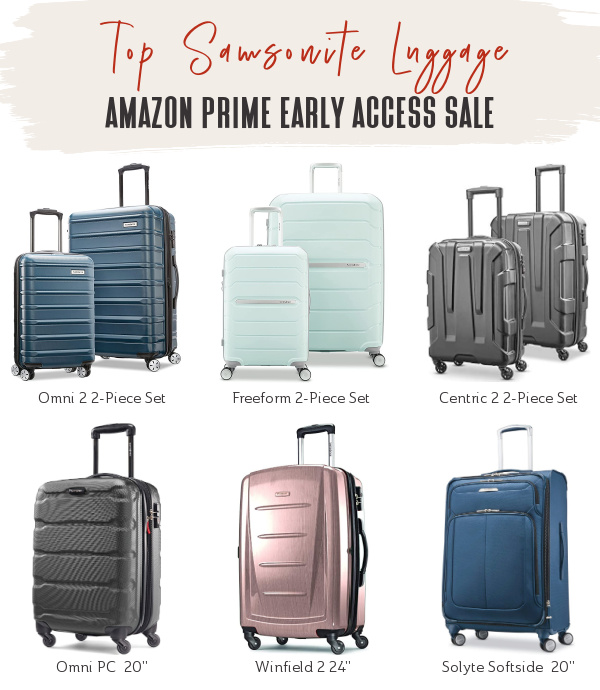 Omni 2 Hardside (2-Piece Set) (similar) | Freeform Expandable (2-Piece Set)  | Samsonite Centric 2 (2-Piece Set) | Omni PC Hardside (20″) | Samsonite Winfield 2 (24″) | Solyte DLX Softside (20″)
Samsonite Luggage
Lately, Samsonite (check out their top deals page for all the sales items) has been edging out some other popular luggage brands with the readers, and we're surprised and elated to see tons of their suitcases on sale for Prime Early Access!!! 
They're a long-time brand name that makes durable suitcases that can handle the rigors of travel, and readers sing their praises not only for that but their organizational ability to keep belongings safe and sorted. 
Besides the top suitcases listed above, the Hardside Winfield 2 24" Suitcase is at a whopping 48% off in the orange color, while other Winfields have discounts ranging from 16% to 20%, depending on the color or whether it's a set. While the Samsonite Solyte DLX Softside 20" is 16% off at only $169 (in black), not bad indeed! And if you want to up your Winfield game, the Hardside Winfield 3 20" in the chic black is 26% less ($147.00!).
Here are some more Samsonite luggage items that are on sale! (Select colors)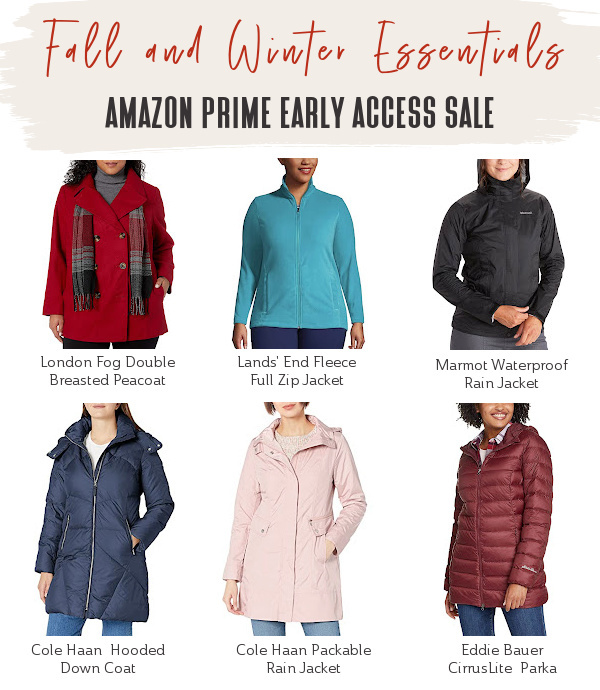 London Fog Peacoat | Land's End Fleece Jacket | Marmot Waterproof Jacket | Cole Haan Hooded Coat | Cole Haan Packable Jacket | Eddie Bauer CirrusLite Parka (similar style on sale) 
Fall and Winter Must-Haves
Now that fall is here and winter is coming, readers want to get prepared, so what better way to gear up than during a Prime Sale? If you need some tips on the chillier season, read our post on how to pack for cold weather like a boss! 
The best way to stay warm and dry is by wearing waterproof jackets and layering with thermals when it starts to get especially cold outside.
Merino wool is a miracle fabric that's ideal for fall and winter, as it retains body warmth but wicks away moisture so you're not shivering from the cold. This year the Icebreaker Bodyfit Everyday Merino Wool Leggings are discounted in select colors and sizes, which are great for layering (their socks and undies are also excellent). Or if you prefer silk, which is equally warm, the highly popular Terramar Standard Thermasilk Pant is discounted in some sizes and colors.
Fall is a fussy time of year for weather, so you could also wear things like denim jackets and a more cozy choice like the North Face Osito Fleece Zip Up for layering (on sale now in select colors) before it gets really cold. And once the snow and freezing temperatures hit, readers recommend packable down jackets for your winter trips.
Another winter must-have is this cold weather Camii Mia Waterproof Ski Snow Fleece Hiking Pants, which are windproof, waterproof, and stretch while you move. All important components when trying to feel insulated and protected! And more than a few of our readers raved about these pants, particularly for when traveling to Iceland. While these are used as hiking pants, they'd make wonderful all-around winter pants for travel or hanging around at home.
Besides the jackets pictured above, here are other items that are on sale! (Select colors and sizes)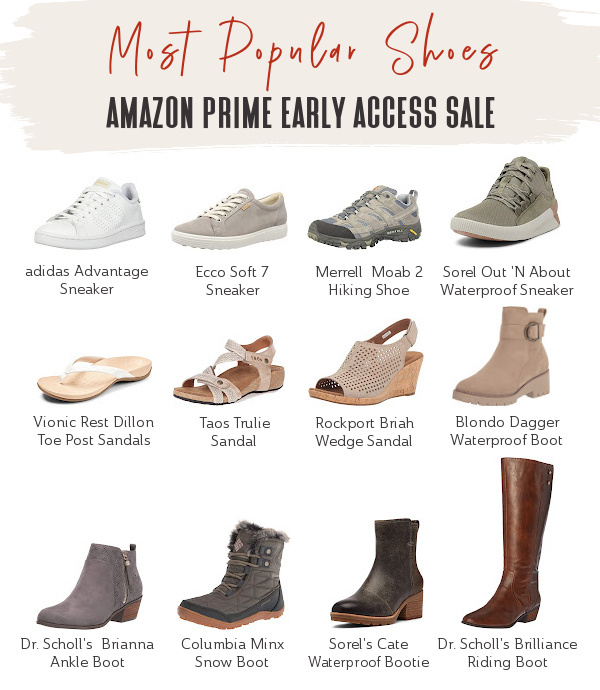 Adidas Sneaker | Ecco Soft 7 | Merrell Moab | Sorel Out 'N About | Vionic Toe Post | Taos Trulie | Rockport Wedge | Blondo Dagger | Dr. Scholl's Briana | Columbia Minx | Sorel Cate | Dr. Scholl's Brilliance (similar)
Comfortable Travel Shoes
Readers often ask us how to choose travel shoes. Our answer: COMFORT is the most vital feature to seek out, and that includes every type of shoe, be it sneakers, hiking, or cold weather boots. 
Now that it's fall, some standouts that are currently discounted are the Blondo Dagger Waterproof Boots, the Cloudfoam Advantage Sneaker, the Sorel Cate Waterproof Chelsea Boots, and the Reef Star Sassy Flip Flops, which are terrific for fair weather trips. If you want a more casual look for fall/winter, I bought the Moab 2 Merrell Boots in the July Prime Day Sale. I didn't end up choosing them because I wanted something that looks more like a sneaker. They have arch support and are comfortable, and they're one of the top hiking boots Amazon sells for a reason! 
Besides comfort, the other vital things to consider when buying shoes are if you have foot issues, need a narrow or wide width or require arch support. Travel shoes should always feel comfortable, no matter what you're doing! 
Besides the shoes pictured above, here are more comfortable ones that are on sale! (Select colors and sizes)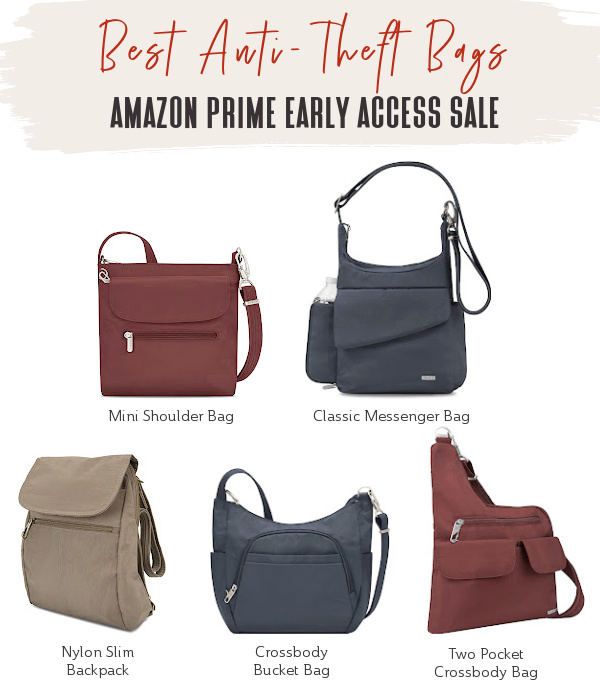 Mini Shoulder Bag | Classic Messenger Bag | Nylon Slim Backpack | Crossbody Bucket Bag | Two Pocket Crossbody Bag 
Anti-Theft Bags
If you plan on visiting Europe this summer, one concern many readers voice in the community is feeling their items are safe as they explore the ancient sites. Many travelers recommend taking anti-theft bags for that extra peace of mind! 
If you've never heard of them before, you may be wondering what an anti-theft purse exactly? An anti-theft bag is a purse, backpack, or luggage with built-in safety features. It's designed to help you avoid becoming a victim of theft at home or abroad. Feel free to review a round-up of the best anti-theft bags for women to learn more!
For travelers, the top anti-theft bags are Travelon, and SO many are on sale! Readers adore their classic styles that are chock full of organizational compartments and safety attributes! The Travelon Classic Messenger Bag is one of the highest-selling purses on the blog, as is the Travelon Anti-Theft Cross Body Bag, and both are marked down! If you want something slightly smaller, consider their Classic Mini Shoulder Bag or their Unisex Anti-theft Backpack, which are both on sale!
Remember that with an anti-theft purse, look for things like locking zippers and RFID-blocking technology.
If you want more Travelon selections, see their Amazon Page for further markdowns!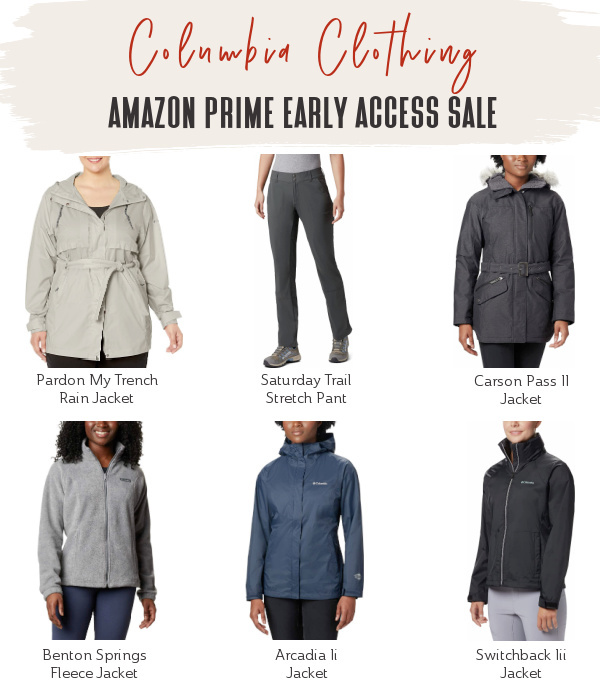 Pardon My Trench Rain Jacket | Saturday Trail Pant | Carson Pass II Jacket | Benton Springs Fleece | Arcadia II Jacket | Switchback Iii Jacket
Columbia 
Columbia is a veritable reader favorite for travel clothing! While they have a sporty feel, many TFGs report how versatile their items are, to go from sightseeing to a casual dinner. And during an Amazon sale, it's a smart idea to get their stock at awesome prices!
For inclement weather, big faves like the Columbia Carson Pass II Jacket can stave off the cold and wind so effectively—it's my go-to winter jacket, while the bestselling Pardon My Trench Rain Jacket keeps you dry in a downpour while looking stylish. If you need more of a rain slicker, I brought the Arcadia II on a 2-week Utah trip a couple of years ago and was glad I did! It's so lightweight and packable!
If you need some trousers, the Columbia Saturday Trail Hiking Pant is a huge TFG reader favorite. They're water-resistant, stretchy, and have UPF 50 sun protection. and come in a range of sizes (2-16). Or, if you're looking for a good dress for a warmer weather holiday, the Columbia Women's Freezer Iii Dress has UPF 50 and is moisture-wicking; it's discounted in select colors and sizes.
In fact, we don't want you to miss anything Columbia, so don't forget to check out their Amazon Product Page! (But you can also go to the Columbia Website if you prefer extra buying options.)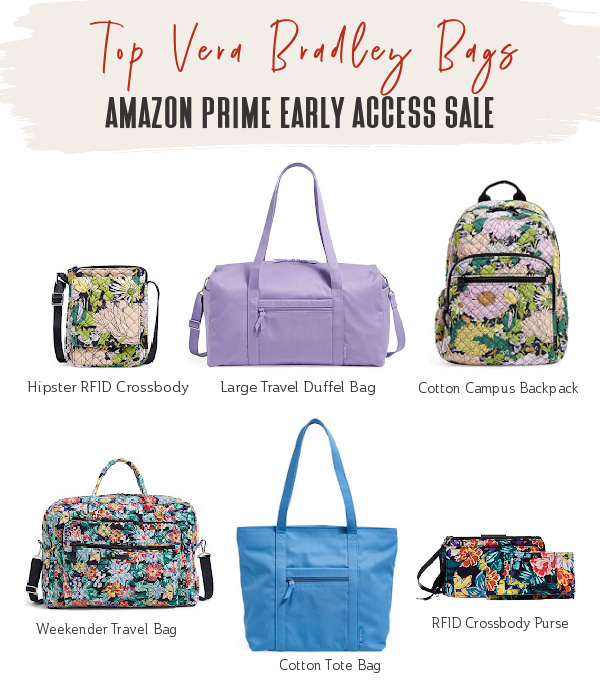 Hipster RFID Crossbody | Large Travel Duffle Bag | Campus Backpack Bookbag | Weekender Travel Bag | Cotton Tote Bag | RFID Crossbody Purse
Vera Bradley Bags and Accessories
We couldn't believe it when we saw ALL the Vera Bradley bags on sale!!! Their bags have a unique look, but the organization is still there, having multiple pockets, both front and back, as well as RFID protection in some of their purses. Whether you fancy a tote, backpack, weekender bag, or purse, TFG readers love everything they offer (the brand even offers other travel-related items, like a hanging toiletry organizer and a 3-piece packing cube set—both are also discounted!). 
Honestly, there are SO many Vera Bradley discounts that we can't help but highlight a few more deals (select colors):
We really don't want you to miss out on any deals, so visit Vera Bradley's official store page on Amazon!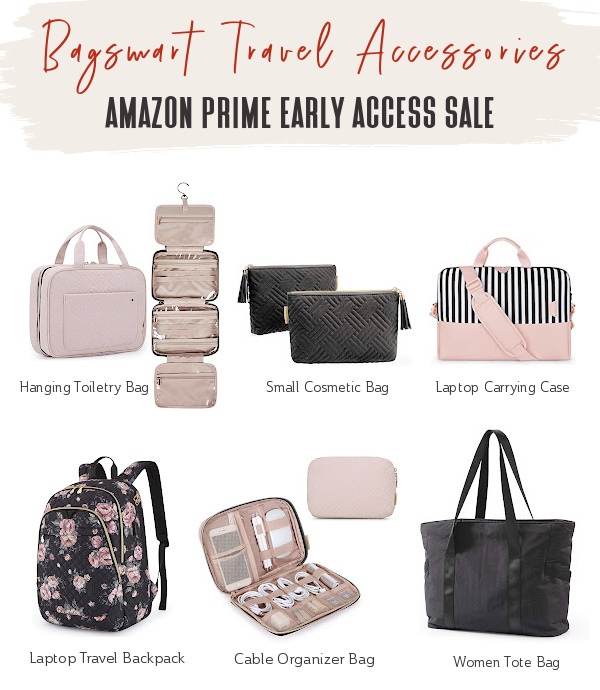 Hanging Toiletry Bag | Small Cosmetic Bag | Laptop Carrying Case | Laptop Travel Backpack | Cable Organizer | Tote Bag
BAGSMART
One of the most popular retailers on Amazon, and definitely for Prime Early Access Sale, is BAGSMART. They simply produce well-designed, quality accessories for travel at affordable prices. And it gets even better when they're already on sale, which many of their awesome products are!
By far, the most popular items that sold on the blog last year are their Hanging Toiletry Bag, Cord Electronics Organizer, and handy Cosmetic Bag. Readers love all of these to make their extras easy to pack and organize.
But, they also heartily offer great personal items like backpacks, laptop bags, and weekender bags. We advise taking advantage of what's on sale NOW! 
To see even more selections for BAGSMART,  check out their Amazon Product Page! 
Popular Travel Accessories
---
Plavogue One-Step Hair Dryer Brush
Plavogue Hair Dryer Brush
This year everyone was talking about hair dryer brushes in the TFG Facebook Group. I haven't tried these myself, but now they've got me curious! This Plavogue hair dryer brush is a best seller and on sale, and as a plus, it's dual voltage – a must when choosing hair products for travel. Apply an extra 5% off by selecting the coupon (just remember to click it to get the discount). Buy it here!
Meanwhile, the second best seller, Hot Tools Hair Dryer Brush is now on sale too! If you prefer a good old-fashioned hair dryer, the Conair Vagabond Compact 1600 Watt and BaBylissPRO TT Tourmaline Titanium Travel Dryer are top choices. They're dual voltage, ultra-lightweight and packable, too. Finally, if you're looking to curl or straighten your hair, the AmoVee 2 in1 Flat Iron Curling. If you want even more options for styling, the Drybar Double Shot Blow Dryer Brush is discounted, too!
QoupQuru Turkish Beach Towel Cotton
(Select colors)
Turkish Travel Towels
These QoupQuru Turkish Cotton Beach Towels are to die for, and this 2-pack is at a great deal. They're lightweight, quick-drying, highly absorbent, and become softer with each wash. Buy it here!
If you're interested to know what other Turkish towels I've bought over the years, this Smyrna Anatolian Turkish Beach Towel is another great find – it's also on sale! 
YASUOA 12 Pieces Travel Size Refillable Empty Squeeze Pouch
YASUOA 12 Pieces Travel Size Refillable Pouches
TSA approved, this 12-Piece Set of Refillable Pouches is 30% off and can lay flat in your toiletry bag and are lightweight. They're easy to squeeze and don't make a mess either. You can also get an 8-pack if 12 is a little too much. Buy it here!
Bago

Waterproof Hanging Travel Toiletry Bag
Ranking as one of the best toiletry bags for travel, the Bago Hanging Toiletry Bag is ideal for those looking for the ability to carry a full range of beauty essentials and toiletries that are still slim, compact, and packable.
The Bago features nearly endless pockets and compartments so you can organize every product. Along with two mesh pockets, this personal organizer toiletry bag has two side pockets for easy access, as well as multiple compartments within the bag to store smaller items.
Made with a durable and lightweight Rip-Stop Honeycomb waterproof fabric, this bag will last years for traveling. Buy it here!
trtl Pillow
A lot of times, staying asleep is harder than falling asleep because your head keeps falling or shifting, and your neck starts to ache. The best pillow for a neck, Trtl is designed to hold you in an ergonomic position for long periods of time. The Trtl Pillow isn't exactly a headrest pillow in the traditional sense. It's more of a wrap that offers neck support. Perfect for flights! Buy it here!
 Youphoria Outdoors Microfiber Camping Towel Fast Drying
Youphoria Camping and Travel Towel
Readers adore this Youphoria Travel Towel for all kinds of adventures, whether it's camping, backpacking, lounging at a resort pool, or at the beach. It's terrific for the shower, too, and packs down easily in its own carrying case. Buy it here!

T3 Lucea Straightening & Styling Iron
T3 Lucea Professional Straightening & Styling Iron
Readers talk about T3 products constantly, which encouraged me to buy the 1-inch T3 Lucea Straightener myself (and it's on sale now!). Love how it keeps my hair under control and looking smooth. 
Air Dryer Brushes are SO popular these days, we have to also mention another item, which is the T3 AireBrush Hot Air Blow Dry Brush, which has two attachments, round and paddle, to create different looks. These hair tools would make excellent travel accessories to keep your hair happy! Buy it here!
Top Clothing and Accessories
---
Eddie Bauer Women's Departure 2.0 Long-Sleeve Shirt
Select colors and sizes
Eddie Bauer Departure Shirt 
In 2020, I was obsessed with the Eddie Bauer Ripstop Shirt, but in 2021, a different Eddie Bauer long sleeve made my favorites list: the Departure Shirt.
It's also a button down like the Ripstop but the fabric of the Departure is softer and looks more like a regular blouse vs. a travel or hiking top. As a plus, it still has all the same great features, such as the UPF 50 protection and moisture-wicking capabilities. It makes a good layering item for fall and winter, too. Buy it here!

It's also available on Eddie Bauer or Moosejaw.
Eddie Bauer Women's Trail Tight Leggings – High Rise
Select colors and sizes
Eddie Bauer Trail Tight Leggings
While leggings aren't as trendy as they used to be, TFGs still adore them for travel. They particularly love Eddie Bauer's Trail Tight Leggings, which have so much to offer! The moisture-wicking and odor control fabric will keep things fresh, they have UPF 50+ sun protection, and they're lightweight yet sturdy enough to protect your legs from thorns or brush. Also excellent for fall or even winter activities when paired with thermals, though they're sturdy enough to be worn on their own in the fall. Grab them at this excellent discount. Buy it here!
You can also grab them at Eddie Bauer in regular sizes XS-XXL, petite sizes S-L, tall sizes S-XXL, and plus sizes 2X-3X. 
Icebreaker Merino Central Tee Shirt
Select colors and sizes
Icebreaker Merino Wool Central T-Shirt
Merino wool, in general, is a miracle fabric for fall and winter, as it retains heat against the body but wicks away moisture, so you're not shivering as temperatures drop! This cute Merino Wool Short-Sleeve Tee from Icebreaker is at an amazing 40% off (in select colors/sizes), which is perfect for layering over a thermal or under a fall jacket. This brand rarely has sales this good, so I definitely wouldn't hesitate to stock up! Buy it here!
Barefoot Dreams Cozy Chic Lite Cardigan
Select colors and sizes
Barefoot Dreams Cozy Chic Cardigan
The best cardigan to have is one that is flattering, comfy, and stands out style-wise, and this Barefoot Dreams Circle Cardigan is the epitome of all three. It's a comfortable and chic-looking, lightweight knit with an open front with two pockets. It's a definite loungewear item, but the design can be dressed up or down with dresses, blouses, thermals, t-shirts, and leggings. At 35% off, that's an amazing deal!  Buy it here!
If you want a cheaper option, the ZESICA Open Front Knit Cardigan looks similar to the Barefoot but is about half the price with the discount! ($41.00!). 
You can also grab this Barefoot Dreams cardigan at Nordstrom in sizes  XS-XL and 1X-3X. 
Skechers GO Walk High Waisted Flare Pant
Select colors and sizes
Skechers Go Walk Flare Pants With Hidden Pocket
Some super comfy pants to layer with thermal leggings for travel this time of year are a must and the Skechers Go Walk Flare Trousers are at a huge discount right now (up to 49% off!!). These are easy-to-wear pull-on pants with a hidden pocket and pretty economical, even without them being on sale, so if you wanted other colors, it still wouldn't break the bank. Buy it here!
PRETTYGARDEN Two Piece Sweatsuits
Select colors and sizes
PRETTYGARDEN Two Piece Outfit Long Sleeve Crewneck
Their short sleeve two piece of this brand is a top seller for summer, so it was awesome to see the same PRETTYGARDEN Two-Piece in a long sleeve version. Cozy and easy to wear for fall, and makes a wonderful flight outfit or could even double as PJs and you can save an extra 10% when you apply the coupon (just remember to click it to get the discount)! Buy it here!
For even more cozy fall outfits from PRETTYGARDEN, check out their Amazon Product Page!

BALEAF Women's Fleece-Lined Leggings
Select colors and sizes
BALEAF Fleece Lined Leggings 
Get ready for chilly weather with these BALEAF Fleece Leggings. With a long length and high-waisted fit, this pair is ultra flattering, while the breathable, moisture-wicking fabric will keep you comfy. Bonus points go to the two side pockets and a hidden key pocket in the waistband! 
Whether you're flying, sightseeing, or hiking, these leggings are a travel gem. And right now, they're 46% off! Buy it here!
Land's End Supima Turtleneck
Select colors and sizes
Lands' End Cotton Long Sleeve Turtleneck
Lands' End is ALWAYS popular with readers for travel, and this Supima Cotton Turtleneck is the perfect layering piece that can go over thermals and under a warm jacket. It's on sale right now, too, as well as their Supima Long Sleeve T-Shirt. Both are at about 20% off in select colors and sizes. Buy it here!
And, if you're planning on a winter getaway to a tropical destination, these clothing and accessories were top selling during July's Amazon Prime Day and are on sale now in select colors and sizes (hint: they're a bunch of cute summer dresses, tops, and sun hats): 
Best Selling Electronics
---
2020 Apple MacBook Air (13″,  Apple M1 Chip)
Apple MacBook Air
It's unheard of to see Apple products discounted this steeply! The MacBook Air is at a generous 20%, which is amazing since it's one of the most popular models, so take advantage now. Buy it here!
The MacBook Pro version is also at 20% off, which is a great deal since Pros are the most expensive laptop vs. the others they offer. 
For even more amazing deals, visit the official Apple Store on Amazon.
Bose Noise Cancelling Headphones 700
Bose Wireless Headphones
I bought the Bose QuietComfort 35 II during a past Prime Day Sale to try them out after TFG readers raved about them, and they've been one of my best buys ever! The black is currently discounted by 10%.
But now the new version, the Bose Noise Cancelling Headphones 700 is on sale RIGHT NOW! They're ultra noise-canceling, so they block out extraneous noise on flights, and I use them all the time for zoom meetings, family calls, and to listen to audiobooks. I can't believe I traveled for almost a decade full-time without these. BONUS: They have a lightweight stainless steel headband and tilted earcups for the perfect fit! Buy it here!
The other version, Bose QuietComfort 45 is also on sale at 30% off!
Anker Soundcore Mini Wireless Bluetooth Speaker
Select Colors
Anker Soundcore Mini 3 Bluetooth Speaker
These days, everyone is keen to take a Bluetooth speaker on their travels, so why not save big during the Early Acess event? The Anker Mini 3 has booming bass, is waterproof, and is super compact (product description claims it's smaller than a coffee cup!). Battery life can last up to 15 hours on one charge. Buy it here!
If you want some economical headphones, the Anker 3i Hybrid Active Noise Cancelling Earbuds are only $36 with the sale discount!! Much cheaper than Bose!
Echo Dot
The streamlined and popular Echo Dot Speaker with Alexa installed is also on sale!! It delivers crisp audio for any music streamer and works with smart devices like a light plug or bulbs that are compatible. A great addition to your home! Buy it here!
Fire TV Stick with Alexa Voice Remote
Fire Stick
Enjoy stunning 4K Ultra HD streaming at up to 60fps with Fire TV Stick with Alexa Voice Remote as it's now on sale! Feel scenes come to life with immersive Dolby Atmos audio on select titles, including on Prime Video and Disney+, when connected to compatible soundbars and home audio systems. Buy it here!
Kindle Paperwhite Essentials Bundle
Kindle Paperwhite
 You'll notice that our readers LOVE their Kindle. Their best-selling version is Paperwhite. Along with an improved high-resolution 300 ppi display for crisp, laser-quality text, the Paperwhite reads like paper, so you never have to worry about glare from the sun or a harsh glow during evening reading. Buy it here!
SAMSUNG Galaxy Wireless Noise Cancelling Earbuds (Charging Case Included)
Noisy flights or loud trains can put a damper on your travel experience, so take advantage of picking up some noise-canceling headphones when you on sale, we say! The SAMSUNG Galaxy Earbuds block out extraneous noise and allow you to enjoy media with a long lasting battery life (8 hours). At 41% off, a steal really. Buy it here!
The Amazon Prime Day 2022 has officially ended! Remember, bookmark this page to ensure you don't miss out on the deals for Prime Day 2023!
Note: As a small business, we appreciate it when you shop through the links in our posts because you help support the TFG Team. Thank you, and happy shopping!
---
These deals are amazing, so take advantage now and start saving – visit Amazon for even more discounts!
Do you have Prime? What's on your Amazon Prime Day wish list? Tell us in the comments below!
---
LIKED THIS POST? PIN THIS PIC TO SAVE IT!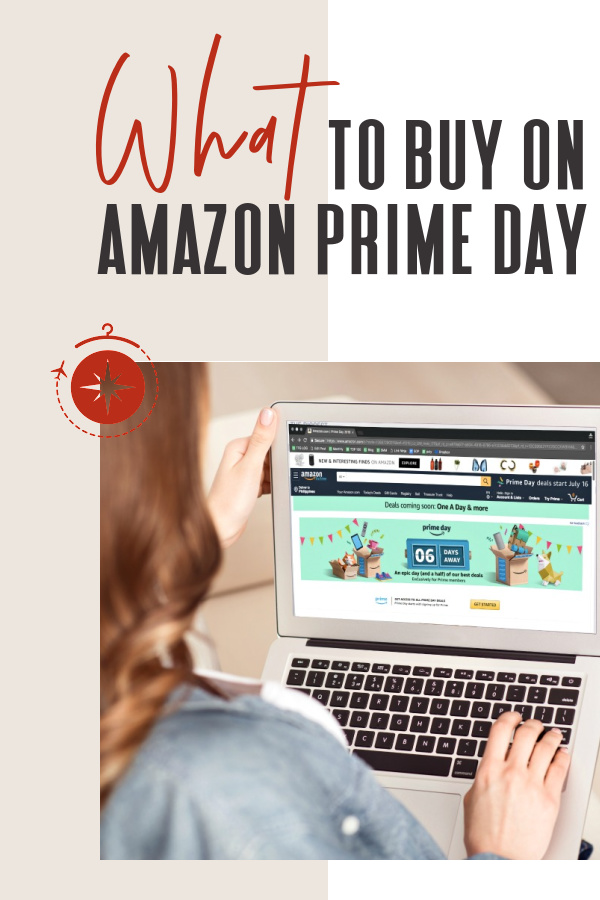 ---
For more tips, please read:
---
Hope you liked this post on Amazon Prime Day. Please share with your friends on Facebook, Twitter, and Pinterest. Thanks for reading!
---