Support TFG by using the links in our articles to shop. We receive a small commission (at no extra cost to you) so we can continue to create helpful free content. As an Amazon Associate, we earn from qualifying purchases made on Amazon in addition to other retailers featured on the blog. Thank you, we appreciate your support!
What an incredible Amazon Prime Day 2021!! Now that it's over, don't forget to bookmark this post to grab the big travel deals on Prime Day 2022! Meanwhile, take a look at our favorites along with the most popular reader recommendations from 2021. See you next year!
---
 Amazon Prime Day (Click the pics to shop!)
---
What is Amazon Prime Day?
Amazon Prime Day is a special sales event for Amazon Prime members with savings as good as Black Friday! It's a terrific opportunity to plan ahead for the upcoming holidays and save some time and stress by grabbing those items you've got on your wish list!
Do I need Amazon Prime to Shop on Prime Day?
You do need to have Amazon Prime to take advantage of the specials during this special event. 
I love Prime because it's easy, convenient, and ultra-fast to shop. My favorite part of this membership is free two-day shipping and returns (when available). This means you don't have to wait to get the stuff you want, and you can save money too.
Two-day shipping is extra important for travelers. If you're like me, you're shopping until the last minute and you need to ensure you get everything you need in time for an upcoming trip.
If you don't already have Prime don't worry: sign up for a FREE 30-day Amazon Prime Trial to take advantage of this big sale!
How to Shop Prime Day
Step 1: Sign up for an Amazon prime free trial or log into your account
Step 2: Go to this page to "Watch" items you're interested in buying.
Step 3: Add other items to your wishlist and check throughout the day to see if they go on sale
Step 4: Download the free Amazon App for your phone or tablet and never miss a deal. Go to "Today's Deals," click "Upcoming" to view all deals 24 hours before they are live, and then tap "Watch this deal." The app will alert you when that deal is starting.
Step 5: Download Amazon Assistant for your desktop so you can see all the items you're watching in one convenient location and get notified when your items are on sale! (I LOVE THIS FEATURE.)
Have any questions? Check out Amazon's Prime Day Insider Guide for more helpful tips!
Amazon Prime Day 2021 is officially over! Below you'll find our top picks from the 2021 sale. Don't forget to bookmark this post for Prime Day 2022, to grab the big travel deals next year!
2021 Editor's Top Picks
---
Travelpro Maxlite 5-Softside Expandable Spinner Wheel Luggage
Travelpro Maxlite 5 Expandable Luggage
This is the #1 selling carryon suitcase on the blog!! The Travelpro Maxlite series is a long time frequent flyer favorite and now they've introduced their most lightweight version at just 5.3lb! This softside suitcase features 4-wheel spinners, stain-resistant and water-repellant duraguard fabric, and high-tensile-strength lockable zippers. I just bought it in the olive color with matching underseat tote, but it's also available in 7 other colors, too. Buy it here!
Baggallini Avenue Tote Top Handle Bag
Baggallini Avenue Tote Top Handle Bag
The Baggallini brand is highly popular with TFG readers, and the Avenue Tote is our top selling under the seat travel tote with trolley sleeve! It's super lightweight and roomy and has a padded area for a 10: to 13″ laptop, not to mention the many zippered pockets to keep essentials organized. Comes in a over a dozen classic colors and cute prints. This is the perfect personal item to grab during Prime Day! Buy it here!
adidas Women's Advantage Sneaker
adidas Women's Advantage Sneaker
With comfort brands dominating the travel shoe market due their functionality, we would've never pegged Adidas to have some of the best walking sneakers, but the Cloudfoam Advantage has everyone in the Travel Fashion Girls Facebook Group talking.
What makes this particular style different from the traditional Adidas sneaker is it's Cloudfoam insole, which boasts extra-cushioning to make you feel like you're "walking on clouds". While many agree that this cute walking shoe is indeed comfortable, it's best for women without major foot issues. Buy it here!
DELSEY Paris Chatelet Hardside Luggage with Spinner Wheels
Delsey Chatelet Hardside Luggage
The elegant Delsey Chatelet Paris hardside suitcase is a  21″ carry on luggage that's absolutely beautiful and built with all the bells and whistles! Not only does this 4-wheel spinner look good but it's highly functional with locking zippers, built in tracking system, and unique brake system so your suitcase doesn't go rolling off, even on a boat! (I was shocked that it didn't move with some small but rocky waves!) Buy it here!
DELSEY Paris Chatelet Soft Air Shoulder Bag
Delsey Shoulder Bag
Matching the above Chatelet Carryon, the Delsey Paris Chatelet Soft Air Shoulder Bag is a personal item that exudes platinum airline status! It boasts an over the handle trolley sleeve and has plenty of room and organizational pockets to store all your in-flight essentials. There are 2 colors available including a chocolate brown color that's currently 80% off! Talk about First Class style with an Economy price tag! Buy it here!
Ecco Soft 7 Sneakers
The Ecco Soft 7 sneaker is a TFG reader fave because it's made of soft leather and designed to fit the foot anatomically, with a cushioned insole and outsole that is flexible when walking. In addition, to how they feel, they are cute-looking and can pair with anything from pants to shorts and dresses. Buy it here!
Skechers Women's Go Walk Joy Walking Shoe
Skechers Go Walk Joy Walking Shoe
Skechers is the all-time TFG reader fave for travel! They're cost-effective, comfortable, available in a range of sizes and widths, and the memory foam cushioning tends to be supportive for even the pickiest of feet. I wore a similar pair for my 2-week summer trip to Europe for cooler days and they were perfect! Buy it here!
Bose QuietComfort 35 II Noise Cancelling Bluetooth Headphones
Bose Wireless Headphones
I bought the Bose QuietComfort 35 II during the Prime Day sale last year to try them out after TFG readers raved about them, and they've been one of my best buys ever! They're ultra noise-canceling, so it blocks out extraneous noise on flights, and I use them all the time for zoom meetings, family calls, and to listen to audio books. I can't believe I traveled almost a decade full time without these. Game changers! BONUS: they look bulky, but they fold into a travel case! Buy it here!
Wallaroo Hat Company Women's Victoria Sport Hat
Wallaroo Victoria Sport Hat
TFG readers rave about the Wallaroo Hat Company's Victoria Sun Hat. It's cute, stylish, and incredibly versatile—perfect for any sunny destination!
This modern straw hat is constructed from poly-straw with a cotton lining, making it lightweight. Plus you can fold it up and pack it in your bag when you don't need it. One TFG reader shared, "It's awesome. I wadded it up every day and stuffed it in my purse or backpack and it came out perfect every time. I used it for a month in Europe. I loved it so much I'm planning to get a few different styles and colors."
Speaking of colors, this sun hat has a slew of them to pick from, perfect for whatever your mood or style!
Columbia Women's Pardon My Trench Rain Jacket
Columbia Pardon My Trench Rain Jacket
Among the most popular Columbia jackets for women, the Pardon My Trench is a lightweight women's rain jacket that is as practical as it is chic. With an adjustable tie waist, the fit is both customizable and flattering.
Its back venting system offers breathability, while a detachable hood offers multiple styles of wearability. Adjustable cuffs provide personalized coverage, and the coat itself has a stylish, classic silhouette. Buy it here!
Osprey Packs Fairview 55 Travel Backpack
Osprey Fairview Womens Backpack
The Osprey Fairview is my all time favorite backpacker backpack! I used it to travel around the world long term and it was the first time I downsized from a checked bag to a carryon. I own the Osprey Farpoint, which is technically the same bag as the Fairview, currently on sale. However, the Farpoint is marketed as a men's bag, but I bought the X-Small and had no issues despite my petite frame. Read my full review! Buy it here!
Columbia Women's Carson Pass II Jacket
Columbia Carson Pass II Jacket
The Columbia Carson Pass II Jacket is my all-time favorite winter jacket so much so that I've bought it in 3 colors! While I've worn it to explore the national parks in winter, it completely sold me when I took it on a winter trip to Paris and London and it kept me warm and dry as I stood in the pouring rain for 2 hours waiting to see the catacombs. After that experience, I'm a loyal customer of Columbia's Omni-Heat™ thermal products and can't recommend them enough! Buy it here!
Lily & Drew Carry On Weekender Overnight Shoulder Bag
Lily & Drew Carry On Weekender Bag
The Lily & Drew Weekender Overnight Shoulder Bag is the second most popular under the seat personal item sold on the blog, and I just ordered it to test it out on my next flight! There are tons of internal and external pockets, the shoulder strap is padded for comfort, and you can fit a 15.6″ laptop in a protective zippered compartment. As a plus, it also has a trolley sleeve to sit smoothly over your carryon suitcase. Buy it here!
Vionic Women's Clarisa Raffia Wedges
Vionic Women's Clarisa Raffia Wedges
Vionics are super popular with TFG readers, and the Clarisa Raffia Wedges are a new favorite in 2021. I grabbed these myself in my spring/summer haul and was pleasantly surprised at their cushioned comfort! These shoes feel amazing, with a podiatrist-designed footbed, so my feet are supported and feel like I'm walking on clouds. I love the raffia craftwork (raffia is a type of palm) that apply basket weaving techniques on the wedge and heel – so pretty but also an overall comfortable summer shoe! Buy it here!
Travelon Women's Anti-Theft Classic Messenger Bag
Travelon Classic Messenger Bag
Travelon's Classic Messenger Bag excels in both its spaciousness and security, with cut-proof shoulder straps, lockable compartments and a variety of organizational pockets both within and outside of it.
Its main compartment is ultra roomy and capable of holding items such as iPads, cameras, and notebooks. Exterior pockets provide additional storage for items such as water bottles and umbrellas. Buy it here!
Osprey Farpoint 40 Travel Backpack
Osprey Farpoint 40 Travel Backpack
The Farpoint 40L is essentially the Farpoint 55L without the detachable 15L daypack. The main pack is the same size and has all the incredible features: lightweight materials, durable ripstop fabric, and a contemporary look. Both backpacks have lockable zippers, too. This bag is just slightly larger than the Osprey Ozone 36L I used for 2-weeks in Europe in the summer so it's the perfect carryon backpack size. Buy it here!
2021 TFG Top Selling Products
---
Columbia Women's Saturday Trail Stretch Pant
Columbia Saturday Trail Pants
The Columbia Saturday Trail hiking pant is a huge TFG reader favorite. They have all the ingredients for a top outdoor pant, at a great price, and in a range of sizes (2-16). They're water-resistant, stretchy, and have UPF 50 sun protection. Plus, the fit is flattering too.
One user shares, "These are comfortable and easy to wear. I love the pockets and feature which allows you to roll the pants into capris." They come in regular, and short and long leg lengths as well! Buy them here!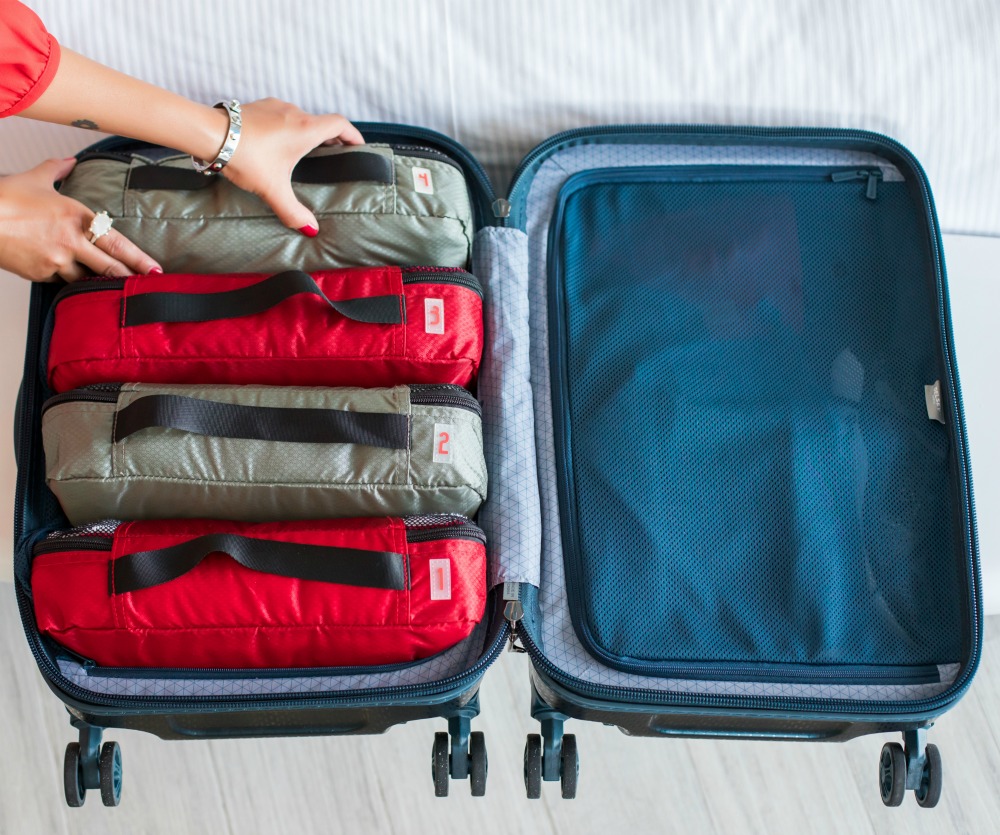 Compass Rose Slim Carry On Packing Cubes
Compass Rose Packing Cubes
My travels changed for the better when I started to travel carry on and implement packing cubes to organize, compress, and maximize space. And my passion drove me to design my own set of packing cubes! The Compass Rose Packing Cubes are made of quality materials and are numbered and colored, so it makes it even easier to organize for whatever trip you have in mind. Prime Day is the perfect opportunity to pick up a set, and some female travelers even pick up two sets because they're not only fantastic for traveling, they can also help organize things when you return home! Buy them here!
If you want a full tutorial on how to pack and organize with Compass Rose Packing Cubes, check out this post and read up on why TFG readers love them here! 
Apple AirPods with Charging Case (Wired)
Apple Airpods
AirPods are popular but not cheap, so a discount like today's is not one to pass up. As a bonus, the carrying case not only keeps you from losing them but also charges them up with a USB cable. Buy it here!
iSteam Portable Steamer
This travel size clothes steamer is certainly popular, one traveler calls it a "lifesaver" to business professionals and says that it "steams like a pro." Plus, it's safe to use with the built-in automatic shut-off if it gets too hot or too low. Buy it here!
Vionic Women's Rest Kirra Backstrap Sandal
Vionic Rest Kirra Backstrap Sandal
The Vionic Kirra Backstrap Sandal is one of the three best selling walking sandals of all time, especially due to their excellent arch support! They have a microfiber-wrapped EVA footbed, and the adjustable straps allow you to secure them to your ankle properly, along with a soft leather thong style that doesn't rub between the toes. We love that they come in a ton of colors (and perforated styles, too) and are also available in wide sizes. Buy it here!
Eddie Bauer Women's Trail Tight Leggings
Eddie Bauer Trail Tight Leggings
The past year has seen a big shift in exploring our very own backyards. These Eddie Bauer leggings work not only for hiking but even just for lounging!
I wore these myself on my 2 weeks Utah Road Trip  and they held up well! The moisture-wicking polyester/spandex fabric has UPF sun protection and odor control properties. The best feature is the three pockets (two cargo, one zip vertical) where you can slip in essentials. Buy it here!
Samsonite Underseat Carry-On Spinner with USB Port
Samsonite Wheeled Underseater
Samsonite is on our list of the top luggage brands and this wheeled underseater makes this list, too. This durable luggage is built to handle the harshest of travel elements thanks to its polyester and nylon fabrics featuring excellent wear properties. The zippered compartment allows you to separately pack damp or soiled items, while the removable 3-1-1 pouch and removable, hanging organizer pouch make it easy to organize all of your essentials. Buy it here!
Rebecca Minkoff Women's Nylon Julian Backpack
Rebecca Minkoff Julian Nylon Backpack
This is the nylon version of the popular Rebecca Minkoff Julian backpack. I first bought the original leather Julian backpack in 2015 and while I intended to use it as a travel sightseeing purse, I loved it so much it became my primary purse almost daily for 5 years. I have both the leather and nylon versions and while I prefer the leather, the nylon is a good alternative for female travelers that prefer a lighter weight bag that's easy to clean and a little easier on the wallet than the leather version. Read my full review, but don't take my word for it – TFG readers agree – this is one of THE best purses for travel ever!!! Buy it here!
Lanzom Women Wide Brim Straw Panama Hat
Lanzom Panama Wide Brim Sun Hat
Then the Lanzom Straw Panama Hat is perfect if you prefer a wide brim for extra coverage. This adorable sun protection hat has an adjustable band so it can fit a larger head. It's both elegant and practical with lightweight and breathable material. One TFG reader shared, "It's adjustable inside the band and has a UPF 50+. Really looks sharp." Buy it here!
BAGSMART Toiletry Bag Travel Bag with Hanging Hook
Bagsmart Toiletries Travel Bag
This expert travel cosmetic case is designed to keep all of your toiletries together for vacations of all lengths. Perfect for organizing your essentials, the Bagsmart travel kit bag features a convenient carrying handle and a hook for hanging, along with removable pouches and a selection of clear interior zipper pockets to keep everything in place.
We love that this case is so compact and simple in its design, lending to its classic look. It has all of the essentials without any unnecessary details. Buy it here!
Osprey Fairview 40 Travel Backpack
Osprey Fairview 40 Travel Backpack
The Osprey Fairview 40L is one of the top bestsellers and a great choice for carry-on, as it fits up top perfectly. It has excellent features, including the back panel, hip belt, and secure harness system — all of this helps make a slimmer profile for the bag and can help when it comes to using it as a carry-on! Plus, there's a zippered front panel slash pocket to store a few of your favorite things, and it features a padded place to store your laptop securely. Buy it here!
Vionic Rest Dillon Toe Post Sandals
Vionic Women's Rest Dillon Toe Post Sandals
Vionic Dillon Sandals look like regular flip flop vacations footwear, yet offer an elegance that's more appropriate for cities in the summer, in addition to various other warm-weather destinations.
These feminine shoes offer considerable arch support and can be dressed up or down for any summer style, from a printed dress to a cute, linen romper. While we love white beach sandals, they're available in a variety of colors, too. Buy it here!
Compass Rose Secret Bra Wallet
Compass Rose Secret Bra Wallet
If you're concerned about theft while traveling, Compass Rose Secret Bra Wallet is the ONLY bra stash made with an extra-long strap to fit DD+cup sizes and a range of bra bandwidths. PLUS, it's also the only bra stash with RFID protection. Travel Fashion Girl readers are giving this rave reviews! Buy it here!
Kindle Paperwhite
You'll notice that our readers LOVE their Kindle. Their best-selling version is the Paperwhite. Along with an improved high-resolution 300 ppi display for crisp, laser quality text, the Paperwhite reads like paper, so you never have to worry about glare from the sun or a harsh glow during evening reading. Buy it here! 
ECCO Women's Flowt Strap Sandal
ECCO Flowt Strap Sandal
The Ecco Flowt Sandals are the newest travel sandals to my arsenal of travel fashion products! I was desperate for a cute and comfy new walking sandal and these were a pleasant surprise. Ecco is constantly a top shoe with readers. They offer arch support allowing you to spend long periods on your feet, and the velcro straps make them easy to remove or put on quickly!. It also has a moisture-absorbing footbed to keep your feet fresh and dry. Available in sizes 4-11.5. Buy it here!
FARYSAYS Lace Crochet V Neck Bell Sleeve Button Down Shirts
FARYSAYS Lace Crochet V-Neck Button-Down Shirt
This white top looked stunning on the product page, and I didn't believe it would look just as good in real life—but it did, and I love it!! Comes in sizes S-XXL.
I get it to wear it in spring with my H&M jeans as shown in the photo above or by the beach with denim shorts. It also unbuttons, so I could wear it with an undershirt as a light layer and leave it undone. I don't think the synthetic fabric will work well in the heat, so I'll save it for fresh days. Buy it here!
Pacsafe Citysafe Cx 17l Anti Theft Backpack
Pacsafe Citysafe Cx 17l Anti Theft Backpack
Another favorite brand among our readers is Pacsafe. The Citysafe Cx 17l is one of the best anti-theft backpack that's equipped with a wide variety of safety features, including a hidden eXomesh slashguard to prevent slash-and-run theft and a Carrysafe slashguard strap to stop cut-and-run theft. Rfid-Blocking Laptop Compartment which guards against electronic theft. Buy it here!
 Travelon Anti Theft Cross Body Bag
 Travelon Anti Theft Cross Body Bag
The Travelon Anti-Theft Cross Body Bag is the best selling purse for travel! In fact, our readers say it's the best travel purse ever!
It has a slim design, featuring slash-proof fabric and an adjustable, cut-proof shoulder strap. You can attach it to any post or chair for added safety, and it also comes with RFID blocking card slots. Buy it here!
Reef Star Sassy Sandal
Comfortable flip flops are hard to find and I've always wanted a pair of Reefs. The cushioned footbed always seems so inviting and I'm happy to finally try these out for myself! Buy it here!
Osprey Ozone Wheeled Carry-On Luggage
Osprey Ozone Wheeled Carry On
It's no secret that I adore Osprey bags, so when I was ready to start traveling carry-on, I fell madly in love with the Osprey Ozone 46L, which is now marketed as the Osprey Ozone 42L and is CURRENTLY on sale for Prime Day!!! This wheeled suitcase is the perfect marriage of carry-on size with the durability of backpack materials, weighing only 4.5 lbs (2.1 kg)! it's lightweight, durable, and lockable—making it ideal for a versatile array of travel.  
I've been able to port this bag around as my carry-on for all my international flights, including budget airlines like Air Asia. It fits perfectly in the airline luggage size racks, and I've fit it easily underneath cramped bus seats and limited overhead compartments. It doesn't have a lot of framework or heavy fabric to weigh it down, and one of my strategies is to use packing cubes to compress and organize, so everything fits without going over the weight limit. Read my full review of the Osprey 46L! Buy it here! 
Hush Puppies Women's Chaste Ballet
Hush Puppies Ballet Flats
Ballet flats are highly popular with TFG readers, and the Hush Puppies Chaste flat is the #1 best selling flats! They're made of soft leather, with a suede leather sock lining that has a breathable perforated arch in addition to its cushioned triangle footbed pattern. The cushioned footbed conforms to your feet, providing air circulation, flexibility, and support.
And sure, while ballet flats are not recommended walking shoes overall, they are a good choice for long flights, shorter walking bouts, and can act as a dressy shoe in a travel capsule wardrobe. Buy it here!
Samsonite Omni PC Hardside Expandable Luggage with Spinner Wheels
Samsonite Omni PC Luggage
If you're after a full size luggage set, The Samsonite Omni 3-piece Hardside Suitcases are a top choice to save on for Prime Day! No matter if it's the 21″ or 28″ suitcase, the Omni collection is a popular option with TFG Readers, especially when it's on sale like today. Talk about value for money, get a set to share with the entire family! Buy it here!
Columbia Chill River Midi Dress
Columbia Chill River Dress
Overall, Columbia is a hugely popular brand with TFG readers and travelers! The Chill River dress is highly versatile as it can be dressed up or down and can be packed for humid destinations due to its sweat-wicking and cooling properties, as well as UPF 50 sun protection. Buy it here!
Rockport Women's Briah Perf Sling Wedge Sandal
Rockport Briah PERF Sling Wedge Sandal
Rockport is as well known of a brand as others we feature, like Clarks or Dansko. Not only that, but we also had to include them on this list because they are so comfortable. First, the style. The nude color and Perforated leather add an unexpected appeal while still remaining classic.
The peep toe and sling design add flair, while the upper is made of soft, genuine leather. While the Rockport Briah PERF Sling wedge sandal has a 2.7 inch heel, the cushioned arch support and comfortable footbed will cushion your feet for all-day wear. Buy it here!
Lucky Brand Basel Ankle Bootie
Lucky Brand Basel Ankle Boots
Comfort and style are possible and deliverable in the Lucky Brand Basel boots. The comfortable leather, stacked, block heel, and side zipper make this an ideal choice for matching with anything. It is also available in a multitude of colors to fit your personal style. Buy it here!
Vera Bradley Signature Cotton Weekender Travel Bag
Vera Bradley Weekender
Our readers love Vera Bradley travel bags with trolley sleeve, and so many recommended the Signature Cotton Weekender bag.
This bag has a fully zippered front compartment and two back slip pockets, along with a wide opening with double zippers and a sturdy, removable base. Plus, it has a trolley sleeve to slip over your roller luggage. Buy it here!
  2021 Top Selling Brands by Category
---
Backpack/Luggage
Travelon Anti-Theft Cross-Body Bucket Bag
Travelon Anti-Theft Classic Mini Shoulder Bag
Osprey Porter 46 Travel Backpack
Travelon Anti-theft Heritage Crossbody Bag
Clothing
Womens Fashion Print Kimono Tassel Casual Cardigan
Eddie Bauer Women's Girl On The Go Insulated Trench Coat
CUPSHE Fashion Women's Ladies Vintage Lace Bikini
Icebreaker Women's 175 Everyday Leggings
Icebreaker Merino Women's 175 Everyday Long Sleeve Thermal Shirt
Columbia Women's Arcadia II Jacket
Riders by Lee Indigo Women's Plus Size Denim Jacket
Terramar Women's Standard Thermasilk Pant
Terramar Women's Thermasilk Pointelle Scoop
Shoes
Blowfish Malibu Women's Granola
Blondo Women's Liam Waterproof Ankle Boot
Merrell Women's Moab 2 Vent Hiking Shoe
Accessories
AmoVee 2 in 1 Flat Iron Curling Iron Hair Straightener, Dual Voltage
Fire TV Stick 4K streaming device with Alexa Voice Remote
LifeStraw Personal Water Filter
Turkish Cotton Peshtemal Bath Towels
Smyrna Original Turkish Beach Towel Cotton
Echo Show 8 HD smart display with Alexa
Fire HD 10 Tablet (10.1″ 1080p full HD display, 32 GB)
Youphoria Outdoors Microfiber Camping Towel Fast Drying
The Amazon Prime Day has officially ended but keep an eye on this page as we update it for the next sale in 2022!
Note: As a small business, we appreciate it when you shop through the links in our posts because you help support the TFG Team. Thank you, and happy shopping!
---
Some of these tips are on now, so take advantage now and start saving – visit Amazon now!
Do you have Prime? What's on your Amazon Prime Day wish list? Tell us in the comments below!
---
LIKED THIS POST? PIN THIS PIC TO SAVE IT!
---
For more tips, please read:
---
Hope you liked this post on Amazon Prime Day. Please share with your friends on Facebook, Twitter, and Pinterest. Thanks for reading!
---