Support TFG by using the links in our articles to shop. We receive a small commission (at no extra cost to you) so we can continue to create helpful free content. As an Amazon Associate, we earn from qualifying purchases made on Amazon in addition to other retailers featured on the blog. Thank you, we appreciate your support!
What an incredible AMAZON PRIME DAY SALE 2022!! Now that it's over, don't forget to bookmark this post to shop the big travel deals on Prime Day 2023! Meanwhile, take a look at our favorites along with the most popular reader recommendations from 2022. See you next year!
---
Amazon Prime Day (Click the pics to shop!)
---
What is Amazon Prime Day?
Amazon Prime Day is a special sales event for Amazon Prime members with savings as good as Black Friday! It's a terrific opportunity to plan ahead for the upcoming holidays and save some time and stress by grabbing those items you've got on your wish list!
Do I need Amazon Prime to Shop on Prime Day?
You do need to have Amazon Prime to take advantage of the specials during this special event. 
I love Prime because it's easy, convenient, and ultra-fast to shop. My favorite part of this membership is free two-day shipping and returns (when available). This means you don't have to wait to get the stuff you want, and you can save money too.
Two-day shipping is extra important for travelers. If you're like me, you're shopping until the last minute and you need to ensure you get everything you need in time for an upcoming trip.
If you don't already have Prime don't worry: sign up for a FREE 30-day Amazon Prime Trial to take advantage of this big sale!
How to Shop Prime Day
Step 1: Sign up for an Amazon prime free trial or log into your account
Step 2: Go to this page to "Watch" items you're interested in buying.
Step 3: Add other items to your wishlist and check throughout the day to see if they go on sale
Step 4: Download the free Amazon App for your phone or tablet and never miss a deal. Go to "Today's Deals," click "Upcoming" to view all deals 24 hours before they are live, and then tap "Watch this deal." The app will alert you when that deal is starting.
Step 5: Download Amazon Assistant for your desktop so you can see all the items you're watching in one convenient location and get notified when your items are on sale! (I LOVE THIS FEATURE.)
Have any questions? Check out Amazon's Prime Day Insider Guide for more helpful tips!
Amazon Prime Day is officially over! Below you'll find our top picks from the 2022 sale. Don't forget to bookmark this post for Prime Day 2023, to shop the big travel deals next year!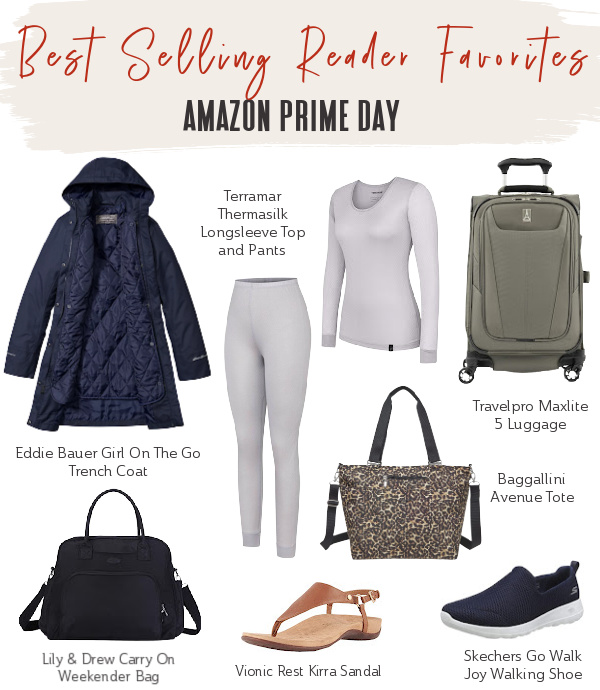 Eddie Bauer Trench Coat | Terramar Top & Pants | Travelpro Maxlite 5 | Vionic Kirra Sandal | Lily & Drew Weekender Bag | Skechers Go Walk Shoes | Baggallini Tote
Travelpro Maxlite 5 Expandable Luggage
This is the #1 selling carryon suitcase in 2021 during last year's Prime Day!! The Travelpro Maxlite series is a long-time frequent flyer favorite and now they've introduced their most lightweight version at just 5.3lb! This softside suitcase features 4-wheel spinners, stain-resistant and water-repellant duraguard fabric, and high-tensile-strength lockable zippers. I bought it in the olive color with the matching underseat tote, but it's also available in other colors, and on sale too. Their underseat rolling tote bag is also discounted at 23% off!  Buy it here!
Lily & Drew Carry On Weekender Overnight Shoulder Bag
Lily & Drew Carry On Weekender Bag
The Lily & Drew Weekender Overnight Shoulder Bag was the #2 selling item from Prime Day in 2021! I ordered it myself to test for a Cancun resort trip, and as a result, did a review on it. This has tons of internal and external pockets, a padded shoulder strap for extra comfort, and you can fit a 15.6″ laptop in a protective zippered compartment. As a plus, it also has a trolley sleeve to sit smoothly over your carryon suitcase. Buy it here!
Baggallini Avenue Tote
Select colors
Baggallini Avenue Tote Top Handle Bag
The Baggallini brand is highly popular with TFG readers, and the Avenue Tote is our top selling under the seat bag with a trolley sleeve! It's super lightweight and roomy and has a padded area for a 10: to 13″ laptop, not to mention the many zippered pockets to keep essentials organized. This is the perfect personal item to grab during Prime Day for as low as $69.99! Buy it here!
Vionic Women's Rest Kirra Backstrap Sandal
Select color and sizes
Vionic Rest Kirra Backstrap Sandal (Wide Sizes Available)
The Vionic Kirra Backstrap Sandal is one of the best-selling sandals of all time on the blog because SO many readers say they offer solid support for feet. They have a microfiber-wrapped EVA footbed, and the adjustable straps allow you to secure them to your ankle properly, along with a soft leather thong style that doesn't rub between the toes. We love that they come in a ton of colors (and perforated styles, too) and are also available in wide sizes. Buy it here!
Skechers Women's Go Walk Joy Walking Shoe
Select colors and sizes
Skechers Go Walk Joy Walking Shoe (Narrow and Wide Sizes Available)
Skechers is the all-time TFG reader fave for travel! They're cost-effective, comfortable, and available in a range of sizes and widths (regular, narrow, and wide), and the memory foam cushioning tends to be supportive for even the pickiest of feet. I wore a similar pair for my 2-week summer trip to Europe for cooler days and they were perfect! Buy it here!
Eddie Bauer Girl On The Go Insulated Trench Coat
Select colors and sizes
Eddie Bauer Girl On The Go Insulated Trench
Voted as the best travel raincoat by readers, the Girl On The Go Insulated Trench Coat is a classic style and fit—not too form-fitting and not too loose, with princess seams for a slimming and flattering fit. The fit also means you can add a few layers for extra warmth. Plus it's packable! You can use it in either warmer or cooler weather. Buy it here!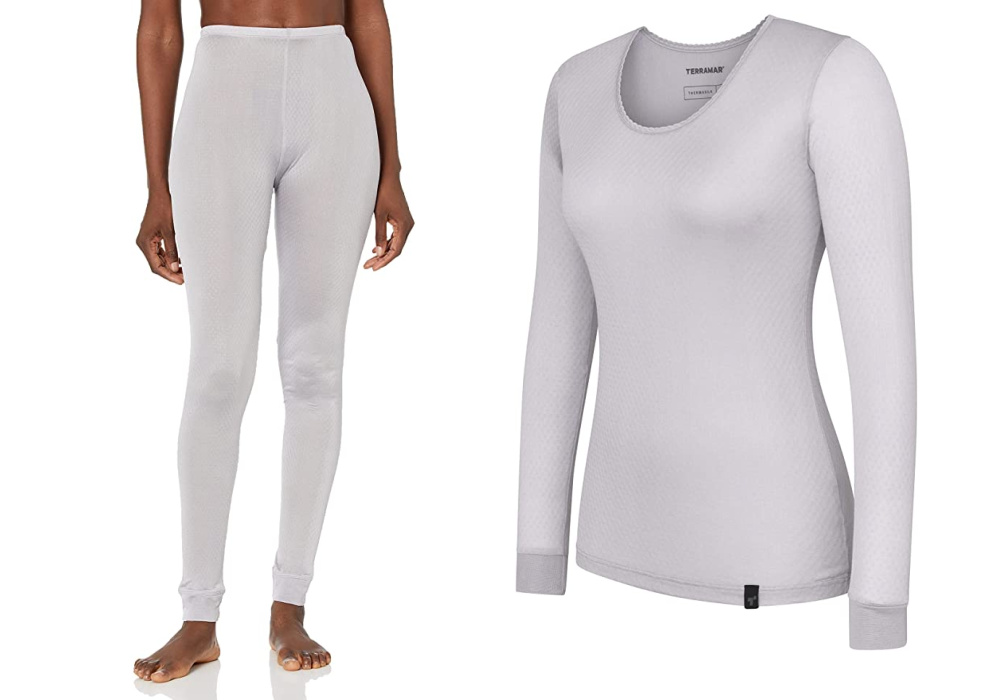 Terramar Standard Thermasilk Pant (back to regular price) and Terramar Thermasilk Pointelle Scoop
 Terramar Thermasilk Pants and Top
While they also offer fleece-lined tops and bottoms, the Terramar silk layers are most noteworthy. The fabric offers optimal warmth but is ultra-lightweight. Stay warm without the bulk! As a plus, they're also one of the best silk thermals I've found, and they're the most affordable brands, too. Buy the pants (back to regular price) and longsleeve sizes xs, small, medium, large, and XL!
 Icebreaker Merino 175 Everyday Long Sleeve Thermal Shirt
Select colors and sizes
Icebreaker Merino Wool Thermal Shirt
Icebreaker is made for the adventure traveler, Their base layers are 100% merino wool, perfect for winter hikes, camping, and travel. I would also recommend their socks and undies if you want to go for a full-wool ensemble. They're some of the best extreme cold weather thermals. Buy it here!
The Icebreaker Bodyfit 175 Everyday Leggings are discounted as well! (Select colors and sizes.)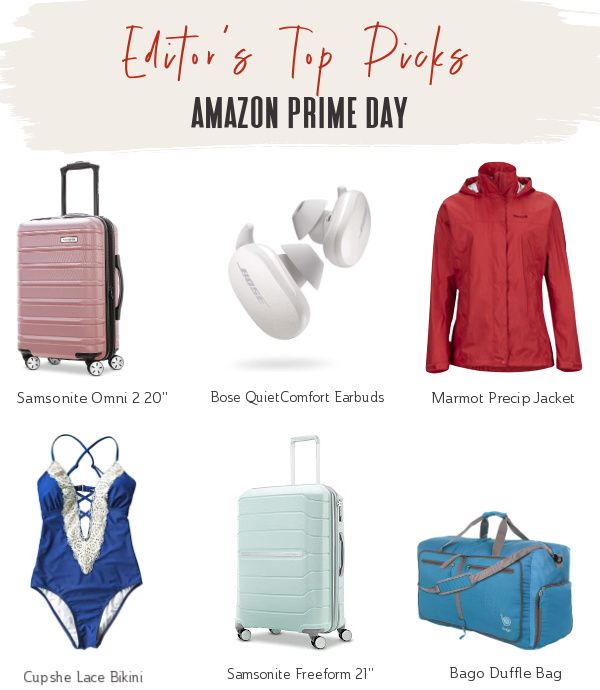 Samsonite Omni 2 20″ (Similar) | Bose QuietComfort Earbuds (back to regular price) | Marmot Precip Jacket |  Cupshe Lace Bikini (back to regular price) | Samsonite Freeform 21″ | Bago Duffle Bag
Samsonite Omni PC Hardside Expandable Luggage Carry-On 20″
Samsonite Omni PC Hardside Luggage
Samsonite's Omni 20" is seriously effortless for travel at only 6.8 lbs! The 20" size fits in the overhead compartment of most major airlines, the 360-degree wheel spinners are easy to maneuver, and its scratch-resistant polycarbonate shell will most definitely hold up against all the rigors of a trip. I am eyeing their Omni 2 20″ hardside luggage in rose gold, so pretty!
Users rave about the quality and security of the TSA side-mounted locks! The Omni comes in a variety of colors as well, including some fun, bright options. Buy it here!
Samsonite Winfield 2 Hardside Expandable Luggage
Samsonite Winfield 2 Expandable Luggage
This Samsonite is a good deal for anyone looking to buy a full-size suitcase!! The Nordic Blue color in the 28″ is really nice (though not on sale any longer). I'm tempted to get this for my never-ending international moves. However, if you wanted a smaller checked option, there's also the 24″. Buy it here! 
Bose QuietComfort Noise Cancelling Wireless Earbuds
(back to regular price)
Bose QuietComfort Noise Cancelling Earbuds 
Ever since I had the baby, I haven't been able to sacrifice the space for my Bose QuietComfort 35 II, so these look like the perfect new travel companion! So much more compact and travel-friendly! Buy it here! 
Marmot Precip Waterproof Rain Jacket
Select color and sizes
Marmot Precip Waterproof Rain Jacket
This is an amazing price for a quality waterproof rain jacket! I've had the same Columbia jacket for 8 years, so would like to try out something new. I'm torn between colors, but the red one would look striking in pics! Buy it here! 
Bago Packable Duffle Weekender Bag
Bago Packable Duffle Bag
This is a popular lightweight duffle bag that's packable in a carry-on and many readers recommend it! It weighs just over 1 lb and is odor-proof, waterproof, and tear-resistant. It comes in various sizes which is handy if you need a smaller or larger bag. Buy it here! 
Besides the products featured above, here are more of my top picks: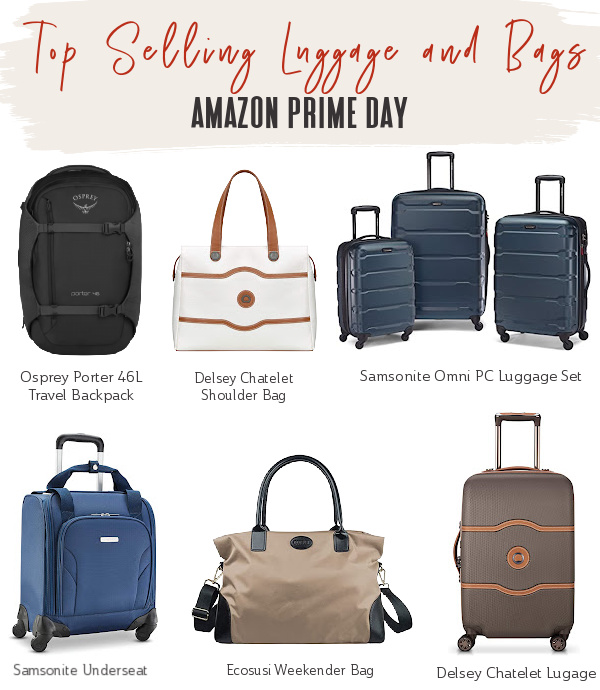 Osprey Porter 46L Backpack | Delsey Shoulder Bag | Samsonite Luggage Set | Samsonite Underseat | Ecosusi Weekender Bag | Delsey Chatelet Hardside 21"
Luggage and Bags
Long-time readers know that Amazon Prime Day is the perfect opportunity to nab higher-priced items for travel, and luggage is one of those in-demand items! 
Picking the right suitcase depends on the type of trip you're doing and how long you plan to be traveling. Reading our guide on how to choose the best suitcase might be helpful! Remember that organization, durability, security features, and weight of a carryon are all factors to consider. 
In this year's Prime Sale, top reader favorites and bestsellers like Samsonite, Delsey, and Osprey are offering great deals that are wise to take advantage of—especially if you've been wanting to replace luggage for a while! And not just backpacks and suitcases, the most popular weekender bags are discounted too, like the Ecosusi Weekender (read our review on them), and the Vera Bradley Weekender Bag!
Besides the luggage pictured above, here are other bags that are on sale!
You could also check out the entire Luggage Selection at Amazon to see what else piques your interest!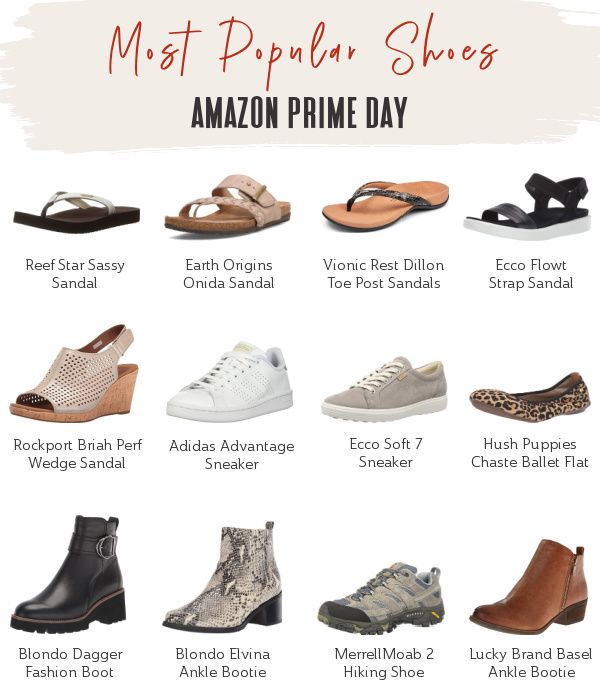 Reef Star Sassy | Earth Origins Onida | Vionic Toe Post | Ecco Flowt | Rockport Wedge | Adidas Sneaker | Merrell Moab | Ecco Soft 7 | Blondo Elvina | Blondo Dagger | Hush Puppies Chaste | Lucky Brand Basel
Select colors and sizes
Comfortable Travel Shoes
Readers often ask us how to choose travel shoes. Our answer: COMFORT is the most vital feature to seek out, and that includes in every type of shoe, be it sneakers, sandals, hiking, or cold weather ankle boots. 
Some standouts from last year's Prime Sale that are back are the Blondo Dagger Waterproof Boots, Ecco Flowt Sandals, and the Cloudfoam Advantage Sneaker. All of these offer support and the ability to explore your destination, whether through rain, shine, or snow.
Besides comfort, the other vital things to consider when buying shoes are if you have foot issues, need a narrow or wide width, or require arch support. Travel shoes should always feel comfortable, no matter what you're doing! 
Besides the shoes pictured above, here are more comfortable ones that are on sale! (Select colors and sizes)
Editor's Top Picks
Check out Amazon's entire Shoe Section to snap up other deals!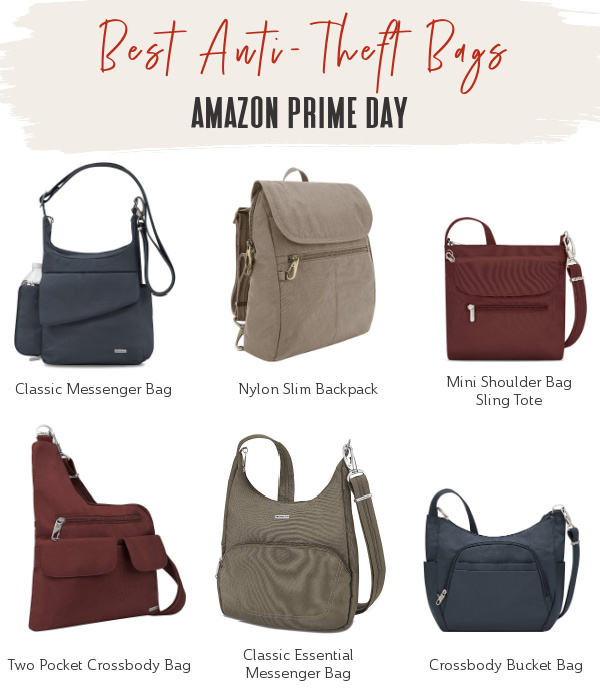 Classic Messenger Bag | Nylon Slim Backpack | Mini Shoulder Bag | Two Pocket Crossbody Bag | Classic Essential Messenger Bag | Crossbody Bucket Bag
Anti-Theft Bags
If you plan on visiting Europe this summer, one concern many readers voice in the community is feeling their items are safe as they explore the ancient sites. Many travelers recommend taking anti-theft bags for that extra peace of mind! 
If you've never heard of them before, you may be wondering what is an anti theft purse exactly? An anti-theft bag is a purse, backpack, or luggage with built-in safety features. It's designed to help you avoid becoming a victim of theft at home or abroad. Feel free to review a round up of the best anti-theft bags for women to learn more!

For Prime Day, the top anti-theft bags are Travelon, and SO many are on sale! Readers adore their classic styles that are chock full of organizational compartments and safety attributes! The Travelon Classic Messenger Bag is one of the highest-selling purses on the blog, as is the Travelon Anti-Theft Cross Body Bag and both are marked down! If you want something slightly smaller, consider their Classic Mini Shoulder Bag at 36% off!

Remember that with an anti-theft purse, look for things like locking zippers and RFID blocking technology.
If you want more Travelon selections, see their Amazon Page for further markdowns!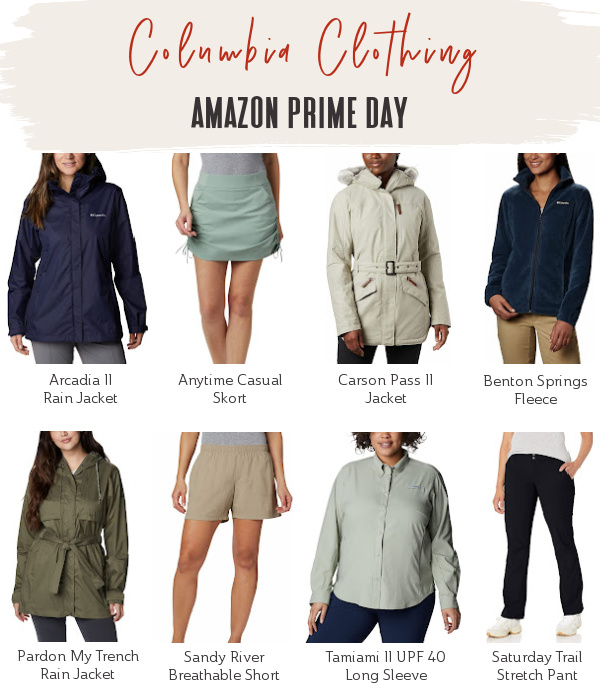 Arcadia II Jacket | Anytime Casual Skort | Carson Pass II Jacket | Benton Springs Fleece | Pardon My Trench Rain Jacket | Sandy River Shorts | Tamiami II UPF 40 Shirt | Saturday Trail Pant
Select colors and sizes
Columbia 
Columbia is a veritable reader favorite for travel clothing! While they have a sporty feel, many TFGs report how versatile their items are; to go from sightseeing to a casual dinner. And during the Prime Day event, it's a smart idea to get their stock at awesome prices!
For inclement weather, big faves like the Columbia Carson Pass II Jacket can stave off the cold and wind so effectively—it's my go-to winter jacket, while the bestselling Pardon My Trench Rain Jacket keeps you dry in a downpour while looking stylish. If you need more of a rain slicker, I brought the Arcadia II on a 2-week Utah trip a couple of years ago, and was glad I did! It's so lightweight and packable!
If you need some trousers, the Columbia Saturday Trail Hiking Pant is a huge TFG reader favorite. They're water-resistant, stretchy, and have UPF 50 sun protection. and come in a range of sizes (2-16). 
In fact, we don't want you to miss anything Columbia, so don't forget to check out their Amazon Product Page! (But, you can also go to the Columbia Website if you prefer extra buying options.)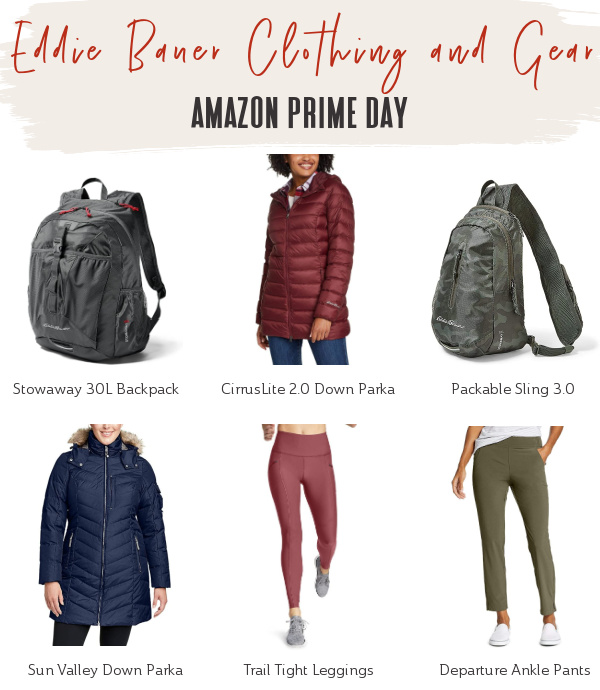 Packable 30L Backpack | Cirruslite 2.0 Down Parka | Packable Sling 3.0 | Sun Valley Down Parka | Trail Tight Leggings | Departure Ankle Pants
Eddie Bauer
Another big favorite as voted by readers is Eddie Bauer!! While also more active-oriented, their clothing and gear have a more elevated look and feel than Columbia. I, myself, fell in love with Eddie Bauer's UPF 50 tops, the Mountain Ripstop Long Sleeve, and the Departure 2.0 Long Sleeve as my wear everywhere shirts! I've worn them casually, in more formal settings, or just hanging at home! In fact, their shirts are so beloved, that we did a review on them. By the way, the blouses I mention here are now on sale for Prime Day!
Overall, Prime Day is the ideal opening to buy up any Eddie Bauer item you've been wanting. Especially their winter jackets, which are pricey compared to their other clothing! Such as the Sun Valley Down Parka, which has select colors and sizes at 25% off! Or the highly popular Cirrus Lite 2.0 Down Parka, at a decent 23% off! (Readers LOVE their jackets, and helped us shape this review on why Eddie Bauer jackets are the best for travel!) Our readers also rave about their Departure Ankle Pants which is currently on sale too!
Eddie Bauer also sells good gear; we've got our eye on the Stowaway Packable 30L Backpack and Sling Bag, both excellent for travel to hold essentials, and they fold and pack away!
With so much Eddie Bauer, and so little time, you might want to peruse their Product Page for more deals! Or, even visit their site directly as sometimes they have sales going as well.
Best Toiletries and Hair Tools
---
BAGSMART Toiletry Bag Travel Bag with Hanging Hook
Bagsmart Toiletries Travel Bag 
Perfect for organizing your toiletries, the Bagsmart Travel Kit Bag features a convenient carrying handle and a hook for hanging, along with removable pouches and a selection of clear interior zipper pockets to keep everything in place. We love that this case is so compact and simple in its design, lending to its classic look. Buy it here!

Bagsmart Small Cosmetic Bag
I love that this case is so compact and simple in its design, lending to its classic look. Made of water repellent and soft peach-skin fabric with supple touch. The stitching and zipper are of great quality and well made. It has all of the essentials without any unnecessary details. These would also make a good choice to use as a gift bag for a gift card, pocket book, essential lipstick, credit card, keys, etc. Buy it here!
Plavogue One-Step Hair Dryer Brush
Plavogue Hair Dryer Brush
This year everyone was talking about hair dryer brushes in the TFG Facebook Group. I haven't tried these myself, but now they've got me curious!
This Plavogue hair dryer brush is a best seller, and on sale, and as a plus, it's dual voltage – a must when choosing hair products for travel. Meanwhile, the second best seller Hot Tools Hair Dryer Brush is now on sale too! If you prefer a good old-fashioned hair dryer, the BabyLiss Pro was the top choice. I own this one, and it's ultra-lightweight and packable, too. Buy it here!
AmoVee 2 in1 Flat Iron Curling Iron Hair Straightener
AmoVee Travel Curling Iron
If you like a bit of curl while traveling, the dual voltage AmoVee 2in1 is a mini curling iron that's made of titanium, which creates curls or waves in your locks while adding shine and luster to your hair. Plus, the barrel distributes heat evenly to eliminate kinks whether you're curling or straightening. It heats up fast, and is super packable! Buy it here!
T3 Micro Cura Digital Ionic Professional Blow Hair Dryer
(back to regular price)
T3 Micro Cura Hair Dryer
Readers talk about their products constantly, which encouraged me to buy the 1-inch T3 Lucea Straightener myself. Love how it keeps my hair under control and looking smooth, and because I'm so happy with this product, I've considered buying the Aireluxe Hair Dryer (though not on sale) to use every day vs. for traveling. Buy it here!
Besides the flat iron pictured, here are more T3 favorites:
BaBylissPRO Nano Titanium Hair Dryer
BaBylissPRO Nano Titanium Hair Dryer
The BaBylisspro Nano Titanium Hair Dryer gets our vote and the readers' vote for the best travel hair dryer! It's so lightweight, good quality, well-priced, foldable, and dual voltage. For smooth and frizz-free hair in a matter of minutes, the BaByliss PRO travel hair dryer uses millions of natural ions to eliminate static electricity. The very lightweight dual voltage dryer instantly dries hair with far-infrared heat while protecting it from damage. Buy it here!
Besides the hair dryer pictured, here are more BabylissPro favorites that are on sale!
Gongshi Vacuum Storage Bags
These Gongshi Bags come in different sizes and can be used with either a typical standard vacuum cleaner or the provided pump.
Vacuum storage bags are a sound go-to for a huge move! While I wouldn't use them for regular travels, they're perfect if you have a lot of clothing to pack and will only unpack your bags one time. I used four of these medium-size vacuum storage bags for all my clothing (mostly winter items). Buy it here!
Smyrna Original Turkish Beach Towel Cotton
Smyrna Original Turkish Peshtemal Towels
These Turkish cotton beach towels from Smyrna are to die for. They're made in Turkey from 100% organic cotton and measure 71 x 37 inches. They're lightweight, quick-drying, and highly absorbent, and become softer with each wash. Buy it here!
Face Shadow Double Eyeglasses Pouch
(back to regular price)
Face Shadow Eyeglasses Pouch
The concise style design makes this pouch a small and exquisite looking. Feather pattern just goes with everything and fits for all types of bags making it a "READER'S MUST HAVES". This eyeglasses pouch is made of embroidery pattern microfiber with high quality sponge padded lining provides effective protection from scratching and crushing. Buy it here!
LifeStraw Go Water Filter Bottle With 2 Stage Filter Straw
Lifestraw Go Water Filter Bottle
The Lifestraw Water Bottle is the ultimate travel water source. It protects against microorganisms and improves the taste of water. And if you don't require the water bottle itself, you can get the Lifestraw Personal Water Filter instead! Buy it here!
Top Clothing and Accessories
---
Lanzom Women Wide Brim Straw Panama Hat
Lanzom Panama Wide Brim Sun Hat
Then the Lanzom Straw Panama Hat is perfect if you prefer a wide brim for extra coverage. This adorable sun protection hat has an adjustable band so it can fit a larger head. It's both elegant and practical with lightweight and breathable material. Buy it here!
ExOfficio Give-N-Go Bikini Brief
Select colors and sizes
ExOfficio Underwear 
The ExOfficio Panties are super popular underwear with readers! They're lightweight, moisture-wicking, and durable. At 30% off on Prime Day, you can't beat that! Buy it here!
Zesica Floral Maxi Dress
Select colors and sizes
Zesica Cotton Floral Maxi Dress
The summer months of May-August are an absolute scorcher in Playa del Carmen! I bought this Zesica Dress because it seemed lightweight for the heat and looked so packable and pretty for future travel, too! I originally shared it in my Spring Haul and the readers absolutely loved it! It quickly became a bestseller. The mini version is on sale too in select colors and sizes. Buy it here!
Kilig V Neck Summer Sundress
Select colors and sizes
Kilig

V Neck Summer Sundresses
I love how comfortable this dress is! It's hard for me to find a dress I feel comfortable in, but I love everything about this summer sundress! It has a flattering fit, the fabric is perfect for the heat, and I can wear it casually and comfortably yet still feel polished. Buy it here!
Acelitt Womens Casual Elastic Waist Swing Dress
Select colors and sizes
Acelitt Sleeveless Summer Dress
Made of a super soft and stretchy material, this Acelitt Summer Dress is perfect for long days of sightseeing in warm-weather destinations. It has a simple, cute look and is very versatile, making it a perfect go-to that you can easily mix and match with your travel shoes and accessories. Buy it here!
FARYSAYS Lace Crochet V Neck Bell Sleeve Button Down Shirts
FARYSAYS Lace Crochet V-Neck Button-Down Shirt
This FARSAYS White Top looked stunning on the product page, and I didn't believe it would look just as good in real life—but it did, and I love it!! It also unbuttons, so I could wear it with an undershirt as a light layer and leave it undone. I don't think the synthetic fabric will work well in the heat, so I'll save it for fresh days. Comes in sizes S-XXL. Buy it here!
Womens Fashion Print Kimono Tassel Casual Cardigan
Dokotoo Fashion Print Kimono
I wanted a couple of versatile kimonos to pair with some of my favorite basics to create a bit more of a boho feel for my outfits. This Dokotoo Black and White Kimono is pretty and functional, and on sale right now!  Lightweight items like a kimono or easy cover up is also a good way to create versatility with clothing when traveling with a capsule wardrobe, too! Buy it here!
Best Selling Electronics
---
Bose QuietComfort 45 Noise Cancelling Headphone
(back to regular price)
Bose Wireless Headphones
I bought the Bose QuietComfort 35 II (on sale) during a past Prime Day sale to try them out after TFG readers raved about them, and they've been one of my best buys ever! They also have the new version Bose QuietComfort 45 but is now back to regular price!
They're ultra noise-canceling, so it blocks out extraneous noise on flights, and I use them all the time for zoom meetings, family calls, and to listen to audiobooks. I can't believe I traveled almost a decade full-time without these. BONUS: they look bulky, but they fold into a travel case! Buy it here!
Bagsmart Electronic Travel Cable Organizer Bag
Bagsmart Electronic Cable Organizer
Keep messy cables at bay with the Bagsmart Electronic Cable Travel Organizer. This holds your gear so that everything, including electronics and cords, is accessible in one location, but all organized so you can find anything you need quickly!
This compact cable organizer bag is noted for its "perfectly slim size for a backpack or bag" and is the #1 most popular travel gift. Many agree that this makes packing so much easier and efficient. Buy it here!
Apple Airpods Pro
AirPods are popular but not cheap, so a discount like this is not one to pass up. As a bonus, the carrying case keeps you from losing them and charges them up with a USB cable. The Apple AirPods 2nd Gen and 3nd Gen are also available. Buy it here!
Apple AirTag 1-Pack for iPhone or IPad
Apple AirTag
The TFG community has been abuzz about the Apple AirTag. What is it exactly? It's a mini-tracker for all your items and works with the Find My app on your iPhone or iPad. Readers say it's an amazing way to keep track of or locate lost luggage in an airport!

Just place the AirtTag in your suitcase and set it up on your Find My app, and search for your things via Siri, or a sound will play from your speaker. In fact, this little device works for anything you want to track, be it your car in a parkade or your gym bag! They also have the 4 pack but now back to regular price. Buy it here!
Besides the Apple Air Tags, these non-iPhone luggage trackers are also reader recommended!
Echo Dot
The streamlined and popular Echo Dot Speaker with Alexa installed is also on sale!! It delivers crisp audio for any music streamer and works with smart devices like a light plug or bulbs that are compatible. A great addition to your home! Buy it here!
Fire TV Stick with Alexa Voice Remote
(back to regular price)
Fire Stick
Enjoy stunning 4K Ultra HD streaming at up to 60fps with Fire TV Stick with Alexa Voice Remote as it's now on sale! Feel scenes come to life with immersive Dolby Atmos audio on select titles, including on Prime Video and Disney+, when connected to compatible soundbars and home audio systems. Buy it here!
Echo Show 8 HD smart display with Alexa
(back to regular price)
Echo Show
Now is definitely the time ro grab any Amazon products you've been wanting! The Echo Show is like an electronic control center for your home. It can call family and friends (they have to have Alexa app or Echo device), link with other smart devices, play video, and audio, and do it all with voice commands. Buy it here!
Kindle Paperwhite Essentials Bundle
Kindle Paperwhite
 You'll notice that our readers LOVE their Kindle. Their best-selling version is Paperwhite. Along with an improved high-resolution 300 ppi display for crisp, laser-quality text, the Paperwhite reads like paper, so you never have to worry about glare from the sun or a harsh glow during evening reading. Buy it here!
Carbon Monoxide Alarm Detector
Alert Pro Carbon Monoxide Alarm Detector
One reader rates this detector among her favorite travel accessories. She says, "It's small and lightweight, and gives me peace of mind. I'm glad I'm not the only one who is afraid of carbon monoxide poisoning."
This Alert Pro detector has a light on its face that blinks every so often to let you know that it's powered and doing the job it's supposed to do. It also has a large, easy to read LCD display that lets you know levels of carbon monoxide wherever you are. Buy it here!
JBL Clip 3 Portable Bluetooth Speaker
JBL Clip 3 Waterproof Bluetooth Speaker
The JBL Clip 3 is truly a great deal with a price tag that's under $50! It's lightweight and tiny, making it easy to pack and put in a daybag on your travels.
It's shockproof, durable, and comes with a carrying case so it's safe when you pack it in your carry-on. It's also "waterproof," so it makes a stupendous beach or outdoor speaker for some fun times!! Buy it here!
SmartDevil Small Personal USB Desk Fan
SmartDevil Personal Desk Fan (USB)
Believe it or not, packing a travel fan can save you in hot destinations! The SmartDevil Mini Desk Fan is tiny but powerful, and keeps you cool in some of the warmest scenarios! And it's easily charged up via USB. Buy it here!
The Amazon Prime Day 2022 has officially ended! Remember, bookmark this page to ensure you don't miss out on the 2023 Amazon Prime Day sale!
Note: As a small business, we appreciate it when you shop through the links in our posts because you help support the TFG Team. Thank you, and happy shopping!
---
These deals are amazing, so take advantage now and start saving – visit Amazon for even more discounts!
Do you have Prime? What's on your Amazon Prime Day wish list? Tell us in the comments below!
---
LIKED THIS POST? PIN THIS PIC TO SAVE IT!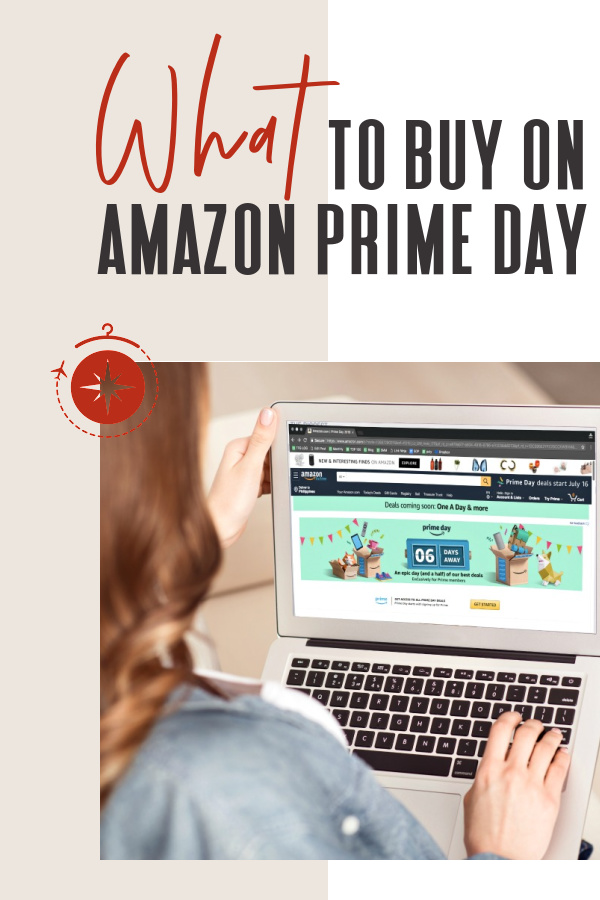 ---
For more tips, please read:
---
Hope you liked this post on Amazon Prime Day. Please share with your friends on Facebook, Twitter, and Pinterest. Thanks for reading!
---