Support TFG by using the links in our articles to shop. We receive a small commission (at no extra cost to you) so we can continue to create helpful free content. As an Amazon Associate, we earn from qualifying purchases made on Amazon in addition to other retailers featured on the blog. Thank you, we appreciate your support!
One of the most popular questions readers ask us on Travel Fashion Girl is: "where can I find stylish yet practical reversible clothing for travel?" My response: Helene Clarkson.
Not only are the items featured in this post all reversible but they're also versatile, easy-to-wear, sophisticated, AND functional, too.
I'm very impressed with her spring/summer collection, so I've split up this review into two parts. This is PART 1, and you can read PART 2 here!
Keep reading to find out more about her reversible clothing and see how it looks!
---
Reversible Clothing for Travel
---
Whether traveling to a neighboring city or across the pond, Helene Clarkson pieces have multi-wear possibilities that are versatile, comfortable, and easily transition from day to night.
Mix and match them, flip them and reverse them. They're the basics that help create the core of the best travel capsule wardrobes. They're made for jetsetters that want a flawless selection of vacation wear for women that will take them to any corner of the globe.
Her designs are anything but boring while providing maximum versatility, comfort, and quality.
This Canadian brand specializes in super soft knit jersey fabrics that are not just practical but flattering on any figure.
As a major bonus: all her clothing is machine washable. Smart travelers know that the key to packing light on long trips is to wash clothing and Helene makes this task easy.
They're also wrinkle-resistant. When you're on the go the last thing you want to do when you arrive at your destination is spend time ironing all your garments, especially if you're on a fast paced trip or organized tour.
Prices on their website are listed in Canadian dollars so if you're shopping from the US, this means it's about 25% off for you due to the exchange rate! Prices based on rates as of February 2019.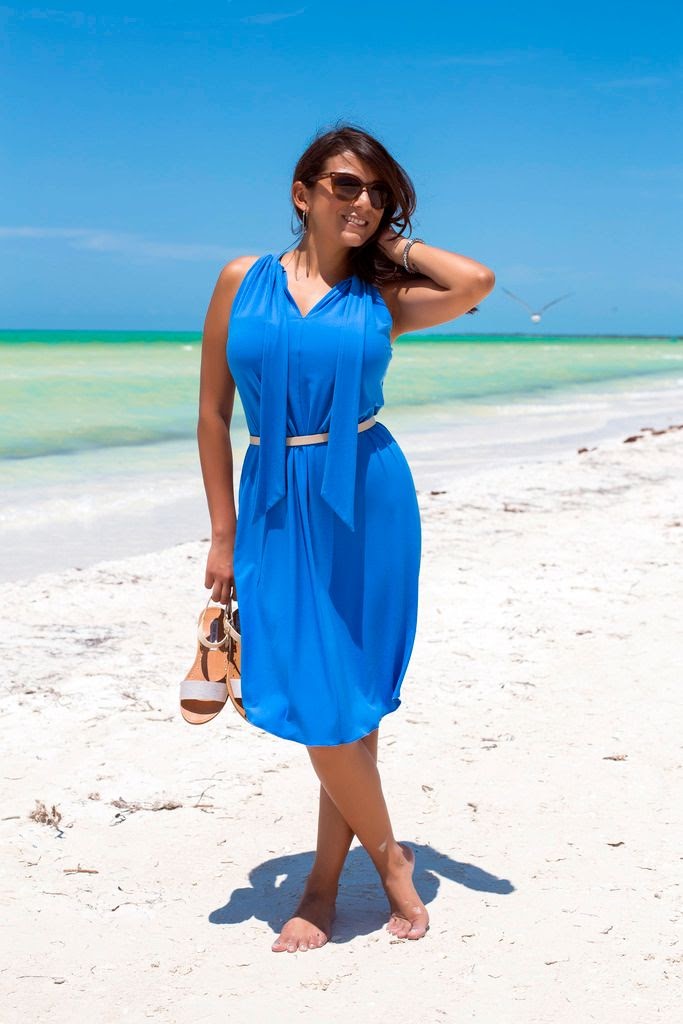 Sabi Reversible Dress | Metallic Sandals (similar)
Reversible Dress
My very first comment about the Sabi Reversible Dress is that I LOVE THE COLOR. Blue is always a great color and seems to be one of the most universally flattering hues, too. Wear it in spring and summer – it's a shade that will outlast seasonal fashion trends.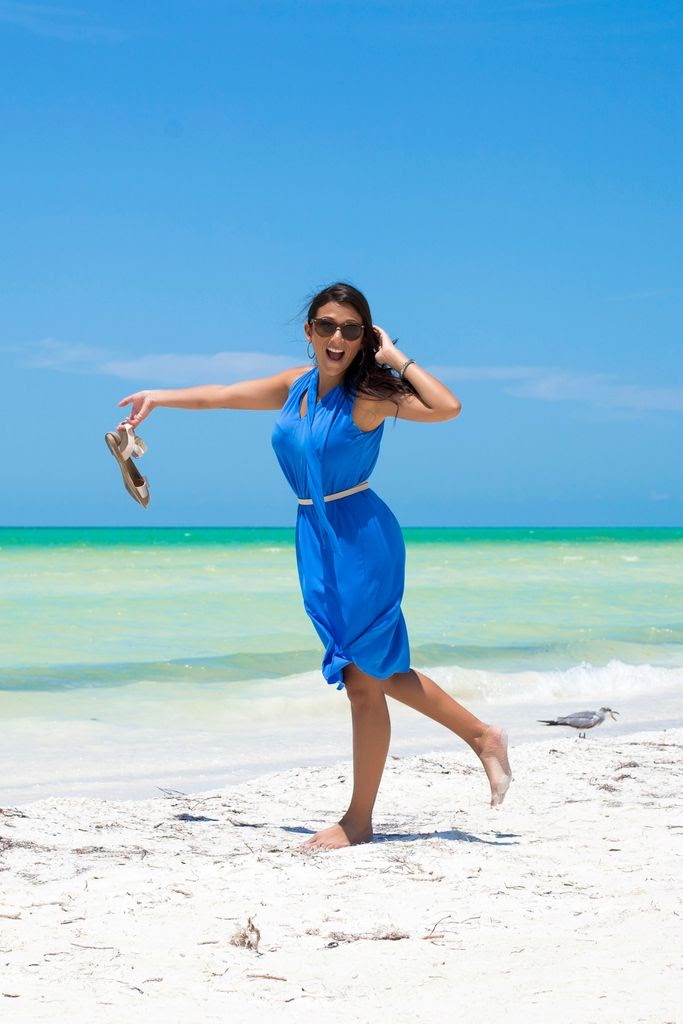 Wear it to a wedding, brunch with the girls, or a girl's shopping day around town at home. On a trip, it makes the ideal packable dress that will make you feel feminine anywhere you go.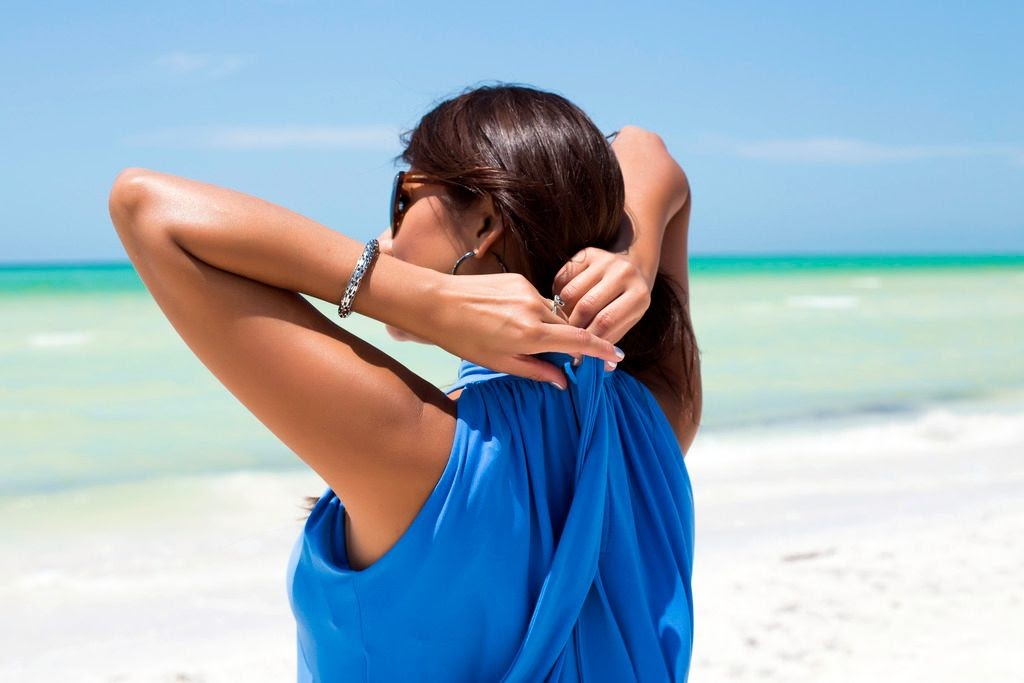 And the best part? It's reversible and you don't need a room to change the look. Turn it around and tie a knot at the back of your neck for a different style. Two for the price of one – bonus!
And, because it's a "reversible" clothing item that is not double-sided – you don't have to worry about adding unnecessary bulk to your luggage. Packing light made easy.
Want more advice on packing light? Download our Pack Light Stylishly ebook for packing strategies for carry-on travel around the globe.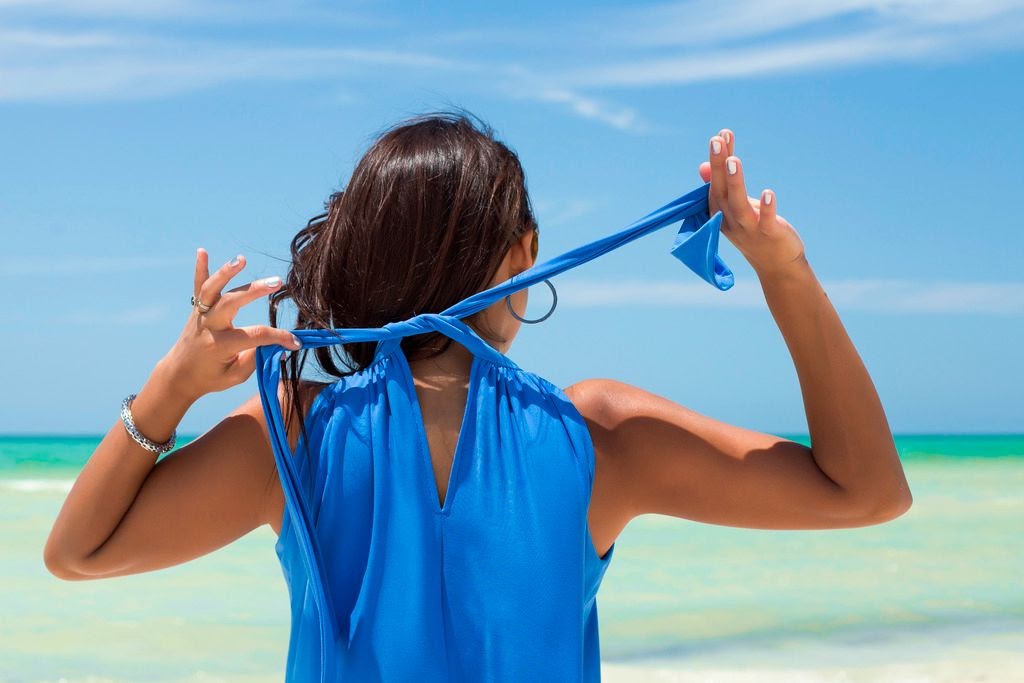 The Sabi Reversible Dress doesn't include a matching belt, but I never like to use them if they are provided. It's much better when you can use your own accessories to add a personal touch. (Plus, choosing belts that don't match the fabric of a dress are considered an easy way to upgrade the look, no matter what the price point.)
Helene styles the dress without a belt, but I like adding one to accentuate the waist. However, it was also nice to change it up and wear it in a more relaxed way belt-less.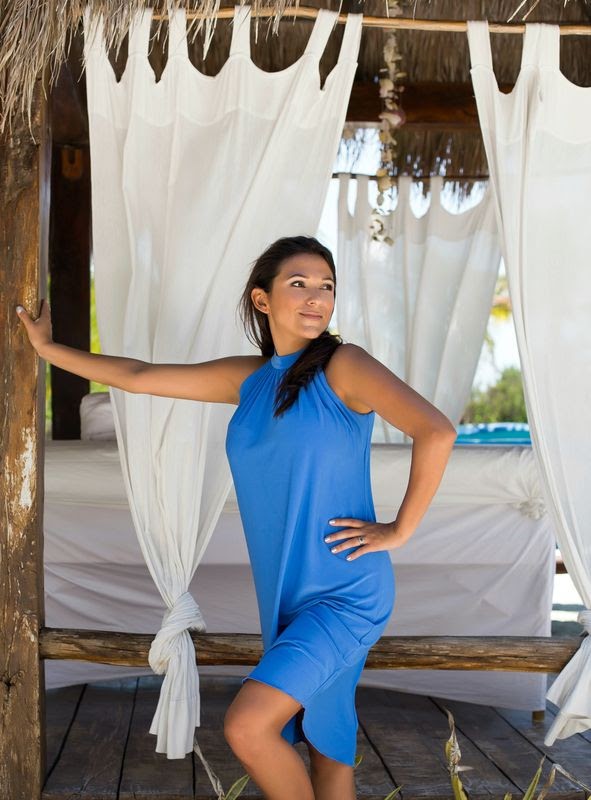 One thing to note is that Helene Clarkson's dresses and skirts provide adequate coverage for women's legs. I'm 5'2″ and it fits just below my knee, so I'd need to hem it to make it more flattering for my height.
This does depend on your comfort level, though. If you prefer more coverage, you've got it. If you want less, you can easily just hem it. It's nice to have the option.
The key to packing light is to use packing cubes to compress your clothing as shown in this video!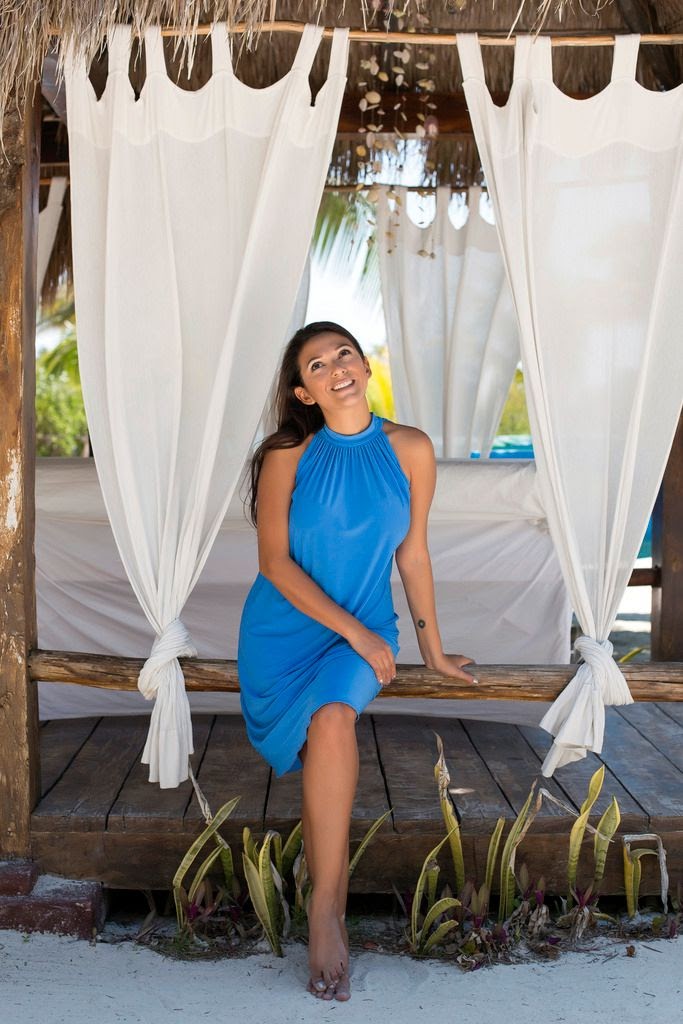 Love the neckline!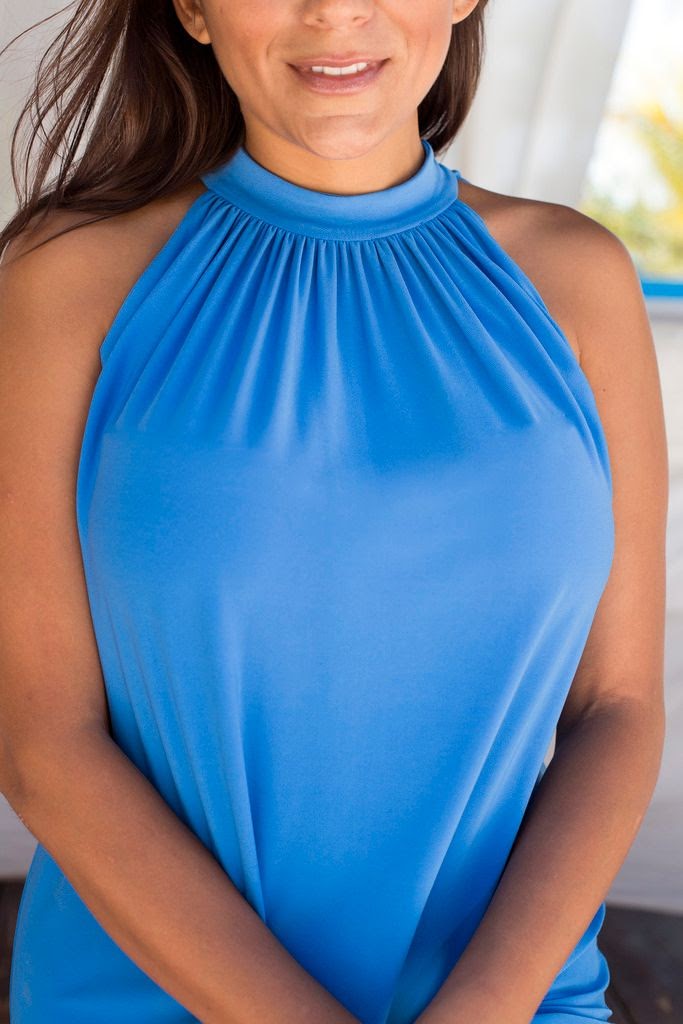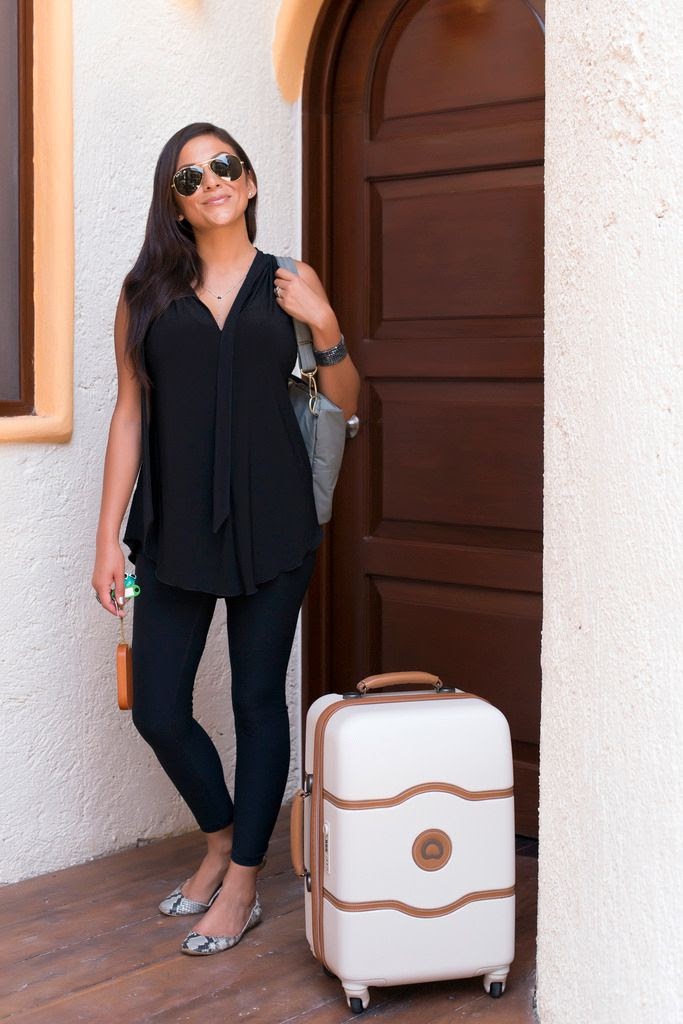 Sabi Reversible Halter / Leggings / Backpack / Suitcase / Flats / Necklace
Reversible Shirt
The Sabi Reversible Halter makes a great addition to your travel wardrobe. Similar to the Sabi Dress, you get two tops in one. The plus about these reversible clothing items is that you get versatility without the bulk of double-fabric. Wear it as your airplane outfit for a long travel day or pair it with a skirt for a lovely dinner.
One of the things that really stand out about all of Helene's tops is their length. She aims to provide adequate coverage for a variety of body types, and I can definitely appreciate a longer length to pair with leggings!
Check out our readers' picks for the best leggings for travel!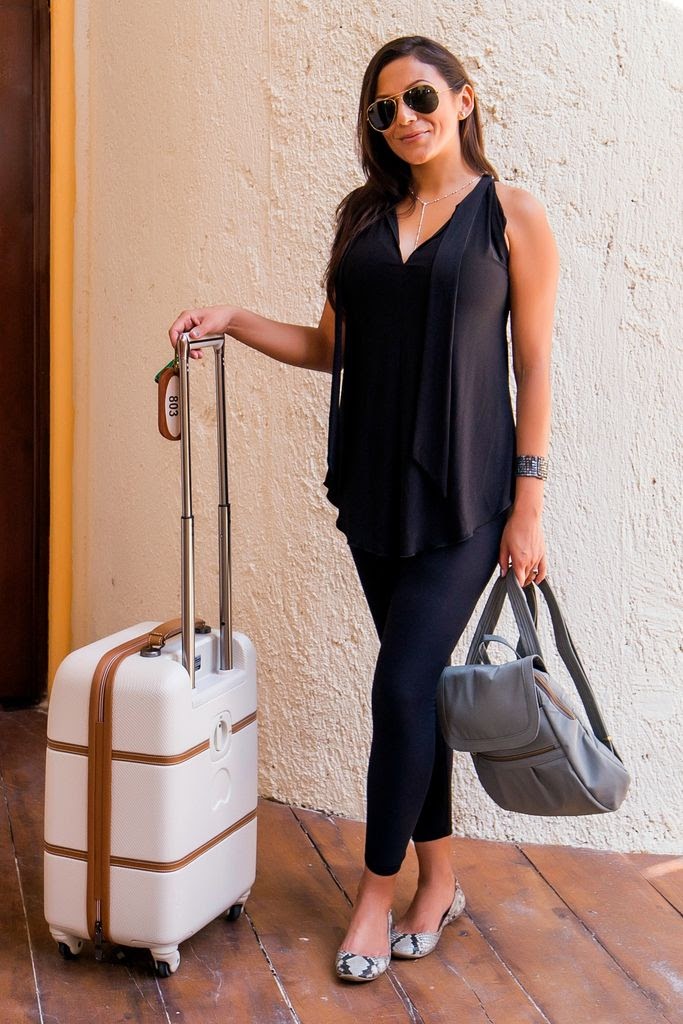 The top is meant to be tied at the base of the neckline or it can also be tied a bit higher at the collar line. I love a good old fashioned V-neck, so I let the ties hang loose on both the Sabi Halter and Dress. (Plus, I loved the necklace I was wearing and wanted to show it off!)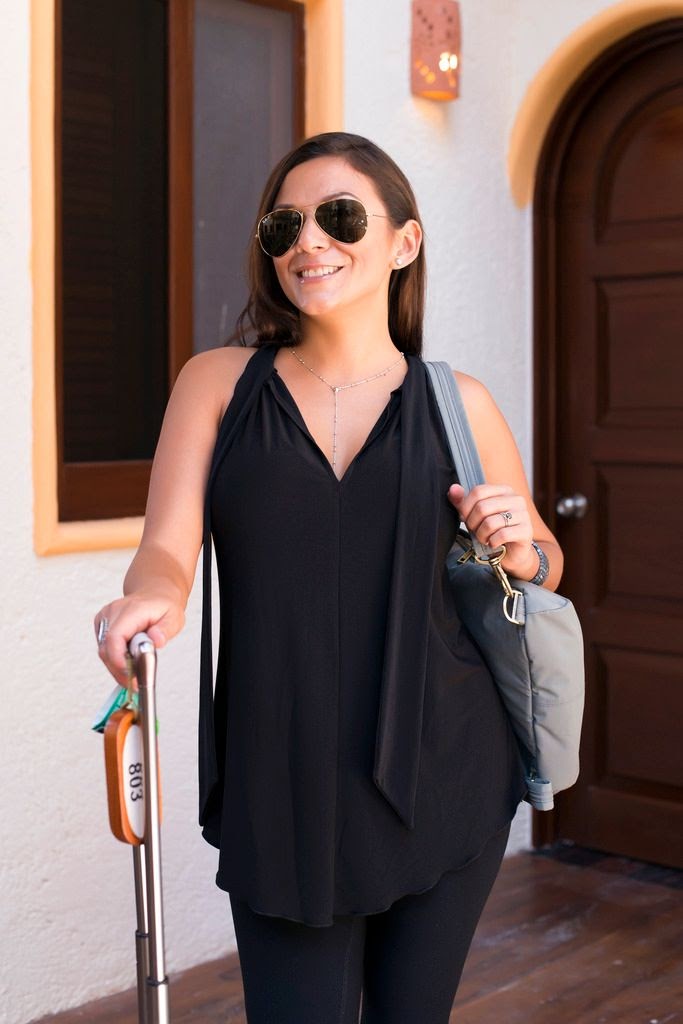 I actually preferred the other side of the Sabi Halter (shown below), and to be honest, I'd buy the top with this design even if it wasn't reversible. I love the cut and how it accentuates your shoulders.
I like the way Helene styles the top with this reversible skirt. From office to dinner, you can create EIGHT unique outfits with just two pieces of reversible clothing for travel!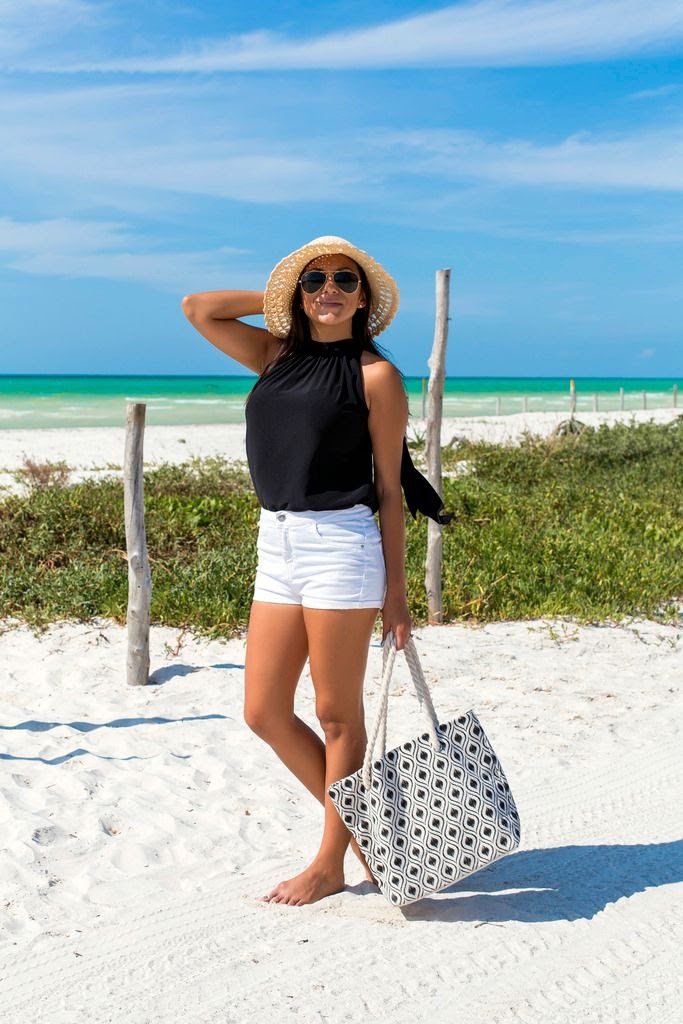 Sabi Halter Top / Shorts / Beach Bag / Packable Sun Hat
I especially loved the versatility and that I could wear it at the beach for a dressy casual look, but I could also dress it up at night. The higher neckline has a sophisticated cut without looking out of place on the sand.
It's suitable for a resort, beach, or cruise vacation. You could even wear it for business, city, and general leisure travel.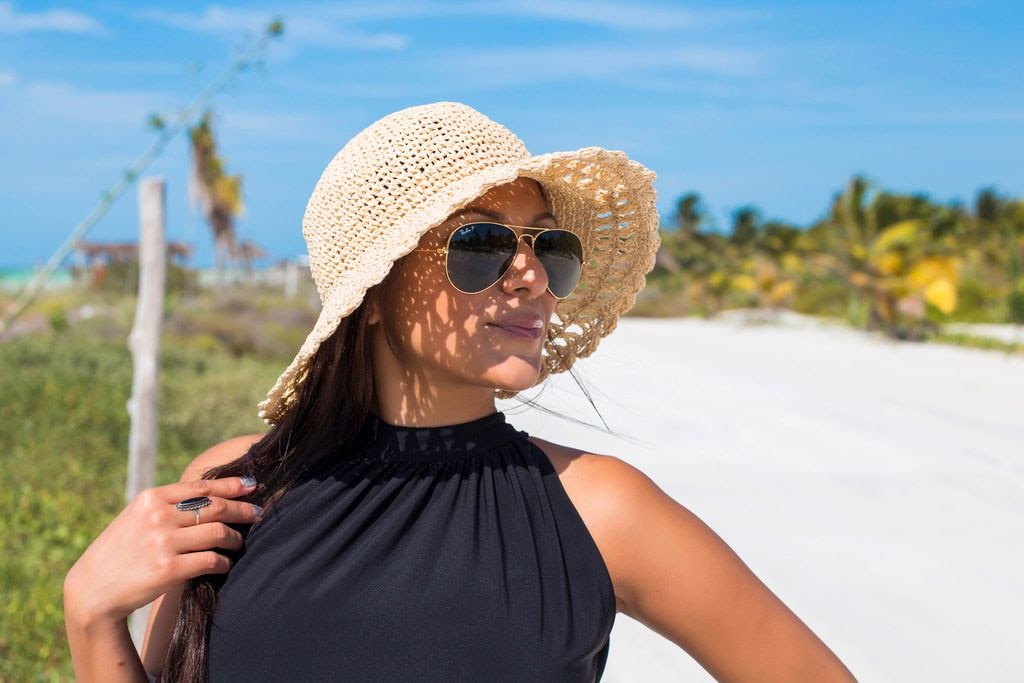 Even though the fabric easily transitions from day to night, it truly doesn't look out of place in either setting, because it's matte and doesn't have a sheen as I've seen with other brands' pieces. The fabric is a super soft knit jersey that's comfortable, yet doesn't look casual like modal.
Helene also offers a 3/4 sleeve style that's perfect for travel in moderate weather, such as autumn and springtime. It's called the Oulu Reversible Top, and you can read my full review here!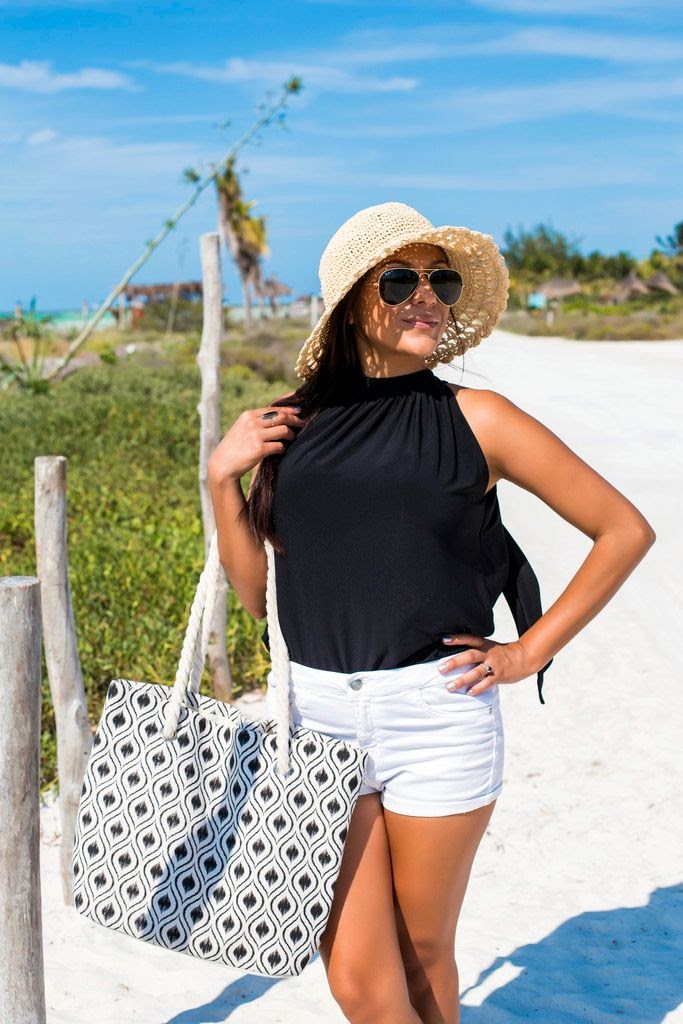 Is It TFG Approved?
Yes! By combining one of Helene Clarkson's reversible tops with one reversible skirt you can create EIGHT unique outfits with just two pieces of clothing! Add a reversible dress and that's up two 12 outfits with just three pieces of clothing!
There's no doubt about it. This reversible clothing for travel is TFG APPROVED.
Remember, comfort doesn't have to look sloppy, and versatility doesn't have to be gimmicky. Helene Clarkson knows how to do comfort and versatility with first-class style!
And don't forget, prices on their website are listed in Canadian dollars so if you're shopping from the US, this means it's about 25% off for you due to the exchange rate! Prices based on rates as of February 2019. Shop now!
---
Read PART 2 of my review of vacation wear for women!
Do you use reversible clothing for travel? Share your thoughts in the comments!
---
For more women's travel clothing, please read:
---
LIKE THIS POST? PIN THIS PIC TO SAVE IT!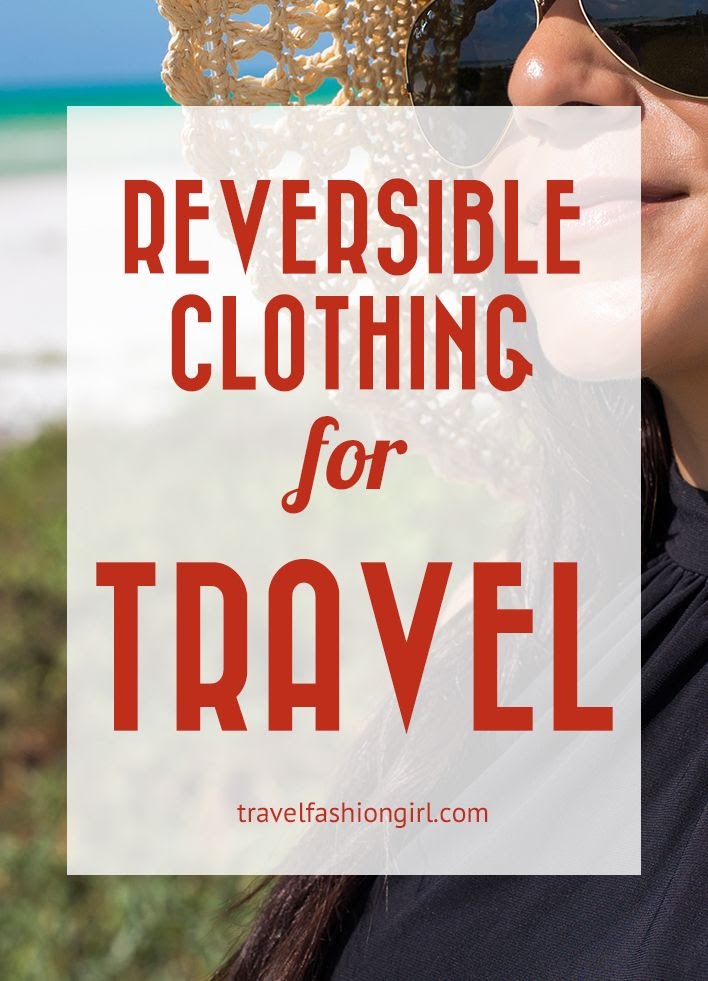 ---
Hope you liked this post on Helene Clarkson's reversible clothing for travel. Please share with your friends on Facebook, Twitter, and Pinterest. Thanks for reading!
---
Please note: This has been a product review on behalf of Helene Clarkson. However, all opinions are my own.