Support TFG by using the links in our articles to shop. We receive a small commission (at no extra cost to you) so we can continue to create helpful free content. As an Amazon Associate, we earn from qualifying purchases made on Amazon in addition to other retailers featured on the blog. Thank you, we appreciate your support!
In Part 1 of this post I told you about Helene Clarkson's awesome reversible pieces. Well, she offers much more than just reversible clothing for travel. Her line consists of pieces that are all versatile, easy-to-wear, sophisticated, AND functional, too.
I'm very impressed with her spring/summer collection so I've split this review into two parts. This is PART 2 and you can read PART 1 here! Make sure to scroll down for your exclusive TFG discount!
Keep reading to find out more about her vacation wear for women!
---
Vacation Wear for Women
---
Table Of Contents
Whether traveling to a neighboring city or across the pond, Helene Clarkson pieces have multi-wear possibilities that are versatile, comfortable, and transition from day to night.
Mix and match them, flip them and reverse them. They're the basics that help create the core of the best travel wardrobes. They're made for jetsetters that want a flawless selection of vacation wear for women that will take them to any corner of the globe.
Her designs are anything but boring while providing maximum versatility, comfort, and quality.
This Canadian brand specializes in super soft knit jersey fabrics that are not just practical but flattering on any figure.
As a major bonus: all her clothing is machine washable. Smart travelers know that the key to packing light on long trips is to wash clothing and Helene makes this task easy.
They're also wrinkle-resistant. When you're on the go the last thing you want to do when you arrive at your destination is spend time ironing all your garments, especially if you're on a fast paced trip or organized tour.
Prices on their website are listed in Canadian dollars so if you're shopping from the US, this means it's about 30% off for you due to the exchange rate! Prices based on rates as of May 2016.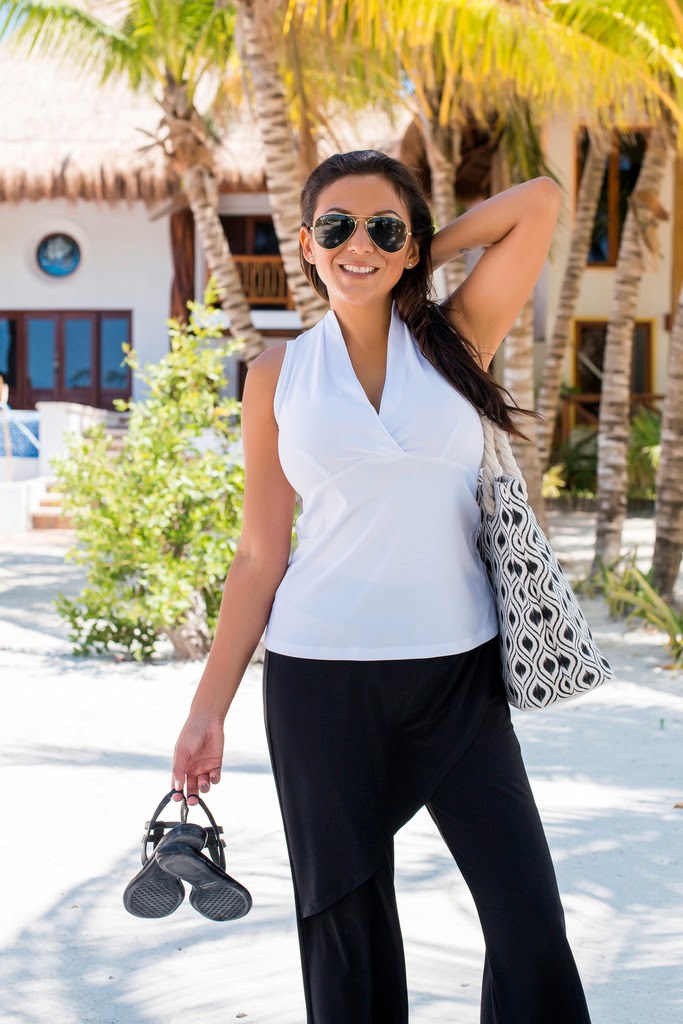 Kerry Tank Top | Narita Cropped Pants | Beach Bag
The Kerry Tank Top
I can't tell you how much I LOVE collarless tops so when I saw the Kerry Tank Top, I couldn't wait to check it out! I can't quite explain why but collared shirts are one of those items that I've cut out from my wardrobe. Because button ups collared shirts happen to be one of the most versatile travel tops, I've replaced them all with collarless styles.
In this case, I couldn't be happier with the fit of the Kerry. Appropriate for business to leisure, the top was sophisticated without being overly complicated for general travel.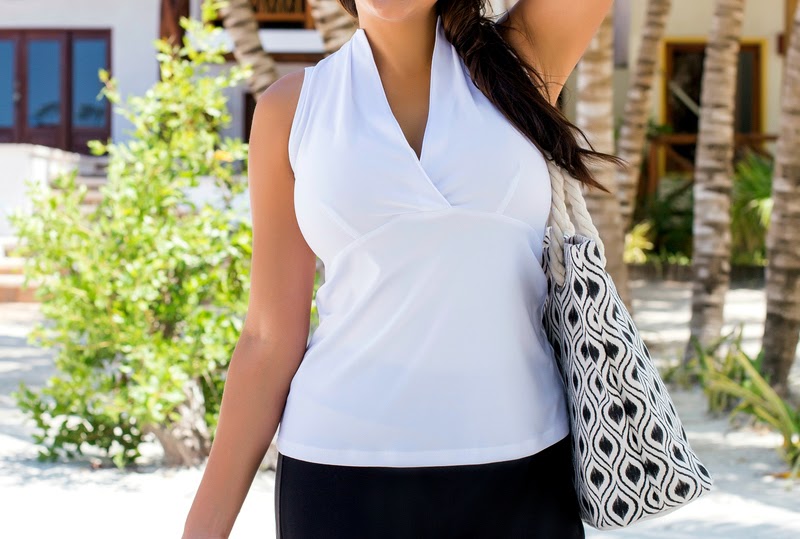 I'm always a bit hesitant to travel with white clothing and was worried that the material of this top would be too see-through. However, by wearing the right undergarments underneath, you can avoid the need to wear an undershirt. This general rule worked for this tank so there was no issue at all with the material.
To seamlessly wear white clothing, you should always wear nude (or the color closest to your skin tone) bras and underwear. I can't tell you how many times I've seen a women's printed panties underneath white pants. Awkward.
Play it safe. Wear a versatile "nude" bra instead.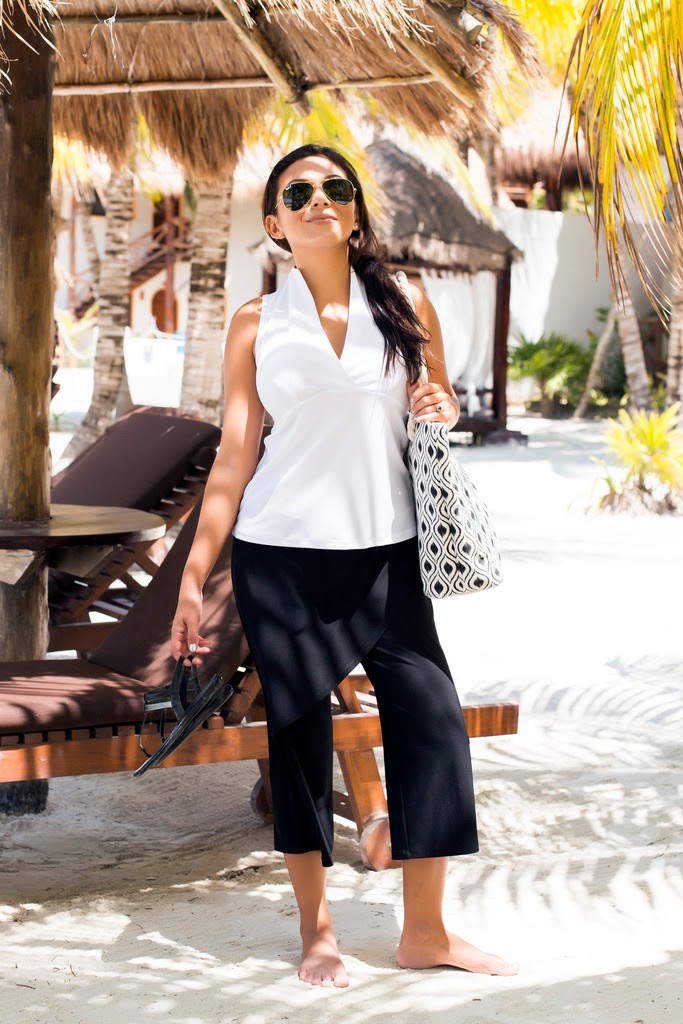 One of the things I appreciated about this top is where it fell on my torso. It was a good length to provide adequate coverage in this area and if you're taller than me (I'm 5'2″) it will probably fall perfectly at your waist. Helene Clarkson does a great job designing clothing made for a real woman.
There's only one thing I would change about the Kerry: I wish the neckline was about an inch higher. Anyone larger than a natural C cup might have a bit more cleavage on display than they might like. It all depends on your comfort level.
Note: I adjusted the top to keep the images a bit more PG. However, my husband did say he thought the top was sexy so maybe the deep v-neck might have something to do with it!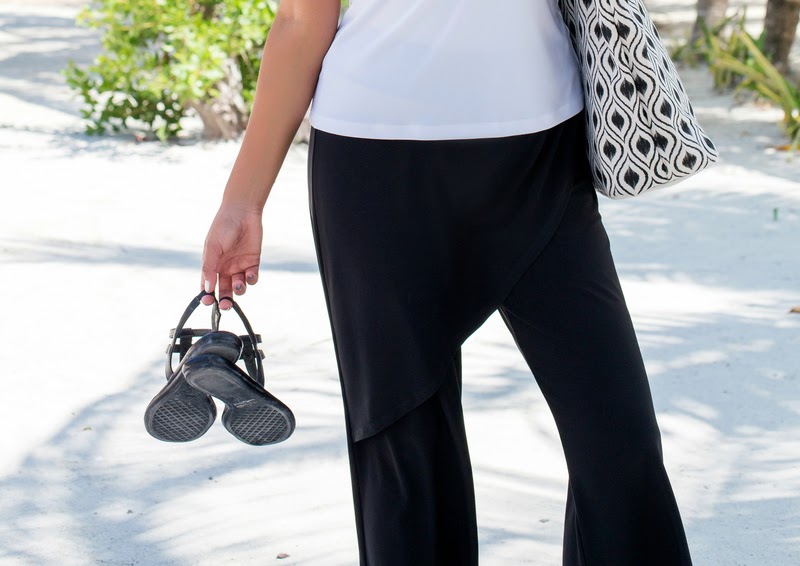 Narita Cropped Pants
I have to tell you the absolute truth. The Narita Cropped Pants were not my first choice in travel wear. For my height I didn't like the idea of cropped, relaxed fit pants. However, once I wore the above outfit I realized how comfortable and attractive I felt with them on. The pieces are effortlessly elegant.
When my husband actually commented on my outfit (he never comments on my clothing) I was absolutely shocked. He liked it and thought I looked sexy.
Seriously? Didn't expect to get that response with a relaxed look like this one but hey, needless to say, his opinion sealed the deal. If he liked the look that was the only seal of approval I needed. Wink!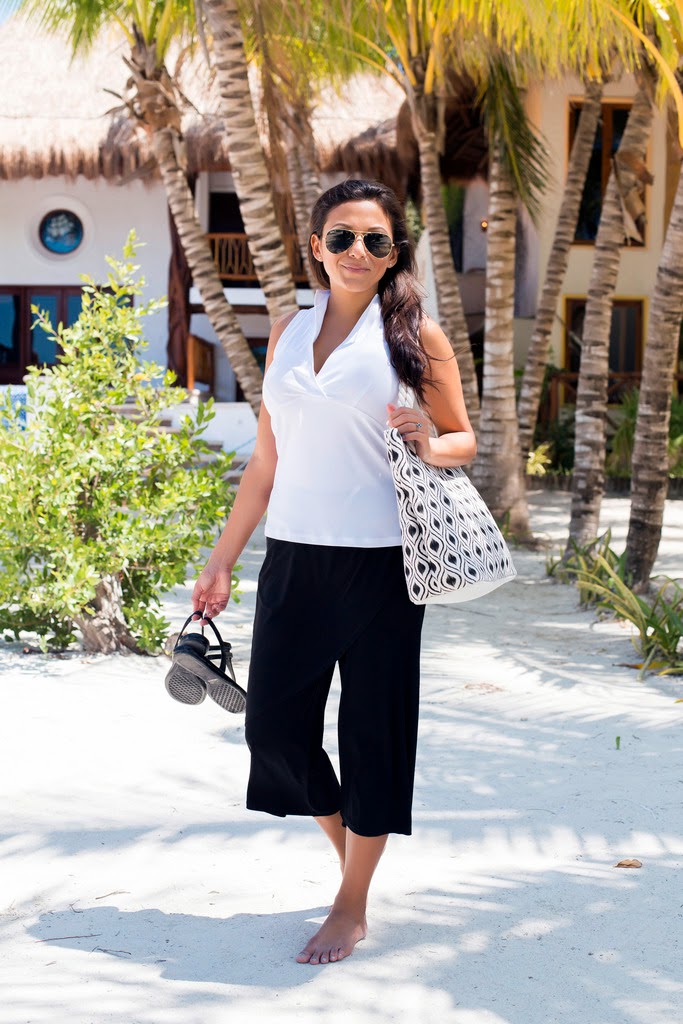 One of my friends also commented that the combination of the Narita cropped pants with the Kerry top was sophisticated and I have to agree. I was worried the clothing would feel out of place on a beach but in fact, it was totally chilled out and comfortable.
I can't even express the level of comfort I felt in these pants. The skirt detailing added a dash of boho appeal, which felt like a chic version of fisherman style pants with the added benefit of having a more polished appearance.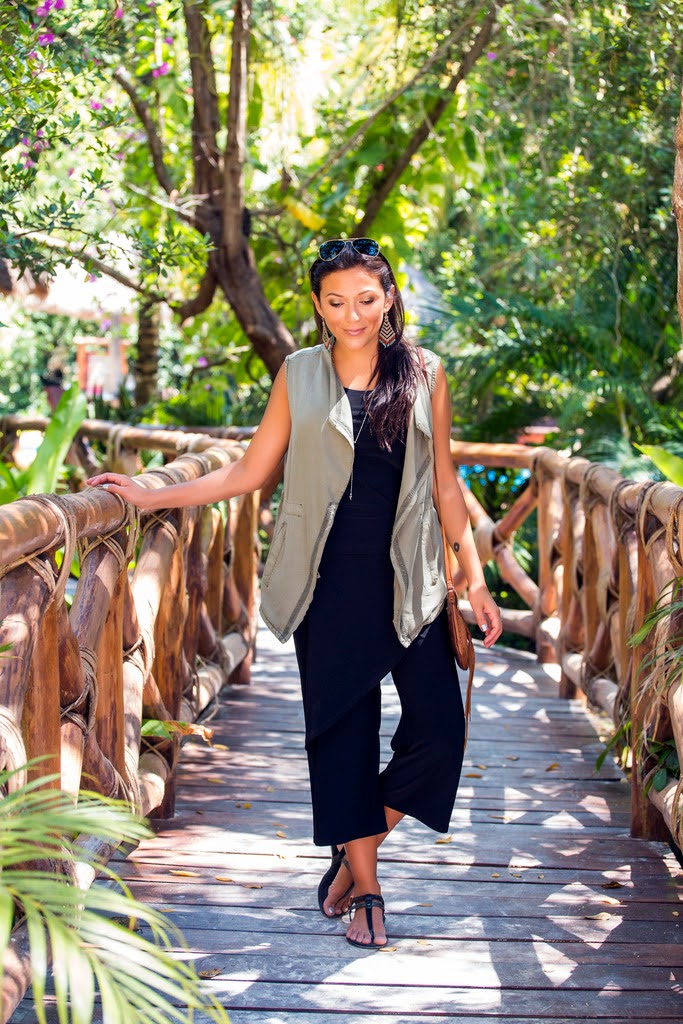 Arika Tank Top | Narita Pants | Sandals (similar) | Vest (similar)
Arika Tank Top
Another new piece for the season is the Arica Tank Top – bra-friendly, versatile, AND REVERSIBLE tank top you can wear with anything.
It's a reversible top so you can wear it as a crew neck or scoop style and wear it alone or layered under other clothing. Everyone has to have a basic like this in their wardrobe.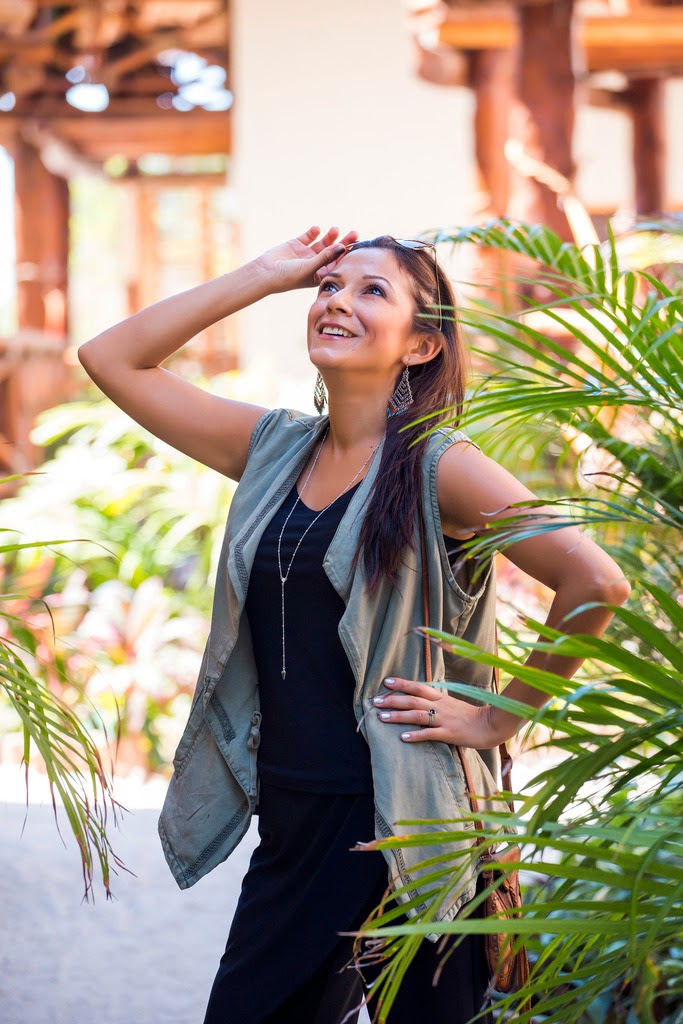 Female Travelers love Helene Clarkson!
Based on my original review, a few readers added Helene Clarkson's designs to their travel wardrobe and this is what they said:
"I bought some Helene Clarkson (HC) items and have since gone back and bought more! I fly carry-on only, and HC items are genius for business and urban travel! They save so much room in the carry-on that I now have room for my workout clothes so I have no excuse not to work out when on the road!"
"I have the Sabi halter top and love it. I have been eyeing the dress above – might have to get it now!"
"I just watched a youtube video where Helene Clarkson packs 8 pieces for a 5 day trip & she mentions Alex's review of her Oulu turtleneck. Such fabulous pieces!!"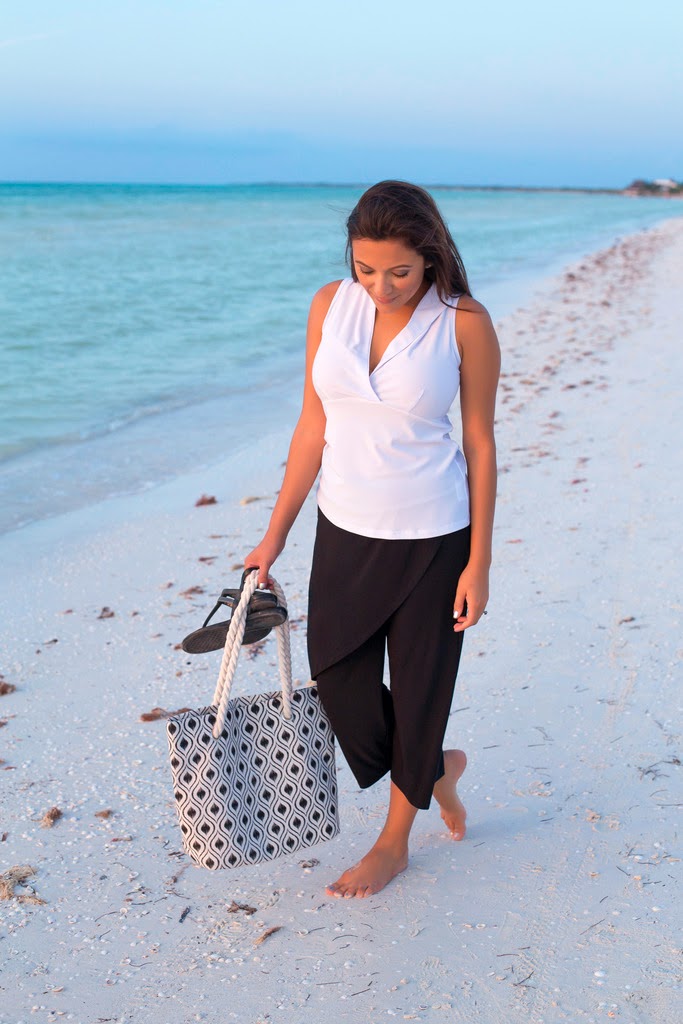 Is it TFG Approved? YES!
It's easy breezy yet elegant vacation wear for women! Comfort doesn't have to look sloppy and versatility doesn't have to be gimmicky. Helene Clarkson knows how to do comfort and versatility with first class style!
And don't forget, prices on their website are listed in Canadian dollars so if you're shopping from the US, this means it's about 30% off for you due to the exchange rate! Prices based on rates as of May 2016. Shop now!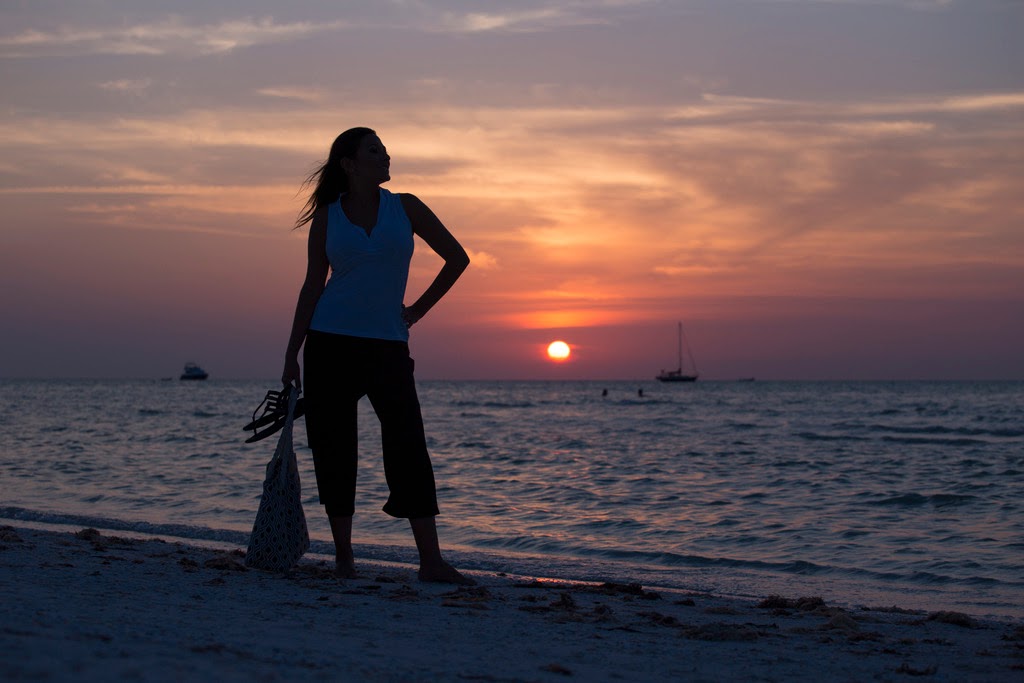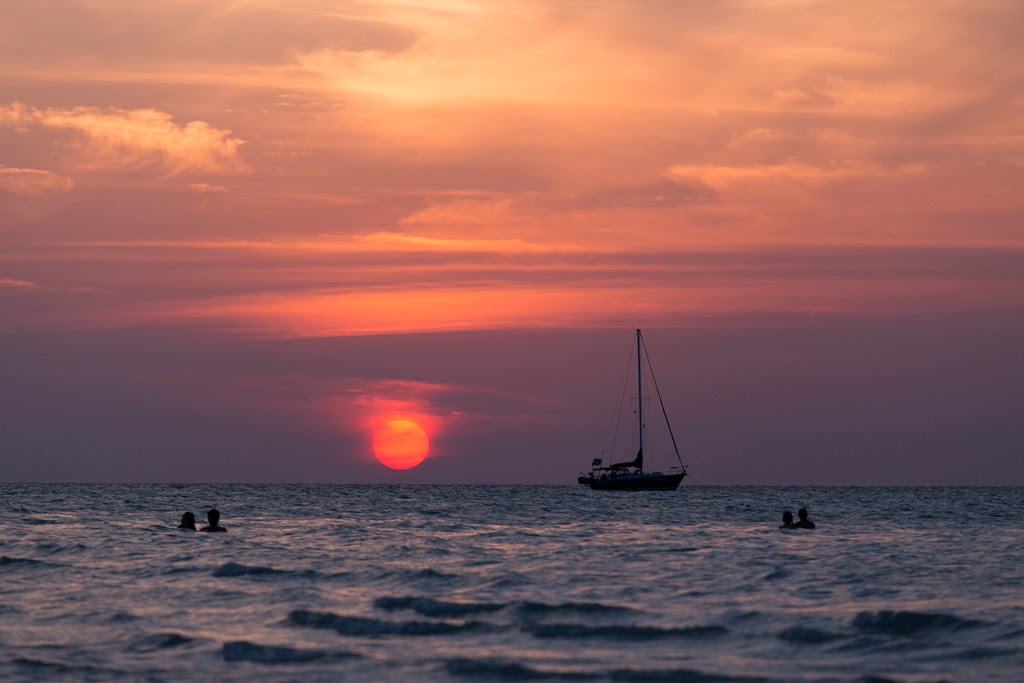 ---
Use the discount code TRAVELFASHIONGIRL to claim your exclusive 10% discount off the entire Helene Clarkson collection! (Offer expires May 31, 2016) Read PART 1 of this review here!
How do you find a balance between comfortable and stylish vacation wear for women? Share in the comments!
---
For more womens travel clothing, please read:
---
LIKE THIS POST? PIN THIS PIC TO SAVE IT!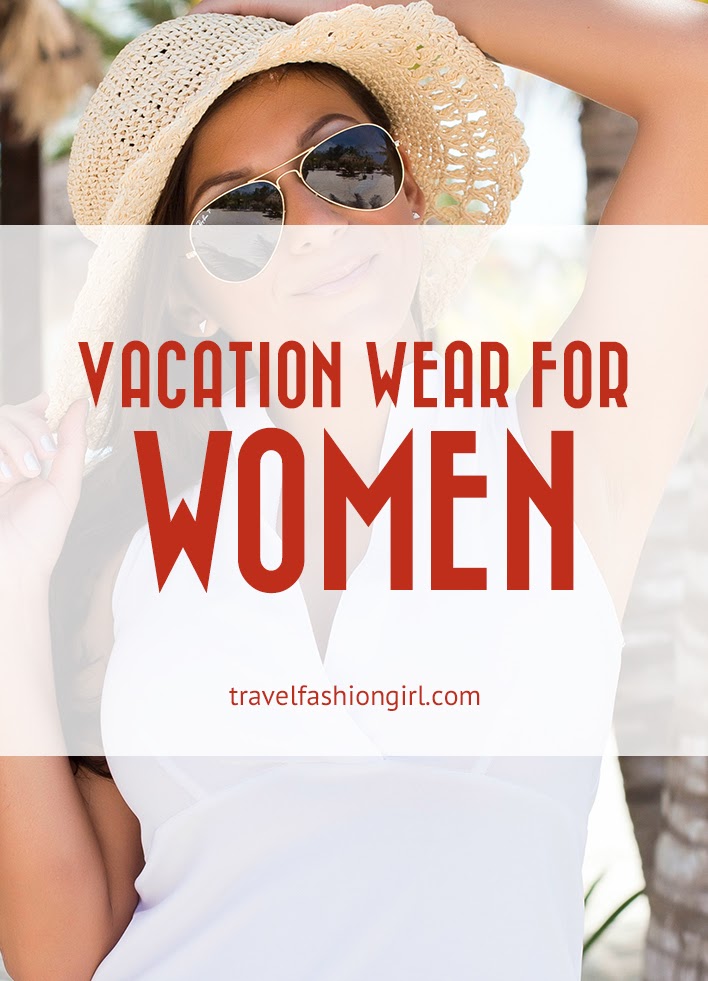 ---
We hope you liked this post on Helene Clarkson vacation wear for women. Please share with your friends on Facebook, Twitter, and Pinterest. Thanks for reading!
---
Please note: This has been a product review on behalf of Helene Clarkson. However, all opinions are my own.
---