Support TFG by using the links in our articles to shop. We receive a small commission (at no extra cost to you) so we can continue to create helpful free content. We earn from qualifying purchases made to the featured retailers. Thank you, we appreciate your support!
There are four to six clothing items that create the core of the perfect minimalist travel wardrobe. Find out what they are and how to wear them!
For our complete guide, read our Minimalista Packing List!
---
Minimalist Travel Wardrobe
Written by: Nina Thomas
---
Table Of Contents
If you're not a minimalist regularly, you tend to become one when you travel. The ideal jetsetter style is simple and chic. Basic patterns and solid colors can be perfect for travels, and many of these timeless pieces can be used for years.
Many minimalist clothing styles are based on standard pieces that you may already own, but if you don't, they would be a worthwhile investment.
In order for these pieces to work flawlessly, make sure to get them tailored to fit – no scrunched up fabric at your ankles or blouses with bulging buttons. Good, properly fitting undergarments also help create a seamless look.
Items such as a classic white button down, solid black pants, a little black dress and a trench-style coat are simple and sophisticated and go with almost anything. They can be worn and re-worn throughout many trips.
The secret to traveling light is to use packing cubes to help you organize and even compress your belongings to maximize your space.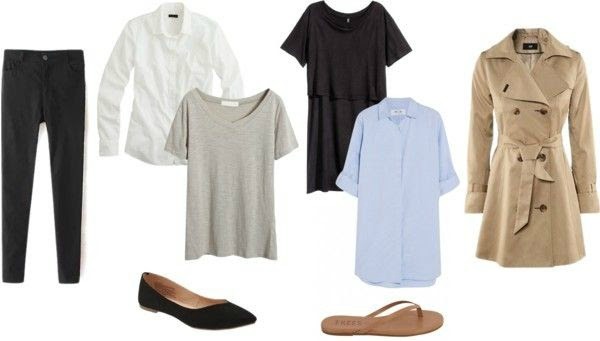 Trench Coat / Oversized Shirt / T-Shirt Dress / Basic Tee / White Shirt / Stretch Jeans / Flats / Sandals
The combinations for these clothing staples are endless, and would be sure to go with any kind of jewelry, purse or scarf. Here are some outfit ideas for this stylishly chic minimalist travel wardrobe!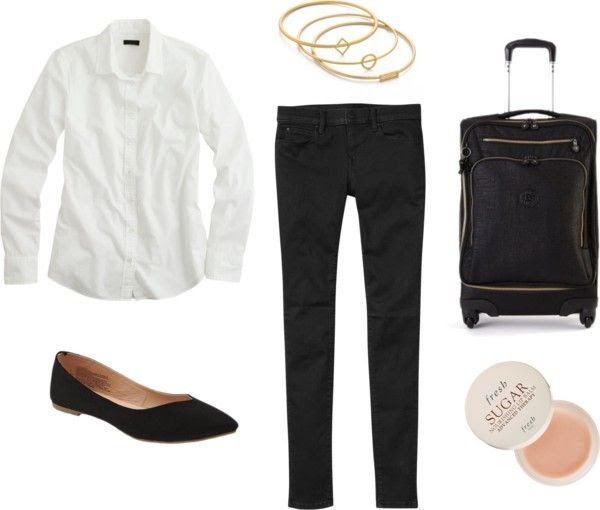 Longsleeve Shirt / Super Stretch Legging Jeans / Carry-On Luggage / Ballet Flats / Lip Balm / Bracelet
Airport Style
Airport style can be easy and simple with a classic white blouse, black pants and black flats. This would be an ideal outfit for a weekend break or a business trip.
The outfit is crisp and clean and would be appropriate for almost any occasion. You're ready to step off the plane and start sightseeing instantly.
For more flight style, check out these real people airplane outfit ideas from Europe!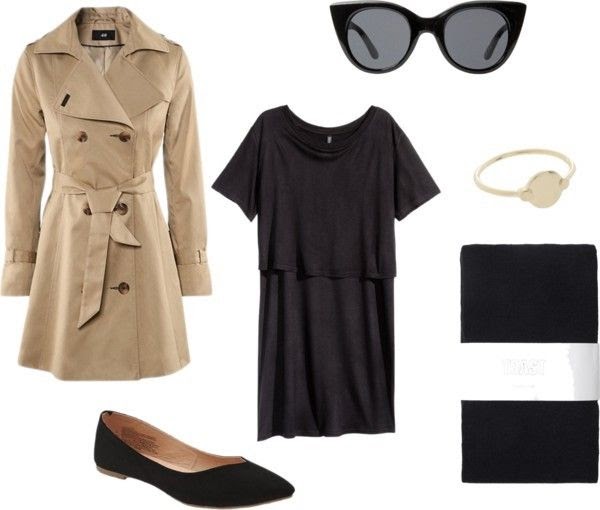 Trench Coat /  T-Shirt Dress / Ballet Flats / Ring / Tights / Sunglasses
Presentable and Classic
With this type of style, you don't really have to be concerned with underdressing or overdressing. You look classic, without having to worry about standing out.
A simple black dress is perfect for a range of weather, and you can layer a pair of black merino wool tights as the temperature drops. A trench coat is great for shoulder seasons (especially rainy springs), and pairs with any color including black and white.
Take a look at some of the most cute and comfortable ballet flats!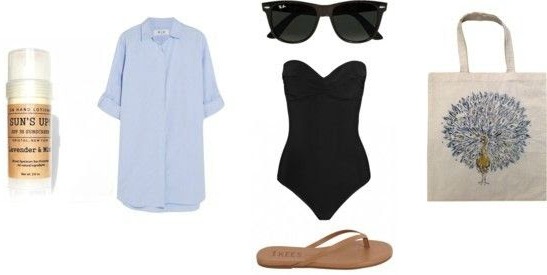 Oversized Shirt / Swimsuit / Polarized Sunglasses / Peacock Tote / Sunscreen / Sandals
Heading to the beach, you can't go wrong with a feminine black one-piece that is flattering and provides just the right coverage. All you'll need is some sunblock and a simple fold-up canvas bag that fits in any suitcase.
A button-up shirt dress will work well for a cover-up and can be used over pants or with a belt as another clothing option on the trip. You won't need to bring a lot of separate items if you're going on a simple beach vacation.
Take a look at these packable beach bags!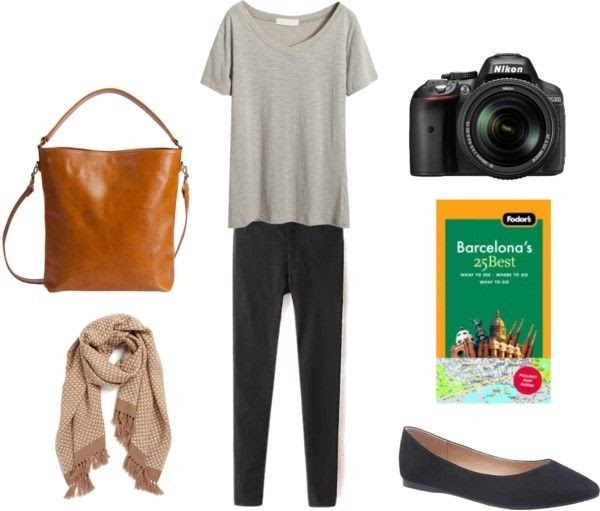 Basic Tee / Stretch Jeans / Camera /  Ballet Flats / Scarf / Travel Guide / Crossbody Bag
Relaxed and Comfy
Keep it simple when sightseeing with a comfy t-shirt, pants, flats and a cross-body bag big enough for your guidebook, camera and bottled water. An oversized scarf is great to keep with you for evenings or when you're wandering the corridors of a chilly cathedral.
Avoid a sloppy appearance or looking overly casual by choosing quality items with a tailored fit!
Here are more popular cross body purses for travel!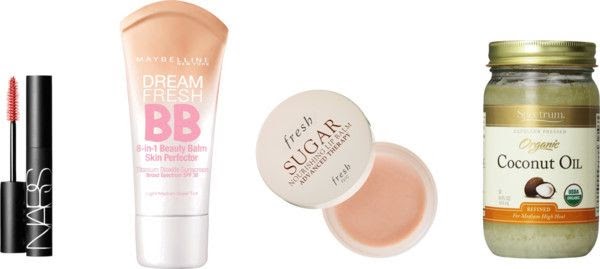 Mascara / BB Cream / Lip Balm / Coconut Oil
Beauty Tips
When you're outfits are simple, you can keep your beauty routine simple as well. These looks don't require a lot of bells and whistles, so make-up essentials such as lip gloss, mascara and a tinted moisturizer work great.
Of course you can bring other items, but I would recommend determining your bare essentials and just packing those. With this minimalist travel wardrobe, you won't need a whole lot to look chic.
Need a bit more makeup? Read the beauty junkie's guide to minimalist travel makeup kit!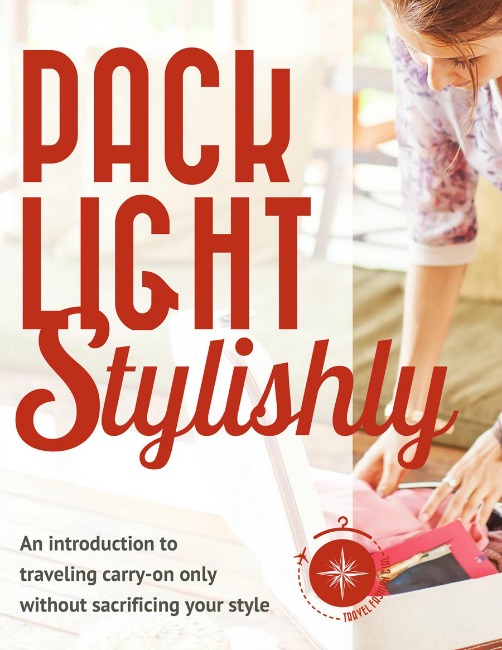 Need help creating a capsule wardrobe?
Savvy travelers know that a capsule wardrobe is the secret to traveling carry-on only. Pack Light Stylishly is our eBook that shows you exactly how to make a functional yet stylish capsule wardrobe for travel.
Learn more about Pack Light Stylishly here!
---
If you select your items carefully, you don't need a lot to look and feel great. Consider bringing some of the classic staples already in your closet and mix and matching them throughout the trip. Need help with the concept of a capsule wardrobe? Read Pack Light Stylishly!
What staples do you have that add to your minimalistic travel wardrobe?
---
For more packing tips, please read
---
LIKE THIS POST? PIN THIS PIC TO SAVE IT!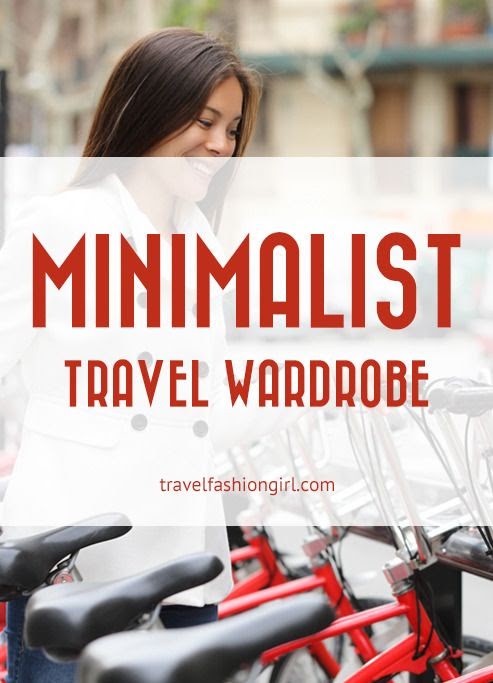 ---
We hope you liked this post on a minimalist travel wardrobe. Please share with your friends on Facebook, Twitter, and Pinterest. Thanks for reading!
---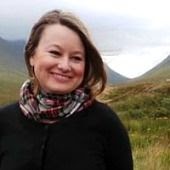 Author Bio: Nina Thomas is constantly looking for a beautiful view and a good adventure. Her travel highlights include horseback riding in the Ecuadorian Andes, hiking on top of Mount Etna in Sicily, and sheep-gazing in the Cotswolds. For more practical travel tips and ideas from a Central Ohio Girl, check out  Traveling with Nina or follow her on Twitter.
---