Support TFG by using the links in our articles to shop. We receive a small commission (at no extra cost to you) so we can continue to create helpful free content. We earn from qualifying purchases made to the featured retailers. Thank you, we appreciate your support!
Ever flown Europe's budget airlines? They have tighter baggage restrictions than the US. Find out how I managed to pack carryon only and how you can, too!
---
How to Pack for Europe's Budget Airlines
---
Flying carry-on with Europe's budget airlines is no ordinary experience. When they say 1 piece carry-on only they mean ONE item – no handbag, no suitcase, nada – so figuring out how to pack for Europe can be quite challenging especially in the winter months.
I recently traveled with RyanAir from England to Spain and instead of getting a reminder email telling me about my flight, their email was to reemphasize the RyanAir baggage policy and their rigid airline travel rules:
Whatever you bring onto the plane, it must fit into a single bag fitting dimensions smaller than the average airline: 55 cm x 40 cm x 20 cm. (This post was written in early 2013 so please check with the airline to learn their up to date baggage info.)
Unlike other airlines that allow you one carry-on luggage and one personal item, they only allow one single bag including your purse, laptop or anything else you like to travel with.
Traveling carry on with other airlines is normally no big deal. With a good packing strategy and the aid of packing cubes you can easily fit all of your belongings in a carryon PLUS your one personal item – not with Ryan Air.
It was challenging to squeeze everything in but I did it in this Marmot 35 liter backpack. I opted against my usual Osprey Farpoint Backpack in fear that it would be a few centimeters too long and with the 60GBP fee looming over my head, I didn't want to take any chances.
However, there were two major factors that heavily affected my packing choices:
It's freezing COLD
I need business clothes
So how do you manage to pack a diverse set of winter plus business clothing into one carry-on bag – I'll show you!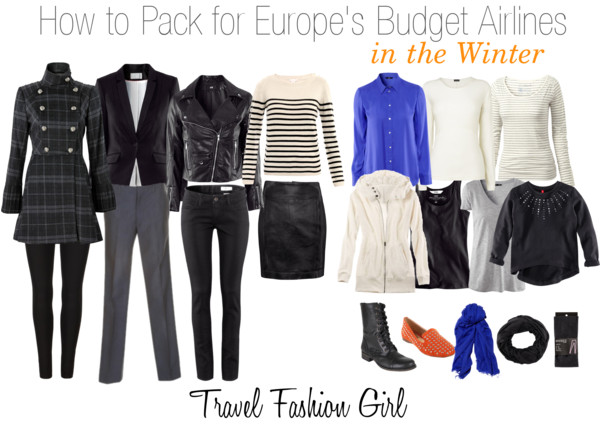 Traveling Carry-on in Europe
Activities: Business, Sightseeing, Nightlife, Dinners
Because my activities during this particular trip were going to be more diverse, when planning how to pack for Europe, I decided to bring an assortment of basics that I could mix and match according to my mood and my destination.
Versatility is key to a capsule wardrobe. Learn more in my guide!
Packing Strategy
I used my slim packing cubes along with the 12 Piece Classic Packing List inspired by the travel outfits from the Business Trip Packing List.
These proved to be quite generous, even with winter clothing! Most of my clothing was thin material and not specifically chosen for practicality – I packed 2 leather items plus jeans and still managed to fit all my clothing in just two cubes. I used the third cube for my undies, socks, thick tights, and scarves. You can really cram so much into these little cubes!
The thing with winter, if you want to diversify your travel wardrobe then it's better to pack thinner clothing that you can layer instead of a few heavy bulky pieces – and layering I did!
Admittedly, packing light with only a dozen or so items for Winter travel isn't ideal, but it is possible for those looking for minimalist packing options.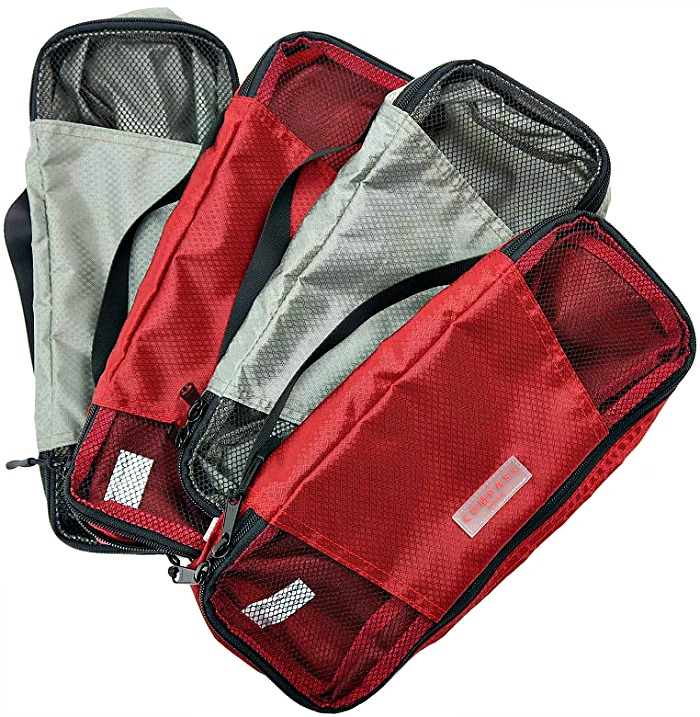 Using Packing Cubes to Pack
Please note: all my clothing is black because of my personal color preference, I'm not suggesting you pack the same color story if it's not your style. Below you will see how I separated the clothing including what I packed inside the packing cubes and what I wore on travel days.
First Packing Cube
1 Leather Jacket
1 Short Sleeve Top
2 Sweaters
2 Long Sleeve Tops
Second Packing Cube
1 Leather Skirt
1 Jeans
1 Button Up Shirt
1 Blazer
Third Packing Cube
3 Socks
6 Undies
1 Bathing Suit
1 Tights
1 Scarf
Travel Outfit  (for transportation days)

1

Travel Pants

1 Leggings
1 Short Sleeve Top
1 Long Sleeve Top
1 Tunic Hoodie
1 Coat
1 Scarf
Total Clothing: 8 Tops + 4 Bottoms + 3 Jackets = 15 Pieces of Clothing
I always pack a bathing suit because even if you don't use it for swimming, you can always use it as a backup underwear/bra set. I opted against a dress and only brought one statement skirt I could dress up or down. I wore my combat boots on the plane and packed a pair of funky flats.
---
With a little careful planning, how to pack for Europe's budget airlines isn't an impossible task. Take that RyanAir and your super strict baggage policy! 
What are your packing tips for traveling Europe's budget airlines?
---
More Europe posts:
Suggested Travel Resource:
Please read our Ultimate Packing List for Europe!
---
Hope you enjoyed this post on how to pack for Europe's budget airlines. If you enjoyed the post please share it with your friends on Facebook, Twitter, or Pinterest. Thanks for reading!
---