Support TFG by using the links in our articles to shop. We receive a small commission (at no extra cost to you) so we can continue to create helpful free content. As an Amazon Associate, we earn from qualifying purchases made on Amazon in addition to other retailers featured on the blog. Thank you, we appreciate your support!
Packing comes easily to some travelers but others find themselves struggling to pull together a suitcase every trip. Either way, just like anything in life, there are always ways to improve. Keep reading to find out how to pack more efficiently!
---
How to Pack Efficiently
Written By: Niki Landry
---
Even the most efficient packers can find a way to shave down their bag weight or discover a new product that will change the way they travel. So if packing light causes you undue stress, you always seem to forget important items, or you'd like to pack for a week trip in a handbag, this guide is for you.
Here's a set of simple steps to help you pack more efficiently!
Skechers Performance Go Walk 3 Slip-On Walking Shoe
Identify the Problem
The first step in solving any packing challenge is by identifying your problem. Your personal bad packing habits, the destination's weather, and your itinerary are the first places you should look.
Maybe you always pack too many shoes, your itinerary calls for a wide range of clothing options, or baggage allowances on your airline are super stringent. Whatever the issue, knowing what you're working towards can help in easily overcoming your personal packing struggle.
What to learn how to fit everything in a carry on? Read this post!
Delsey Luggage Helium Aero Carry On Luggage
Travel Style
Everyone travels differently, has different needs, styles, and requirements. Figuring out your personal travel style is a big help when researching and preparing your packing list. Are you a procrastinator or super organized? Are you a backpacker, or a traveling with a family of three?
All of these considerations will help you hone in on what tips and tricks may be the best fit for your particular travel style. When you research packing lists, use the keywords and/or phrases that best describe you, and the resulting info will be more geared towards your needs.
Find out if it's better to travel with a backpack or wheeled luggage!
eBags Pack-it-Flat Toiletry Kit
Outline Your Needs
Once you know your travel style and have identified your biggest problem, it's time to outline your needs. Separate your essential items and clothing from your packing splurges. These will be different for every traveler.
Oftentimes, my essentials will stay the same from trip to trip, but the style or warmth of the clothing will change. This makes packing pretty simple: the more you travel, the easier it is to make your lists.
Read this post for more details about how to organize your clothing for travel!
After your needs are identified, it's time to add in your wants. These are the items that you can probably skip if you're super economical, but are important for overall comfort. For instance, I usually pack more makeup then I really need.
Makeup is one place I can cut back, but I choose not to because it makes my travel life more comfortable. To justify this packing splurge, I will opt for smaller sized products, bring fewer hair styling tools, or sacrifice another item to ensure that my makeup bag can make the trip.
Similarly, weigh all of your clothing, toiletries, shoes, and electronics against each other to judge what is the most important to you.
Here are some top tips on downsizing your makeup on the go!
Plan, Prep, and Shop
Do yourself a favor and give yourself enough time to plan your packing list. The biggest (and usually easily avoidable) mistakes are made when you're pressed for time and don't think through what's going into your bag.
I like to start early enough that I can shop online and have my purchase delivered before my trip. Last minute shopping usually leads to buying overpriced clothing or making splurges on items that you could've otherwise prevented.
The secret to traveling light is to create a functional but minimalist capsule wardrobe. Learn more in my guide!
Watch the packing tutorial on Youtube!
Use packing cubes to organize your clothing. Compass Rose Carryon Packing Cubes are the only packing cubes sized to fit the exact width of a carryon suitcase and they also have a unique color-coded and numbered organization system – the only kind currently available anywhere on the market.
I put together a five-part YouTube series showing you the different methods to use packing cubes. If you use this specific packing strategy, they can also compress your belongings. This is the secret to traveling carryon only!
Buy Compass Rose Packing Cubes here!
Post-Trip Lessons
After your trip, make note of the things that worked and what you could have done better. Use these observations to make changes on your next trip. It will prevent you from continually making the same packing mistakes over and over.
Don't let the thought of packing stress you out! Read this guide to stop overpacking!
---
What are your tips on how to pack more efficiently? Share in the comments!
---
For more packing tips, please read:
---
LIKED THIS POST? PIN THIS PIC TO SAVE IT!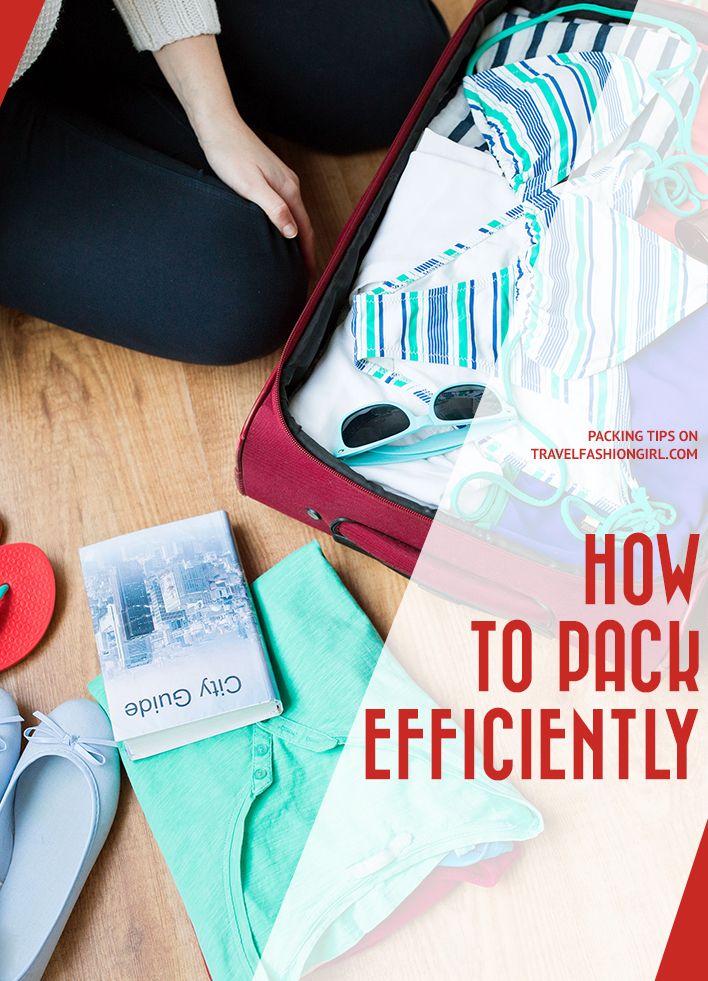 ---
I hope you liked this post on how to pack more efficiently. Please share with your friends on Facebook, Twitter, and Pinterest. Thanks for reading!
---
Author Bio: Niki is an interior designer and artist from Louisiana. In addition to her design work, she writes for local and online publications sharing her experiences and passion for travel. Niki is currently adding stamps to her passport while building her design practice, Niki Landry Designs.
---