Support TFG by using the links in our articles to shop. We receive a small commission (at no extra cost to you) so we can continue to create helpful free content. We earn from qualifying purchases made to the featured retailers. Thank you, we appreciate your support!
Luggage is a major topic of discussion among TFG readers, and their Away suitcase reviews are in! If you're in the market for a new suitcase or are curious about this popular brand, take a look at this review to out exactly what our readers think!
---
Away Suitcase Review By Readers
---
Table Of Contents
Travel aficionados are no doubt aware of the popular Away brand, but is their luggage really worth all the hype? If you're curious about these beautiful suitcases, TFG readers have you covered! 
Their Away travel reviews cover all the bases in terms of their functionality, durability, style, and cost. Take a look! 
Best Features of Away Luggage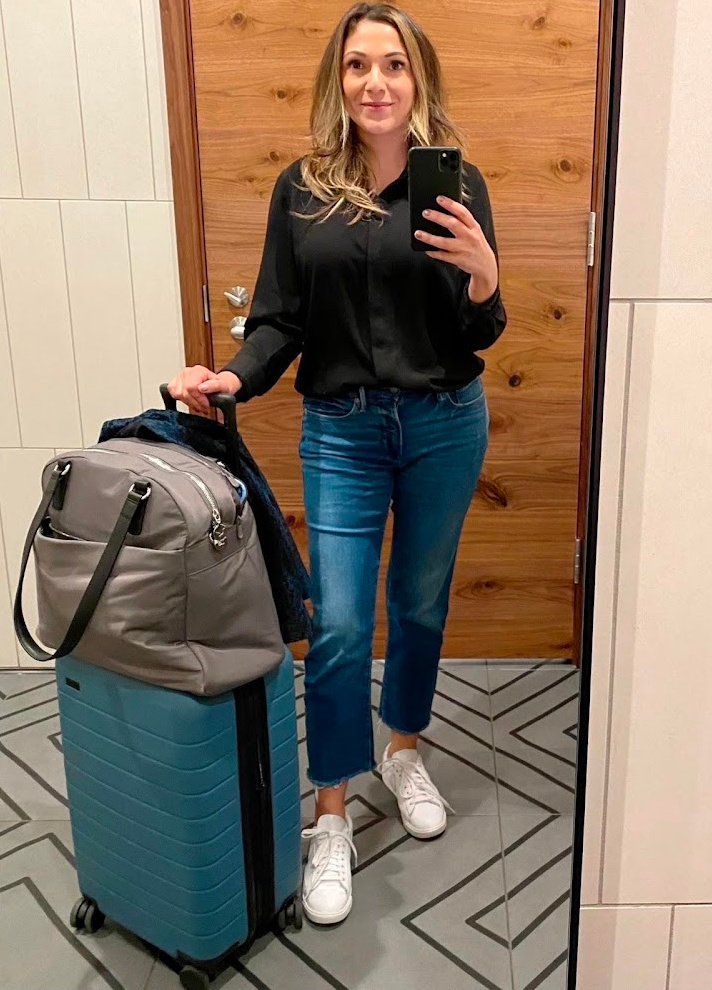 Traveling with the Lo & Sons O.G. 2.0 and my Away The Carry On Suitcase
They're Easy to Pack and Have Great Features
Away suitcases are designed to optimize packing space. Because their interiors are so packable, the carryons are especially popular with readers who travel carry on only — even for multi-week trips! 
TFGs particularly give amazing Away The Carry-On reviews. One says that with packing cubes, she can easily fit everything she needs for two weeks in it. In another reader's impressive Away Bigger Carry On review, as a scuba diver, their bag fits all of her gear, is super durable, and is easy to maneuver! 
And while they have ample packing space, many readers share that they've never had issues fitting their Away carry ons in the overhead bins, both domestically and internationally. 
Away also offers an expandable luggage line, and readers adore the convenience of those suitcases — especially for bringing goodies back home! 
To help you avoid overweight baggage fees, we've rounded up the best lightweight luggage – They're all under 5lb!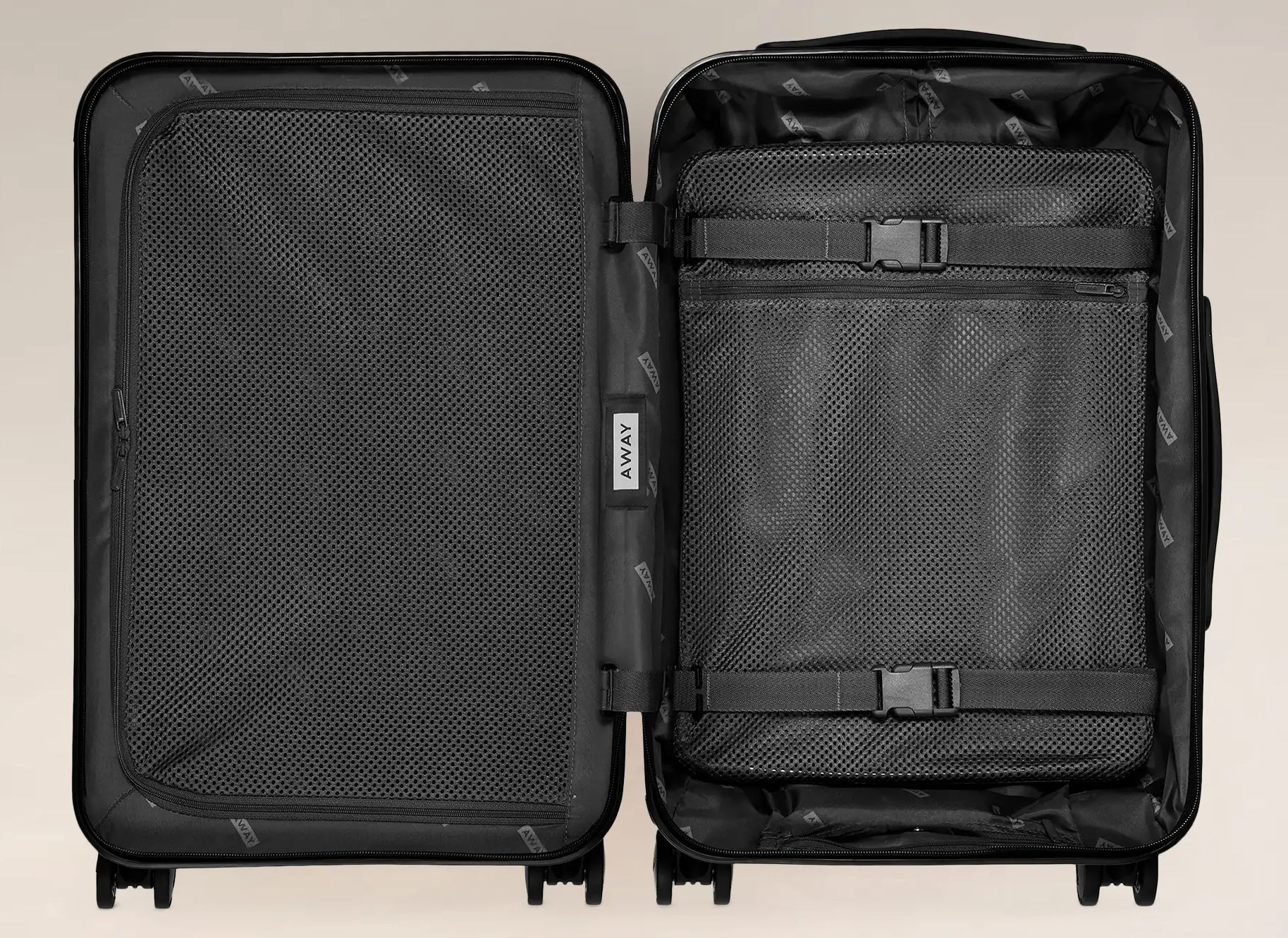 The Original Carry-On interior is roomy!
Readers also appreciate the awesome features of Away suitcases. Their clamshell design opens up to two spacious compartments, and the interiors feature a mesh compression system that keeps things organized with zippered pockets, as well as built-in laundry bags. And on the outside, TSA locks keep everything secure! 
Plus, some of the carry ons come with a removable battery that's neatly and conveniently stored under the handle. It's super easy to remove when boarding, making it compliant at any airport worldwide. And readers love that they can also use the battery as a portable charger while sightseeing during their trip!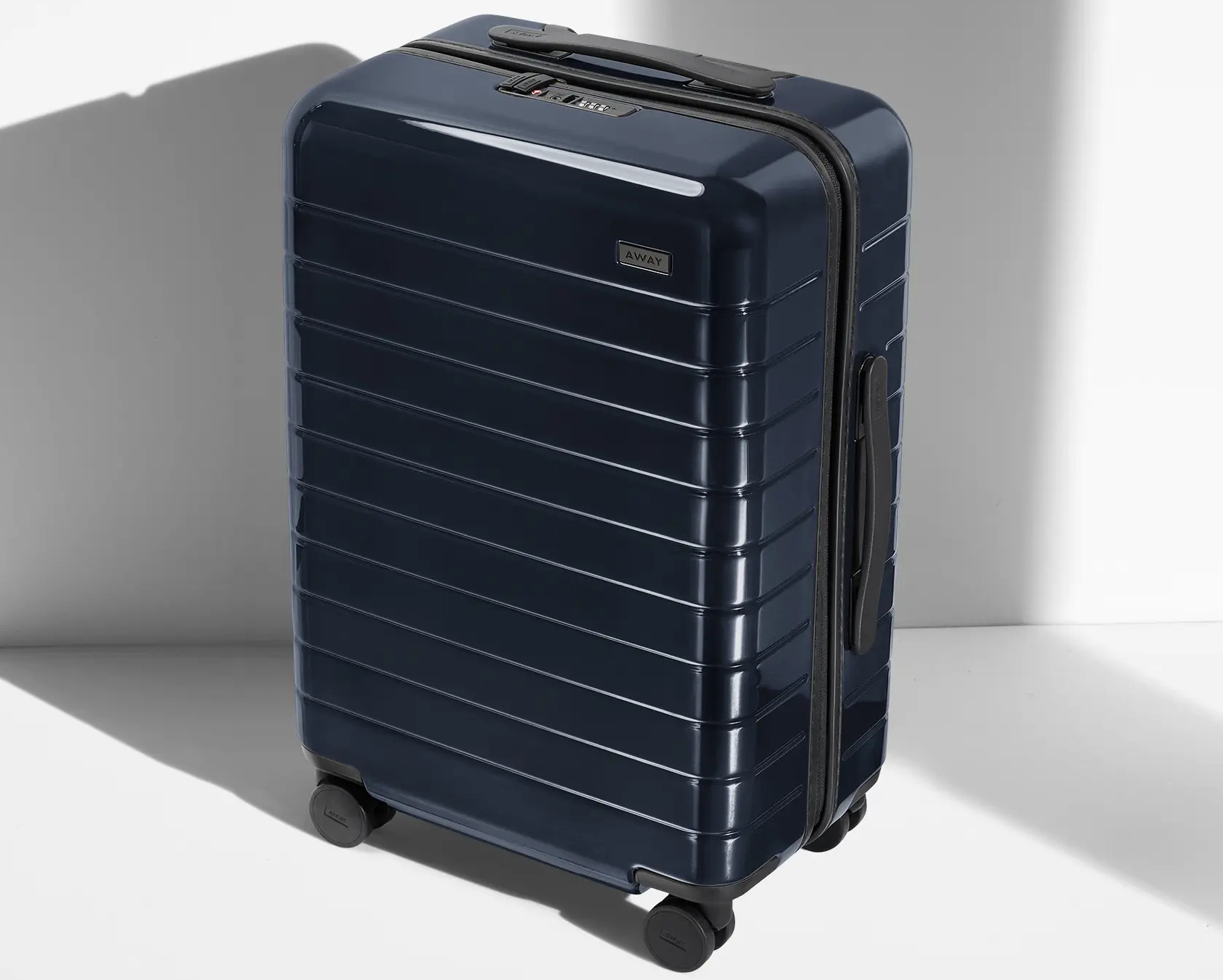 The Away Bigger Carry On maximizes packing space!
They're Lightweight and Easy to Maneuver
In their Away travel luggage reviews, readers confirm that while you can fit a ton into these suitcases, they won't weigh you down! They're designed with lightweight polycarbonate and are super easy to roll around. 
One reader says that all of her Away pieces have behaved flawlessly over the years, highlighting the high-end wheels that feel effortless whether she's pulling it behind her on two wheels or rolling it beside her on all four. She adds to her Away bags review that the weight has never been an issue for her. 
We recommend the best travel bags with trolley sleeve, because a trolley sleeve is one of the most helpful features a bag can have for travel!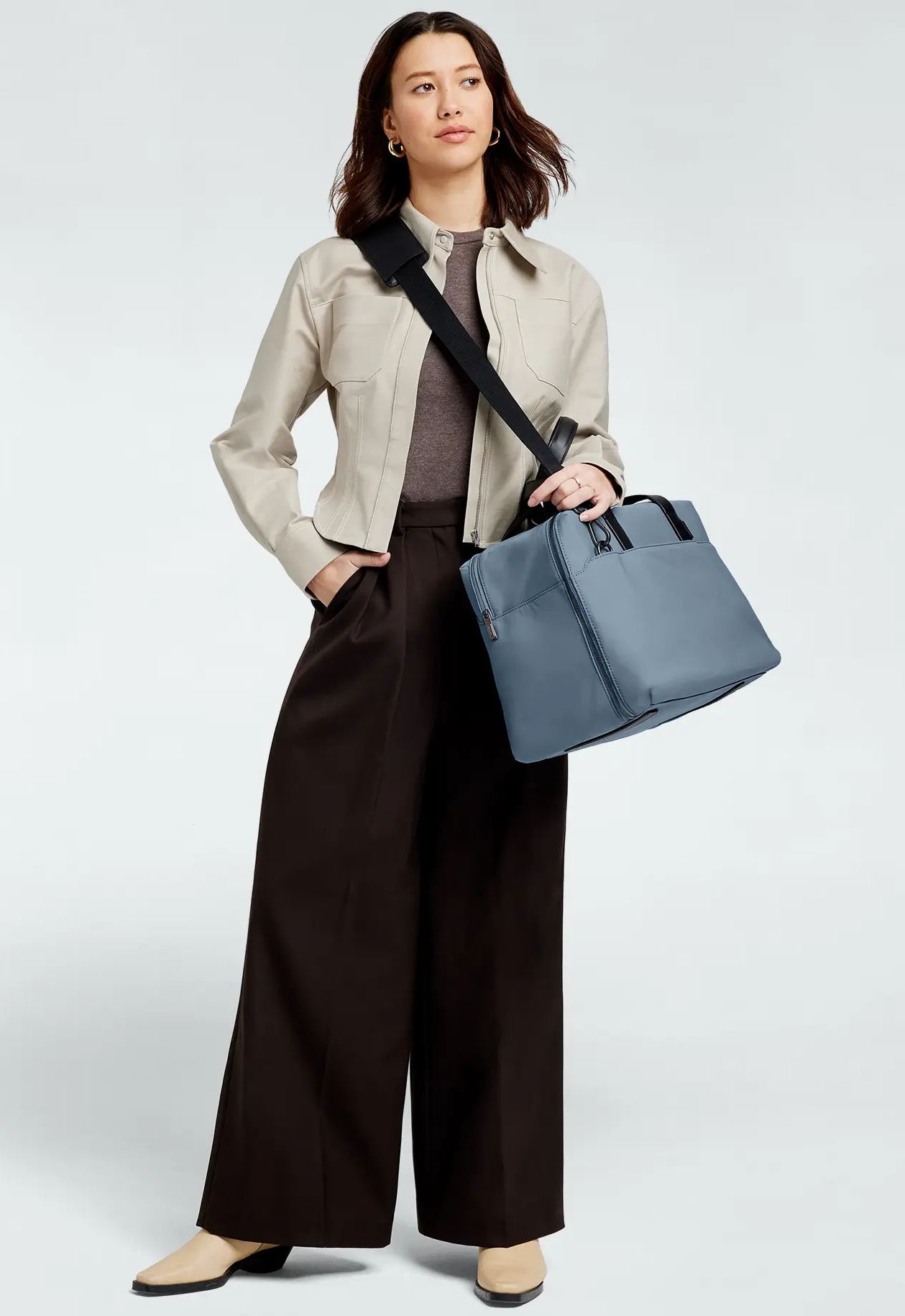 Besides the Away suitcases, the Medium Everywhere Bag is also lightweight and easy to carry!
A lot of readers share similar Away reviews, raving about the smooth 360° wheels and firm, adjustable handle that makes it easy to maneuver in crowded or tight spaces and on all kinds of surfaces (even rough streets). Plus, the top handle, side handle, and underside grab handle make the suitcases way easier to lift up.  
Overall, readers agree that these suitcases make for smooth travel. One reader sums it up by saying that Away suitcases are a dream to travel with and that nothing she's used has come close to their ease of rolling, function, or packability!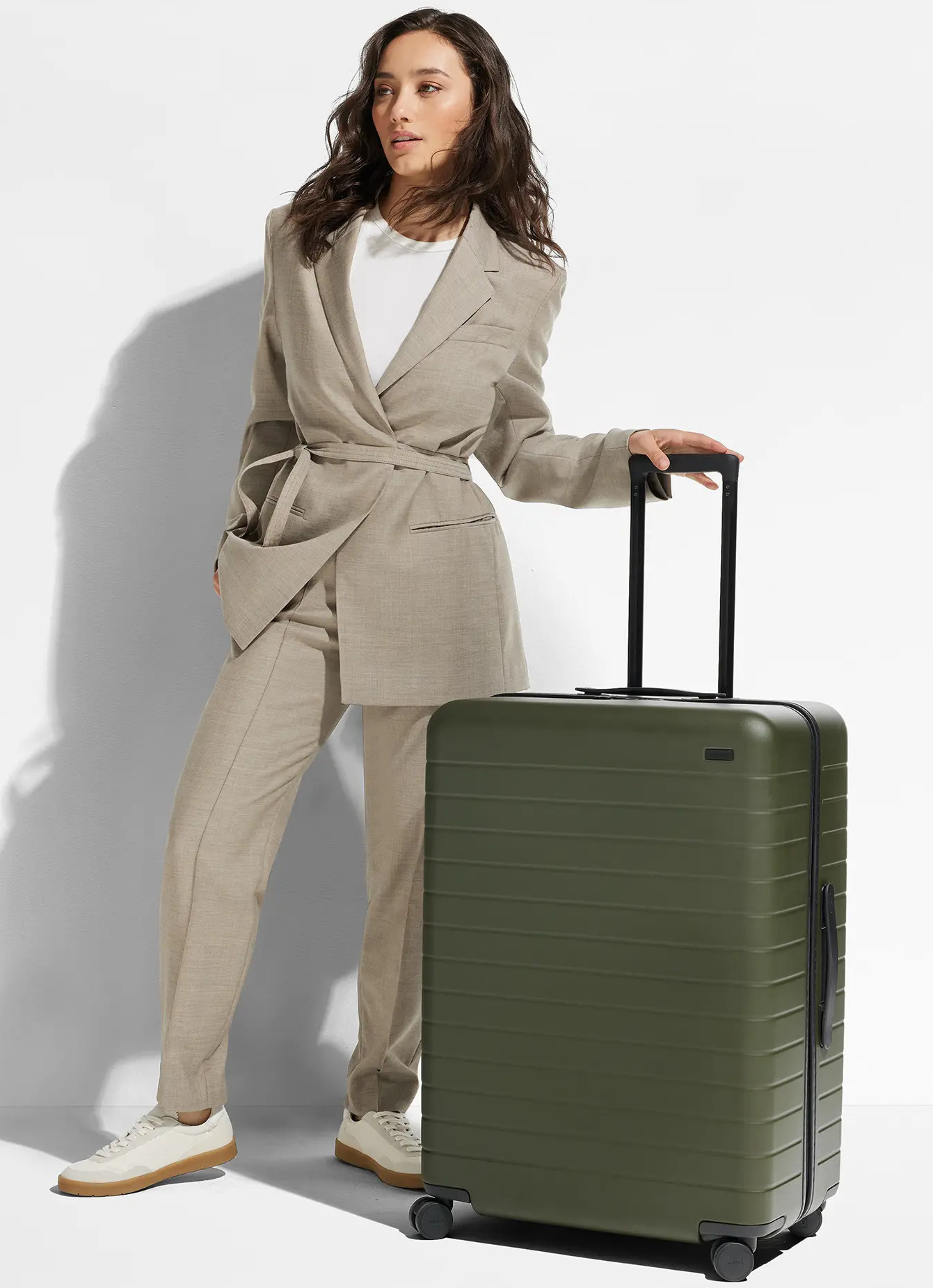 The Away Large is 29" and made to last for at least a two-week trip!
They're Extremely Durable and Long-Lasting 
From rough handling at airports to rolling around on all kinds of terrain to being packed to the brim, travel certainly puts a lot of wear and tear on your luggage. That's why Away users stick to this brand! 
Their polycarbonate shells are designed with the rigors of travel in mind, so they can definitely take a beating and come out on the other side looking great! They also offer a gorgeous aluminum line that's ultra-tough and will last you a lifetime.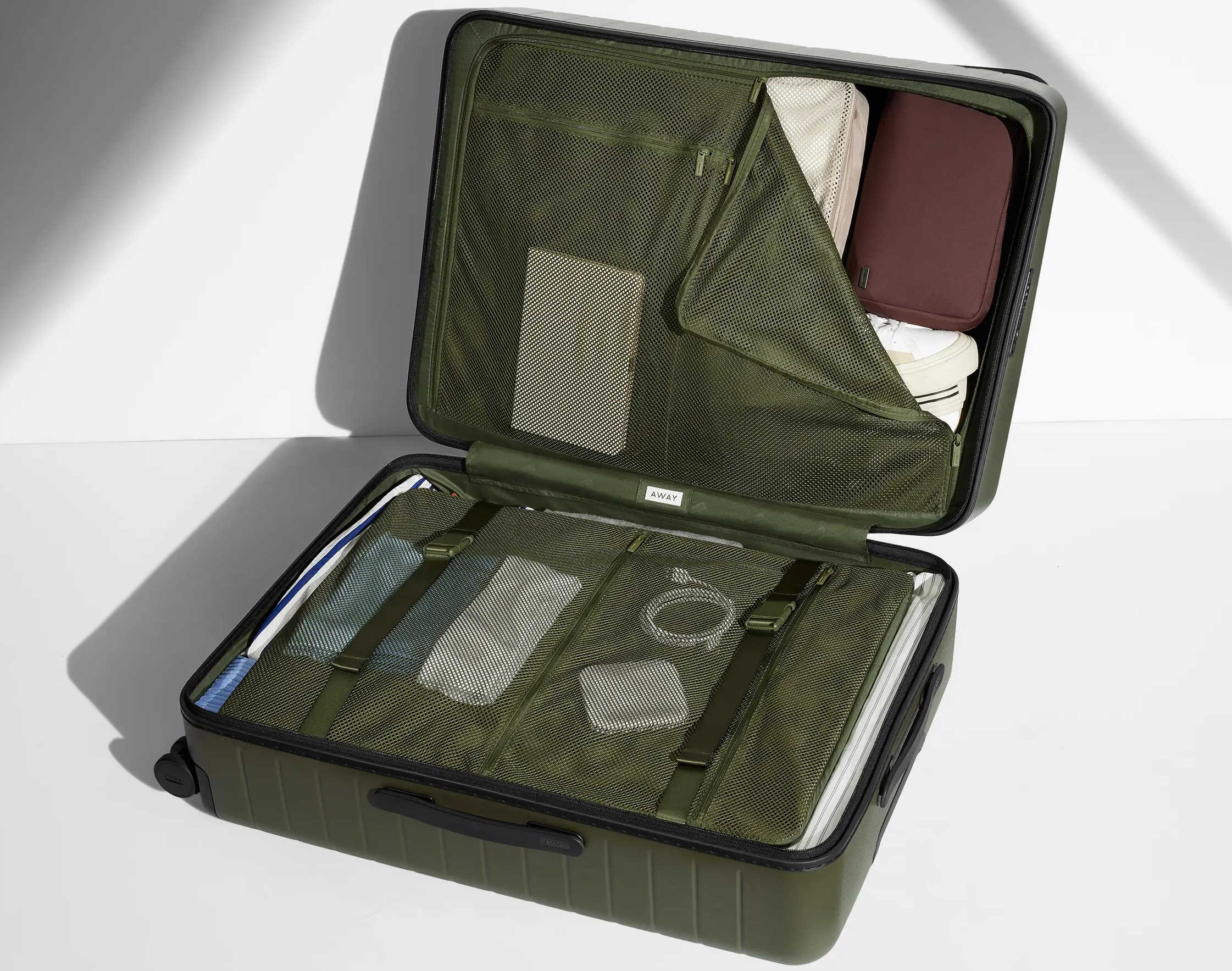 Interior of the Away Large has multiple ways to organize

One reader gushes about how much she can stuff into her Away suitcase with no worries about the zippers, calling them really heavy-duty. In another Away carry on review, a reader says that she's had her Bigger Carry On for years and she absolutely loves it, it's traveled the world with her, and it was perfect for a recent three-week trip! 
And while these suitcases aren't immune to dents or scuffs, they'll definitely protect your items inside and will hold up throughout your trip. Plus, if any major damage occurs, Away's notoriously stellar customer service will take care of it!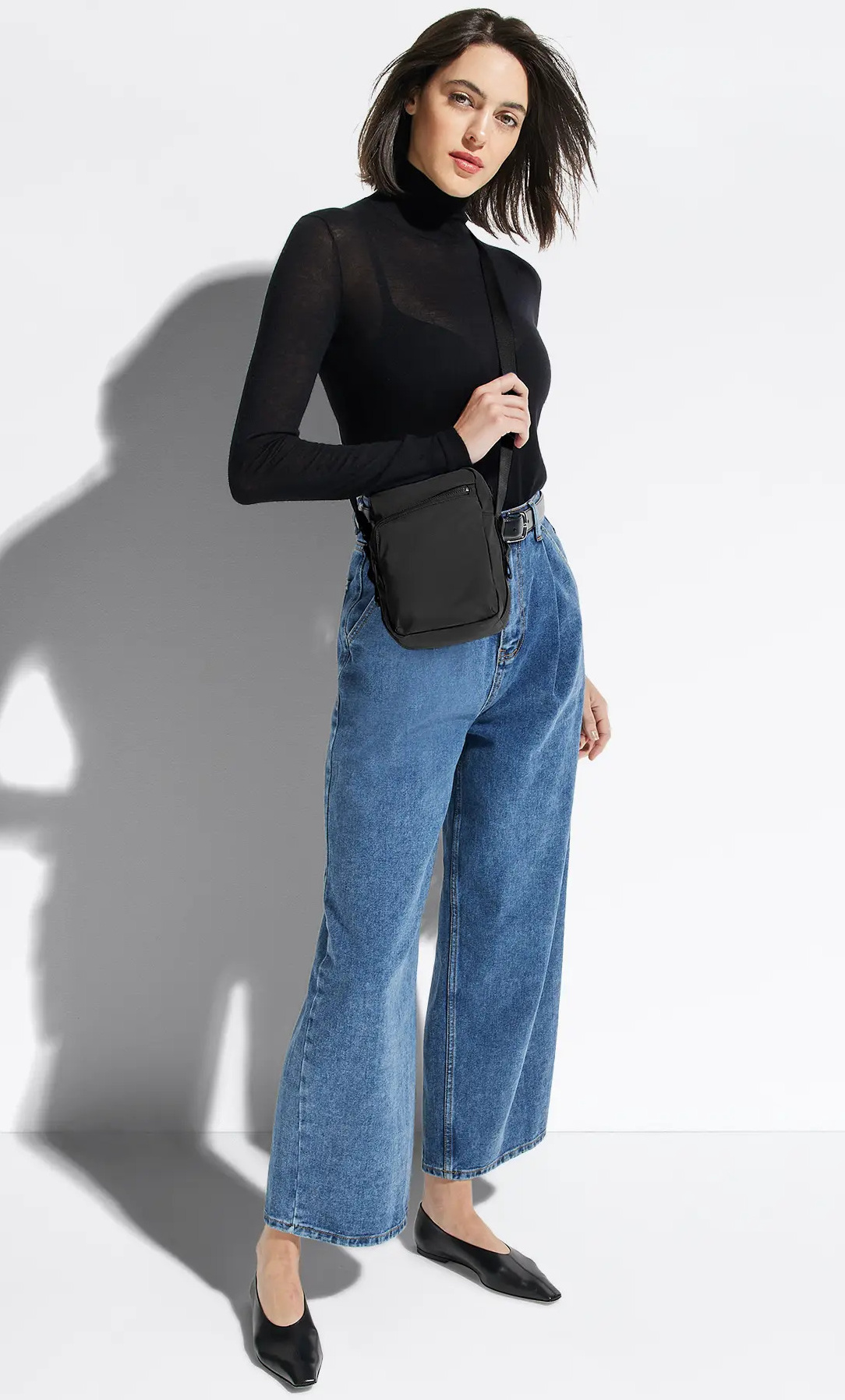 The cute Everyday Crossbody is compact and can hold a day's worth of essentials!
They Offer More Than Suitcases
Another great feature of Away is that they have a wide range of other travel items that'll work perfectly with your suitcase and will make your trip all the more organized, easy, fun, and stylish! 
Away offers all kinds of travel bags, from weekender bags to backpacks to tote bags to sling bags. They carry sleeker options (including leather bags and backpacks) that are great for business travelers or fashionistas, while the bags from their F.A.R. line are more rugged and built for outdoorsy travelers.
We've rounded up the best anti theft travel bags for women, and our readers have voted for their favorite styles!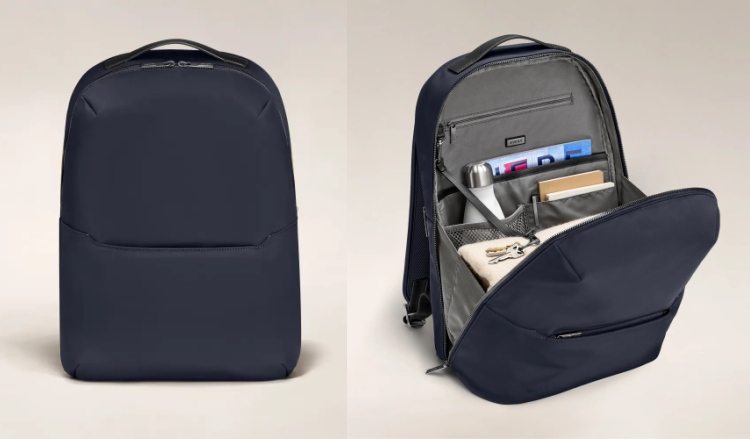 The Everywhere Zip Pack is stylish but also SO roomy to hold essentials and even a laptop!
In an Away Everywhere Bag review, a reader says the popular bag is her favorite, go-to travel item because it fits so much, is sturdy and holds its shape, and fits perfectly under the airplane seat. Another reader shares that her Everywhere Zip Backpack fits a ton and looks sleek! Readers also love the packable backpack which is convenient for day trips you might embark on or for carrying your souvenirs on the way home!    
Their travel accessories include packing cubes, toiletry bags (including a hanging toiletry bag), pouches, a protective tech case, a garment bag, a jewelry box, and more!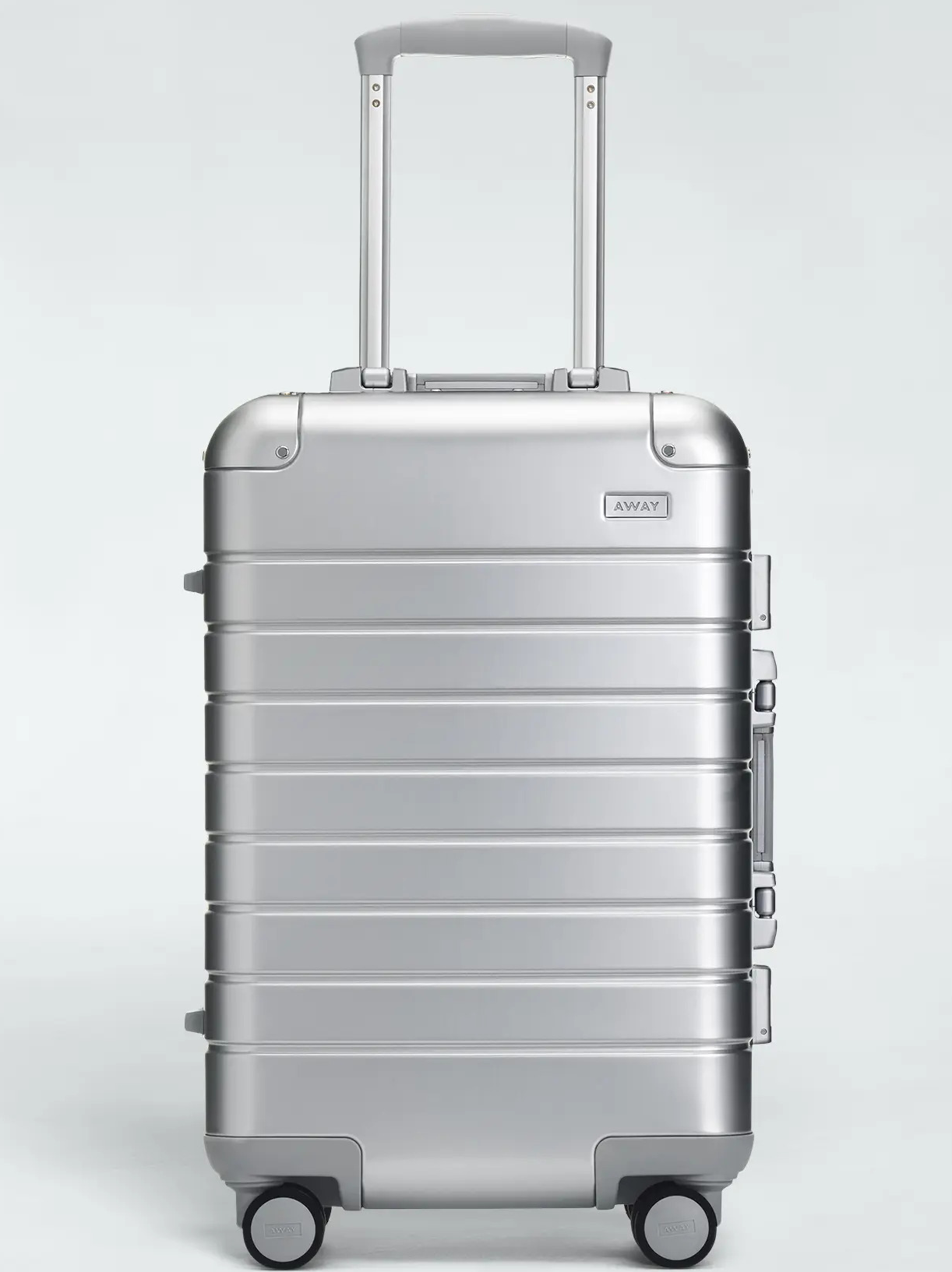 The Away Aluminum Carry On is sleek and has all the organizational aspects that readers love!
They're Worth the Price
While Away suitcases are priced a bit on the higher end, readers will be quick to say that you definitely get what you pay for. In an Away bag review from a reader, she says the luggage is worth every penny and then some and calls it a lifetime investment! 
Another reader's Away travel luggage review states that you see them all over airports because they're made so well, have a great organization, and most importantly, have a lifetime warranty. She adds that she hasn't been able to find anything else with that warranty in Away's price range! 
Away's lifetime warranty ensures that you'll always have a fully functioning suitcase and won't have to purchase a new one if something gets damaged. Readers rave about the great customer service and quick replacement of any faulty or damaged parts. 
Additionally, readers say that easy rolling and/or carrying, thoughtful and attractive details, and ample packing space and organization are all reasons that they're happy to invest in Away suitcases and travel bags. They make travel days smoother and more fun!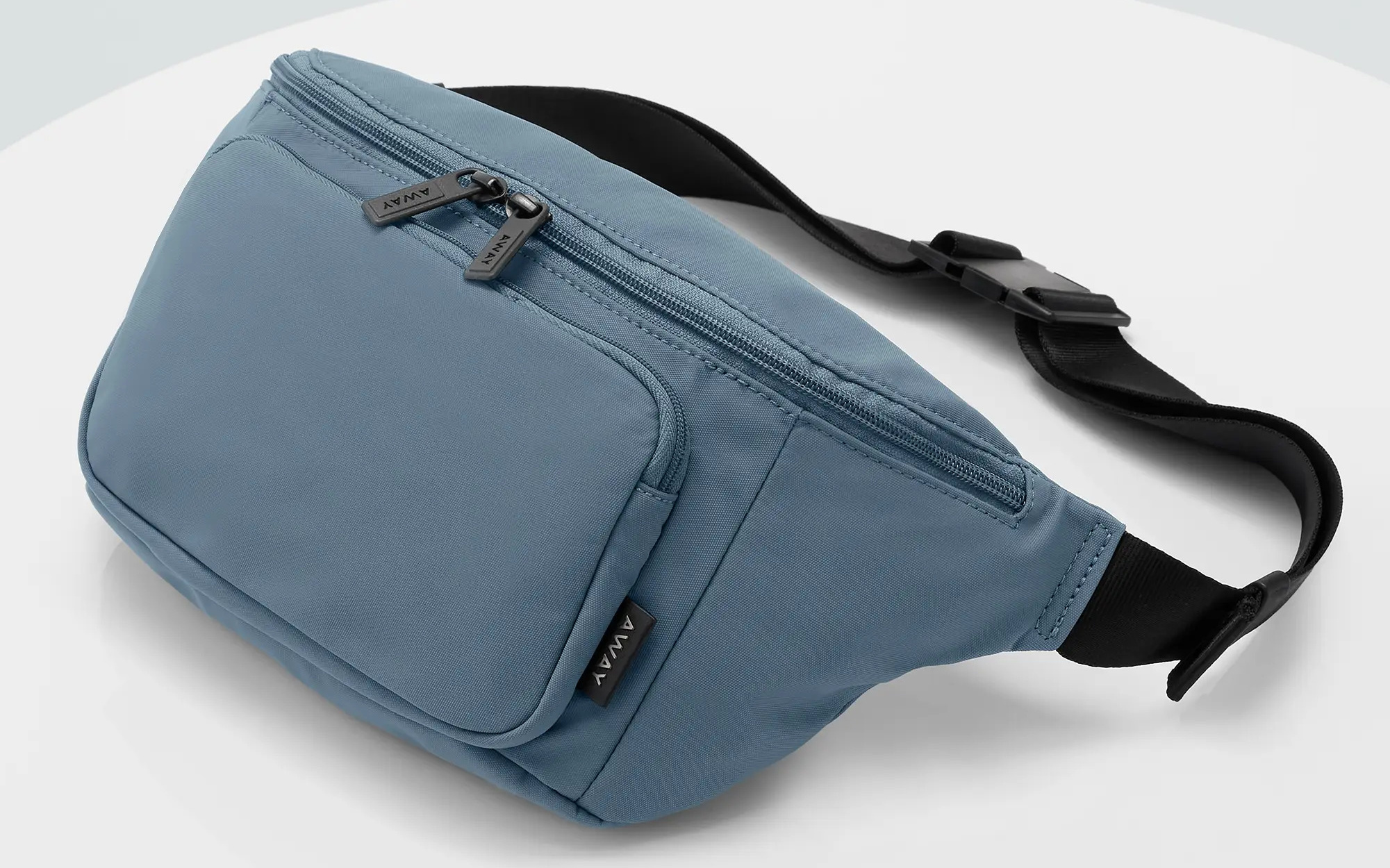 The Away sling bag is made of nylon and is water-resistant!

Pros and Cons
Away suitcases are lightweight yet tough, so keeping your belongings protected will never be an issue. Readers also love the ample packing space these bags offer, especially when traveling carry on only. 
These suitcases are also simply beautiful! They come in a wide range of colors, from fun, bright options to chic neutrals. You can find leather details and great hardware on many of their bags, too.
And while the lifetime warranty has been addressed, it's worth mentioning again, as it's kept so many readers loyal to this brand and is commonly addressed in their reviews of Away luggage! One reader says she'll never invest in another brand of luggage because their customer service and lifetime warranty are amazing. 
Some readers have noted in their Away bag reviews that the lighter colors show scuffs more than the darker colors, but many have shared that a magic eraser works wonderfully to remove them. 
Here are the best money belts for traveling along with additional anti-theft accessories for women!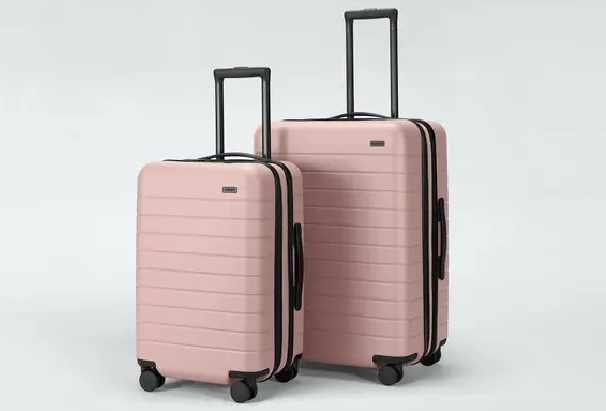 The Carry On Flex and Medium Flex may be slightly weighty, but this set is still popular!

Another concern that some readers have expressed is that the bags are a bit too heavy for their liking. Ranging from 7.5 lbs to 12.1 lbs depending on the size and features, these suitcases aren't as lightweight as some softside options, but their rugged designs and organizational features are well worth it.  
Overall, the wide majority of readers who have invested in Away luggage are more than happy with their trusty travel bags and constantly rave about how well they hold up! So, if you're looking for a new travel companion that you'll be able to count on for years and years to come, definitely consider Away! 
More Away Products Readers Love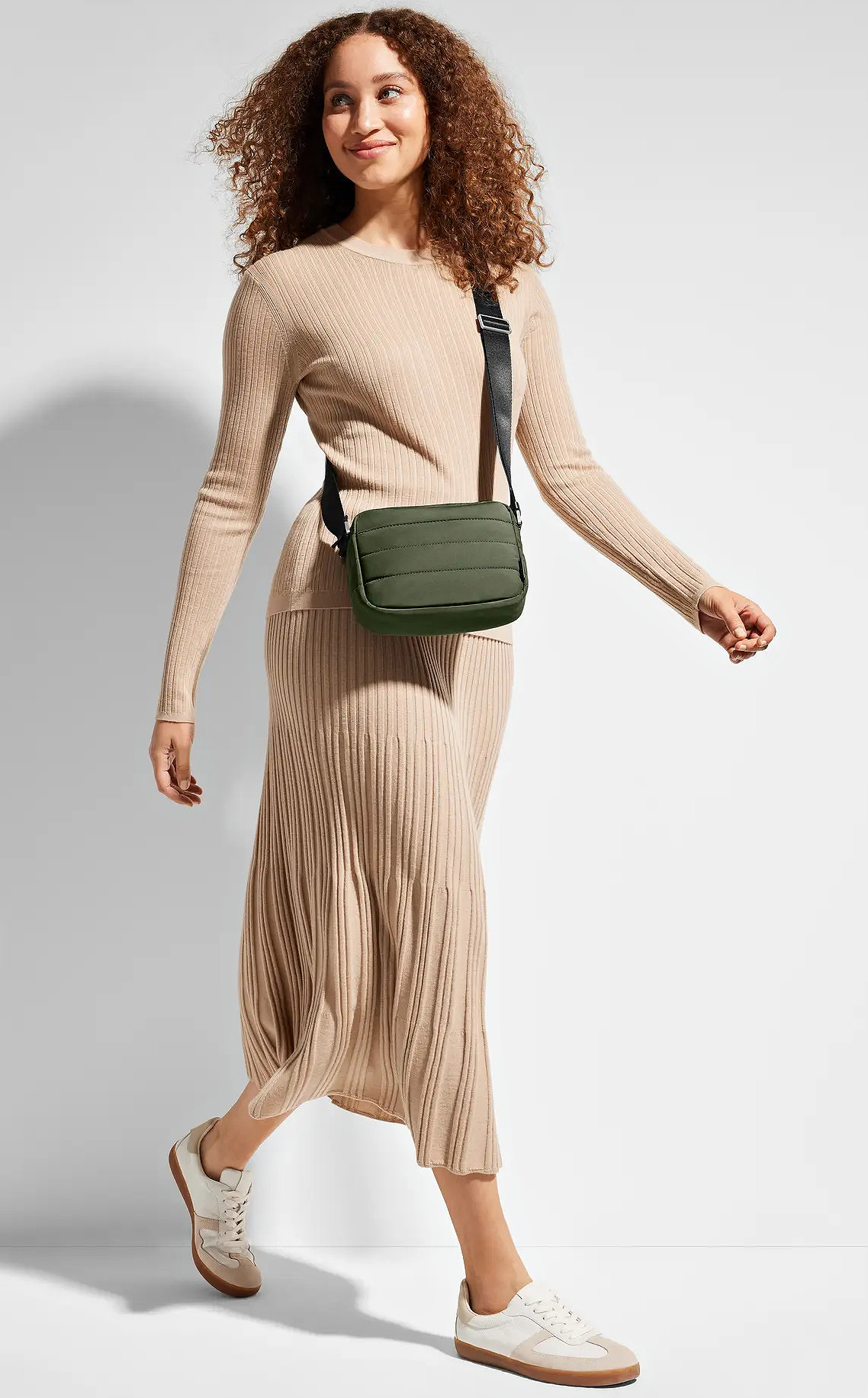 1.8L Quilted Everywhere Crossbody
Quilted Everywhere Crossbody
Lightweight and packable, Away's Everywhere Bag is a perfect day bag to pack for sightseeing around your destination. It's simple and super cute, with a quilted design that makes it look effortless and sleek, with 100% polyester water-resistant material. It features a front zip pocket for storing your smaller essentials and another pocket for a phone. All in all, a cute accessory to take along!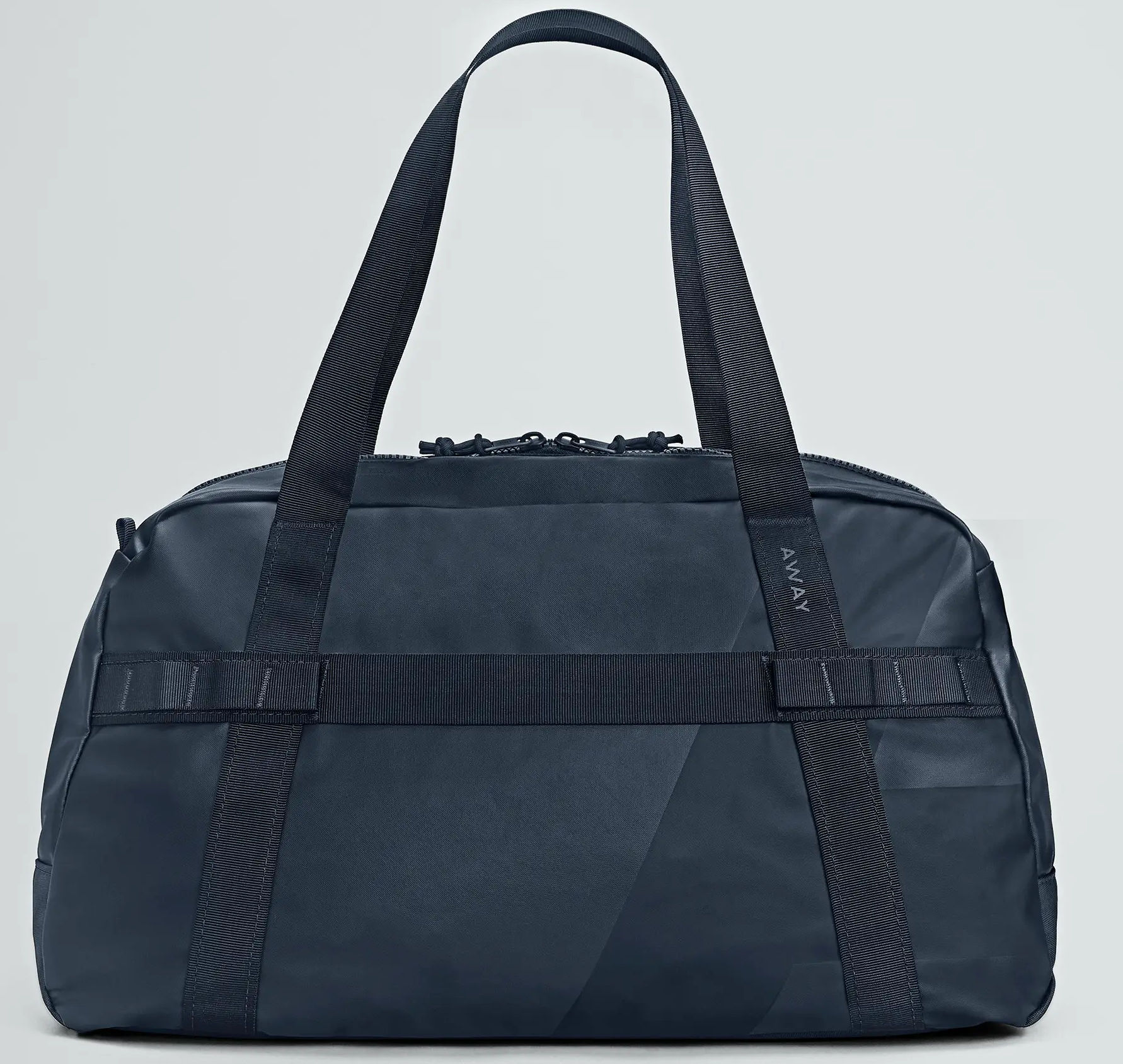 F.A.R. Compact 40L Travel Duffle
F.A.R. Duffle 40L
While quite compact and lightweight, this F.A.R. 40L duffle is super robust, water-resistant, and has enough packing space for a trip of up to four nights! Its wide opening allows for easy packing and organizing and it's structured enough to keep things balanced. To finish it off, the trolley sleeve, top handles, side grab handle, and detachable shoulder sleeve allow for versatile and easy carrying! 
In addition to the 40L size, they also offer a 55L option and a 70L option.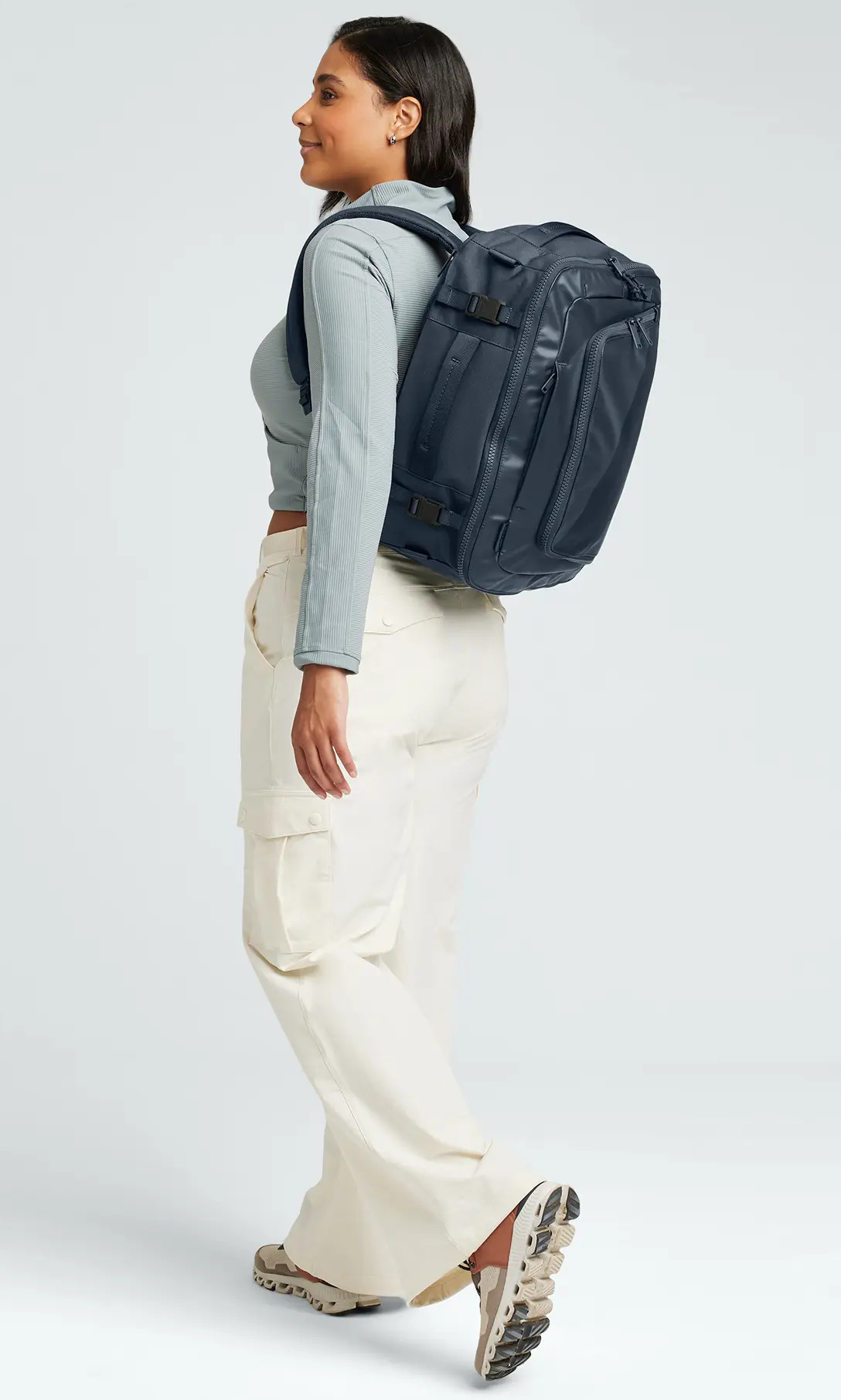 F.A.R. Lightweight Convertible 25L Backpack
F.A.R Convertible Backpack 25L
The F.A.R. convertible backpack is made from sturdy polyester and can hold a day's worth of essentials. This cutie can be a weekender bag or even be taken on a hike. The compression system is designed with total comfort in mind, and there are numerous pockets to stash essentials within reach. 
And the cool thing is you can change the straps into a backpack or duffle—so versatile!
One traveler gives her Away backpack review, calling it stylish but practical, and adding that it fits everything she needs and is really comfortable to carry.
Check out our list of the best toiletry bags for travel!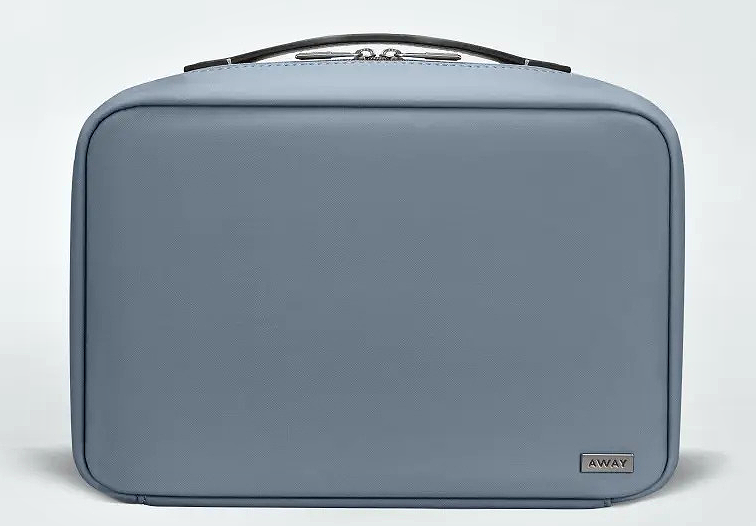 Water-resistant Hanging Toiletry Bag
Hanging Toiletry Bag
A hanging toiletry bag is such a useful travel item, especially when countertop space is limited or you want everything to stay in a particular place. Away's hanging toiletry bag opens up to reveal three mesh pouches and one clear, removable pouch, so organization will be effortless. Keeping things clean is super easy, too, with its water-resistant exterior and spill-proof interior! 
It's also super cute! One user gives a great Away toiletry bag review, calling this great quality with every possible feature included, and she highlights how useful the removable clear bag is when going through TSA!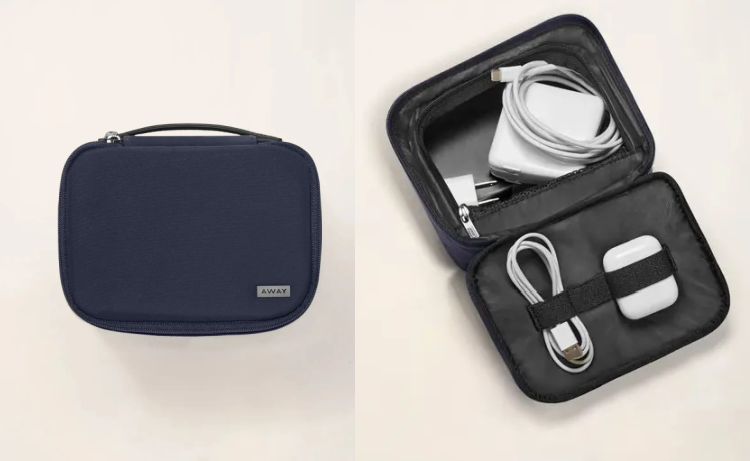 Tech Case
If you travel with multiple devices and techy gear (as many of us now do), that means you'll need to bring along all of the corresponding chargers and accessories, too. Away makes it beyond easy with their handy tech case, which features a zip mesh compartment on one side and elastic loops for things like cords and headphones. Plus, it's padded and water-resistant for ultimate protection! 
One frequent user says it's lightweight and the perfect size for storing in a carry on or backpack without taking up too much room. 
It also comes in a larger size which is a must for business travelers, digital nomads, and tech-lovers! And if you're traveling with your laptop, Away's laptop sleeve is amply padded, has interior and exterior pockets, and is water-resistant. 
---
What is your favorite Away suitcase or bag? Share in the comments below and tell us why you love it so much!
---
For more luggage articles, please read:
---
LIKED THIS POST? PIN THIS PIC TO SAVE IT!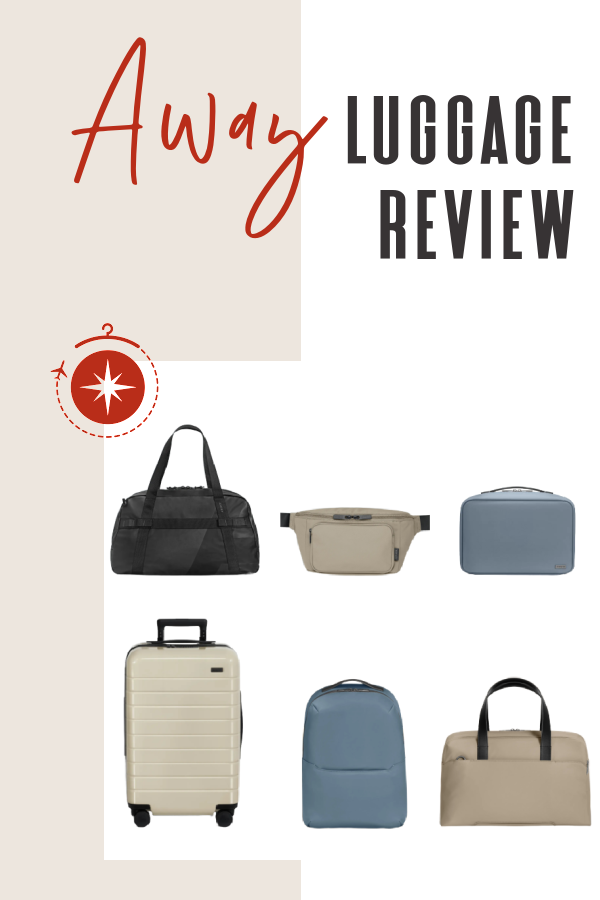 ---
We hope you liked this Away review. Share this post with your friends on Facebook, Twitter, and Pinterest. Thanks for reading!
---