Support TFG by using the links in our articles to shop. We receive a small commission (at no extra cost to you) so we can continue to create helpful free content. Thank you, we appreciate it!
You know I'm always raving about the Anatomie Skyler travel pants for women so I thought it would be great to hear the opinions of other travel fashion girls. Lisa Nasa won their giveaway earlier this year and as today's Anatomie Ambassador she's filling us in on her adventures traveling with the Fiora travel pants. Read on to find out what she thought and if they passed the ultimate travel mom test!
---
Anatomie Ambassador Review
by Lisa Nasa
---
Upon receiving the Anatomie Fiora Travel Pants, I was excited to try them. I looked forward to the quick-dry capabilities, the cargo pockets and long inseam.
What I found after wearing them on my month-long trip in the USA and 24 hour return trip to Argentina was interesting- I loved some features that I never considered and hated some that I thought I would love.
Pros of the Fiora Travel Pants: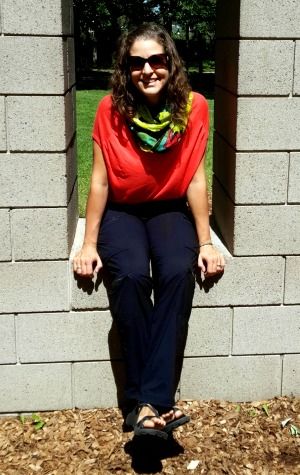 The light-weight stretch fabric is so comfortable. I could crouch, climb and sit for hours with no binding or pulling. Even during 24 hours of travel time, on three airplanes with two long layovers, these were very comfortable. Score!
The fabric is (super) quick dry. I pulled them from the washer on one occasion, hung them for 30 minutes and put them on, barely damp.
The length of this style was perfect for me. I am 5′-10″ and usually wear a 34″ inseam. This was listed as 34-1⁄2″ inseam but measures 35″ and gives me a full break without looking sloppy.
One occasion, just for the sake of review 😉 I wore these pants for 3 days straight. I wanted to see how they looked, but more importantly how they smelled. I was pleasantly surprised with no overwhelming stank and I was so impressed, I considered a fourth day, but my desire for a new outfit trumped the experiment, so into the wash they went.
They were easy to spot clean. A bit of water on a towel and any dust/smudges came right off the black fabric.
The higher rise was great. I have a long torso, but have also had two babies so a low rise generally isn't flattering on me. This rise hit 2″ under my belly button.
Cons for Anatomie Fiora Travel Pants
(based on design rather than quality of construction or material):
I REALLY want to love the four cargo pockets. I wear cargo pants all the time in everyday life, but I did not like the design of these pockets.
The zipper pulls are on the front of the legs when in the closed position, and this fell mid thigh for the top pockets and directly over my knees for the lower pockets. OUCH! I could not kneel with the pockets zipped closed, so wore them partially open most days. In addition, the exposed zipper pulls on the thigh pockets scratched my daughters' legs when they were sitting on my lap. NOT cool.
I was told 4 times over a month, by different people, that the silver zipper stops at the end of the cargo zippers were distracting. They kept thinking there was something on my leg!
I couldn't carry anything heavy in the cargo pockets. Some kleenex, a couple of cards/bills and small key sets were comfortable, but no phone or anything heavy. The stretch fabric did not hold any larger objects securely and was too light-weight to to hide anything within the pockets. My Samsung Galaxy phone slid widthwise in the pockets and was supremely uncomfortable.
The pocket construction is different on the top and bottom pockets. If you want symmetry, this is not for you. The top pockets have a back gusset feature, rounded lower back edge and double layer bottom, but the bottom pockets are flat and square.
I went off of the Anatomie website sizing chart and I felt that the pant waist measurement was not accurate. The size Large pants measure 33-34″ waist, while the website states a 29-1/2″-31″. I have a 31″ waist and thought that these would probably be snug. I had to wear a belt at all times, which was very inconvenient for air travel.
The belt loops are long & thin and made out of the same stretch material, so I only felt comfortable wearing a chunky 1-1/2″ belt, which didn't coordinate with several outfits.
I felt the belt loops, waist sizing and cargo pockets were all negatives for the Fiora style pants. As a product designer, I would widen and shorten the belt loops, with a reinforcement so they don't stretch. I would also cover the zippers on all four cargo pockets with a double layer welt and explore alternatives to the location/size of the cargo pockets. Others may not find the cargo pocket location problematic, depending on leg length and activities.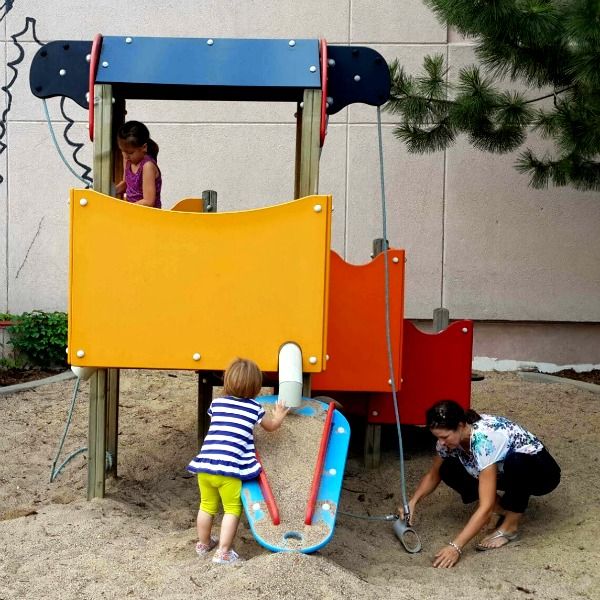 In hindsight, I would love to try the Paola style pants from Anatomie, with the same rise and inseam as the Fiora style that I reviewed. I also think the cargo pocket location of the Madonna pants is better than that of the Fiora pants.
I like these pants (with the exception of the few cons) and am thrilled to have had the opportunity to review them. Anatomie has a great product line, and I look forward to trying another style that may suit me/my lifestyle better!
---
For more details on Anatomie's travel pants, please visit their website and TFG's style guide.
---
For more Anatomie Reviews, please read the following:
---
Hope you've found this review on Anatomie Fiora pants useful. Don't forget to share this post with your friends on Facebook, Twitter, and Pinterest. Thanks for reading!
---