This post contains affiliate links. Visit our Disclosure page for details.
Travelers can get caught off guard when traveling to England. I know I did on my first summer visit! Whether you're headed over for summer or winter time, we've got some tips on exactly what to wear in England. Keep reading to learn more!
---
What to Wear in England
Written By: Annie Jarvis
---
England is such an incredible country to visit. While it may appear to be a small island, it offers a huge variety of vacation destinations for all travelers to explore!

Here are few more guides to help you plan for your trip:
Whether you're heading out to the countryside and exploring the Lake District, or immersing yourself in the city of London, England offers an array of history, culture, and wonderful food from north to south and east to west.
Here are a few ways to spend a day in the UK.
So what do you pack for a trip to my home country? Take a look at my guide to visiting England in the summer and winter and find out what to add to your vacation wardrobe.
What to Wear in England:
Summer

Dolman Dress / Jeans Plus / Lace-Up Denim Top / Sneaker
It may be hard to believe, but the UK can get quite hot in the summer months of June, July, and August. Like most European countries, the weather can be unpredictable, which means you have to be prepared for all climates.
Always check the weather forecast in advance–three days before your trip. Generally speaking, on a one week trip, expect three days of sun and four days of gray, cold skies.
If you're exploring different cities across the country throughout the summer, then the perfect outfit would be a summer dress (with layers) or jeans and a blouse. Throw on a pair of cute but comfortable sandals, ballet flats (super popular), or sneakers to walk around in and you've got yourself the perfect outfit for a summer in England.
 Find out how to wear summer dresses in spring and autumn–perfect for England!
(Faux) Leather Jacket / Infinity Scarf / Booties
It's not always warm, so if you're used to a hotter climate, then you should consider packing layers for extra warmth on your trip. (Learn how to layer here.)
A denim or leather jacket would make a great addition to your summer wardrobe; a lightweight scarf is a perfect accessory and can add warmth, keeping you nice and toasty.
For those cooler days, throw on a pair of dark jeans, a cute top, leather jacket, and a pair of comfortable sneakers that will allow you to walk around for hours on end.
A good alternative to sneakers is a pair of leather ankle boots. They go with a range of different outfits and are perfect for lots of walking and getting caught in the rain.
Find out why ankle boots are the perfect shoe for traveling Europe in spring, fall, and even summer!
Tip: Don't forget to carry an umbrella in your bag even in the summer, as the weather in England can change in an instant.
What to Wear in England: 

Winter
Packable Down Jacket / Jeans Plus / Thermals / Thermal V-Neck / Waterproof Boots
Winter in England can be really mild or unbelievably cold, so prepare by packing layers like these that allow you to adjust to the weather accordingly.
If you're exploring towns and cities, then a pair of jeans is a great place to start. If you find that you get extra cold, pack thermal leggings to wear underneath.
Layer up with a long sleeved top, a warm sweater, and a waterproof jacket to keep extra toasty and avoid getting soaked by the inevitable rain.
We recommend these waterproof rain coats!
Sweater Dress / Cozy Tight / Waterproof boots
If you're the type of girl who loves wearing dresses then I'd recommend choosing a thick fabric material as well as thick tights and ankle boots. Accessories like hats, scarves, and gloves are also great for winter in England as they look stylish and add an extra layer of warmth.
Scarf / Pompom Beanie / Tech Gloves
If you're planning on spending time in the English countryside, then your outfit choices will definitely vary. When visiting areas like the Lake District, it's worth investing in comfortable hiking boots that will allow you to go on long walks no matter the weather. For festivals like Glastonbury and muddier adventures, wellies (rain boots) are an absolute must.
Make sure you check out the forecast before your visit and prepare for all weather types by layering up and packing an umbrella!
Here's exactly how to stay warm in cold weather (written specifically for England)!

---
What are your tips on what to wear in England in summer and winter? 
---
For more packing tips, please visit these Europe Packing Lists:
Suggested travel resources:
---
LIKED THIS POST? PIN THIS PIC TO SAVE IT!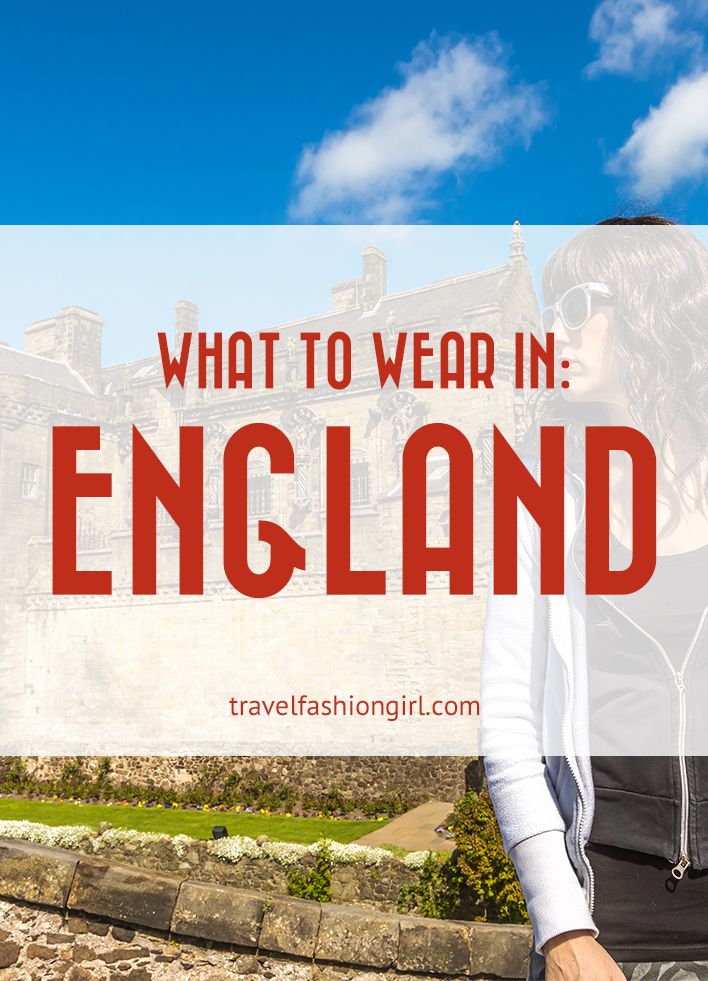 ---
I hope you enjoyed this post on what to wear in England. Please share it with your friends on Facebook, Twitter, and Pinterest. Thanks for reading!
---
Author Bio: Annie Jarvis is relatively new to the traveling world and just completed a five month journey around Southeast Asia, India, and the US. She loves diving, skiing, cooking, hiking, and writing about her adventures on her Refreshing the Page blog.
---
Liked this article? Check out similar posts: