Support TFG by using the links in our articles to shop. We receive a small commission (at no extra cost to you) so we can continue to create helpful free content. As an Amazon Associate, we earn from qualifying purchases made on Amazon in addition to other retailers featured on the blog. Thank you, we appreciate your support!
Planning to venture outside of Paris or perhaps embark on a north west French road trip? Here's a list of what to wear in France in spring including destinations such as Normandy, Giverny, and Rouen!
---
What to Wear in France in Spring
Written By: Lily An Kim
---
Just a few hours away from Paris you'll find picturesque destinations such as Normandy, Giverny, Versailles, Rouen, and Lille. Many travelers fly into Paris and then venture off to further explore these other areas as a series of day trips or road trip.
Read this Packing List for Paris!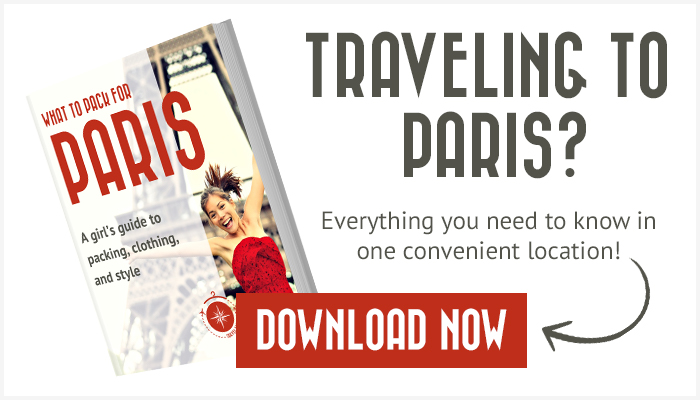 You can expect to spend a lot of time on the road and do a lot of walking as you explore these beautiful destinations. Here are a few tips to help make the journey comfortable:
Things to Know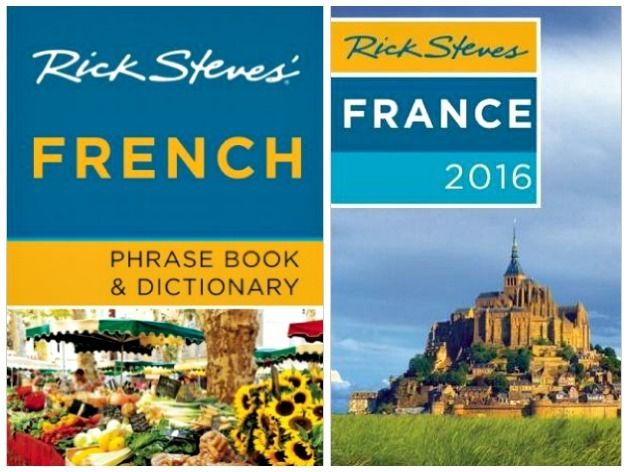 French phrase book / Travel guide
Hotel rooms tend to sell out fast and Airbnb is a popular and cost effective accommodation option in France and other parts of Europe. With Airbnb you can choose to rent out an entire apartment or home for yourself.
If you plan to rent a car, make note that manual transmission is the norm.
It's a good idea to bring a French phrase book since English is not spoken as widely outside of Paris (and even then, locals appreciate the effort in speaking their language). This travel guide has excellent itinerary ideas.
Print or download metro or train maps from home, since 'petite' hard copies can be difficult to obtain initially.
Credit and debit cards may help you to make purchases with more wallet-friendly currency exchange fees.
What to Wear in France: Clothing
Cardigan / Longsleeve / Scarf / Skirt / Leggings / Ballet Flats
As you plan what to wear in France, choose "smart" or "dressed up" casual attire. For example, you could wear well tailored jeans with a pretty blouse, trench coat, and comfortable ankle boots. Depending on how much time you plan to spend outdoors and how low the temperatures, you may need warmer outerwear, so you can plan to layer for the weather as needed.
Always check the weather forecast before your trip. Once you've researched the weather, you can focus on creating a travel capsule wardrobe, which should easily fit in a carryon suitcase with the help of packing cubes to compress your clothing.
Consider packing thermal underwear for women if you expect very cold weather!l
A pair of dark jeans is ideal for exploring rustic villages, such as Claude Monet's home in Giverny. In the cities, dark synthetic leggings or moisture-wicking pants will survive puddles and taxis better than jeans.
Fitnesswear stretch pants sometimes offer concealed zip-pockets at the waist line for credit cards. Also, items such as these won't wrinkle as easily as linen or cotton so they make packable but warm layers. Turtle-neck and long-sleeved tops allow you to cool down at ease as the temperature rises..
Outfits should be color-coordinated with neutral hues and practical layers. Navy blue or muted /beige colors were common. A stretchy skirt, merino wool cardigan looks fashionable yet comfortable and practical over dark leggings with leather ballet flats.
Here are some of our favorite cute and comfortable ballet flats for travel!
In true French style, a light scarf should finish the look with a belt. Big bangles and hoops are not the norm, but striking a pose at the palace in Versailles demands a little style so add a pretty pendant to peek through your blouse instead.
Europeans prefer black tights/stockings under skirts or dresses (mostly due to the weather); pack a pair and skip the bare legs. Here are some tips on what to wear on a rainy day when traveling. You'll find tights with dresses as a suggested outfit as they tend to be moisture-wicking!
A tunic or sweater dress would be comfortable for indoors or outdoors with thick tights, while a cinched shift dress with thin stockings can be worn both museum-hopping or dancing at night as things warm up. You can also layer thin and thick tights if the temperature drops or wear them under jeans or leggings.
Avoid wearing flip flops, workout shoes, or skirts/dresses without tights or nylons underneath. If you plan to go to the pool or spa, then pack a swimsuit.
What to Wear in France: Outerwear
Poncho  /  Rain Jacket /Waterproof Booties / Ahnu Oxfords
Temperatures in the western part of France can range from 3C – 17C / 37F – 62F degrees in spring. It's best to use 2-3 layers of tops in synthetics fabrics and avoid cotton.
Springtime in France is less crowded, but it can also be wetter from other seasons and places.  A rain poncho or travel umbrella will keep you and your bag dry and will save you up to 42 Euros for an umbrella upon arrival.
Take a look at these stylish travel raincoats for women!
Opt for durable synthetics that provide a measure of warmth plus wind- protection– especially near the coast. A weatherproof shell or rain jacket will help keep you dry, but be prepared for slippery cobblestone as well.
Merino socks worn in comfortable rubber-soled loafers may provide warmth and dryness.  Anti-chafing agents might ward off blisters.
Be prepared for showers with waterproof boots — not trainers or sneakers.
Toiletries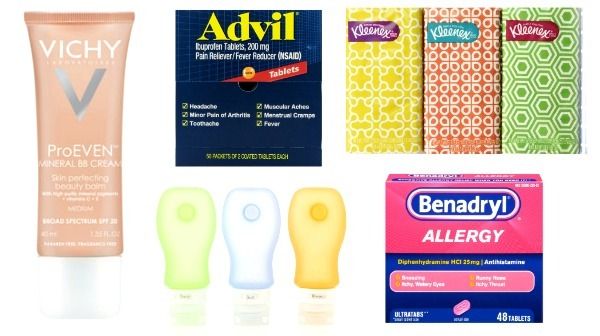 Advil / Benadryl / Tissue packs / Vichy ProEven tinted BB Cream
France is renowned for their perfume and skincare giants, but larger pharmacies are hard to find in the western regions.  Find out some of our list of the best French beauty products!
Allergy medicine might be your best friend to diminish red noses and eyes for photos. Tissue packs will help in the public washrooms, or you may be searching for coins to purchase an emergency supply at the toilet.
Both sun and wind can sting your face, so turn to carry-on approved Vichy ProEven tinted BB Cream, which hydrates for 24 hours to even skin tone, conceals age spots or wrinkles, and protects skin with SPF 20.
Prescriptions should be written for generic drugs, as names differ in Europe and other parts of the world; never store these in your checked luggage.
Please consult with your doctor before taking any medication.
Electronics
Plug Adapter / Canon Digital Camera / Samsung Note 5 / Burton's wheels / Carry-All Tote Bag
When planning what to wear in France in spring, be prepared for very limited internet access on the road in the western region.  You will see more lavender fields than cellphone towers in this part of the country – get "unplugged" and enjoy the view!
Maps can be saved offline with Google Maps for driving directions. One- way roads are common in French cities like Rouen, and GPS systems often don't anticipate it. Google Maps may also offer indoor floor plans of museums by zooming in on the location.
A flat 2-prong adapter (110-240 V) can be bought at airports or luggage stores for hermaphroditic France-only sockets, into which a bigger standard Euro-prong plug or North American (3-prong) may fit.
Your valuables are best kept in a cross body purse that could stay safe from pickpockets. If you are worried about theft, add items like a money belt or Secret Bra Pocket to your packing list. These are our top anti-theft travel bags for women.
Read these tips on how to keep your passport safe while traveling!
Rolling duffle bags or sturdy wheeled backpacks are more than a mere convenience. A spare microfiber or foldable day-bag, such as Baggalini, is helpful in case you find souvenirs and items to carry back home. You'll enjoy plenty of shopping and things to see in France!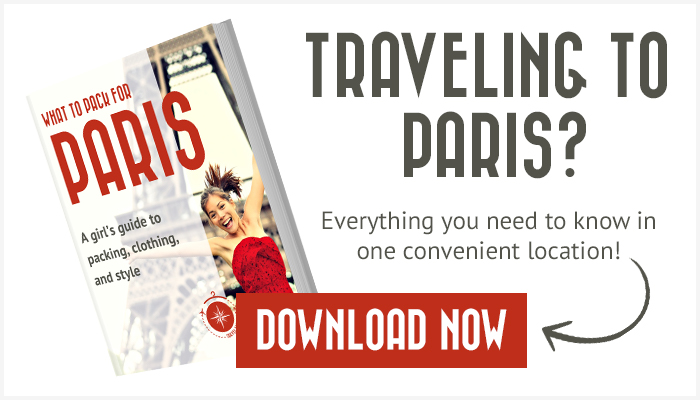 ---
What are your tips on what to wear in France in spring? Share you thoughts below!
---
For more tips on what to wear in France, please read this post:
Suggested travel resources:
---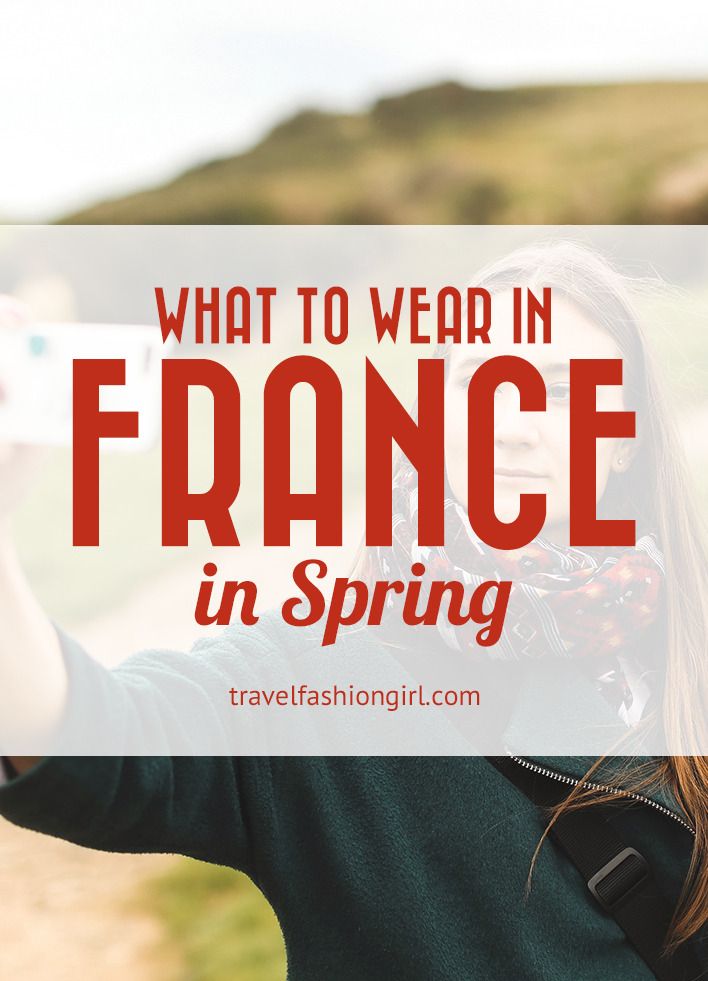 ---
I hope you enjoyed this post on what to wear in France in spring when visiting Normandy, Giverny, and Rouen. Please share it with your friends on Facebook, Twitter and Pinterest. Thanks for reading!
---
Author Bio: Lily An is a Canadian educator and Vancouver-born nature enthusiast. When she isn't working or traveling, she is likely to be skiing, diving, or mountain biking with her family. 
---