Support TFG by using the links in our articles to shop. We receive a small commission (at no extra cost to you) so we can continue to create helpful free content. As an Amazon Associate, we earn from qualifying purchases made on Amazon in addition to other retailers featured on the blog. Thank you, we appreciate your support!
Wondering what to wear in Boston? This local's approved packing list will help you prepare your packing list for year round style!
---
What to Wear in Boston
Written By: Mary Ware
---
Surrounded by the unmatchable charm of New England, and all of the outdoor adventure that comes with it, Boston is an amazing city with the perfect blend of historical landmarks and modern excitement.
With all the conveniences of larger cities like New York and L.A., many people are surprised to experience the quaint charm and almost small town feel that Boston can have compared to bigger metropolises.
Boston has the best of all 4 seasons, though the seasons often find themselves a bit confused with winter showing up late, or snow falling in March. It is important to always check the weather forecast before a trip to Boston, and pack layers for your travel capsule wardrobe to ensure you are comfortable for the entire trip.
Boston fashion is a comfortable combination of the preppy style that New England is known for, complete with clean lines and layering with textures and patterns, matched with a relaxed and sporty influence.
It is one place where everyone seems to own, and it is perfectly acceptable to wear, a baseball hat year round- as long as it is a Boston sports team!
Tip: Want to pack light, use packing cubes to compress your clothing as shown in this video!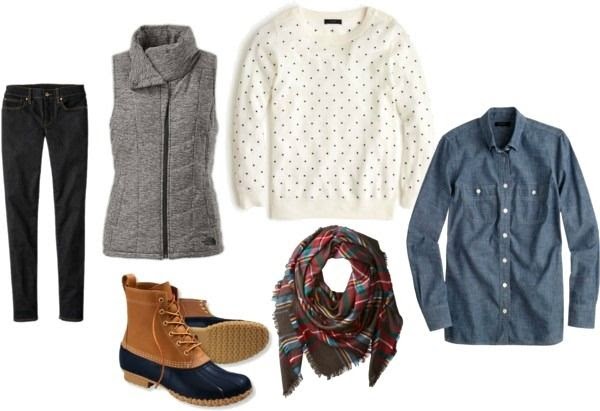 Sweater |Shirt | Vest |  Jeans | Boots | Scarf
What To Wear in Boston in Fall
Fall is a magical time to visit Boston, as the brick buildings and cobblestone side streets are surrounded by vibrant and iconic New England fall foliage.
Fall makes for a perfect time for a trip to the city as the temperatures drop, leaving the summer heat and humidity behind for much more comfortable days and cozy outfits. Layers are key during this time of year.
Pair skinny jeans with a neutral sweater and quilted vest for an outfit that can take you from sightseeing to drinks at a pub in style. Add a long sleeved button up under the sweater or a plaid blanket scarf for extra chilly days.
If spending a good amount of time walking around or exploring the fall scenery, a pair of water repellent boots (LL Bean is the favorite around here), will keep you warm and comfortable no matter how the weather turns.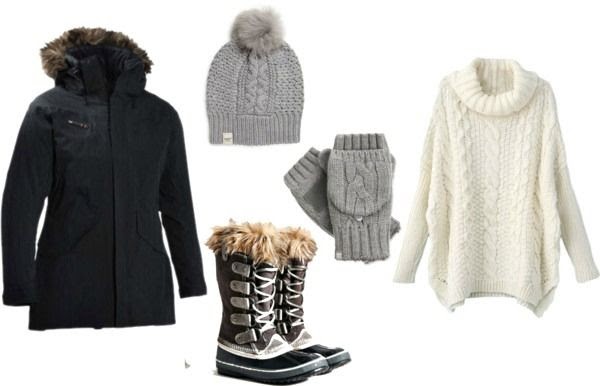 Sweater | Jacket | Sorel Boots | Hat |Gloves
What To Wear in Boston in Winter
Winter sometimes takes a while to coming knocking, but once it shows up it arrives in full force, as the record breaking Blizzard of 2015 proved this year when the entire city was covered under mountains of snow.
However Boston typically enjoys enough snow to drape the buildings in a beautiful blanket without quite as much drama, though the wind chill can be especially biting so it is important to dress warmly and protect yourself from the elements.
Transition the fall outfit by adding a few key essentials. A heavy down-alternative filled coat with a faux fur lined hood adds extra warmth to your face and will help you to blend in with the locals. A pair of tall snow boots, gloves, and a cute knit hat will keep you fashionable as you trek through the streets on your way to some of the city's great indoor locations.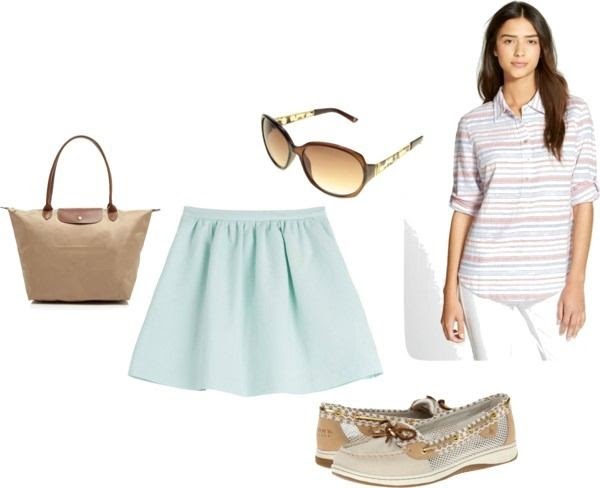 Top | Skirt | Sider | Longchamp Purse | Sunglasses
What To Wear in Boston in Spring
Residents rejoice once spring hits, bringing with it the opportunity to shed some layers. For classic New England style, pair a long sleeve button up shirt (with sleeves rolled up) with a skirt or capris. Low profile comfortable shoes like Toms, Converse or Sperrys will keep you looking good while exploring the city by foot.
Boston is an extremely walkable town (in fact some of the city's most famous sights can be found on the walker friendly Freedom Trail) so you will want to wear something you will feel comfortable in after logging a few miles from walking along the Charles River to meandering through Boston Common.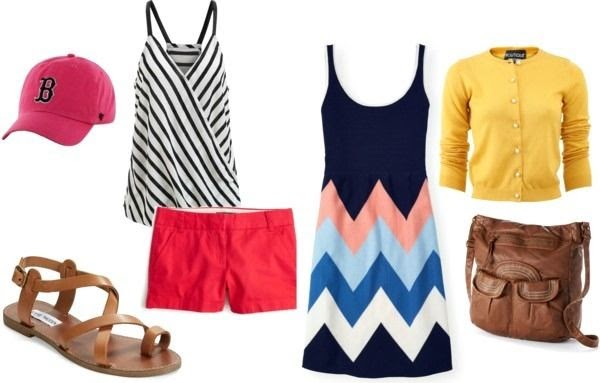 Dress | Cardigan | Cami | Shorts | Sandals | Purse | Cap
What To Wear in Boston in Summer
Summer finds Boston packed with tourists enjoying the sights despite the sometimes sweltering heat and humidity. Loose fitting tank tops or other lightweight shirts combined with shorts or a skirt and sandals will help you stay cool, and maxi dresses or sundresses are always in style.
Evenings can get cool, so a brightly colored cardigan will help keep you warm whether by the waterfront or at dinner in a restaurant with the AC on blast. Bring your Red Sox hat for a game at Fenway, America's oldest ballpark and an experience not to be missed, or buy one when you get here- they are available everywhere!
---
Boston is one of those cities where it is easy to fall in love and decide to stay a little longer. Some stay in the area indefinitely after visiting, (like this writer!). Taking time to pack appropriate and stylish outfits will help you enjoy your time in Beantown, no matter the season of your visit.
What are your best tips on what to wear in Boston? Share in the comments below!
---
For more North America packing tips, please read:
Suggested travel resources:
---
LIKED THIS POST? PIN THIS PIC TO SAVE IT!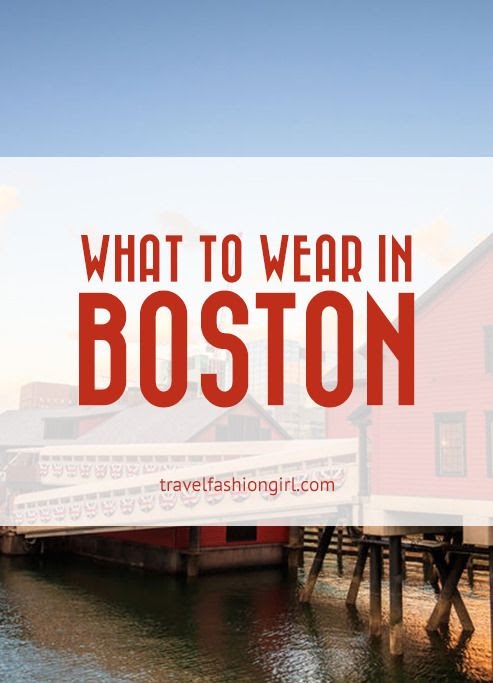 ---
Hope you enjoyed this post on what to wear in Boston. Please share it with your friends on Facebook, Twitter, and Pinterest. Thanks for reading!
---
Author Bio: Originally a Cali girl but now enjoying life on the East Coast, Mary Ware is a travel enthusiast who has a love for exploring cities (foreign and domestic) with her camera in tow. See what inspires her on Pinterest and follow her on Instagram.
---