Support TFG by using the links in our articles to shop. We receive a small commission (at no extra cost to you) so we can continue to create helpful free content. As an Amazon Associate, we earn from qualifying purchases made on Amazon in addition to other retailers featured on the blog. Thank you, we appreciate your support!
Diane Kroe is the queen of transformation! She's best known for her feminine collection of convertible clothing for travel. The line has over twenty jetsetter-friendly pieces including tops, dresses, wraps and pants – and the best part is: they're all versatile. Learn more here!
I recently had a chance to check out two of her multi-way items: the Wanderlust Wrap and the Endless. Keep reading for your exclusive discount and find out more about how they work. I guarantee you'll want to add them to your travel wardrobe!
---
Convertible Clothing for Travel: Diane Kroe
---
Wanderlust Wrap
The Wanderlust Wrap was a wonderful surprise! It's convertible clothing for travel done right. It's also the newest item in Diane Kroe's collection.
Truthfully, I don't think the pictures online do the wrap justice. Not only was it an item I could wear while traveling it's also something I'd confidently wear at home, too. It is so versatile and offers travelers plenty of options for different looks from a single item.
Versatility is key to a capsule wardrobe. Learn more in my guide!
Why It's Worth It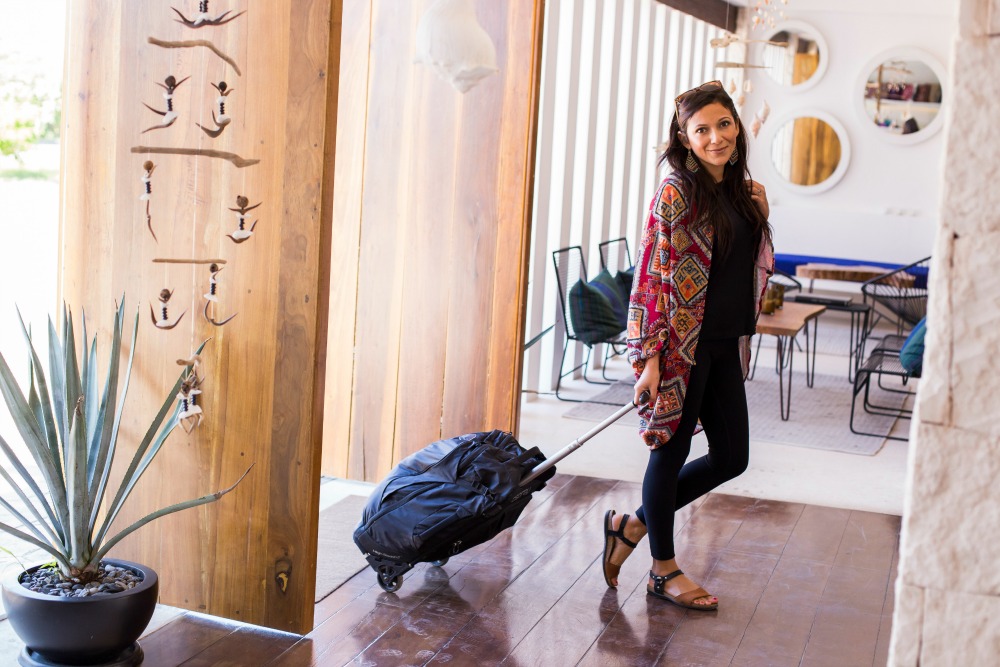 Photography by Luna Vandoorne | Location: HM Hotel in Playa del Carmen
Lightweight and soft, the wrap boats a luxe knit hybrid fabric with dropped shoulders, batwing sleeves, and an invisible zipper in the back.
It's available in a variety of colors and prints. I tried out the boho-rust – a red bohemian Southwestern-inspired print. Love it! (And I'm totally lusting for the grey-leopard print, too. Perfect for my favorite color story!)
The image above shows the Wanderlust Wrap as a cardigan but there are three other ways to style it: sweater, long sleeve top, or skirt-like sarong. Even if I didn't use all four styling options the cardigan and top make the garment worth getting.
It will easily fit inside your packing cubes to maximize the space in your bag. 
Wear it as a Warm Layer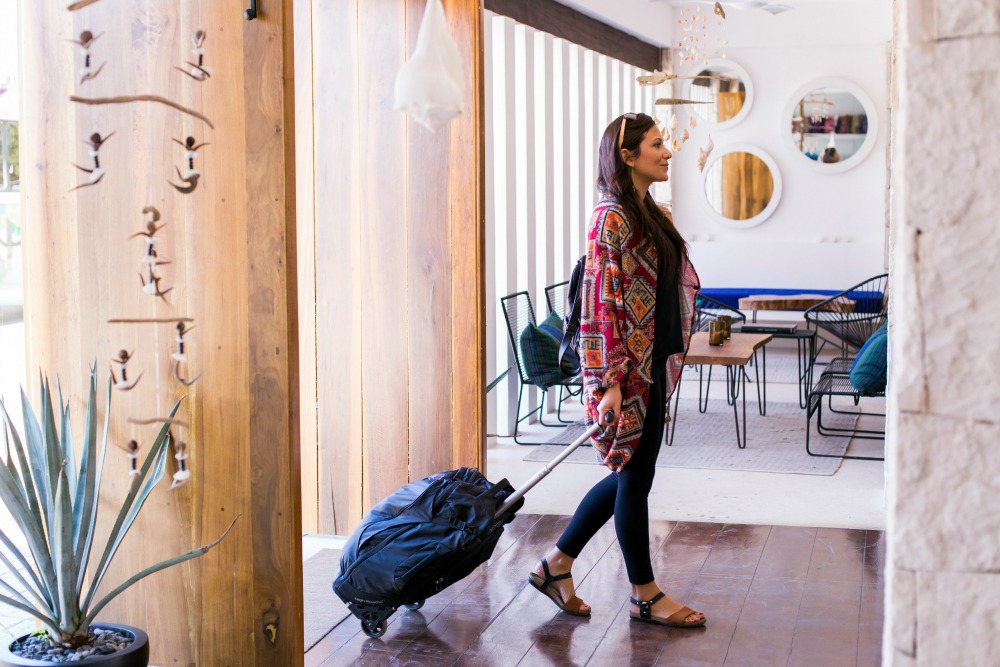 (worn with Naot sandals)
You can style the Wanderlust Wrap in two ways to create a light but warm layer: wear it loosely as a front-opened cardigan as shown above or drape it, fold it, and button it to create a sweater as shown below.
I first tried on the cardigan style, which is super easy to wear and can be paired over anything. Use it as part of your flight travel outfit or sightseeing look by adding leggings, a plain top, comfy sandals and some earrings. I like this comfortable yet stylish plane look. Don't forget a cute backpack and carryon suitcase!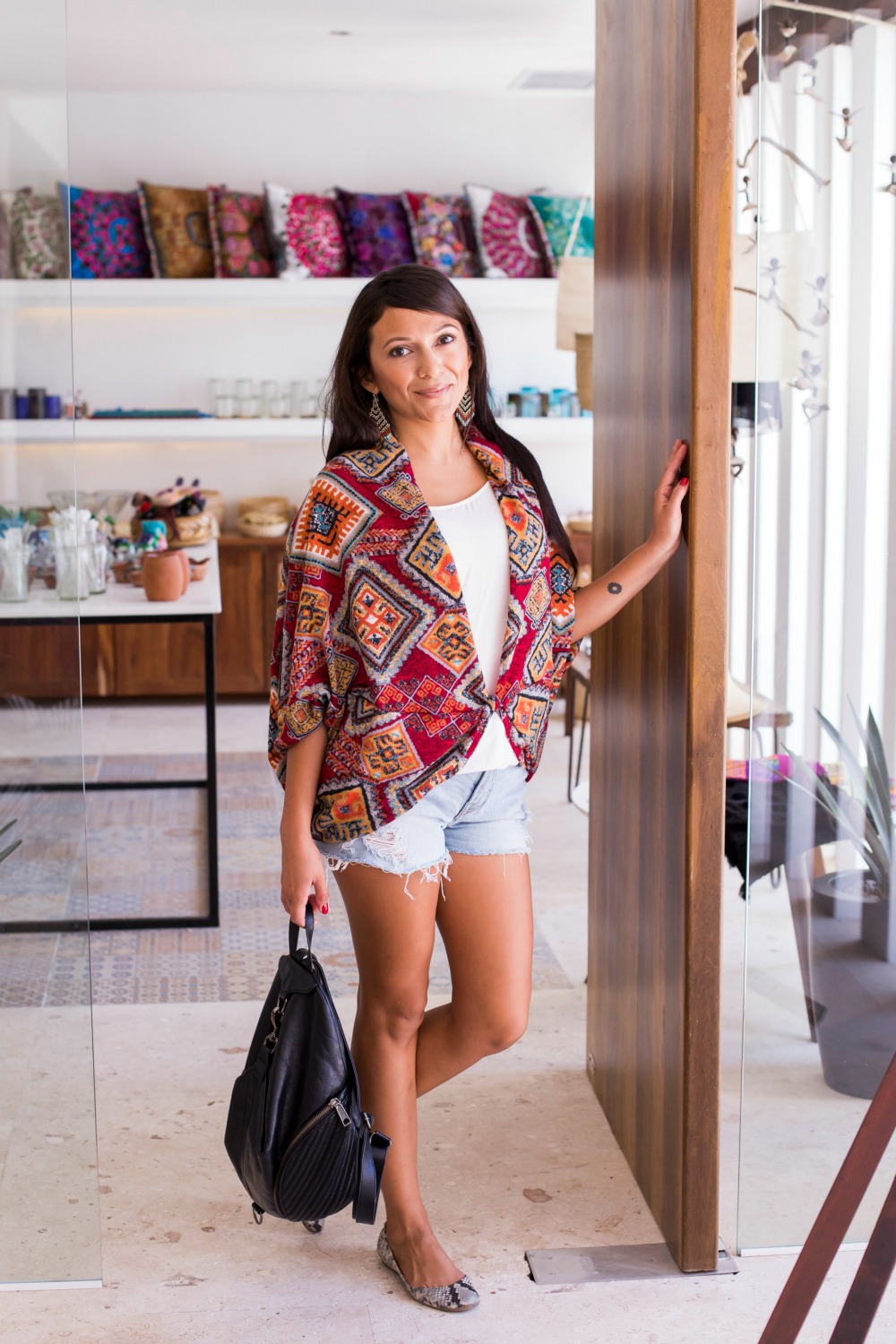 I've also worn the wrap over a white slip dress and sandals or a basic top and denim as shown here. I love how the print makes an outfit pop especially if you're working with a majority of neutrals in your travel wardrobe.
Secret: I'm wearing the slip dress tucked into my shorts so it doubles up as a tank top!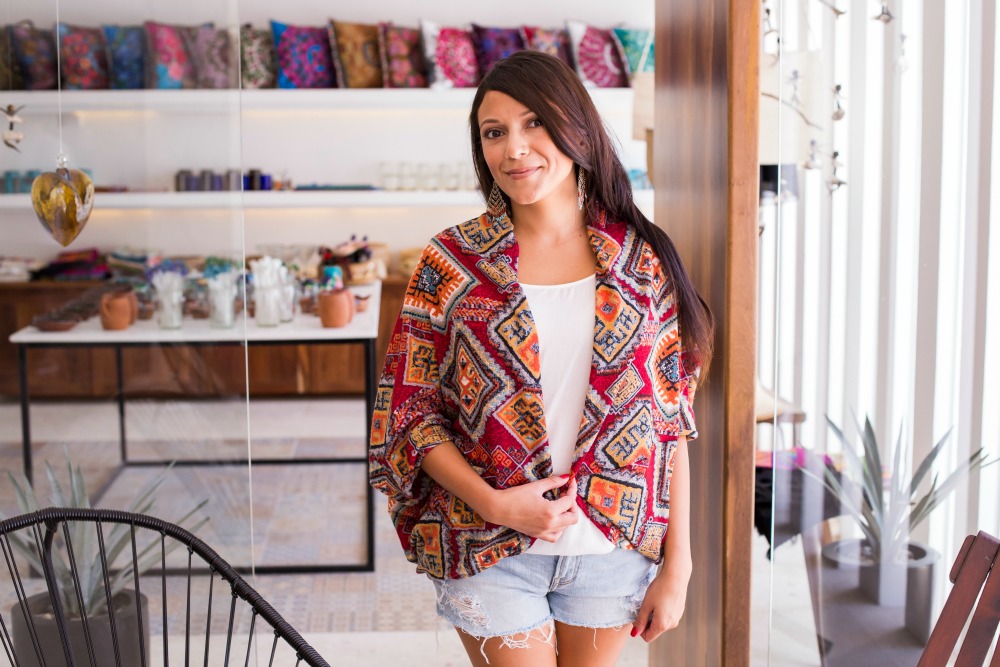 As the temperature has occasionally dropped to a "cool" 65F-70F here in Playa del Carmen, we've been feeling the winter and a light but warm cardigan like this is just what you need.
Wear it as a Top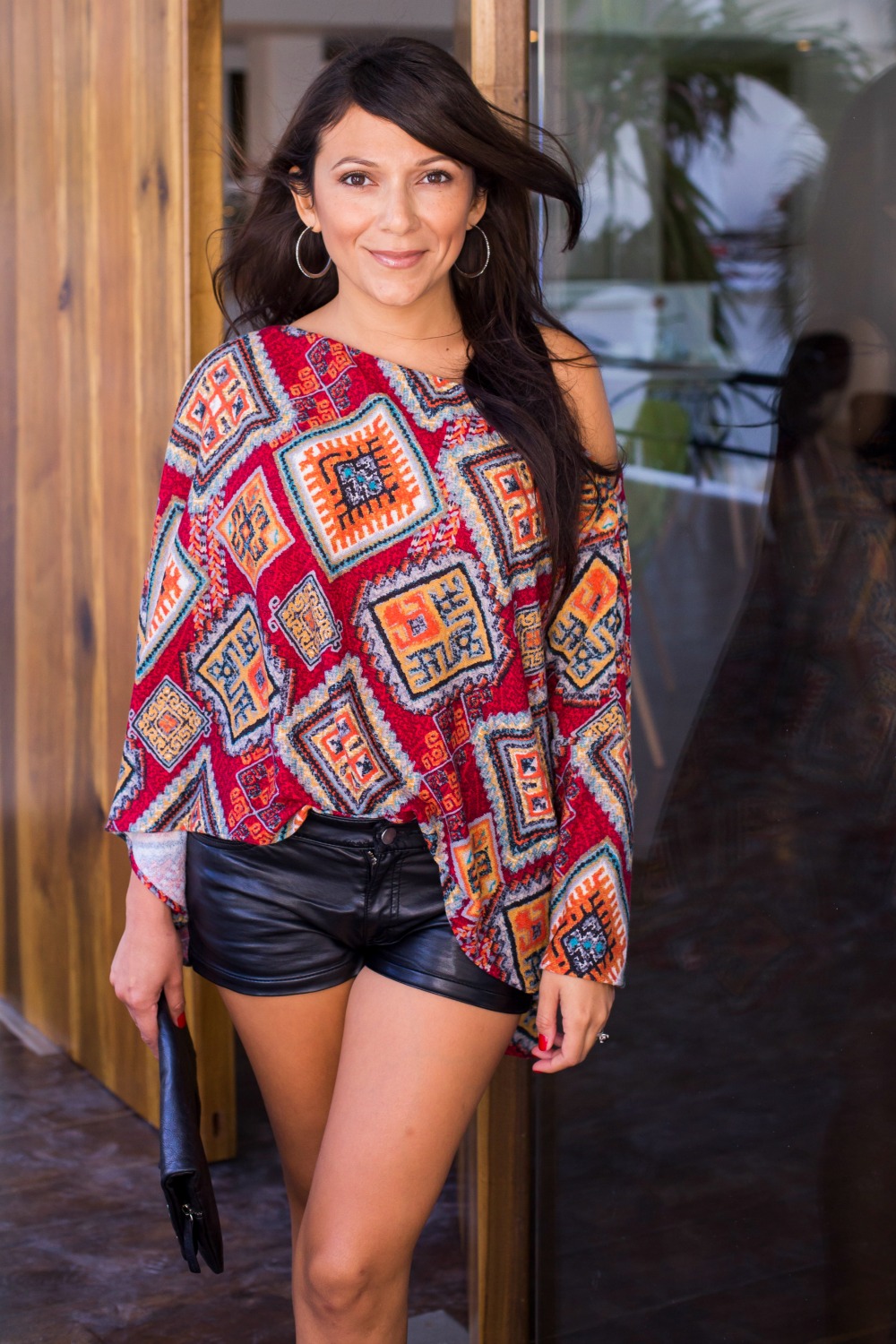 Aside from acting as a light layer in moderate or transitional weather, you can also transform the wrap into a top. I liked the open cardi style but I LOVED it as a top!
Having the full color and print really brought my outfit to another level. This style option can be dressed up or down as needed. Pair it with jeans and brown boots or even leather shorts and flats the way I have here.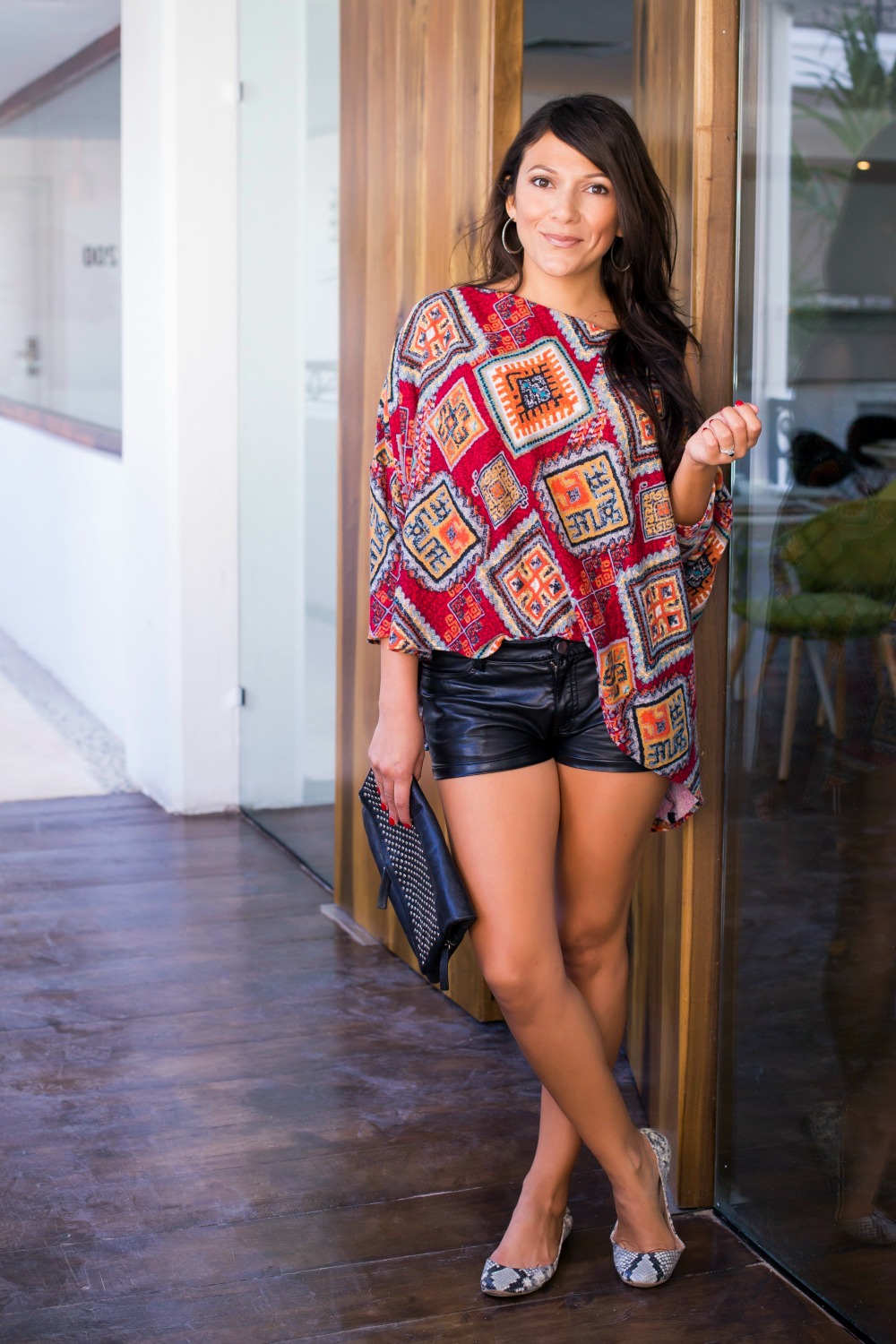 Notice the "neutral" snake-print ballet flats? Now, that's my kind of a neutral!
Wear the Wanderlust Wrap on it's own when the weather is warm and add a long sleeve top underneath for cooler climates. The hidden zipper is incredibly clever. It's rare to see convertible clothing for travel that's so well designed.
The Wanderlust Wrap is brand new and was just revealed this weekend! It retails for $125 in Canada, which is about $95 USD right now – currently a great exchange rate for the dollar! TFG readers get 10% off until March 6, 2016. Use the code WANDERLUST to claim your discount! Shop now!
The Endless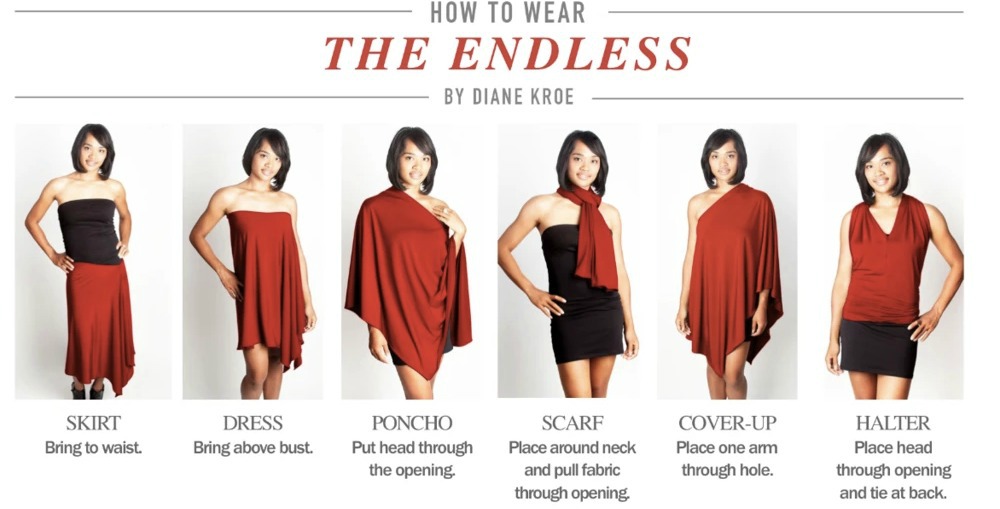 While the Wanderlust Wrap just joined me in time for Playa del Carmen's "winter" months, I've been wearing the Endless since November.
In fact, it's one of the things I've worn the most since moving here. Why? It's airy, comfortable, and casual yet glam at the same time.
It's also one of Diane Kroe's most popular pieces! It's convertible clothing for travel you can wear in various feminine ways. Here are a few of my favorite looks!
Flowy Skirt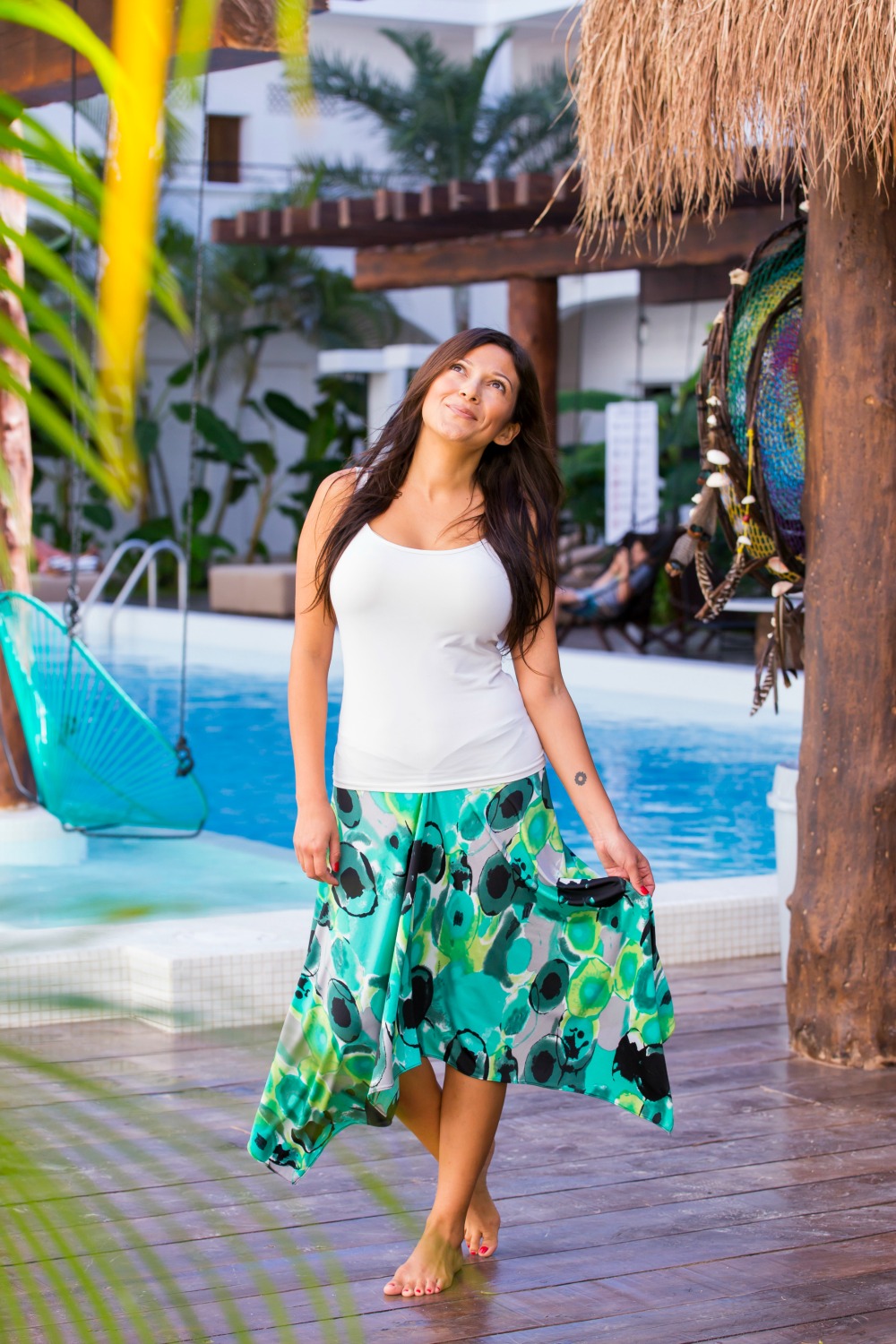 (worn with this awesome travel cami)
Appropriate in various destinations, you can use it comfortably on a plane, to go sightseeing during the day, and then dress it up at night with strappy heels for dinner. The fabric is seriously soft and cozy! You'll never want to take it off.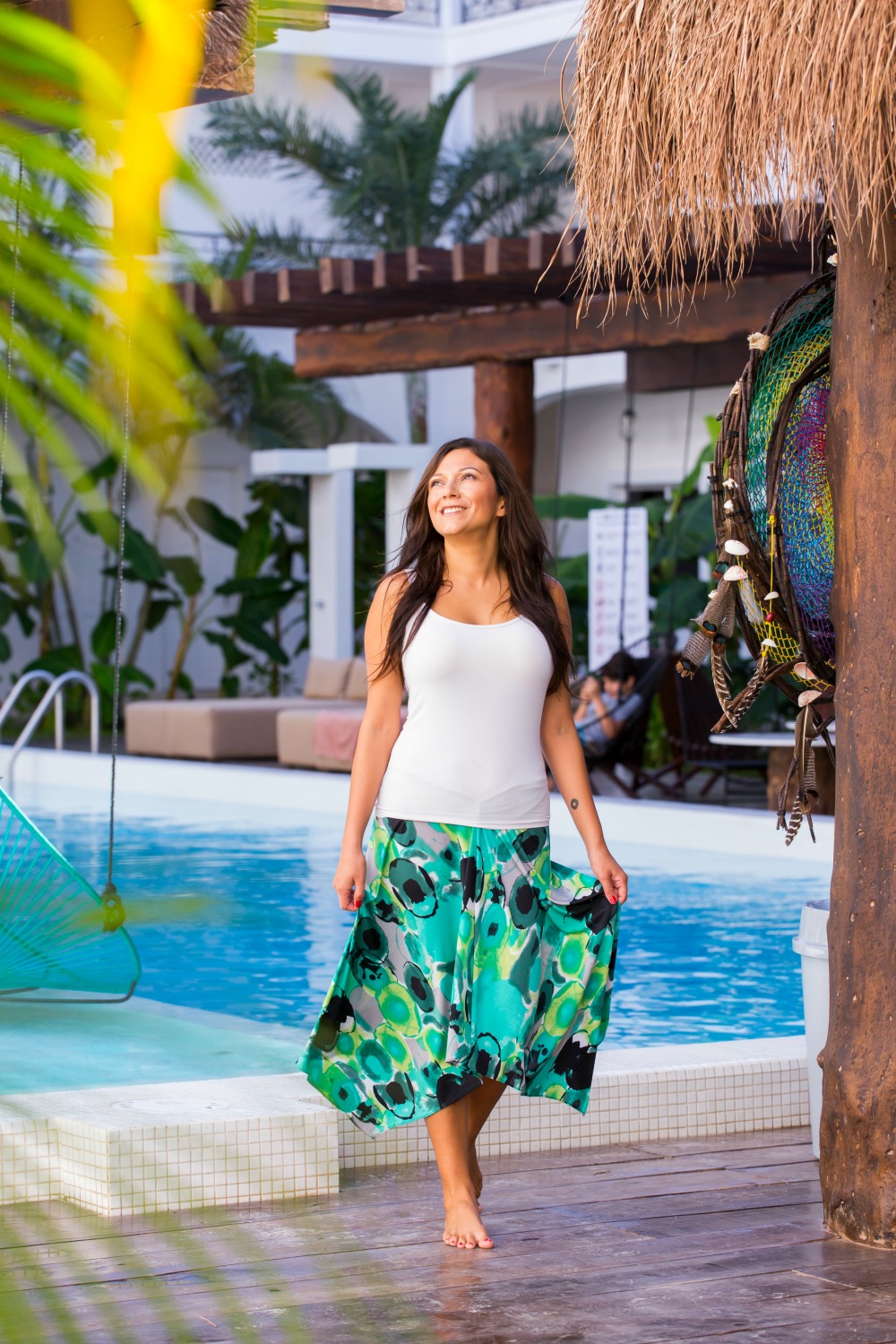 (worn with this awesome travel cami)
You can also adjust the way it sits on your hips to change the angle of the hem. Another simple outfit transformation!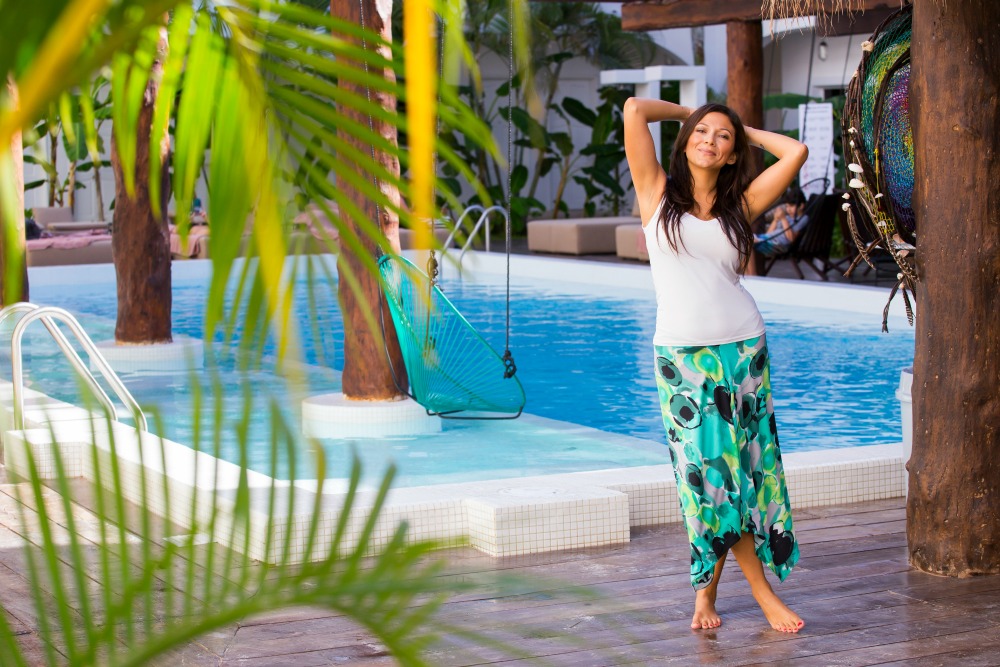 I like matching it with a basic black or white top like the one shown in the picture to complement the vibrant print. The endless is also available in a wide array of colors and prints and comes in three sizes: XS/S, M/L, and L/XL.
Off the Shoulder Top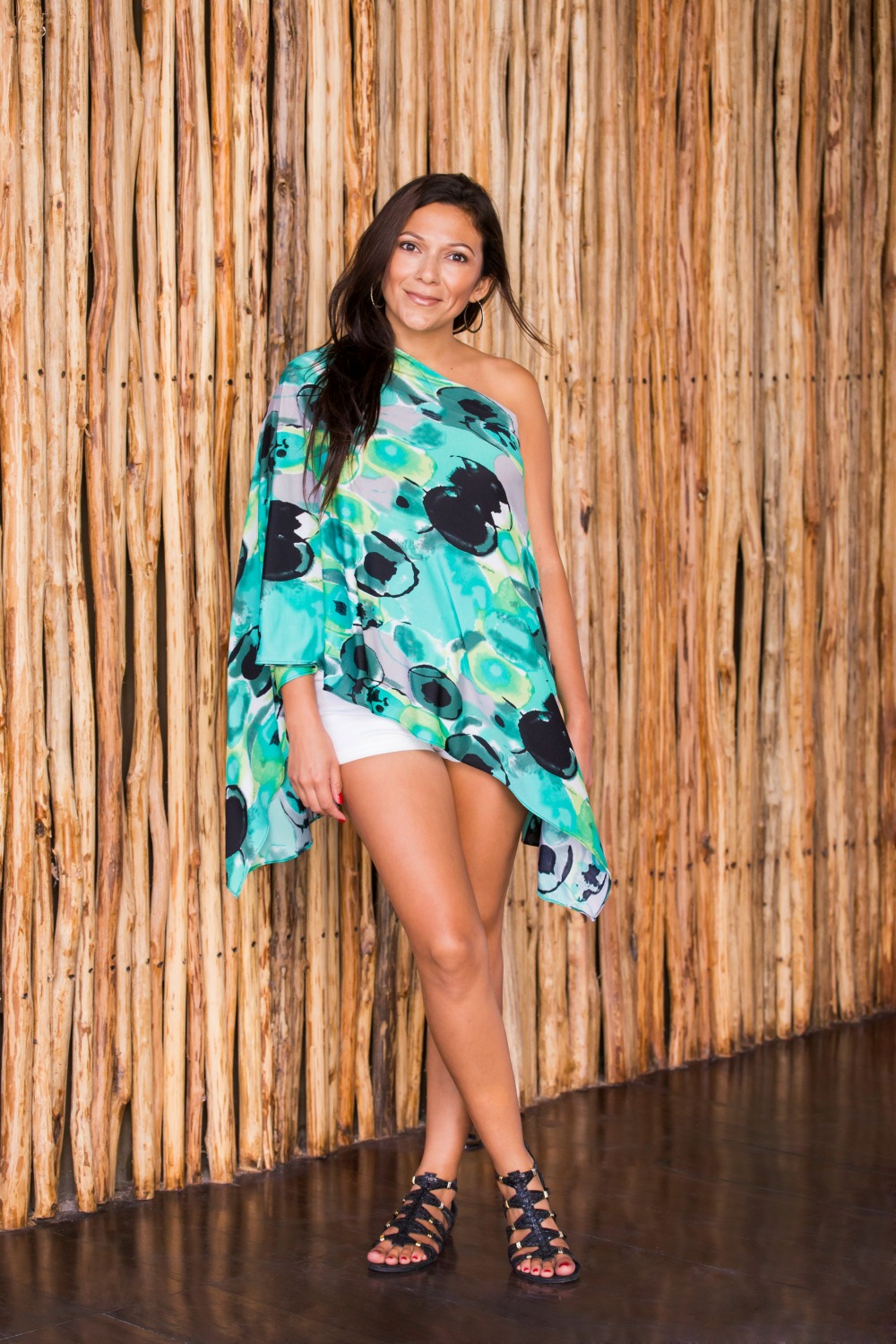 What can I say? An off-the-shoulder top always makes me feel sexy. This has been my go-to look for boat cruises, rooftop parties, and sunset drinks here in Playa. Not what you usually expect from convertible clothing for travel.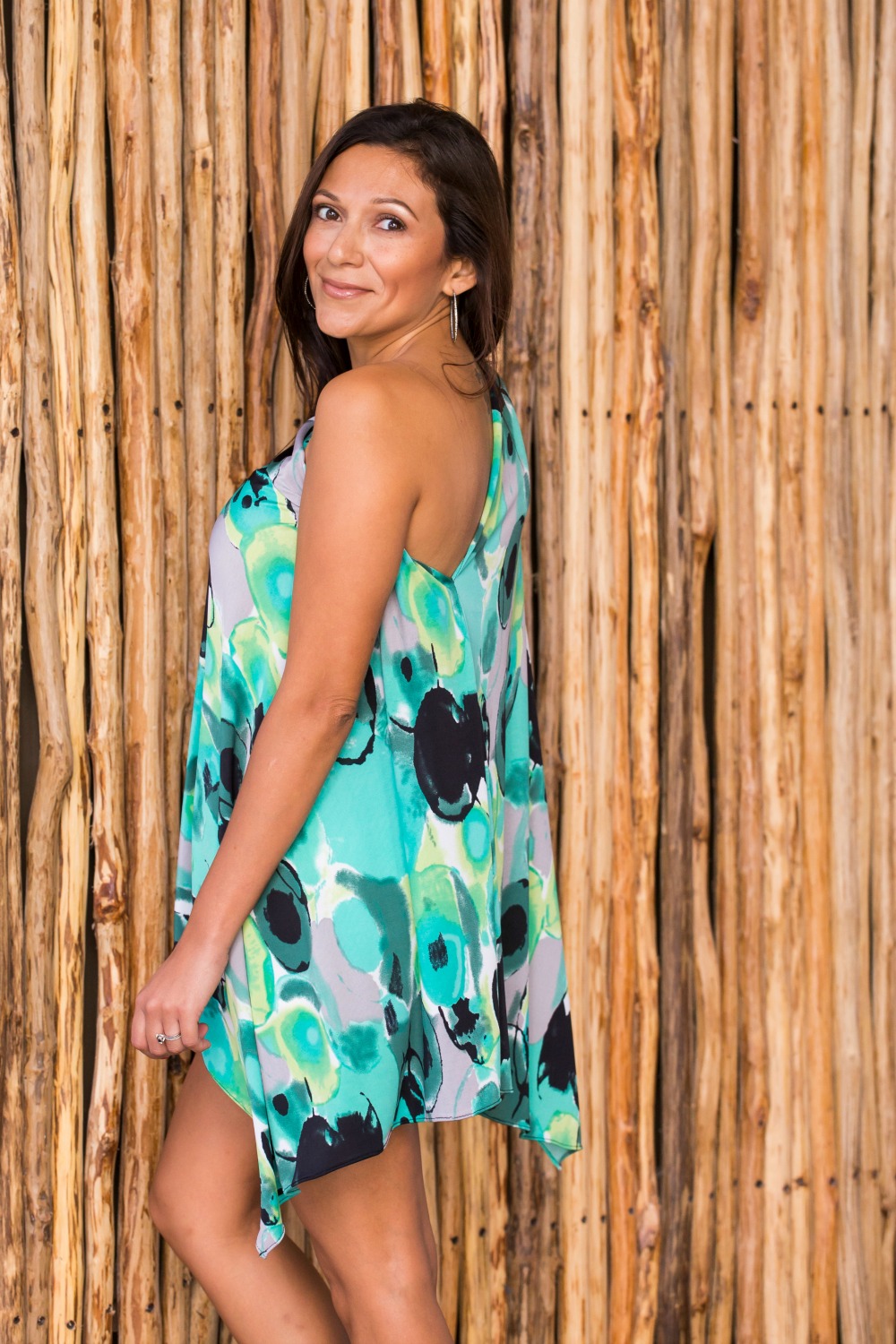 Wear it as a tunic with leggings for a casual look, add a mini skirt or plain bodycon dress for a nighttime outfit, or combine it with shorts and strappy sandals for dressy daytime style the way I've shown above.
You can also wear it alone as a cover-up while laying in your beach bed or poolside cabana. Pull the "sleeve" under your arm for a sleeveless tube-top dress or tunic.
Halter Top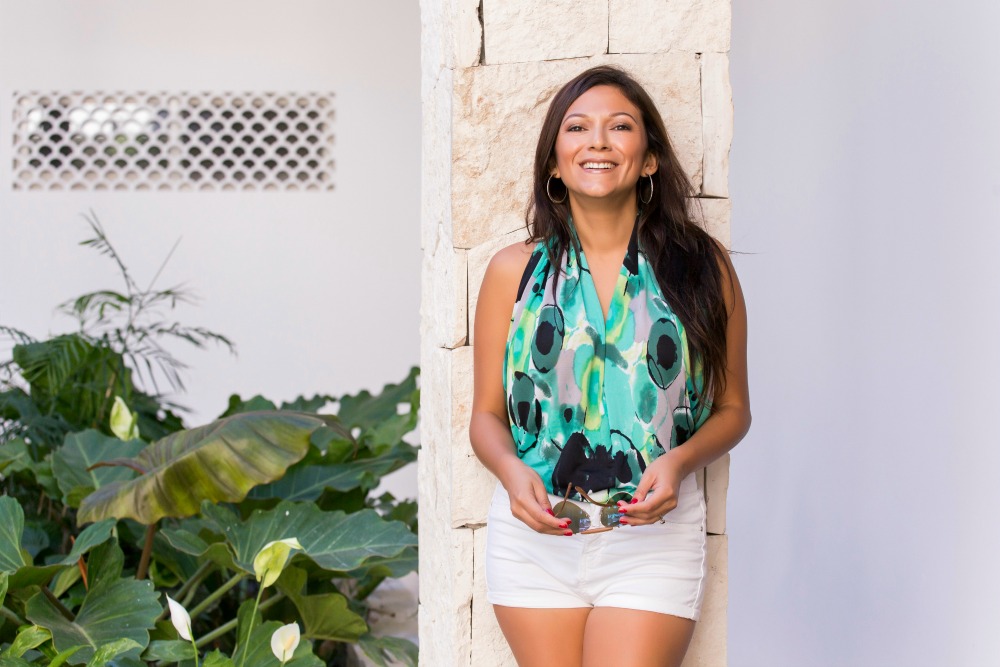 Seamlessly transition the Endless into a summer top by tying the ends together resulting in a low draped sleeveless halter. Layer a tube top or bandeau underneath for extra coverage or show some skin with a bikini top.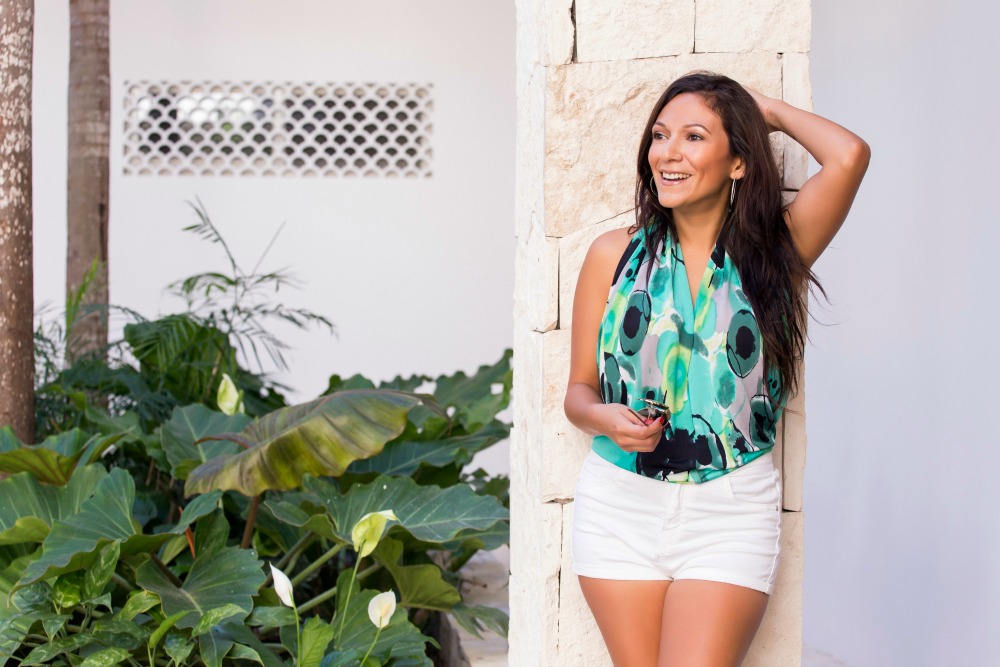 You can pair it with jeans or shorts, worn casually with sandals or dressed up in heels. Alternatively, wear with a mini skirt for a night out dancing. My top pick? The off-the-shoulder style of course!
These are just a few of my favorite looks but you can learn how to wear it even more ways in their video here. It makes a fun versatile travel piece for yourself or you can even give it as a gift!
The Endless retails for $75 in Canada, which is about $55 USD right now – currently a great exchange rate for the dollar! Shop now!
---
Convertible clothing for travel has improved drastically over the past few years. Visit Diane Kroe's online shop and discover even more fun and pretty pieces to add to your travel wardrobe! And don't forget: the Wanderlust Wrap is 10% off until March 6, 2016. Use the code WANDERLUST now to claim your discount!
---
For more tips and ideas on travel clothing, please read:
---
LIKED THIS POST? PIN THIS PIC TO SAVE IT!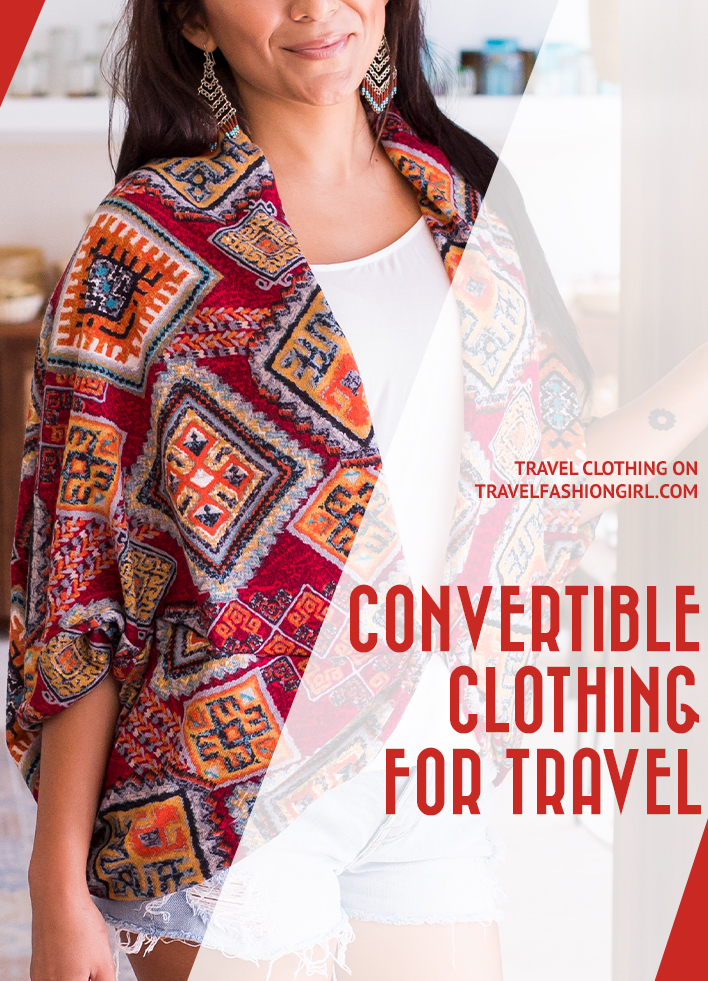 ---
Hope you liked this Diane Kroe's convertible clothing for travel. Please share with your friends on Facebook, Twitter and Pinterest. Thanks for reading!
---