Support TFG by using the links in our articles to shop. We receive a small commission (at no extra cost to you) so we can continue to create helpful free content. As an Amazon Associate, we earn from qualifying purchases made on Amazon in addition to other retailers featured on the blog. Thank you, we appreciate your support!
The Wandf is a surprising winner in the world of travel duffles. Find out why our readers absolutely love this easy-to-use bag in the review below! 
---
Wandf Foldable Duffle Bag Review
---
Table Of Contents
The Wandf foldable travel duffel is a go-to for so many TFG readers, both as a weekend bag and as a carry-on or an extra bag for longer trips to haul things like gifts, souvenirs, or even dirty laundry! With its super low price point but incredibly durable and amazing features, this bag is a real winner. Learn more about why the Wandf is so popular with our readers in this review!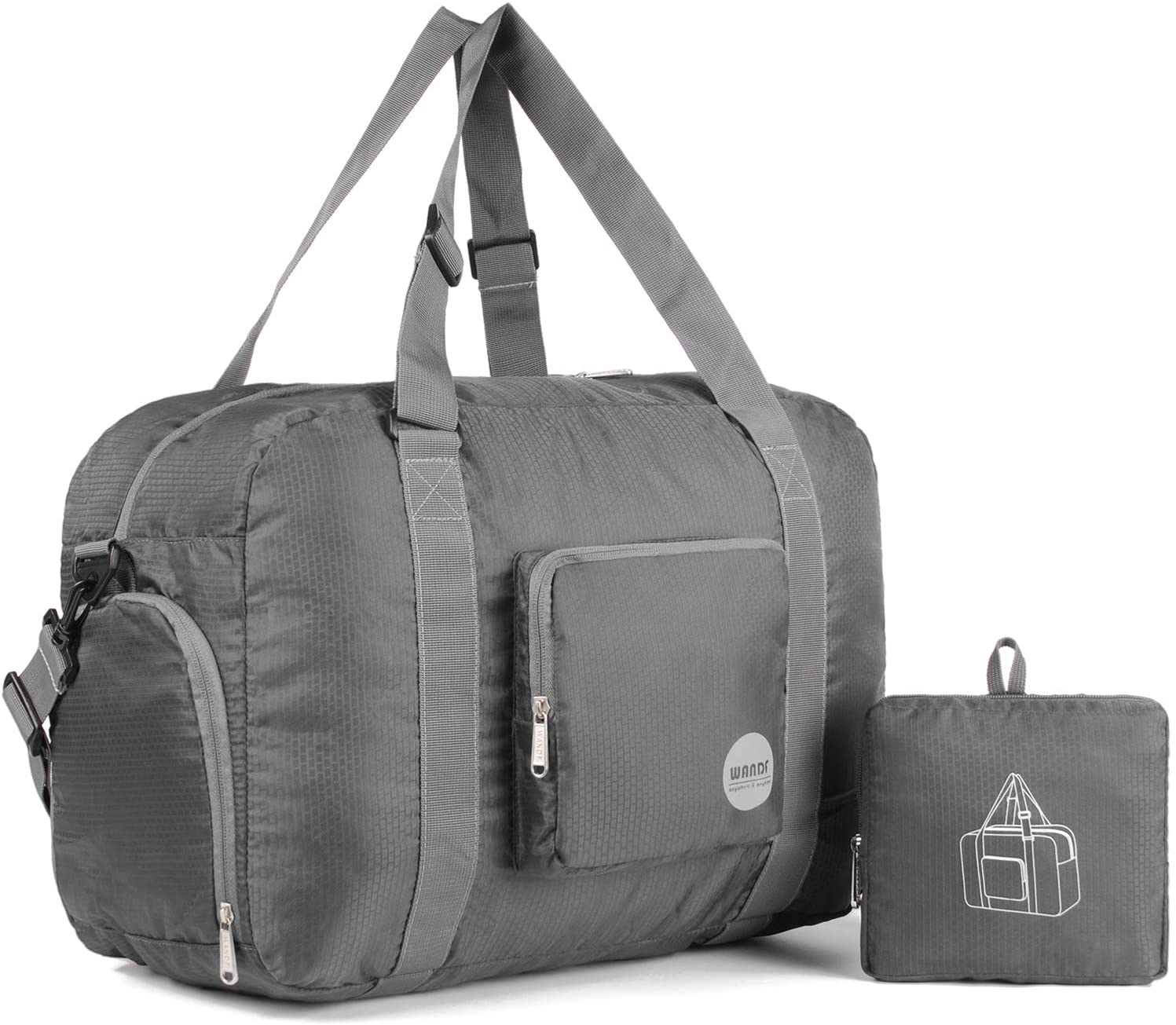 Wandf Foldable Travel Duffel Bag 40L in Grey
Wandf Duffle Bag
Specs
Brand and Style: Wandf Foldable Travel Duffel Bag 
Dimensions and Weight: 20", 40L capacity, carry-on compliant, and weighs a mere 10.6 ounces (Other sizes available include 16"/20L, 18"/30L, 20"/50L, 22"/50L, 24"/60L,  28"/80L, 32"/100L, and 36"/120L)
Fabric: Water-resistant and tear-resistant ripstop nylon
Features: Durable, strong zippers, lightweight, trolley sleeve, handy outer pocket, and multiple ways to carry it
Colors: Comes in a very wide range of over 20+ colors and patterns! Options include black, gray, blue, green, pink, yellow, floral patterns, and much more 
Travel Type: Great for any type of travel. Can be used as a carry-on for longer trips or as a weekender bag for shorter trips. Also excellent as a secondary bag to carry souvenirs, extra clothes or more!
Also, if helpful to you, here's a breakdown of all the Wandf duffles I own and what purposes I use each for:
40L / 20" Wandf duffle in Grey

– Carryon size but not most practical for international travel when maximizing baggage allowance is crucial

50L / 22" Wandf duffle in Blue

– Slightly larger than 40L, technically could still work as carryon with the risk of being oversized, ideal as a weekender or for road trips, but again, too small for my international moves

80L Wandf duffle in Grey

– My favorite option for checked bags to transport items in international moves
Wandf Duffel Bag
Features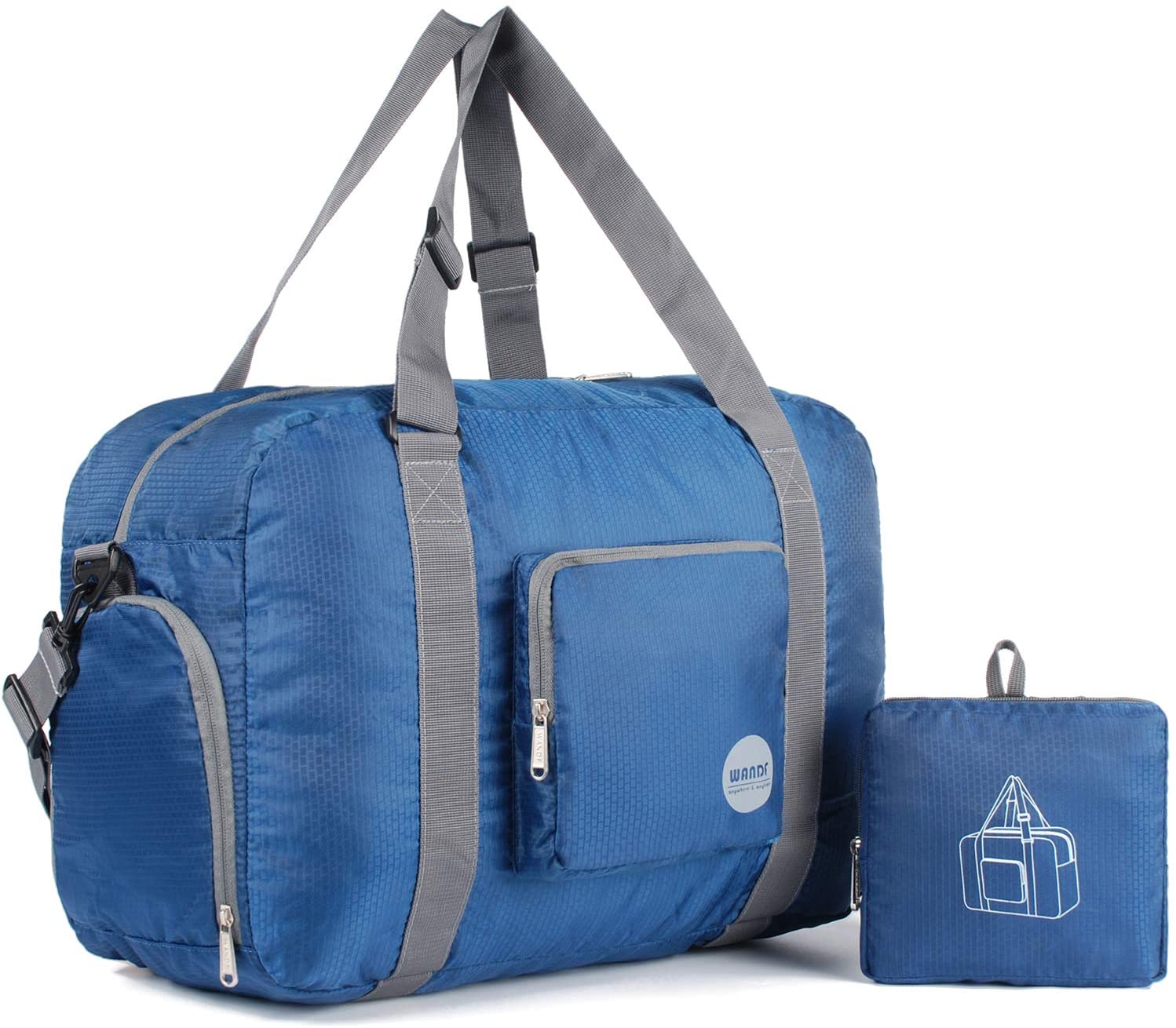 Wandf Foldable Travel Duffel Bag 40L in Navy
Size and Material 
The Wandf is a popular lightweight, packable duffle bag that many readers recommend. I've tried out various packable duffles over the past year due to my many international moves, and after trying this Wandf bag, it's now my absolute favorite! This awesome duffle is made from water-resistant and tear-resistant nylon fabric and has really strong, good-quality zippers. 
I've bought their duffles in 40L, 50L, and 80L and was very pleased with their durability for the price!
The standard carry-on size for the Wandf is 20" with a 40L capacity, so it can fit in the overhead compartment of virtually any airline. And what's awesome about this bag is it comes in other sizes, depending on how you want to use it. Refer to the specs section above where all the sizes are listed. There's also a Wandf toiletry bag option! 
Packing cubes help you organize and maximize your space!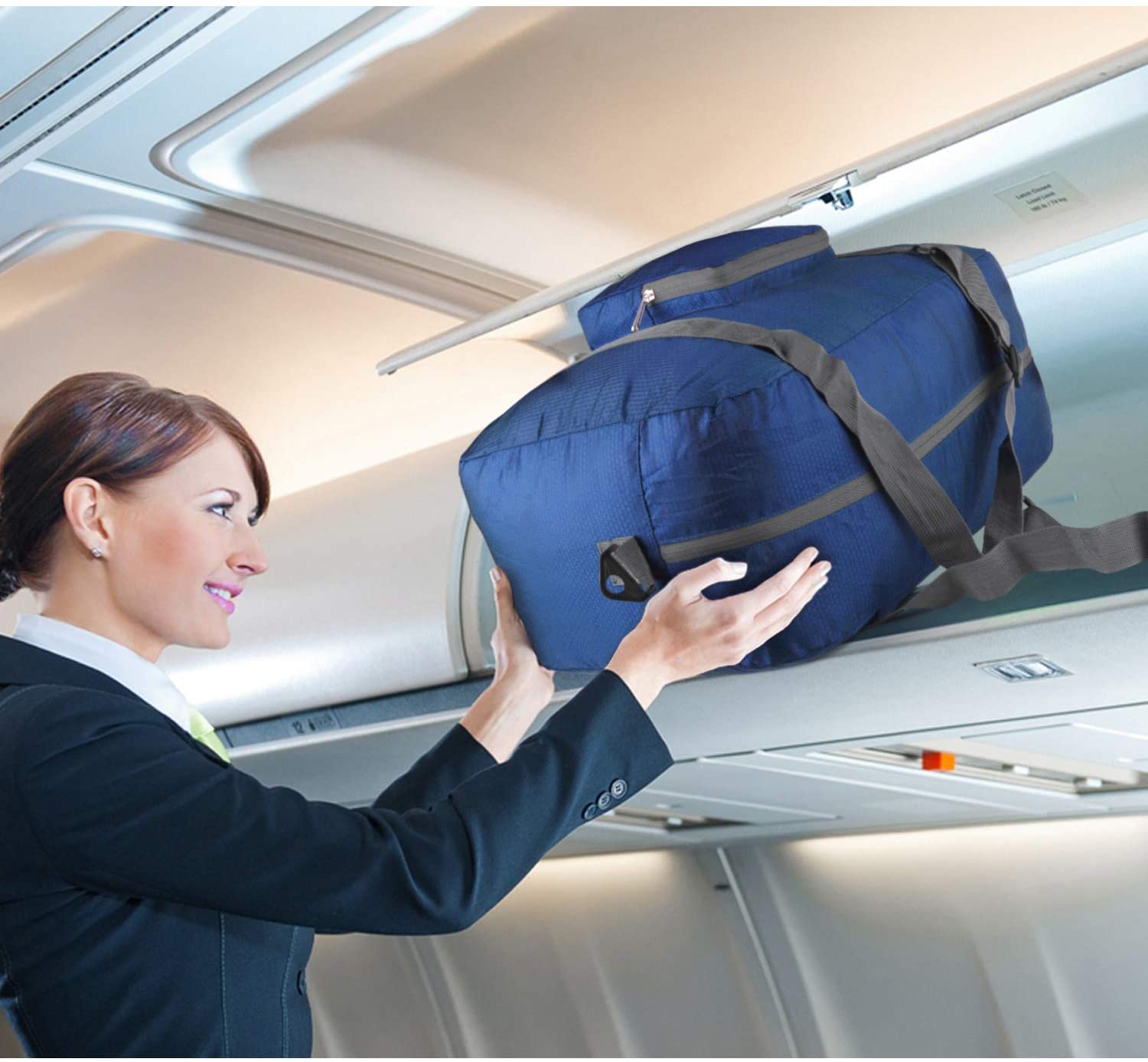 The Wandf Duffle Bag 40L size can fit in overhead bins! 
If you wanted a duffle to fit under the seat, readers recommend buying the Wandf 16"/20L or the 18"/30L sizes. As for how wonderful these are? One traveler puts it simply: "This is a great bag. It holds a ton of stuff, way more than I expected. It is so cute!"
Another reviewer shares, "The quality and workmanship of the bag are much better than expected. I was able to pack two stacks of folded jeans side by side within the bag. When I returned home, I ordered two additional copies in different colors."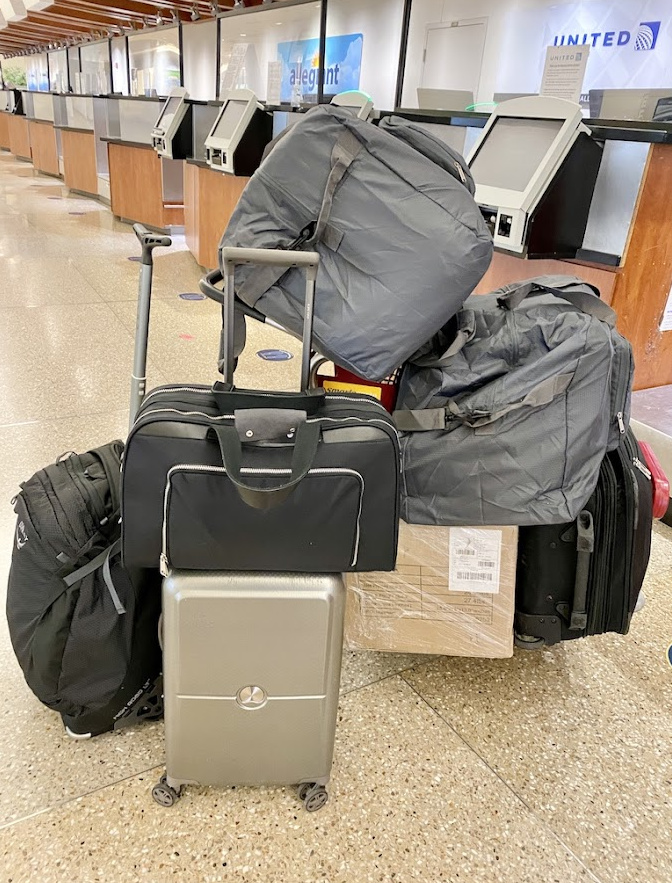 Using 80L Wandf Duffles transporting sheets, towels, and other items from the USA to El Salvador for my new beachfront Airbnb!
Storage and Organization
I'd first purchased one of these duffles for my move from England to Playa del Carmen last year because I needed lightweight luggage with maximum space so I could transport as much of my belongings as possible on one trip. It ended up being one of my best luggage purchases ever and I've since gotten several more sizes to accommodate my continuous moves. 
With a 40L capacity, this carry-on size provides ample packing space. Because of its incredibly durable material, you can stuff this bag as full as you need to, and it will definitely hold up! The outer pocket allows for easy access to essential items, and the strong zipper keeps everything safely secured. Readers have shared that they have used this bag over and over on their travels and it has stayed in great condition.
For the purpose of moving internationally, the 80L is perfect as the maximum size for checked luggage with American Airlines, my preferred airline when traveling in North America. While a 100L could work, I don't want to risk being told I have an oversized bag thus risking a hefty baggage fee.
One traveler shares their experience, "This is a very lightweight duffle (and is advertised as such), but we filled it with miscellaneous stuff and had no problems with durability or portability. I was impressed that the side pocket was as well-constructed as it was, and folding and unfolding it is very easy." 

If you need the best packable tote, read our list!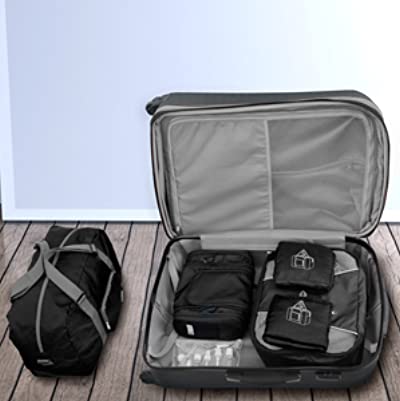 Example of how the Wandf Duffel packs in a suitcase when not used
Packability
With strategic planning and a few packing cubes, you'll be able to fit a surprising amount of stuff into the Wandf carry-on duffle. And another reason this bag is so great is that it can fold up into itself and take up almost no room in your luggage! For this reason, readers love to use this bag as either a backup bag or a spare bag to fill with gifts or souvenirs from their travels to take back home. 
One reader shares, "Someone from here turned me onto the duffle… as I only plan to carry on for my trip, I plan to check on the way home as there's no way I'll be able to avoid goodies in Italy. This bag unfolds into a duffle and I'm impressed with the quality. Also, I like the slit in the back to attach to my suitcase."
Each duffle has organizational pockets outside and also comes with a shoe and laundry compartment (that is if you don't want to use the main compartment for it!). 
Step by step instructions on how to fold the Wandf bag can be found on the Amazon listing, and are super simple!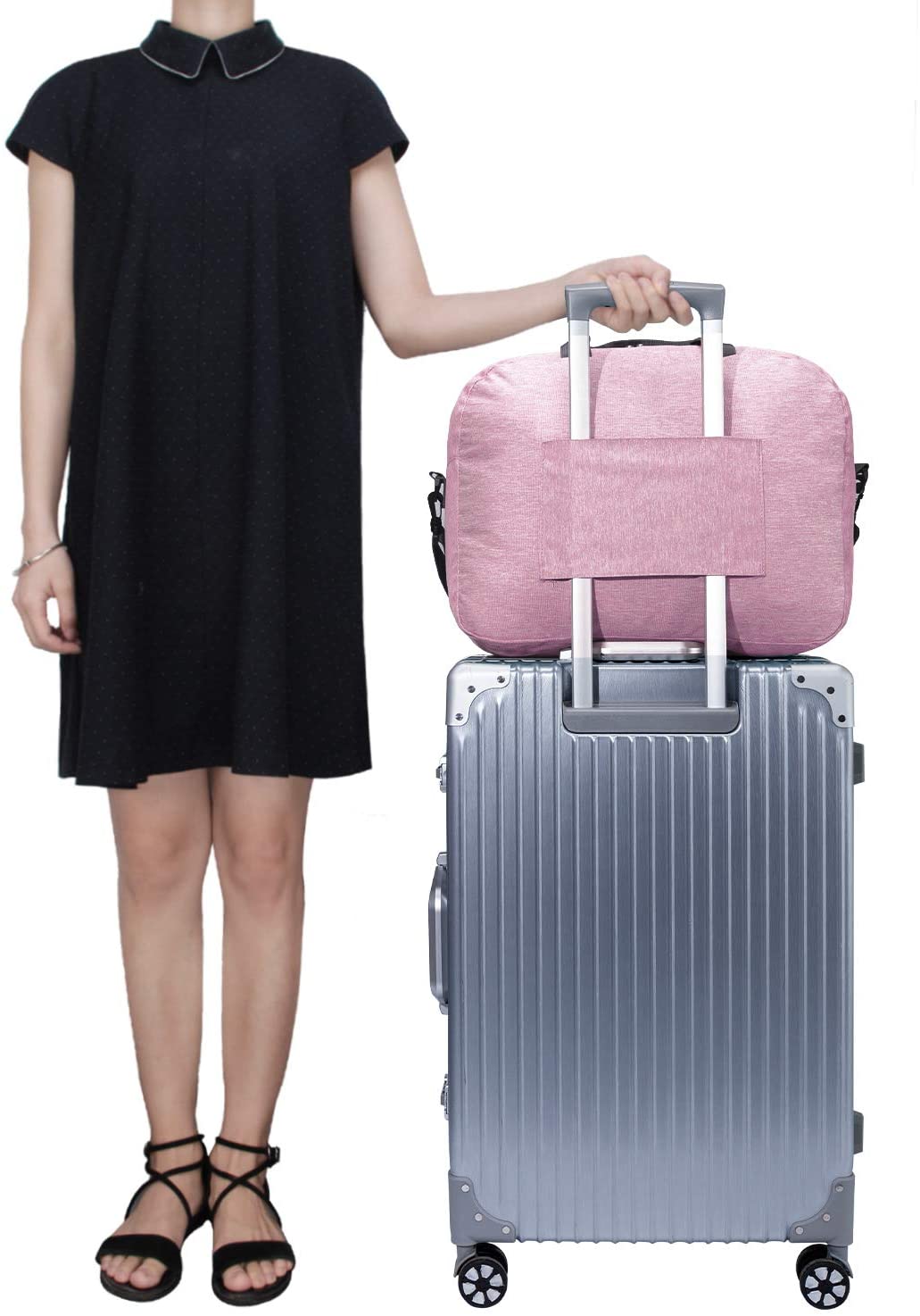 Convenient trolley sleeve on the Wandf Duffel
Extra Features
One of the best features of the Wandf duffle is the trolley sleeve, which allows you to zip around the airport with ease. It's so easy to carry, whether you have it strapped snugly to your suitcase, or are holding it on its own. It has stitched grip handles that readers say are incredibly strong, even when their bags are packed very heavy. 
The adjustable shoulder strap allows for a comfortable fit, too. The easy carrying of this duffle makes a huge difference when traveling. And many sizes have a shoe compartment, if you're using it for a weekend trip, such as the 40L or a longer, robust trip, then the 80L also has a shoe sleeve!
The incredibly wide range of colors allows you to pick an option that you love and makes it easy to quickly find your bag on the go. Aside from having almost every color you could want, there are also really cute floral patterns, stripe patterns, and even animal patterns. 
It's definitely a multi-purpose bag. It's perfect for any kind of travel, whether it be a weekend away or a longer trip to a far-away destination. One reader says, "We were just in Paris in November and I packed carry on but used this packable duffle for my shopping to return home with. It worked out perfectly and the bag was fantastic!" 
Looking for new luggage? See expert recommendations!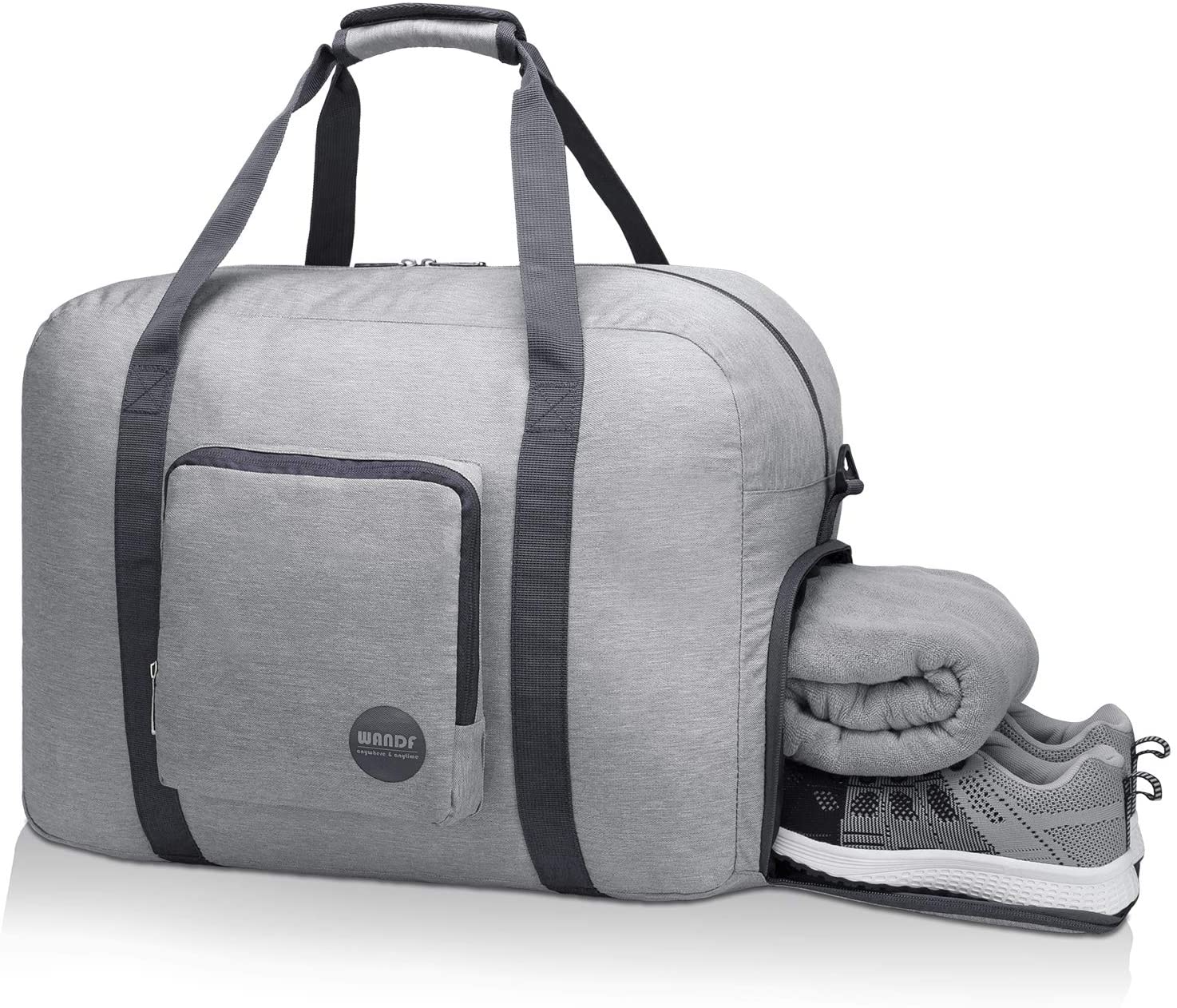 Handy side pocket of Wandf Duffle Bag 40L in Denim Grey
Pros and Cons
For the $18 price point, the Wandf duffel bag is honestly a steal! The quality and sturdiness are amazing for the cost. The wide range of colors and other size options are awesome, too. 
Readers appreciate how comfortable it is to carry and stow in an airplane, and the ability for it to be folded compactly. The fact that it can be folded and easily stored away when it's not in use is a huge plus. It's easy to take with you on any trip and will definitely come in handy for those times when you can't resist all those souvenirs! 
One happy user says, "The material is light but feels sturdy, the zipper is good quality, it takes up no space or weight when folded and fits a ton when open! We were careful not to put sharp or too hard objects as its shape adjusts to the contents but it handled the weight easily. The various handles make it comfortable to carry on top of your suitcase handle, on your shoulders or in your hands."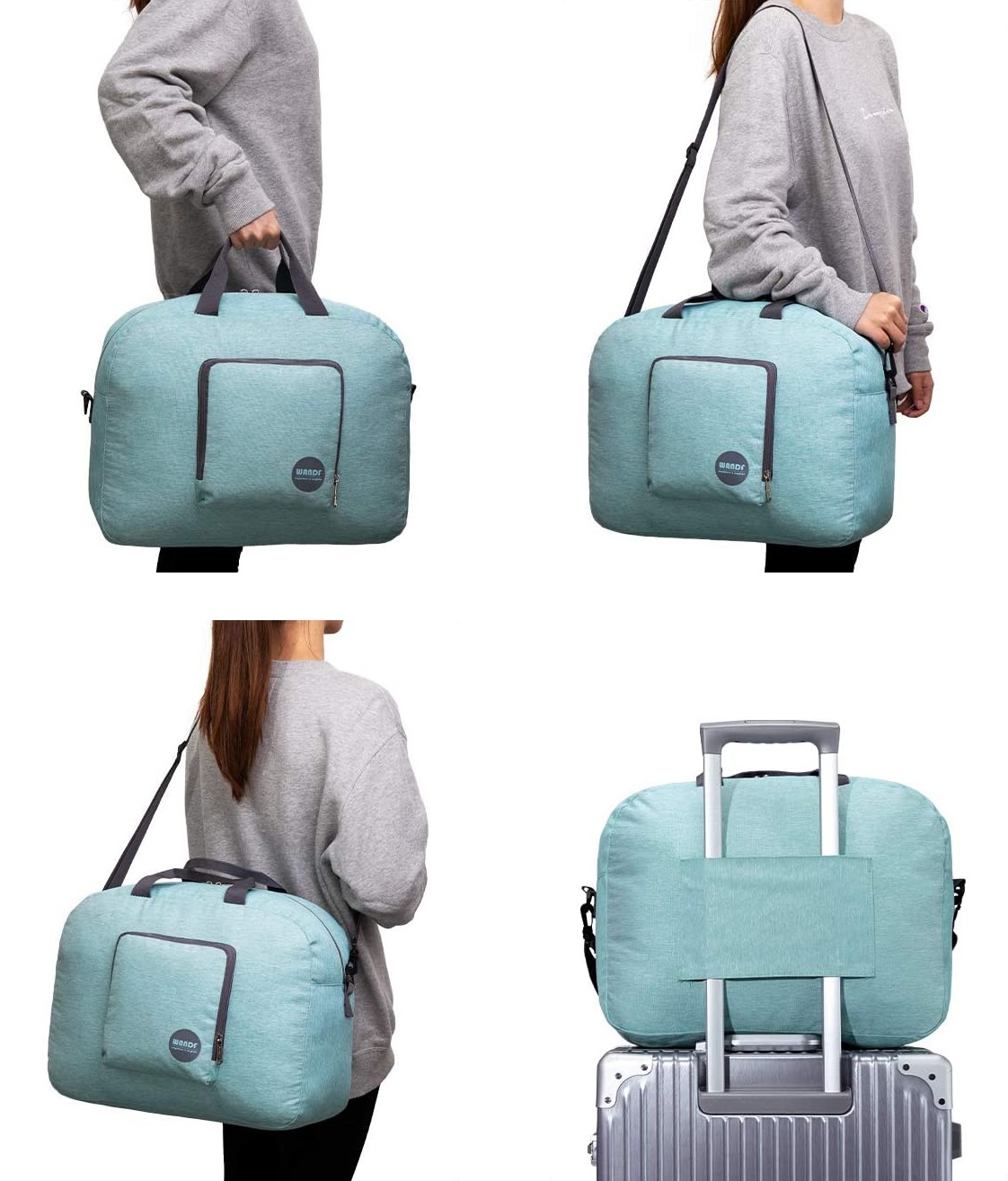 Various ways to hold and use the Wandf Duffle
While this bag can certainly hold a lot, some Wandf owners have reported that if it gets too heavy, it can be hard to carry, and may even tip your suitcase over if the weight is not evenly distributed when using the trolley sleeve. The straps might also be a little bit uncomfortable if the bag is quite heavy and you plan on carrying it over your shoulder. 
Another thing to note is that because the material is lightweight and not super thick, some wearers have mentioned that the bag doesn't always hold its shape very well, especially if it's not fully packed. However, with strategic packing and making sure the bag isn't extremely heavy, these issues shouldn't be a huge problem. 
Most owners of the Wandf foldable travel duffle typically report that it's no-fuss and comfortable to travel with, and makes traveling so much easier—it's a viable trip companion for anything extra you may have planned!
Read how to choose the best travel purse!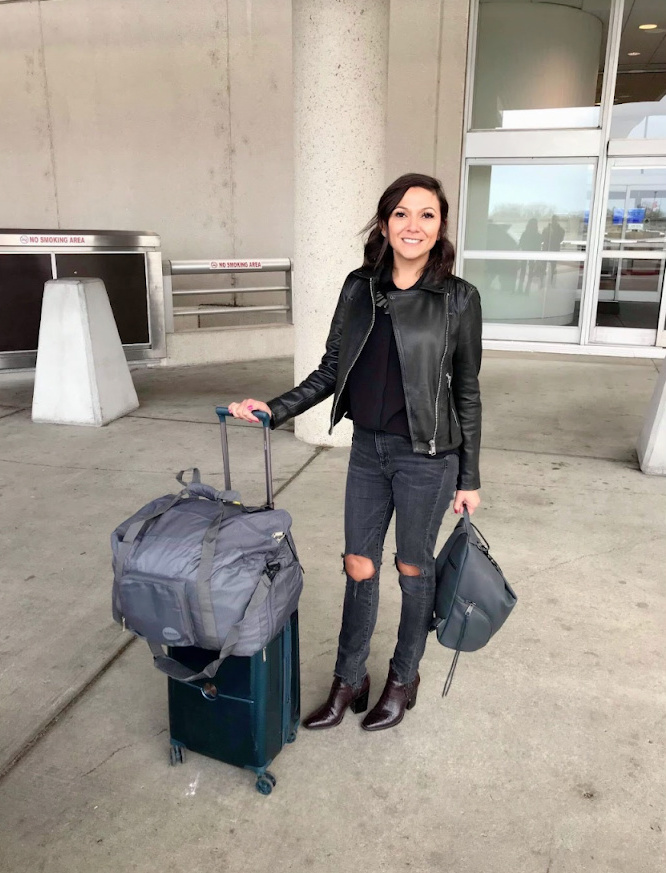 50L Wandf Foldable Travel Duffle Bag and Delsey Turenne Carryon to transport home items from USA to Mexico
Verdict
After putting the Wandf travel duffel to the test on an international move and using various sizes to transport home goods or extra items, as well as using it on many other travels, Wandf wins as my preferred brand 100%! It has become my go-to. Readers agree that this duffle is an awesome travel bag, and constantly recommend it! 
It's so lightweight while being waterproof, durable, and tear-resistant. It's ideal for bringing along on any travel adventure. I also like there's the option of other sizes, so there's something for any type of trip you have planned. While some users feel it can lose shape when there isn't a lot packed inside it, others say the key is to strategically pack, and voila, you'll be set! 
Overall, for the super low price point and great quality, you really can't go wrong with the Wandf foldable travel duffel bag. I can't rave about it enough and TFG readers agree!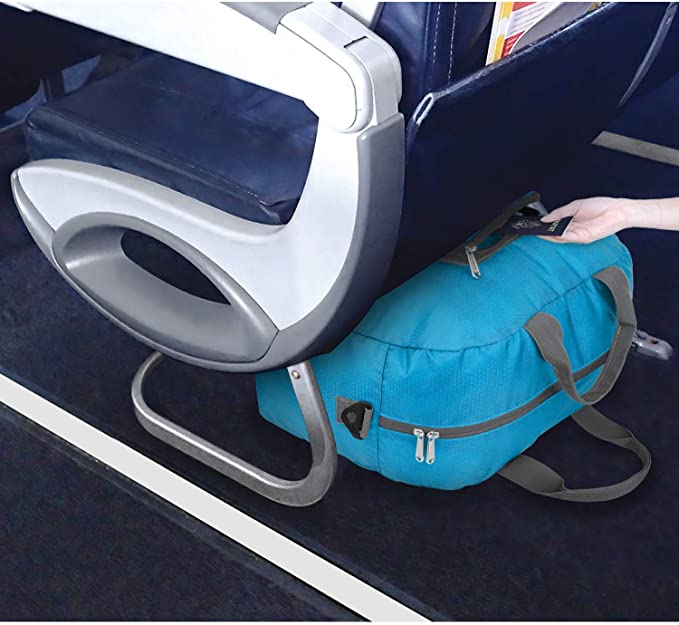 40L Wandf Foldable Travel Duffel Bag as underseat carryon bag
Where to Buy the Wandf Duffel Bag
This highly popular bag and all its iterations are available on Amazon. Believe me, you won't stop at purchasing just one! 
---
What's been your experience with the Wandf foldable travel duffle bags? Share your own review below!
---
For more travel bags, please read:
---
LIKE THIS POST? PIN THIS PIC TO SAVE IT!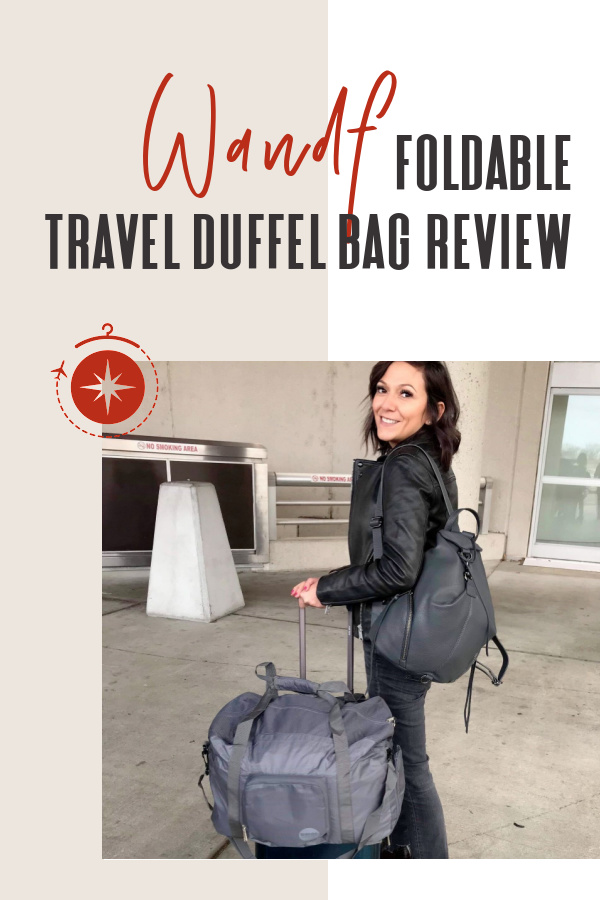 ---
We hope you liked this review of the Wandf foldable travel duffel bag. Please share this post with your friends on Facebook, Twitter, and Pinterest. Thanks for reading!
---