Support TFG by using the links in our articles to shop. We receive a small commission (at no extra cost to you) so we can continue to create helpful free content. As an Amazon Associate, we earn from qualifying purchases made on Amazon in addition to other retailers featured on the blog. Thank you, we appreciate your support!
Our readers rave about the Zella Live In Leggings and vote them as their top choice for the best leggings for travel.
Based on so many rave reviews, I knew I needed to test these out for myself. Read on to find out what our readers have to say about the Zella leggings and my verdict on whether they really are the best leggings for traveling to any destination.
---
Zella Leggings Review
---
Table Of Contents
While we don't recommend leggings to be worn as pants or trousers, they can easily be worn when styled as part of an athleisure look, an airplane outfit, or as an extra layer under a long top, dress, or tunic.
Should leggings really be classified as an essential travel item?
There are many benefits to packing leggings when traveling. They are versatile and can be used for a variety of occasions, including:
In-flight outfit paired with a long top, cardigan, and boots/sneakers

Pajama bottoms

Workout bottoms

Hiking bottoms

Lounging in your hotel

Layers under jeans/dresses/skirts in the cold

Layers under jeans/dresses/skirts when traveling in conservative destinations
If you're going on a round the world trip or traveling long term, consider bringing a pair of leggings. They'll work for a wide array of activities and add versatility to your other clothing items when you experience diverse weather conditions.
One reader said how she found the Zella Live In Leggings perfect "for travel days, active days, sleeping, or layering when cold."
Zella Live In High Waist Leggings in Regular and Plus Size
Specs
Brand and Style: Zella "Live In" Leggings
Price: $52
Fabric: 88% Polyester and 12% Spandex
Features: Made from stretchy, moisture-wicking fabric with flat-lock seams. The elastic waistband comes with a hidden key pocket.
Colors: Variety of colors including black, grey slate, navy maritime, and cream.  
Weather: Perfect for if you're traveling between seasons, use you leggings as an extra layer to transform your warm clothing into cold weather appropriate attire.
Travel Type: Casual relaxing or active activities
Zella Live In High Waist Leggings in Plus Size
Durability
There's no way around it: these are costly for leggings; however, we find that the design features are worth the investment. Our readers who own this Zella Live In High Waist Leggings can't seem to wear them enough, and even after countless washes, they still look new.
One reader says, "they don't 'thin out like some leggings (no embarrassing see-through underwear), they're reversible, and they're the best quality!"  
Another reader added how she practically lives in them when she works from home "without them stretching out or the seams tearing."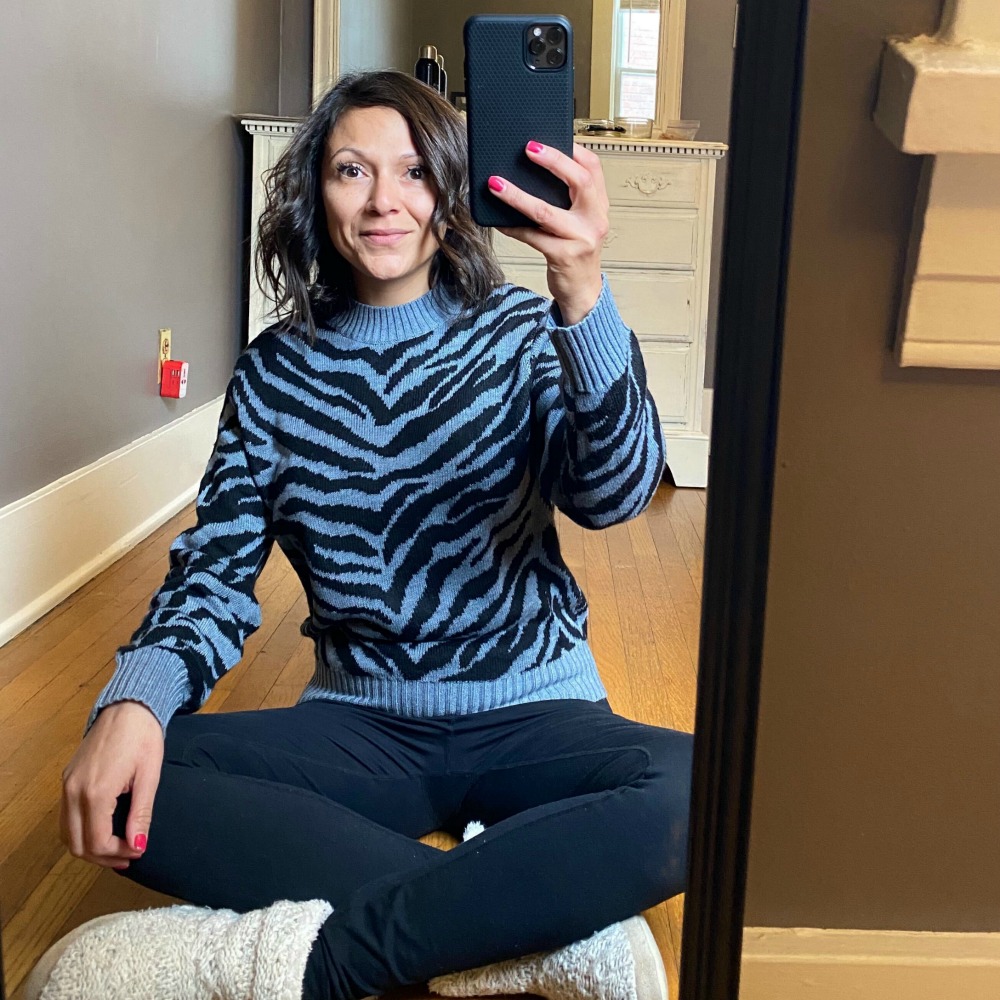 Rebecca Minkoff Sweater with Zella Live In High Waist Leggings and Target Slippers
Comfort and Mobility
The Zella Live In High Waist Leggings are insanely comfortable, breathable, and chafe-free because of the moisture wicking fabric. The smooth flatlock seaming won't rub or irritate, which is awesome if you're traveling from warmer to cooler climates!
One reader says, "Zella makes nice leggings that are a bit thicker for more of a pant feel and have 360 degree stretch for comfort."
Versatility
Readers love the quality fabric that makes these easy to wear for multiple destinations. One reader says, "these are my favorite leggings for coverage, comfort, and multiple climates."
Along with making great loungewear or plane attire, you can use the Zella Live In High Waist Leggings for hiking, trips to the gym, or even sleepwear, depending on where you're traveling. We even like to wear these under dresses or skirts as a thicker and more comfortable alternative to tights.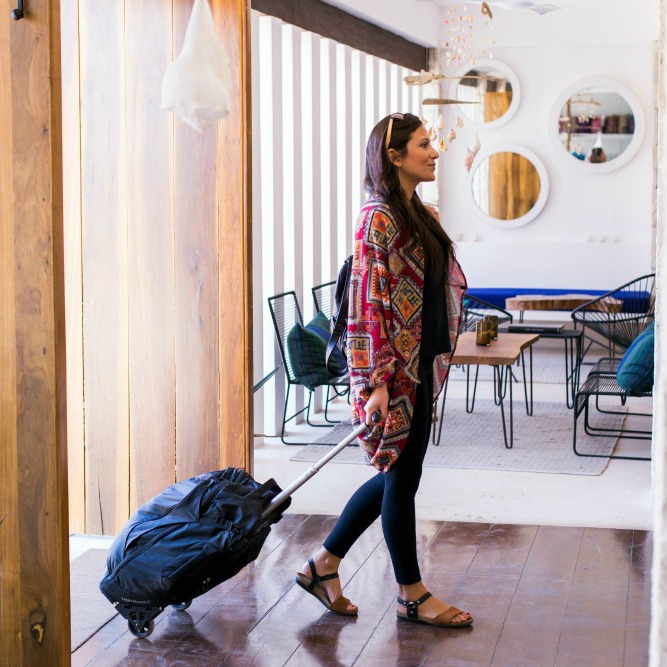 Zella Live In High Waist Leggings worn with Naot Sabrina Sandals
Style
Our readers also comment on the the great style of the Zella Live In High Waist Leggings. One reader shares that these leggings "look good with everything!"
Consider pairing your Zella leggings with long tunics during the spring or wearing them under dresses and skirts in fall and winter. Just make sure the tunic falls below your hips for the best look and coverage. Finish off your outfit with a cardigan or jacket and paired with boots or sneakers.
The leggings are available in both high waist and a regular style. The high waist makes them dressier than the usual standard gym leggings.
I own a pair of both high waist and regular Zella leggings but I prefer the high waist version as it keeps everything in and the waistband offers flattering support in the tummy area.
One reader also said she loves the high waist leggings as they "holds me in all places that I need." Another reader also agreed that the Zella leggings have the "perfect tightness to suck you in and give great shape."
Zella Live In High Waist Leggings are available in Regular and Plus Size!
Zella Live In High Waist Leggings in Plus Size
Sizes
The Zella Live In High Waist Leggings come in a variety of sizes including extended sizes and midi lengths that work well for petites! They offer sizing ranging from XXS through to XXL, and fit true to size.
One reader says the Zella leggings "are awesome for fitting so many body types and are flattering at the same time."
Another reader recommends using Nordstrom's True to Fit sizing tool if you're uncertain about sizing, sharing, "I'm glad I used this tool. I would have ordered a medium instead of a small, and the small fit perfectly."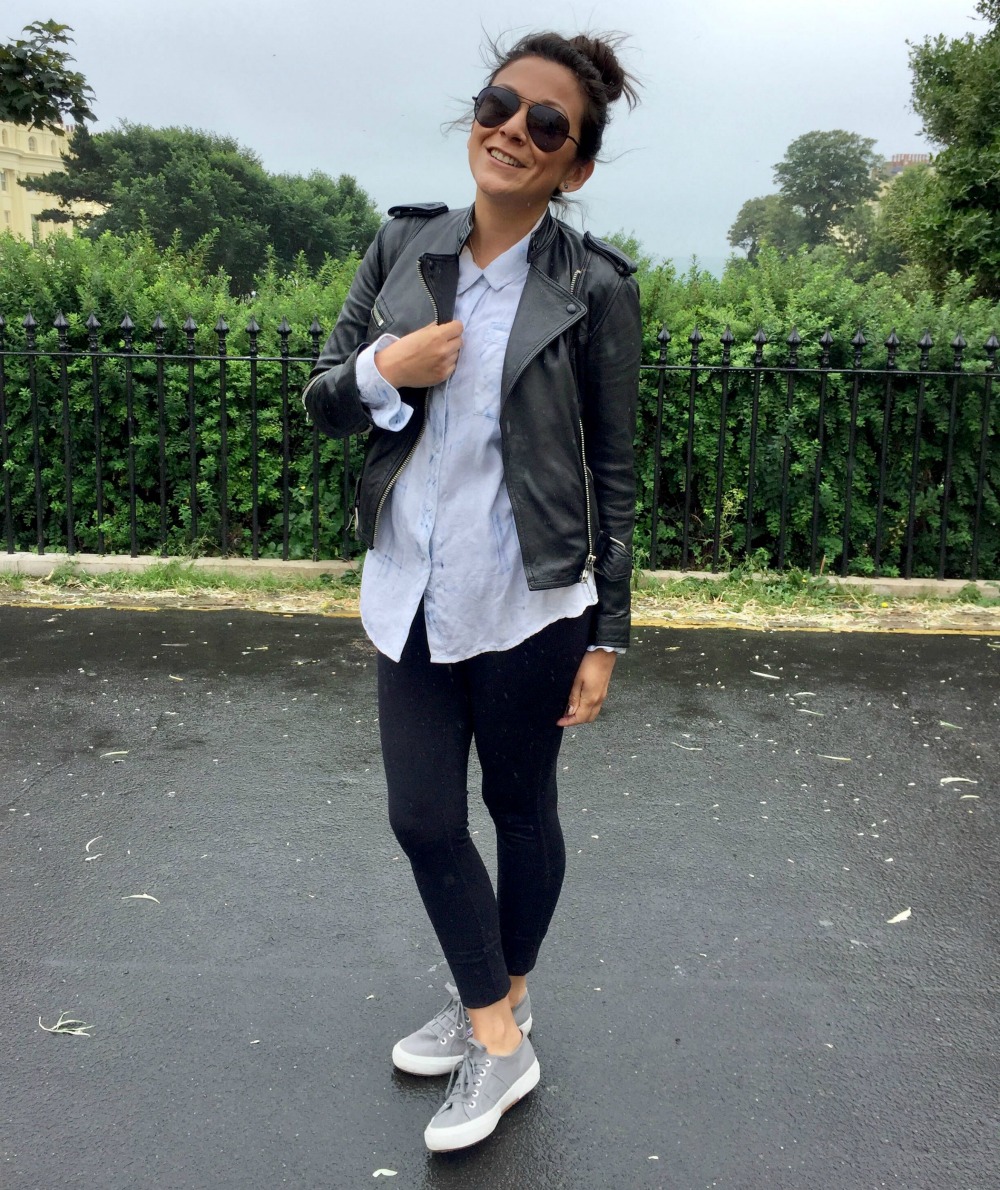 All Saints Leather Jacket paired with Zella Leggings and Superga Sneakers
Pros
The Zella Live In High Waist Leggings come with a 100% customer recommendation and 5-star reviews – you can't get better than that!
The leggings have a long list of pros but we can sum it up in a few words: comfortable fabric, durability, versatility, and style.
One reader says, "I took TFG;s recommendation and ordered them from Nordstrom. Since then I've ordered three more over the last three years. I wear them to the gym and for travel. They are so comfy and not see through at all."
As a bonus, the color doesn't fade after repeated washes. One reader says, "I bought three pairs last year and they're still like new!"  
Cons
It was a struggle to find anything negative our readers had to say about the Zella Live In High Waist Leggings.
While some readers love the quality of the thick fabric, others find this is actually a drawback, especially when wearing them to travel in. One reader says she wore them on a plane with a dress and "they were way too hot! I smelled so awful when I landed."
Additionally, some readers mentioned they struggled to find the correct size. One reader says, "I found them a bit on the small size. I'm 5'10' and they were too short."
On the plus side, Nordstrom offer free shipping and returns so you can afford to experiment with the size when buying them. Just as with most clothing brands, it might take a couple of times before you get the right size and it.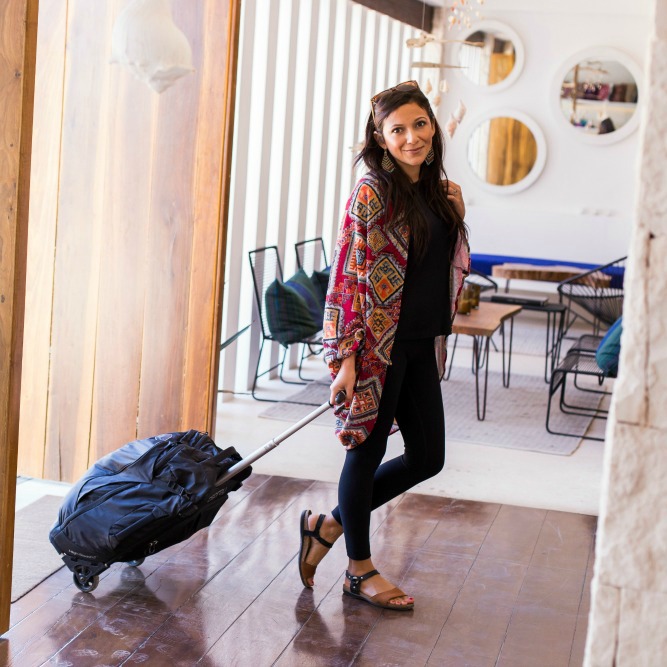 Zella Live In High Waist Leggings
Verdict
Just about every reader agreed that the Zella Live In High Waist Leggings are worth the investment and are one of the best brands for leggings. They are perfect for covering up, acting as an extra layer when traveling to multiple climates, and are the ultimate comfort clothing item.
In my opinion, the Zella leggings are definitely worth the price. As a long term traveler, these seem to be the perfect addition to my travel wardrobe!
Perhaps one reader sums up these leggings best, "ZELLA!!! The best leggings ever in life. Yes. The hype is right."
Where to Buy
Ready to purchase the Zella Live In High Waist Leggings? Get them on Nordstrom! Available in Regular and Plus Size!
---
Have you tried the Zella "Live In" Leggings? Share your review of them in the comments below!  
---
For more tips on travel pants, please read:
---
LIKED THIS POST? PIN THIS PIC TO SAVE IT!
---
I hope you liked this review of the Zella leggings. Please share with your friends on Facebook, Twitter, and Pinterest. Thanks for reading!
---