Support TFG by using the links in our articles to shop. We receive a small commission (at no extra cost to you) so we can continue to create helpful free content. As an Amazon Associate, we earn from qualifying purchases made on Amazon in addition to other retailers featured on the blog. Thank you, we appreciate your support!
A cold hotel room is bad enough. It's even worse if you're traveling with a partner, spouse, or friend who tends to run hot when you run cold, or vice versa. Find out from our readers how to stay warm in a hotel room when traveling with a cold traveler.
---
How to Stay Warm in a Hotel Room
---
Travel Fashion Girl help! A reader asks:
Ladies, how do you stay warm when traveling with your husband or hot blooded significant other, especially when you're in your hotel room? I always pack a small electric heating pad, though would love to find a travel sized one. Warm weather is the worst because the first thing he reaches for once inside our room is the air conditioner! Brrrr!
We've all been there! There's nothing worse than traveling with a spouse or friend and staying in the same room when you each have different temperature preferences.
Luckily, our readers provided some helpful tips. Here's what they say to do to stay warm when staying with a warm-blooded travel partner.
To help you make the most of your winter gear and limited luggage space, start by reading these general tips on packing for cold weather travel: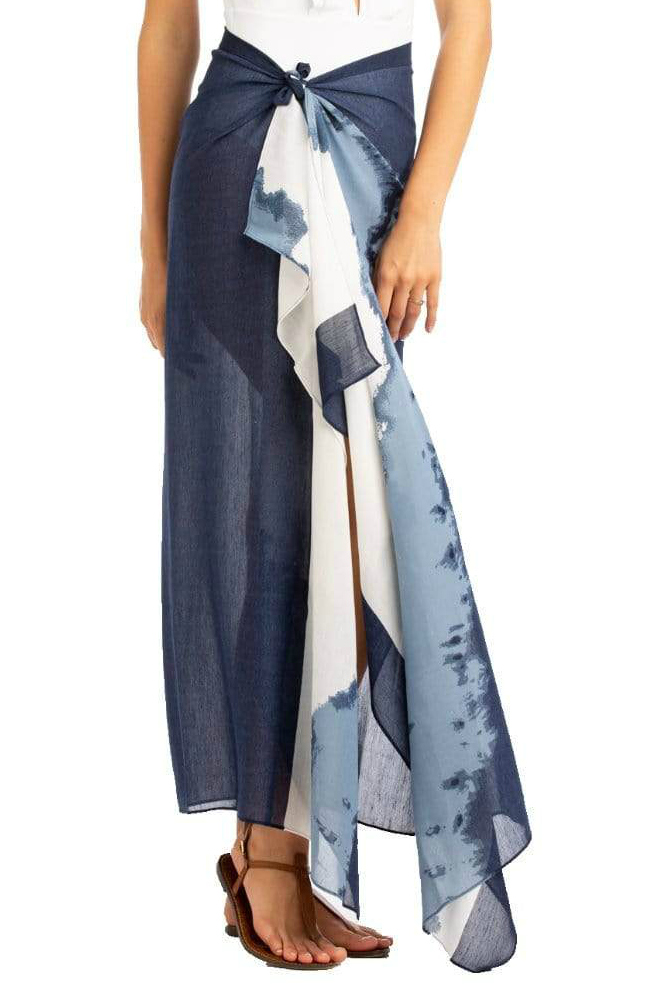 BYO Blanket
Sometimes, the easiest solution is to bundle up in bed with an extra blanket. Even a thin layer can be just enough to keep you warm. One reader says, "I always pack a sarong, and use it in the room as a shawl, wrap, extra blanket, etc. It takes up little space, and can also be used as my swim cover up."
We love a good versatile layer. Our go-to pick is a shawl-like scarf for cold destinations. You can wrap it around you while out and about, use it as a blanket in cold hotel rooms, and use it as a pillow on a long plane or train ride. Store it in a packing cube when you're not using it.
Here's more ways you can use a beach sarong wrap on your next trip!
Heating Pad with Fast-Heating Technology
A Heating Pad
If you tend to freeze at night and a blanket isn't enough, bring a heating pad! They're lightweight, foldable, and easy to pack. Plus, a small pad can warm up your entire side of the bed. One reader says, "I bring it with me wherever and whenever we travel."
Just make sure to bring an adapter if you travel internationally! You definitely don't want to blow a fuse or potentially start a fire.
Fleece Thermal Top | Fleece Thermal Leggings
Wear an Underlayer and Overlayer
You may be chilly because your pajamas aren't warm enough. Consider adding an under layer and over layer. One reader says, "I freeze everywhere. I pack a long sleeve heat-tech under layer for night, and layer a cashmere cardigan over it."
Layering is great because you can peel off individual layers if you heat up, or layer up when it gets chilly. For cold, wintery locations, use a heat-tech layer, which is thin but oh so warm. Or, you can even use a basic cotton long-sleeve tee.
Find out the brands our readers most recommend for the best thermal underwear!
Wrap Up with a Blanket Shawl
Shawls are such a versatile accessory, as they can act as a blanket, pillow, scarf, and general fashion accent.
One reader shares, "I pack a blanket shawl whenever we travel that I picked up in Scotland. It can be used as outerwear, but more often I use it as a wrap to keep warm indoors. It makes a good blanket on planes, and wraps around you for extra comfort in hotels and restaurants. It can be folded up and used as a pillow. I even wear it over jackets if it's windy and we need an extra layer."
As blanket shawls can be bulky, we recommend wearing them on the plane rather than trying to stuff them in your suitcase.
Here are eight different ways to wear a scarf when you travel!
Use Separate Bedding
If you and your travel partner can't settle on the right temperature, try using separate sheets! One reader says, "I always sleep with the A/C on, or if cold outside, the window open, and a fluffy duvet. My hubby sleeps with just a sheet and maybe a thin blanket."
This is a great alternative to bundling up if you don't want to wear thick pajamas or a lot of layers. Pack a thin sheet or silk liners for warm-blooded travelers and rely on the hotel for duvets and thicker blankets.
Here's our recommendations for the best travel sheets!
Don't Forget Socks
Never underestimate the power of warm feet! A number of readers mentioned wearing thick socks. One reader says, "Heavy sweatshirt to top warm flannel PJs and thick wool socks!" while another adds, "DEFINITELY socks."
Wool socks are perfect for cold wintery locations, whereas cotton is better for warmer or more mild climates.
Here's what our readers voted for the warmest socks for winter travel!
---
What are your tips on how to stay warm in a hotel room with a fellow traveler? Comment below!
---
For more ideas on what to wear in cold weather, please read:
---
LIKED THIS POST? PIN THIS PIC TO SAVE IT!
---
I hope you liked this post on how to stay warm in a hotel room with a fellow traveler. Please share with your friends on Facebook, Twitter, and Pinterest. Thanks for reading!
---