Support TFG by using the links in our articles to shop. We receive a small commission (at no extra cost to you) so we can continue to create helpful free content. As an Amazon Associate, we earn from qualifying purchases made on Amazon in addition to other retailers featured on the blog. Thank you, we appreciate your support!
Wondering what's the best travel steamer to take with you on your next journey? We've rounded up the most popular options available. These are the top 10!
Spoiler alert: can't wait to find out our top two travel steamers? These are the fave two brands according to our readers (and we agree)!
---
Best Travel Steamer
---
Table Of Contents
Nothing is more unflattering than wrinkles and creases in your travel outfits, especially if you're attending an important business meeting or going out for the evening. While there are many ways to pack clothes without wrinkles, there are certain occasions you just can't take the risk.
If you're traveling for business, attending a conference or formal event, or you want to look Insta-worthy anywhere you go, here is a list of travel clothing steamers that can help you remain presentable and perky for your itinerary!
What is the Best Travel Steamer?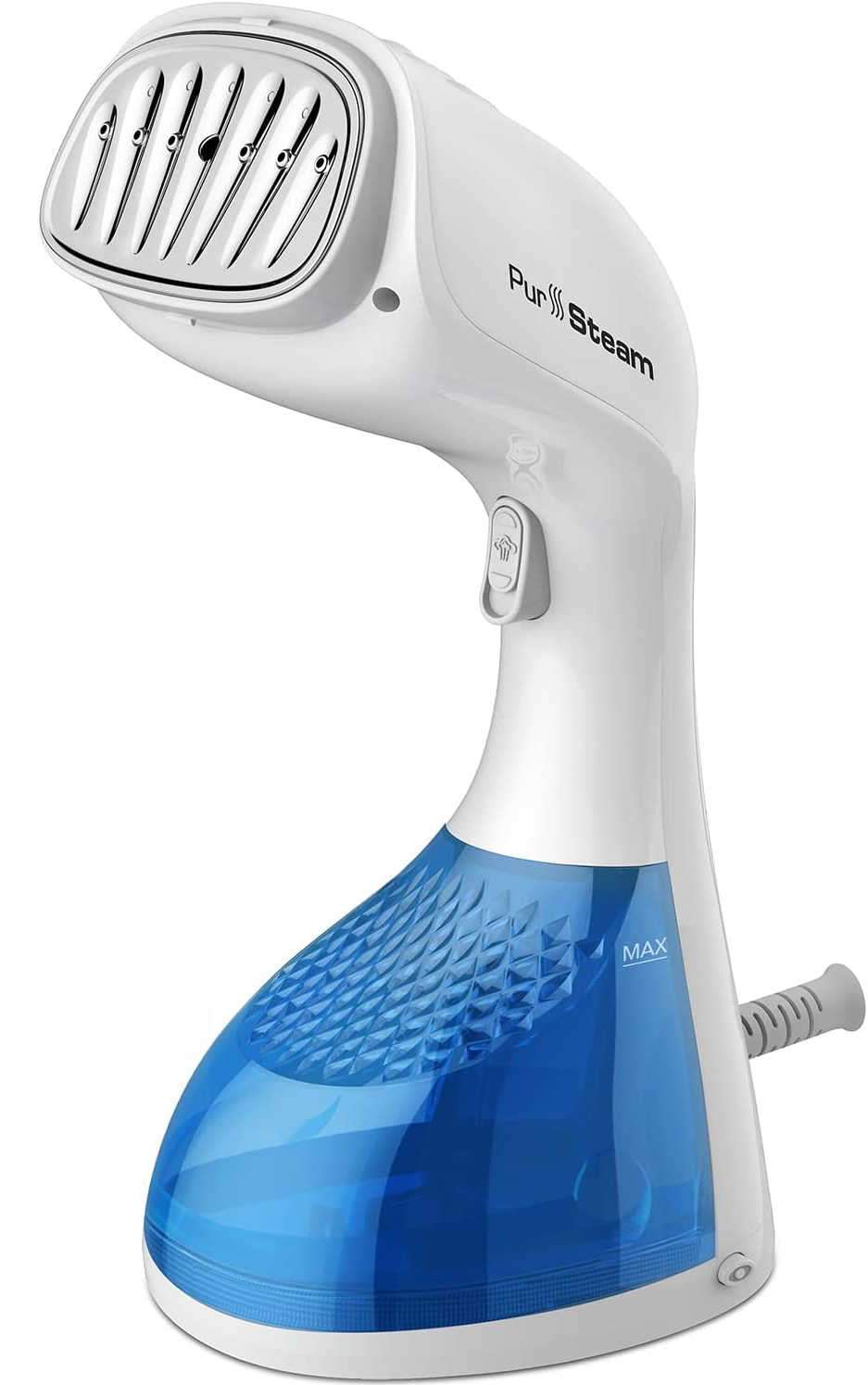 PurSteam Portable Travel Steamer
PurSteam is the best handheld travel steamer according to our readers. It's also the one my friend uses as her everyday steamer at home (instead of owning an iron).
At 1.1 pounds it's quite lightweight and similar in size to the majority of small portable clothes steamer brands out there. It's adept enough to smooth out most garments and heats up quickly, which is a plus when you wish to get ready on time to go sightseeing. And, it also includes a bonus travel pouch, for easy storage. 
This portable steamer is 1300 watts, which means it's powerful enough to whatever you need.
This mini clothing steamer gets the readers' vote so it gets my vote as well. Buy it here!
Here's a list of top travel accessories that you can also add on your packing list aside from the steamer!
Hilife Travel Garment Steamer
The Hilife travel streamer is a massive favorite with travelers as it's an extremely small and lightweight travel steamer for clothes which allows you to pack light while also being less strain on your arms, too! 
At 700 watts, it gets the job done. While it doesn't iron out deep creases, it easily removes the wrinkles from the majority of clothing. 
The downside is that neither of the top travel steamers shown above is dual voltage. But the Hilife is still a solid choice to use along your travels. Buy it here!
Thinking of where to store your steamer? Here's a list of the best packing organizers!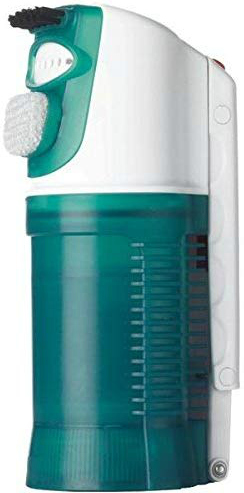 Conair Garment Steamer
Conair doesn't just make amazing curling irons and blow dryers; they also make a comparable handheld fabric steamer. The Conair is the ONLY dual voltage steamer we could find. Do you have any other suggestions?
Unlike the previous steamers, this includes a detachable bristle and lint brush to remove debris and have more hand control. It claims to have an impressive 10-minute steam time and a convenient 8-foot cord.
Incredibly light at just 1.2 pounds this could easily be the best travel steamer for clothes available. One traveler noted that she took this on a trip to France and reported how it worked beautifully. Buy it here!
Aside from a garment steamer, you might also need business travel essentials on a work trip!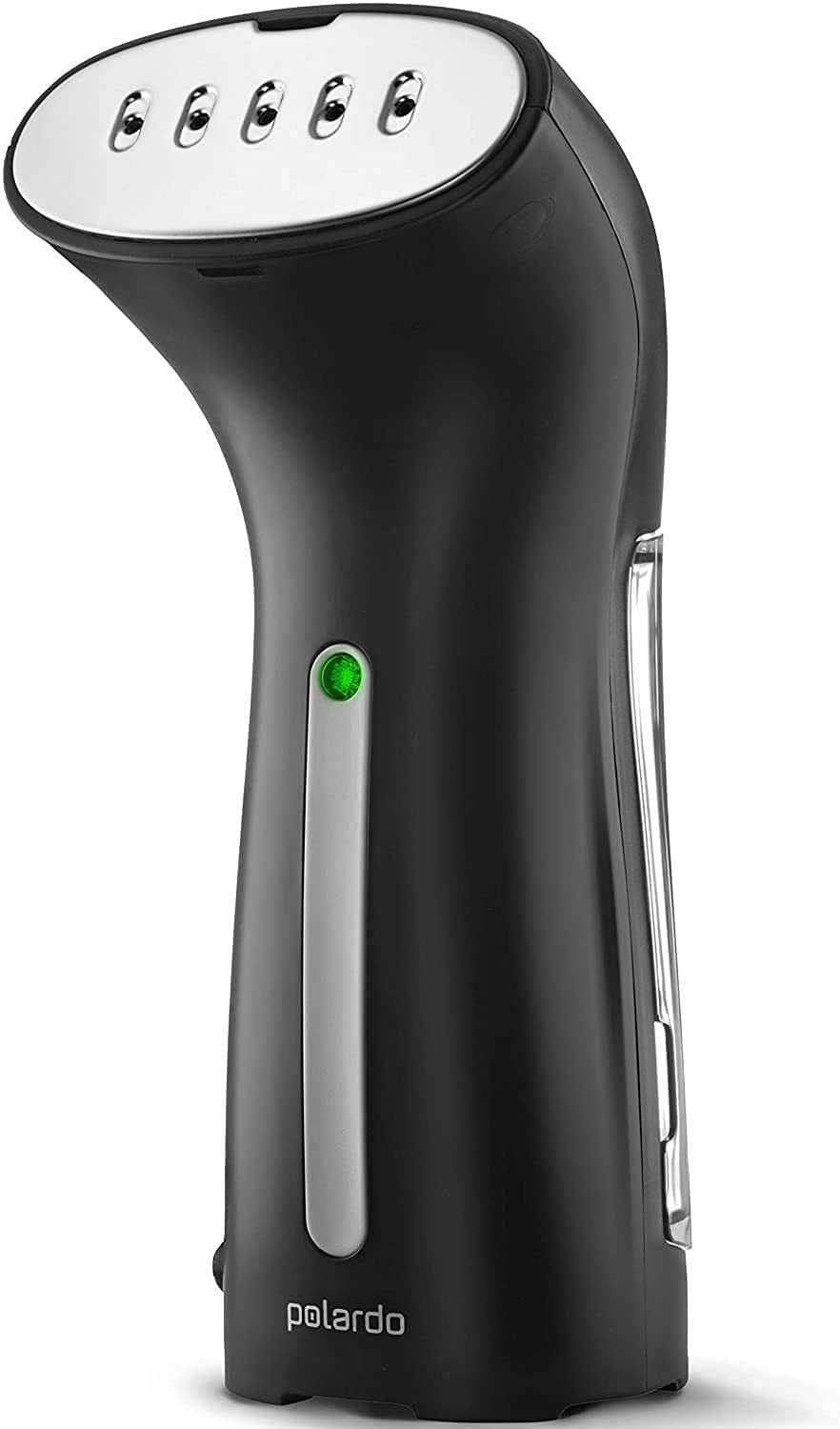 900 Watts Pollard Handheld Mini Steamer
Polardo Mini Steamer
A downside of portable travel steamers is that they are often oddly shaped which creates a challenge to have a neatly packed suitcase. But the Polardo Mini has a unique shape that uses the body as a handle, making it one of the smallest travel steamer products that are fuss-free to store or pack.  
The 25-second heat-up mode is one of the fastest around and our favorite feature is the auto-protection that turns off after five minutes in standby. One reader says, "I never have to take a hotel ironing board out again. Even in carry-on, this is something I won't go without."
It's compact size, quick heat-up, and the fact it doesn't spit water places this lightweight travel steamer as a sure bet! Buy it here!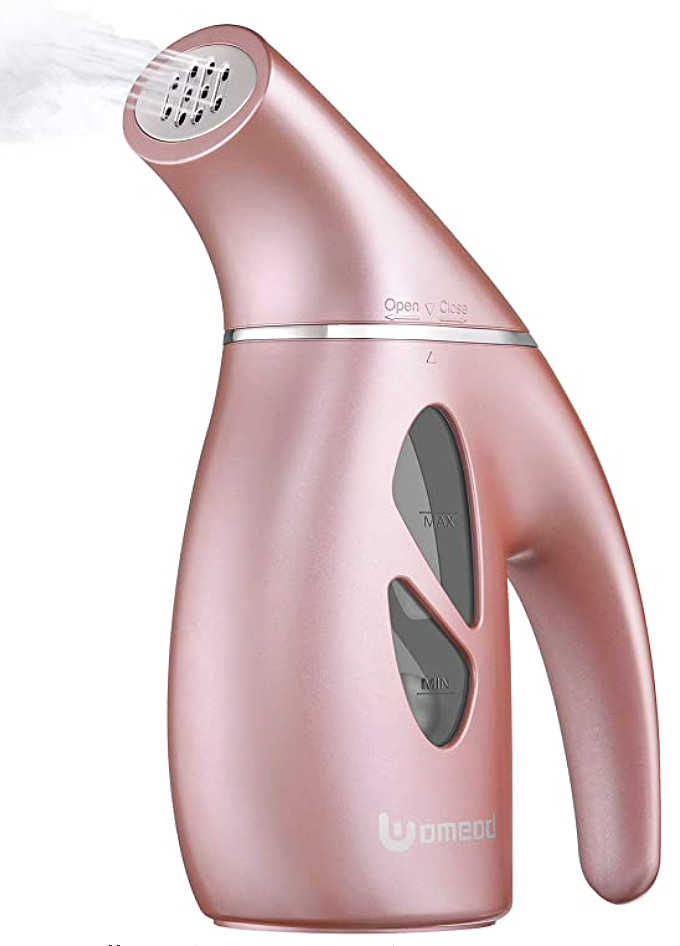 900W Uomeod Handheld Fabric Steamer
Uomeod Portable Steamer
The Uomeod Steamer is considered one of the best steamer for clothes with its spiral nozzle designed to evenly distributes steam for a put-together outfit in no time and prevent spits of boiling water spoiling your clothes. It is also super lightweight and easy to store in any suitcase or carry on luggage
The water tank lasts up to 15 minutes off continuous steaming to bust out those deep creases. This travel size clothes steamer is certainly popular, one traveler calls it a "lifesaver" to business professionals and says that it "steams like a pro." Plus, it's safe to use with the built-in automatic shut-off if it gets too hot or too low. Buy it here!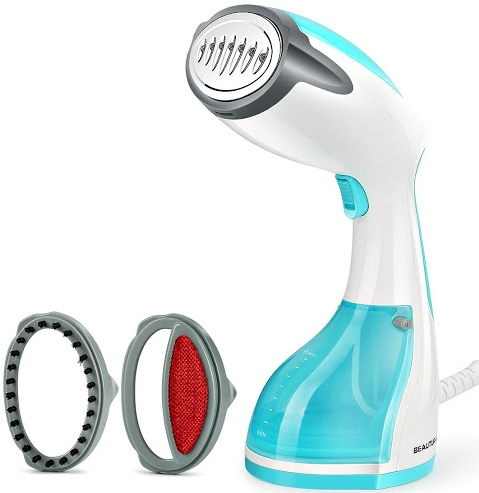 1200-Watt BEAUTRUAL Handheld Garment Steamer
BEAUTRUAL Garment Steamer
While the Beautural portable travel clothes steamer might not be as compact as some of the products we've featured, it is definitely more powerful. More watts equals more power, which equals better ability to tackle some ornery creases!
It generates about 14 minutes of continuous steam and preheats in 35 seconds or less, removing wrinkles fast and efficiently. One reader says, "Without reservation, this is the best hand held steamer I've ever used."
It's safe to use on all kinds of fabric, from cotton and polyester, silk, and wool. Bonus too, it has three attachments, including a fabric brush, creaser, and a lint brush. This mini steamer clearly has the tools to achieve a wrinkle-free look! Buy it here!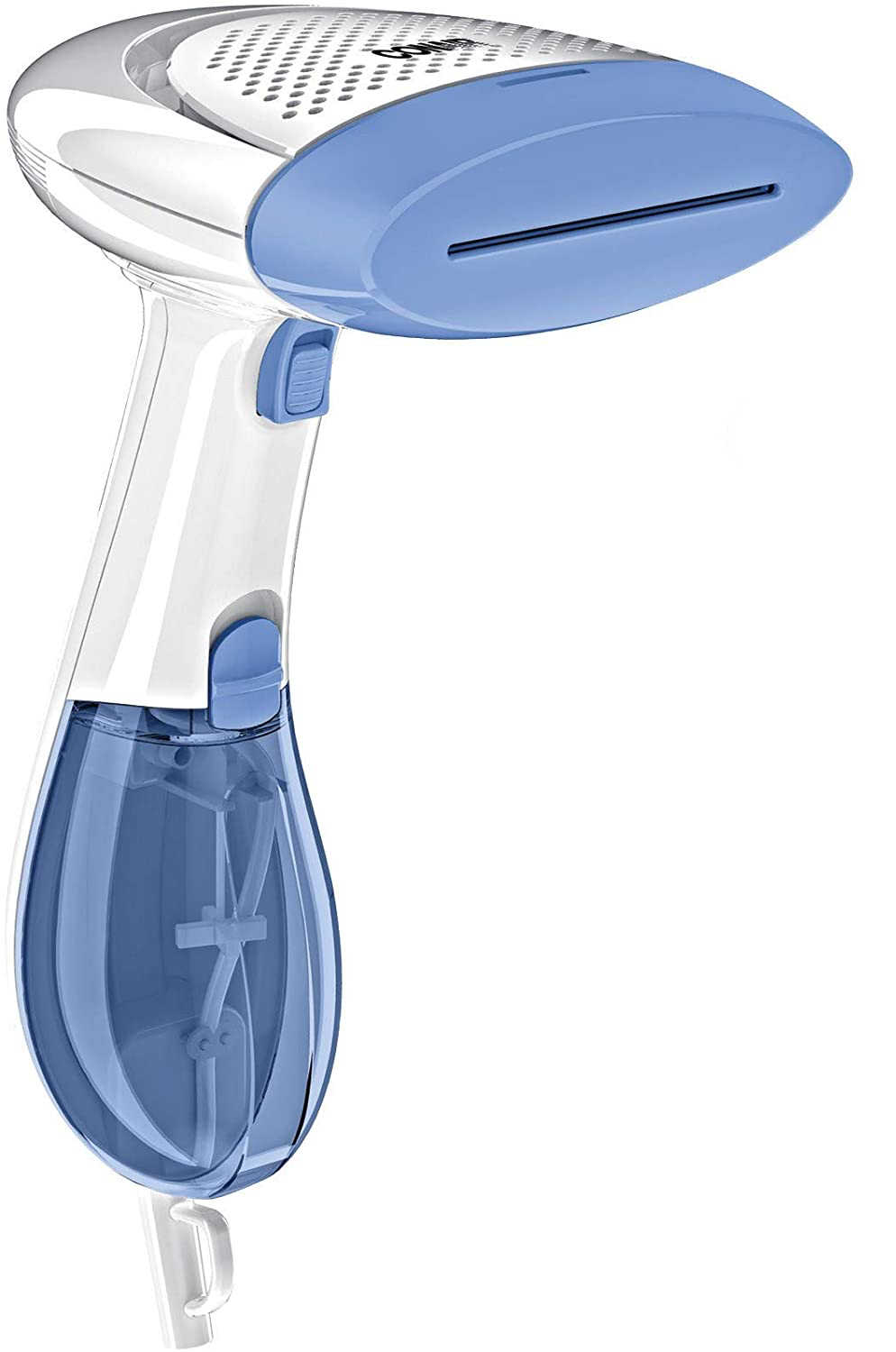 1500W Conair Extreme Steam Hand Held Fabric Steamer
Conair Handheld Steamer
Thanks to 1500 watts of power and a large 150-milliliter water tank, Conair makes some of the best travel garment steamers in terms of power. Yet somehow it's quite compact. 
It's adored by TFG readers and as one says, "I love this! So portable and easy to put into a suitcase."
This lightweight travel hand steamer is less than 2 pounds and has a slender design for convenient storage. It also heats up fast—in 10 seconds you can start de-wrinkling your clothes! Buy it here!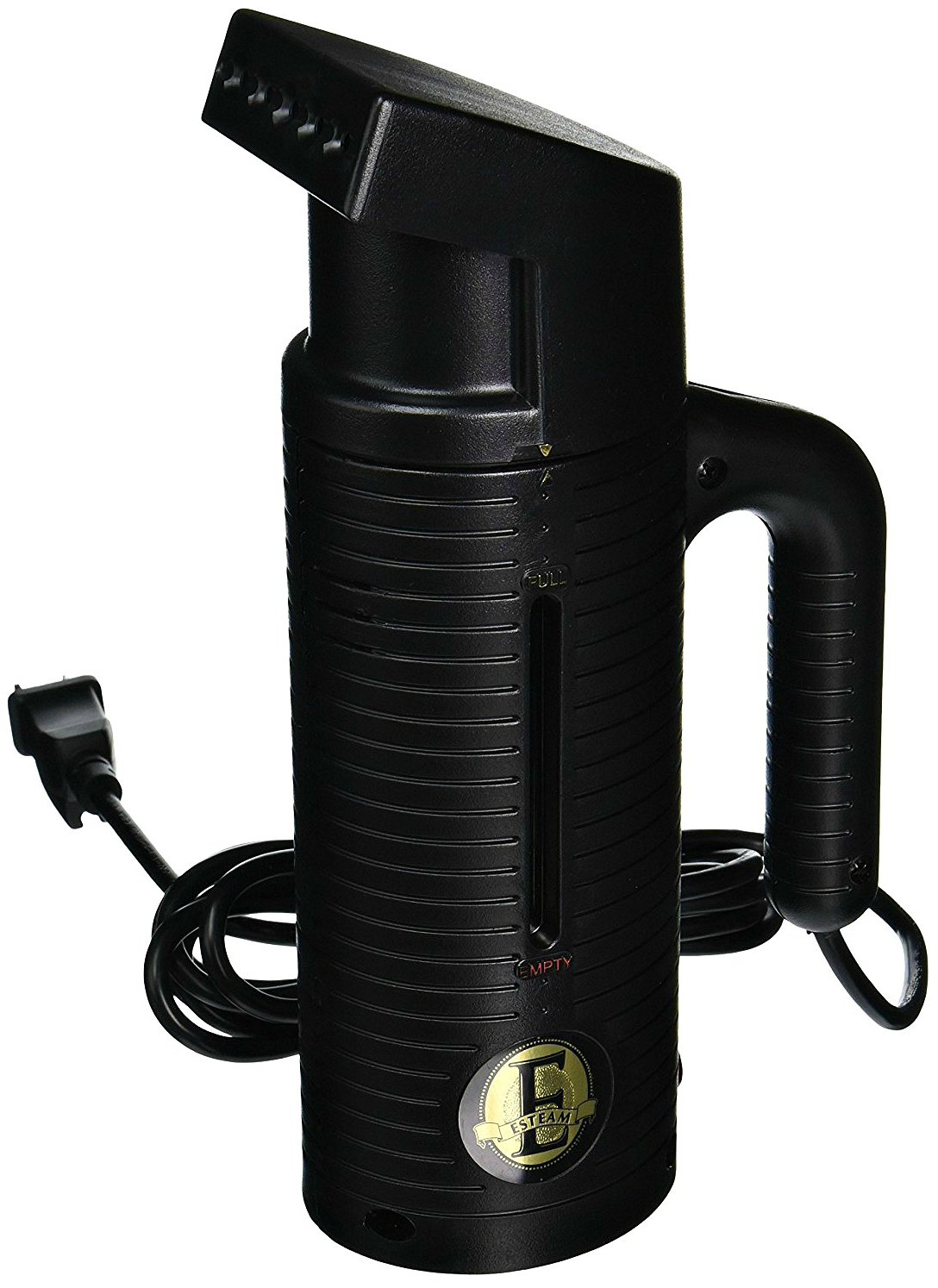 600 Watt Jiffy Esteam Handheld Travel Steamer
Jiffy Esteam Handheld Travel Steamer
The priciest steamer on our list is the Jiffy Esteam handheld travel steamer. What makes this item stand out are the converter/adapter plugs which is included. It can run for 15 minutes per water tank fill, which makes it beneficial when you have a few outfits to de-wrinkle.
Don't let the fact that it's bigger put you off. What makes it one of the best travel clothing steamer selections is how it performs. One reader feels "it's a little larger and heavier than I'd like, but still fits in my carry-on and doesn't weigh me down." 
It has a 600-watt heating element (120-volts in North America) and it's a durable choice, made with high-impact plastic. Perfect for carting along to your next vacation! Buy it here!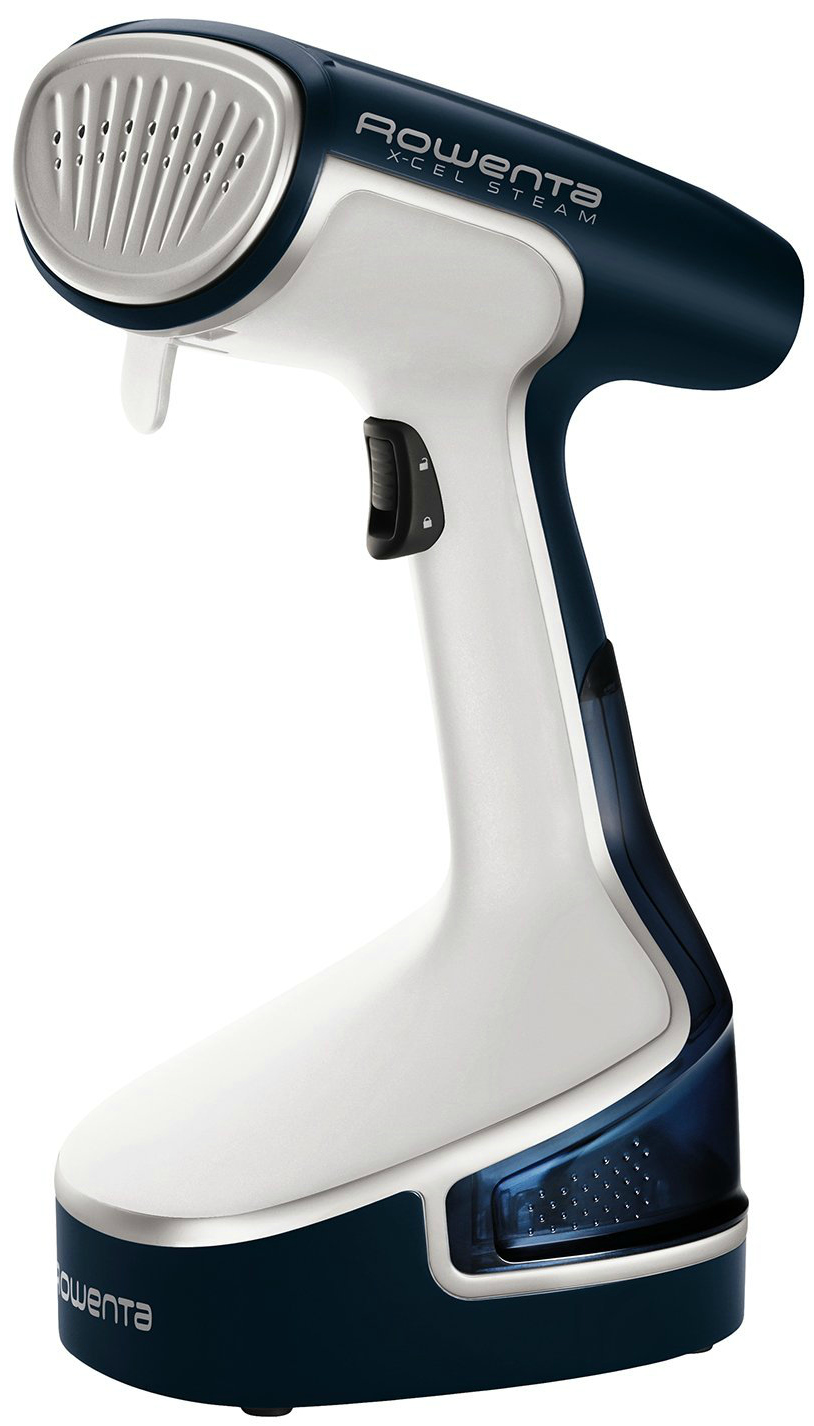 1500-Watt Rowenta DR8120 Handheld Garment Steamer
Rowenta DR8120 Garment Steamer
Rowenta makes one of the best steamers and this round-up wouldn't be complete without including their travel-size version. This portable handheld brand is a bit larger than the travel steamers previously listed.
However, we'd class this as the luxury option because of its 1500-watt power and the higher price tag, too. Surprisingly, the Amazon price tag is less expensive than the Jiffy, while being much more powerful.
The downside? It weighs in at 3.9 pounds so it may be best for professional jobs that require a steamer on the go. Buy it here!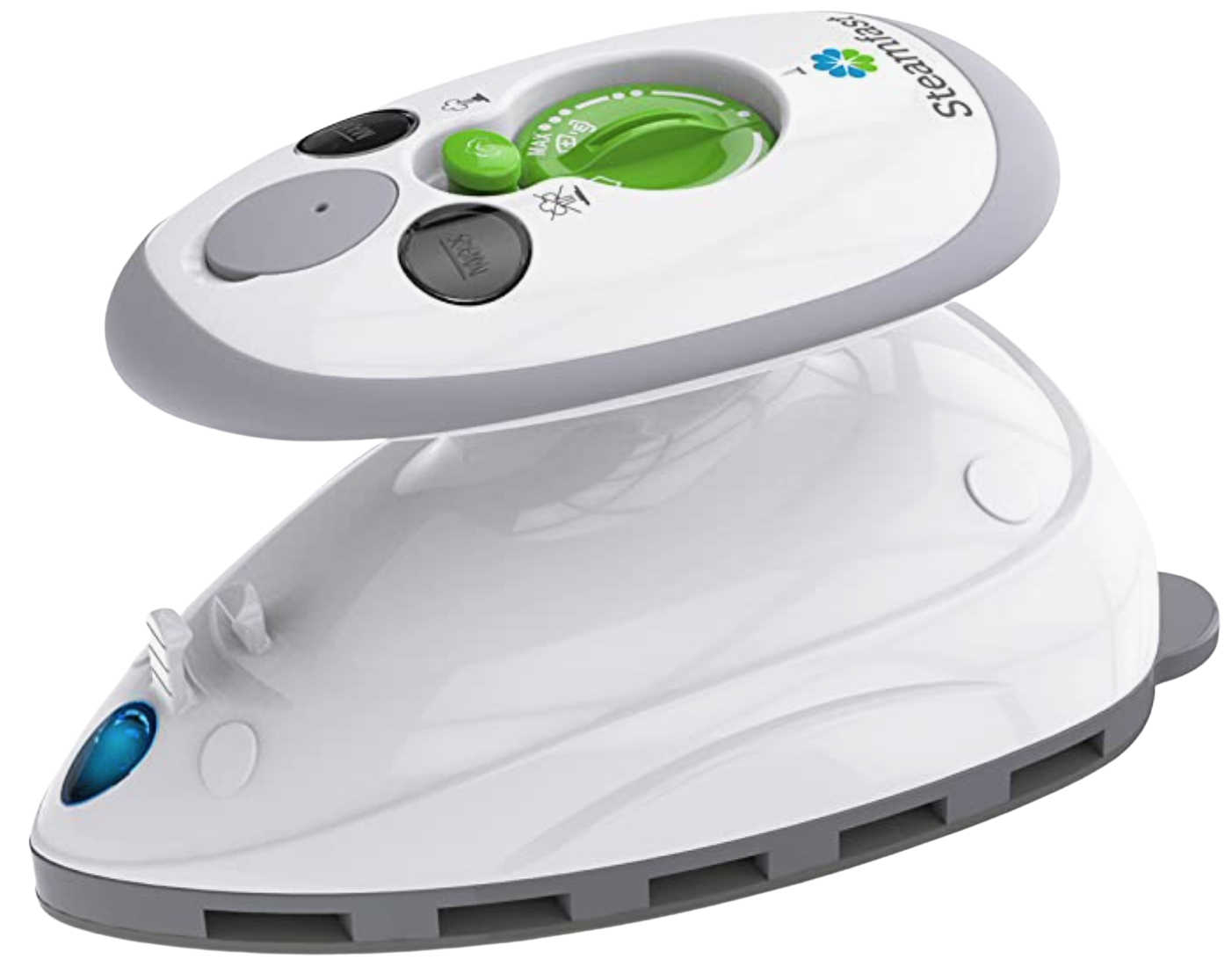 Steamfest Travel Steamer Iron Dual Voltage
Steamfest Dual Voltage Steamer Iron
If you want a little more, the best travel steamer iron is the Steamfest as shown above. It's versatile because it can press clothes and take out creases or wrinkles simultaneously.
As a pro, it's a dual voltage garment steamer but as a con, with only 420 watts it offers the least amount of power as some of the other models listed.
A word of warning, though, try to get continuous steam as opposed to spurts of steam as this can burn the fabric—unfortunately, I speak from experience. But this is a great travel size steamer iron if you want both functions. Buy it here!
Best Travel Steamer Comparison Chart
| BRAND | MODEL | POWER | WEIGHT | FEATURES | REVIEWS | RATING | PRICE |
| --- | --- | --- | --- |
| PurSteam Portable Travel Steamer | 900 watts / 1.1 lbs | *** READERS CHOICE *** Lightweight, heats up quickly, powerful, | Check Price |
| OGHom Garment Steamer | 700 watts / weight unknown | The OGHom travel streamer is a massive favorite with travelers as it's an extremely small and lightweight travel steamer for clothes which allows you to pack light while also being less strain on your arms, too!  | Check Price |
| Conair Garment Steamer | 400 watts / 1.2 lbs | Folding handle, 10-minute steam time, worldwide dual voltage, detachable bristle and lint brush. | Check Price |
| BIZOND Handheld Mini Steamer | 900 watts / 1.4 lbs | 25-second heat-up, auto-protection, doesn't spit water | Check Price |
| Uomeod Portable Steamer | 900 watts / 0.516kg | This travel size clothes steamer is certainly popular, one traveler calls it a "lifesaver" to business professionals and says that it "steams like a pro." | Check Price |
| BEAUTRUAL Handheld Garment Steamer | 1200 watts / 2 lbs | Anti-water and anti-electric leakage protection, automatic safety shutoff, removable water tank. | Check Price |
| Greatwill Handheld Fabric Steamer | 1500 watts / 1.8 lbs | Lightweigh, heats up quickly, slender design | Check Price |
| Jiffy Esteam Handheld Travel Steamer | 5 x 6.5 x 11 in / 3 lbs | High-impact plastic outer housing for durability, quick one minute heat-up time. | Check Price |
| Rowenta DR8080 Handheld Garment Steamer | 1500 watts / 3.9 lbs | Powerful steam, ready to steam in 45 sec, flexible storage, removable water tank. | Check Price |
| PurSteam Travel Steamer Iron Dual Voltage | 800 watts / 1.1 lbs | Fast & Effective Wrinkle Remover, Anti Slip Handle, Non-Stick Soleplate, Small Size | Check Price |
Travel Steamer vs. Regular Steamer?
If you're used to the power of a full-size, quality garment one, you'll find a notable difference with a small portable steamer.
The main difference is a travel size garment steamer ranges from 750-850 watts whereas a regular one is around 1700-1800 watts. This means that it will take longer to steam out wrinkles and you may not be able to remove the most stubborn of creases.
If you plan to travel with clothing items that wrinkle easily, you may want to consider one of the best small steamer models instead of a travel-size one, which may offer up to 1500 watts of power. They'll take a little more room in your suitcase but will ease the frustrations of a slow steamer experience.
A full-size steamer may perform well, but the best mini travel steamer brands are more portable, packable, and quality enough to help you look suitable for whatever you have planned.
Note: I personally own a travel steamer for home use and I don't use it often enough for it to cause me frustration!
Should I Buy a Travel Steamer?
It's not easy to find a decent clothes travel steamer but I still own one and use it on trips when necessary. It's better than nothing!
To determine the best travel steamers you have to weigh the pros and cons. I know someone that was so meticulous with their clothing that they packed a FULL-SIZE steamer on a vacation! In this case, a small clothing steamer or even a travel size steam iron makes more sense.
Some people (me included) even prefer to own a mini garment steamer instead of a full-size one for daily use at home. They're less bulky and more affordable so this is an ideal option if you only need to steam the occasional clothing item.
It's important to remember that it can also be a challenge to find the best dual voltage travel steamer model.
How to Choose a Travel Steamer
There are a few things to know before purchasing a travel fabric steamer:
They're not as small as you might like

They're not as powerful as a regular steamer (800 vs. 1800 watts)

They can only steam one garment per fill

They're rarely dual voltage
The truth is that even the best mini clothes steamer does not compare to its full-size counterpart. While they do offer the convenience of removing wrinkles on the go, they will not be as powerful. It's important to be realistic about your expectations before deciding to buy one.
The list of travel clothes steamers we've provided lays out several options that could work for you! 
You'll want to look your best when you travel! Read my travel tips to Pack Light Stylishly!
Best International Travel Adapter
Traveling Abroad With a Travel Steamer
Dual voltage electronics have two voltage options: 110-120 volts (US) and 220-240 volts (Europe). They are ideal for travel because they are safe to use at home and abroad, too. 
Right now, travel steamers can be somewhat difficult to source. If you do not buy an international travel steamer dual voltage model you'll need to bring BOTH a travel adapter and a converter. While there are some travel-friendly converters, they're usually only good for products up to 200 watts—a compact travel steamer is higher than this—so choose one that can handle the voltage.
If you plan to buy a dual voltage clothes steamer then a universal travel adapter is all you'd need and it will work in various outlets abroad, such as the international adapter pictured above. 
Tip: It's important to understand that an adaptor and converter are NOT the same thing. An adapter fits the outlets and a converter changes the electrical current so your electronics down blow a fuse!
Here's our voltage converter vs. travel adapter post to give you more information!
After choosing from our round-up of the best travel steamers, please read our guide or watch the video above to learn about the difference between travel adapters, converters, and voltage!
What Is the Best Dual Voltage Travel Steamer? 
Unfortunately, there are not many dual voltage travel steamers in the market—the Conair is the best travel clothes steamer product we are aware of. Though a steamer travel iron, the PurSteam is also dual voltage. They're both listed above, so please take a look and compare. If you know of other travel garment steamer dual voltage brands, let us know!
Tip: Remember to switch your clothing steamer to 220V/240V when you arrive at your destination!
---
What do you think is the best travel steamer? Share and comment below!
---
For more ideas on travel clothing and packing tips, please read:
---
LIKED THIS POST? PIN THIS PIC TO SAVE IT!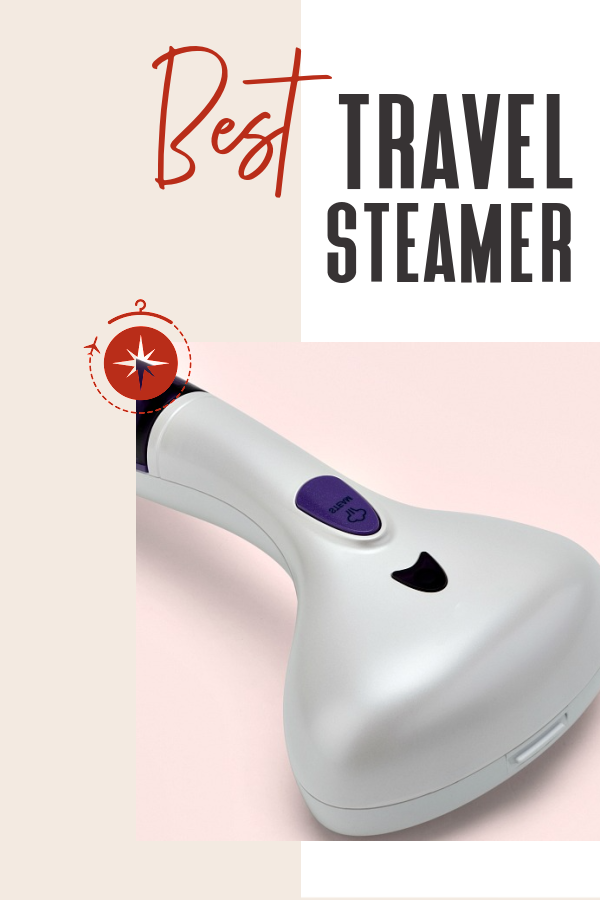 ---
We hope you liked this post on the best travel steamer. Please share with your friends on Facebook, Twitter, and Pinterest. Thanks for reading!
---