Support TFG by using the links in our articles to shop. We receive a small commission (at no extra cost to you) so we can continue to create helpful free content. Thank you, we appreciate it!
Deciding on your main travel bag can be an arduous task. You want to be versatile and comfortable, while also being able to carry all your essentials. Regardless if you chose a rolling bag or backpack, it needs to fit in an overhead bin.
---
Backpack or rolling bag:  Which is right for me?
Written By: Nina Thomas
---
Table Of Contents
In order to determine which bag would be best for you, you will need to consider the type of traveling you will be doing. Consider the pros and cons in light of the trip you will be taking.
For example, if you're planning to hike from one town in the Alps to the next, you want to imagine yourself pulling a rolling back on top of steep hills.
If you have three layovers on your next trip, you may want to consider how you will feel waiting in long security lines and ticket counters with a very heavy pack on your back and having to take it on and off multiple times.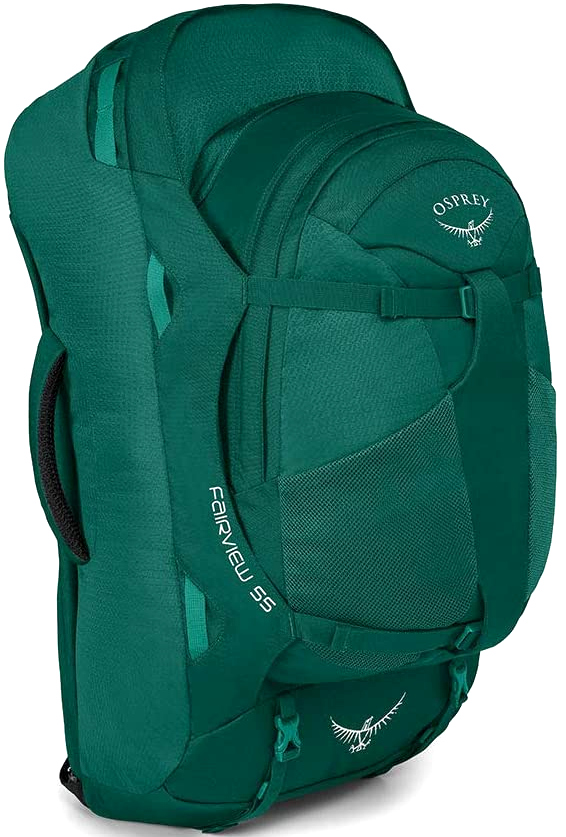 Backpack
Pros:
Frees your hands– Keeps your hands free so you can open and read a map, take pictures, eat or drink, etc.
Stability– Evenly distributes weight on your back and gives you steadiness.
With you at all times– With it being strapped to your back, you have less of a chance of leaving it at the train station while you're waiting for your ride.
Outdoors– If you are planning on doing a lot of hiking with your luggage, this is by far the best option.
Cons:
Weight– It can be very heavy, and if you're standing for long periods of time, you can get tired more quickly. Although this is great for hiking, it may not be great for hours of travel at the airport while waiting in long security and ticket counter lines.
Less accessibility– Harder to get in and out of when you're on the go. You will have to find a place to stop and unzip your bag to get something out.
Theft– With the size of these bags, at times it would be easy for a pick-pocket to unzip your bag without you even being able to feel it.
Shoulders– Although it frees your hands up, it takes up valuable shoulder space which you may use if you also have a purse or small camera bag. Adding a cross body bag while you're already carrying a backpack can add weight that doesn't distribute itself evenly.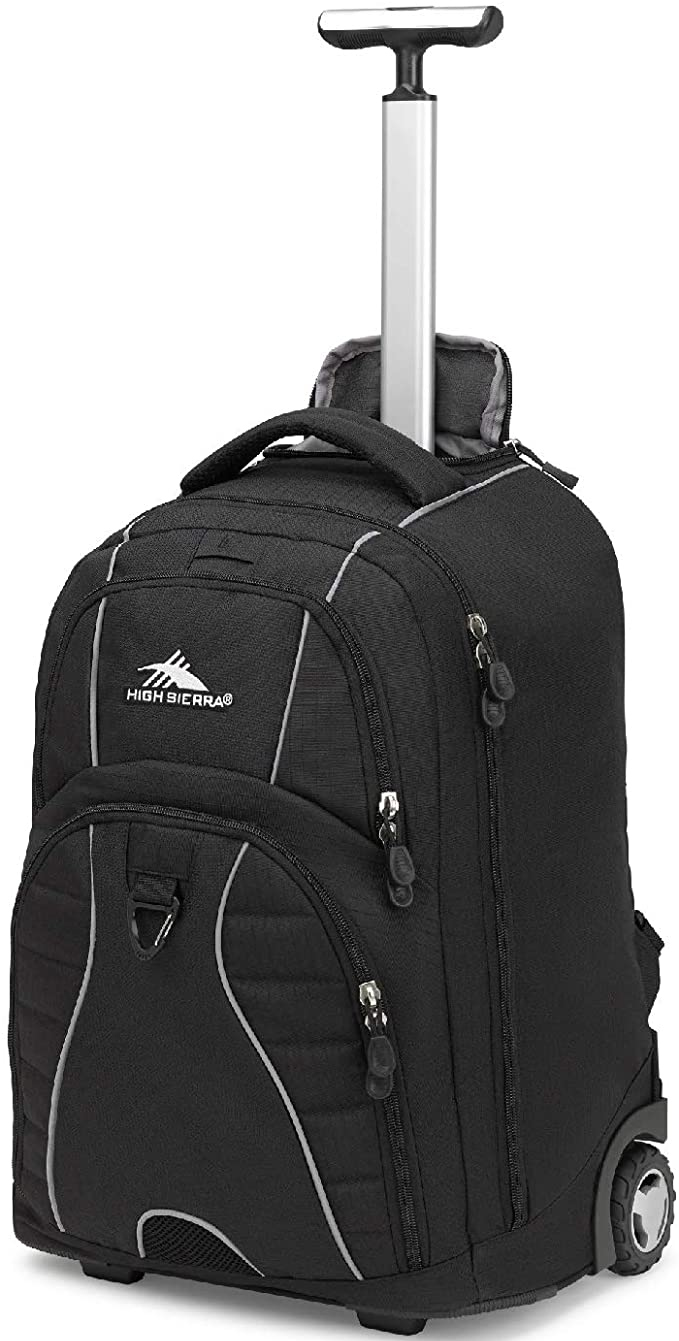 High Sierra Freewheel Wheeled Backpack
Rolling Bag
Pros:
Light-weight– You can pull your bag with ease when it's on rollers without much effort.
Accessibility– You can get in and out of it very quickly. Considering when you're going through security, you pop it up on the belt, unzip the top and pull out your toiletries within seconds.
Organization– With a well-structured rectangle shape, you can keep your packing cubes nice and orderly and they will keep their shape well.
Multiple bags– You can carry a shoulder bag on your shoulder, or even put it on top of your rolling bag, thus freeing your back and shoulders from any weight at all.
Cons:
Public transportation– Steps are a rolling bag nightmare. If you are going on the subway or the bus, you will have to be able to pick up your bag and carry it with you. So, although it's light when you're rolling it, a rolling bag could be heavy when you have to carry it up flights of stairs.
Less hands– With only one hand, it can be problematic to carry a cup of coffee and then open a door.
Snagging– Let's face it; we've all had someone roll their bag over our feet while they're trying to get it through the airplane aisles. It can be hard to navigate the rolling bag through tight spaces or over rough terrain such as piles of rocks, very muddy roads, etc.
Less control– If you stop rolling it to do something, you could easily forget it. (Unlike a purse or backpack which is strapped to you.)
Perhaps you want to invest in both if you're an adventure traveler. Each trip brings its own set of challenges and you want to be prepared with the best option to meet those challenges.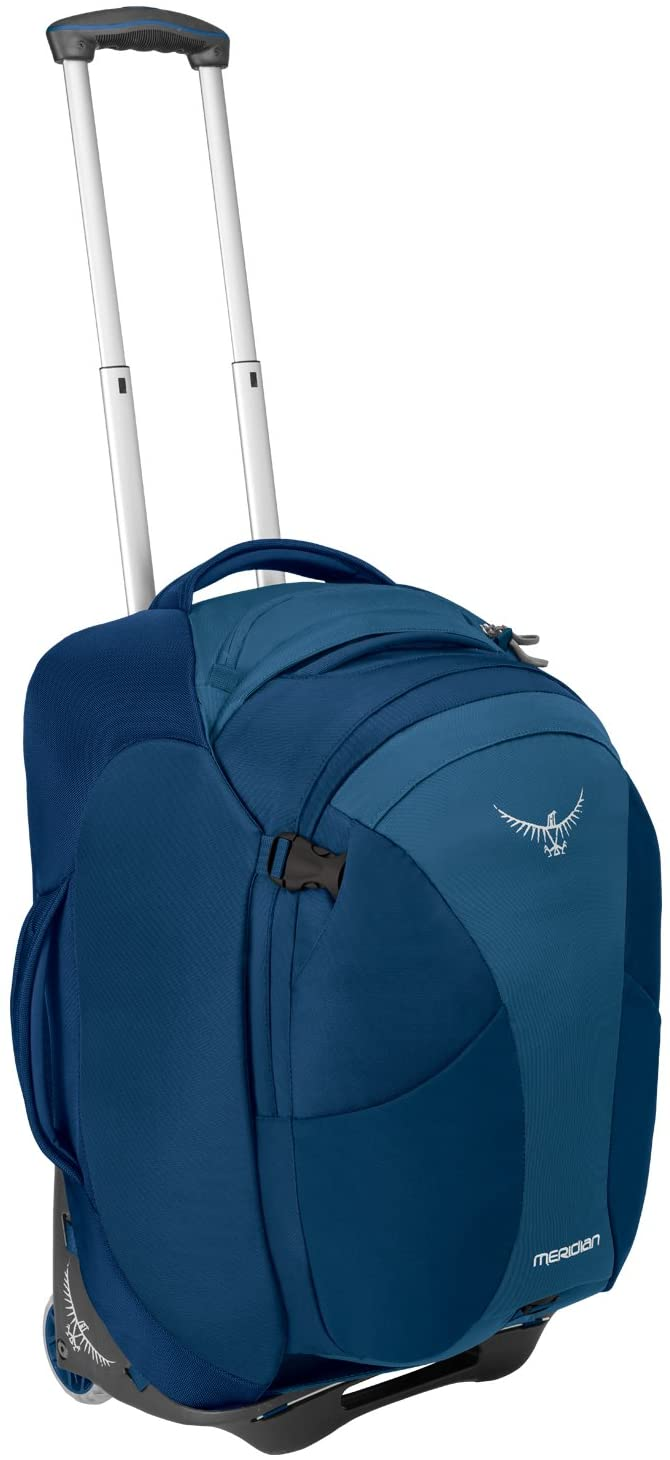 Osprey Meridian Wheeled Luggage
Wheeled Luggage
---
What kind of bag is your favorite? Are you a die-hard roller bag fan? Or do you only bring a backpack?
---

For more ideas on suitcase and backpacks, please read:
---
We hope you find this post on backpack or rolling bag useful. Please share it with your friends on Facebook, Twitter, and Pinterest. Thanks for reading!
---
Author Bio: A travel lover and freelance writer from the United States Midwest. Traveling mostly as a couple with her husband, she is constantly looking for a beautiful view and a good adventure. For more practical travel tips and ideas from a Central Ohio Girl, check out her website: travelingwithnina.com or follow her on Twitter.
---