Support TFG by using the links in our articles to shop. We receive a small commission (at no extra cost to you) so we can continue to create helpful free content. We earn from qualifying purchases made to the featured retailers. Thank you, we appreciate your support!
Whether or not you love wine, French wine country is beautiful to visit! Find out what to wear in French wine country so you can enjoy your trip any time of the year.
---
What to Wear in French Wine Country
Written By: Maggie Fogg
---
Table Of Contents
Many of the best wines in the world are created in France. From the Champagne region in the northwest to the equally famous Bordeaux region in the southeast, there is fantastic wine to be found and vineyards to tour in virtually every inch of the French countryside.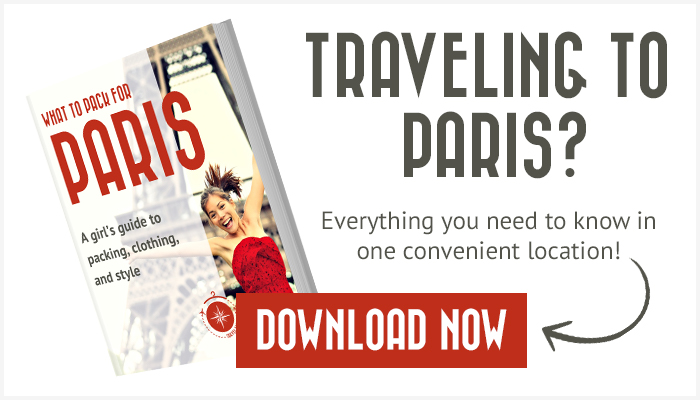 What Do People Wear in French Wine Country?
French women know how to dress with understated elegance, femininity, and chicness, even when they're seeking comfort. While exploring French vineyards on a wine-tour, comfort is essential, but style shouldn't take a backseat.
The French savor the senses and dress well. When deciding what to wear in French wine country, take their cue and embrace natural fabrics, beautiful cuts and subtle palettes of pastels and neutrals to complement the countryside.
What Should I Wear in French Wine Country?
Remember to choose relaxed clothing and footwear conducive to lots of walking and changing frequently between different temperatures as you move in and out of cellars, tasting rooms and vineyards. French country clothing should be stylish, but suitable for the weather above all.

Aerosoles Slip-On Loafer | Blondo Waterproof Ankle Bootie
What Are the Best Shoes for French Wine Country?
One unexpected issue that many travelers discover once they get to Europe are the cobblestone streets.
While great to look at, stone streets aren't always the easiest to walk on and can make for sore feet even if you don't normally have discomfort. Depending on the city, these streets can also be hilly, slippery when wet, and uneven.

Clarks Candra Light Flat | Ecco Damara Gladiator Sandal
In addition, we all love to dress up but avoid heels because they'll leave you feeling uncomfortable. Opt for wedges if you must bring a heel. Do include one pair of shoes and one outfit that can be worn for dining out or experiencing the local nightlife.
Popular shoe options include (click each item below for suggested styles):
Read this post about how to choose the best walking shoes for Europe.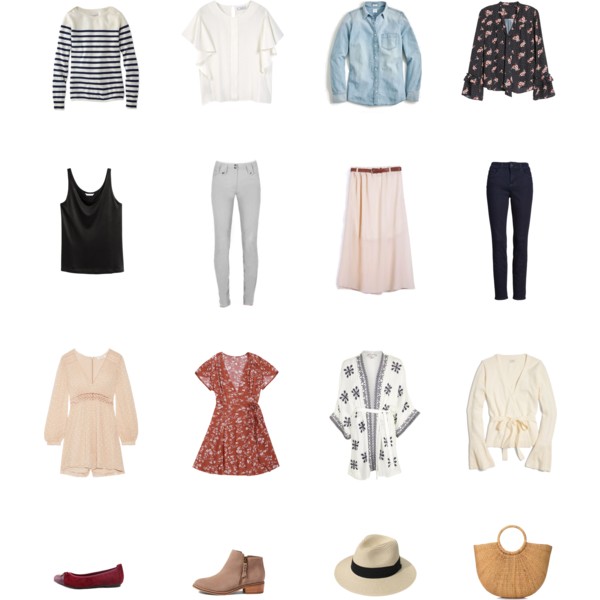 Longsleeve | Blouse 1 | Shirt | Blouse 2 | Tank | Pants | Skirt | Jeans | Romper | Dress | Kimono | Sweater | Flats | Boots | Hat | Bag
What to Wear in French Wine Country in Spring and Summer
The Bordeaux region is famous for producing many of France's most popular wine varieties, such as Cabernet Franc, Cabernet Sauvignon, Merlot, and Malbec, all beautifully full-bodied with deep, red hues. You'll definitely want to visit a winery or two on your trip!
What is the weather in French wine country in spring (March, April, May)?
When visiting the region, it's ideal to go between the months of March and May, when vineyards are less crowded, yet provide stunning, lush views. Weather is generally mild in the spring, and even warm from late April to May. March has an average low of 5°C (41°F) and a high of 15°C (59°F), while May has an average low of 11°C (52°F) and a high of 21°C (70°F).
What is the weather in French wine country in summer (June, July, August)?
Weather becomes warmest and sunniest in the summer between June and August, however, the countryside will become much more crowded with vacationers. July and August have an average high of 27°C (81°F) with a low of 16°C (61°F) and 8 hours of sunshine.
When creating your French wine country packing list, be prepared for rainy days throughout the spring and summer, as well as temperature drops at night when visiting the Bordeaux region.
Start by reading these general tips on packing for spring and summer travel:
What clothes should I wear in French wine country in spring?
When visiting vineyards in the spring and summer, it's recommended to pack layers. Spring weather can be temperamental, ranging from warm and sunny, to grey, drizzly and windy.
Dressing in layers is also much more convenient for winery tours since you'll be going inside and outside quite a bit, as you move between tasting rooms, cellars, and vineyards.
Find out how to turn any one of your dresses into versatile dresses!
Dress comfortably, yet stylishly with a pair of slim-cut jeans, a simple camisole and a kimono jacket in the spring or a beautifully-cut blouse in a pretty and romantic print.
Here are the best skinny jeans for travel!
What clothes should I wear in French wine country in summer? 
When choosing what to wear in French Wine Country in the summer months, opt for a feminine summer dress or romper in pastel hues, paired with an oversized hat and sunglasses to protect you from too many rays out on the vineyards.
A sturdy straw tote is the perfect accessory for the French countryside and can even carry a small bottle or two to take home.
Fashionable summer accessories are an easy way to add style to your vacation wardrobe!
What shoes should I wear in French wine country in spring and summer?
As you learn about the different aspects of the winemaking process, you'll be walking through each vineyard's facilities and grounds, so opt for sturdy, flat footwear. It's generally recommended that you stick with a covered toe, such as a nice pair of ballerina flats.
This is a selection of the best sandals for travel in summer – our top recommendation for a summer trip to French Wine Country!
French Wine Country Packing List for Spring and Summer
Clothes:
Romantic, pastel rompers and sundresses

Light, comfortable denim or trousers

Pretty tops, blouses

Kimono jackets, cardigans

Oversized hat

Sunglasses

Straw tote back

Umbrella

Structured moto jacket
Shoes:
Comfortable sandals (sightseeing)

Slip on sneakers (sightseeing)

Ballet flat or covered shoe (dressing up) 

Wedges: (optional)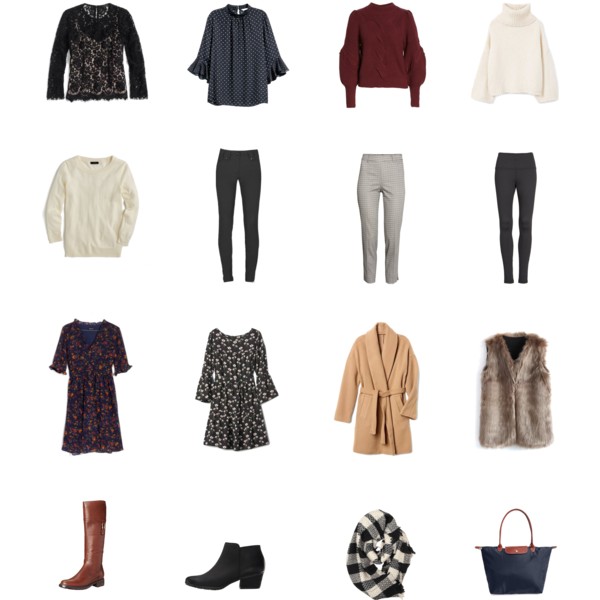 Top | Blouse | Sweater 1 | Sweater 2 | Sweater 3 | Pants 1 | Pants 2 | Leggings | Dress 1 | Dress 2 | Coat | Vest | Boots 1 | Boots 2 | Scarf | Bag
What to Wear in French Wine Country in Fall and Winter
What is the weather in French wine country in fall (September, October, November) and winter (December, January, February)?
Fall weather in France is quite lovely, but it's generally not recommended to visit wineries between the months of September and November because it is harvest season and winemakers are incredibly busy.
The winter months are actually a much better time to visit vineyards throughout the French countryside to sip, sample, and savor French wine-making at its finest.
If you visit the northern countryside, check out popular wine regions Champagne and Alsace. While the Champagne-Ardenne region, produces one of France's most famous wine exports, the Alsace region is known for producing sweeter white wines, similar to Germany, such as Riesling and Gewürztraminer.
Generally, all of France is quite mild and temperate, including the northern regions of Champagne and Alsace. Generally these regions have temperatures sitting between 15°C (59°F) in the early fall and 5°C (41°F) in the late fall and 0°C (32°F) and 4°C (39°F) in the winter months with an average of 10 days of rainfall per month.
Start by reading these general tips on packing for autumn travel:
What clothes should I wear in French wine country in fall and winter? 
With fall and winter's mild temperatures, layers continue to be essential. When choosing what to wear in French wine country, go for well-made classic pieces in cozy natural fabrics like leather boots and gloves and wool scarves and sweaters.
Pack items in rich colors with chic and fashionable details, such as sweaters with cut-outs and embellishments, a faux fur vest for added warmth, or feminine, refined prints like a floral shift dress and a tweed overcoat.
Pair with delicate accessories like floral earrings with a vintage feel and soft leather gloves in a cognac brown.
Tote around your favorite bottles with a versatile carryall from one of France's most iconic brands, Longchamp.
Find out which items readers chose as the warmest gloves for women!
What shoes should I wear in French wine country in fall and winter?
As with your clothes, choose your shoes based on the weather and your planned activities. Select no more than two or three pairs of shoes in neutral colors that can mix and match with all your clothing.
Popular styles include light brogues, sneakers (Supergas are very popular) or waterproof shoes are essential. Note that the best waterproof shoes are not made out of rubber; instead choose leather ankle boots, which are the best shoe option for travel to Europe in fall.
If it snows during your trip, opt for a pair of warm winter boots. If it will be cold during your trip, opt for one of these chic leather boots – they're waterproof but look good, too! 
Leather sneakers are also an option for mild days. (Tip: wear skin-colored stockings underneath for discreet warmth around your ankles.)
Find out why leather boots are some of the best travel shoes to Europe!
French Wine Country Packing List for Fall and Winter
Clothes:
Leather gloves

Faux-fur or down vest

Felt hat or toque

Leggings and dark slim jeans

Cozy sweaters with fashionable details

Wool Scarf

Umbrella

Mid-length coat (consider water-resistant)

Dresses and blouses that can be dressed up for dinner

Sturdy, zippered tote bag
Shoes:
Waterproof tall or ankle leather boots (sightseeing)

Leather sneakers (sightseeing)

Ballet flat or heeled ankle boot (dressing up)

Closed-toe wedges: (optional)
 

What is the Best Luggage for French Wine Country?

 

There are various things to consider when choosing the best luggage for Europe including a difference in carry-on size, strict weight restrictions, mobility on the cobblestone streets, and long flights of stairs.

The best suitcase to add to your packing list for French Wine Country is a rigid trolley case, ideally with four castors. The trolley should be divided into two compartments (not just one big compartment) for no-fuss packing. These are easy to travel with on bumpy terrain.

For a European carry-on size bag, a backpack is always a safe option. It's also the perfect fit for those of us who prefer to travel hands-free.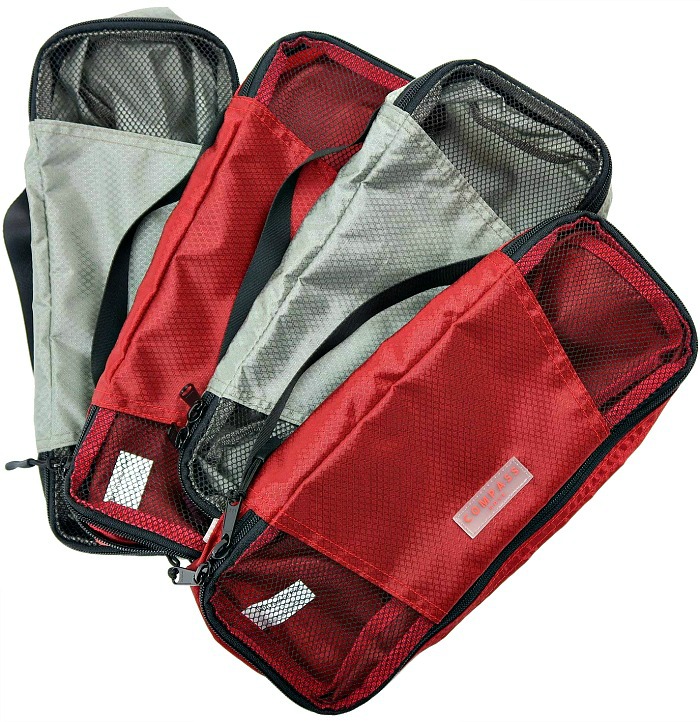 Depending on how many days or weeks you're traveling, you may want to use luggage organizers such as packing cubes, which allow optimum use of the space in your luggage, keeping everything organized and in place during your travels, and making the task of unpacking and repacking simple and stress-free.
As you're headed to fashionable Europe, use an equally stylish carry-on, such as the Osprey Ozone, which is a personal favorite. Keep in mind that most of Europe's budget airlines have a carry-on bag allowance of 55cm x 40cm x 20cm (22" x 16" x 8"). Always check your airline's individual baggage rules and regulations in advance.
Find out the most popular Europe travel bag styles according to our readers!
Toiletries
When traveling to French Wine Country, you'll need some of the standard, essential toiletries, including:
Shampoo and conditioner

Body wash

Moisturizer (face and body)

Sunscreen

Razor

Makeup (we recommend keeping it simple: mascara, concealer, and a lip tint that doubles as a blush)

Hair ties and bobby pins

Dry shampoo
Worried that all your toiletries, makeup, skincare, and hair styling tools won't fit into your suitcase? Read these tips on how to travel-size toiletries to learn how to make the most of limited space without sacrificing your routine!
We recommend you take the most important products in travel containers like these and try to either buy basics like shampoo and shower gel in Europe or use the items provided by hotels.
Also, consider your makeup–in many European cities, women opt for natural makeup focusing on a well-groomed but not over-the-top appearance.
While a daily salon blow out isn't necessary, be mindful of your hair and makeup. Find out if it's necessary to bring a travel blow dryer here.
When choosing your styling tools, choose items that have dual voltage and bring along a travel adapter for all your electronics. Just make sure to add all these items to your backpacking packing list for Europe so you don't forget them.
Check out our guide to toiletries for more tips!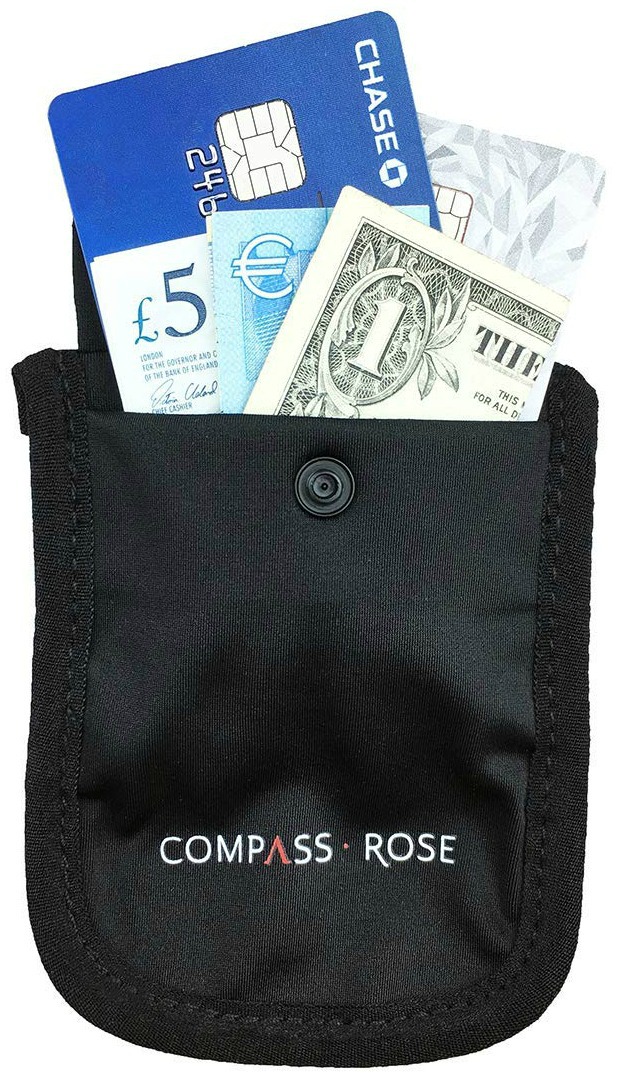 Compass Rose Secret Bra Wallet
Safety
How can I stay safe while traveling in French wine country?
Be cautious about where you stash your cash. Make your clothing theft-proof and choose items with strong zippers. Jeans are handy for this reason: you can put important items, like your wallet and phone, in your front pockets, where it's very difficult for a wandering hand to anything. Add items like the Secret Bra Pocket and Underwear with Pockets to your packing list.
Wear your purse strap across your body and the zipper towards the front. For extra security, check out the "theft-proof" bags featured in this post about crossbody purses.
These are articles with other suggested anti-theft products:
Remember, the safest place for your passport is locked in your accommodation. Carry a photocopy or other ID when you're sightseeing or are out at night.
Read these tips on how to keep your passport safe when you travel!
Suggested Anti-Theft Accessories for French Wine Country
Bra stash, neck pouch, or money belt with RFID protection

Anti-theft crossbody bag

Passport case

TSA-approved luggage lock

Clothing with hidden pockets (like underwear, tops, and scarves)
What Are the Best Accommodations in French Wine Country?
Don't lose all of the charm that wine tasting in France delivers by staying at a sub-par accommodation. There are endless accommodation options of romantic B&Bs, inns, and chateaus throughout the French countryside. Hop on Airbnb's website to explore the many charming options at any price range!
Read these Airbnb tips for more info!
What's the Best Way to Get Around to French Wine Country?
There are endless ways to explore French wine country. From booking a tour to renting a car – or even traveling from vineyard to vineyard by bike – it all depends how long you're going for and how many vineyards you're looking to visit.
Start by selecting which region you'd like to visit, and explore your transportation options from there. For more independence, a car is your best bet. Some Airbnb's may even include bicycles that you can use to get around town.
Things to Do in French Wine Country
If you tire of wine tasting, there are many other things to explore in the countryside from history and architecture to fine dining and a casual stroll. In the Bordeaux region, visit the Archachon beach, sail around the bay and sample a few delicious oysters.
The Alsace region is incredibly picturesque! A cultural hybrid of France and Germany, Alsace has only been part of France since World War II and has retained a decidedly German heritage.
The region is peppered with quaint little towns, rolling hills and stunning vistas straight off a postcard. This is the perfect region for hiking, road tripping from town to town, and scoring some epic Instagram shots.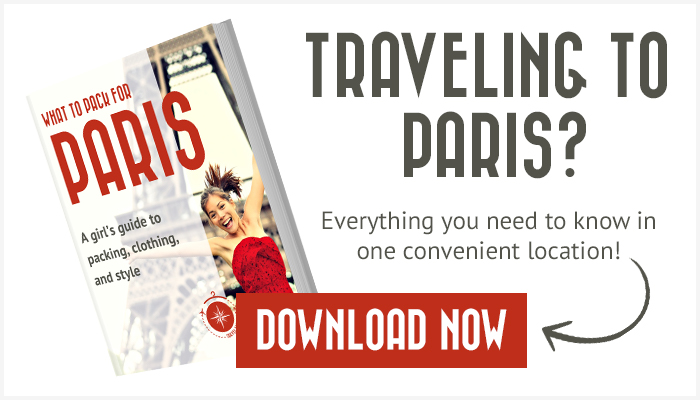 ---
What are your tips on what to wear in French wine country? Please share and comment below!
---
For more on what to wear in Europe, please read:
Suggested travel resources:
---
LIKED THIS POST? PIN THIS PIC TO SAVE IT!
---
Hope you liked this post on what to wear in French wine country. Please share with your friends on Facebook, Twitter, and Pinterest. Thanks for reading!
---
Author Bio: Maggie Fogg is a full-time traveler and writer. She left Toronto with a one-way ticket to Spain and has been making her way around the globe ever since. Currently, you can find her dancing and hiking her way around South America. Follow Maggie on Instagram.
---