Support TFG by using the links in our articles to shop. We receive a small commission (at no extra cost to you) so we can continue to create helpful free content. As an Amazon Associate, we earn from qualifying purchases made on Amazon in addition to other retailers featured on the blog. Thank you, we appreciate your support!
Heading to Italy between December to March? Here's what to bring to Italy in winter including clothes, shoes, and accessories! For more details, read our complete Italy Packing Guide!
---
What to Bring to Italy: Winter
---
Travel Fashion Help! Reader Asks:
Hi Ladies! I'll be traveling around Italy (Turin, Rome, Florence, Venice, and Milan) for two weeks this winter. Can you recommend any outfit combinations to keep me warm without taking up too much suitcase space?
Like other European destinations, the temperatures in Italy can fluctuate year-round and can vary hugely depending on where you visit. For some of the best advice on what to bring to Italy in winter, we asked our readers what they recommend putting in your suitcase.
For a complete guide, read our Italy Packing List!
WEATHER
Winter in Italy generally runs from November to March. During this time, temperatures can change dramatically.
While it's not quite as cold in Italy as it would be in other European countries like Germany or Switzerland, the temperatures still drop low enough to make you want to wrap up as warm as possible.
Start by reading these general tips on packing for winter travel:
Around this time, the wind comes in from Siberia, which means there could be a huge wind chill, making you freeze your socks off if you aren't prepared.
Keep checking the forecast before you go and adjust your travel capsule wardrobe so you can dress for the different conditions. You could find yourself visiting snow covered sites, enjoying mild temperatures, or even sunny days.
You can still pack light with a small suitcase even when you travel in cold weather by using packing cubes to compress your clothing as shown in this video!

Follow these tips on how to pack for cold weather!
Carson Pass II Jacket | Vixen Sassy Ankle Jean
Clothes
Even if the forecast tells you it's going to be sunny while you're away, make sure you're ready for colder climates as well. Pack extra layers and a warm, waterproof jacket like Columbia's Kaleidoscope, which is ideal for winter weather and not too bulky.
Stay warm but avoid the snowman look by using these tips!
Long Sleeve Crewe | Oasis Leggings
While you can buy clothes in Italy, you're better off going with everything you need so you're not caught unprepared. Throw in a pair of dark jeans as they are stylish and thick enough to keep your legs warm. For those who are really sensitive to the cold, pack merino wool thermals to wear under your clothes.
Want to travel carry-on in winter? Here's how!
Water Repellent Jacket | Zip Front Raincoat
Along with a waterproof coat, consider packing another lightweight jacket for a dressy evening out or warmer days. While it can be cold in Italy in the winter, some days may be sunny and warm, giving you the chance to shrug off the coat and slip into a lighter outfit. Be aware that the evenings will be a lot cooler than the daytime.
Want more ideas? Here are the most stylish travel raincoats for women!
Faux Leather  Jacket | Slacker Poncho
When temperatures are milder, places like Rome and Florence are manageable with layers during the day and a lightweight coat at night. Adding a hoody or sweater underneath a leather jacket is an excellent way to add layers to your travel wardrobe.
ACCESSORIES
Don't forget that you can also add style and warmth to any outfit by adding accessories like hats, scarves, and gloves. If you're constantly wearing dark colors, then these accessories can add some color to any winter outfit. Scarves are also useful for covering up if you're going into any religious buildings. For more details, read this post on what to wear to the Vatican.
Here are the best winter accessories to shop now!
Newburg Boot | Proud Overton Boot
SHOES
When thinking about footwear, the most important thing to remember is comfort and waterproofing. Like other European countries, Italy's streets are paved with cobblestones, making sightseeing painful if you're not wearing the right shoes.
These are the best shoes to walk on cobblestones!
Unless you're going on a hike, leather ankle boots are an absolute must for an Italian winter vacation as they are waterproof, sturdy, and can be dressed up for an evening out.
For drier days, consider a pair of comfy sneakers so you can enjoy the sites without having foot pain. Our readers voted these as the most popular walking shoes for Europe.
More Tips from our Readers:
Traveling to Italy in the winter is the best way to avoid the crowds.

Pack an umbrella for rainy days.

Keep an eye on your valuables if you're in a crowded area.

Make the most of the train links to get around.

There is so much to do in Italy, so plan ahead!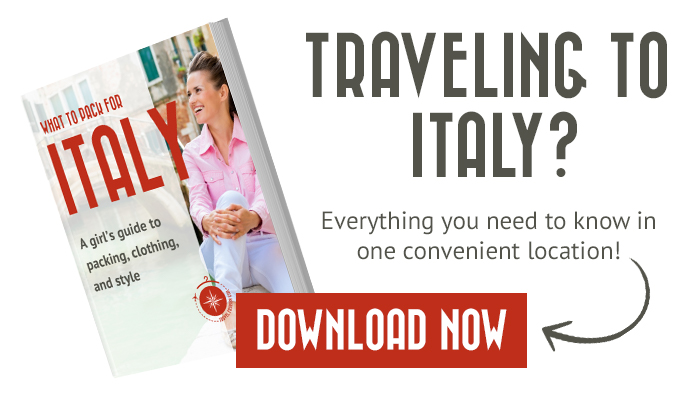 ---
What are your tips on what to bring to Italy in winter? Share in the comments!
---
LIKED THIS POST? PIN THIS PIC TO SAVE IT!
---
For more tips on packing for Italy, please read:
Suggested travel resources:
---
I hope you liked this post on what to bring to Italy in winter. Please share with your friends on Facebook, Twitter, and Pinterest. Thanks for reading!
---