Support TFG by using the links in our articles to shop. We receive a small commission (at no extra cost to you) so we can continue to create helpful free content. Thank you, we appreciate it!
Finding inspiration from women like Cheryl Strayed, who hiked 1,100 miles on the Pacific Crest Trail, we may want to challenge ourselves to go out deep in the woods and get lost.
However, we don't want to be unprepared for the challenges that lie ahead of us. Stop wondering what to bring on a camping trip and pack these six must have items for women!
---
What to Bring on a Camping Trip
Written by: Nina Thomas
---
Table Of Contents
Planning what to bring on a camping trip is a challenge, especially when you have no access to bathrooms, electricity, food, and sometimes even running water. You need to pack smart with the essentials, but realizing that space and weight are a concern when you have to carry everything on your back.
This isn't just camping for a trip to a bed and breakfast. You're providing the bed and the breakfast. We all know we'll need to bring food, a tent, a sleeping bag, etc. But without the luxury of a bathroom or electricity, there are some products and ideas that are helpful for women who are camping out in the woods.
Use packing cubes to help you organize your belongings to maximize your space.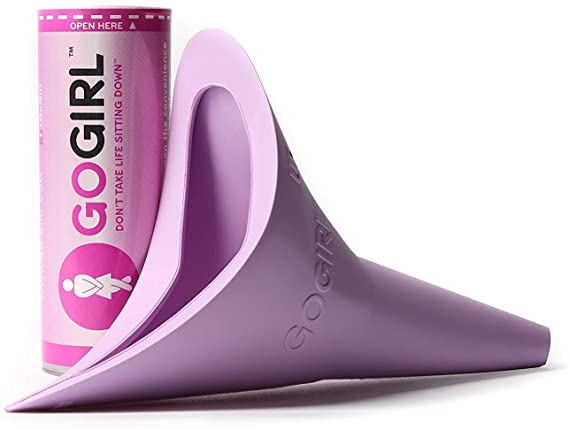 GoGirl Female Urination Device
Go Girl
Feminine urine devices assist women in going to the bathroom by avoiding the need to squat. It may sound odd, but if you've ever been camping and had to find a nice place to squat that wasn't covered in poison ivy, or been off balance and fell, you know that it would be better to go standing up. Make sure to bring wipes with you to give it a clean after you've gone in order to keep it hygienic.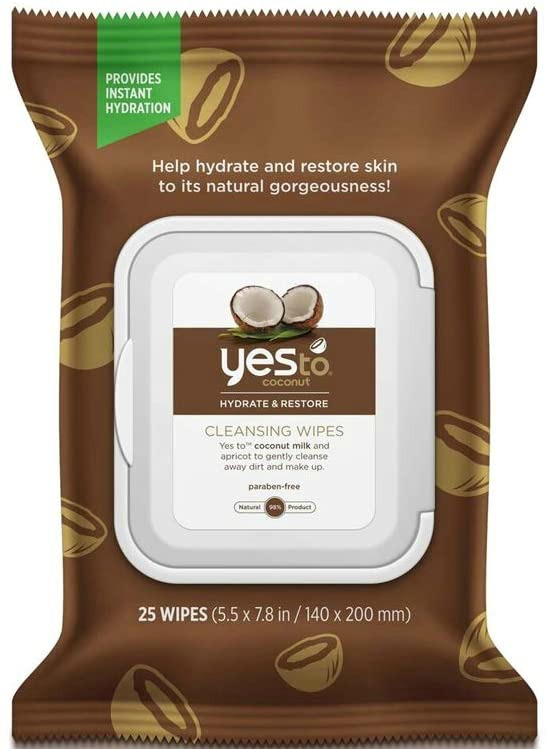 Yes To Coconuts Ultra Hydrating Cleansing Facial Wipes
Face wipes with lotion
Sometimes when you're camping deep in the woods, you have limited water for the night. You won't necessarily want to use that limited supply for washing your face, so wipes with moisturizer are a beauty item you may not want to be without.
The secret to traveling light is to create a functional but minimalist capsule wardrobe. Learn more in my guide!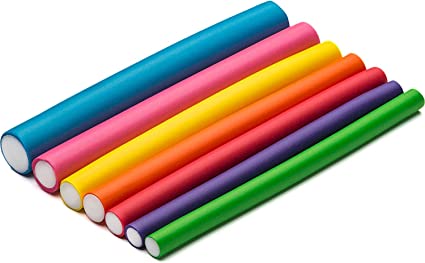 Tifara Beauty Flexible Curling Rods
No-heat hair curling styles
If you are camping near a lake or the ocean, you can dampen your hair, and then twist it so the next day you have a nice curls. Camping doesn't mean you can't look your best with minimal effort.
Here's a round up of our top heatless hair style tutorials!

Klymit Static V Lightweight Sleeping Pad
Inflatable sleeping pad
Since space and weight is a concern, you can't always pack a roll up sleeping pad. These inflatable pads are lightweight and give you just enough lift off the ground to avoid feeling every rock, root and bump underneath you. Trust me, this is one item that will make your trip a million times more comfortable and warmer too!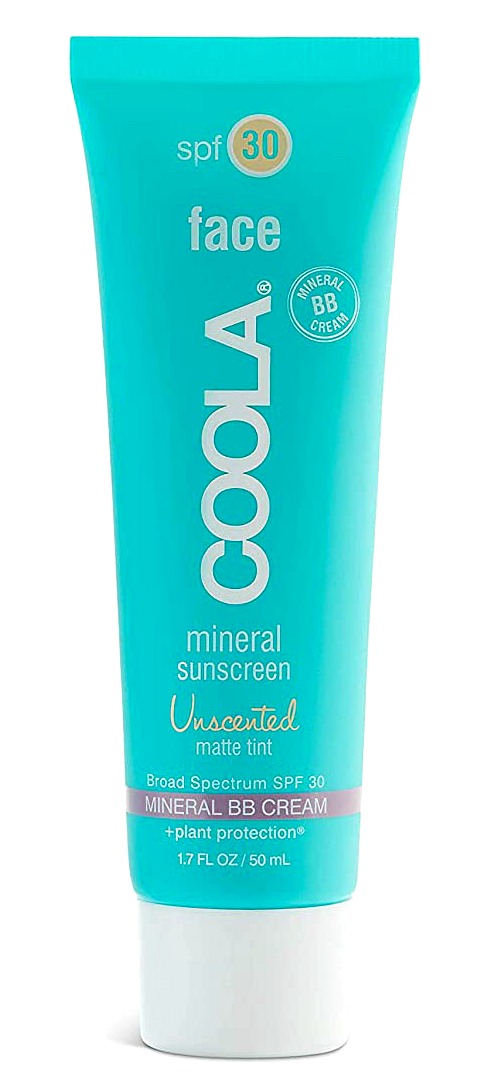 COOLA Mineral Face Matte Tinted Moisturizer
Tinted face lotion with SPF and sunblock
No matter where you're going, you're going to be out in the sun more than you would be at home. You should bring sunblock for your entire body, and tinted moisturizer with SPF protection. Trust me, you'll want some tinted moisturizer to cover up the bags under your eyes from sleeping outside.
Our readers shared their favorites for the best moisturizer with SPF!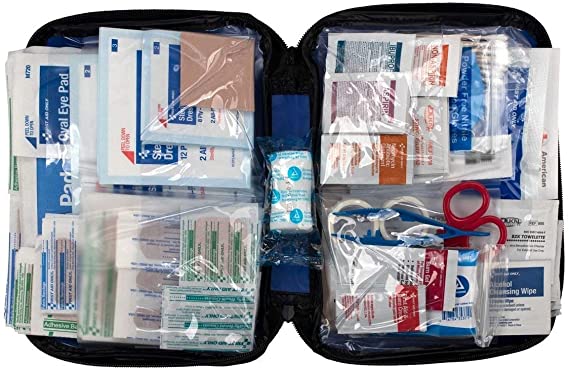 First-aid relief
Ibuprofen is not only good for headaches and back pain that you will have from sleeping outside, but also can be used to treat sunburn since it is an anti-inflammatory.
With all the sweating you'll do during hiking, you will get some blisters and you'll need Band-Aids or even Band-Aids with blister treatment. (They suction to your blister and provides a protection over it so you can continue to wear the same shoes.)
Please make sure to check with your doctor prior to trying any new medications. Know what you are allergic to and make a note inside your emergency kit.
Here are some things to include in you travel first aid kit list!
---
What are your best tips on what to bring on a camping trip? Comment below!
---
For more road trip and camping tips, please read
---
LIKED THIS POST? PIN THIS PIC TO SAVE IT!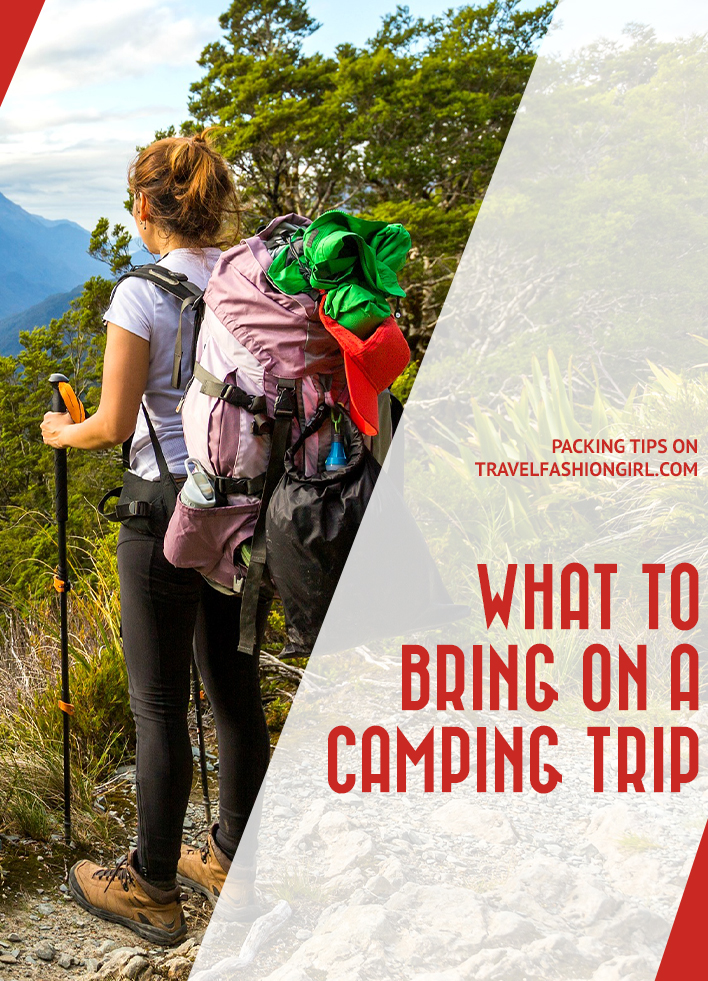 ---
I hope you liked this post on what to bring on a camping trip. Please share with your friends on Facebook, Twitter, and Pinterest. Thanks for reading!
---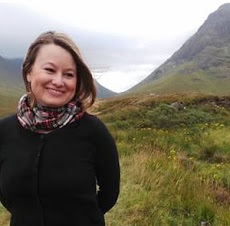 Author Bio: A travel lover and freelance writer from the United States Midwest. Traveling mostly as a couple with her husband, she is constantly looking for a beautiful view and a good adventure. Some of her travel highlights include horseback riding in the Ecuadorian Andes, hiking on top of Mount Etna in Sicily, and sheep-gazing in the Cotswolds. Her favorite travel tips are "do as the locals do" and purchase packing cubes. For more practical travel tips and ideas from a Central Ohio Girl, check out her website: travelingwithnina.com or follow her on Twitter.
---