Support TFG by using the links in our articles to shop. We receive a small commission (at no extra cost to you) so we can continue to create helpful free content. We earn from qualifying purchases made to the featured retailers. Thank you, we appreciate your support!
Packing a minimalist travel makeup kit is never an easy task. Guest blogger Kate Langille is a self-proclaimed makeup junkie and has a few tips to share with you!
---
How to Pack A Minimalist Travel Makeup Kit
Written By: Kate Langille
---
I lost my bag the first time coming back from Europe to Canada and have since made it a challenge to always pack carry on and take less each time. One section on my packing list remains the same efficient size, though, and that is beauty.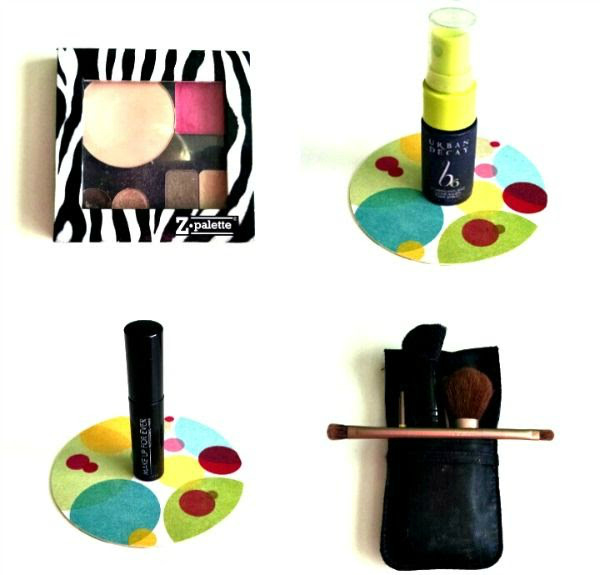 I don't like taking inferior products out of pure convenience due to size or portability, and I hate leaving my favorites out, too. Not to mention I have crazy sensitive skin and need to only use products that are nice to my face.
Straight from the junkies makeup drawer comes the carry on friendly makeup kit for those willing to ditch the extra pair of shoes to fit their Holy Grail products and tools.
You'll want to look your best when you travel! Read my travel tips to Pack Light Stylishly!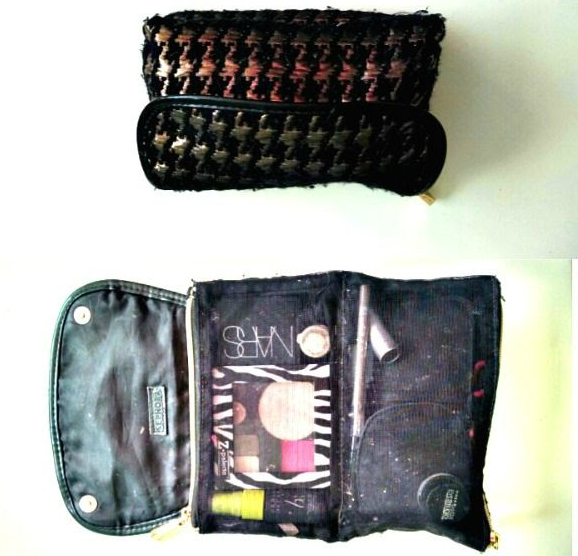 Not too big, not too small
I need/want different brushes for my go to look.
Problem:
Too many products means disorganization.
Solution:
First you need a multi pocket and compact cosmetic bag that will keep you organized. I use one from Sephora which I received as a gift with purchase. I keep my face products in one zipper, eyes in another, and tools in the front zipper pouch. The size doesn't allow you to over pack and is sufficient for full face kit.
You also can wrap your makeup bag in clothing and add to your packing cube in your suitcase to better protect it.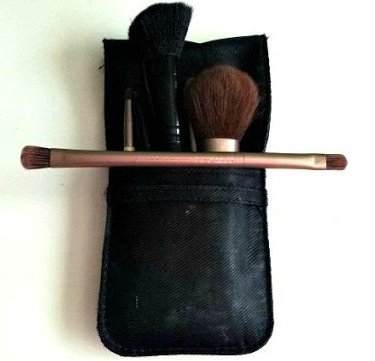 Urban Decay Naked 3 dual ended brush
Solution:
Double ended makeup brushes. I am a woman obsessed and own more brushes than I know what to do with. Luckily, I can maximize my use of space with eye shadow brushes with a flat and fluffy end like the Urban Decay Naked 3 palette brush.
BH Cosmetics makes a great inexpensive and complete set of eye brushes which you can can choose a couple to throw in your kit. Dual ended face brushes are also widely available in many makeup stores and brands like Sephora, Tarte, and in the more inexpensive line from Sonia Kashuck at Target.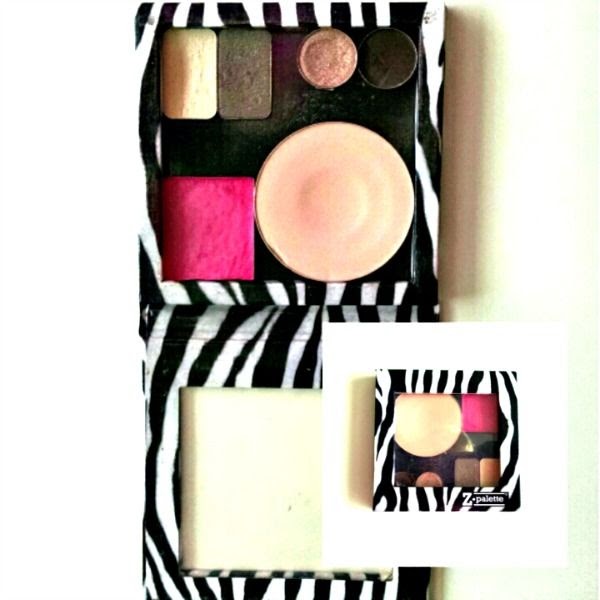 L'Oreal True Match Powder | Sephora blush | Stila eye shadows
Small Zebra Z Palette containing depotted products
Problem:
I want to bring a variety of shades and finishes in my makeup that isn't in a packaging the size of a steamer trunk
Solution:
Gifted from the makeup gods is the magnetic makeup palette which allows you to create an all-encompassing kit. MAC and Makeup geek eye shadows, blushes, and other powder products are ready be popped into a magnetic palette, but with a little perseverance and care, you can remove almost any product from the original packing.
Read our tutorial on how to DIY your own makeup palette!
Search "depotting" makeup in YouTube or Google and you will find that it's a craze sweeping the beauty world. I like Z-palettes, or if you fancy a cute custom made pallet from Etsy, there are many to choose from.
There are tons of tutorials on YouTube and blogs on how to make your own palette for as little as a few dollars with supplies from around your home or the craft store.
Use travel containers like these that are smaller than "travel size" for your foundation, lipstick, or other liquids!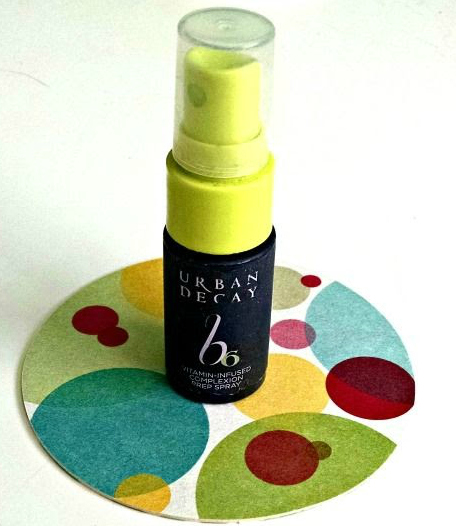 So travel friendly
so cute, and also so very free with points and promotions!
Problem:
My bulky glass bottle of foundation is taking up precious room in my approved one liter carry on plastic bag.
Solution:
Swapping out liquid products for a powder or a solid. I love Jane Iredale's Amazing Base SPF 17 loose mineral foundation to replace my coveted liquid foundation when I am on the road. Pricey at $52, but this lasted ages, had great coverage, and I did not have to bring an additional setting powder.
If you are wary about products with sifters, this one is very fine and not spill, or if you prefer a solid and cheaper option, NYX's Stay Matte But Not Flat pressed foundation is available in many shades. Try to use a powder or solid where you can in place of any liquids.
I will simply perish without my favorite eye shadow primer/mascara/lip gloss, ect.
Take a look at our round-up of 18 solid toiletries for travel!
Solution:
Samples are your best friend. Tiny things are cute and desirable in your carry on one liter bag. Things like primers and mascara, and BB creams obviously only come in liquid form, but they don't have to be full size. Go miniature when you can.
If you want to be extra frugal, go to your local makeup counter and ask for a sample of the product in one of the tiny pots they provide.
Get started on your journey to packing a minimalist travel makeup kit with our quick TPSY TV video on the top four double-duty travel beauty products!
Items featured in video (in order as shown)
---
Do you have any tips on how to pack your travel makeup kit? Share your tips with us!
---
For more travel makeup kit ideas, please read the following:
---
Hope you've enjoyed these tips on how to create a travel makeup kit. Don't forget to share this post with your friends on Facebook, Twitter, and Pinterest. Thanks for reading!
---
Author Bio: Kate is a small town girl looking to explore the world on a budget with a carry on bag in hand, all while looking smugly proud of her packing skills. Travelling internationally since 2008, Kate has stayed in dive hostels to high end hotels with every mode of travel getting her there. Kate has a passion for makeup, skin care, hair care and is obsessed with finding the best way to take her beauty routine in the road with her.
---