Support TFG by using the links in our articles to shop. We receive a small commission (at no extra cost to you) so we can continue to create helpful free content. As an Amazon Associate, we earn from qualifying purchases made on Amazon in addition to other retailers featured on the blog. Thank you, we appreciate your support!
Most people who visit Cambodia come for one reason – Angkor Wat. This enormous temple complex in Siem Reap is a UNESCO World Heritage site and spans over 400 square kilometres.
As this a religious site the clothes you wear should be appropriate. This packing list will give you some tips of what to wear at Angkor Wat and the city of Siem Reap itself.
---
Packing List for Siem Reap
Written by: Tammy Lowe
---
Tank Top | Linen Trouser | Sandals | Flip Flops | Scarf | Tee
What to Wear in Angkor Wat
Angkor Wat lies about 5.5km north of Siem Reap. Cambodia is a very hot and humid country and a visit to the Angkor Wat temple complex will be even hotter and more humid as you will be doing a lot of walking.
If you tour the temples on a tuk tuk it will be a little bit cooler, but some people rent bikes to explore the temples and if you are planning on doing that, you should wear some high wicking clothes, such as running tops or merino wool tops.
This will avoid you having to run around in a sweaty, wet top all day long.
As the Angkor Wat complex is a religious site you can`t enter some of the temples with shorts or a top that is showing your shoulders. For that reason it is better to wear a T-Shirt and trousers that go below your knees.
I found cargo pants to be the most practical to be honest. If you are wearing a tank top, make sure to add a scarf to your travel capsule wardrobe, so you can cover your shoulders with it when necessary.
As you will be doing a lot of walking you should opt for comfortable walking shoes, such as trainers or trekking sandals. The ground on some of the temples is very rugged and you have to climb some stairs as well, so I wouldn`t recommend flip flops.
Packing cubes make the perfect shoe bags to protect your luggage from dirty shoes.Take a look at other shoe bag ideas here!  
Camelpak bottles | Sun Cream | Sun Hat
Sun protection
As mentioned earlier it is very hot at the temples and the sun is really intense, so don`t forget to bring a sun hat, sunglasses, sun cream with a high SPF and lots and lots of water. You will get very dehydrated otherwise.
 Hippie Pants | Tank Tops | Trekking Sandals | Flip Flops
What to Wear in Siem Reap
Siem Reap has got a very relaxed vibe about it. People there don`t really dress up, not even at night.
The standard backpacker attire seems to be a pair of hippie pants and baggy tank tops and even though everybody is wearing this type of outfit, it is actually very practical due to the heat.
You don`t really want to wear anything too clingy, as it will be too hot.
Tiger Balm | Rehydration Sachets | Anti Diarrhea Tablets
Medication
You can actually buy most medication in Siem Reap`s pharmacies, but I always take some painkillers, diarrhea tablets and rehydration salts with me.
You can buy lots of street food in Siem Reap and some stomachs are stronger than others. If you wake up in the middle of the night because you have a deli belly, then you probably don`t really want to go to the pharmacy.
If you take precaution with the sun, wear a hat and drink plenty of water then you probably won`t need rehydration sachets, but from my experience a lot of backpackers underestimate the intense sun and end up with a heat stroke.
Again, once you caught a heat stroke you won`t have the energy to go the pharmacy and just want to lie in bed.
 Tammy at Ta Phrom
A visit to Siem Reap and the Angkor Wat temple complex will be an unforgettable experience, but if you are taking the right type of clothes with you it will be even more memorable.
---
I hope you find this list useful. If you think there is another must-have item to bring to Siem Reap let us know in the comment section below.
What your must have items in your Siem Reap Packing List?
---
 For more packing list ideas, please read:
---
I love Tammy's awesome tips in this Siem Reap packing list. Please share this post with your friends on Facebook, Twitter, or Pinterest. Thanks for reading!
---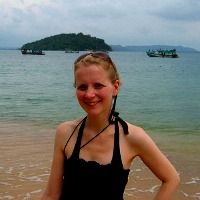 Author Bio: Tammy is a travel blogger and adventure junkie. She has endured the Everest Base Camp trek, abseiled down a skyscraper, cycled down the world's most dangerous road, and trekked through the mosquito infested Amazon jungle. You can follow her adventures on her blog Tammy &  Chris on the move or on Facebook, Twitter, Instagram or Pinterest.
---