Support TFG by using the links in our articles to shop. We receive a small commission (at no extra cost to you) so we can continue to create helpful free content. Thank you, we appreciate it!
Wondering what are the best shoes for walking, hiking, and trekking on a Round the World Trip? We compare four of the best styles. Find out which to choose!
---
Best Shoes for Walking, Hiking, and Trekking
---
Choosing the best shoes for travel is always a huge dilemma for a female globetrotter. Regardless of where or how long you travel, three pairs tends to be a balanced quantity if you plan strategically.
1st Pair: for Sightseeing (the one you'll wear the majority of your trip)
2nd Pair: for Activities (the one you'll wear occasionally on treks or for special occasion)
3rd Pair: the Wild Card (the third based on your specific trip such flats, sandals, or to account for a change in climate)
You can learn more by reading our guide on how to choose travel shoes.
This article is focused on how to choose your "activity" shoes on long trips such as round-the-world; gap year visiting varied destinations, or extended travel with outdoor adventures. Take a look at our RTW Packing List and our Ten Step Guide for Packing for Long Trips for tips on choosing the rest of your gear.
To find out the best shoes for walking, hiking, or trekking on your round the world trip, keep reading as we compare the pros and cons of four different styles!
You only need three pairs of shoes for any trip. Find out how with Pack Light Stylishly! 
➊
Hiking Boots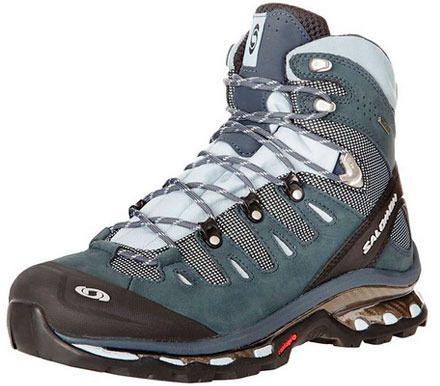 Shop this item here.
Where: Mt. Kilimanjaro, Everest, or the 3 Month Pacific Coast Trail
Pros: Hiking boots are an essential when embarking on trips with major treks or if you plan to hike for weeks or months at a time. They protect your feet and ankles from slipping on rocks, walking though tough terrain, or dealing with extreme climates.
Cons: Hiking boots are heavy and bulky but when you're planning a challenging trek they are absolutely essential.
Solution: Don't skimp out and choose the best. Wear these on the plane and during transportation to save luggage space especially if you plan on wearing a backpack. If you're going to do the trek as part of an extended trip such as round-the-world, try to start your trip here and then mail them back home (or give them away) before you continue.
Wear: Solomon Quest, Ahnu , Asolo Power Matic 200
Here's an even bigger list of the best hiking boots for women!
Hybrid Hiking Boots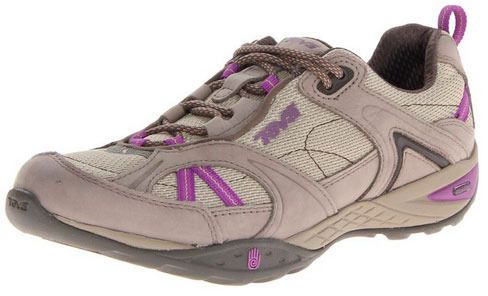 Shop this item here.
Where: Machu Picchu, Walking Safari, Mt Kinabalu
Pros: Hybrid hiking boots are a great solution if you plan on trekking as part of a longer trip or if you'll be using them on moderate terrain. They have the benefits of a hiking boot with the versatility of a trainer. Opt for one with ankle support for multi-day treks.
Cons: They're bulkier than regular trainers but not as much as hiking boots.
Solution: Choose these when your needs are more versatile and you have varied activities planned. Don't choose these if you're not a huge fan of the outdoors and plan a more related itinerary.
Wear: Merrell Sire Sport 2, Teva Sky Lake , Ahnu Sugarpine Hiking Sneaker
Trainers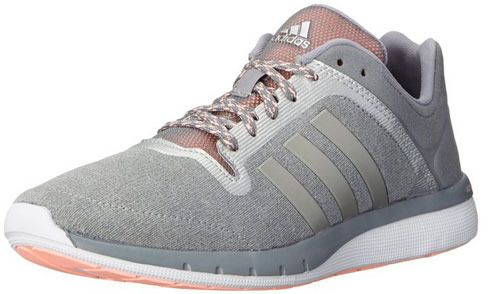 Shop this item here.
Where: Round the World Trips, Overland Safari, Cities
Pros: Trainers are versatile, diverse, and lighter than hiking boots or hybrids. You can use them for more activities if you're doing light hiking or you can also wear them in cities with regular clothing or to walk for an extended period if you're sightseeing. These are also ideal if you plan to workout on the go.
Cons: Not great if your trip also includes trekking with tough terrain.
Solution: Choose these when you plan on visiting many different regions and when you plan activities that have varying needs. Go for a cross trainer for multiple day treks or go with something lighter for day hikes or if you're unsure whether you will or won't be hitting the trail.
Wear: New Balance Trail Shoe , Adidas Cross Country Fresh 2 , NIKE Free Flyknit 5
Packing cubes make the perfect shoe bags to protect your luggage from your dirty shoes.
Sneakers
Shop this item here.
Where: Cities, Towns, General Sightseeing
Pros: Sneakers are smaller and less bulky than the above styles and take up less space in your luggage. They're also more fashion forward and can be paired with dresses and skirts.
Cons: Beware of a bulkier sneaker if you're trying to pack light
Solution: Opt for this style if you don't require much arch support OR if you don't plan on doing any mountain related activities. While they can be worn on light trails it's not the ideal choice but will work if needed just once on a long trip. Choose one you'd find comfortable wear on the majority of your sightseeing. Consider adding a gel or padded insole for added comfort.
Wear: Converse Chuck Taylor 2, Superga Classic Sneakers, "Authentic" Vans
Here are more of our favorite women's casual sneakers for you to choose from!
Shop The Post
---

---
For my long term travels, Nike Free 5 trainers as the best shoes for walking and light hiking. They're ultra-light and versatile since I don't take on any major mountain activities.
So tell me, what do you think are the best shoes for walking, hiking, and trekking on a round the world trip? Comment and share!
---
For more of the best shoes for travel, please read:
---
Hope you liked this post on the best shoes for walking, hiking, and trekking on a round the world trip. Please share with your friends on Facebook, Twitter and Pinterest. Thanks for reading!
---