Support TFG by using the links in our articles to shop. We receive a small commission (at no extra cost to you) so we can continue to create helpful free content. As an Amazon Associate, we earn from qualifying purchases made on Amazon in addition to other retailers featured on the blog. Thank you, we appreciate your support!
When I set out to find the perfect camper rental for my road trip to Utah, I never thought I'd find a vehicle that fit the Travel Fashion Girl motto: fashion and function. Introducing Jucy Campervans!
---
The Ultimate Glamper-Van!
---
Table Of Contents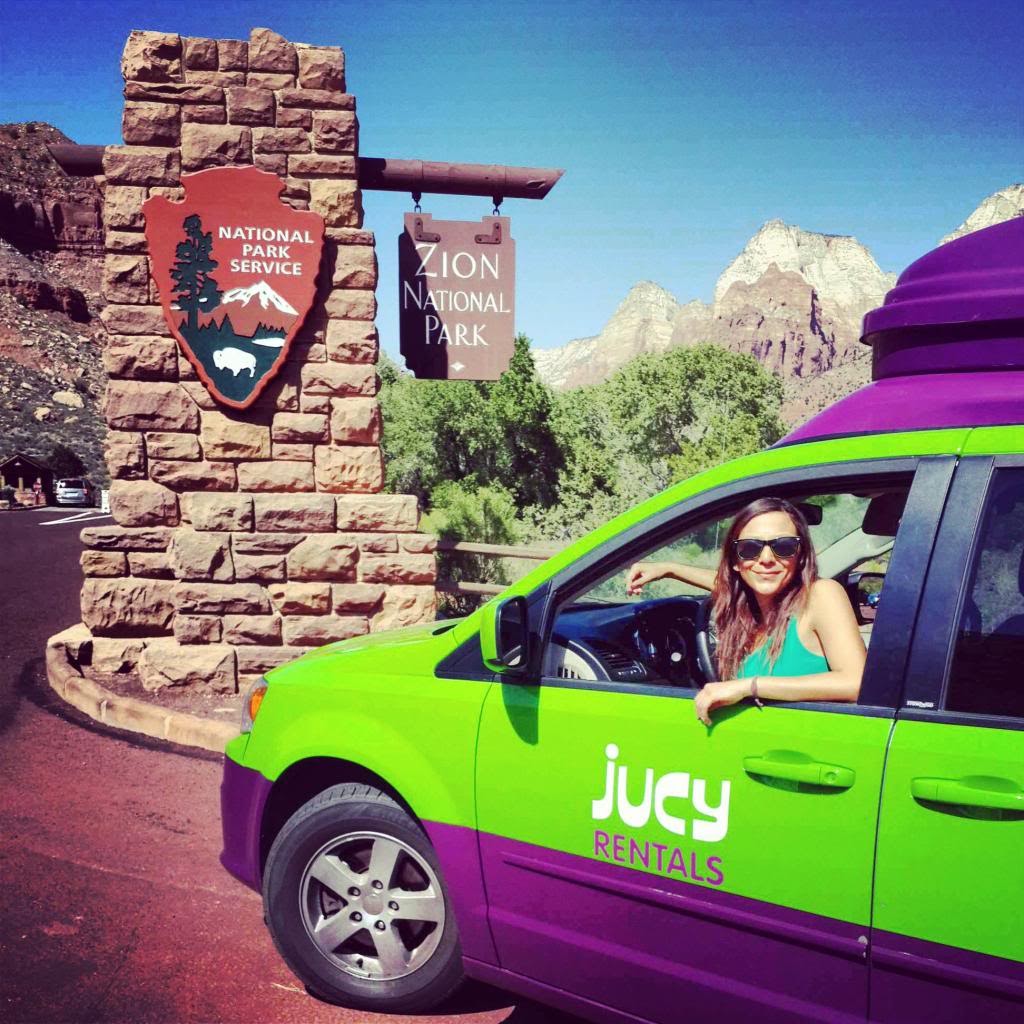 This stylish "glamper van" company is as affordable as a standard rental car, as functional as an RV, and as cute as can be. I felt like a rockstar driving this purple and green fun-mobile.
What I Loved About Jucy
Beyond all the ultra-functional and convenient features listed below, my favorite part about this camper rental was the one that saved me the most money: IT WAS GREAT ON GAS.
At about $4 a gallon, we filled up the tank for about $80 which lasted as the entire drive from LA to Vegas. A regular compact car would have consumed the same amount of gas and a standard size RV would have consumed twice as much. The savings in gas on a road trip was a HUGE benefit for me.
In total, the cost of gas to drive from LA to the Arches National Park and back to LA with stops at Canyonlands, Zion, and Vegas was about $350. Not too bad for a 1500 mile round trip!
Also, at 5'2″, this was a super smooth and easy vehicle to drive! Previously, I've driven a luxury 40′ RV for 3 months around the USA and it was much less cumbersome to drive a Jucy. Maneuvering a large RV can require a lot of effort especially on windy days!
Room for Improvement
How can Jucy improve its features? Well…it doesn't have a bathroom.
However, not having a toilet isn't really a big deal because it's not like you can use the bathroom and drive at the same time (unless you're a guy with a cup and steady hands).
Seriously, though, As someone that only camps once in a while, there's not really anything I didn't like about Jucy. This camper rental is so well thought out – it had features I didn't even know I needed.
At night, you could unroll conveniently stowed "curtains" blocking outside light allowing you complete privacy as you sleep.
If it's too cold or windy to eat outside you can set up the interior table for a comfortable dining experience inside the RV.
If you like everything nice and tidy, there's space for everything with the carefully placed compartments throughout the campervan.
You can even watch a movie before you go to bed on their DVD player that conveniently plays from discs or from the USB drive.
Random, but there was room for 4 bottles of water on both the driver and passenger side doors. As a water guzzler, it was nice to have easy access to water and energy drinks on long drive days. (A feature that other vehicles annoyingly lacked on other road trips driving around the US)
It has room for 4 people, 2 in the fold out bed inside and 2 in the upstairs Penthouse that opens up like a tent. We were so comfortable and warm inside that we didn't use the upstairs "wing" during our trip.
While a bathroom may be the only thing not included in the vehicle, it DOES have a kitchen sink! In fact, everyone wants to talk to you and ask you questions about Jucy because it looks so cool and advertises it's kitchen sink feature which most other compact RVs don't include. This made washing our dishes much easier especially at night.
The ONE thing I would love to have seen inside the Jucy vehicle was a vehicle outlet charger because I forgot to buy one before the trip. Perhaps they could offer it as an add-on in the future?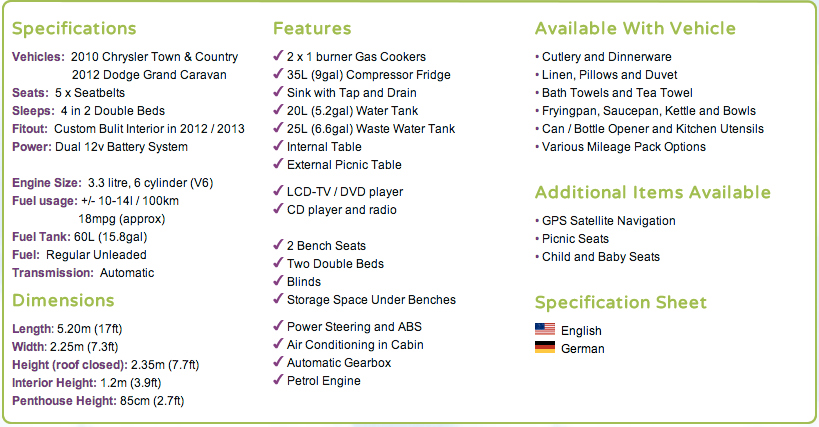 It's All About the Money
Price-wise, there was only one Los Angeles camper rental company I found that had a cheaper nightly rate but when I compared the offerings online, Jucy's features stood out the most:
One important thing to note about insurance: A tiny rock cracked the windshield on our first day driving. Thankfully, we had full insurance coverage and didn't have to pay for anything. The lady working at the office said it's not uncommon on road trips so make sure the insurance you choose covers this.
My Favorite Features: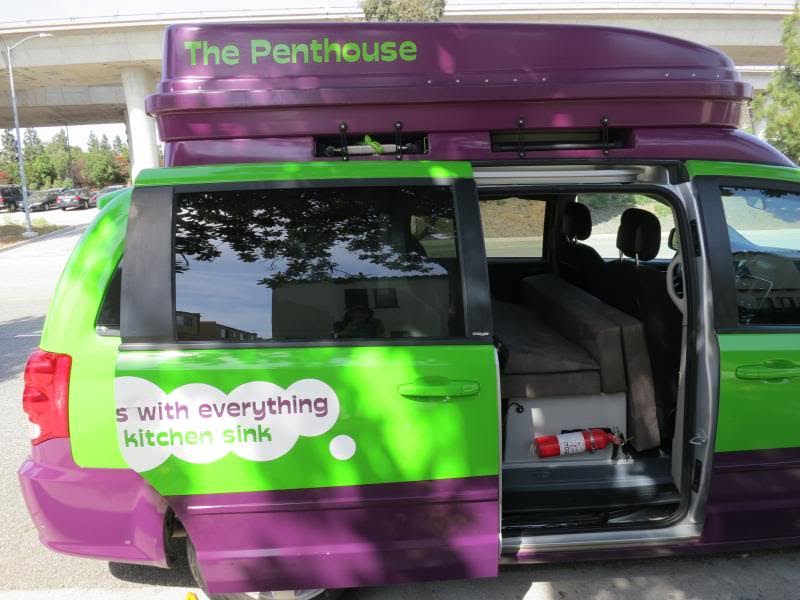 Welcome to our home. Let's begin the tour…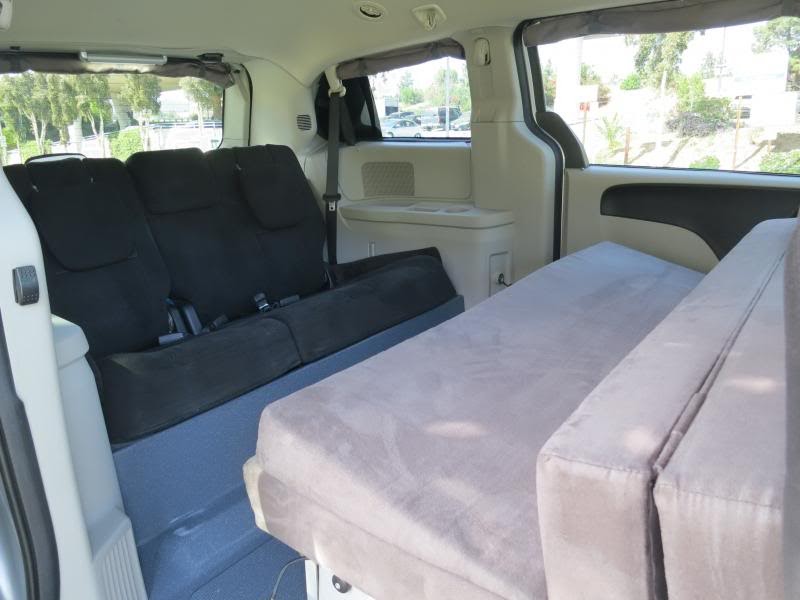 The amount of room in the back was very surprising. With the drop down DVD Player, it was a living room away from home.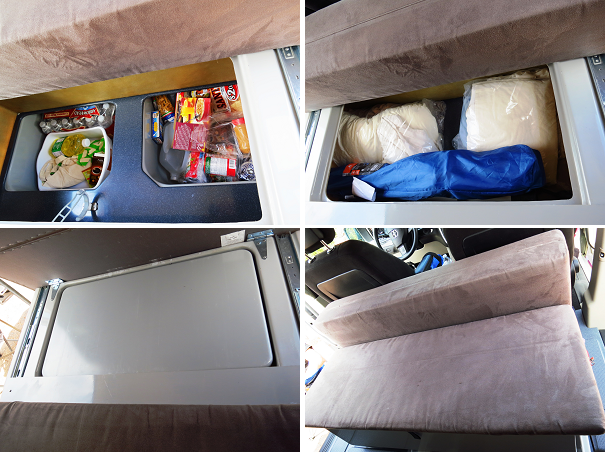 The storage area and seating folds down to create the interior full size bed. The storage cover acts as the inside tabletop.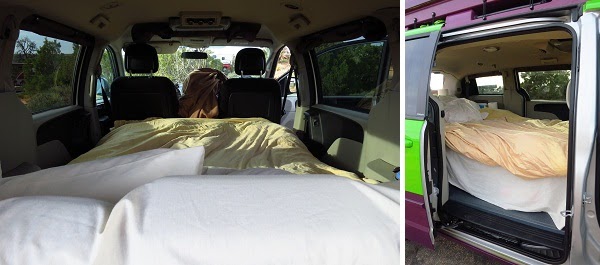 After a Transformers like maneuver, our bed was ready for DVD night.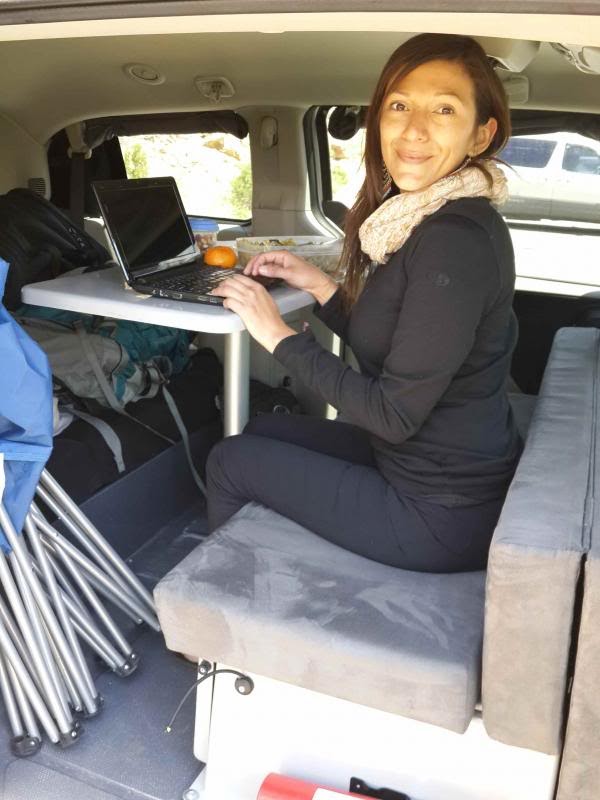 The pop up table in the back was great for a 'working lunch' and to stay warm on the super windy spring Utah days.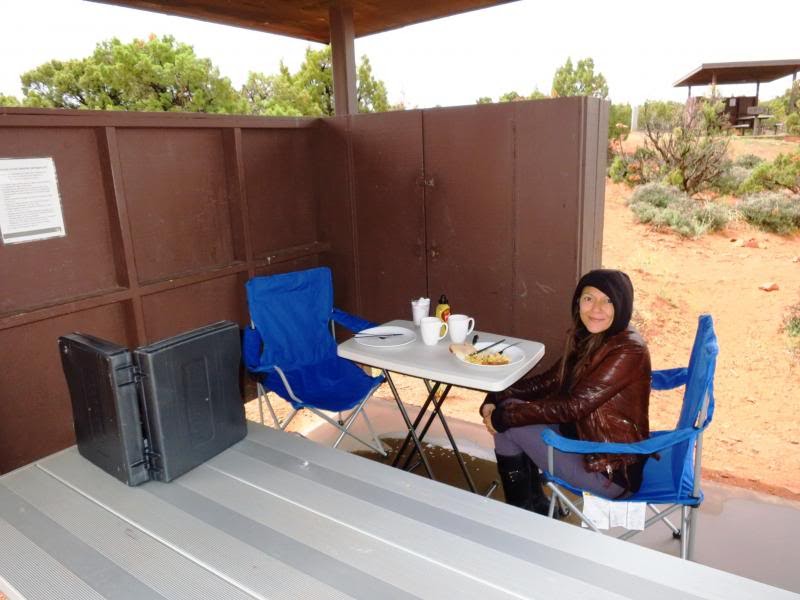 The RV also has a table you can use outside. You can also rent these camping chairs if needed.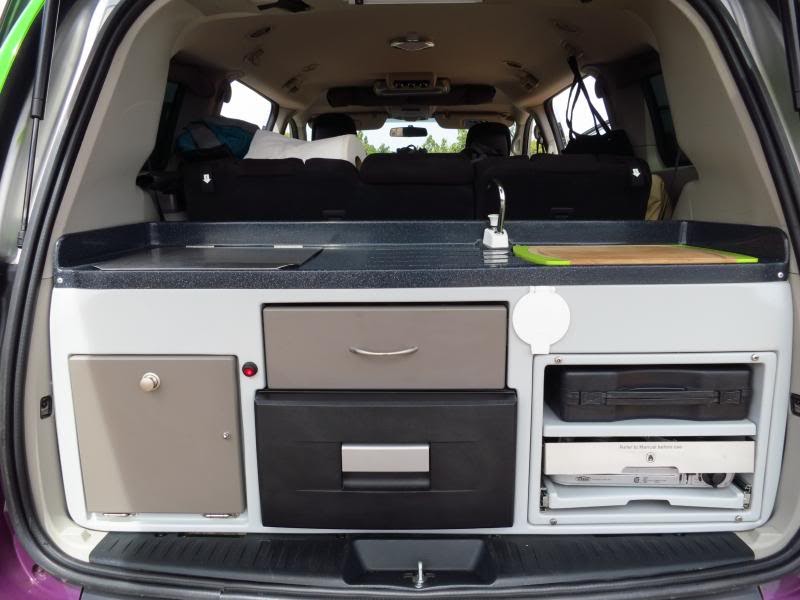 The back of the RV is the kitchen area, filled with everything you need even a coffee maker and cutting board.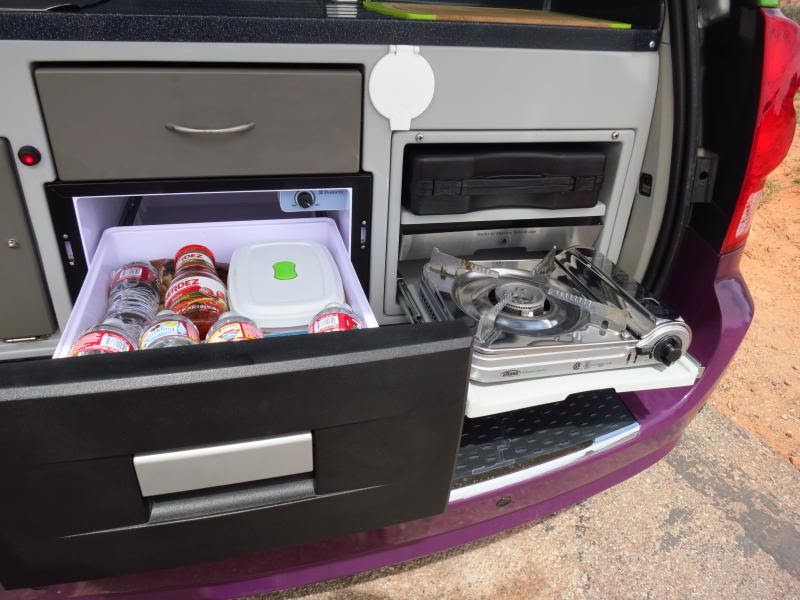 The refrigerator and the interior stovetop. It also has a second (and convenient) removable stovetop.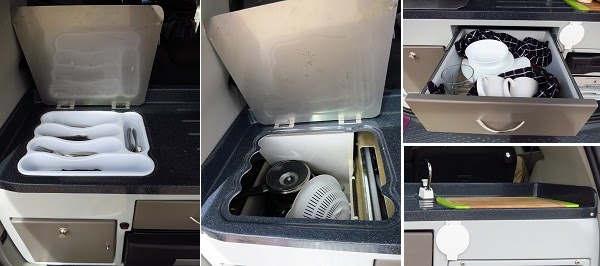 There's a compartment for everything including cookware, plates, and utensils.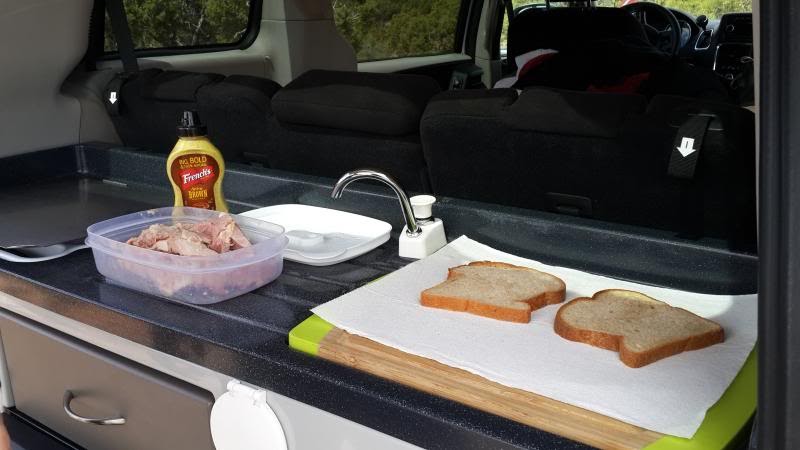 Making a quick lunch at a road stop instead of eating at one of the many fast food chains along USA freeways.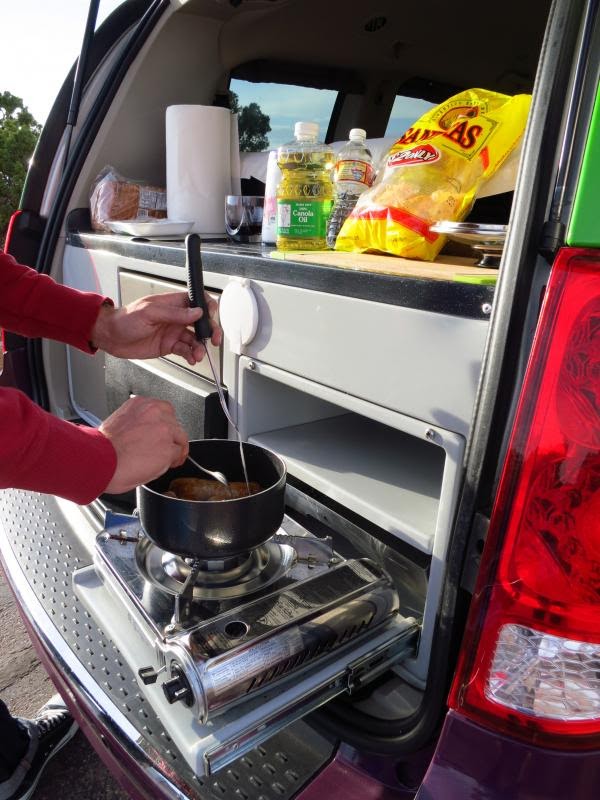 Preparing dinner on our first night. (English butler not included hehe.)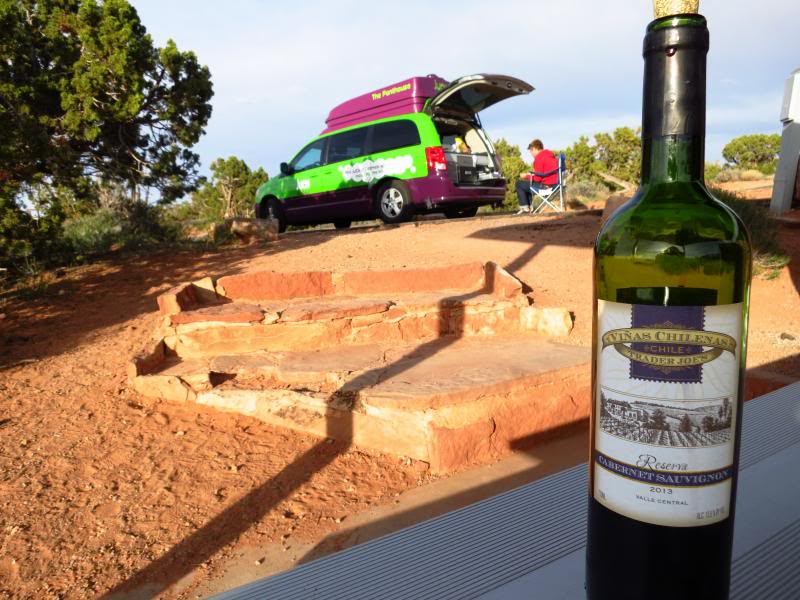 Jucy was the perfect home away from home.
Is Jucy the Best Camper Rental for Your Road Trip?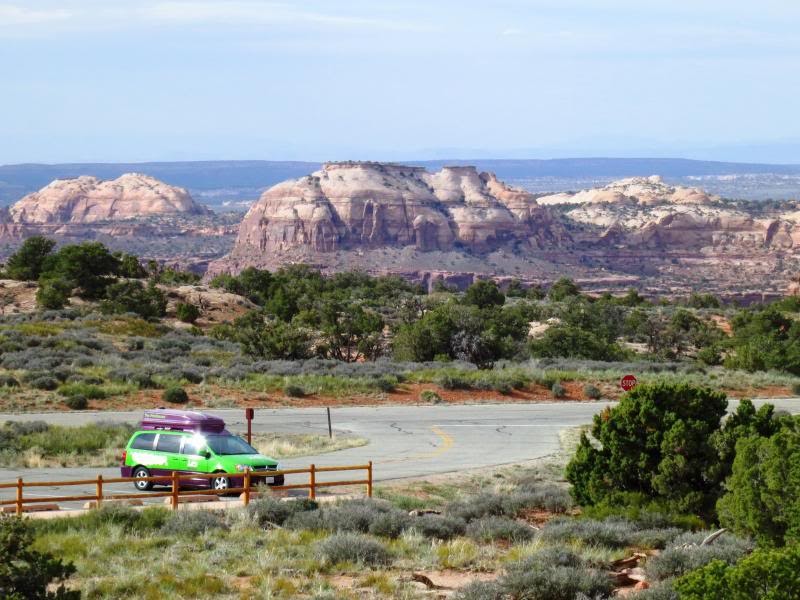 Jucy is ideal for fun, easy-going couples, friends, or adventurous families that want a cost effective yet highly functional road trip vehicle. There's room for up to four people which is ideal for small groups and families.
Also, Jucy is the perfect "glamping" option if you're like me and prefer a more comfortable AND easy camping experience. It was so nice to not have to worry about all the small details or setting up a tent every night.
Everything we needed to camp was already included inside the camper rental. This is especially helpful if you're an international visitor and want to avoid purchasing items you'll only use once.
I was elated when Jucy agreed to sponsor my camper rental – after all, I wanted a cute and functional vehicle to glamp it up on my road trip. However, my opinion is an honest reflection of my personal experience.
---
For more tips on USA road trip, please read:
---
Please visit
Jucyusa.com
for more information on this camper rental company and share this post with your friends on Facebook, Twitter, or Pinterest. Thanks for reading!
---