Support TFG by using the links in our articles to shop. We receive a small commission (at no extra cost to you) so we can continue to create helpful free content. As an Amazon Associate, we earn from qualifying purchases made on Amazon in addition to other retailers featured on the blog. Thank you, we appreciate your support!
Today's travel fashion girl is a 29 year old, Russian born Canadian, Julia. She and her hubby have started traveling nonstop in 2012. Together, they have visited over 25 countries for the past 3 years. She is a startup blogger and he is a software genius (developer).
Get to know their travel style!
---
Interview: Julia K
---
Q: How would you describe your travel style?
I am still trying to figure out my style. I tend to like office style but since it is not applicable in hot jungles or humid cities, I resolve to wearing classy clean lines and simple shapes that are body flattering. I only recently started buying prints or something with sequins. Nothing too short or show offish. A new friend described us as digital nomads. Neither hipsters not hippies. (not that there is anything wrong with that)
Q: Do you prefer to travel carry-on or with a regular size suitcase or bag?
We have three suitcases: big, medium and small carry on. Additionally, he has his backpack where he carries his laptop and I have a traveling purse from Delsey where I carry our passports, money and cellphones. So all together we have 5 pieces. If you break it in two, I think it is safe to assume that each of us occupies 2.5 bags. 🙂
Take a look at our step by step guide for choosing luggage.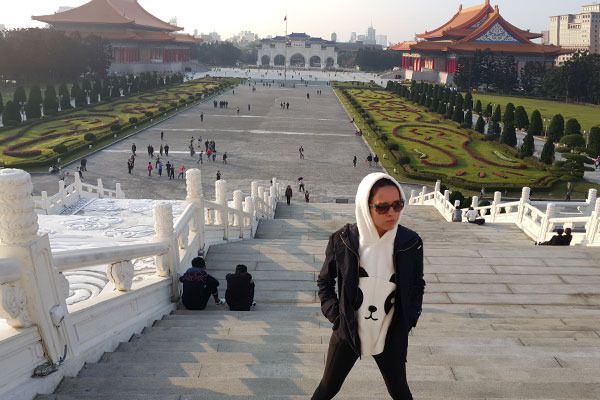 Q: Do you recommend any particular bag or suitcase brand/model?
I definitely recommend a suitcase that rolls next to you. The one that you do not have to pull. Between flights, it is a super useful feature and benefit. The lighter it is the better: the more stuff you can put in it. Also, different compartments help a lot. The one that I got is from Heys Company. It was a gift to us by his parents. They bought it at Costco.
Check out TFG's recommendation on the best wheeled carry-on suitcases.
Q: Are you an overpacker or do you underpack?
Yes! I am an over packer. I am terrible at letting things go. I need everything at the same time but end up using only 30% of my clothes. I only recently understood that I need to move on from the office- work-sophisticated look to casual comfort look.
Q: How do you stay stylish while traveling without access to an entire closet?
Sometimes I get depressed when I spend too much time on Pinterest and then remember my forgotten and over packed three suitcases of goodness.
Actually, my method does not require new clothes. So I try to do my hair differently and start wearing makeup in some different way or put on those accessories that I usually forget to put on.
I also try to match what I have to what the trends are (on Pinterest as well). Pretend I am someone I know and see what they would put on with what: maybe see looks that were not there before. Coco Chanel said: "Dress like you are meeting your enemy today". Or something like that. I really like that quote.
Q: What are your three must have travel essentials (clothing, gear, shoes, etc)?
I feel most comfy in my Levis Jeans which are straight leg, demi curve cut and shape. Also leggings, in black or grey. A comfy sweater that goes with everything and makes me long for it in the morning to wear it. Thermal wear for me is essential as I am always cold.
I found that the style that goes with EVERYTHING is a slip-on. I bought mine at Steve Madden, The Blonde Salad edition. Though I think I regret the purchase now because they turned out to be too big for me, the style does go with almost everything and for any occasion. They also did not stand the test of time (or wearing every day for at least 5 hours). I like to keep it real with comfort so comfortable flats are a must.
What I do not travel without and what is an absolute must have for me are my warm 50% wool socks. Without them my life would be miserable.
Also toiletry bag and compartment that goes with me everywhere and so convenient because it has a hook. When in Asia it is super useful and helpful. You can never have too much storage compartments.
Take a look at the top 10 toiletry bags!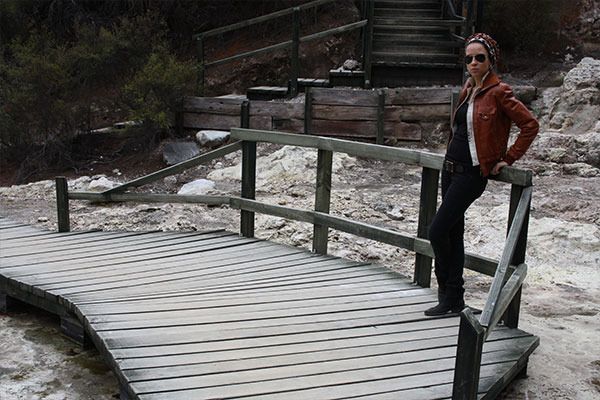 Q: What destination was the most fun to dress for?
I think anywhere with a beach. I love looking and strolling on the beach and not look like a tourist. If I had to do it again, probably Australia. It was a shock for me, especially when we came to the center of it. I have never thought I would be so happy to sleep inside literally. For about 6 days I was wearing the same silk tunic because it was the only thing light enough and cool enough to wear. You really have to pack sun protective clothes that keeps you cool and comfortable.
Q: What destination surprised you the most with the ways locals dressed or their type of clothing?
I think New Yorkers surprised me the most. They dress impeccably and I think it is because of their style that tourists really stand out from a crowd. Ladies have statement necklaces, almost all of them. Their hair is done, and makeup is fresh. As for men, they were usually wearing expensive shoes and a well-pressed shirt.
Q: What's your preferred travel outfit on a plane?
I always carry a foldable real down coat that I bought in UNIQLO with me because I am always cold. I try to put on heaviest items so as to save space and weight.
My Levis jeans, my Hugo Boss sweater with removable collar, my warm socks and my Gold slipons.
Check out some of our favorite airplane outfits.
Q: What are your favorite travel accessories?
I cannot go without sunglasses. My eyes hurt when exposed to sun. I recently bought aviators at North Korean border produces by JSA workers. They took Ray Ban shape and made their brand. It is my most precious possession at $38.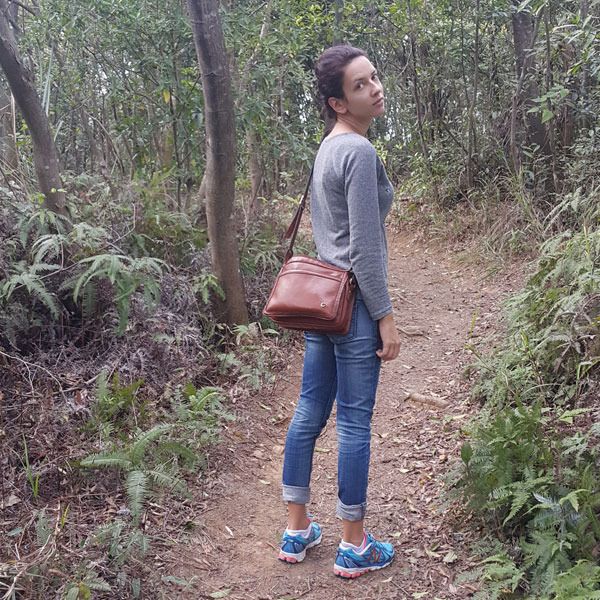 Q: What are your favorite travel beauty essentials?
I like a spray tonic that my friend made for me without any chemicals. I try not to overdo it since my skin is super sensitive and prone to acne. I try not to touch it much with anything. Just wash it for 10 times in one go. I find I really helps. In addition, change towels and pillowcases regularly. I like 20 minute hydrating serum face masks once a week.
Q: Do you have any specific hair or makeup products that work great for travel?
I have a scalp problem  and Melaleuca Antidandruff shampoo by Rene Furterer is amazing. With ever changing water chemicals, stress and lack of sleep, I cannot live without it, seriously. I also like Kerastase products, their serums are to die for. I used oleo relax serum on hair. It does have silicone though so it would not be good for a long-term use.
I keep it simple: bobby pins, hair donut, and good quality elastics. Love it and will not part with them.
Q: How many pairs of shoes do you travel with and what styles?
7 pairs: 1 running shoes, 2 flip flop pairs, 1 taupe flats pointy tow, 1 black ballerina flats, 1 gold snake skin look slip-ons, 1 flip flop sandals multi colored.
Check out TFG's tips on choosing the best shoes for travel.
Q: Do you have any recommendation for cute or comfortable footwear?
I want to try and buy Converse since they go with everything. I think women should really pay attention to shoes from a comfort perspective. It affects everything, long-term health included. I would look into Aerosols, Merrell, Clarks, and Crocs. If your shoes are not comfy enough then invest in insoles. There are custom ones but I bought mine in New Balance for $60. I love my running shoes.
Find out our top 10 cute and comfortable travel flats.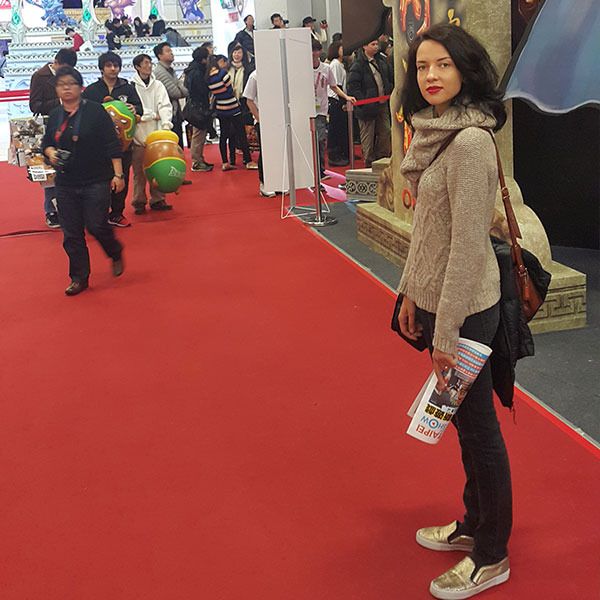 Q: What was your biggest travel fashion or packing mistake?
My biggest packing mistake was when I did not weigh the luggage and had to repack everything at the airport. Weighing is essential. Mine was a gift that keeps on giving hassle free time at check in.
Also, when we were traveling nonstop in Japan, at one point I just shoved everything (without organizing or folding) in a medium suitcase and hoped for the best. It was a miscalculated step since everything was wrinkly and bulked up and I had trouble finding things.
Q: Finally, any travel packing tips for new travelers (as related to clothing, toiletries, and beauty products?
It might sound like a cliché but packing everything at the same time is a mistake. I found that for myself, I pack by sections. There is a special section, place and a toiletry bag for my hair accessories, for shampoos, for make up, for medicine, etc. I line them up and put stuff in them as I go. Ziplock bags are a very good solution.
I also put all clothes in one big luggage and all the shoes and toiletries to the middle case. So when I need to unpack and take a shower quickly I know where everything is.
I also pack my husband's clothes at the bottom of the case (next to the rollers) and my stuff at the top of the case(next to a handle). I never mix summer and winter clothes. I put them in the cover of a big suitcase so they do not bother me with their cuteness when we are somewhere cold. I always put house flip-flops in a pocket outside the suitcase. After we check in, the first thing that we do is unpack and wear house shoes.
---
If you'd like to be interviewed on Travel Fashion Girl, please submit your details here.
---
For more traveler interviews, please read:
---
Hope you liked this interview with Julia K. Please share this post with your friends on Facebook, Twitter and Pinterest. Thanks for reading!
---