Support TFG by using the links in our articles to shop. We receive a small commission (at no extra cost to you) so we can continue to create helpful free content. As an Amazon Associate, we earn from qualifying purchases made on Amazon in addition to other retailers featured on the blog. Thank you, we appreciate your support!
Amanda Pastyrna is today's travel fashion girl. Find out why she chooses a simplistic travel style and her top packing tips!
---
Interview: Amanda Pastyrnak
---
Q: How would you describe your travel style?
I keep it simple and adaptable. I stick to tops and bottoms that can be worn interchangeably. I've learned not to obsess over outfits when traveling, but rather to bring mostly pieces than can be mixed and matched.
Q: Do you prefer to travel carry-on or with a regular size suitcase or bag?
I certainly try to keep to a carry on when possible. If I need a large suitcase, I'll still take a carry-on with a mini-selection of everything that is in the suitcase: full change of clothes, travel size beauty products, etc. I've been using Samsonite most of my life, and I'm very loyal when I find a solid brand. Samsonite's quality and customer service are excellent.
Check out TFG's recommendation on the best wheeled carry-on suitcases.
Q: Are you an overpacker or do you underpack?
I overpack, and sometimes a good 75% of my suitcase doesn't get touched. I don't practice what I preach.
Q: How do you stay stylish while traveling without access to an entire closet?
My philosophy is that style is simplicity. So I actually find it works quite well to stay stylish when working with a small selection. What works for me are a few tee shirts, some versatile bottoms, and sweaters and scarves to layer. Sticking to a color palette is key to versatility, and I go with solid, neutral colors. A pair of comfortable walking shoes for day, and comfortable heels for when the sun goes down.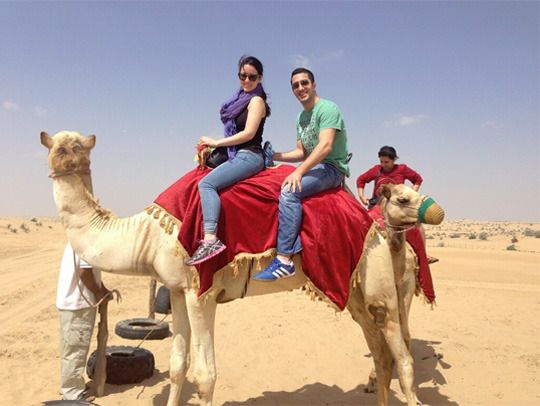 Q: What are your three must have travel essentials?
Scarf, perfume, Tod's car shoes.
Take a look at the top 10 toiletry bags!
Q: What destination was the most fun to dress for?
My personal style completely evolved during my time living in Paris. The way the local women carry themselves with such innate confidence allows them to dress effortlessly and still come off very stylish. I decided to emulate them, wearing a lot of loose, falling-off-the-shoulder type looks, which isn't my natural style. That phase ended shortly after I came back to the States, but it certainly was a fun time.
Q: What destination surprised you the most with the ways locals dressed or their type of clothing?
I had expected a more conservative mode of dress in Dubai. I packed accordingly, and with the exception of the small population of women wearing the burqa, ended up being the most buttoned up female in the entire emirate.
Q: What's your preferred travel outfit on a plane?
Yoga pants, ballet flats or car shoes, thin Tee-shirt, sweater, a scarf, and extra socks in my purse.
Check out some of our favorite airplane outfits.
Q: What are your favorite travel accessories?
A scarf is the most crucial, as it can be used for warmth around the neck, as a pillow, or as a blanket.
Q: What are your favorite travel beauty essentials?
I put on Evian mineral facial spray obsessively on planes. Skin can take quite a beating when one travels, being exposed to a new environment, new water, and new foods, so I make sure to take very good care of my face. My essentials to pack are Ole Henriksen exfoliator, Natura Bise moisturizer and BB cream, and Kiehl's overnight serum. And of course, I don't go anywhere without a travel size of my Killian perfume.
Q: Do you have any specific hair or makeup products that work great for travel?
Hair can respond in unpredictable ways to new environments, but what I've found works best is Oribe Apres Beach Spray, as it makes my hair look good no matter how temperamental it's being.
Q: How many pairs of shoes do you travel with and what styles?
I always have at least two pair of comfortable flats, one pair of trainers, and three heels. I like to have a balanced flat: heel ratio, so neither side feels neglected.
Check out TFG's tips on choosing the best shoes for travel.
Q: Do you have any recommendation for cute or comfortable footwear?
I usually spend most of my time abroad in Tod's. If I'm walking, I'll wear their car shoes. If I need a heel but know that I'll be on my feet for a long time, I wear either their lace-up booties, sandals, or pumps, depending on the season. They have a comfortable shoe for most occasions, and when I'm traveling, I want to be as comfortable as possible while still looking sharp.
Find out our top 10 cute and comfortable travel flats.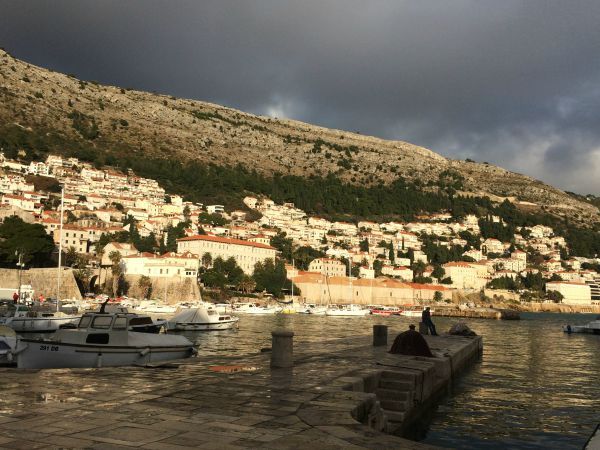 Q: What was your biggest travel fashion or packing mistake?
I never pack enough panties. I can calculate how many I need and then double it, and for some mysterious reason I still always end up needing to buy more!
Q: Finally, any travel packing tips for new travelers?
Simplicity and flexibility are key. Try to remove all the excess, and only bring the bare essentials. Having choices when traveling is a counterproductive goal; make the choices ahead of time and leave room for flexibility within that selection.
---
If you'd like to be interviewed on Travel Fashion Girl, please submit your details here.
---
For more traveler interviews, please read:
---
Hope you liked this interview with Amanda Pastyrnak. Please share this post with your friends on Facebook, Twitter, and Pinterest. Thanks for reading!
---