Support TFG by using the links in our articles to shop. We receive a small commission (at no extra cost to you) so we can continue to create helpful free content. As an Amazon Associate, we earn from qualifying purchases made on Amazon in addition to other retailers featured on the blog. Thank you, we appreciate your support!
Our readers say that Bose makes the best noise canceling headphones for travel. Inspired by their recommendations I decided to splurge and try them out for myself. Take a look at my Bose QuietComfort 20 review to learn if these noise cancelling headphones really work!
---
Bose QuietComfort 20 Review
---
Inspired by a recent Facebook Group discussion on the best noise canceling headphones, I decided to finally bit the bullet and buy my own pair of Bose. I've been traveling for over a decade now and I cannot believe I didn't take the plunge sooner. They're amazing! Find out why!
Bose QuietComfort 20 Headphones Review
I seriously never believed people with noise canceling headphones. I stood right next to them and they swore they had no idea I was standing right next to them.
But after a discussion in the Travel Fashion Girls Facebook Group, I was finally convinced these little gadgets might be worth it. After all, our readers are well traveled and knowledgeable, so you have the best advice!
I started researching the best noise canceling headphones based on your recommendations. I chose the ultra-light Bose QuietComfort 20 Acoustic Noise Canceling Headphones and I'm incredibly pleased with my purchase.
Tip: I did a price comparison at home in England, in Hong Kong, and in the USA and it was most cost effective in the USA, so that's where I bought them.
Bose QuietComfort 20 Acoustic Noise Cancelling Headphones
The Basics
Model: QuietComfort 20 earbuds
Connectivity Technology: Wired
Colors: Available in black and white
Compatibility: Works with selected Apple® or selected Samsung® and Android™ devices
Battery life: 16 hours per full charge
Charging time: 2 hours
What's included: Along with the headphones, you get 3 pairs StayHear+ tips (S, M, L), a clothing clip, rechargeable lithium-ion battery (built-in), USB charging cable, and carrying case
Features:
An inline microphone and one-touch answer/end button for seamless switching between calls and music

Noise cancelation to reduce surrounding distractions and let music stand out

Stay Hear+ tips provide long-lasting comfort plus stability

TriPort technology and Active EQ help deliver lifelike, digital-quality audio
How Do Noise Canceling Headphones Work?
Noise canceling headphones actually have very little to do with the head phone and everything do with a compact power strip attached to them. It has an on/off switch, so you can use the noise canceling feature as you please.
On my first flight using the Bose QuietComfort 20 headphones, I started my test by putting the headphones on before take off but I didn't listen to anything. I turned on the noise canceling feature to see if I'd be able to hear the airplane taking off on the runway. This is always extremely loud but I heard absolutely nothing. I was amazed!
As the airplane started to ascend, I heard a moderate rumble in the distance. I turned off the noise canceling feature to see how loud it would be without it. No surprise, it was super noisy. I turned it back on and off just to make sure the headphones worked.
And they did!
Once we were in the air, it was as if I wasn't on a plane at all. These headphones are so worth wearing even if you're actually listening to anything.
Tip: If you have children that are scared of the sounds of the plane taking off or landing, this is a worthwhile solution to help put them at ease. (But because of the price tag, you may want to switch them out with regular headphones once the plane is in the air.)
After playing with my headphones for the first 15 or 20 minutes of the flight, I decided to watch a movie so I could assess the clarity of the sound.
I put on Blue Planet 2 (I love the ocean!) and started playing around with the sound settings.
I played the movie with the noise canceling feature on and then off. With the feature on, I could listen comfortably using the fourth or fifth volume setting. Without the feature, I had to put the volume to the seventh or eighth setting, and even then, I could still hear the plane.
I must not be a very noise-sensitive person because I've never realized how much noise the plane engines make. As I played with the settings I became more astounded at the difference in the noise levels on the plane.
One important thing to note is that I couldn't control the volume settings directly from the headphones. Instead, I needed to adjust the volume directly on the screen.
This isn't an issue for me, but it was something I noticed and was at first concerned I had a faulty headset. My husband also has the same exact Bose Headphones and he experienced the same thing so I figure this is normal.
Tip: If you have a new Iphone with a lightning connector, don't forget to get an adaptor
How Comfortable are the Bose QuietComfort 20 Acoustic Noise Canceling Headphones?
At first glance, the design for the Bose QuietComfort 20 is a bit intimidating. They look awkward and not very comfortable.
However, unlike my regular iPhone headphones, the soft rubber covering is very comfortable. They feel light and airless. I almost feel like they aren't as deep as the iPhone headphones yet so much more effective.
Tip: The headphones include a spare set of the rubber covers.
That's it. I'm 100% sold and I wish I had gotten them sooner!
They are compact, light, comfortable, and have excellent sound quality. If there are large noises such as the plane engine during take off and landing the sound is extremely muted and very minimal.
There are a variety of Bose Noise Canceling Headphones, and I'm happy with my purchase of the QuietComfort 20 in-ear headphones and would gladly recommend them to anyone! Buy it here!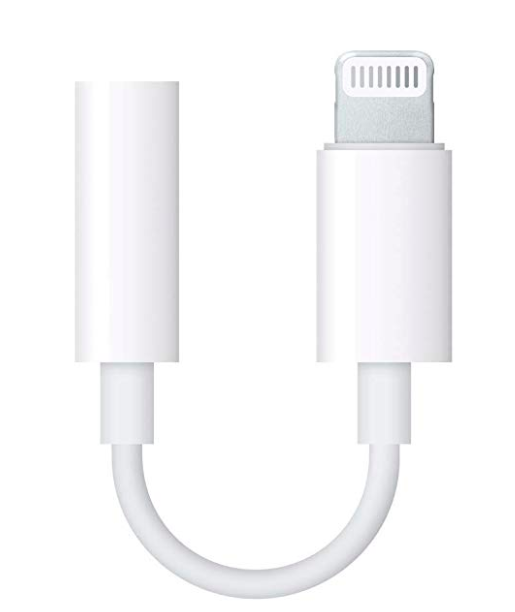 Apple Lightning to 3.5 mm Headphone Jack Adapter
If you have the new iPhones without a headphone jack, you can use an adapter like this one so you can use headphones that aren't Air Pods.
If you're traveling overseas, don't forget to pack an international travel adapter like this one. You can charge up to three devices at once including your headphones!
---
What are your favorite noise canceling headphones? Have you tried the Bose QuietComfort20 headphones? Share in the comments!
---
Please read these related articles:
---
LIKED THIS POST? PIN THIS PIC TO SAVE IT!
---
I hoped you liked this Bose QuietComfort 20 review. Please share it with your friends on Facebook, Twitter, and Pinterest. Thanks for reading!
---