Support TFG by using the links in our articles to shop. We receive a small commission (at no extra cost to you) so we can continue to create helpful free content. Thank you, we appreciate it!
Looking for the best travel pillow? This one might be the game changer for your in-flight experience! Find out what it is and why it's different than other air pillows.
---
Best Travel Pillow: Cabeau Air Evolution Review
---
In an effort to pack light and travel carryon only, I try to find the most compact, space-efficient travel products possible. One of the smallest air pillows I've found so far is the Cabeau Air Evolution. It's not only packable but has a unique design, which makes it supportive, too.
Traditional travel pillows are either inflatable or bulky. The bulky ones are completely out of the question for me because they're not worth the space for my minimalist travel style.
I've previously traveled with standard inflatable air pillows. The only problem is that I could never quite get them to stay in the right place. They were light and packed flat, but weren't totally effective.
Recently it seems that travel pillows have become even more uncomfortable and no longer inflate fully. Many new styles have an awkward, uncomfortable design in the back of the neck, which I find to offer zero support.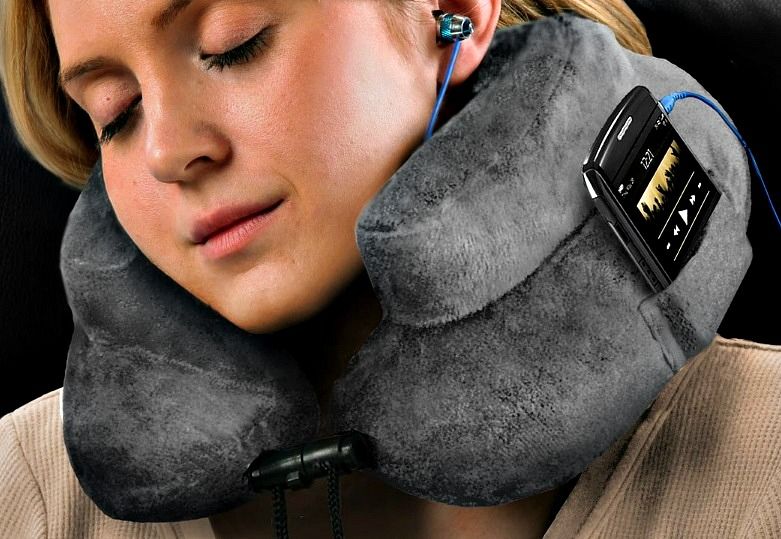 This is where the Air Evolution Neck Pillow changes everything. Unlike common air pillow designs, this one has an elevated neck to better match the shape of your neck and head.
In addition to being more ergonomic, it also offers better support, preventing you from waking up with a massive neck ache as your head falls to the side when you're asleep.
The travel pillow also has an adjustable pull-tie that allows you to secure your neck so it doesn't wobble around when you're asleep. This feature is genius and is the reason why I'm rating it as one of the best travel pillows I've ever used.
Overall, I'm extremely pleased with the Air Evolution Pillow. The one change I would make is to create two sizes to accommodate differing neck lengths.
I'm 5'2" with a relatively short body, so the placement of the elevated neck was uncomfortable at first. It felt a bit too tight on against my face.
However, this was easily corrected by deflating the travel air pillow slightly so the level was lower and more comfortable for my short neck. I released the air a couple of times until I found the ideal level of comfort.
Read this post for more neck pillow styles!
Relaxing on a 10 hour flight from London to Cancun!
If you want a compact, lightweight, and supportive inflatable pillow, you should definitely consider the Cabeau Air Evolution style!
---
What are your recommendations for the best travel pillow? Please share below!
---
For more travel essentials, please read:
---
LIKED THIS POST? PIN THIS PIC TO SAVE IT!
---
I hope liked this review on the best travel pillow. Please share with your friends on Facebook, Twitter, and Pinterest. Thanks for reading!
---