Support TFG by using the links in our articles to shop. We receive a small commission (at no extra cost to you) so we can continue to create helpful free content. As an Amazon Associate, we earn from qualifying purchases made on Amazon in addition to other retailers featured on the blog. Thank you, we appreciate your support!
Loving all of this season's spring fashion trends but don't know how to incorporate them into your travel wardrobe? Let us show you how!
---
Spring Fashion Trends
Written By: Mary Ware
---
Table Of Contents
As travel fashion girls we all know how important it is to pick the right clothes to make traveling light possible, but just because we are packing light doesn't mean we have to sacrifice style. We can definitely use the latest trends cleverly. All we need to do is strike a balance between function and fashion.
As you consider adding these spring fashion trends in your travel wardrobe, make sure to stick with fabrics and items that make minimalist packing for short or long term travel feasible. Here are some of our favorite looks taken straight from the runway, and ideas for how to make them work for travel.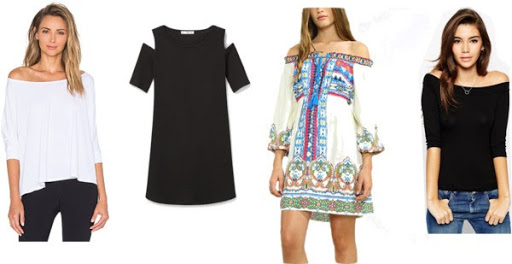 Flying tomato dress | Short Sleeve Dress | Top | Sweater Pullover
Give em' the Cold Shoulder
A trend that has stayed strong since last summer is giving everyone the cold shoulder. Bare shoulders and off-the-shoulder looks ruled the runway at New York Fashion Week's spring show held back in September.
Many off-the-shoulder tops are extremely versatile, and can transition from a casual day outfit when paired with shorts, to look ready for a night out by adding skinny jeans and wedges, or jewelry for a dressier occasion.
Since the goal of packing light is to find items that can be worn many different ways, these types of blouses or tops work well for travel, especially when choosing ones made out of cotton or breezy linen material.
Switching out one of your go-to travel dresses for an open-shoulder version will also keep you on point with spring style.
Here are a few of our favorite summer dresses!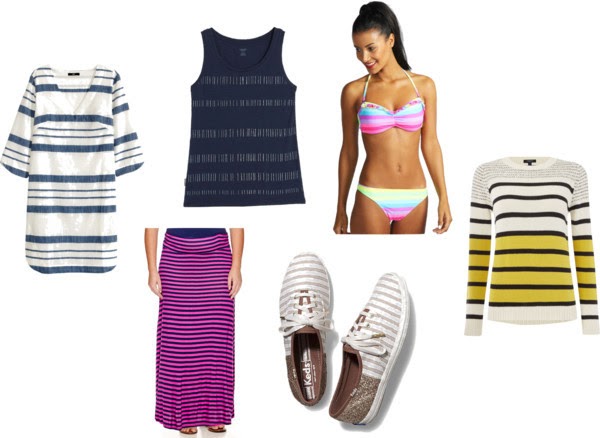 Stripe Dress | Shirt | Bikini | Tank Top | Skirt | Shoes
Seeing Stripes
Another of this season's spring fashion trends we loved seeing all over the runways was stripes. Stripes are an easy addition to any travel wardrobe – and one you likely already own.
Whether classic Parisian style stripes or bold colorful ones, a striped top can be matched with most bottom layers, from jeans or shorts to skirts. Many jersey knit (and therefore travel friendly) maxi dresses and skirts on the market have striped designs as well.
Alternatively, you can boost your accessory stash with a striped bag, scarf, or swimsuit.
Read these awesome tips on mixing prints and patterns!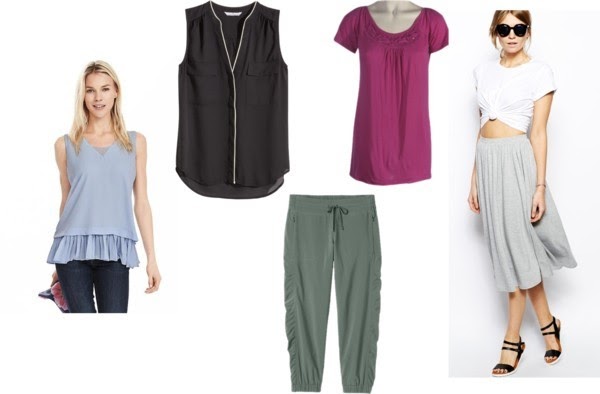 Sheer top | Sleeveless shirt | Shirt | Pleated Skirt | Capri Pants
In today's fashion world, pleats and ruffles are streamlined and perfectly placed to add a touch of whimsical fun to what might otherwise be a plain article of clothing. They also happen to be one of the biggest spring fashion trends.
A pair of pleated capris or a pleated flowing tank top would fit seamlessly into your travel plans. Both are good foundational pieces that can be paired with other items, such as mix and match tops/bottoms or cardigans for limitless looks.
A comfortable yet stylish pleated skirt can be worn alone on warm days, or with tights or leggings for spring days that are a bit chillier.
Read more about how to pack for transitional weather!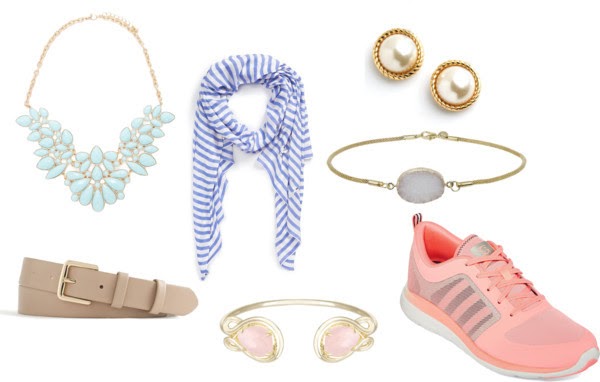 Adidas mesh shoes | Earrings | Necklace | Bracelet | Choker | Scarf | Leather belt
Accessorize
Every travel fashionista knows the importance of bringing accessories to help change up the look of a travel outfit.
While some of the runway looks for this season included some fairly crazy pieces (giant fruit shaped earrings aren't exactly our style), there were a few spring fashion trends that will fit right into the travel world.
Cuff bracelets are all the rage, and can easily be worn with both casual and dressier looks. Choker necklaces and jewelry made out of stones and pearls are other travel friendly styles that had a prominent show at Fashion Week.
Perhaps our favorite accessory for spring though is the leather belt. We recommend using it to cinch an oversized cardigan, layer it over a dress or tank top, or use it for its real purpose on a pair of shorts or pants.
Color is an excellent way to punch up your travel outfits while keeping them in line with what's trending. This year Pantone surprised everyone with not one, but two colors of the year. Rose Quartz, a light pink, and Serenity, a pale blue, are starting to show up everywhere and not surprisingly are popular for spring with their pastel-like tones.
Other hot colors for spring include a selection of vibrant brights like Buttercup Yellow and Snorkel Blue (a deep ocean blue). Bright reds and greens are also predicted to make a splash this season.
Accessories are a great way to tie in the season's hottest colors, and are easy to pack to change up outfits as your trip progresses. Try a scarf in Serenity, a bold statement necklace, or even a colorful clutch to boost your style factor.
Learn how to add life to neutral colors!
By selecting a few key pieces to include in your packing list, you will be traveling light while staying fashionable with all of spring's best looks, regardless of whether you are spending a few months backpacking the world or jetting away for a long weekend close to home.
---
What are your tips when packing your travel wardrobe? Please share in the comments below!
---
For more capsule wardrobe tips, please read:
---
LIKED THIS POST? PIN THIS PIC TO SAVE IT!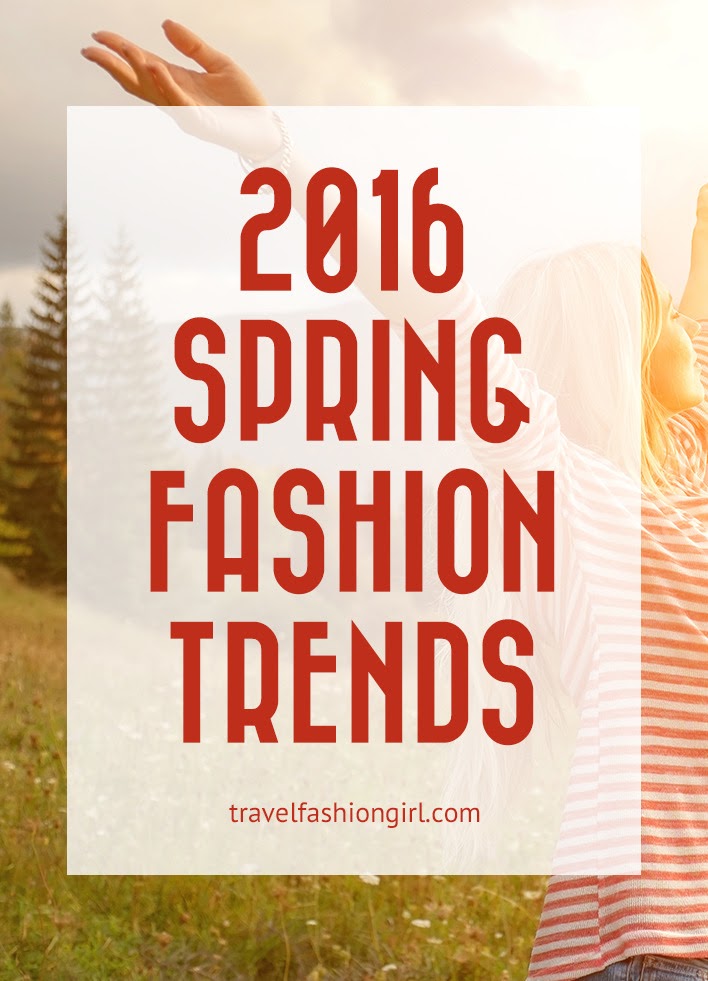 ---
Hope you liked this post on tips on how to introduce spring fashion trends to your travel wardrobe. Please share with your friends on Facebook, Twitter and Pinterest. Thanks for reading!
---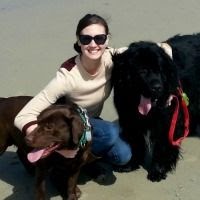 Author Bio: Originally a Cali girl but now enjoying life on the East Coast, Mary Ware is a travel enthusiast who has a love for exploring cities (foreign and domestic) with her camera in tow. See what inspires her on Pinterest and follow her on Instagram.
---