Support TFG by using the links in our articles to shop. We receive a small commission (at no extra cost to you) so we can continue to create helpful free content. As an Amazon Associate, we earn from qualifying purchases made on Amazon in addition to other retailers featured on the blog. Thank you, we appreciate your support!
Planning a trip to Niagara Falls? From Niagara on the Lake to the Maid of the Mist, here are some tips on what to wear to Niagara Falls!
---
What to Wear to Niagara Falls
Written by: Kelly Ella Maz
---
Table Of Contents
One of the most popular destinations in Canada happens to also be one of the trickiest to pack for. Niagara Falls has a wide range of activities – and even wider range of temperatures.
Always, always, always check the weather forecast before your trip. Once you've researched the weather, you can focus on creating a travel capsule wardrobe, which should easily fit in a carryon suitcase with the help of packing cubes to compress your clothing.
While you can visit throughout the year, the summer is the busiest time and the winter is saved for the most adventurous of travelers!
In this quick article I'm sharing my top seven tips on what to wear to Niagara Falls: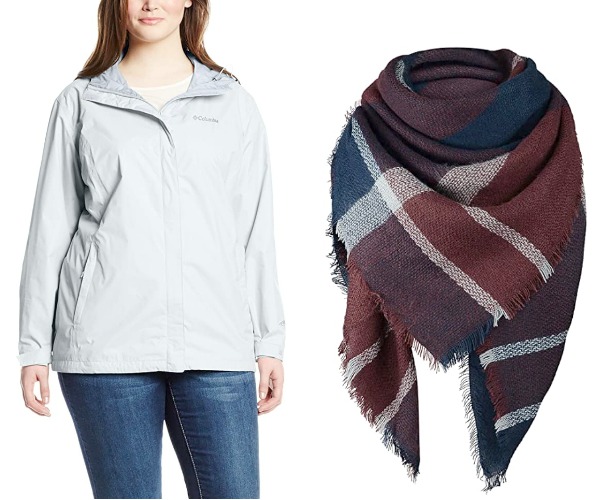 Stay warm (or keep cool!) with layers
During autumn and spring, the weather in Niagara can change quickly so you'll want to pack layers so that you can adjust your outfit based on the temperature.
A waterproof trench coat and scarf are two essentials that will help you transition from a sunny afternoon to a chilly evening.
It's also important to note that the area around Niagara Falls is quite "misty" and this damp air can feel significantly cooler than it will one street over. Even when it's a warm sunny day in Niagara you might find it to be a lot colder close to the falls, which is exactly why you should pack clothes that layer well!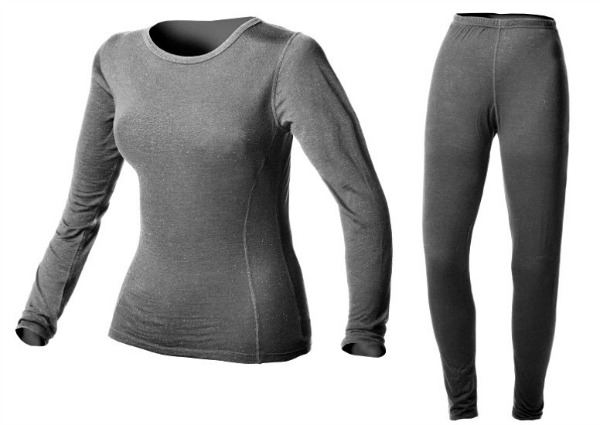 Merino Wool Thermal Top | Merino Wool Bottoms
In the winter time, it's particularly important to dress warmly with these tips on how to stay warm in cold weather and waterproof layers on top. The falls will be icy cold and you want to prevent turning into an "icicle" with the wrong clothing.
Merino wool underlayers are a great way to keep warm. Slip them on underneath your regular clothes to stay warmer but still fashionable.
Not many people brave the cold of the winter and instead visit in the summer time when lightweight, moisture-wicking clothes like shorts and tanks keep you cool from the heat and humidity. Don't forget your sunscreen and a hat this time of year!
Not sure how to layer? Read these tips!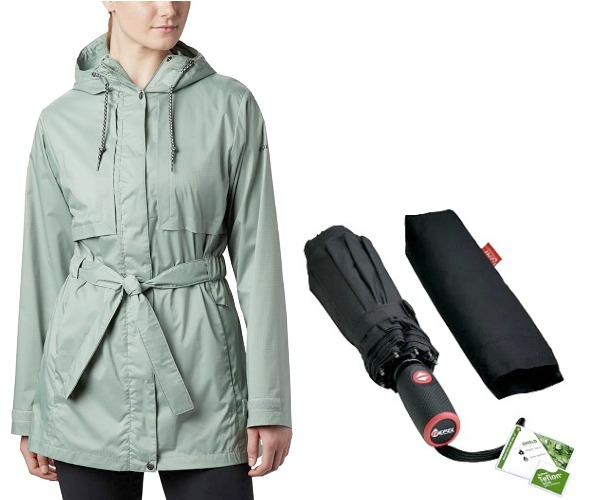 An umbrella or hooded jacket will keep you dry
As I mentioned above, the area close to Niagara Falls is very misty. It won't take longer than 30 seconds for your hair to get damp. Give it another minute or so and you'll start to look like you just got out of the shower!
To keep dry consider wearing a jacket with a hood so you can cover your hair. Alternatively, you can also carry an umbrella with you to block the mist from hitting you.
While you may not need a waterproof jacket in the summer due to the heat, it's a must in the winter and also useful as the temperature drops in fall and spring.
Choose from our round up of the best travel rain coats for women!
Hydrating Kukui Oil | Travel Size Glass Bottle
Hair oil will keep you look fab all day
That pesky mist will wreak havoc on your perfectly styled hair, so pack a small bottle of hair oil to use each morning to keep your strands looking picture-ready while you sightsee!
Tip: don't pack full-size products. Instead, use reusable travel containers like these to minimize your toiletries and still take all the essentials!

GoPro Camera | Nikon Digital Camera
A GoPro or waterproof camera is best
If you plan on visiting the Maid of The Mist (which you should!) you're going to need a waterproof camera. The boats go very close to the base of the falls and everything will get soaked real fast!
Don't even think about using your regular camera or cell phone because it won't take long for the water to damage them. They provide you with good quality ponchos so at least you'll be dry!
Alternatively, you can also use a strong waterproof pouch if you want to use your cell phone for pictures. However, a waterproof camera is a safer bet!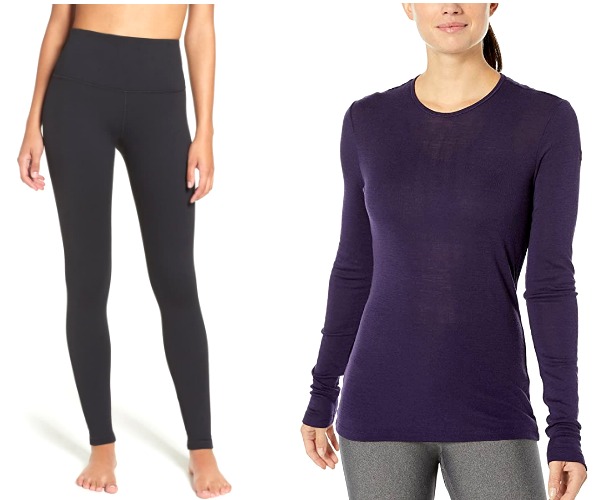 Pack active clothes for fun activities
From mini golf to wine tours by bike – Niagara Falls and the surrounding Niagara-On-The-Lake region have plenty of outdoor activities to keep you busy.
Be sure to pack outfits that allow you to move comfortably and stay warm outside for an extended period of time.
While you don't have to take workout clothes to feel comfortable, wear classic items that are versatile enough to be worn to ride a bike but you won't mind wearing when sampling a lovely wine.
Layer according to the time of year you're visiting. While you may need warm but lightweight outerwear in the cooler months, you may want to wear a hat and breezy long sleeve top to shield you from the sun in the heat.
Wear pants like these that you can take to a nice restaurant while not feeling restricted for active tours.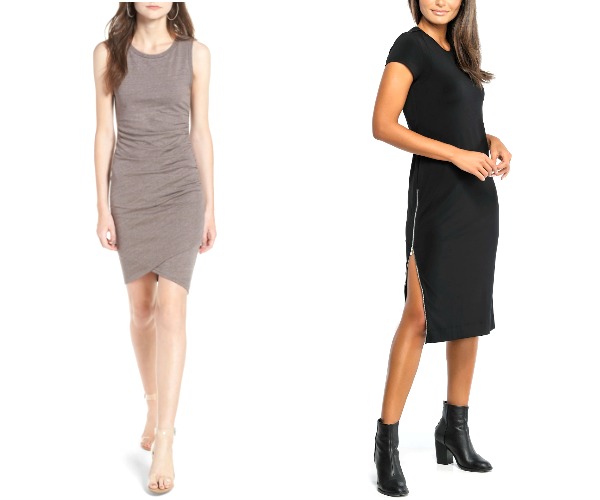 Ruched Body-Con Tank Dress | Side Zip Dress
One gorgeous outfit for night…
Last, but not least, don't forget to plan an outfit or two for the nightlife in Niagara Falls! There are some amazing restaurants with unobstructed views of the falls where you'll want to dress up in heels and a cocktail dress.
After dinner, head to one of the nightclubs for a night of drinks and dancing! Many of them have dress codes; so don't except to get in wearing jeans and running shoes.
These are the most versatile heels!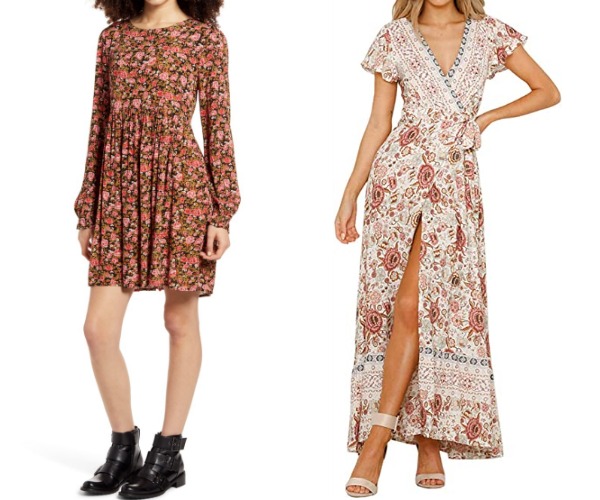 Print Long Sleeve Dress | Bohemian Maxi Dress
…And another fab outfit for a day at the wineries
Niagara-On-The-Lake is filled with world-class wineries, and I highly recommend you get away from the touristy area of the Falls to spend some time here.
Pack a dress or an equally fabulous outfit to wear. A midi dress is perfect for this, during most seasons. The weather is almost always a few degrees warmer, and the beautiful landscape provides you with the perfect opportunity to dress up for the day!
---
What are your tips on what to wear to Niagara Falls? Please comment below!
---
For more tips on North America, please read:
Suggested travel resources:
---
LIKE THIS POST? PIN THIS PIC TO SAVE IT!
---
We hope you liked these tips on what to wear to Niagara Falls. Please share with your friends on Facebook, Twitter, and Pinterest. Thanks for reading!
---
Author Bio: Kelly Ella Maz is travel writer from Canada. Her passion for travel and world-wide experience led her to starting her own travel planning business and blog. She recently bought a one-way ticket to Barcelona, where she'll be living by the beach and travelling around Spain. You can follow her travels at Kellyellamaz.
---