Support TFG by using the links in our articles to shop. We receive a small commission (at no extra cost to you) so we can continue to create helpful free content. As an Amazon Associate, we earn from qualifying purchases made on Amazon in addition to other retailers featured on the blog. Thank you, we appreciate your support!
Wondering what to wear in Qatar? Learn how to dress for Doha from to day to night, all year long, plus tips on being stylish and comfortable at the beach, too!
---
What to Wear in Qatar: Doha
Written By: LC Haughey
---
Dressing appropriately in Doha, the capital city of Qatar, can seem difficult at first.
It's sizzling hot, so you'd be inclined to strip down to shorts and a T-shirt each time you step out the door. However, Qatar is a conservative country and there are rules on what residents and travelers alike should wear.
Doha's dress code is slightly more enforced than the U.A.E, but far more manageable than say, neighboring Saudi Arabia. Non-Qatari women are not required to wear the abaya (a long, black robe that covers the entire body) or cover their hair.
As long as you cover your shoulders and wear skirts, dresses, or pants past your knees, you'll be fine.
In resorts and hotels, you can dress exactly as you would at home. It's only in the shopping malls, souqs (markets), on the Corniche (Doha's waterfront), and other public areas within the city that the dress code is expected to be adhered to.
The secret to packing light, is to create the perfect travel capsule wardrobe which can easily fit into a carryon suitcase with the help of packing cubes to compress your clothing!   
Tank | Blouse | V Neck | Short Sleeve | Maxi Dress | Dress | Jeans | Trousers | Poncho | Coat | Tube | Skirt | Boots | Sandal | Bag | Scarf
What to wear during the cooler months: December to March
Winter in Doha is quite mild (depending on your definition of the word) and manageable, with temperatures usually lingering around the mid to high 70s°F / 20s°C. In other words–a perfect summer's day!
These are the months that you'll want to get out and about in the city. Water sports like kite-surfing and wake-boarding are quite popular, as are day or overnight trips into the surrounding desert.
You can get away with wearing typical summer clothes, but keep in mind that the temperature can drop quite a lot during the colder nights. Make use of your jeans (leave the skinnies at home and opt for bootleg instead) and embrace wearing other kinds of trousers–the looser, the better.
Take a look at the best type of pants for travel!
As for shoes, bring a pair of sandals to wear during the day. At night, you can swap them out for a casual pair of sports shoes or ankle boots.
When it rains in Doha, it pours. Wet weather is quite rare, but you may want to pack a small umbrella or light raincoat, just in case.
These are our favorite comfortable walking sandals that don't sacrifice style!
Sleeveless | Camisole | Top | Cotton | Tank Dress | Dress | Skirt | Trousers | Poncho | Cardigan | Maxi Dress | Maxi Skirt | Sandals | Sneaker | Tote | Scarf
What to wear during the warmer months: May to September
Since Doha has a hot desert climate, the summer months pack a double punch–sweltering heat combined with high humidity.
The daily average is around 98°F / 37°C and it can easily enter the 100s (high forties in Celcius). Combine this with the fact that you'll be covered with a fine layer of sweat as soon as you step outside while remembering that you still have to dress conservatively. Summer can be extremely difficult to prepare for.
It's all about the fabrics. Choose cool and loose clothing made of silks, linen, and cotton.
Learn more about how to choose the best fabrics for travel!
You can wear tank and singlet tops, as long as you cover your shoulders with a scarf or pashmina. They can be bought quite cheaply and in colorful patterns at the local souq.
Invest in a couple pairs of sandals. Cotton tennis shoes or netted runners work well, too. As long as the material is breathable, you'll be fine.
Keep in mind that while the summer heat is raging outside, walking indoors will feel like entering a winter wonderland. Locals combat the high temperatures by blasting air conditioning as low as it can go. The local shopping mall even has an ice-skating rink, which is well patronized during the summer months.
Truth be told, you'll probably be spending most of your time inside, as all residents tend to avoid the outside world as much as possible during the warmer months. You'll benefit from carrying a pashmina or a light cardigan that you can quickly throw on to avoid getting a chill.
Keep in mind that the Holy Month of Ramadan tends to fall during the summer months in the Middle East, with the conservative dress code being strictly enforced over this period of time. Be sure to adhere to the rules to avoid any trouble.
If you do get into a discussion with a local over a possible offense, just apologize and change clothes at the first opportunity.
Check out these summer-inspired linen clothing styles!
Dress | Handbag | Bracelet | Sandal | Scarf | Earrings
What to wear when you want to paint the town red
The vast majority of Doha's population are expats who spend most of their time working in the city. On a Thursday and Friday night (Friday and Saturday are the weekend days in Qatar), local clubs become inundated with Westerners looking to grab a drink and let their hair down.
Popular spots for a bit of nighttime frivolity include Trader Vic's at the Hilton Hotel, KROSSROADS Bar, and the Crystal Lounge at the W Hotel.
Anything goes within the clubs themselves–you can easily get away with wearing what you would in any other part of the world. Some clubs prefer women to be dressed to the nines and will tell you off if you try to enter without wearing high heels!
Maxi dresses are a good staple item to work with. If you find maxis to be a little bland, dress it up with earrings, bracelets, and necklaces.
T-shirt blouses work quite nicely with skirts, as long as the skirt falls to the knees or longer. Circle skirts are comfortable and practical, particularly in warmer weather.
In the summer months, cotton t-shirt dresses could be worn (as your shoulders will be covered). Feel free to go mad on the accessories to brighten up the look.
It's probably best to shy away from skin-tight dresses or skirts, so as not to attract unwanted attention.
Keep in mind that in most cases, you're going to have to journey from your hotel to the club. If your shoulders are uncovered, then bring a shawl or scarf that you can wrap around your upper body for the journey there and back.
See our tips on how to wear a shirt dress!
Swimsuit | Dress | Scarf | Sandals | Sunglasses | Tote
What to wear to the beach
A hot desert climate and a sandy coastline makes Doha the perfect beach destination for travelers.
Most of the beaches are owned by hotels (like the Intercontinental and Hilton). They're free to use for guests and access is available to visitors for a fee. At these beaches, you can strip down to your bikini and sunbathe to your heart's content.
The only beach in Doha that isn't located on hotel property is Katara Beach. It's a popular place for all sorts of watersports, but the same rules that apply in the city are enforced here.
If you want to get out of the city, you can take a tour or hire a driver to take you up or down the coast. There are many other spots in the country that are swimmable but so remote that you can generally get away with wearing whatever you wish.
Check out our best beach sandals for hot weather!
---
Dressing for Doha is more straightforward than it may first appear. Just remember that a scarf is a girl's best friend.
What are your best tips on what to wear in Qatar? Share in the comments below!
---
For more Asia packing tips, please read:
Suggested Travel Resources:
For any other trips, please visit our packing lists page for all destinations.
---
LIKED THIS POST? PIN THIS PIC TO SAVE IT!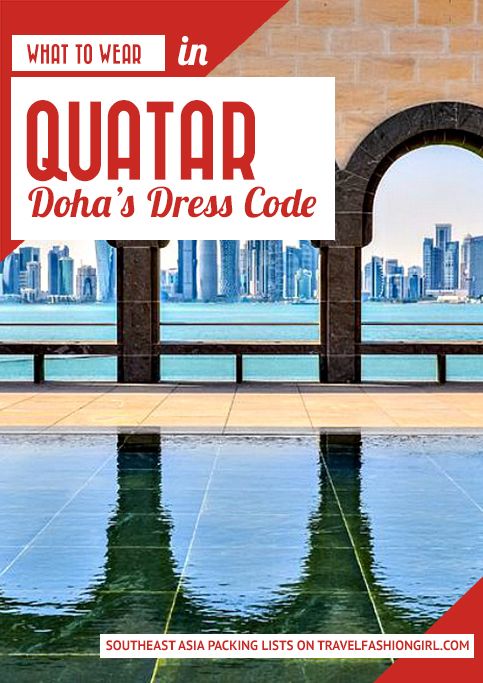 ---
I hope you liked these tips on what to wear in Qatar. Please share with your friends on Facebook, Twitter, and Pinterest. Thanks for reading!
---
Author Bio: LC has lived in Australia, Qatar, and the UK. Her interests include long road trips, bonfires, beach-bumming, horse-riding, bird watching, and dog cuddling. You can follow her adventures on her blog or real-time on Facebook.
---