Support TFG by using the links in our articles to shop. We receive a small commission (at no extra cost to you) so we can continue to create helpful free content. As an Amazon Associate, we earn from qualifying purchases made on Amazon in addition to other retailers featured on the blog. Thank you, we appreciate your support!
To help us determine how to dress stylishly for different cities around the world, we've chosen some of our favorite fashion bloggers featuring their style inspiration and photography of What to Wear in England in Winter.
---
What to Wear in England in Winter
Written by Chantelle Mallin
---
One of the best ways to choose the right clothing for travel is to research your destination and find out how the locals dress. A great place to start is by visiting TFG's International Packing Lists and also then checking out our favorite place to go for travel outfit inspiration: local fashion bloggers.
Coat | Boots | Dress
| Tights
| Bag
| Scarf
England can be a magical place during the winter, especially London, the streets are lit up with Christmas lights and towns and villages are occasionally blanketed under layers of snow (a few feet can cause places to come to stand still, we're not very good when dealing with diverse weather) be warned, winter in the UK can be unpredictable.
I may be bias, but I consider the UK to have great style and a cool fashion scene, dressing for winter can be challenging however, remaining stylish whilst keeping warm can be the hardest combination to get right.
Always, always, always check the weather forecast before your trip. Once you've researched the weather, you can focus on creating a travel capsule wardrobe, which should easily fit in a carryon suitcase with the help of packing cubes to compress your clothing.
When dressing for winter in England, layering is key, try to travel with key wardrobe staples that can easily be mixed and matched, opt for a pair of skinny trousers or flared circle skirt and thick tights, printed shirt, a knitted jumper and oversized coat – tied together with a statement necklace and patent ankle boots.
Style photograph courtesy of Katy. Check out her awesome blog Little Winter!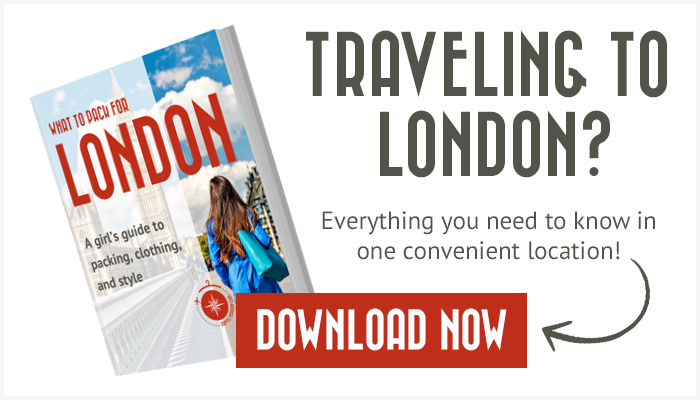 Sweater | Blouse | Coat | Pants | Sneaker
For city adventures don't be afraid to pack your favorite pair of jeans, skinny jeans are very popular in the capital, pair with a pair of Chelsea boots or leather knee highs and a chic wool coat for the perfect city look.
If you aren't a denim fan, opt for a thick pair of leggings or woolen trousers, trimmed with classic winter accessories, for an equally as fashionable look.
Invest in a good quality winter coat for your trip to England, or even better a faux fur lined biker/leather jacket if you truly want to fit in, a leather would be perfect for days where the weather is crisp yet mild. Oversized androgynous boyfriend jackets are all the rage at the minute; choose a lined coat guaranteed to keep you ultra-snug.
Style photograph courtesy of Claire. Check out her inspirational fashion blog JAZZPAD!
Sweater | Skirt |  Necklace | Tights
 | Boots
 | Bag
 | Shirt
A great tip would be to travel with a pair of stylish, comfortable and hard-wearing boots that feature good grip, you'll regret not having a reliable pair when battling with the icy and insanely slippy streets of winter, I don't think I've got through a winter yet without suffering the embarrassment of a slight tumble.
Cute accessories are essential for winter, who doesn't love a knitted bobble hat, a huge wrap scarf to trap the heat, shearling mittens and an adorable pair of earmuffs. The weather in winter can be impulsive, make sure to pack an easily portable umbrella to protect yourself from the wet and windy showers.
Style photograph courtesy of Lily.  Check out her quirky fashion blog Lily Kitten and Twitter @LilyKitten1
Sweater | Coat | Pants | Boots | Belt
No matter what part of the UK you travel during the winter, I would still suggest wrapping up warm in hat, scarves, gloves and boots.
London is a very fun city (yet again, slightly bias) so there will be a variety of holiday activities going on including winter festivities such as Hyde Park's Winter Wonderland and ice skating at Somerset House. Please note that in England the hotel room rates are per person.
Style photograph courtesy of Katy. Check out her awesome blog Little Winter.
Watch this video on what to pack for England in winter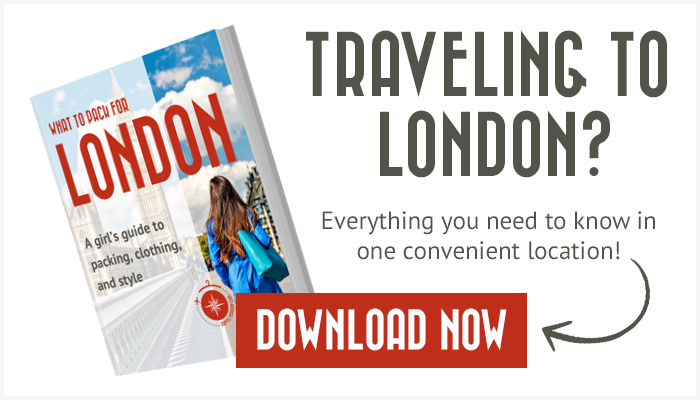 ---
Remember – keep warm and drinks lots of tea! Have fun in England!
What are your packing tips for England in winter? Share in the comments!
---
For more Europe packing tips, please read:
Suggested travel resources:
---
Hope you enjoyed this post on what to wear in England in winter. Please share it with your friends on Facebook, Twitter, and Pinterest. Thanks for reading!
---