Support TFG by using the links in our articles to shop. We receive a small commission (at no extra cost to you) so we can continue to create helpful free content. We earn from qualifying purchases made to the featured retailers. Thank you, we appreciate your support!
It's time for the holidays again and you're probably stressing out about having to fly in one of the busiest times of the year. Worry no more! First read our Thanksgiving Travel Tips then plan with our packing list below!
---
Thanksgiving Packing List
---
This Thanksgiving Packing List features a 10 Piece capsule wardrobe and is based on you traveling somewhere cold for a 3-5 day trip – adjust the thickness of your outerwear accordingly.
What's a capsule wardrobe? The secret to packing light! Learn more!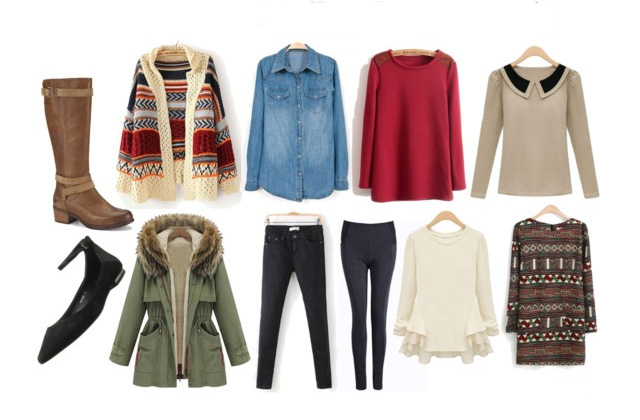 Cardigan | Denim Shirt | Long Sleeve Shirt | Long Sleeve Blouse (similar) | Military Jacket | Black Jeans | Legging | Beige Blouse | Long Sleeve Straight Dress | Darcie Boot
 | Dolce Vita
4-5 Tops
Choose four to five long sleeve tops from light to medium thickness. If you're traveling to cold destination or plan to spend much time outdoors, the key to staying warm is layering. Watch this Facebook Live video to learn how!
If you plan to spend much time indoors with your relatives remember that comfort is key! Follow the style ideas shown above with pops of holiday colors and casual fabrics in dressy styles to look comfortably cool on Turkey Day.
Dress them up with a nice pair of dangly earrings and long necklace and warm them up with a knit hat and scarf. Try to stick to something warm like these gorgeous oversized blanket scarves that you can pair with all your outfits for extra warmth.
2-3 Bottoms
We suggest one pair of jeans and leggings like these that can be worn as tights with a dress (if you choose to take one) or layered under your jeans if you get very cold.
Merino wool is absolutely amazing for winter travel!
Your jeans should be black or dark blue so they look classic, can be dressed up easily, and can match with everything. You can even wear these every day of your trip if you want to pack very light or pack just two jeans. Denim is easy!
Add one additional set of trousers that look completely different to your classic jeans such as a different color of denim, leather pants, slacks, or an item that is relevant to your planned activities.
If it's really cold, this secret essential will help you avoid overpacking!
2 Outerwear
Wear both your outerwear choices on the plane. You may feel a bit warm at the airport but you'll get cold on the plane. You can also place your coat in the overhead compartment.
Make sure these mix and match with all your clothing and they offer sufficient warmth so you don't have to worry too much about your under layers.
Since you are wearing these on the plane, not packing them, make sure they're as thick as you need them to be. However, thicker fabric isn't always better. Find out why.
We recommend one statement coat and one warm, cozy sweater you can pair with your coat or wear indoors if you feel chilly.
Read these tips on how to stay warm in cold weather.
2 Shoes
Take one set of boots you wear on the plane and an additional pair such as dressy flats like these chic suede pointy toed Dolce Vita with ankle straps – love the back detailing! A pair of cute and comfortable ballets flats are easy to pack and take up no space.
These waterproof boots are perfect for the rain and snow but if you want something more casual, opt for easily packable ankle boots that you can pair with your dresses for an effortlessly pretty look.
Luggage
The best way to make sure all your belongings fit in a carry-on is to use packing cubes. You can roll your clothing and compress it using the techniques shown in this packing cubes video tutorial!
Using these compression methods you can fit everything shown above and more into stylish weekender bags or a regular carry-on suitcase.
To learn more about how to travel with just one bag, read this free guide!
---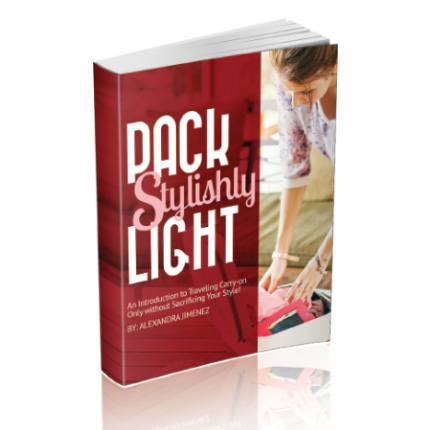 Need help creating a capsule wardrobe?
Savvy travelers know that a capsule wardrobe is the secret to traveling carry-on only. Pack Light Stylishly is our eBook that shows you exactly how to make a functional yet stylish capsule wardrobe for travel.
Learn more about Pack Light Stylishly here!
---
What's on your Thanksgiving Packing List? Share and comment below!
---
For more tips on how to pack light, please read the following:
---
Please share this 10 piece Thanksgiving packing list with your friends on Facebook, Twitter, and Pinterest. Thanks for reading!
---