Support TFG by using the links in our articles to shop. We receive a small commission (at no extra cost to you) so we can continue to create helpful free content. As an Amazon Associate, we earn from qualifying purchases made on Amazon in addition to other retailers featured on the blog. Thank you, we appreciate your support!
Inspired TFG's readers and your trips around Europe I've decided to do some local traveling while I'm living in England this summer. My two first destinations on my #EuroStyle Adventures are Paris and Rome!
---
10 Day Trip Paris and Rome June 2014
---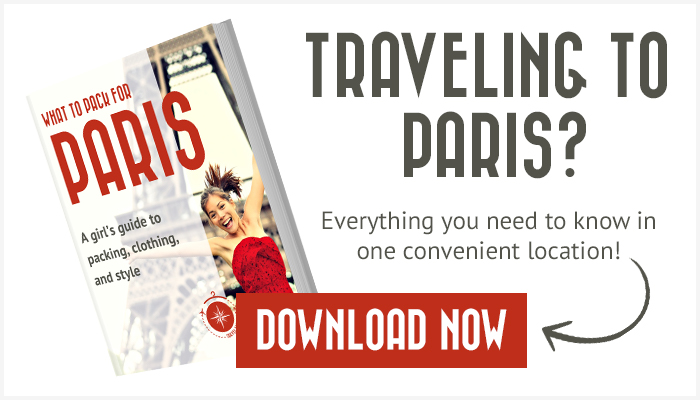 THE PLAN: 
sightsee, research fashion in both cities, and have some fun too
ACTIVITIES: 
museums, shopping tours, city tours, food tours, cooking class, nightlife, and lots of walking
TRANSPORTATION: 
Eurostar between London and Paris then budget flights with Ryanair
ACCOMMODATION: 
private rental and boutique hostels
THE WEATHER
cold and rainy in London (departure location) and also in Paris the first two days; mild to warm in Paris three days with evening thunderstorms; blistering hot in Rome in the 90s for 5 days.
When traveling to more than one destination, always check the weather forecast for each location on your itinerary before your trip. Once you've researched the weather, you can focus on creating a travel capsule wardrobe, which should easily fit in a carryon suitcase with the help of packing cubes to compress your clothing.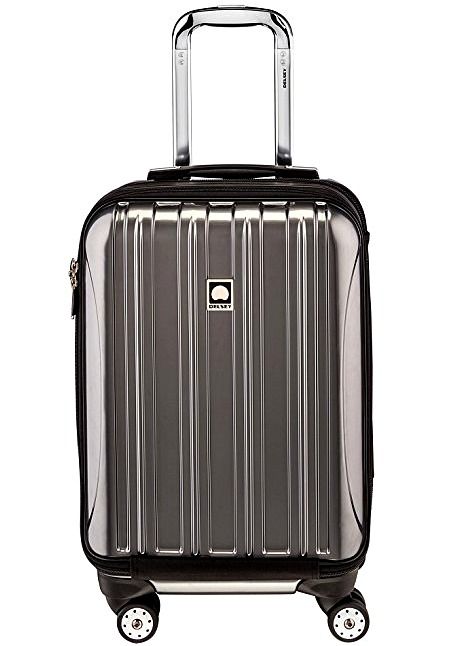 Delsey Luggage Helium Aero Carry-On Spinner Trolley
Luggage
1 Delsey Helium Aero Carry-on (Please note: the Aero does not meet European budget carry-on dimensions if flying within Europe).
Delsey gave me their U-Lite suitcase at their Galeries Lafayette special event which not only fits perfectly on Ryanair but was also customized by illustrator Solène Debiès.
Packing Oganizer
 Packing Cube Set | Travel Bottle Set
Packing List
"TFG Essentials " One of our Signature Packing Lists are your ultimate guide to packing light. Whether you're a fashionista or a no-frills traveler, these lists are made for you to customize to fit your own personal style with 10 pieces including:
4 tops
4 bottoms
1 dress
1 cardigan
1 outerwear  pajamas
3 shoes
Tops
While this particular item is delicate to maintain, I wore my merino wool pullover on the way to Paris from London and on the first few days in Paris when it was cold. The merino wool fabric allows me to stay warm but also keeps the fabric from absorbing scents so I don't have to dry clean it until I get home.
My pullover is from J Crew but here are two similar items in cream and grey
The key to a chic look is balancing casual with dressy. I paired this black polyester top with my dark denim skirt and jeans for a day to night time transition. I could also have worn it with my printed skirts should for a dressier look. I got tons of compliments on this top in both Paris and Rome. As a bonus, I was able to re-wear it several times and because it was thin I felt so cool in the heat.
More similar items on Amazon, it has great brand and colors too!
This basic tee from Madewell can be worn casually and comfortably or layered if needed under the merino wool pullover. It's viscose (synthetic fabric) and easy to wear. The fabric is similar to cotton which isn't my favorite fabric but it works for a basic tee.
It's currently on sale at Madewell but you can also buy a similar style on Amazon!
I like this blue sleeveless rayon top because it's super fresh in the heat but it's also easy to dress up or down. It adds the pop of color I'll craze with a mostly dark palette. Only downside with this fabric is that it wrinkles and can't be re-worn more than once (or twice) without washing.
Its also available in Express but Amazon has one in the same color just like it!
Short Dress Similar
Dress
I absolutely loved this polyester black dress for my trip. It was wrinkle resistant and didn't absorb scents. It was also surprisingly cool in the scorching heat so I wore it more than I originally planned to. I would definitely replace one of my skirts for another one of these dresses.
I purchased this at H&M a while back and found this similar dress at Nordstrom and on Amazon!
Bottoms
J Brand Jeans 811 Mid Rise Skinny Jeans
These stretchy black jeans from J Brand are basic allowing me to dress them up or down. Because of the stretchy fabric, they're lightweight and won't weigh down my luggage when I don't need them. I'll wear these to fly to and from my destinations with the merino wool sweater listed above.
These J Brand Jeans can find on Amazon for Mid Rise and High Rise skinny jeans!
I loved packing skirts on this trip instead of shorts or trousers. Pants would have been too unbearable with the heat in Paris and especially Rome.
The striped skirt got so many compliments. It was a bit heavier than I would have liked but surprisingly comfortable to wear plus it was super cute and wrinkle resistant. It's currently on sale at Madewell. This one's similar in solid black and it's also on sale. Both skirts are available to size 14.
The solid black skirt is also from Madewell but no longer available. I love it because it's wax-coated denim making it the perfect "leather" inspired clothing piece suitable for summer. It was great for travel as it didn't wrinkle and made the perfect replacement for jeans in the heat. This is an identical skirt from Mango.
The black and white chevron print skirt is by from Nordstrom Rack and while it was the perfect travel skirt as it was lightweight and didn't wrinkle, I actually didn't wear it. Can't find the exact skirt but this is a similar style.
Cardigan
For evenings, flights, and the Vatican; I packed a lightweight grey cardigan. I kept this lightweight layer in my purse on most days just in case I was out late. To be honest, I could have done without this item and just used my merino wool top if needed.
I got mine at H&M a couple years ago but here's a similar one from Old Navy!
Nelly Faux Leather Biker Jacket
Leather Jacket
Because it was raining in both London and Paris on the beginning of my trip, I packed a (faux) leather jacket to keep my warm and dry. This item was perfect for Paris since it still rained in the evenings even though it was hot on most days. Plus, it's a Parisian style staple. You may not need this in the middle of summer but it's the perfect choice in Fall or Spring.
I got mine at a sample sale but this one from Topshop is really similar and this one from BLANKNYC is droolworthy! They're both under $100, bonus!
Shoes
For shoes, I'm packed these three choices:
Black Franco Sarto ankle boots for rainy days, sightseeing on mild days, and also to dress up skirts/dresses. They were already broken in and very comfortable to walk in Paris. I got mine at Nordstrom but they're now sold out. My mom raves about her Clarks ankle boots which are known for they're comfort.
Red Marc Jacob flats if I needed to dress up, however, I ended up using my ankle boots for this. It would have made more sense to packed my leopard print slip ons which were also on trend with Paris style as well. I'm currently searching for a new pair of red snake print and these shoes are the closest I've found in style.
Born Marcia Similar
Black Born Gladiator sandals for every day wear and sightseeing in the heat. These were absolutely perfect because I couldn't imagine wearing closed toe shoes in the Rome heat and humidity plus they were comfortable and cute and put a smile on my face wearing them inside the Coliseum (fashion history).
I got mine at Marshalls but these are a similar style and more classic too. They also come in four colors. I also packed one pair of knit black tights to layer in the cold.
Handbag
I have one large Vince Camuto leather tote in black for everyday use that was also my personal item in-flight. I liked this one because it also has a cross body strap which I wore in addition to the shoulder straps for extra security (as seen in the above Eiffel Tower pic).
While the style of this bag may have been too flashy for Paris with it's hardware detailing, it was great for Rome. Regardless, the bag is perfect for me.
The Vince Camuto Riley Tote is also available at Nordstrom. For a more budget friendly version, try this style by Marc Fisher under $100.
Final Verdict
The above 10 Piece Capsule Wardrobe was MORE than enough to get me through 10 days traveling to Paris and Rome. I re-wore everything a couple of times and didn't do any hand-washing. If I could change anything it would be to replace the jeans with another sleeveless top as I wore the knit tights with skirts on cold days anyway.
I would also replace the chevron printed skirt for a sundress. I would also change the basic tee because the fabric was too similar to cotton and I'd rather have another dressy top like the black one above.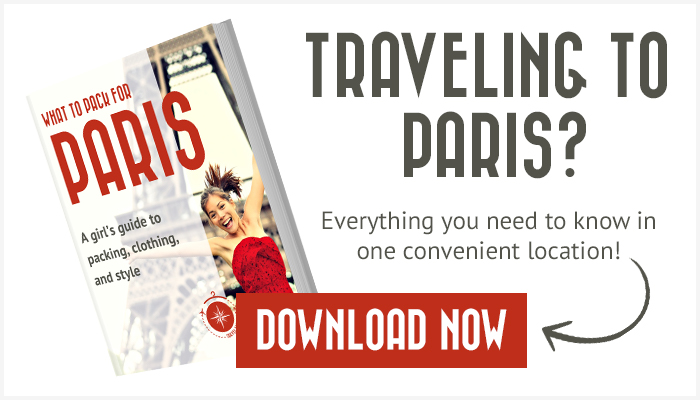 While my packing list is based on 10 days of traveling, you can use the same or similar options for 7 days to 7 months. Remember, you don't need to pack more clothing for longer trips – you just have to do laundry!
---
What are your essentials for a 10 day trip to Paris and Rome?
---
Please read these post for more tips on packing for Paris and Italy:
---
LIKED THIS POST? PIN THIS PIC TO SAVE IT!
---
Hope you found my personal packing list for Rome and Paris helpful. Please share it with your friends on Facebook, Twitter, and Pinterest!
---