Support TFG by using the links in our articles to shop. We receive a small commission (at no extra cost to you) so we can continue to create helpful free content. As an Amazon Associate, we earn from qualifying purchases made on Amazon in addition to other retailers featured on the blog. Thank you, we appreciate your support!
If you're a traveler going to a hot destination, a long-term trip, or if you are just looking to add some new basics to your everyday wardrobe, let me introduce you to:
Spoiler alert Todd&Co are giving TFG Readers 10% off their next purchase with the code TRAVELWISE. Start shopping!
---
Toad and Co Travel Wear
---
In 2012, I'd previously listed them as having one of the top 5 convertible travel dresses for women so I was eager to get to know their clothing a little better.
Toad and Co is a lifestyle apparel brand based in Santa Barbara with a focus on eco-friendly fabrics. Their goal is to offer effortless travel wear that continues looking good over time. The brand has a great collection of styles for Spring and Summer 2014 that don't sacrifice style for helping the Earth.
Learn more about their latest travel wear here!
Below is a review of six pieces that I tested out during my 2-week vacation in Florida this month. Will they get the TFG stamp of approval?
Who does this line work for?
This travel wear is great for the adventure traveler that wants to add more feminine pieces to their collection.
The spring items that I tested were extremely comfortable in the May Florida heat so they'd be the perfect companion for tropical destinations.
For long-term travelers, this line is great because it offers basics that can be used throughout your travels in a variety of settings and destinations.
Sizing:
One thing to note with their sizing is that some items were very roomy in comparison to the sizing of other brands. An extra-small fit me either perfectly or slightly too large.  Check out their size charts.
I'm 5'2", 110lb and normally I wear size small clothing or 4-6.
Fabric:
Overall, I was extremely pleased with the quality of the fabrics. The thing that most impressed me was the weightlessness of the clothing everything which is key when you want to pack light! The fabric also seems durable but I'll report back if anything changes.
Price Points:
Their pricing is between $50-$100 so it's something a variety of budgets can appreciate in travel wear.
Toad and Co Travel Wear Review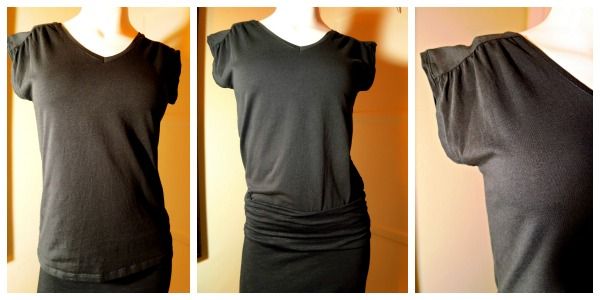 Vega Tank
This is a good basic top with a bit of femininity added by the cap sleeves. I loved the fit and it can easily be dressed up or down as needed. I also liked the stretch fabric and especially that it was fairly wrinkle resistant. I let it air dry indoors and it took less than 24 hours to dry in cold to mild weather overnight.
I would take this top to destinations such as India, Southeast Asia, and Central America where modesty is encouraged.
PRODUCT INFO
I reviewed: size x-small, color black
colors available: black, deep bluegreen, misty violet print, watermelon, and white sizes XS-XL $49
For more details, visit the Vega Tank product page!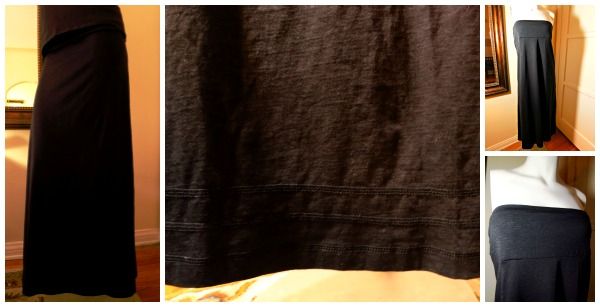 Chakalaka Skirt
I've been wanting a lightweight maxi skirt for a while because I find them more versatile than dresses. I can match a skirt with several tops to make a variety of outfits versus just one dress.
While this skirt is very basic two things stand out in comparison to other maxi skirts: it's lightweight, not bulky, and ultra-comfortable. I'm definitely adding this skirt to my collection of travel wear when I head back to Southeast Asia or Central America on my long-term travels. Paired with my black Adea tank top, I turn it into a maxi dress!
As an added bonus, the skirt comes with three hemlines so you can customize it to your preferred length without going to a tailor. Perfect for shorties like me!
PRODUCT INFO
I reviewed: size x-small, color black
colors available: black, clove print, and quarry in sizes XS-XL $72
For more details, visit the Chakalaka Skirt product page!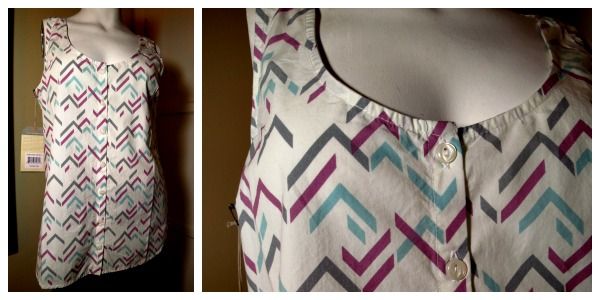 Willowy Button Tank
I was really looking forward to receiving this top as it was the perfect piece for my recent trip to Sanibel. The fabric is air light and comfortable in the heat while the print is light and cheery which is perfect for a Florida vacation.
Two things to note with this top. The sizing is tricky as the extra-small was too large for me (as you can see in the pic) and also the fabric is very wrinkled prone if you don't have access to an iron.
PRODUCT INFO
I reviewed: size x-small, color egret print
colors available: egret print and quarry print in sizes XS-XL $62
For more details, visit the Willowy Button Tank product page!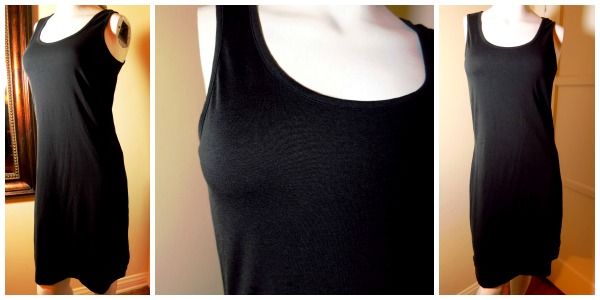 Keyhole Dress
Talk about a perfect, basic dress to add to your travel wear! This dress is definitely joining me on my long-term travels. It's easy to wear and has a good fit. I've used this product the most from these six items since receiving it.
It's not overly tight or baggy and makes the ideal basic piece for just about any casual destination. I can see myself walking down the streets of Bangkok, Playa del Carmen, or even as a casual dress if I'm in Los Angeles.
PRODUCT INFO
I reviewed: size x-small, color black
colors available: black, breton blue stripe, misty violet stripe, clove stripe, smoke stripe in sizes XS-XL $79
For more details, visit the Keyhole Dress product page!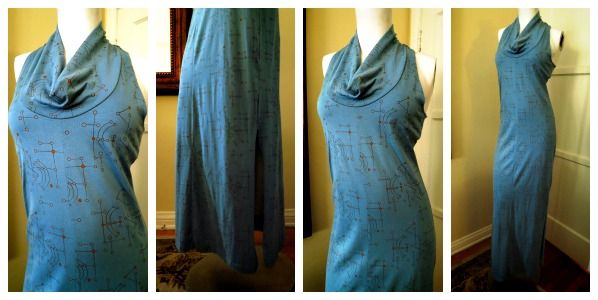 Golightly Dress
This dress was the biggest surprise to me. I did not expect to like it but it actually had a very flattering style. The cowl neck with a racerback cut made it look more elegant. I liked that the draping showed my neck but hid my cleavage, which is perfect when traveling to different regions. It also has a built in shell.
I wish I would've ordered the dress in a solid black or blue and chosen one size up. The small for this was a bit too tight for my body and too long for my height so it would be an amazing dress for a taller, leaner shape.
PRODUCT INFO
I reviewed:  size x-small, color crater lake print
colors available: black, breton blue, misty violet print, and crater lake in sizes XS-XL $89
For more details, visit the Golightly Dress product page!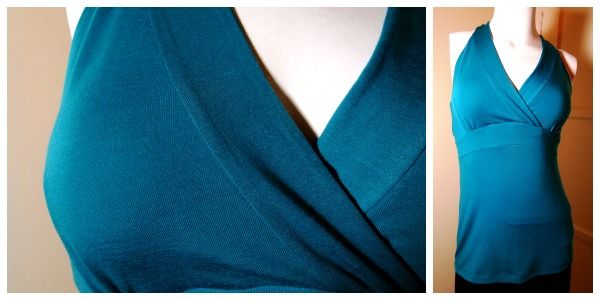 Sandbar Tank
Perfect for an active or adventurous traveler, this top allows you to brighten up a drab hiking look with color and femininity. You can wear this as a casual top or for active travel days too. It has a nice length, not too short, and also includes a built-in shell.
I don't like showing any cleavage (but that's just me) so this type of travel wear isn't for me. If you have a larger bust I'd probably size up on this style.
PRODUCT INFO
I reviewed:  size x-small, color deep bluegreen
colors available: black, deep bluegreen, and watermelon in sizes XS-XL $56
For more details, visit the Sandbar Tank product page!
Is it TFG approved?
This line is definitely TFG approved for women that need casual travel clothing. It offers feminine basics that are easy to wear and comfortable for a variety of trips. The clothing I tested was from their Spring collection, which is why it would be most appropriate for warm weather destinations. I've machine washed the clothing and it still looks good which is always good news. I'll report back if anything changes.
(I didn't wear the Sandbar Tank and Golightly Dress as they didn't fit me so no pictures of these on me, sorry…)
What do you think of their collection?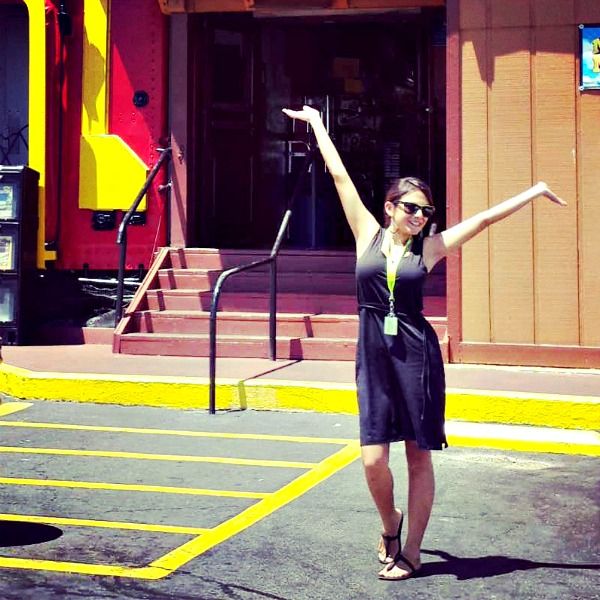 ---
What Toad&Co items are on your wishlist? Share in the comments below!
---
To learn more about Toad&Co, read our other articles:
---
We hope you liked our review of this horny toad travel wear. Please share it with your friends on Facebook, Twitter, and Pinterest. Thanks for reading!
---
Disclaimer: TFG has strict advertiser policies; we only work with brands that we know will be the right fit for our readers. You're number one and it's with great confidence we can wholeheartedly recommend this advertiser's brand to you!
---