Support TFG by using the links in our articles to shop. We receive a small commission (at no extra cost to you) so we can continue to create helpful free content. As an Amazon Associate, we earn from qualifying purchases made on Amazon in addition to other retailers featured on the blog. Thank you, we appreciate your support!
Fabrics are the key to choosing the right travel clothing and packing light! Whether you're looking to wear sustainable fashion for your travels abroad or for everyday use at home, the key starts with the fibers and fabrics used in the clothing. Keep reading for a list of the best eco-friendly fabric options for travel! The results might surprise you!
Spoiler Alert: TFG Readers get 10% off at Toad&Co with the exclusive discount code TRAVELWISE
---
The Best Eco-Friendly Fabric for Travel
ADVERTORIAL
---
Merritt Hoodie and Heartfelt Hoodie: 100% Non-Mulesed Merino Lambswool
Why is fabric important for travel clothing?
As you can read about in this post, fabric is one of the most important things that help you choose the best clothing for travel, especially when it comes to finding the best eco-friendly fabric.
Certain fabrics are better than others because they wrinkle less, take up minimal room in your suitcase, wash and wear well, and are suitable for the many different environments you'll encounter on the road.
What does eco-friendly mean?
When a product or service is not harmful to the environment, it's considered eco-friendly. Shopping sustainably and wearing clothing made from the best eco-friendly fabric means you are making a conscious effort to reduce waste and make less of a negative impact on Mother Nature.
Reducing your carbon footprint helps the planet so all of our favorite destinations remain beautiful for years to come.
What is eco-friendly fabric?
What makes a fabric the best eco-friendly fabric? It starts with being made using certain fibers with a low environmental impact, and avoiding others that aren't so great because of the pollution created by the processes used to produce them.
The apparel industry accounts for 10% of global carbon emissions, remains the second largest global industrial polluter (second only to oil), and contributes to 14 million tons of textiles that end up in US landfills each year.
Is eco-friendly travel clothing available?
There are a variety of travel brands looking to make a positive change to the apparel industry. Brands like Toad&Co not only offer clothing that's made for adventure, but they also are committed to creating socially and environmentally-conscious garments and using some of the best eco-friendly fabric.
A portion of every sale goes toward supporting adults with developmental disabilities and 90% of their products are eco-friendly. They aim to clean up a dirty apparel industry, educate people on sustainable practices, and inspire folks to live their lives to the fullest.
And the best part? They're giving TFG Readers 10% off their next purchase with the code TRAVELWISE.
Toad&Co creates soft, comfortable, and functional travel clothes all while helping you feel awesome knowing that good decisions went into the production of your travel wardrobe. We've used their research to pull together the best eco-friendly fabric for your travels!
If you're looking to create a sustainable travel wardrobe, start by focusing on the fabrics used to make your clothing. Below you'll find a list of the best and worst fabrics for the environment.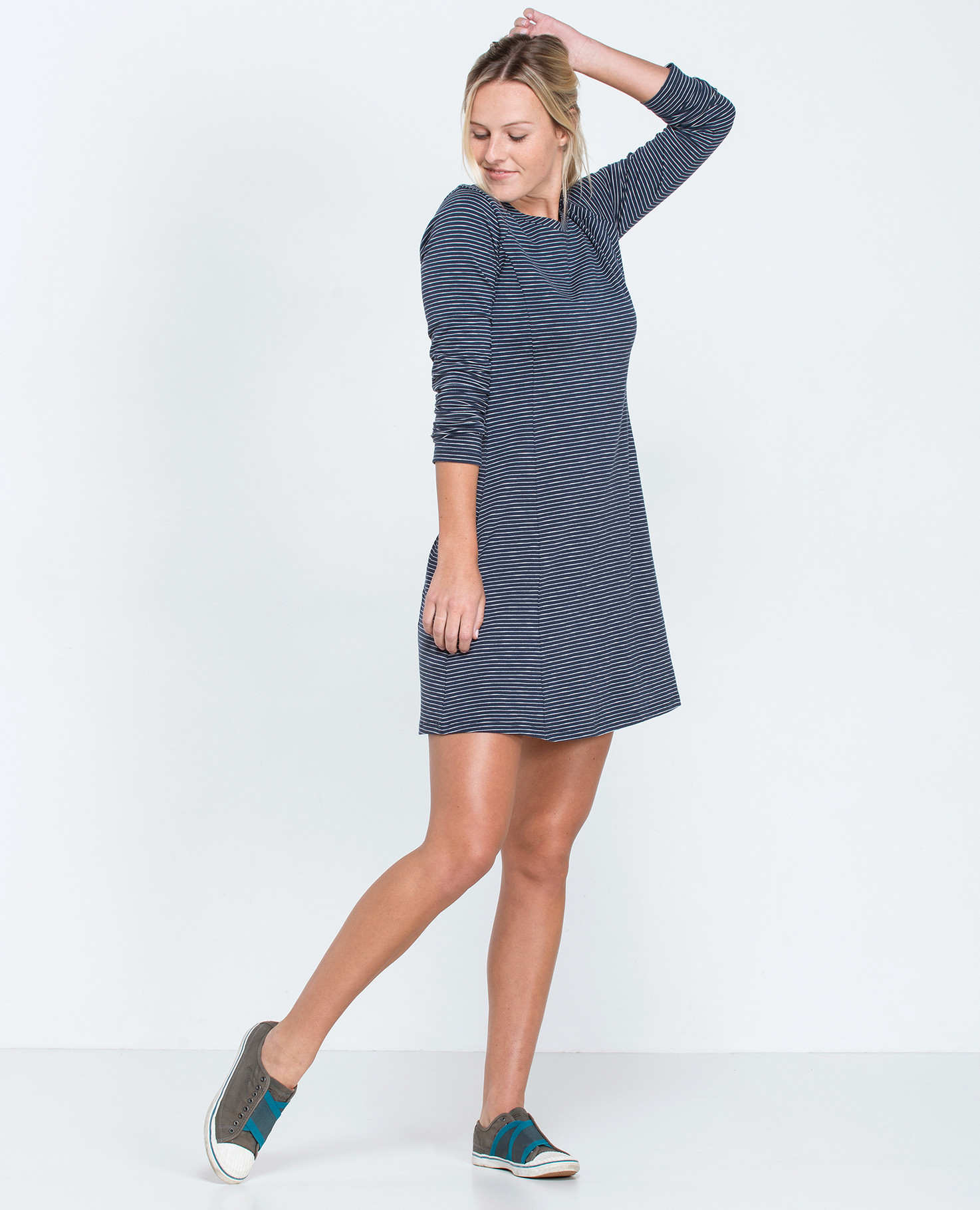 Windmere Dress: 48% Tencel 48% Organic Cotton 4% Spandex
The Best Eco-Friendly Fabric
ORGANIC COTTON
Cotton is a favorite for traveling in hot weather, but to ensure your clothes are environmentally friendly, choose 100% certified organic cotton. It starts with GMO-free seed and follows practices that maintain soil health, conserve water, and support biodiversity.
HEMP & LINEN
Hemp & Linen are also popular for hot weather travels. They're fast growing, low maintenance crops that are grown primarily with rain water, requiring minimal chemical inputs during growth and processing. Extra hemp bonus: the entire plant can be used!
TENCEL®
This fabric is found in travel clothing that's easy to wear. It's made from responsibly forested trees in a closed-loop system. Efficient, clean and 98% of by-products are recovered and reused. Waste not, want not.
LENZING MODAL®
Super soft and comfortable, we're big fans of this eco-friendly fabric. It starts with sustainably grown trees that are processed in an energy-efficient system that reuses most of the by-products.
RECYCLED POLYESTER
Polyester is one of the most versatile fabrics for travel, but sadly it's not environmentally friendly. Recycled polyester, however, offers the same functionality but is an eco-friendly alternative.
Made from post-consumer plastic waste which reduces emissions and uses less water than virgin polyester. It also stems the mountain of trash entering landfills and oceans.
RECYCLED WOOL
Like polyester, wool is extremely practical for cold weather travels. Ideally, look for clothing made from recycled wool garments and mill scraps. They're spun into new, performance fabrics, sparing reusable materials from landfills and drastically reducing the resources needed to grow, graze and process new wool.
bluesign®
The bluesign® system is a solution for sustainable textile production. It takes into account the use of energy, water, chemistry, emissions and worker safety during fabric production. Search for clothing brands that use this process in their fabrics.
Lightfoot Long Sleeve Shirt | Moxie Skirt | Sheridan Sherpa Vest
The Least Eco-Friendly Fabric
ACRYLIC
Clothes made from acrylic fabric may be cheap, but the costs are high. Acrylic is made from polyacylonitrile (a soft plastic and known carcinogen) in a chemical and energy intensive process.
Toxic by-products during manufacturing have been linked to occupational hazards and waste water is difficult to treat. Acrylic fabric is nearly impossible to recycle.
RAYON VISCOSE
Cheap fibers leave big environmental footprints. Making rayon viscose is an energy intensive process that generally starts with unknown tree sources which can lead to deforestation in places like the Indonesian rainforests.
Toxic chemicals are used in the pulping and spinning processes, which generates harmful waste and by-product. A better alternative is Lenzing Modal®.
Cue Wrap Dress: 48% Tencel 48% Organic Cotton 4% Spandex
There are also certain natural fabrics that have poor ratings based on their impact on the environment. You might be surprised to find some of these on the list of fabrics that are not eco-friendly.
Is BAMBOO VISCOSE eco-friendly?
Though bamboo has natural origins, converting stalky bamboo into fabric is a dirty process. Pulping and spinning requires toxic chemicals and high energy demands. Issues with non-sustainable tree-sourcing risk deforestation of ancient bamboo forests.
It's common to see misleading eco-claims about bamboo ("bamboozling"), so choose a verified eco-friendly fabric like Tencel® or recycled polyester instead.
Is COTTON eco-friendly?
Surprisingly, regular cotton is pretty unnatural. It starts with GMO seed and a high use of herbicides, inorganic fertilizers, and hazardous pesticides. The process has high water use due to irrigation. For a truly eco-friendly fabric, stick to organic or recycled cotton.
Is SILK eco-friendly?
Silk looks and feels amazing, but it requires a lot of trees and their leaves to keep those worms fed. Large quantities of chemicals are used for growth hormones and de-gumming the silk thread from its sticky residue. Lastly, a lot of energy is required for processing.
Verified industry sources: Toad&Co; Textile Exchange Material Snapshots 2015, SAC Higg Index, Made-By Environmental Benchmark for Fibers.
Chambray Shirt Dress and Lennox Coatigan
---
To learn more about Toad&Co and their environmental commitment, please visit their website! And don't forget, TFG Readers get 10% off at Toad&Co with the exclusive discount code TRAVELWISE. Shop now!
What's your favorite eco-friendly fabric? Share in the comments below!
---
To learn more about Toad&Co, read our other articles:
---
LIKED THIS POST? PIN THIS PIC TO SAVE IT!
---
We hope you liked this post on the best eco-friendly fabric. Please share it with your friends on Facebook, Twitter and Pinterest. Thanks for reading!
---
Please note: This has been an advertorial on behalf of Toad&Co; our opinions are our own.