Support TFG by using the links in our articles to shop. We receive a small commission (at no extra cost to you) so we can continue to create helpful free content. As an Amazon Associate, we earn from qualifying purchases made on Amazon in addition to other retailers featured on the blog. Thank you, we appreciate your support!
Comfort, affordability, quality, function, and fashion – these are all things that describe the perfect ingredients for travel clothing. Fortunately, we've discovered a sustainable fashion brand that makes all these things a reality: Toad&Co.
If you've watched Travel Fashion Talk on Facebook Live recently, you may have seen us feature Toad&Co and some of their must have items of the season. Now, we're giving you the full review! Find out what we think about their clothing, and which items you'll want to add to your travel wardrobe!
TFG Readers get 10% off at Toad&Co with the exclusive discount code TRAVELWISE. Shop now!
---
Sustainable Fashion Brand: Toad&Co Review
---
As much as I love shopping, it's always challenging to order products online. I shopped Toad&Co's website for hours trying to determine the absolute best products based on their website descriptions.
It was hard to choose as they had so many great looking pieces. (Take a look at my full wishlist here.) There were so many pretty pieces it was impossible to narrow my choices down, but I ended up ordering these six pieces:
Upon receiving my Toad&Co package, I couldn't believe it! I didn't want to return anything. I loved all the clothing!
I was pleasantly surprised by their new collection. The pieces weren't just picture perfect; they actually looked good in real life, too! I had so much fun taking these pictures for you and creating a few sample travel outfits.
As a bonus, TFG's Fashion Editor, Sydney Woolery, has also joined in on this special review. She has put together a few extra outfits for style inspiration!
Sydney Woolery, TFG's Fashion Editor
So, will Toad&Co be TFG approved? Spoiler Alert: Yes. Keep reading to find out why!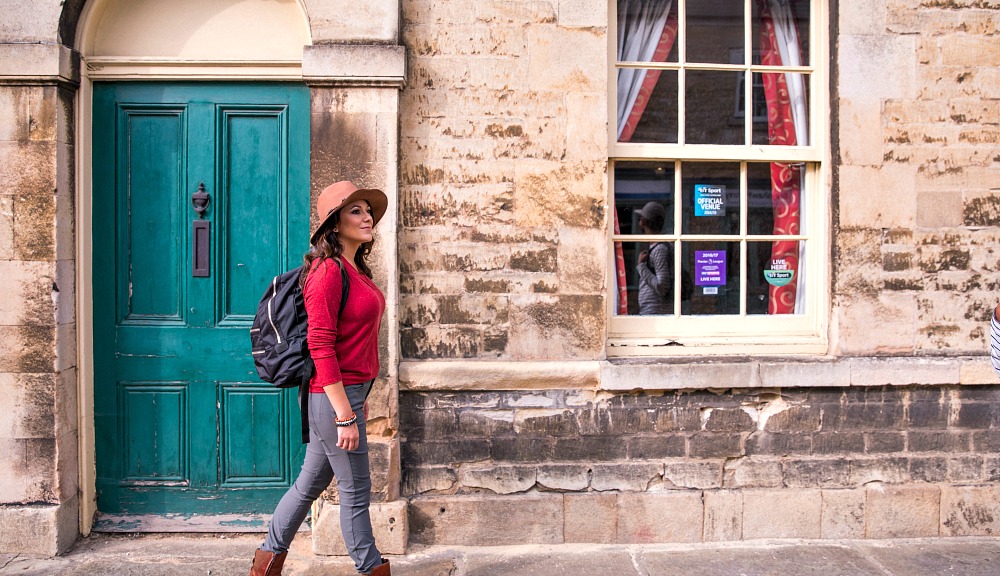 Merino Merritt Hoodie
If you're familiar with TFG, you know we love clothing made from merino wool. It's one of the top fabrics for travel. As I made my initial assessment of Toad&Co's current collection, I instantly added the Merino Merritt Hoodie to my wishlist. It was so cute!
Available in blue, white, and red-based prints, it was tricky to choose just one. My first choice was the red print. It's striking, stylish, and would add instant color to a mostly neutral travel wardrobe like mine.
However, it's recently been my goal to add brighter basics into my everyday wardrobe so I thought I'd get more out of a more neutral shade like the Oatmeal Heather.
Another reason why I chose the Merino Merritt Hoodie was the versatile design. I could pair it casually with jeans and ankle boots or throw it over a dress, knit tights, and tall boots.
I was right. It blended seamlessly with the rest of my clothing in England and can easily mix and match with items as my color moods evolve. I've gotten so many compliments wearing this around town. It's an easy-to-wear layer on an everyday basis and warm enough to use as part of a travel outfit.
For a fashion-forward look you can wear at home and on the road, Sydney styled the Merino Merritt Hoodie with a classic white top and blue jeans. Talk about an instant style update to a drab plane outfit!
Winterdance Dress
A dress is one of the best pieces of clothing to wear for travel. Not only do they create an easy yet feminine outfit but they're also incredibly versatile.
For a lightweight dress to wear during a transitional season, such as fall or spring, look for pieces like the Winterdance Dress, as seen in these pictures.
It was challenging to choose just one of Toad&Co's dresses, as they have so many options. I was also eyeing the Imogene Three Quarter Dress and Cue Wrap Dress, but I opted for the Winterdance instead. The dress is available in four colors: Mahogany, Charcoal Heather, Black, and Deep Teal.
I was so tempted by the blue because it was so pretty. So why did I go with the grey? I knew I could easily take it from sightseeing in the day to a dressed up evening (below you'll see the way Sydney styles it with heels). It's also buttery soft, light, and comfortable.
I know I can't say the word "comfortable" enough, but the Toad&Co fabrics are so soft! Can you believe they're eco-friendly, too? Learn more!
I decided to size up in this dress because I didn't want something that was too tight. I also wanted the option to add a belt around the waist, as Sydney illustrates in the photo below.
One of the things that I particularly liked about the Winterdance Dress is that the waist fell in a good place on my "dress waist" as opposed to my "natural waist." This struck a good balance of showing just enough of a curve while avoiding a completely straight fit.
On mild days, wear the Winterdance Dress without tights, and when the temperature drops, add tights or leggings underneath. The dress is made with Toad&Co's Samba fabric, which is an all-star blend of eco-friendly fibers that breathe well and provide a great drape, good stretch, and unparalleled resilience.
At 5'2", this dress was too long for my personal preference. After I took these pictures, I had it hemmed to a flirty yet appropriate length. I also shortened the sleeves so I could wear them full length or as a three-quarter sleeve style.
If you prefer a longer length dress (or if you're taller than me), then no hemming is required!
BFT Cowl Pullover
I've been on the hunt for a cozy, light, and soft new hoodie, so I was really excited when I saw the BFT Cowl Pullover on the Toad&Co website.
It's available in three colors, including Charcoal Heather and Mahogany, but I was especially eager to get this because of the pretty Deep Teal color that would be a perfect addition to my standard neutrals. I have so many light grey neutral pieces and I knew this would easily blend in with my favorites, as well as replace a piece or two, too.
One of the things that stands out the most about Toad&Co's clothing is their incredibly soft fabrics. This item is made from an organic cotton blend in baby French terry. I love it! Nothing beats comfortable clothing for travel and this is the epitome of comfort with the benefit of having a more polished appearance.
What can I say? Fitness wear is great for travel, but if I can marry comfort with style, that's the best balance for me. The BFT Cowl Pullover has been a good item to transition from light outdoor activities to a casual dinner and drinks afterward. From yoga to a flight and then everyday comfort, I'm happy with this cozy addition to my travel and home wardrobe.
If you want to add a hint of style to a casual outdoor look, add a pair of pretty stud earrings. They're a game changer without looking overdone in the great outdoors!
And with a great pair of shoes, you can instantly update your look for autumn city style. Choose a tan color shoe – it's so versatile!
Flextime Skinny Pant
Stylish yet functional travel pants are not easy to come by. You know I have my favorite travel pants, but the Flextime Skinny Pant give them a run for their money at this price point.
I was hesitant to order bottoms just because pants are so hard to find the perfect fit. But these did the job and offered me a surprisingly good fit. They have a slim design, which I appreciate as they could offer the benefits of pants with tech fabrics without a boxy look. They also transition from outdoors to sightseeing activities with ease.
The Flextime Skinny Pants are available in Mahogany, Dark Graphite, and Seal Brown. They're DWR water-repellent and made with the bluesign® approved fabric, which seems durable and thick enough to be opaque, but thin enough not to add much weight to your luggage. As a bonus, the DWR finish sheds moisture, dries quickly, and even helps resist stains.
One detail: the pants have a discreet red stitch detail, which isn't my favorite feature. However, it was done tastefully so it's easily overlooked.
Divinitee Long Sleeve
I know you must be tired of me saying that Toad&Co's clothes are comfortable, but they are and this piece is no exception. So far, I've worn the Divinitee Long Sleeve top for dinner and drinks, yoga, and to sleep, too. Now you know when something's soft enough to sleep in, it's a great material!
The top is available in Dark Graphite, Deep Teal, Sanguine Red, and Buffalo Brown. It's a medium-weight blend of dreamy Lenzing Modal®, quick-drying polyester, and stretchy spandex for an effect that looks worthy of work and play but feels ideal for a nap.
In my quest to add more color to my wardrobe, I opted for the red color but it was hard not to choose the classic black. The Divinitee Long Sleeve easily dresses up or down; its versatility is key to making it a good travel wardrobe piece.
I actually also used this top as a layer underneath the blue hoodie. As the day went on, it got a little cooler so it was handy to be able to layer these two pieces together, which is the key to packing light in cooler weather.
I think you'll be seeing a lot of this top. Cute, cozy, and comfy. It's not only travel-friendly but it's also Insta-worthy, too!
Evangeline Wool Hat
A hat has the ability to turn any outfit into an Insta-worthy pic! That's how I felt when taking the pics for this review. The Evangeline Wool Hat elevated every outfit!
I love the size of this hat. The brim isn't overly wide so it's not as tricky to bring on a trip. Wear it on a plane or pack around it in your suitcase, but this makes any outfit look airport chic. It also hides post-flight hair or even bad hair days while traveling.
The Evangeline Wool Hat is 100% wool, perfect to help you stay warm during the cooler months of the year. I'm wearing the cognac color but it's also available in black, too.
The Verdict
Toad&Co is 100% TFG APPROVED!
The best clothes for travel are practical and functional items that are comfortable and make you feel good, too. Toad&Co ticks all the boxes on my travel fashion checklist.
Watch my video review of all the clothing here:
About Toad&Co
Toad&Co creates soft, comfortable, and functional travel clothes all while helping you feel awesome knowing that good decisions went into the production of your travel wardrobe.
They're an ethical clothing brand committed to creating socially and environmentally-conscious travel garments using some of the best eco-friendly fabrics.
You can read more about their eco-friendly fabrics here!
To learn more about Toad&Co and their environmental commitment, please visit their website! And don't forget, TFG Readers get 10% off at Toad&Co with the exclusive discount code TRAVELWISE. Shop now!
---
What Toad&Co items are on your wishlist? Share in the comments below!
---
To learn more about Toad&Co, read our other articles:
---
We hope you liked this review of this sustainable fashion brand. Please share it with your friends on Facebook, Twitter and Pinterest. Thanks for reading!
---
Disclaimer: TFG has strict advertiser policies; we only work with brands that we know will be the right fit for our readers. You're number one and it's with great confidence we can wholeheartedly recommend this advertiser's brand to you!