This post contains affiliate links. Visit our Disclosure page for details.
While some Fall/Winter fashion shows featured leggings in their collections, many fashionistas wonder: are they a do or don't in 2014? The demand for leggings may not be as strong as it was a few years ago. However, when it comes to travel there are still some benefits to wearing them. Take a look at the below tips and find out if they'll work for you!
*unless indicated, editorial images shown are property of Athleta 
---
Should I pack leggings for my trip?

---
Whether or not you should pack leggings depends on several factors.
Do you normally wear leggings?
That's always the first thing to ask yourself with any item of clothing you think you should pack for travel.  If it's not something you are used to wearing or not something that you would wear on your every day life, why do it in vacation?
This idea applies to anything such as travel pants, ballet flats, leather jackets, hats, shorts,  maxi dresses, etc.
Where are you going?
Some destinations are better suited for leggings than others. If you have an active trips that include hiking, yoga, running, or other similar plans then leggings make a versatile, lightweight, and comfortable option for you. You may want to choose an options such as these styles from Athleta.
When are you traveling?
If you're traveling between seasons leggings might be a good way to transition wear warm weather clothing for cold climates. Just layer leggings under dresses or shorts to transfer your warm weather clothing into cold weather appropriate attire. I like these versatile leggings by Zella.
How long are you traveling?
If you're going on a round the world trip then leggings might be a good option as you would be doing a wide array of activities and experiencing different climates. These are some of the best leggings as recommended by TFG's readers.

Do you plan to workout?
Using leggings as clothing is great if you can also use them in other activities such as working out. Whether you plan to do yoga, jog, or do some stair climbing quick dry fitness leggings can be worn to work out and sightseeing.
Don't forget that you can also wear leggings on the plane! Pair them with a long top or tunic layered under a cardigan or jacket – ensure both items fall below your hips and cover your pelvic region for the best look.
 TFG Recommends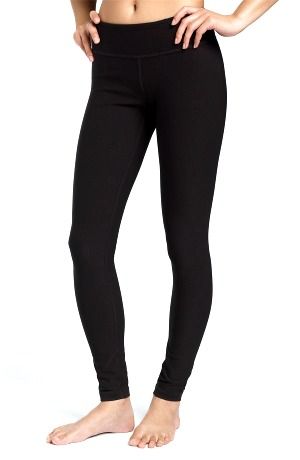 I just got these Zella Live in Leggings from Nordstrom and I'm so excited!  As a long term traveler, these seem be the perfect addition to my travel wardrobe! Learn more about them and other options in this post: Top Leggings for Travel.
Leggings Alternatives
For alternatives to leggings with the same benefits and comfort, check out the Bettona collection by Athleta. They may various pant styles in leggings material that can be worn as regular pants, too! As a bonus, the Classic Pant and Jeggings styles are currently on sale!
---
Do you travel with leggings? Share them below!
---
 Read more about TFG's Top Travel Fashion Picks:
---
Hope you enjoyed this post on leggings. Please share it with your friends on Facebook, Twitter, or Pinterest. Thanks for reading!
---