Support TFG by using the links in our articles to shop. We receive a small commission (at no extra cost to you) so we can continue to create helpful free content. As an Amazon Associate, we earn from qualifying purchases made on Amazon in addition to other retailers featured on the blog. Thank you, we appreciate your support!
My quest for zero-liquid travel started with the hair serum from Hell that leaked all over my 3-1-1 Ziploc bag on a flight to Mexico. I had been so consumed with packing a carry-on and not checking a bag, I didn't pay attention to my toiletries, other than to downsize them (yay me!).
I was too lazy to read the instructions and limitations of the well-known silicone travel bottles I bought; if I had, I would have learned that hair serums and many shampoos and conditioners are not recommended for use in those handy-dandy bottles because of leakage.  Oops. I ended up with the Vesuvius of Hair Serum and vowed: never again.  My goal is to not lug leaky, heavy liquids when I travel.
---
How to Ditch the Liquids and Make Travel Easier
Written by:  Heidi Barry-Rodriguez
---
3-1-1 Bag
According to a friend who works for the TSA, "If it flows, it goes [into the 3-1-1 bag]." While mascara, lip gloss, liquid lipstick, moisturizing gel, and Retin A cream don't flow, they are liquid enough for me.  I err on the conservative side. Technically, the only thing in my 3-1-1 bag that actually flows is skin toner/astringent.  But to be cautious, I include the mascara, lip stuff and Retin A in the bag.  You know, just to be legal.
Here is my quart-size 3-1-1 bag. I have had TSA agents do a double take: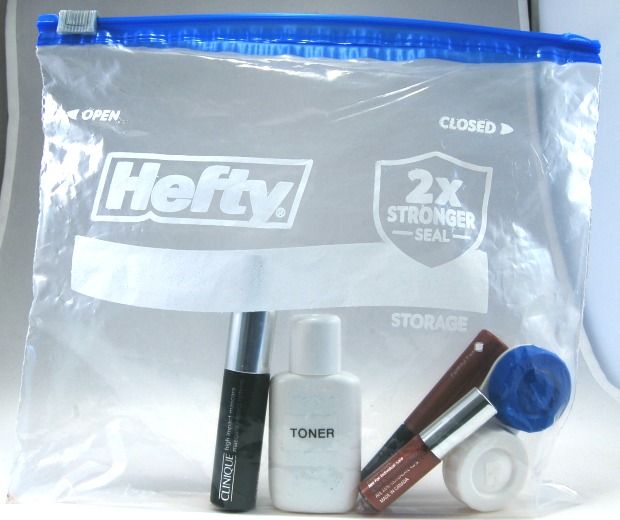 I travel only 3-4 times per year, and never longer than 2 weeks at a time, so my toiletries can be very small.  A contact lens case holds enough facial moisturizer and Retin A for two weeks. The toner bottle contains .5 ounce of liquid and will last for weeks, too.
Makeup
I love makeup, although I don't wear much. Mascara and lip color make me feel polished when I travel.  A little cheek color perks me up. And when I go out at night, a bit of sparkly eye color make me feel urbane.
I like an eye pencil for definition, as well as a concealer pencil for imperfections. How do I indulge this? My travel makeup is all tiny in size.  I use sample sizes. And I make my own shadow and cheek color palettes.
My travel makeup fits in my hand.
You'll want to look your best when you travel! Makeup adds the perfect finishing touch to your carefully planned outfit from your capsule wardrobe!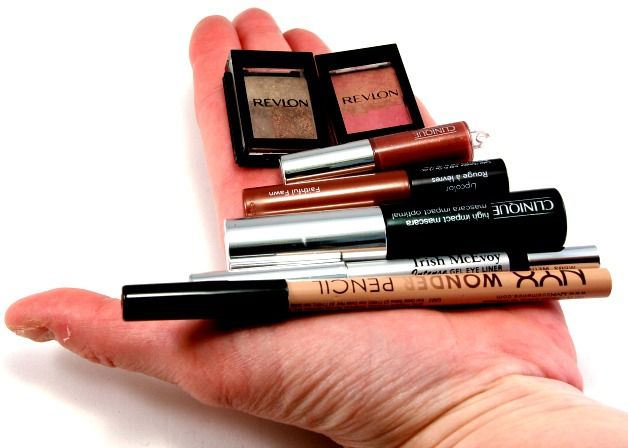 I love to combine several colors into one small container.  I never seem to be able to get the right colors I want in any pre-made palette, so I create my own blended shadows and powders; crush the powder finely, make a paste with rubbing alcohol and powder, and press into a palette.
In this case, I found these tiny Revlon single-color eye shadow palettes and then used several colors to make palettes with more than one shade. The cheek color one contains blusher and a bronzer. The eye shadow palette contains three shades of eye shadow.
Wrap your makeup bag in your clothing and add to your packing cube in your suitcase to better protect it!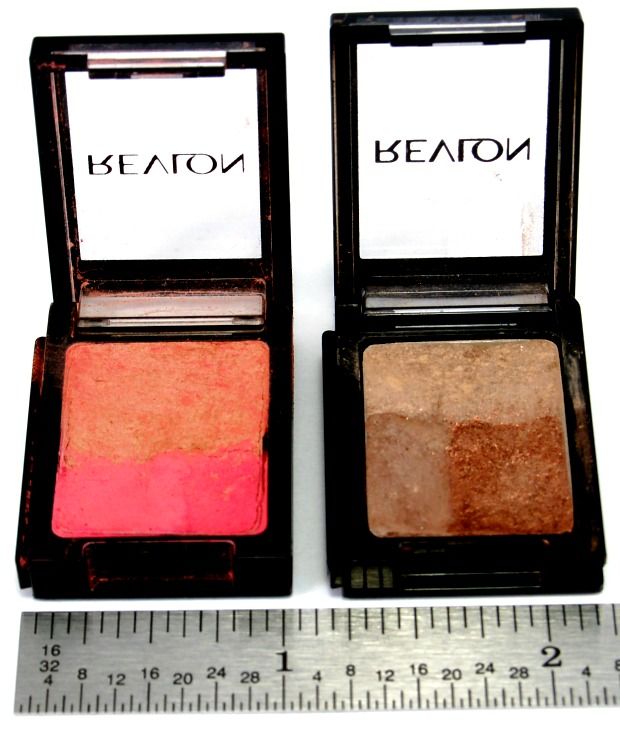 I make my own palettes using old or cracked powdered makeup.  Lots of times I include some sort of powdered foundation in the palette so I can use it as a concealer.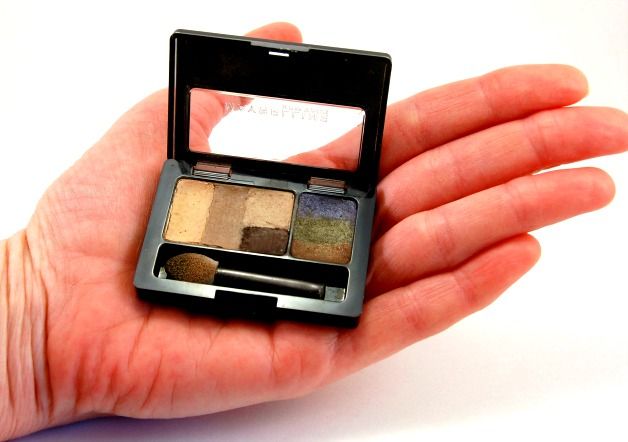 If I am not using a palette that has a concealer, I'll throw a pinch of face powder in a small pill envelope. These envelopes are great for small amounts of anything, like earrings.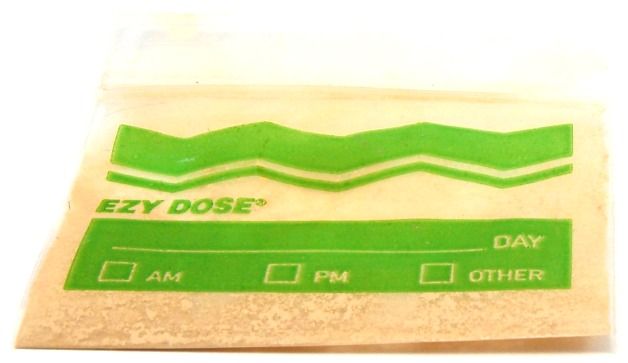 Wasted Space and Deodorant Hacks

 
I am a nut about downsizing cosmetics, and even already travel-sized toiletries are sometimes huge. It drives me crazy that there is so much wasteful packaging. Travel size deodorant is a perfect example, as it has a lot of wasted space in the cap.
What to do? I use a smaller container (from an anti-chafing skin product) for my travel deodorant, using a solid deodorant.  Solid deodorant melts in the microwave in about 30 seconds.
Melt some, and pour it into the smaller container and let it cool.  It cools very quickly. Other possible hack deodorant containers are solid sunscreen containers, or even a used blister defense gel holder (far right in the photo).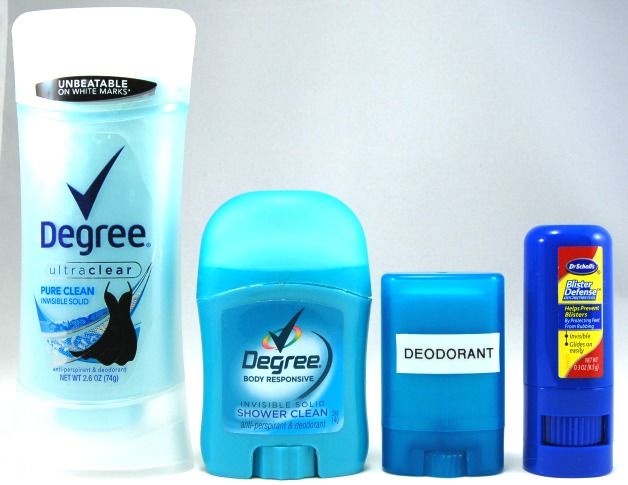 Notice the size differences from the full size deodorant (far left), travel size deodorant (second from left) to the smaller hacks.
Hair Care

 
Instead of gels and pastes that need to be in the 3-1-1 bag and have the potential to leak, I use hair powder.
Where has this stuff been all my life? Sexy Hair and Got2Be both make volumizing/texturing powders that are fabulous for every day and travel. A little goes a long way with these powders, so even the travel size Powder Play (below) can be repacked into a smaller container for travel.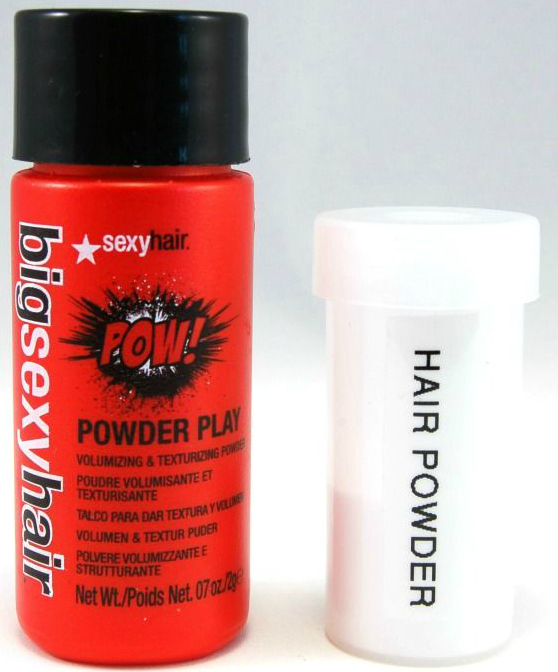 For shampoo and conditioner, I use what is available in the hotel, because many times it is more luxurious than what I have at home. Or, I bring a remnant of the Lush solid shampoo and conditioner I normally use at home. Because they are solid, they don't need to go in the 3-1-1 bag.
Dental
Tooth powder is one of those things I tried for travel and found I loved. It does take some getting used to, but now I use it on a daily basis even when I am not traveling.
When I travel, the powder is a heck of a lot lighter in weight and doesn't need to go in the 'ole 3-1-1. A little goes a long way, so it can be repacked into an even smaller container than the 2 oz. bottle it normally comes in.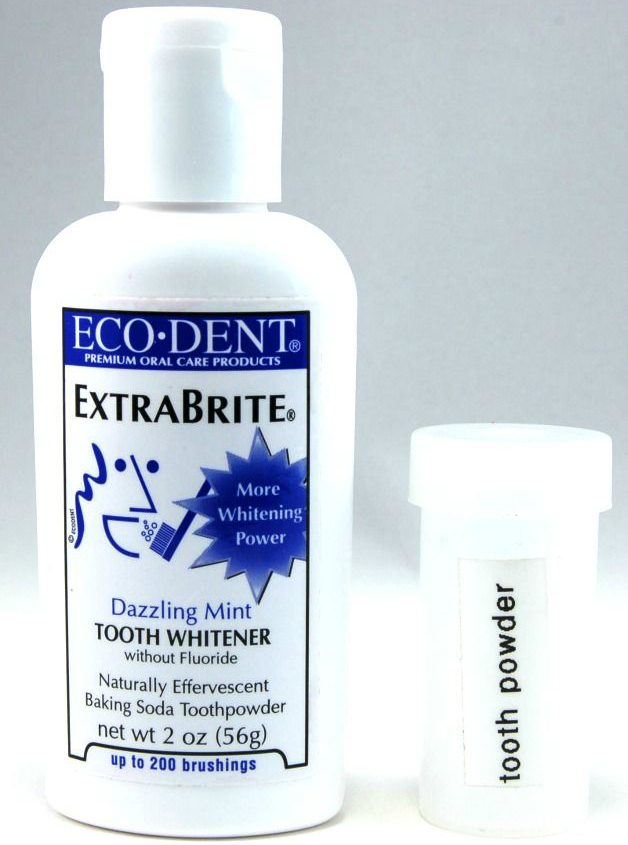 Those 1.5" tall dental floss samples your dentist gives you?  While they may not contain much actual floss, here is a ton of room IN the container. I take my regular-size dental floss and when it is half used, put it in the sample-size shell. It will last for weeks on the road and take up half the space of the regular-size floss.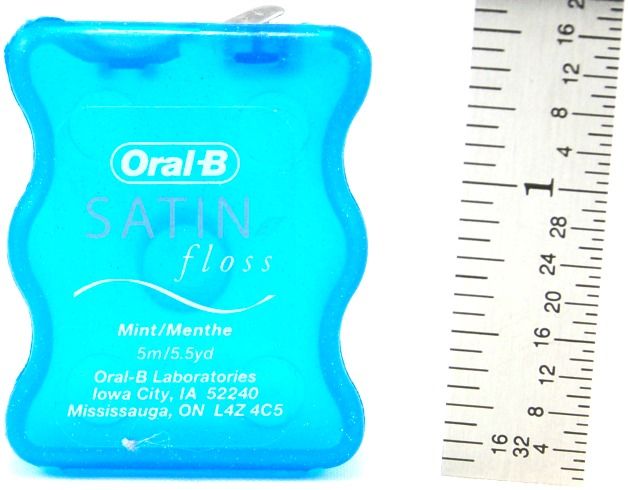 Skin Care 
Instead of a liquid face wash, I cut up a bar of Neutrogena soap and wrap the pieces; one piece for each location I visit.  I have learned to gauge the longevity pretty well so that there is only a sliver or nothing remaining for each location, so you don't have to lug around a slimy piece of soap.
Contact lens containers hold small amounts of face creams.
Sometimes I bring liquid face toner, but I also love the Dickinson's witch hazel towelettes, especially in hot weather. They are great to toss into a day bag, and I have used them to refresh my face after a flight, as well as a hand wipe when out and about sightseeing.  Towelettes are not considered a liquid so they do not have to go in the 3-1-1 bag.
Solid perfume is also a nice treat; they are tiny and take up no space.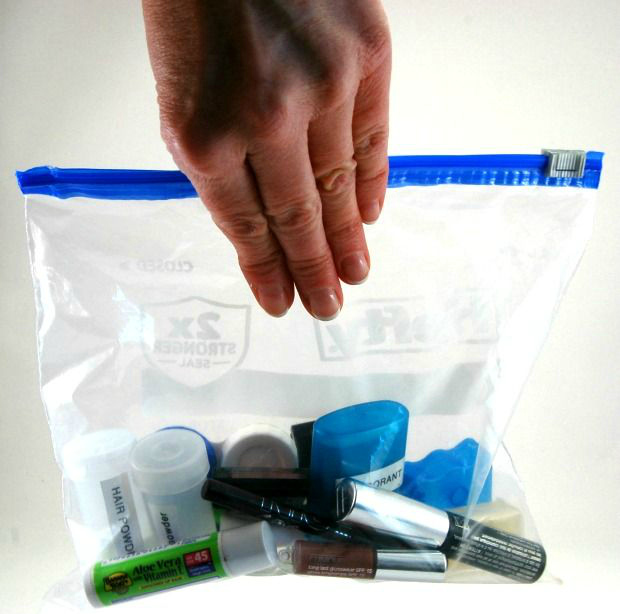 All my travel toiletries, wet and dry, fit into about half of one quart-size Ziploc bag. Not pictured:  hair brush and disposable razor (I forgot!). As for shampoo and conditioner, I tend to use what is available in a hotel, or a remnant of a solid Lush shampoo (which I also use for hand laundry).
---
I'd love to hear your hack ideas – what do you use to save space with liquids and cosmetics when you travel?
TFG RECOMMENDS: I use and recommend  this toiletry set to downsize my travel products. Don't forget, only fill liquids 2/3 or the bottle will leak on a plane.
---
Please read these posts for more ideas on packing your travel beauty products:
---
I hope you found this post on Zero (or Almost Zero) Liquid Travel useful. Don't forget to share with your friends on Facebook, Twitter, and Pinterest. Thanks for reading!
---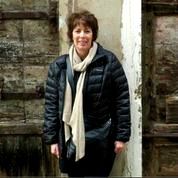 Author Bio: Heidi Barry-Rodriguez is an explorer-librarian with a love of books, travel, her husband, and two cats. She loves train travel and the mobility, serendipity and freedom that are afforded by packing lightly. Check out her podcast episode on packing light!
---