Support TFG by using the links in our articles to shop. We receive a small commission (at no extra cost to you) so we can continue to create helpful free content. We earn from qualifying purchases made to the featured retailers. Thank you, we appreciate your support!
Traveling to Istanbul and uncertain about a "dress code"? Keep reading to learn our Istanbul clothing tips and find out what is appropriate for tourists!
---
Istanbul Clothing Suggestions
Written by: Simone Gasser
---
Istanbul is a wonderful city and one in which you can not only find art and architecture from different time periods as well as cultural influences but you can also encounter several kinds of "uniforms" when it comes to Istanbul clothing style.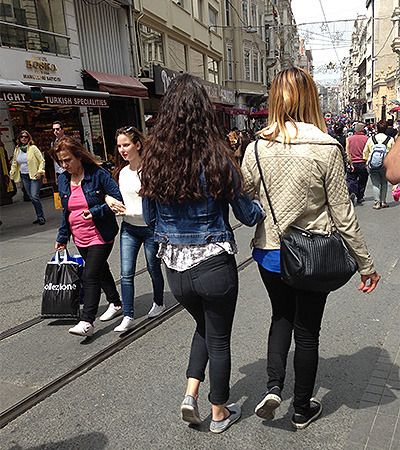 Locals walking on Istiklal Caddesi, Istanbul's biggest shopping street
The vast majority of women wear a very international "big city casual" outfit: Jeans, sweater, jacket, converse-style light sneakers, handbag. This look will have you covered for most time of the year. On the other hand, any sports or beach clothes will look just as out of place in the streets of Istanbul as hiking boots and big backpacks.
Skirts that end above the knee can be seen as well, but during the daytime they are worn with flat, comfortable shoes, and there's a good reason for that: Istanbul is built on many hills, and some of the streets are very steep – in certain areas even so much that they built stairs instead of streets. The pavement can be uneven as well.
Take a look at our top ten cute and comfortable ballet flats for travel!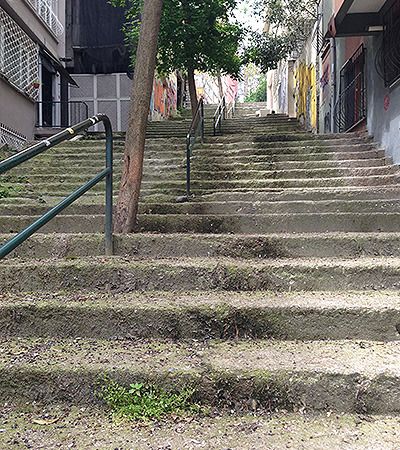 Stairs in Cihangir, one of the neighborhoods in Beyoglu
You don't have to pack much for Istanbul – the shopping opportunities are excellent and cover a large range of bazaars, international chain stores, local designer boutiques and gigantic modern malls. Great Turkish brands for very affordable clothes include Mavi, Collezione and Koton.
While shopping you will also notice shoe shops with sometimes totally over the top high heels. And you might wonder who wears them and when?
Creating an interchangeable capsule wardrobe is the key to simplified packing, which can easily fit into a carryon suitcase with the help of packing cubes to compress your clothing!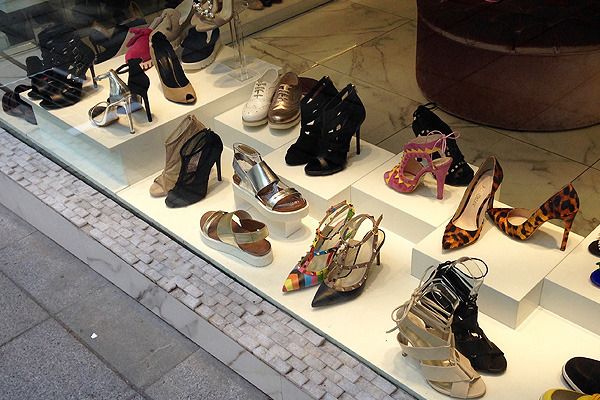 Shop window in Nisantasi, an area with lots of little boutiques
These shoes come out at night for clubbing, teamed up with sexy clothes. By this time people usually don't walk long distances but drive or take one of the million yellow taxis.
Adjusting the look for different seasons
My personal favorite time for traveling to Istanbul is April, officially known as "Lale Zaman" – Tulip Month. Temperatures are pleasant and the entire city is covered in tulips and flowering trees. But any time in Spring or Autumn is nice. July and August can be very hot which makes walking around and sightseeing uncomfortable. December to February is cold and it can even snow.
All year round, Istanbul is a windy town, so bring a scarf – or buy one in the bazaar.
When going during a warmer period of the year, remember you still need to cover up if you plan to visit any religious sites. Keep this in mind when choosing your Istanbul clothing. Don't get caught unprepared.
Take a look at our suggestions for dressing in conservative areas!
If you use public transport (which I recommend because its excellent) you might also want to think about how much skin you want to expose to the people next to you in case the tramway or metro gets crowded.
In the Winter, layers are a good choice because the weather can be unpredictable – I have experienced times in late November when I was walking around in just a t-shirt on one day and wearing my pullver and coat on the next. Make sure that you have waterproof or water resistant shoes to be prepared for the possibility of a rain shower.
Take a look at these waterproof boots for travel in cold weather!
Shop The Post
---

---
What are your tips for choosing Istanbul clothing? Share in the comments!
---
For more packing tips, please read:
Suggested travel resources:
---
Hope you liked this post on our Istanbul clothing tips. Please share it with your friends on Facebook, Twitter, and Pinterest. Thanks for reading!
---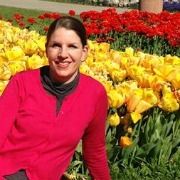 Author Bio: Simone Gasser from Zurich, Switzerland travels the world both for her own pleasure as well as under her stage name MEISSOUN as a dance teacher and performer. She has been addicted to Istanbul since 1996 and travels there once or twice a year.  Read her travel blog at meissoun.blogspot.com or visit her website at www.meissoun.ch.
---