Support TFG by using the links in our articles to shop. We receive a small commission (at no extra cost to you) so we can continue to create helpful free content. As an Amazon Associate, we earn from qualifying purchases made on Amazon in addition to other retailers featured on the blog. Thank you, we appreciate your support!
When traveling to conservative countries, it's important to adhere to the local dress and choose modest clothing that's respectful of the local culture.
---
How to Dress for Conservative Countries
BY Chantelle Mallin
---
The general rules with conservative dress is that the tops and dresses from your travel capsule wardrobe should cover your shoulders; and pants, skirts, or dresses should fall below the knee. It's a good idea to plan for layers when visiting conservative parts of the world as many of these places can have hot and humid climates. Consider a scarf to be your ultimate must have travel accessory.
Staying cool in the heat is not easy when you need to cover up. These posts can help you choose the right clothing:
Modest Clothing Essentials
Pashmina Shawl
A scarf is by far one of the most popular accessories for traveling fashionistas. It offers you added style without needing to over pack by taking up minimal space in your packing cubes. Carry a large scarf or pashmina shawl in a light fabric.
A shawl is an essential item that allows you to cover up in modest regions without needing to wear heavy clothing and still keeping you cool. Wear it over a tank, ensuring that your shoulders are covered, or in addition to a longer sleeve shirt. A scarf is also a good piece you can use to cover up lower cut blouses to avoid overexposing cleavage.
Choose one or two scarves that are big enough to cover your shoulders and chest when needed and also have a nice print or splash of color to help spruce up your travel outfits.
Scarf
From Europe to the Middle East, Asia and Latin America; if visiting a religious site, it is important that you dress according to the religious and cultural dress codes. Hair (hence the scarf), shoulders, and legs should be covered. Occasionally wraps will be available at mosques or temples.
Travel Tip: Always carry a scarf in your purse.
Find out why we love a circle scarf for travel!
Maxi Skirt
Long maxi skirts or dresses are great because not only are they fashionable but they are also great for travel. You can dress them up or dress them down, they provide you with the versatility you need for a long trip.
These also act as great travel skirts because they cover your knees allowing you to dress respectfully when entering religious buildings or conservative regions.
Choose an opaque fabric that is light and does take too much room in your bag.
These are some beautiful summer maxi dresses for travel!
Long Sleeve Button Up
A long sleeve shirt is necessary for mostly any trip. The benefits of packing one that buttons up is that it offers you additional versatility by enabling you to wear it as a light jacket or as breathable cover over a tank.
Many conservative areas require that you cover your shoulders in addition to your knees. This type of top makes it easy for you to layer on top when necessary and remove when no longer needed.
Choose a quality shirt in a solid color that can mix and match easily with the rest of your travel wardrobe.
With a little effort, you can still look stylish when wearing modest clothing. Be selective of the items in your bag and make sure each clothing item can be worn in several settings including conservative areas.
Capri Trousers
Allow your knees to remain covered, however, as they are not full length, still keep you cool. Opt for a cotton or linen pair as the fabric absorbs perspiration whilst allowing body heat to escape.
Shrug
Choose a shrug or bolero with short sleeves, these are perfect to wear with your favorite dress or strappy top whilst still respecting the custom of having your shoulders covered. You can easily throw this on if needed.
Leggings
Perfect to wear under a shorter dress or skirt. Fabrics with cotton blends are more comfortable in hotter climates and can be kept in your purse to layer if needed.
If your destination doesn't require you to cover your legs the entire time, you can slip leggings on to enter religious sites and then remove them if the weather is extremely hot.
These are the best leggings for women that travel according to our readers!
These are a few suggestions as to how to dress for conservative countries using Dubai, Turkey, Egypt, and Gambia as examples that you can apply to many regions around the world that require modest clothing. 
Dubai
Although the attitude towards dress in Dubai and the Emirates is quite relaxed, it is still advised to show some respect towards the local culture to avoid causing offence and escape unwanted attention, it is not hard to follow and will make your trip all the more pleasant.
There are legal guidelines in place informing people what is not acceptable to wear and posters are regularly located on the front of public areas such as shopping malls and souks asking the public to dress respectfully.
When visiting a place of worship,such as the Jumeirah Mosque in Dubai, the dress code is strictly enforced, women need to have their hair, arms, midriffs and legs covered, it would be worthwhile packing a scarf for your trip, however if you forget a scarf or black Abaya (a robe like dress) will be available for you to loan.
Round the resort, pool or beach it's totally acceptable to wear a bikini or swimsuit, just make sure that when you're ready to leave you get fully redressed, it's frowned upon to visit public places still wearing swimwear, including things like a bikini top and shorts or sarong, it is also not acceptable to wear wet swimwear under clothing making it see through.
The dress code in bars, nightclubs and events where alcohol is served is definitely more relaxed, so don't forget you favourite party dress, but remember to cover up when travelling to and from the clubs, a pashmina or shawl is great for this.
The respectful dress code applies to men too – bare chests are not allowed in public, shorts to be worn to the knee and swimwear should be only worn around the pool/beach area.
Find out what to wear in Dubai!
MODEST CLOTHING GUIDELINES IN THE EMIRATES:
Abu Dhabi – Slightly more conservative than Dubai, a warning or comment from an authority figure is more likely, men in shorts and women in short skirts and strappy tops are more likely to stand out.
Sharjah – Has their own firm decency laws on dress codes, knees and shoulders should be covered, clothing that exposes the stomach and back or is tight or transparent is prohibited, modesty is key.
During Ramadan it is important to be more respectful, covering knees and shoulders will show consideration for the Muslim month of fasting.
If you do happen to accidentally offend a local, remember to remain calm and polite, apologize for your mistake and try to make a more appropriate outfit change as soon as you get the chance.
They guidelines, in a nut shell, are fairly simple, try to have everything from your shoulders to knees covered, underwear should not be on show, even bra straps, avoid tight or see through clothing, try and remember these few rules and I'm sure you'll be guaranteed a lovely trip.
Turkey
Turkey is mainly a Muslim country so dressing modestly shows a sign of respect towards the countries culture, around resort areas the clothing attitude is very relaxed, however if you plan to visit a less touristy area it would be advised to follow a few dress suggestions to avoid unwanted attention and comments.
In general, if visiting a more conservative area, try and keep your shoulders and arms covered and opt for longer dresses or maxi skirts, the south east of Turkey is more traditional than the west, so remember to bear this in mind.
Generally western dress code is accepted around popular areas such as Istanbul and the Aegean and Mediterranean coats, the beaches are full with people in various swimsuits and bikinis enjoying the sun. It's a good idea to dress modestly around public places such as shopping malls and markets, just to ensure no offense is cause.
When visiting a mosque or place of worship, such as The Blue Mosque, the dress code is very clear, women should cover their head, shoulders, arms and legs, making sure not to show ankles or feet, your favorite pashmina, shawl or scarf would be perfect for these occasions, however in many places the proper clothing is available to rent.
The dress code applies to men too; they should try and keep their shoulders covered when out and about in public and try to opt for longer shorts when visiting the more traditional areas of Turkey.
Find out what to wear in Istanbul!
Egypt
Egypt is primarily a Muslim country and conservative dress is highly suggested. Per local expat suggestions, you don't have to fully cover your arms so long as your shoulders are covered; knees should always be covered. They suggest to carry a scarf with you at all times that you can throw around you to enter religious sites and non-tourist areas.
If you have a holiday or vacation planned in the resort areas in the Red Sea, the rules are more relaxed but you should still carry some layering essentials mentioned above in case you feel like traveling inland or to nearby Israel or Jordan.
It is advised to wear modest clothing to avoid unwanted attention, avoid extreme makeup and stick to Capri trousers or palazzo pants and maxi skirts when in more conservative public areas, such as Cairo, choose a lightweight breathable fabric such as cotton and stick to loose fitting clothing to keep you cool. Looking men in the eye can be considered a form of flirtation, so don't forget a cool pair of sunnies, they'll also protect your eyes from the suns bright glare.
Walking the streets between destinations is one situation where you need to be cautious of attracting attention; while it's common to wear strappy dresses and tops to party events, it would be handy to carry a pashmina or shawl for when in transportation.
Again if visiting places of worships it is a good idea to have a lightweight scarf or shawl handy to place over your head, if you do happen to have unsuitable skin on show, an appropriate robe garment will be provided for your use.
If you're planning on eating out in nice restaurants or cruise boats it would be worthwhile to pack a smart set of clothing to wear out on an evening.
Around touristy areas, such as Sharm El Sheik, the dress code is much more relaxed as the area is mostly over run with other travelers, don't sweat it out in trousers – invests in a cute airy dress or shorts.
Comfortable shoes are useful for seeing all the beautiful sights Egypt has to offer, opt for closed toe sandals in a dark shade such as brown or black, the streets in the country can be very dusty and sandy, possibly ruining light colored shoes.
Read more tips on what to wear in Egypt!
Gambia
Gambia is a predominantly Muslim country, so modest clothing is advised in all public places. As an overseas traveler it is recommended to be more conservative than you would be at home during the summer time.
As a female you should consider the more flesh you reveal the more unwanted attention you will receive, again stick to Capri pants and lengthy skirts, try to make sure at least your shoulders and knees are covered.
The dress code around hotels and beaches is quite lax, bikinis are definitely suitable, just avoid stepping out of these areas still wearing your swimsuit, it is not really acceptable and will probably guarantee stares.
The traditional clothing for Gambian women tends to be long flowing clothing down to their wrists and feet, this is called a grandmuba – this clothing is usually represented in bright vivid colors, waxes and prints. Channel traditional Gambian wear and opt for bright patterns and hues.
---
TFG readers always have the best advice to share! Comment with your ideas how to dress for conservative countries and your modest clothing essentials.
---
LIKE THIS POST? PIN THIS PIC TO SAVE IT!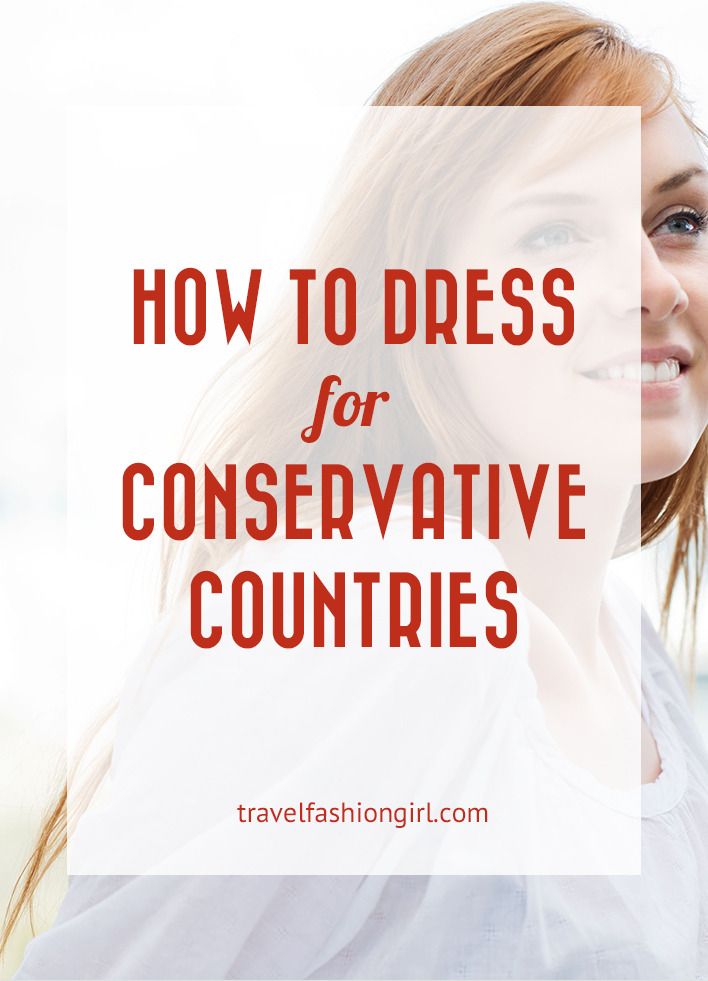 ---
Hope you've found this post useful. Please share with your friends on Facebook, Twitter, and Pinterest. Thanks for reading!
---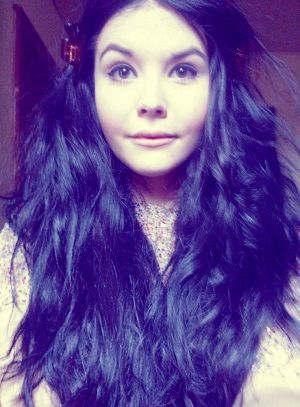 Author Bio: Chantelle Mallin is a 21 year old student studying fashion design at The University of Huddersfield and has travelled through Europe. She's originally from Yorkshire and can't wait to broaden her travel experience and visit Southeast Asia and the USA. Follow her on Twitter.
---